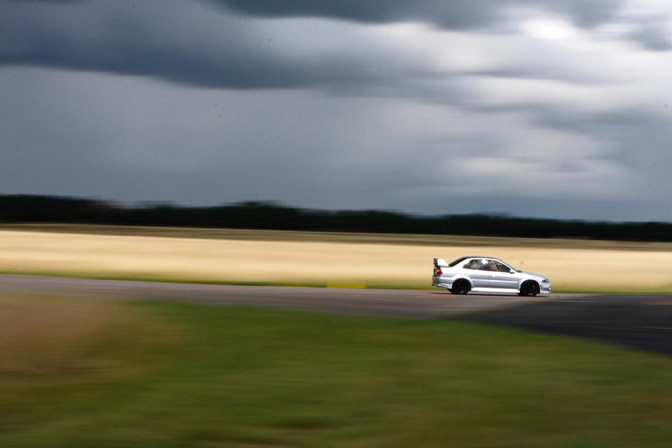 I had to share this car with you all, very impressive work went into this Evo VI and it was almost all done by one chap named Clive over in the good ol UK. First off, everything except for the cage, the paint, and the engine mapping was done by Clive himself, who is an Aircraft Engineer by trade, so everything you see below, was done by him in his spare time at home.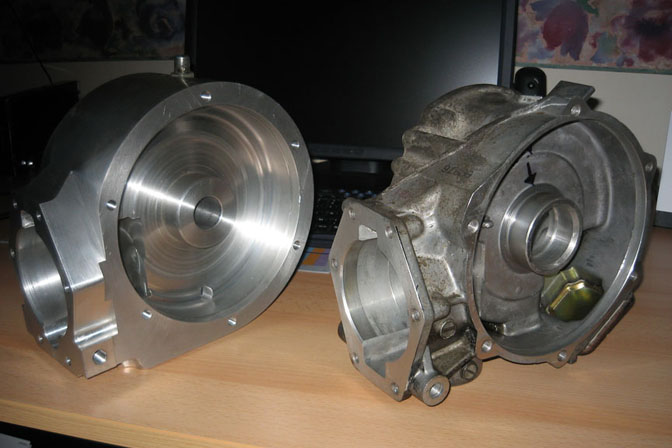 I was checking out what was going on over at http://www.timeattackforums.com and I came across someone who saw this build-up thread over on a european Mitsu Evo forum. I mistakenly clicked this link and proceeded to lose around 2 hours of my life that I'll never get back, but it was sure worth it. The quality of work this guy has put into his Evo working in a really quite small shop in his home is nothing short of fabulous.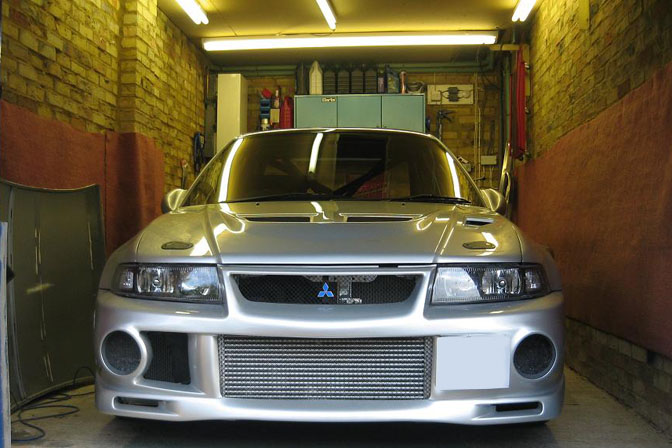 The car started out as just any track day Evo probably would have, but it got much more serious from there on in, with a lot of trick one off parts. First off is the engine build: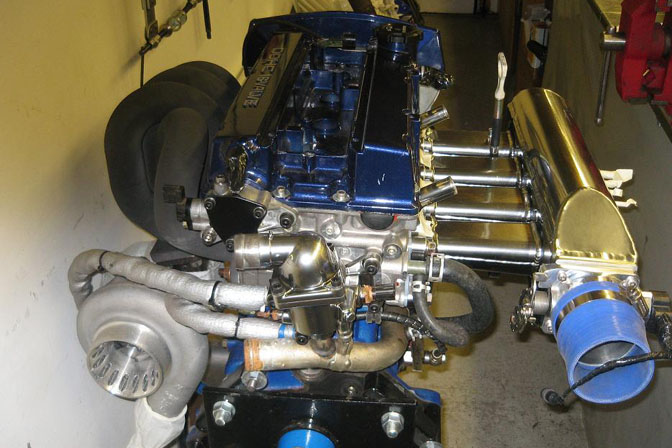 The engine was stripped down to the bare block and was fitted with a Tomei crank fully balanced, Arrow conrods and JE pistons which were all balanced within 0.1 grams of eachother.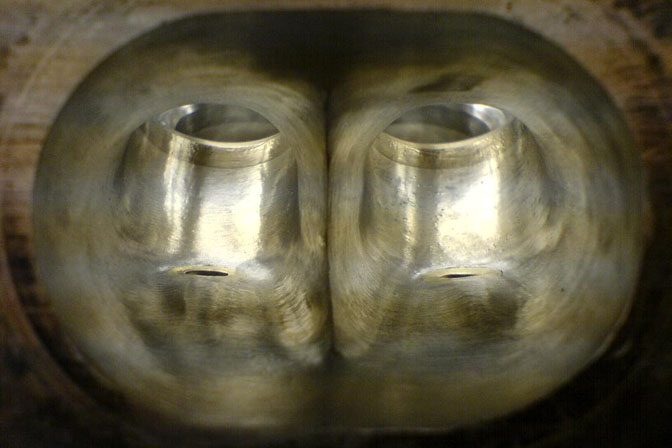 Clive took an old busted out head and cut into bits to examine where material could be removed and where it needed to stay. Using this as a guide did some pretty extensive intake and exhaust porting. Here you can see the nicely ported exhaust outlets.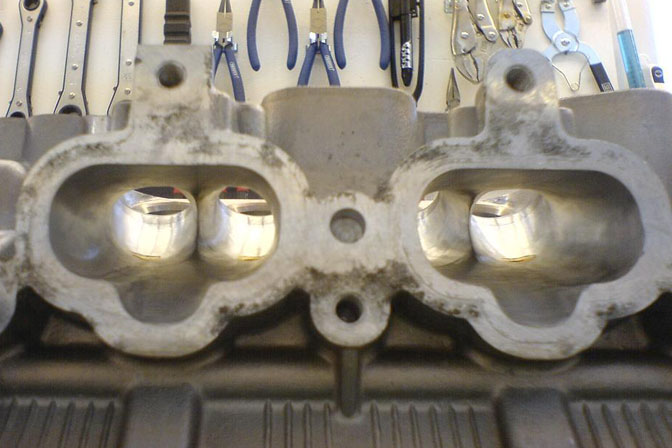 Ported intake manifold.
Along with a Norris/Shearer T04Z turbo kit, this motor pumps out more than 800hp in race tune. Wow.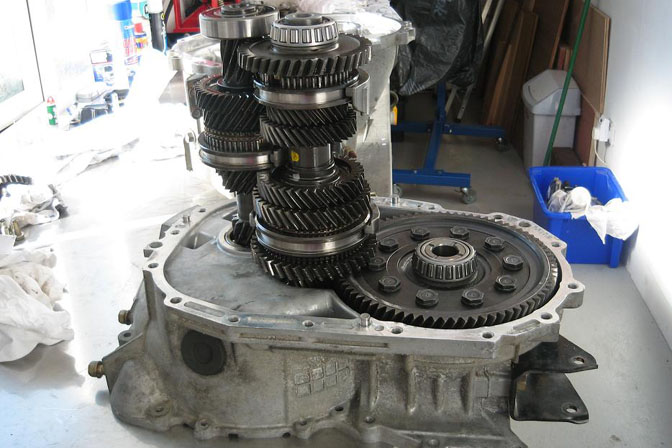 Un-satisfied with the quality of the stock drivetrain components, Clive rebuilt the transfer case and front diff installing a Cusco RS unit.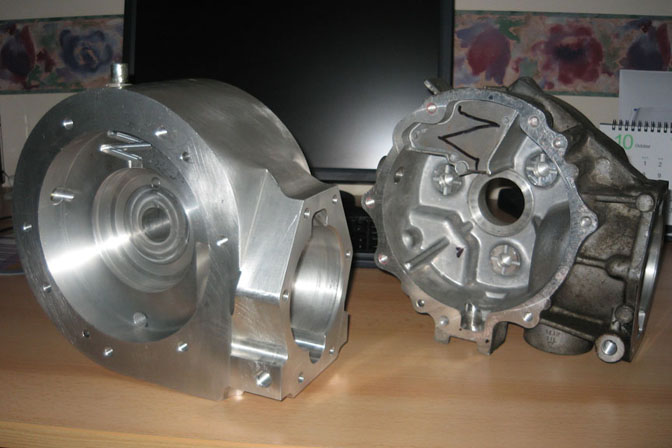 Here is the real meat of the project. After analyzing how the stock diff worked and where its weaknesses were, Clive designed a new diff, this one more stout than the factory unit and able to accept a Cusco RS rebuilt diff out back where most of the power get channelled to the ground. The amount of machine time into just this one part is intense, really nicely designed and built peice!
Next up is the chassis and suspension: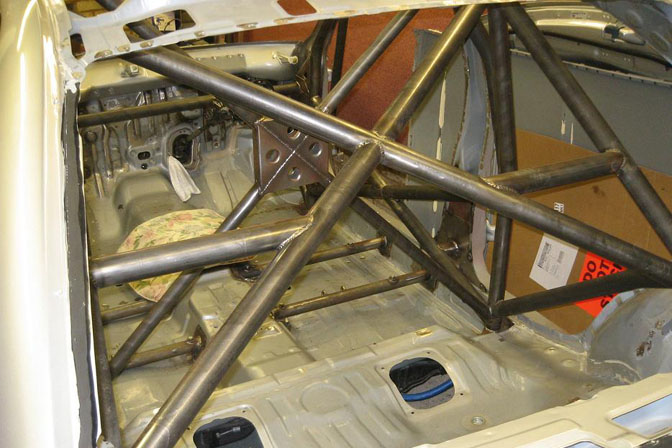 Clive had the cage farmed out, but its a pretty intense cage so I don't blame him. Lots of bracing going to the a-pillars and b-pillars. The Evo chassis is pretty stiff from the factory apparently so he opted to not have the car seam welded, but c'mon, just look at that cage, its probably stiffer than.. ok lets not go there.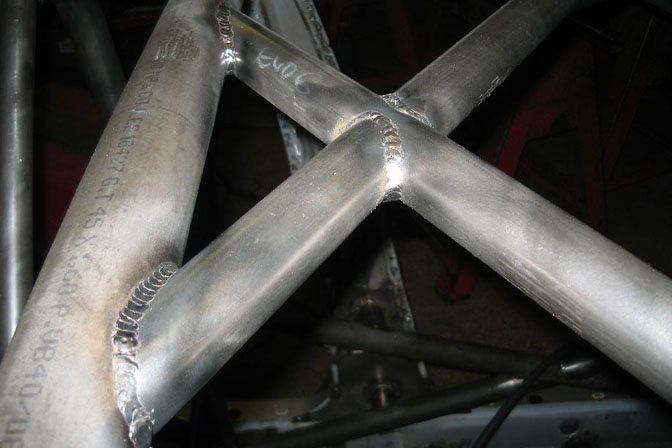 Pretty nice welds..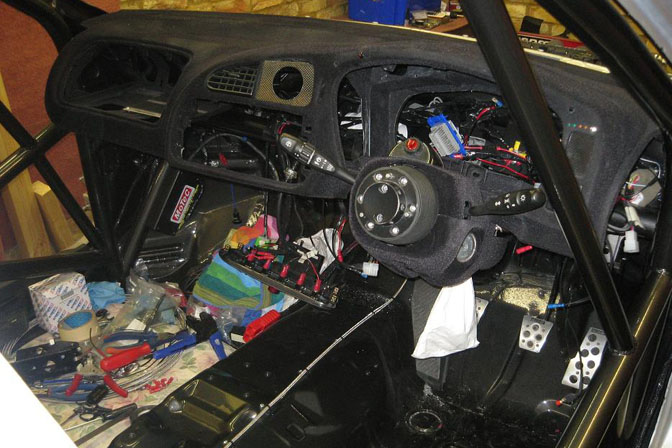 Check out the flocked dash, I definitely need to get that done for my car, first to cover up the old grey crappy plastic, second to cut down all the glare plastic dashes give off. Definitely rally-inspired here.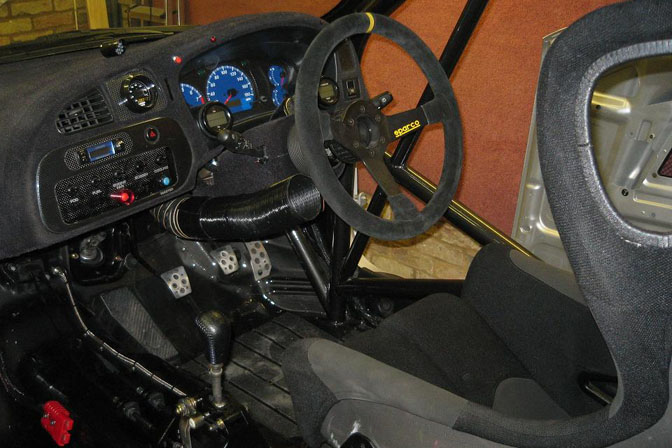 Sparco wheel and Recaro SPG keep this office business like. An inline fan was mounted for driver cooling, drawing air from near the a-pillar instead of the hot air leaving the engine bay.
Lightweight aluminum inner door skins, but check out that door handle, hardware store special, made out of wood and weighs near nothing.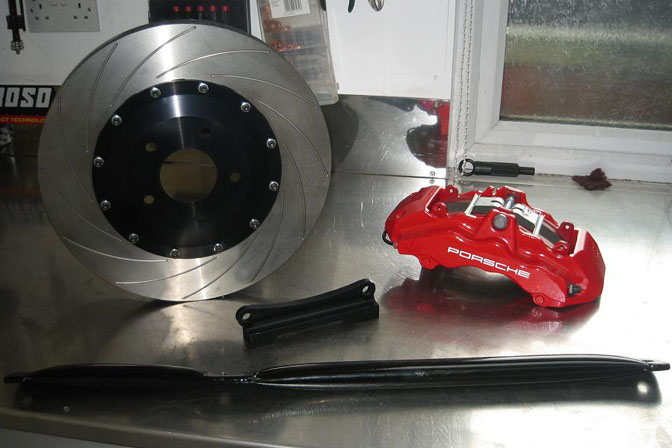 Some serious stoppage power here. 6 piston monoblock calipers made for a Porsche GT2 weighing a good 1000-1500lbs heavier than this car. These aren't off a GT2 though, they are brand new from the dealer. Combined with some seriously massive 14" AP 2 peice discs, slowing the Evo down should be a breeze at any track, at any time, with ease. You can see the adaptor he fabbed up to fit the big brakes onto the Evo spindles.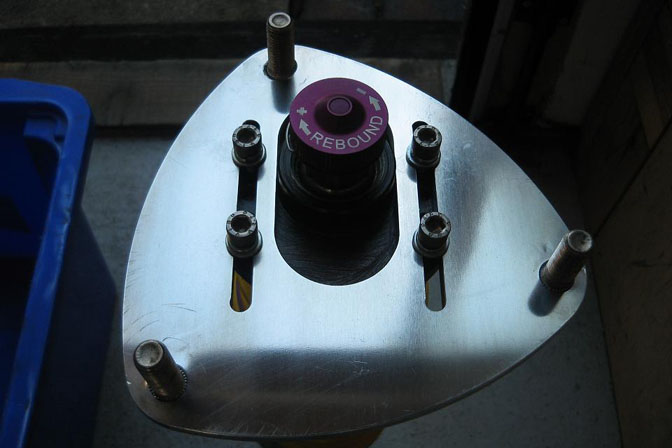 Clive called up ze Germans at KW suspension and ordered up a set of KW's 2-way racing coilovers. Not being happy to leave well enough alone, he fabricated up some new USM's to get more caster out of the setup. The extra caster helps dial out some of the inherent understeer seen in Evo's apparently.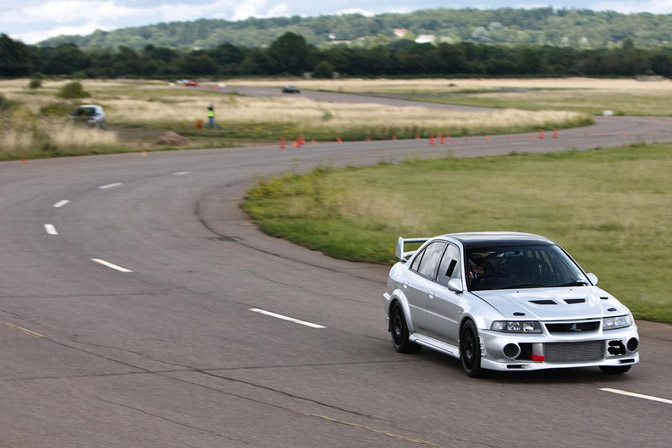 Here is the spec sheet of the entire build to date:
Mitsubishi Evo 6
Weight – 1190kg
Engine:
Fully blueprinted and balanced.
2.2L Tomei Crank, Arrow rods, JE Pistons. 9.4:1 comp ratio.
ARP main and head studs.
HKS 1.2mm head gasket.
Balancer shaft removed, modified oil pump.
Norris spec Piper cams and valve springs, solid lifters, Jun Titanium retainers.
HKS adjustable cam pulleys.
Ferrea 1mm oversize inlet and exhaust valves, Bronze valve guides.
Custom Port job and combustion chamber reprofile and matching.
Ceramic coated Norris/Shearer tubular exhaust manifold, Tial 44mm wastegate, Garrett T04Z turbo.
AMS inlet manifold, custom made Garrett cored intercooler, Custom 3" inlet pipework.
AMS baffled wet sump.
Custom Breather with oil/air separator and return to sump with non return valve.
Sparktech M&W pro 12 COP ignition system.
Walbro lift pump, custom made swirl pot, Bosch 044 main pump, custom fit fuel cooler and ducting.
Modified standard fuel rail, RC engineering 1200cc injectors, Sard FPR. -8 supply, -6 return.
Koyo aluminium radiator with dual lightweight fans.
Fluidampr.
Motec M48 Pro ECU
Motec 4 Bar map sensor.
Custom modified 3" full magnex exhaust with custom centre silencer.
Custom uprated Oil cooler with Custom Ducting.
Approx 700bhp on super and 800bhp on VP import @ 2.4 bar and 8000rpm.
Rev limit 8350rpm
Drivetrain:
Custom rear diff housing from billet alloy.
Rear Cusco RS LSD with 35deg ramp angle and low preload.
Front Cusco RS LSD with 35 deg ramp angle and low preload, and soft centre viscous diff.
Quartermaster cerametallic twin plate clutch.
Rebuilt gearbox with uprated Ricardo output shaft
Shot peened front and rear crownwheel and pinions.
Suspension:
KW Competition 2way Race suspension, 9kg front, 10kg rear,
KW rear top mounts, Custom caster adjustable front top mounts.
Cusco 25mm front anti-roll bar, Perrin 25mm rear anti-roll bar
Custom front ball joints for adjusting roll centre.
Whiteline rear roll centre adjusting kit.
All suspension and engine bushes replaced with polybushes.
Front wishbone rear offset bush for increased front caster.
Custom Adjustable drop links front and rear.
Chassis:
Full FIA T45 cromoly weld in cage with custom rear crossmember brace.
Custom T45 cromoly dash support beam.
Custom T45 cromoly Longitudinal engine/gearbox support.
Custom T45 cromoly lateral brace.
Body de-skinned and lightened where possible without compromising strength.
Custom Modified Ralliart front strutbrace with engine damper bracket.
Rexspeed Carbon engine damper.
Custom Alloy lightweight rear diff support brackets.
Body:
Varis carbon roof
Carbon boot
Custom modified doors with lightweight aluminium inner skins and 4mm Poly windows all round.
Motorsport Heated front windscreen
Brakes:
Custom made front brake kit, Porsche 6 pot monoblock calipers, 362mm AP racing discs
Custom bells and brackets, Carbotech XP10 pads front and rear.
Braided lines throughout, no ABS, Tilton brake bias valve, hydraulic handbrake.
Custom Brake master cylinder stopper.
Motul RBF600 fluid.
Wheels/tyres:
SSR type C 18×8.5 with 245/40/18 Dunlop D03G.
BBS CH Motorsport 18×8.5 with 225/40/18 Michelin Pilot Sport Cup.
Enkei NT03 +M 18×9.5 with 265/35/18 Toyo R888.
Interior:
Custom modified flocked lightened dash.
SPA gauges, Oil temp/pressure, Inlet temp/Fuel Pressure.
Knocklink Knock sensor.
AEM wideband AFR gauge.
Greddy B spec 2 boost controller.
ECU controlled Shift light.
Cobra Evolution Carbon/Kevlar seats.
Schroth 6 point harnesses.
500gram driver cooling fan
Lightweight racing battery.
Custom rebuilt wiring loom.
Custom carbon control panel.
Safety:
Lifeline Zero 2000 electric fully plumbed in extinguisher system.
Lifeline Zero 2000 handheld Fire extinguisher.
Cartek Solid State Battery Isolator Kit with external cutoff.
FIA Roll cage padding.
FIA T45 weld in roll cage.
Front tow loop.
Near future to fit:
Varis front bumper with canards and carbon splitter.
GP sports wide front wings.
Carbon side skirts and carbon rear diffuser.
Custom wide rear arches.
Me, jealous? No way!
If you want to read more about the build, check out his build page at:  http://www.lancerregister.com/showthread.php?t=268523
- Carl Jarrett