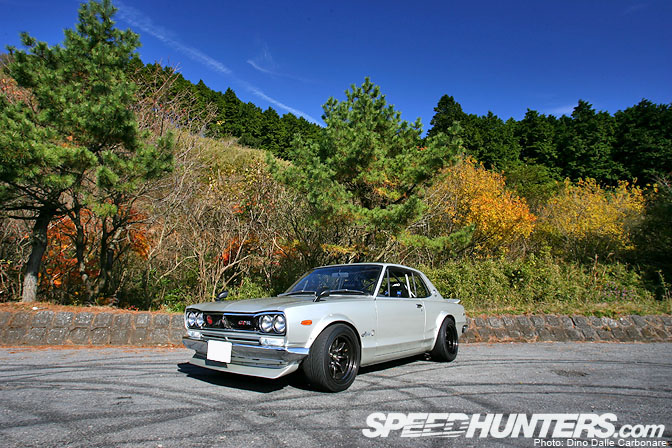 It isn't every day you come across a car like this, that's for sure. It all happened during a driving expedition my friends and I organized last fall, something we have been doing for years now. The idea is to all meet up at the Hakone Turnpike, one of Japan's most well known driving roads, and drive up into the mountains and down into the Izu peninsula through the appropriately named "Izu Skyline" pass. Which is precisely where I first saw this impossibly spotless Nissan Skyline 2000 GT-R.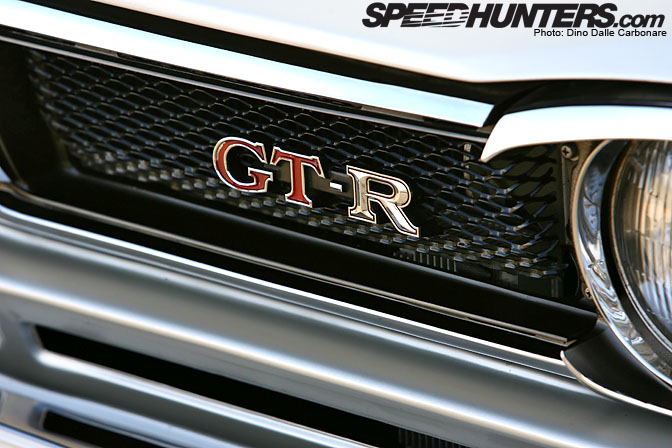 Never before had I seen a classic Skyline in such perfect condition, but like every time I see one of these cars I immediately began to doubt its authenticity. I'm by no means an authority on these classics, but there is always a good chance the car you are looking at is a replica, no matter what the badge on the grille says.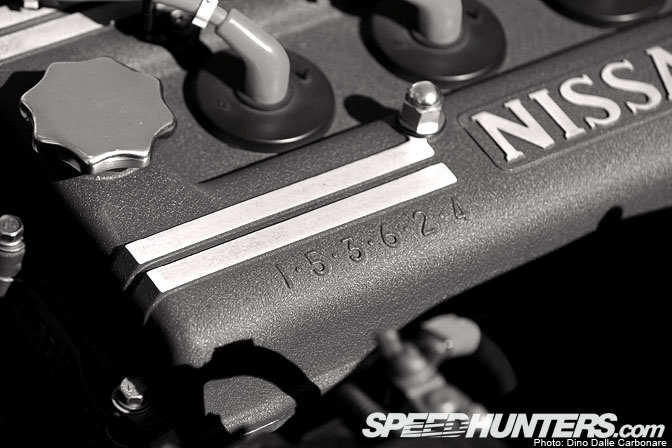 But in this particular occasion I was wrong, and glad to have been because under the the front-hinged hood was an original S20, recently rebuilt to race-car spec.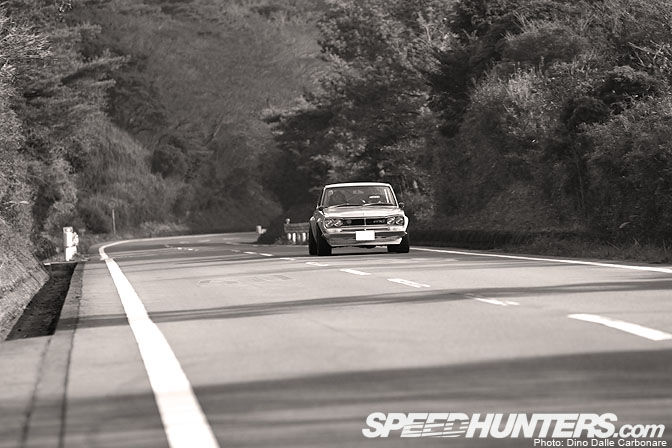 The owner just had the car professionally restored and was out on the roads of Izu to enjoy his pride and joy.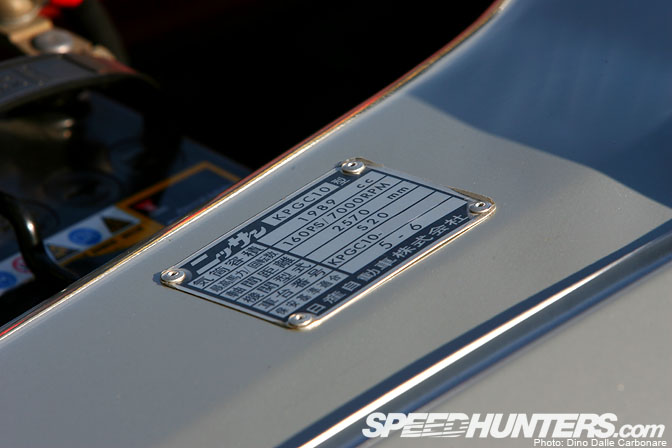 Looking around in the engine bay I spotted the original chassis plaque, further evidence that this was indeed the real thing. The owner seemed very happy that a bunch of foreigners were admiring his car so much and he was very excited when I told him I wanted to shoot it properly. We arranged to meet a few days later on the same roads.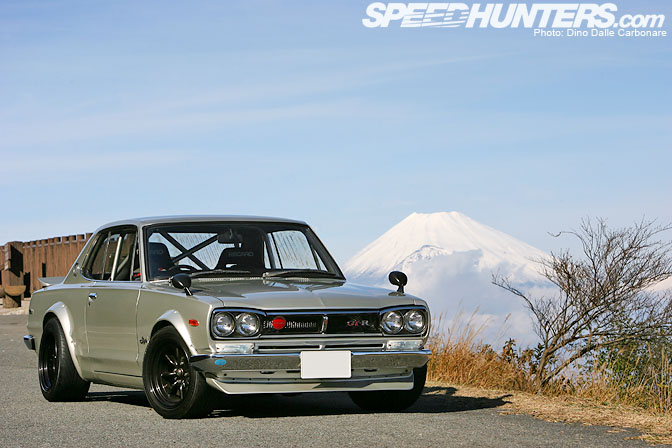 The scenery in this area can really be breathtaking in late fall, on a clear day giving you an incredible view of the snow-capped Mt. Fuji. This shot was mandatory!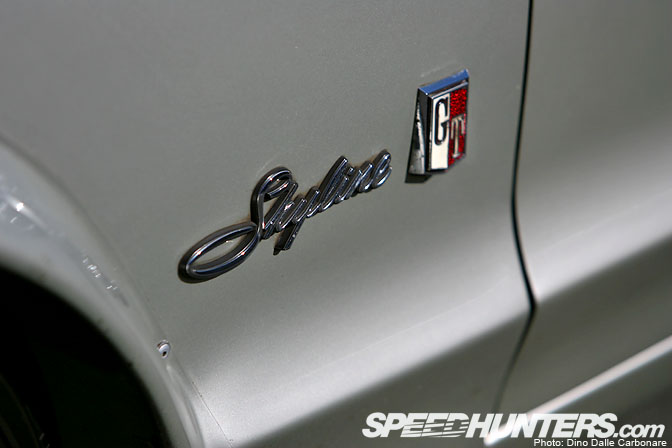 It took over two years to fully complete all the restoration on the body, which was plagued by rust on most of the underside as well as the wheel arches.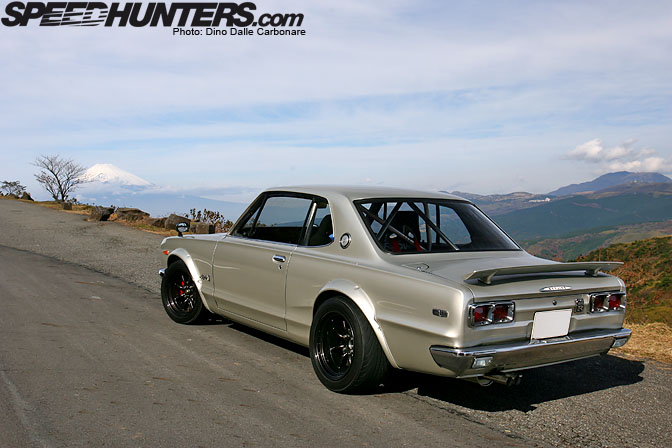 A custom welded-in roll cage was also added, a rather unexpected find in such a rare classic car. The owner wanted to improve the torsional rigidity of the close to 40-year old chassis, as he intended to drive the car hard on both road and track.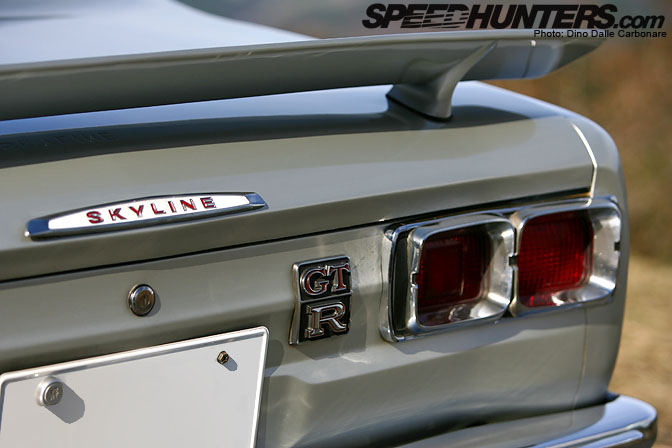 All the badges, chrome, lights, over-fenders and various trim are all original or OEM sourced parts.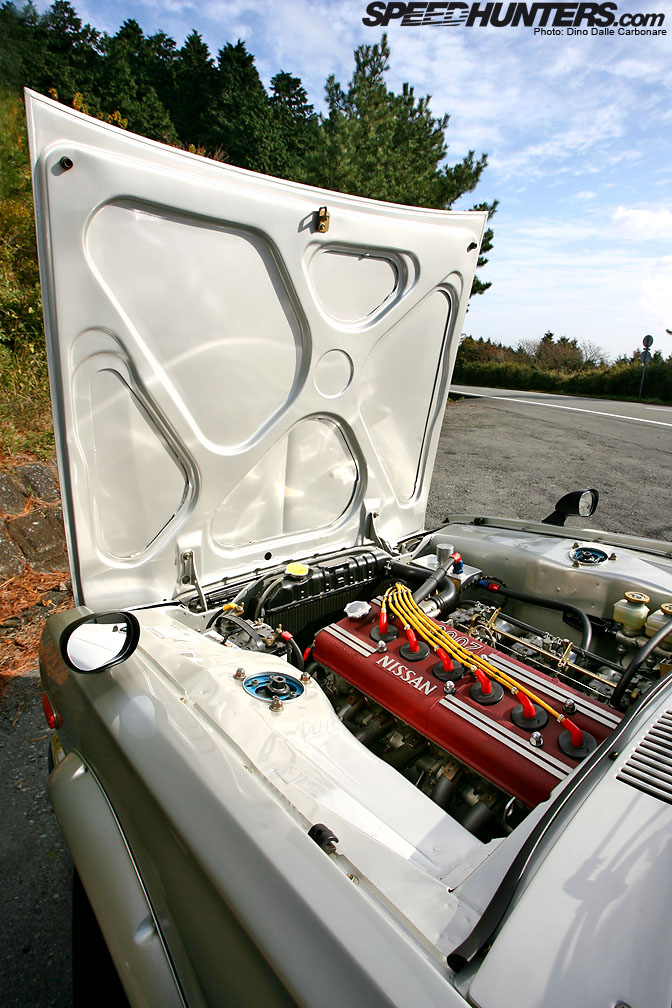 With the body and chassis work taken care of it was the engine that needed to be addressed next.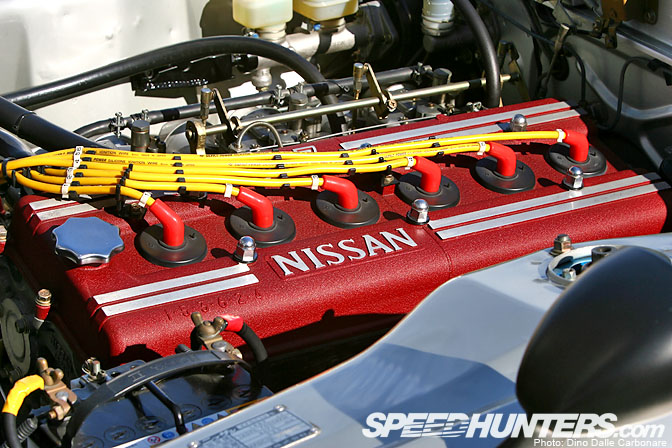 In stock form the mighty S20 developed a reasonable 160 HP punch from a naturally aspirated 1989 cc straight-six engine.  This was good for a top speed of 125 mph and thanks to a contained 1100 kg curb weight allowed the Skyline 2000 GT-R to become one of the best driver cars of its time.  However the owner was looking for more performance so had the engine rebuilt to race car specification which included parts like forged pistons, lightweight H-section connecting rods, high-lift camshafts and a considerable amount of porting and polishing to the head.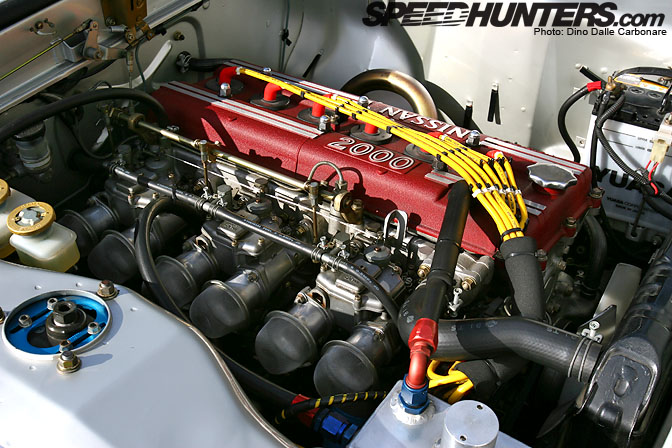 This together with the larger diameter Solex carburetors and custom exhaust system allows it to rev higher and produce 200 HP.  Torque response has not been sacrificed with a respectable 145 lb/ft being available in the mid-range. Other personal touches include the powder-coated cam covers and a custom oil-catch tank and breather system. The little S20 is considered one of Japans most remarkable engineering masterpieces and there are so few left that they fetch close to ridiculous amounts of money.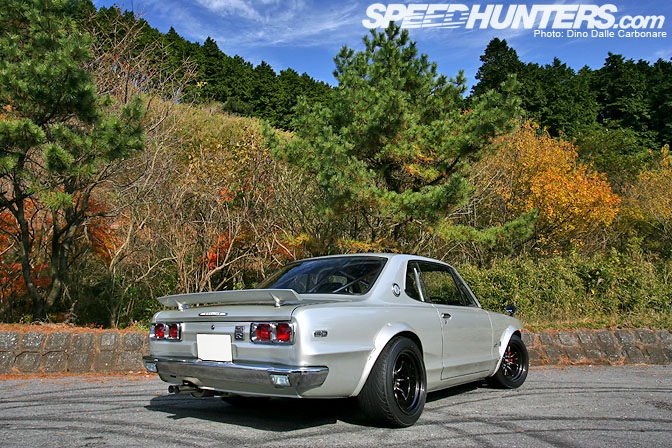 No matter what angle you view this car from it just oozes aggressiveness, it's not a pretty car like an Italian car from the same time period would be, but it has tons of presence…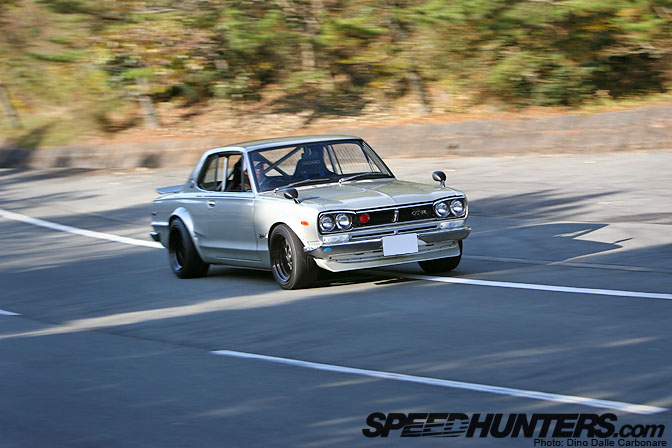 …something that can probably still be said about the modern age GT-R.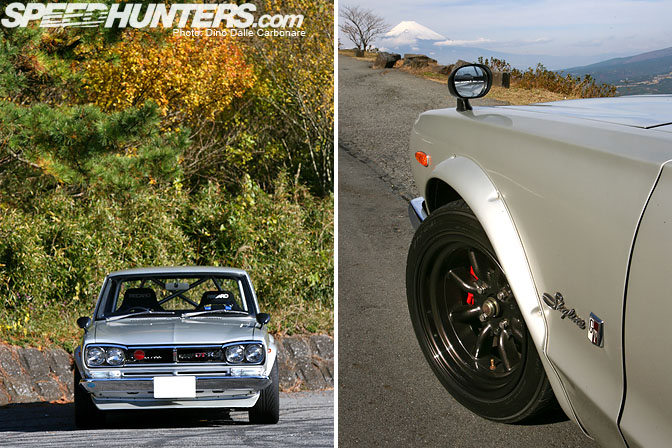 The red badge on the grille is a "Team S20" plaque, a club you can be part of only if your Skyline, or Z, packs an S20 engine. On top of the custom race-spec dampers the braking system was also upgraded with AP Racing calipers up front.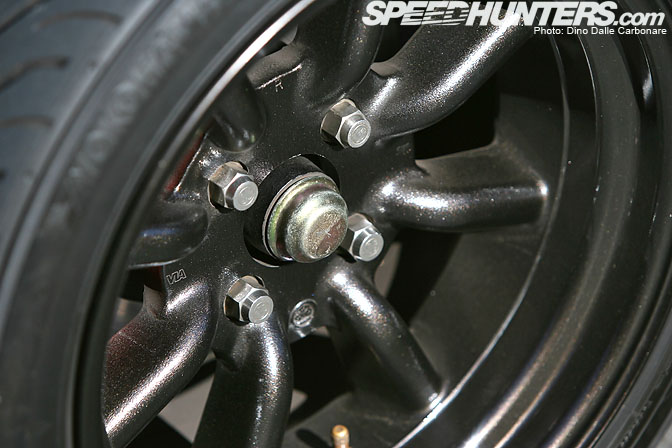 Watanabe-heaven!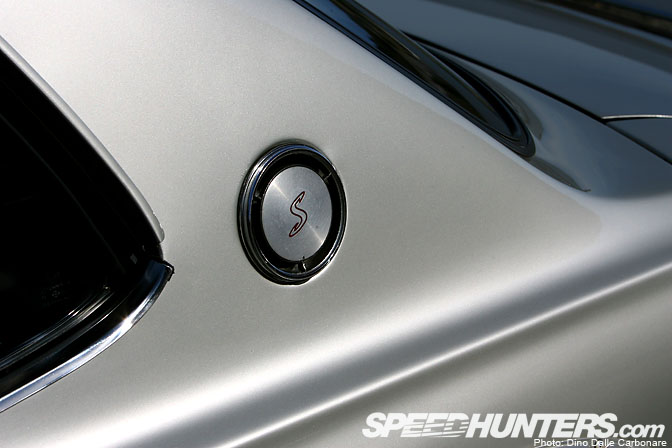 The fuel filler cap sports the "S" logo used on the Skylines of the period.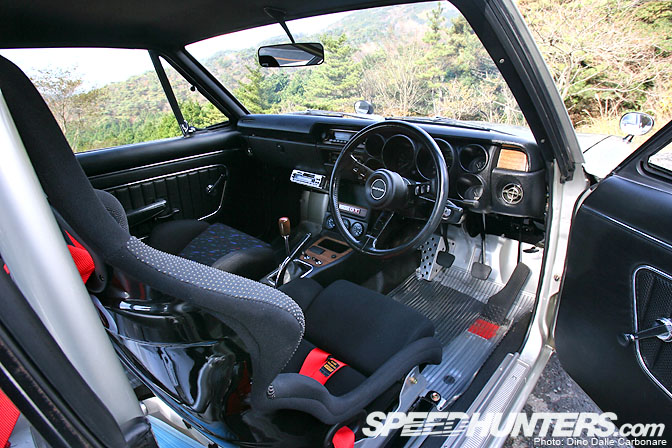 Aside from the two Recaro bucket seats the interior has not been subjected to any alterations, except the addition of a more modern stereo headunit…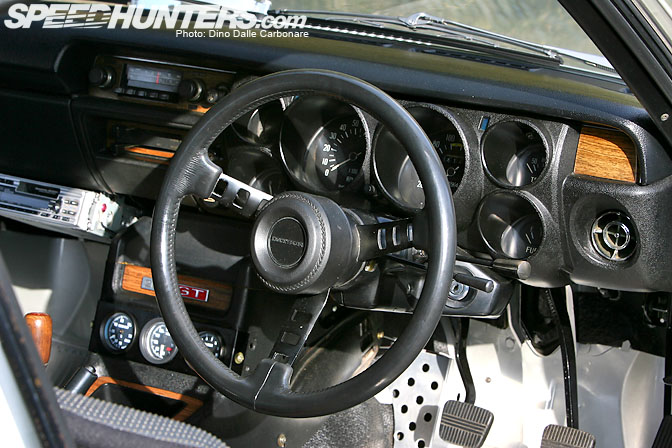 …and a triplet of gauges in the lower portion of the center console.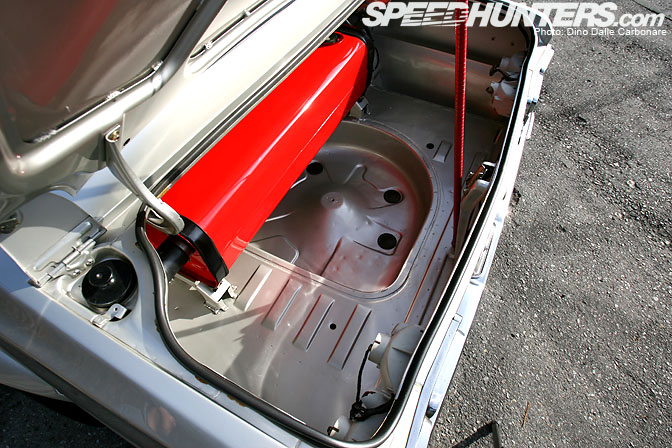 A quick look into the trunk to see just how extensive the body/chassis restoration was. Even the fuel-tank has been given a fresh coat of paint.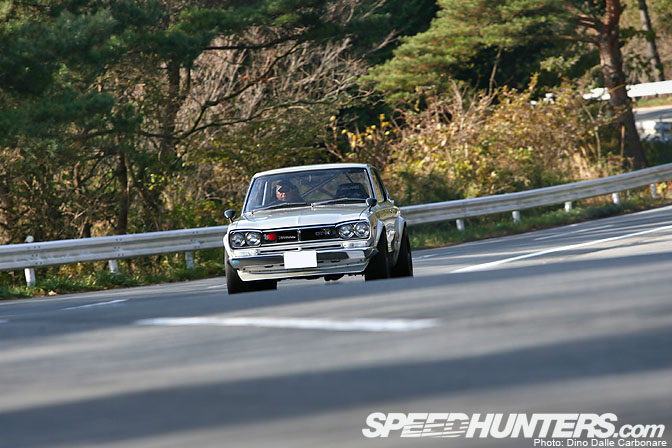 It's hard to put it into words but that race-tuned S20 breathing through 44 mm Solex carbs produces an impossibly intoxicating engine note. The scream is wild, it's pure GT-R, the exhaust blearing out in exactly the same way real KPGC10 race cars do every year at the Nismo Festival. And this is a road-registered car!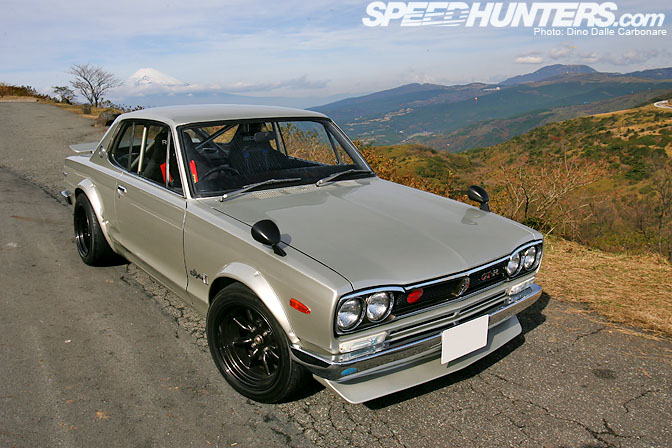 Shooting, sitting and going out for a ride in this unique classic was one experience I will never forget!
The Specs:
Engine:
- Race-spec S20 engine
- Forged pistons
- H-section connecting rods
- High-lift camshafts
- Solex 44 mm carburetors
- Custom exhaust system
- Large core racing radiator
- High-intensity ignition coils
- Custom oil catch tank
Transmission:
- Lightweight flywheel
Suspension & Brakes:
- Custom dampers
- AP Racing 4-pot front calipers
- N1 ventilated rotors
Wheels & Tires:
- Watanabe wheels 16"x8" front, 16"x9" rear
- Yokohama DNA GP 225/45/ZR16 front, 245/45/ZR16 rear
Interior:
- Recaro seats
- Custom half-type roll cage
- Datsun racing steering wheel
- Spot welded chassis
- Stripped out interior
-Dino Dalle Carbonare