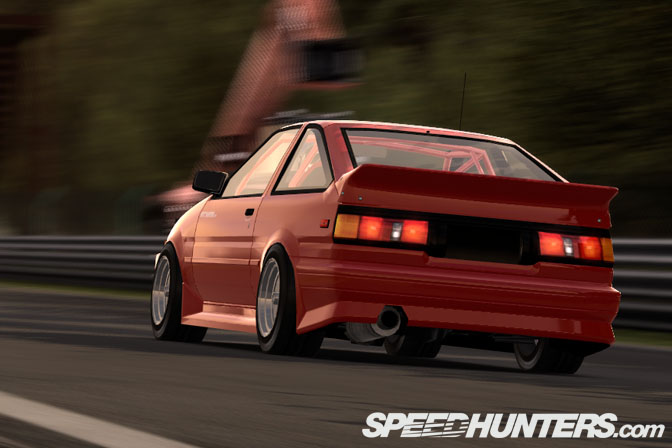 In the early days of Speedhunters, whenever the subject matter of Need for Speed came up, it became clear that you guys thought we suffered from bad car style. And rightly so, it was the nature of the way that the 3D car models were created in the old games, that ended up with the same basic group of kit designs being used across all the various cars, irrespective of the model. We also had a situation whereby our old "rice" style wide body kits were being recycled from year to year, even though tastes had moved on. So last year, as the Need for Speed SHIFT project was gaining momentum, we knew that we had to throw out the vast majority of the old 3D body kits and start over. Due to time and licensing constraints, we decided to make fictional kits, but we tried to keep them in tune with the latest thinking and styles.
So I'm very happy to tell you that we have a whole new approach and visual style for the in-game cars for SHIFT. It's not perfect so please don't nit-pick but overall it's the beginning of a new chapter.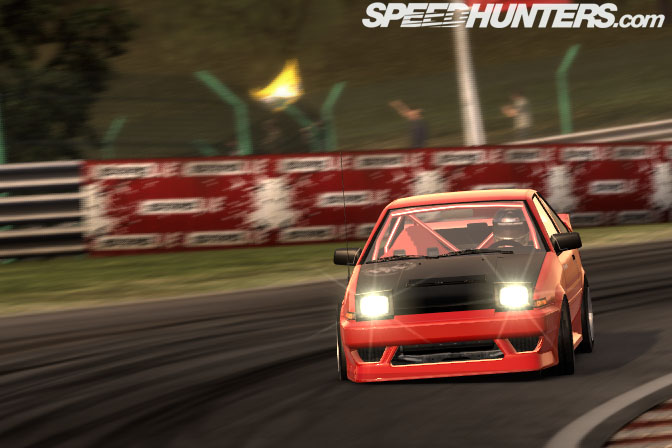 I've been spending a bit of time recently playing with the finished game and have become rather addicted ot it! So rather than just disappear from view for the next week, I'm also going to use these gaming sessions to make some blog content. Speedhunters features model and RC cars from time to time, so why not also show some game car projects from the NFS mothership too. The point of Speedhunters is to showcase cool automotive content, and as I type this post, I'm hopeful (although a little nervous as I did work on this game too) that you are going to like what you see.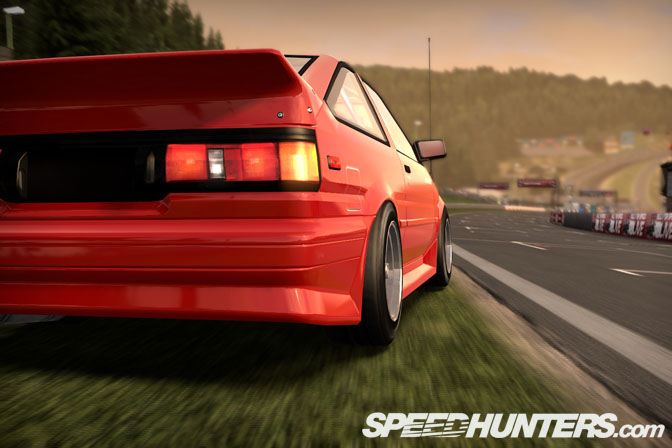 "Put JDM bumpers on it!" This was a mantra that I repeated over and over to the SMS game production crew as they got ready to design and build the AE86 body kits… And thankfully they listened… This is the first thing that happens to your Corolla as you start to upgrade the body. The huge USDM bumpers disappear and this kit appears.
Check out the the screws holding the TRD style wing on to the hatch back… amazing detail. BTW this shot is 100% unaltered from the PC build of the game. I simply took a snap shot of me hotlapping my little Corolla around the mighty Spa-Francochamps circuit.
In the BG you can make out Eau Rouge.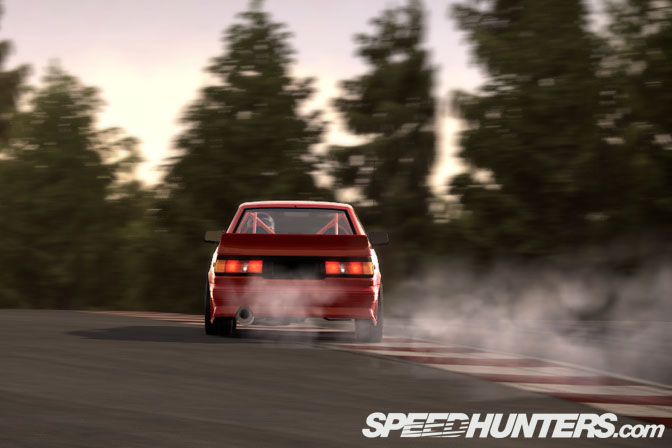 Never Lift!… My Corolla is specced out to around 240 hp in this guise and easily lights up the tires as I crest the top of Eau Rouge completely sideways.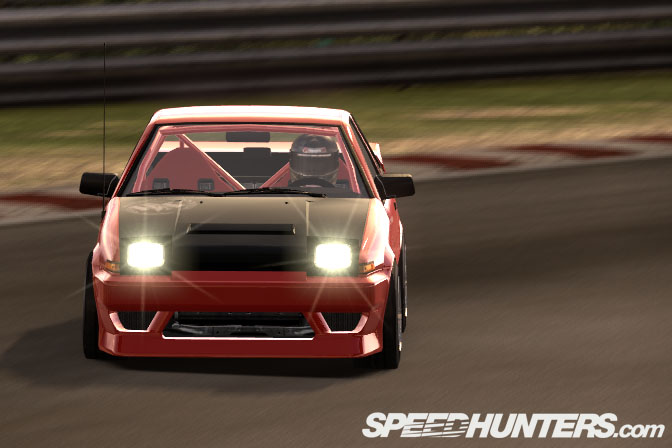 I dialed in 3 degrees of camber into the front of the car to get some proper style going… It makes the car rather twitchy though and the back steps out on corner entry. It's quite easy to control as the tires are fairly progressive.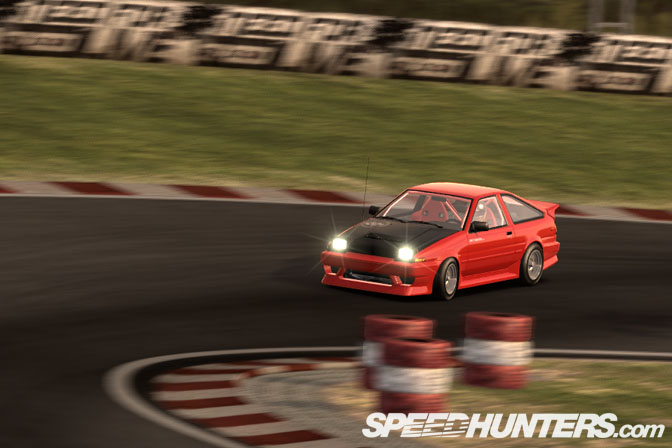 Here I am at the entry to the Bus Stop Chicane in a nicely controlled 4 wheel drift. The Corolla is quite a fun machine to toss about.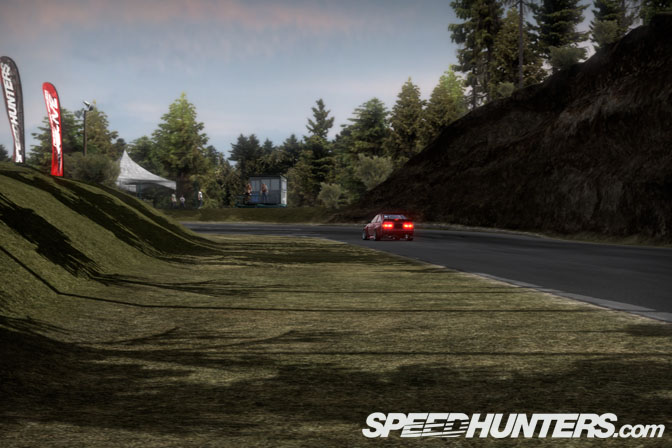 Boy that was fun… But my short attention span got the best of me and I immediatly wanted a new speed fix so hotted up the car even further and headed over to Ebisu West.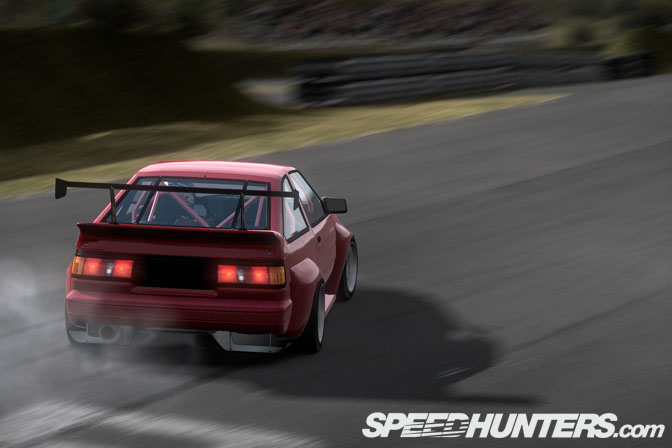 The next stage for upgrades basically turns the Corolla into a N2 racer complete with rear diffuser and wide track.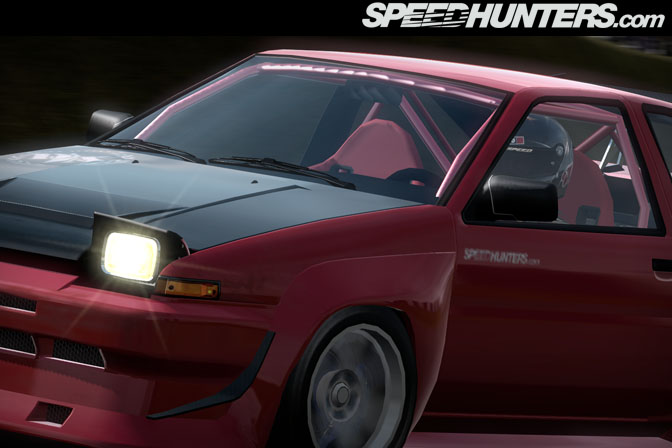 BTW the car is painted red in honour of Antonio Alvendia who taught me everything I know about AE86s!… Note the Speedhunters and Drift Alliance logos.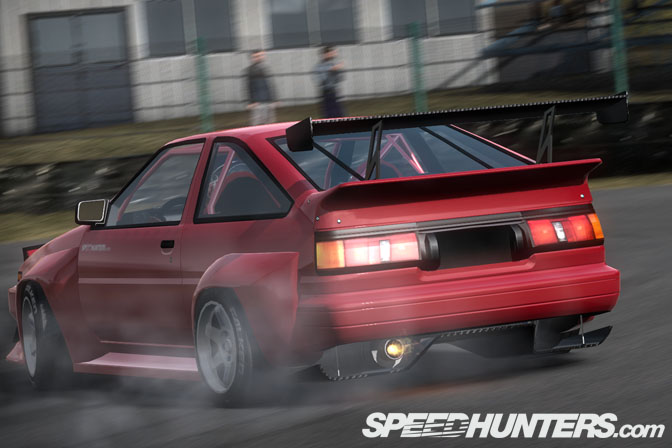 Although these sessions were done in Time Attack mode, I couldn't help but try my hand at some ass-out driving… As this is a full sim, I'm just not that good at drifting right now… much practice is needed.
I chose the white 16" TE37 rims simply because they are on a D1GP model of Ueo's AE86 I have sitting on my desk here.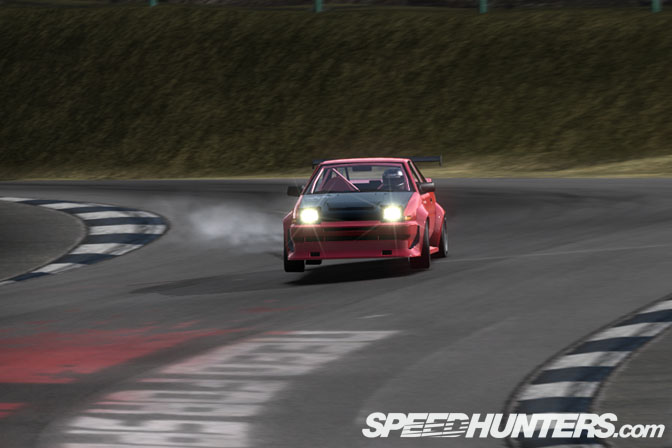 Three wheels off the ground!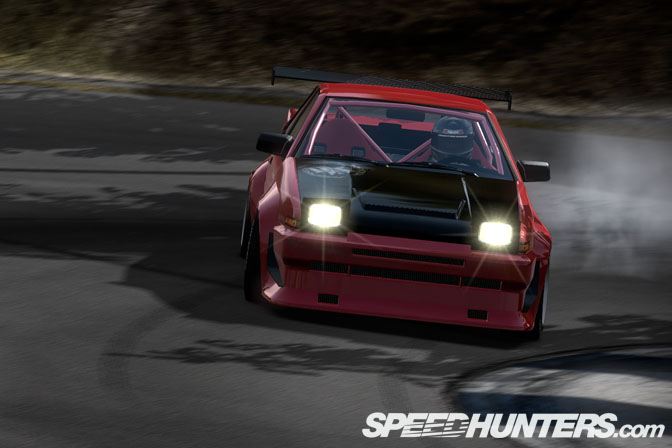 I didn't spend much time setting up the Corolla specifically to do prolonged drifts. Instead, I just lowered the suspension as far as the game engine would allow and maxed out the front camber… It's a style over handling approach that I'm not sure I'll be keeping for future game sessions!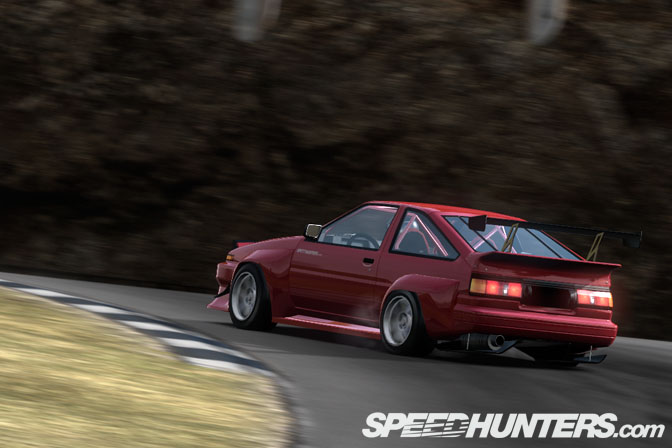 As Need for Speed SHIFT is a completely new, ground up rendering and physics engine, it brings the most realistic and enjoyable experience of driving a car in a game that I've ever had the pleasure to play (and I play them all)… The handling on the car is based on the real suspension geometry of the 3D suspension model, as is the movement of the body and all the related physical forces. You can see the weight shifting on the body as I accelerate up a hill at Ebisu. More importantly, as a player you can FEEL this weight shift happening and respond appropriately.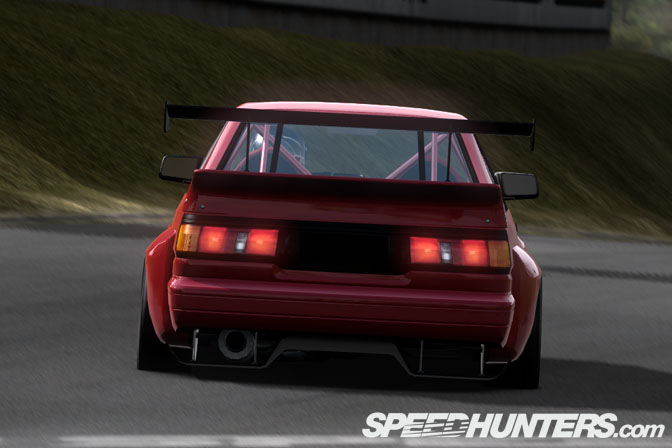 Is the wheel fitment tight enough for you?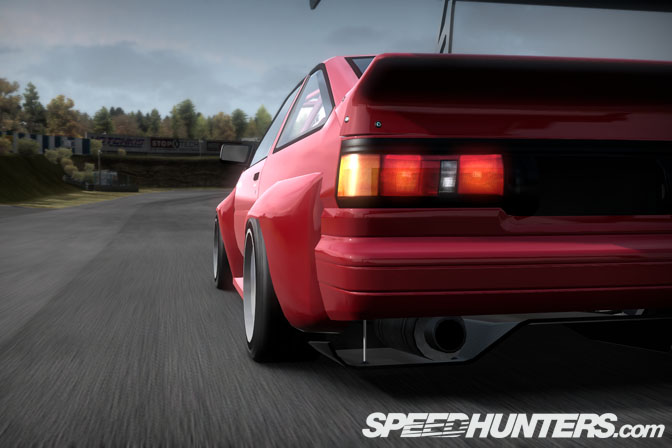 Hella Flush!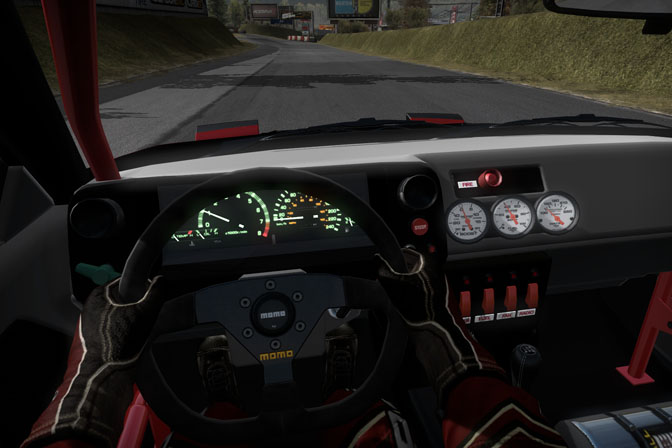 New for SHIFT are upgrading cockpits and fully working dials. I've already maxed out all the in-car updates in this shot.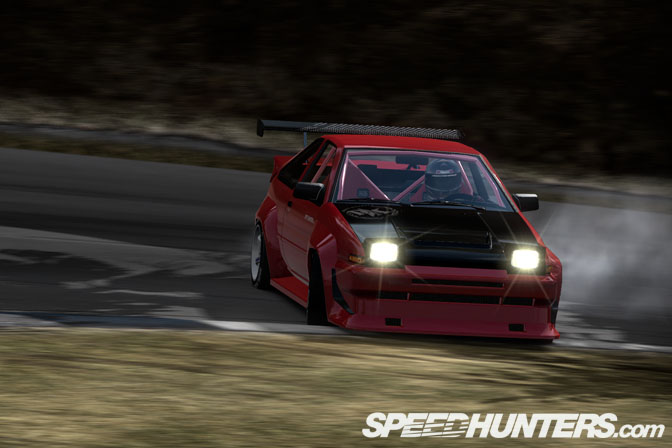 Like any beginner drifter, there were a lot of spins during my Ebisu track session…. I'm a reasonably good gaming grip driver, but drifting is something I'm going to need to practice. Perhaps JR can show me a thing or two.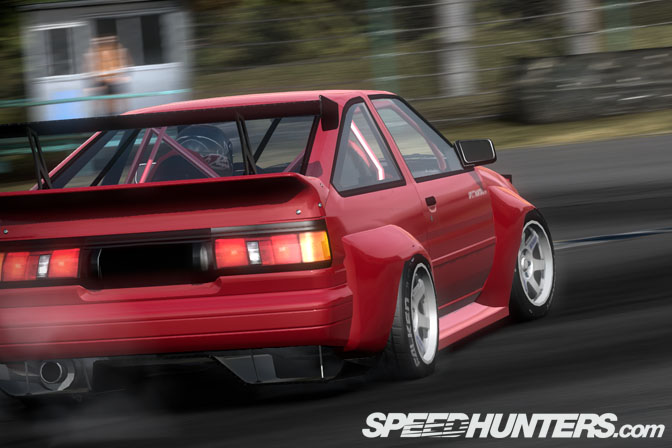 One thing that the game designers have done for the game career, is make it possible to take a small, underpowered car like an AE86 and use it all the way through the game career. This Corolla is already pretty extremely tuned, but a whole other level of performance is possible.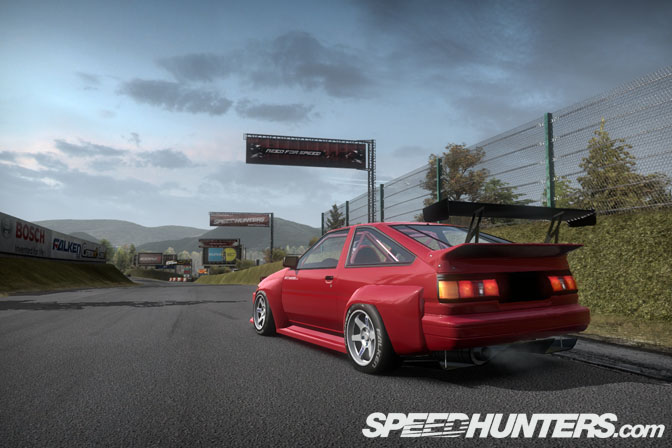 Basically, once I maxed out every single option for the car, a new level of upgrade got unlocked: the Works package.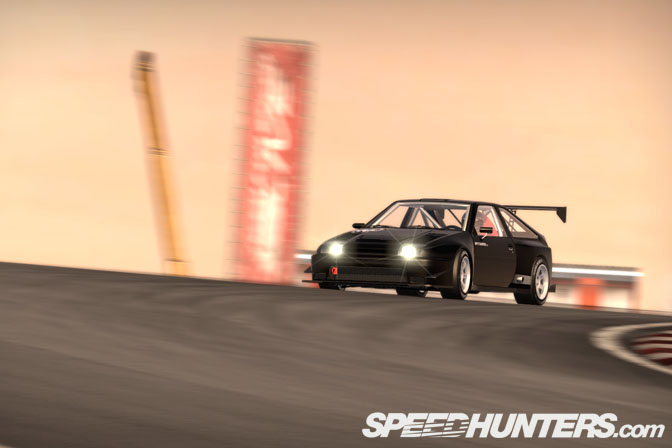 Purchase this option and your AE86 gets completely overhauled into something resembling a full JGTC type of silhouette racer.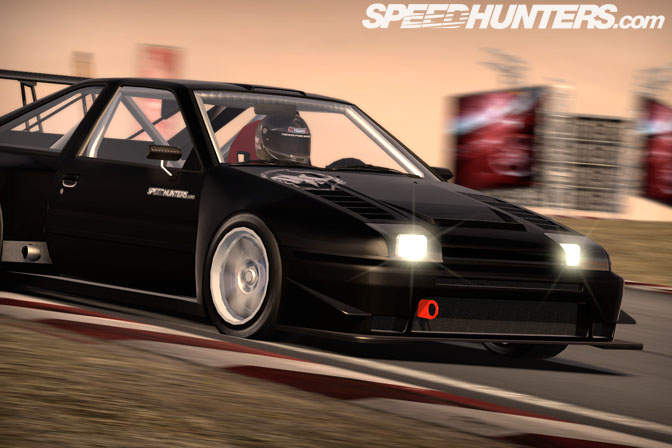 The DA logo is looking a bit out of place isn't it? This is no longer a drift car of any sort!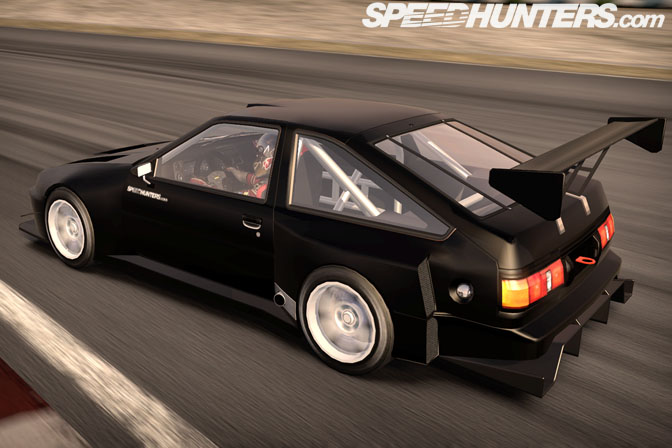 Carbon Body: Check. Downforce Aero Package: Check. Race Suspension: Check.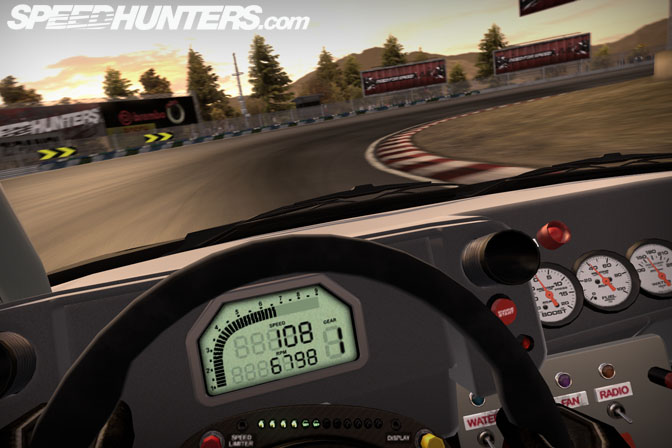 The cockpit gets an overhaul too with an LED display now showing you essential data.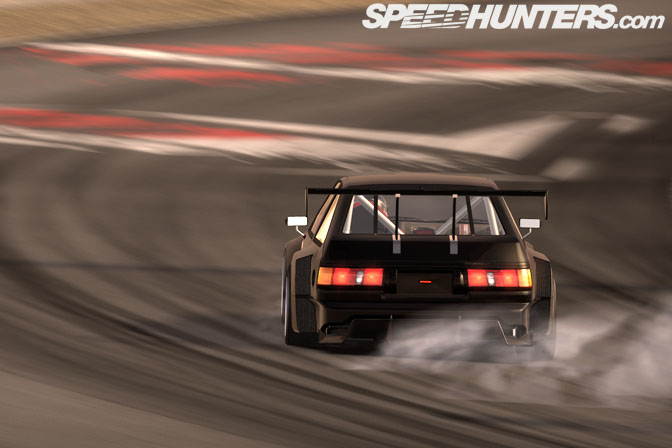 The only driving aid I use is ABS… I like to run with stability and traction control off… I prefer the challenge of controlling wheel spin myself!.. or is it the option of making smoke?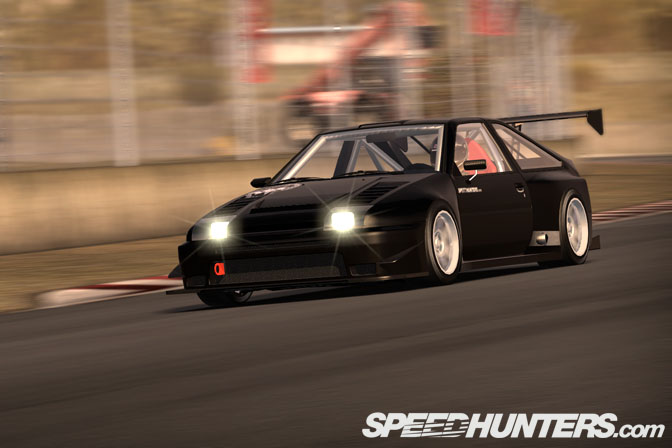 The Works package means that you can elect to try your hand at racing top end GT cars with your once humble Hachi.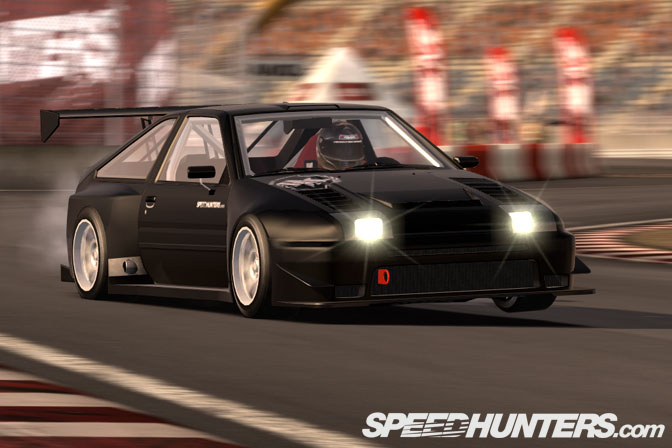 Three wheeling!… With bonus wheel spin!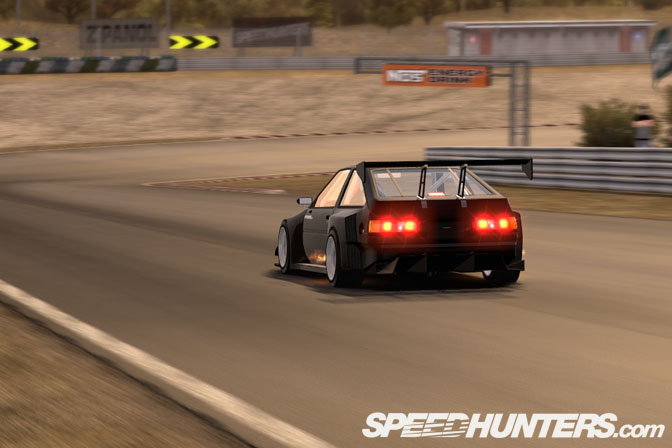 Under braking the car now blows flames out of its side exhausts.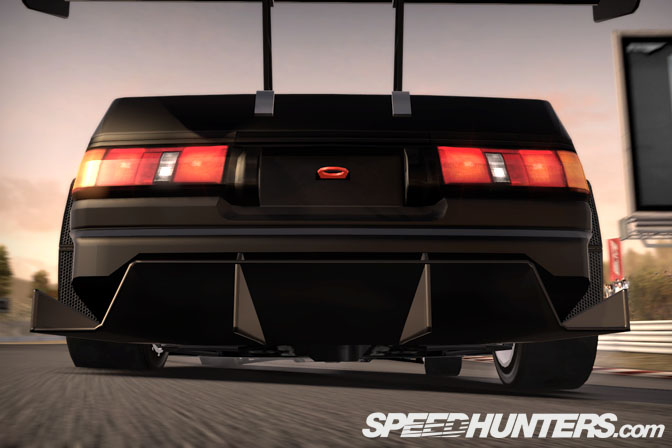 Check the diffuser and independent rear suspension.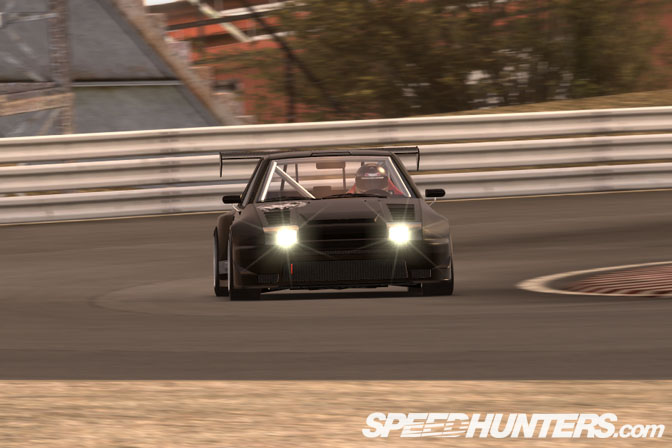 This is the same development team who previously did hardcore racing sims like GTR, GTR2 and GT Legends (the last of which I produced for them) and we can see they knew exactly how to make an authentic looking AE86 silhouette racer.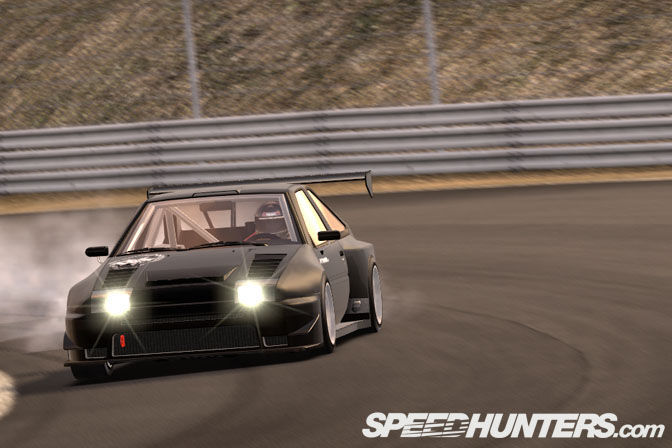 It looks absolutely purposeful… even a bit mean. The flat black paint is my own addition to the mix.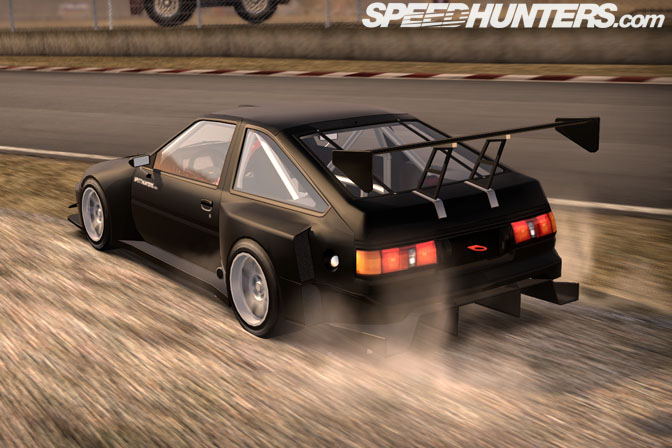 I managed to hit 225 mph on the straight at Autopolis.. seriously fast! I just missed my braking point though and a trip through the kitty litter was my fate.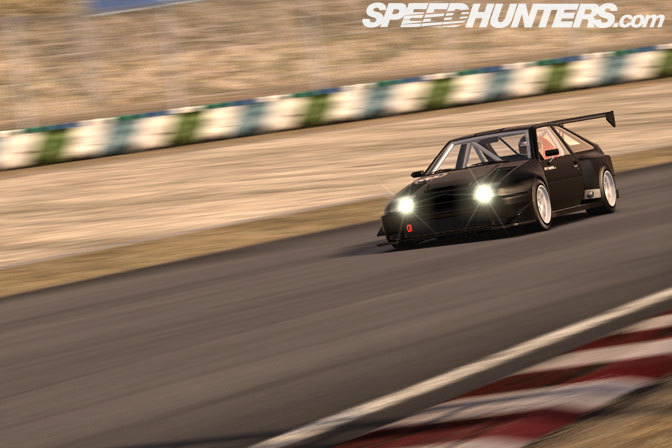 I just can't stop playing this game! My obsessive brain has me thinking about it constantly now — which cars I'm going to build next, which tracks I'm going to drive…
So next up I'm going to take a maxed out BMW 135i that I've built up onto the Nordeschleife… let's see if I can keep it off the barriers on this fearsome German track.
:Rod