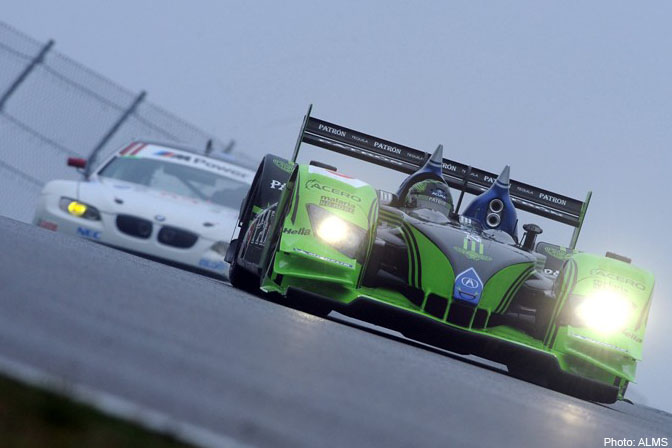 Workload has resulted in a lack of ALMS updates from me for most of the season, but it is now time to bring you up to date, in preparation for 'Petit Le Mans' later this month.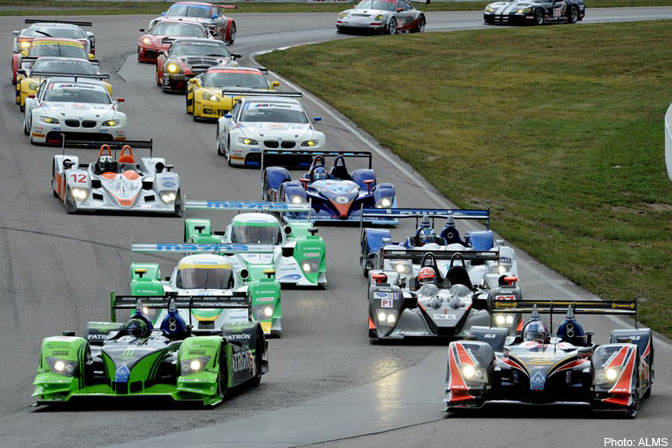 At the front, the series suffered from the withdrawal from Audi and their R15 TDi after Sebring 12hours. The economic climate also resulted in Audi pulling out of the European Le Mans Series.
A decision that Audi probably has since regretted, as lack of running and development cost them victory in the 2009 Le Mans. They will be back for Petit.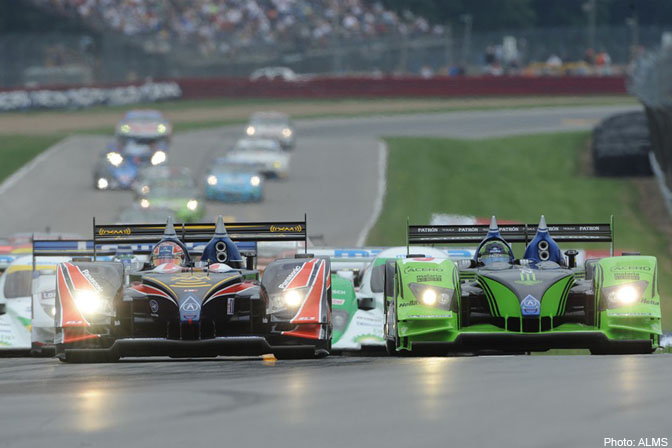 Two 'trick' Acura's by Patron Highcroft and de Ferran Motorsports head up the LMP1 field and have shared the wins following Audi's win at Sebring.
This weekend's win at Mosport, for David Brabham and Scott Sharp in the Patron Highcroft Acura, secured the LMP1 manufacture crown. 'Brabs' and Sharp also lead the drivers championship.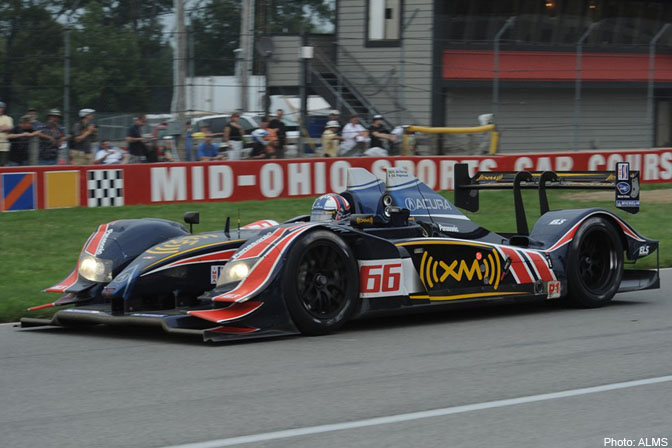 Gil de Ferran and Simon Pagenaud are a few points behind in their XM Radio liveried Acura.
With extra entries and bonus points in the final two rounds, the drivers champion could come from either Acura team.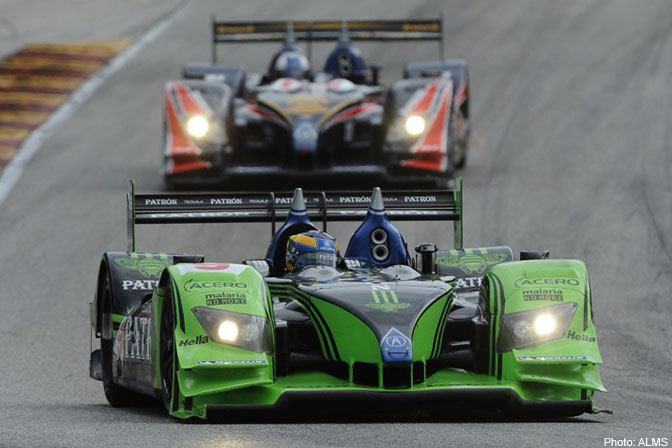 Acura, allegedly stopped development of the LMP1 machine following Audi's withdrawal. It is a shame as the car is very radically different from its predecessor, but maybe outclassed once the Europeans arrive at Petit.
You can read more about the Acura in John Brooks car feature.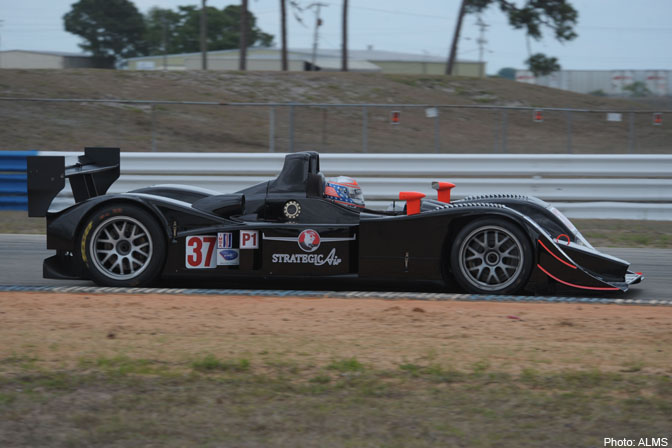 Quick mention for John and Clint Field in their old Lola. They are a small privateer team with few staff, yet they have managed to keep Acura on its toes on ocassion, getting ahead, at one point at Mosport. Reliability and accidents have put pay to a good result.
The less powerful LMP2 class has also been a little barren with Penske-Porsche departing the series to race those ugly Grand Am cars!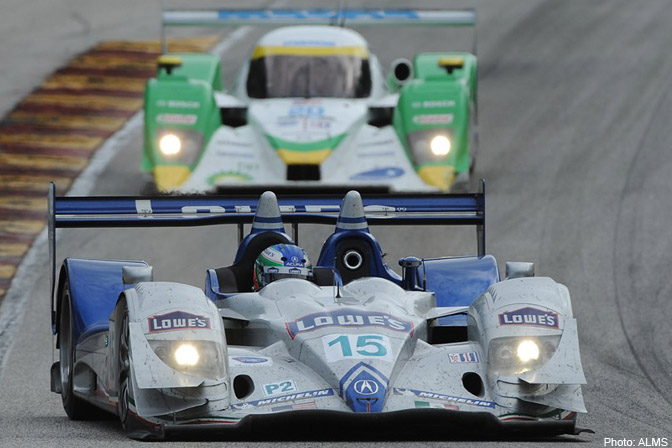 Fernandez Racing run the older LMP2 Acura (which was originally a Courage) and have just wrapped up the LMP2 Drivers title, with driver/owner Adrian Fernandez and Luis Diaz.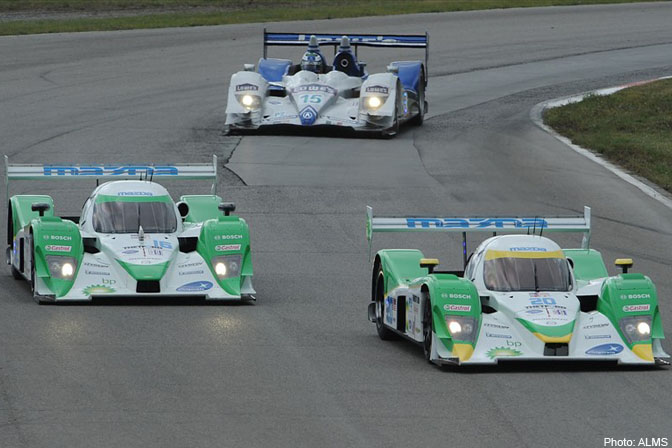 The main competition comes from the two Dyson Racing Lola Mazda's which has a number of reliability problems.The car now has good pace and should be a force to be reckoned with in 2010 if they can sort out the engine and turbo issues.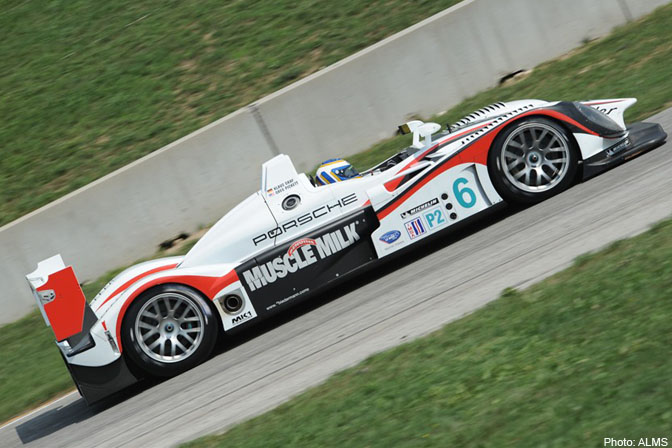 Porsche has been represented in 2009 with the privateer CytoSport RS Spyder of Greg Pickett and Klaus Graf in selected rounds. Assisted by Porsche, the car was quick out the box and finished 2nd in class on its debut.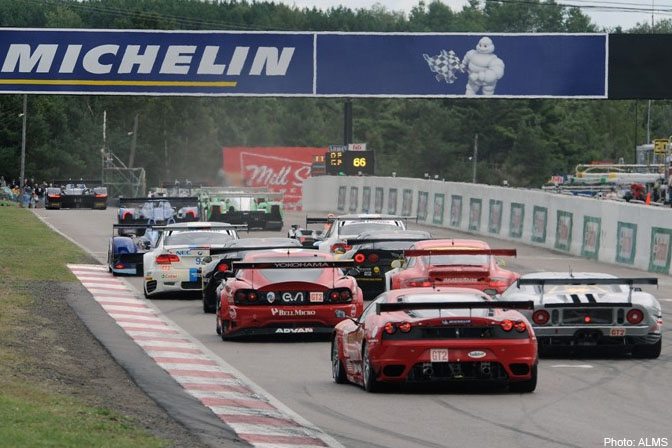 For many, the real battle is in GT2.
Porsche, Ferrari, Corvette, BMW, Dodge, Ford and Panoz, all racing in this class.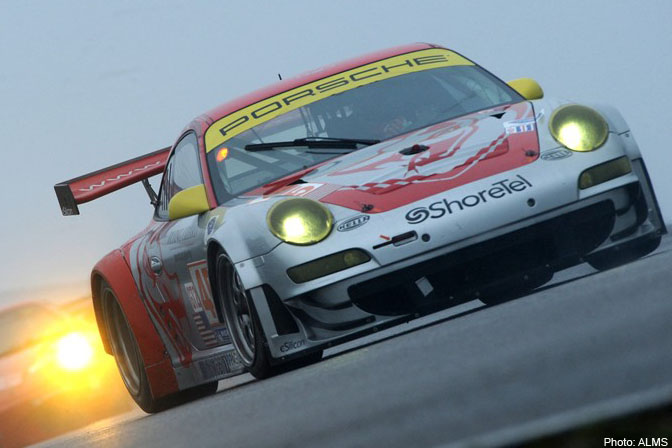 The battle at the front has been close all season, but five class wins for Jorg Bergmiester and Patrick Long earlier this season puts the Flying Lizard Motorsport team at the top of the  GT2 championship. They are now coming under increasing pressure from the rest of the GT2 grid.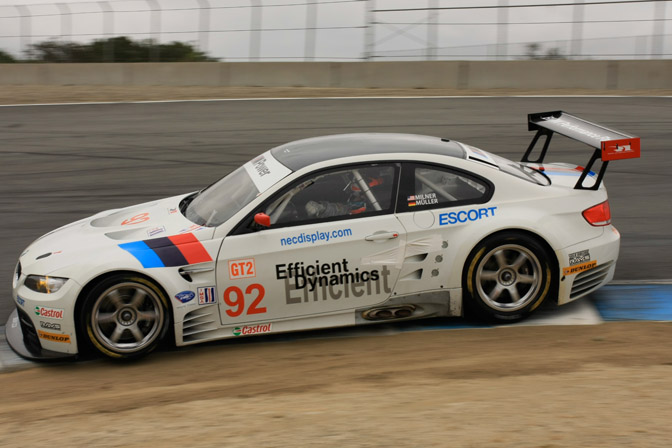 The Need for Speed Shift cover car, the Rahal Letterman BMW M3 E92's has become more competitive during the season, with regular podium finishes and a Pole position last weekend.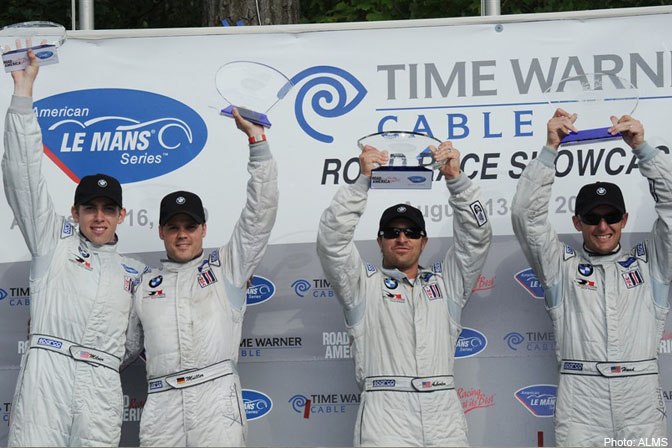 BMW took a fantastic 1-2 class victory at Road America, Joey Hand and Bill Auberlen leading the Tommy Milner/ Dirk Mueller car home.
A great performance for a new car and team. This was the first win for BMW since 2001 and M&M's fourth podium finish this year.
This past weekend, both BMW's lined up on the front row at Mosport, this time the Milner/Mueller car was on Pole.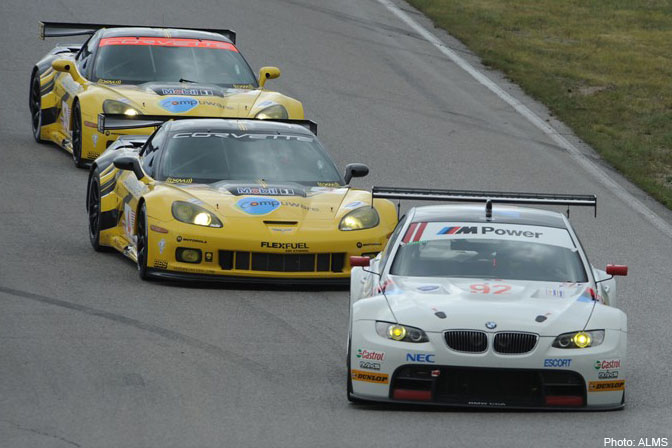 However, problems during the race relegated the BMW's to the tail end of the field.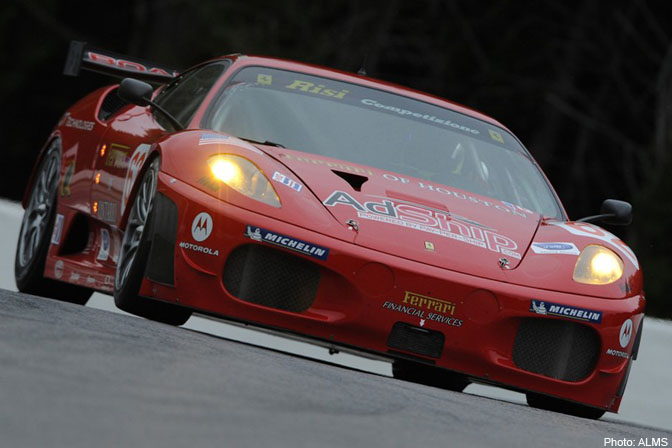 Up front, it was a great battle between Corvette and the sole Risi Competizione Ferrari F430GT.
Corvette joined GT2 class from the Mid Ohio round. Jan Magussen took the class win from Pierre Kaffer and Jamie Melo in the Ferrari, by just 0.3 seconds.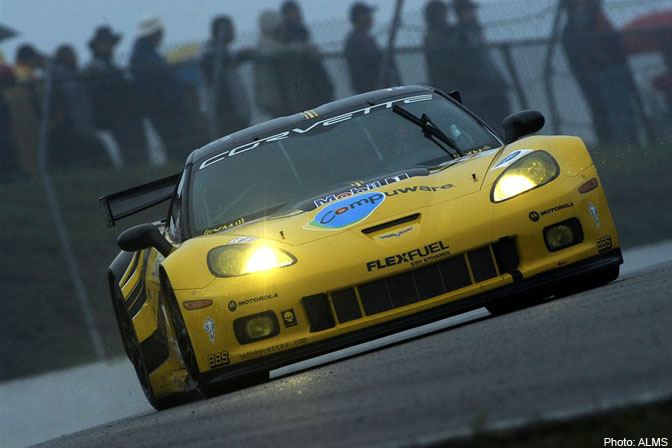 This was the third straight Mosport win for Magnussen and team-mate Johnny O'Connell, who started his 100th ALMS race this weekend, and the first win for Chevrolet in GT2.
Another great performance for a new car and team. Each race, GT2 gets better.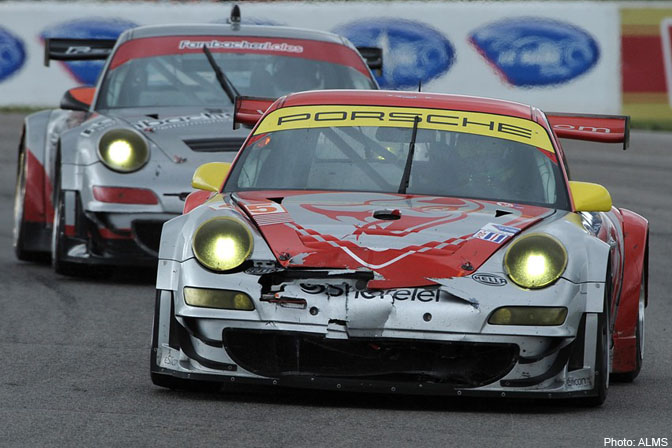 GT2 leaders Jorg Bergmiester and Patrick Long finished 5th in class at Mosport, despite rear-ending the Auberlen/Hand BMW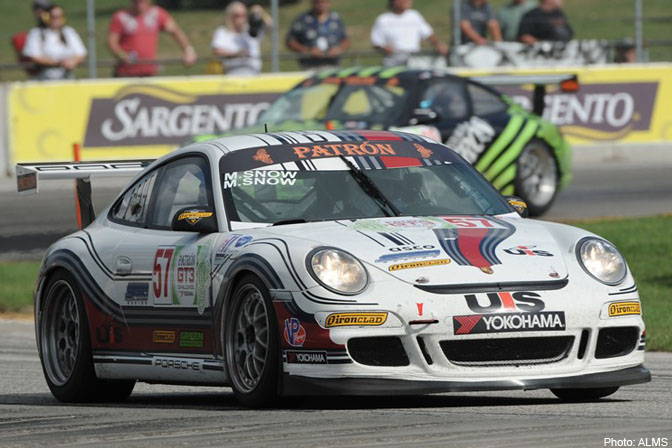 Adding to the entry list at selected rounds, a new GT3 Challenge class. All the cars are Porsche 911GT3 cars from the Patron Yokohama GT3 challenge, which normally supports the ALMS.This class was added to boost entry numbers in a tough economic climate. The cars lack some pace and are a bit of a mobile chicane for many drivers.
Husband and Wife team Martin and Melanie Snow lead the GT3 class with a series of convincing wins.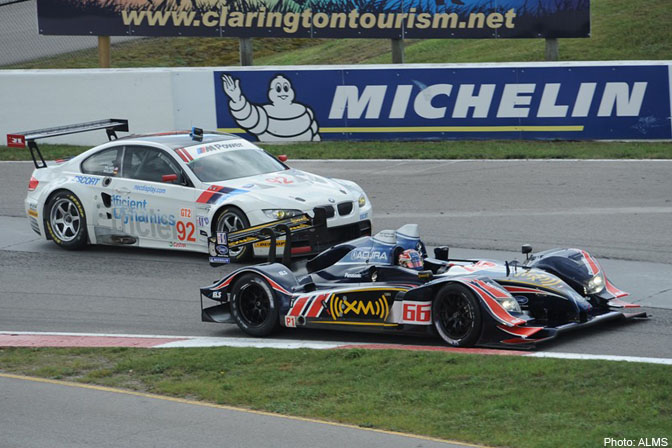 The teams are now preparing for Petit Le Mans. Despite the economy, there is a good entry list for the 10hr race.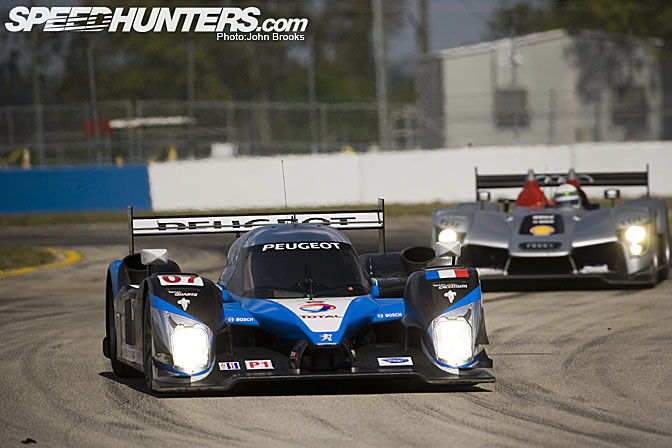 Audi, Peugeot and ORECA will travel from Europe, alongside Drayson Racing (below) who have replaced their troublesome Aston Martin V8 Vantage GT2 with a new LMP1 Lola-Judd Coupe.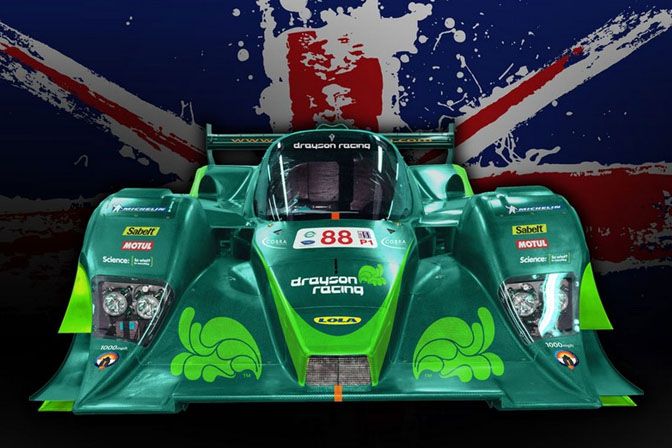 GT2 retains its competitive field, and will be joined by additional entries for the Falken Tires Porsche team and LGM's Riley Corvette GT2.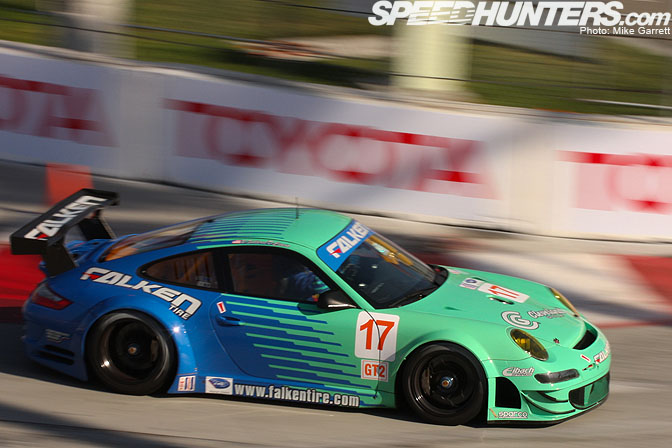 Personally, I think it will be a great battle between Audi and Peugeot at the front, with Oreca and Acrua battling behind. In GT2, it could be anyone's race….
Special thanks to Misty Dreifuss, Dan Boyd and the American Le Mans Series for the majority of the images.
– Andy Blackmore
Photos: American Le Mans Series/Dan Boyd, BMW, GM, Drayson Racing