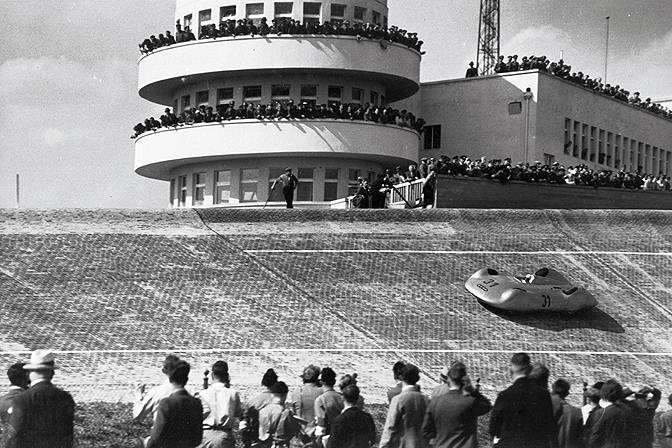 Speed Month on Speedhunters just wouldn't be complete without a look at the one and only German race track built for the purpose of all-out top speed: Avus. This is a temple of speed which will forever be linked with the pre-WWII era Auto Union and Mercedes Silver Arrows streamline Grand Prix cars and even the creation of the Autobahn itself.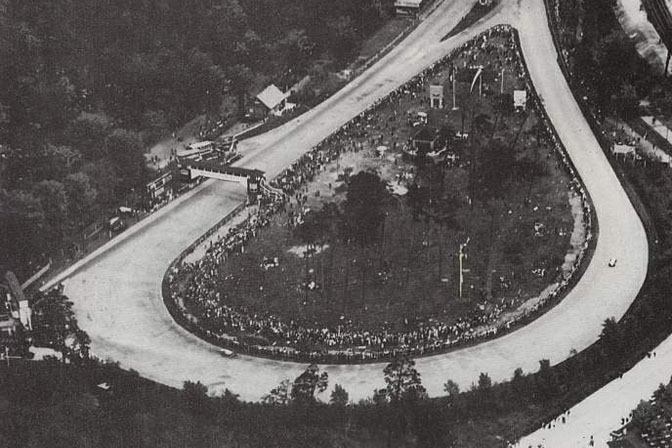 Although planned out as early as 1909, Avus opened in 1927, just on the outskirts of Berlin, as a 12.160 Miles or 19.569 km two-way blast through the Grunewald forest. Think of it as a freeway connected by two corners… It was the first section of the now famous Autobahn German freeway system to be constructed but was also designed to have a dual life as a motor racing venue. Let's ponder this for a second… the first section of the Autobahn to be completed was also a racing track!
This is a shot of the old South Curve at the bottom part of the circuit.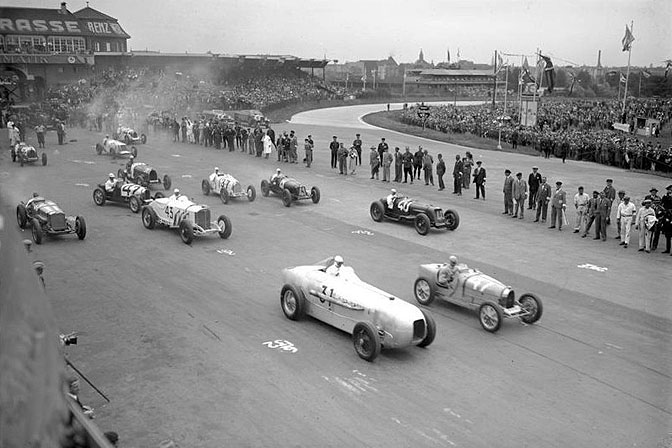 Remember this is the era before the great Nurburgring was constructed…. so the Berlin track instantly became the center of Germany's racing activities.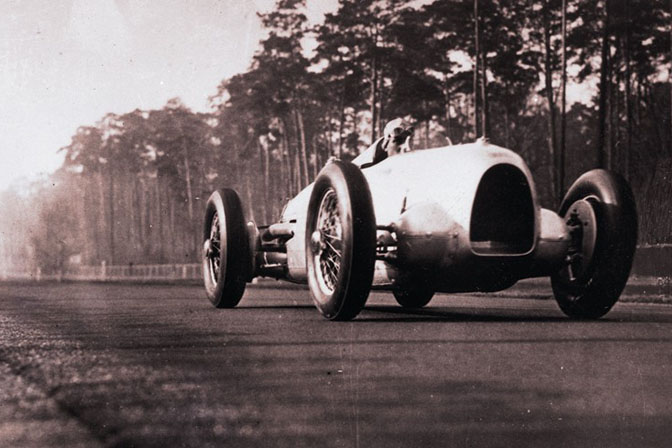 This photo shows Hans Stuck the Senior piloting the mid-engined Auto Union Silver Arrow at Avus in 1934. Hans went on to set three world land speed records at Avus that year.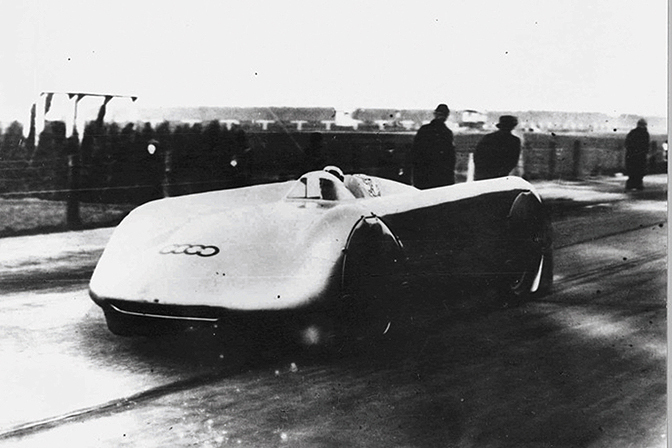 It's interesting to note that both Auto Union and Mercedes used Avus as a venue for land speed records and soon rebodied their Grand Prix machines with streamlined bodies in a quest for all-out top speed…. but before we get into too much of a history lesson, let's jump forward to present day.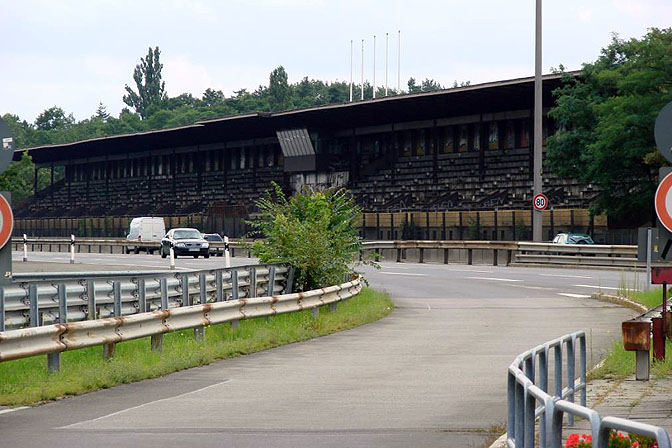 If you were driving your car down the Autobahn 115 out of Berlin you would probably be more interested in the fact that this was once the road that connected West Berlin to West Germany during the cold war… but an observant person might wonder why on earth a large grand stand would be situated on the side of the freeway!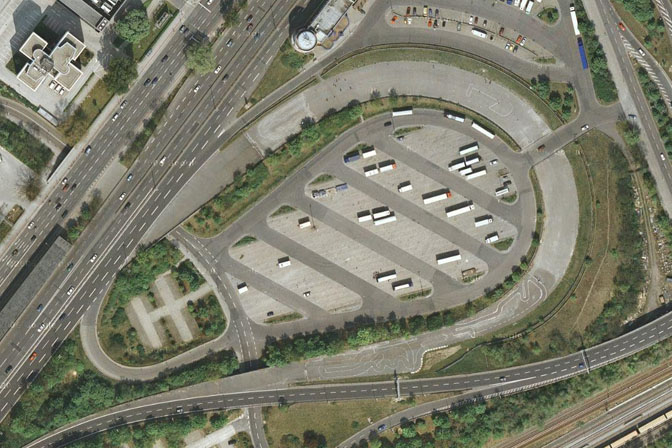 Let's look at Google Earth to see what we can see. On the left side of the frame you can see the grandstand building, which, according to Wikipedia, is now a protected building….. we can also see a remnant of the old race track… the North Curve and what seems to be the paddock area… it also appears that someone has made a few RC Car tracks on the old racing surface… good to see it's still in use in some capacity!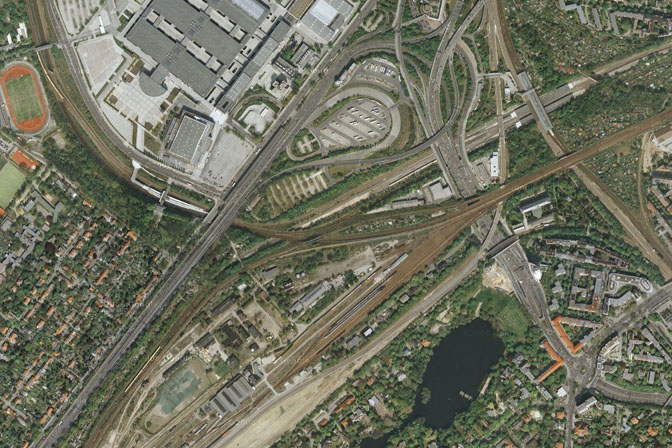 As we zoom out, we can see Avus' North Curve is surrounded by a big freeway interchange system.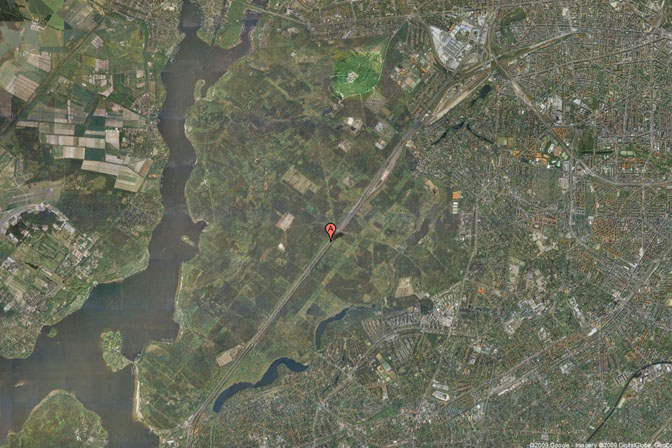 Zooming out even further, this is in fact the whole original 12 mile track… it seems a bit insane now doesn't it?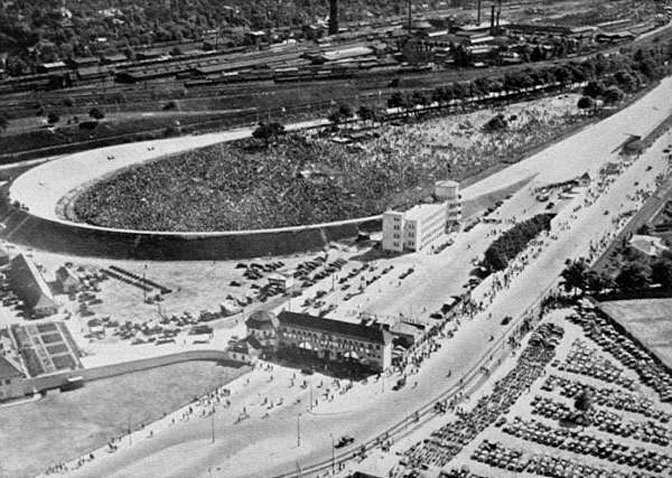 By the 1930s, the Nurburgring Nordschleife had eclipsed Avus as Germany's premier racing circuit so the organizers hatched a plan to make Avus into the world's fastest race track. Racing was halted on the circuit for the 1936 season in order to reconstruct the north curve into this act of madness….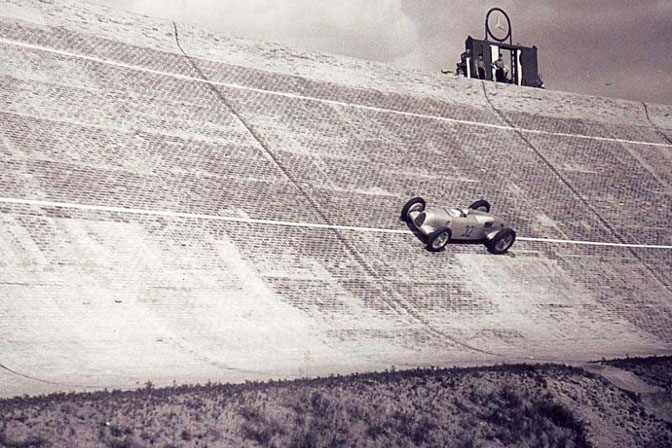 A forty-three degree high speed banked corner.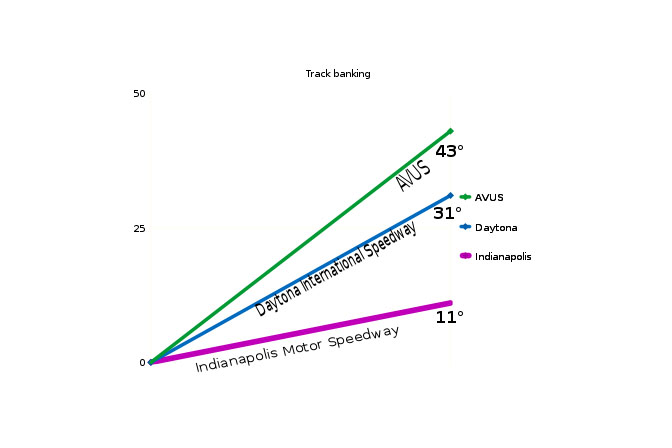 In order to visualize how crazy this banking was, someone posted this chart onto Wikipedia. You can see just how much more steeply banked it is compared to the steepest of steep… Daytona… The Avus banking was on a whole other level.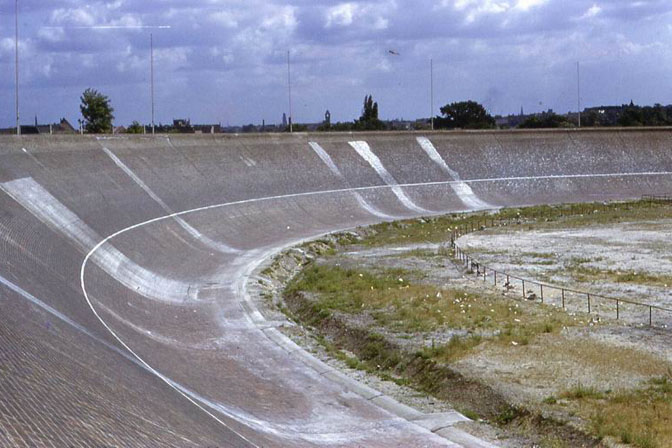 The brick surfaced corner was quickly dubbed the wall of death as it didn't even have a barrier around the outside… if you lost control in this fearsome corner, well that was certainly the end of your days.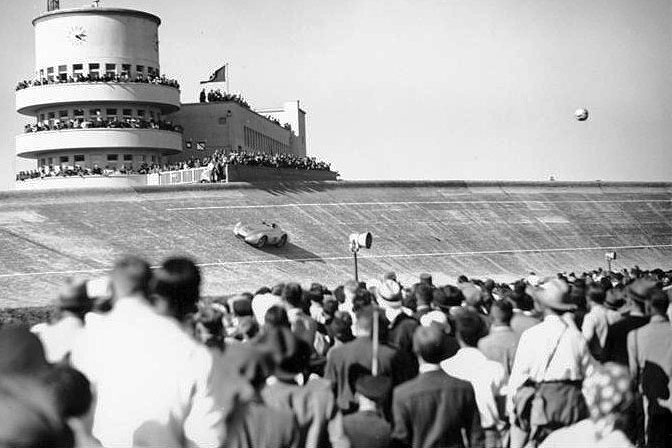 Nonetheless, in 1937, the Mercedes and Auto Union Silver Arrows ventured out to race each other on what was now the world's fastest racing track. The race was won by Mercedes driver Hermann Lang in his W125 streamliner. Amazingly, he clocked an average race speed of 260 km/h… a record which was not eclipsed at Indianapolis for another three decades.
World War II brought an end to racing at Avus and it wasn't intil 1950 that racing commenced again at the site, albeit with with a new 5.157 Miles or 8.299 km shortened layout.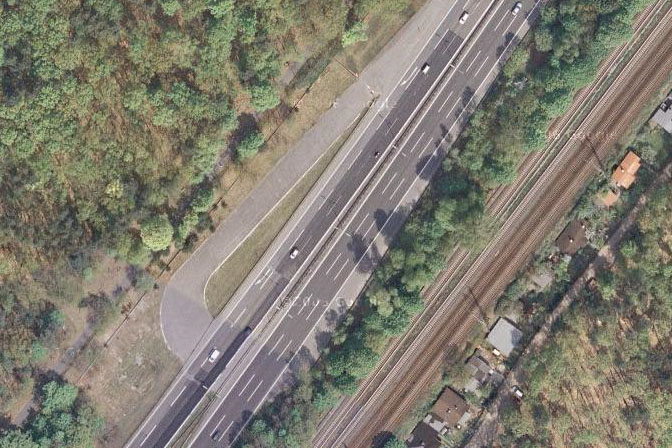 Returning again to Google Earth, we can see the remnants of the new South Corner… it's still there, although I would imagine it goes unnoticed by the average German commuter.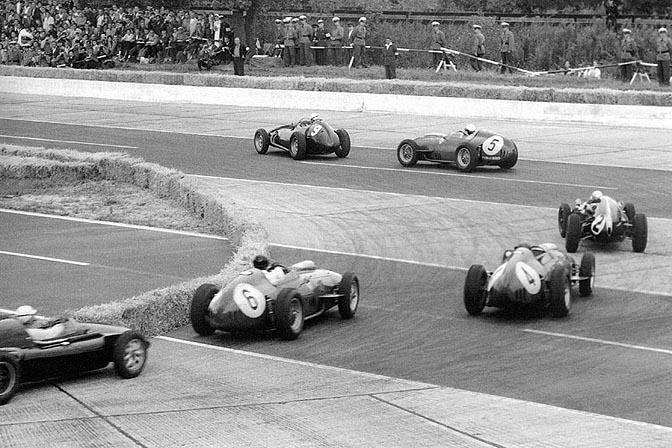 Here's a shot of the very same corner from the only Formula 1 event held at Avus: The 1959 German Grand Prix.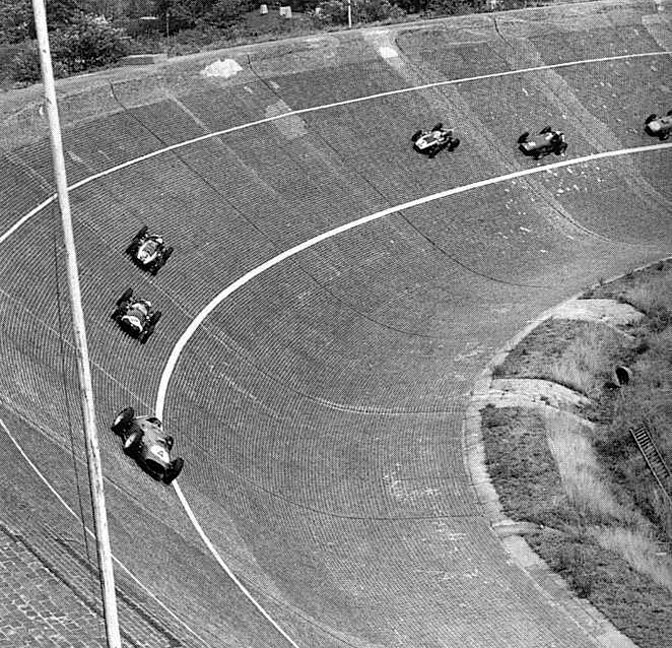 Needless to day, the F1 drivers of the day weren't very pleased to be racing on the brick surfaced banking, it was already considered to be too dangerous for its own good.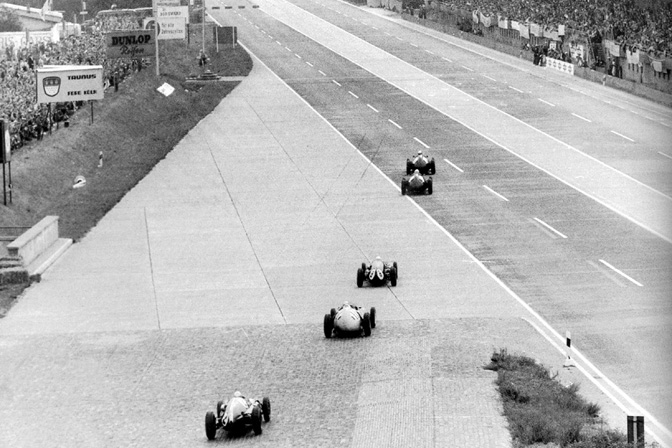 The record books reflect the two heat race result as a Ferrari 1, 2, 3 with Brit Tony Brooks leading home Americans Phil Hill and Dan Gurney.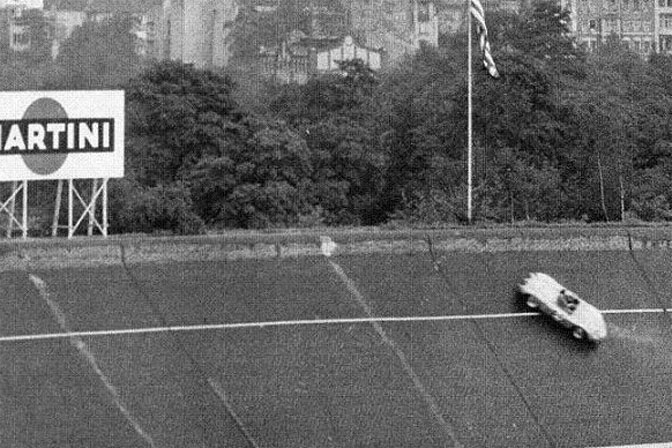 Guess what is about to happen here, yikes!…. Considered to be too much of a health hazard, the banking was finally demonlished in 1969 but racing continued at Avus and included series like the DRM, DTM, Interseries and the Supercup for Group C cars up until 1998. By then, the new unification of Germany meant it was just too costly to shut down this important Autobahn access point to Berlin… and continued safety issues meant that it was just no longer possible to keep racing on this stretch of freeway.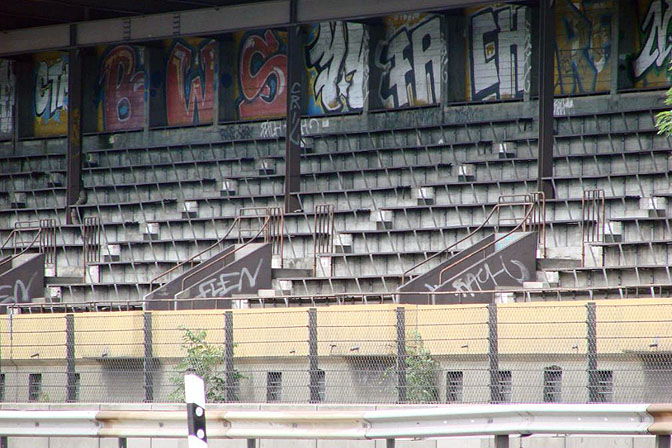 So if you are ever passing through Berlin, perhaps a pilgrimage to this temple of speed is in order…. The grand stands are still there and so is the flat version of the North Curve. You can also enjoy some lunch at the old race control tower which is now a restaurant and motel.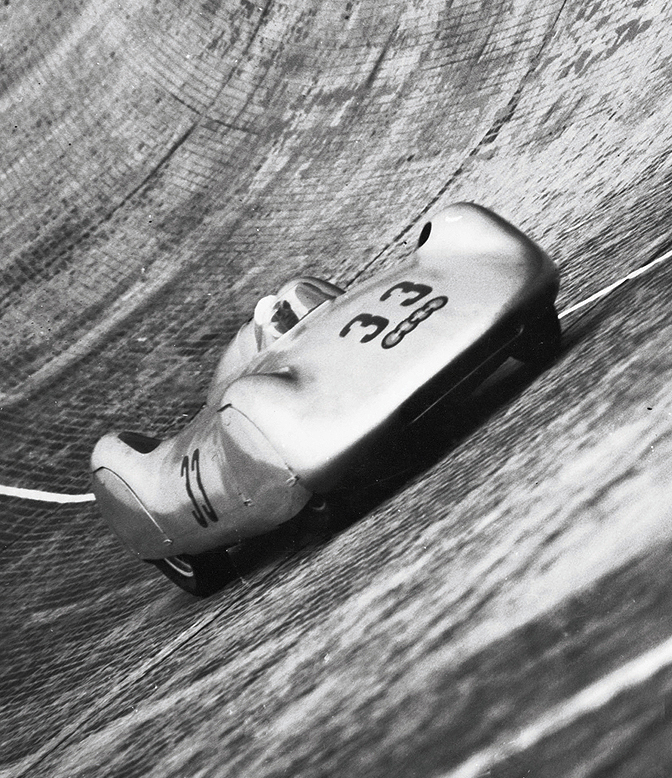 The era of the great German Streamliners is very quickly passing out of living memory, but at least for us motor fans a few remants remain of their old battle grounds…. I know next time I pass through Berlin, I'll have to check out the remains of Avus and cast my thoughts back in to an era when land speed records were still conducted on roadways. Thankfully we still have Bonneville and new standing mile events are springing up across the US, but there will never be a place like Avus again.
:Rod Chong
August Speed Features on Speedhunters