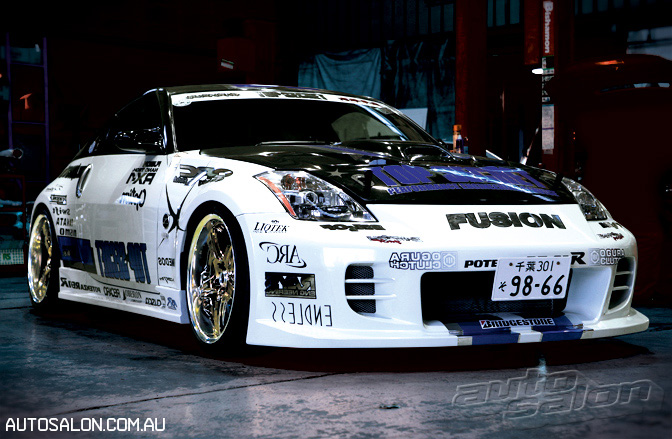 Few tuners can rival Top Secret's global popularity. For over a decade, Smoky Nagata and the Top Secret team have rewritten the book on modified car culture by constantly developing cars that are ground-breaking, innovative and inspiring. Indeed, many of the spectators who flood into the annual Tokyo Auto Salon dash straight to Top Secret's stand to see what insane demo car they've come up with this time.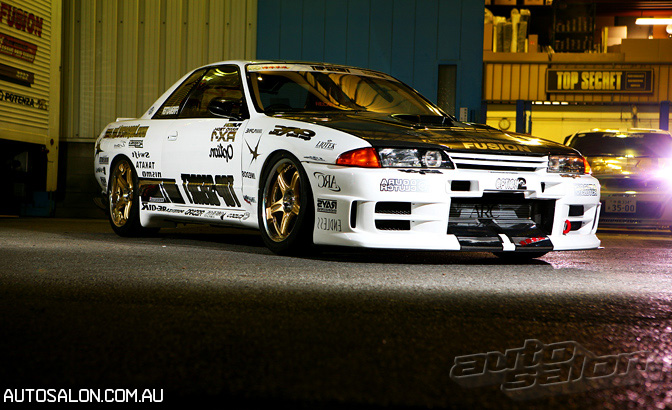 While Top Secret's cars are often synonymous with gold paintwork and monstrous turbo setups, there are other cars in their arsenal which don't abide by such conventions. Cars such as the two white Nissans you see here, which are both naturally aspirated. Although performance fanatics may cringe at the thought of all-motor Nissans, both of these creations are pure genius and uphold Top Secret's focus on – you guessed it – speed.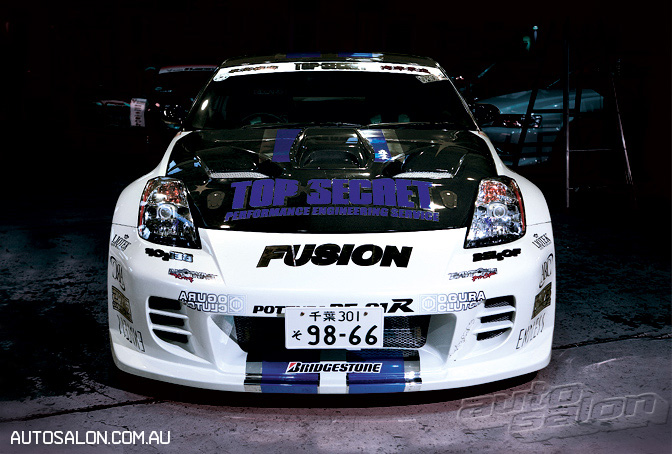 First up is the Z33. Even though it is intended to be a road-going demo car, there's a staggering array of modifications that have been fitted. The exterior has received a full complement of Top Secret aero parts, including their G-Force longer nose front bar.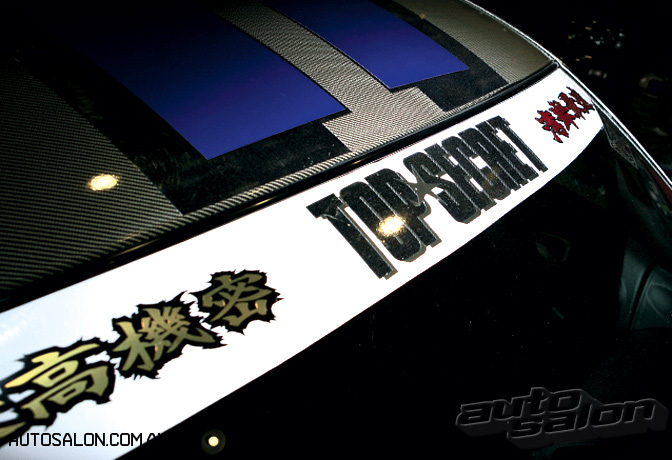 Up close you can see the roof of the Fairlady Z features a carbon fiber skin which accompanies the carbon hood and trunk lid.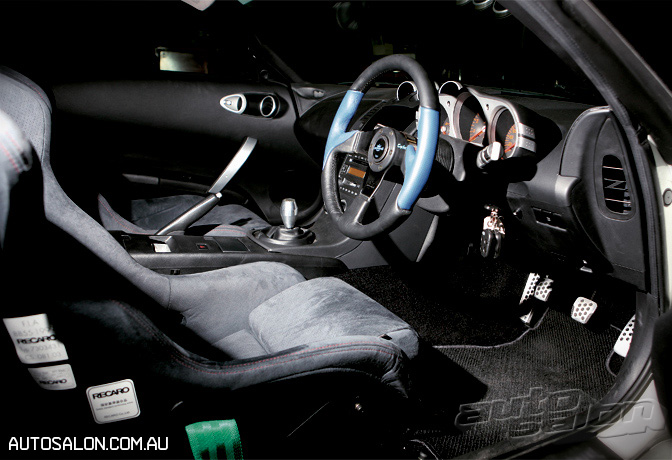 The interiors of Top Secret's cars are always on the subtle side, with an obvious focus on functionality. Here there's a pair of carbon shell Recaro seats, TAKATA harnesses, Personal steering wheel and a trio of Defi BF gauges.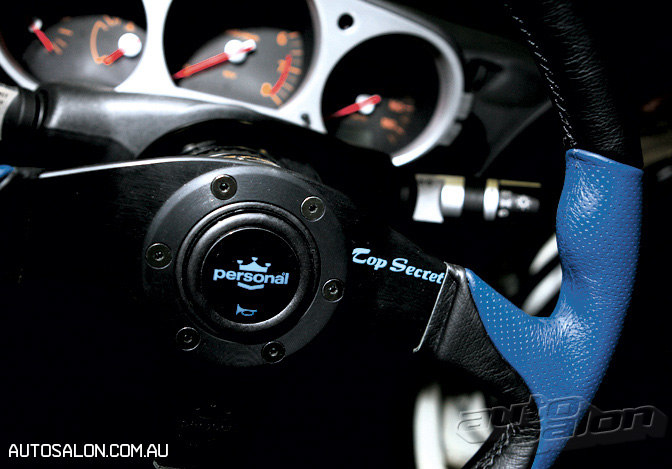 Over the years, Top Secret have partnered up with leading aftermarket brands to create limited edition parts that have their own unique spin. Here is the Top Secret x Personal collab steering wheel.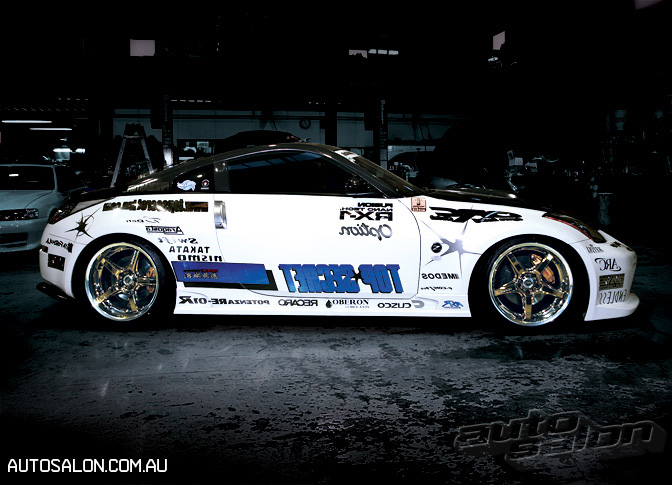 The Japanese seem to have a common style when it comes to graphics and sponsor logos. Reversed graphics, foil vinyl and drop shadows are the norm.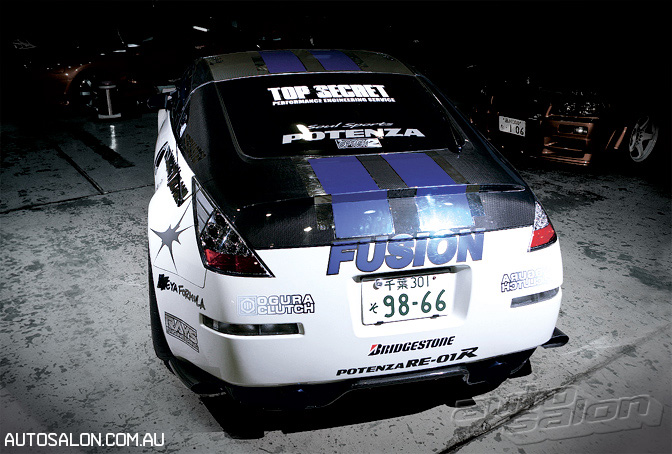 Top Secret is well-known for their under-body aero devices. This Z is fitted with their carbon diffuser and Vortex generators.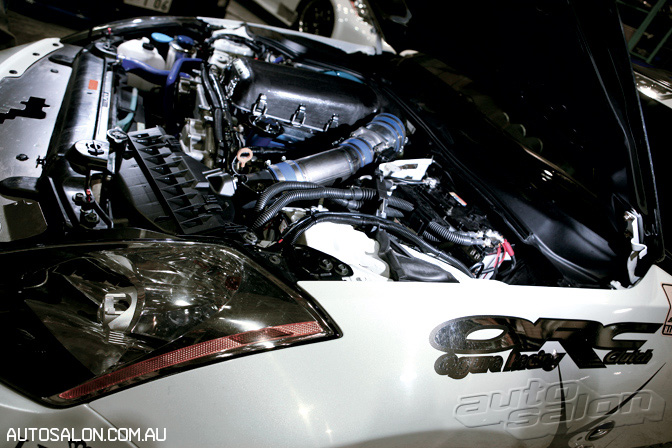 Don't let the factory airbox fool you; this VQ35DE has been totally revised. This Z33 debuted when the aftermarket trend was to switch Zs to forced induction, which obviously caused quite a stir amongst the motoring media. Of course, Top Secret also caters for boost addicts with both single and twin turbo kits available for the Z33.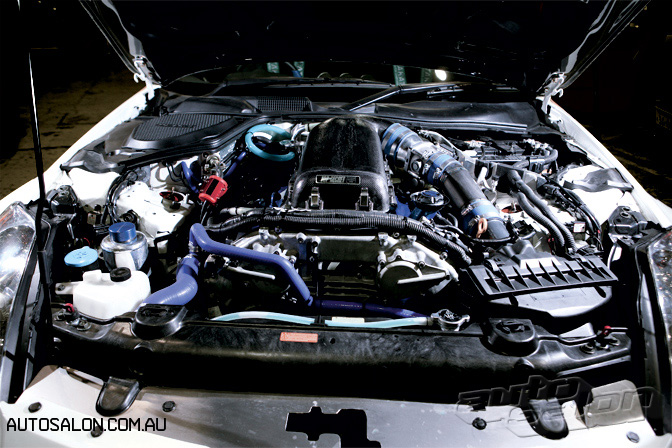 Beneath the carbon intake cover reside six individual throttle bodies, each fitted with aluminium trumpets. On the exhaust side, the manifolds, piping and muffler are all fabricated from titanium.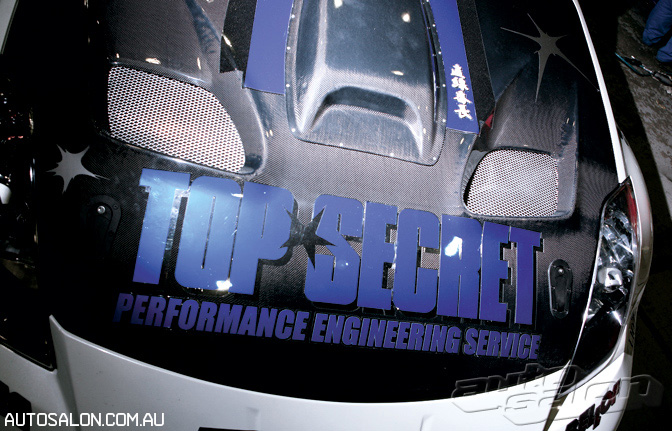 The Z33 is notorious for having a rather cramped engine bay with little hood clearance, forcing Top Secret to modify the carbon hood to accommodate the ITB setup.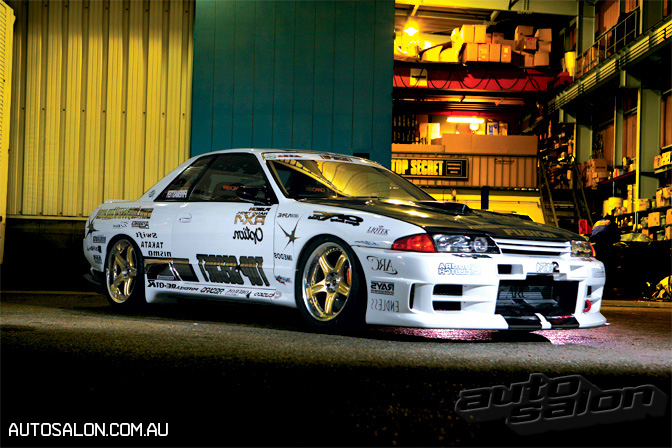 I guess you could consider this R32 Skyline GT-R to be the Z's older twin brother. Perhaps sacrilegious to the Godzilla diehards, Smoky concocted an eyebrow-raising engine conversion that not only rids this R32 of its RB26DETT, but also disregards turbos altogether.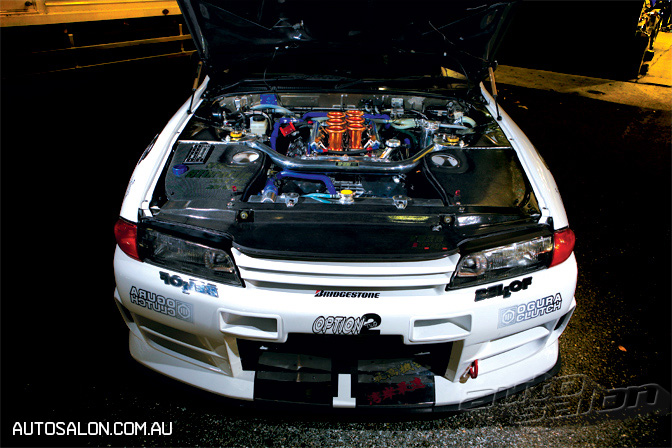 In its place is a VQ35DE that, like the Z, features individual throttle bodies. One of our favorite modifications is the intake setup. Behind the headlights are a pair of carbon air boxes each housing a filter, which route the air from the front bar up into the Y-shape duct on the underside of the bonnet. From here, the cold air is pumped directly into the intake.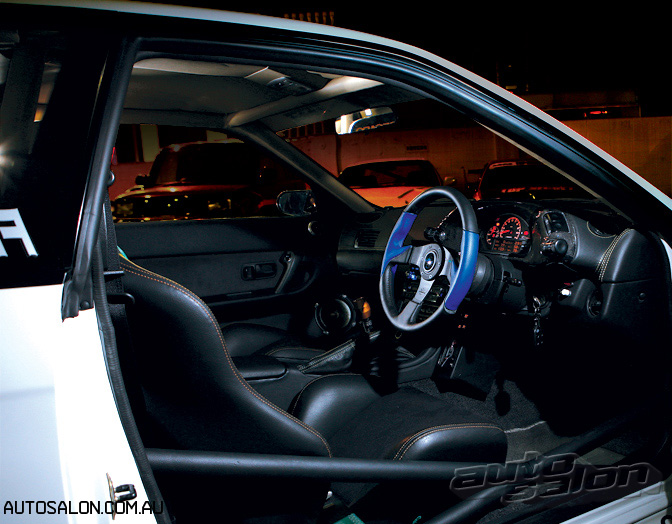 Subtle additions, along with a roll cage, again make up this Top Secret demo car's interior.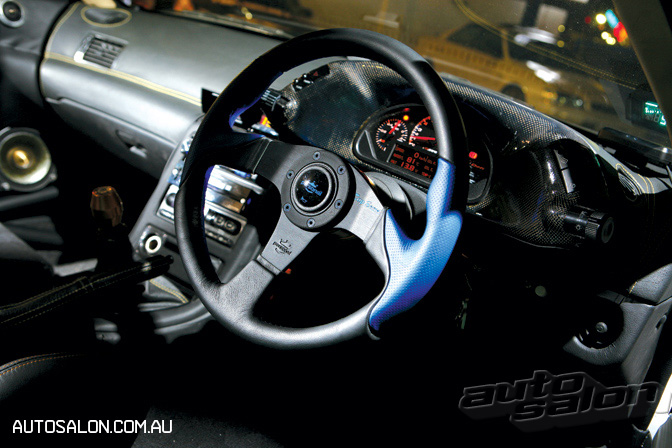 Defi's all-in-one Super Sports cluster is mounted in a custom carbon shroud and replaces the factory instrumentation.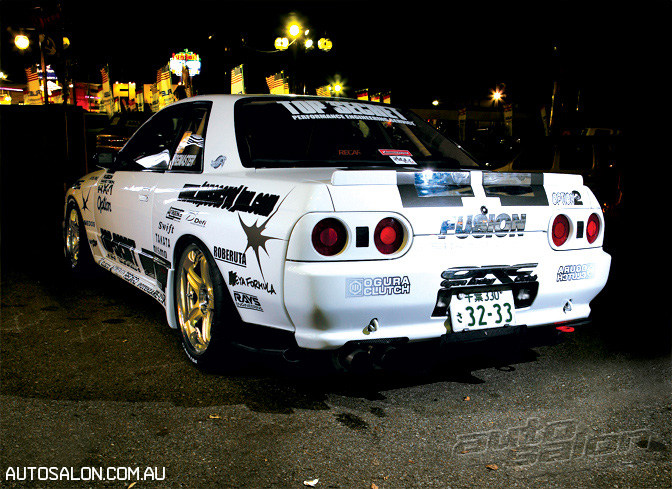 Another customary trait of the GT-R was deleted by Top Secret, with the ATTESSA-ETS four-wheel drive system binned in favor of a RWD conversion.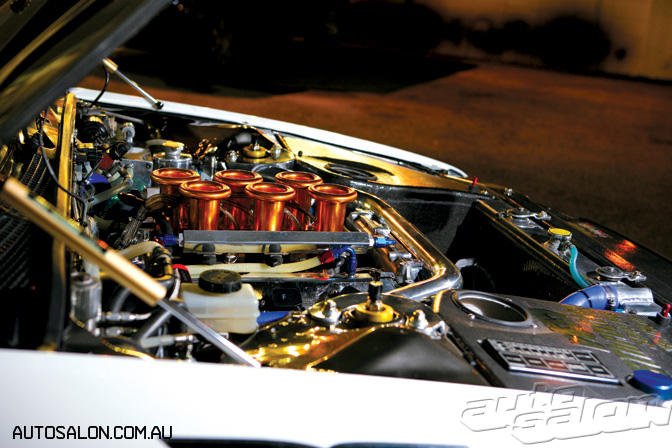 From this angle you can see how far back the VQ35DE sits, which reduces the weight that hangs over the front of the R32. Top Secret claim they've been able to squeeze out a very healthy 355 hp and 388Nm from the V6.
Words by Charles Kha, Auto Salon Magazine
Photos by Mark Pakula, Auto Salon Magazine