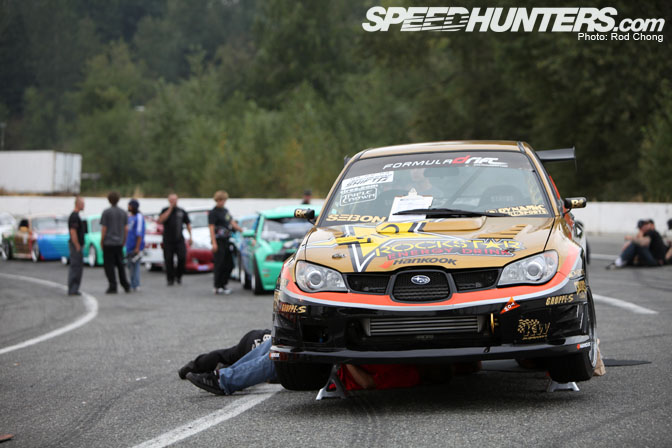 There's been a lot of business to take care of at our office in Vancouver for the past few months, so it's been a little while since I've been in the field with a camera… But that all changed today as we just shot at two rather different automotive scenarios, each within a few miles of one another.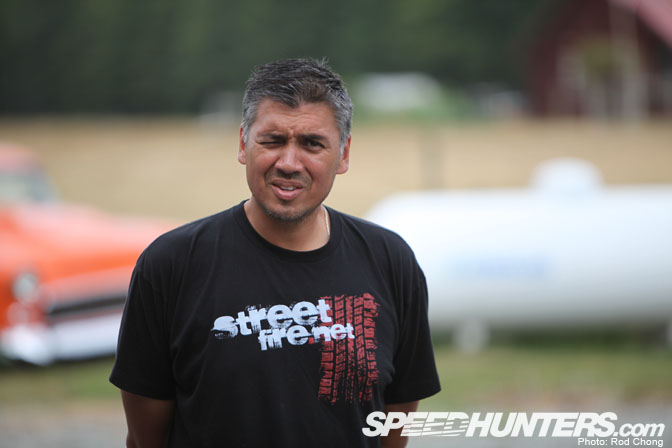 It all started a week or so ago, when John Naderi from Streetfire.net invited us to a shoot he and Will Roegge were conducting just down the road from Evergreen Speedway in the Seattle area.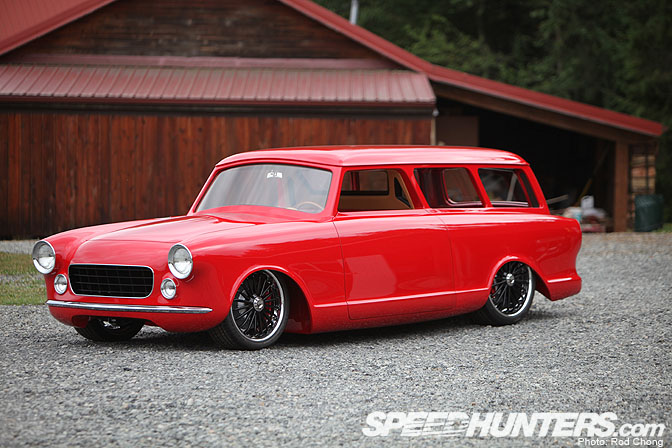 We were to meet them at a shop called Divers Street Rods, the creators of the Ferrambo wagon, the winner of the 2008 Ridler Award. Anyone familiar with this machine?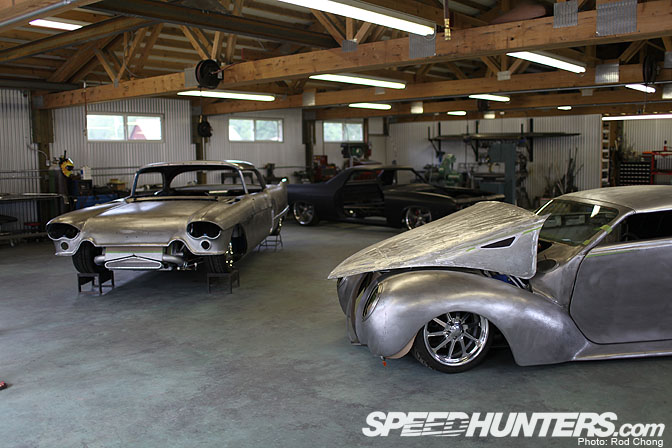 Now I use the term "shop" loosely as Divers is more like a series of spacious wooden buildings on a beautiful, lush farm ground.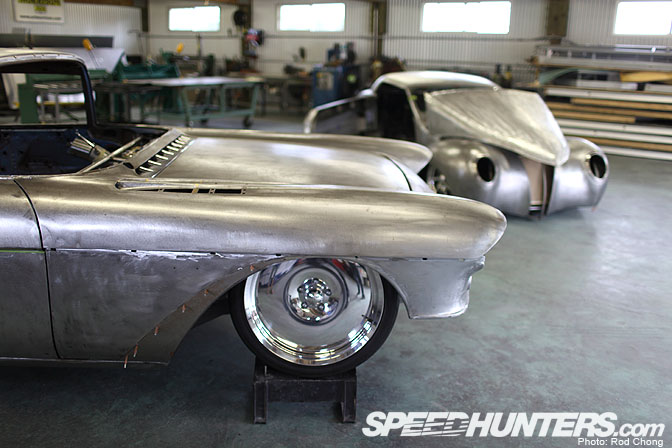 I'll bring you a full tour of the facility in the coming weeks….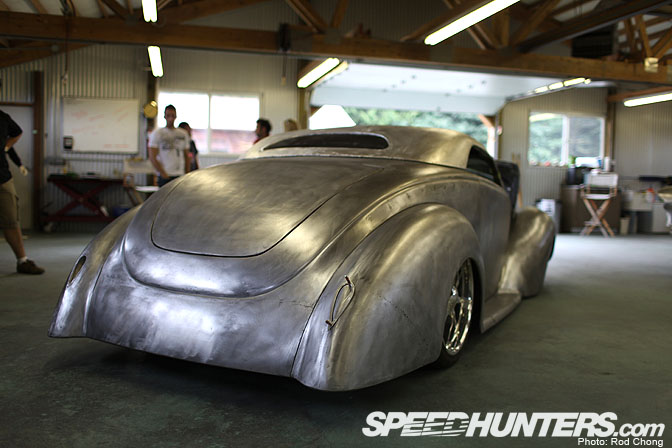 Needless to say, we were very impressed with their in-progress builds.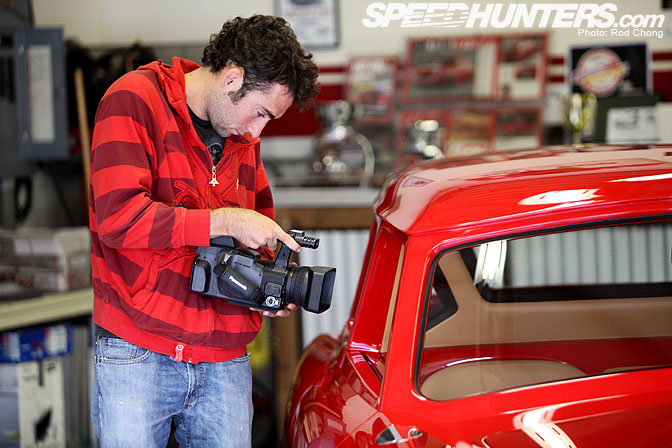 Here's Will shooting a car feature on the Ferrambo for Streetfire.net.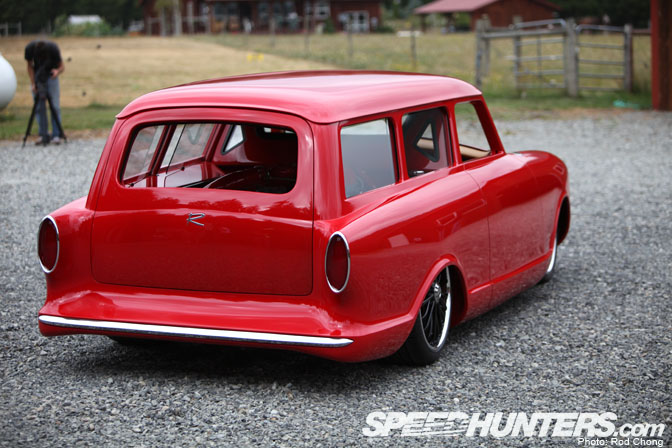 You can also see him in the background in this shot… So for those who don't know the Ferrambo project, it combines the DNA of a 1960 Rambler wagon…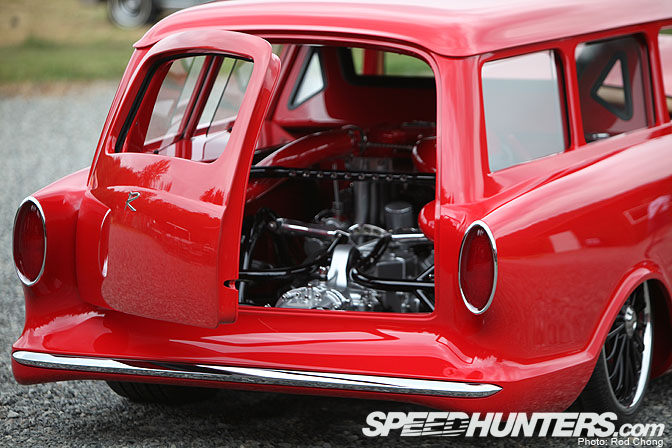 With the guts and design style of both classic and modern Ferrari's.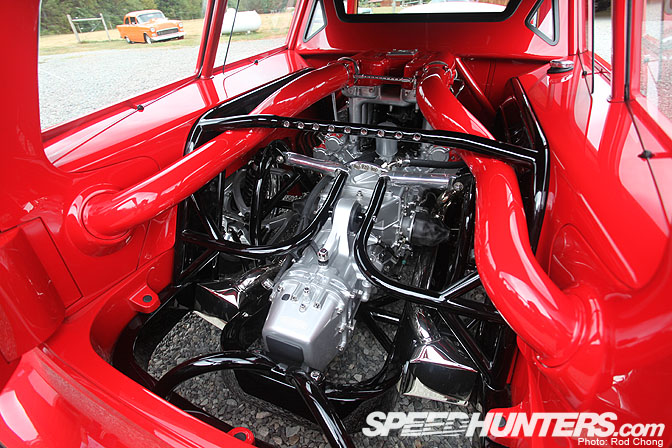 Check out the Ferrari engine/transaxle which has been lifted straight out of a Ferrari 360 Modena. Madness!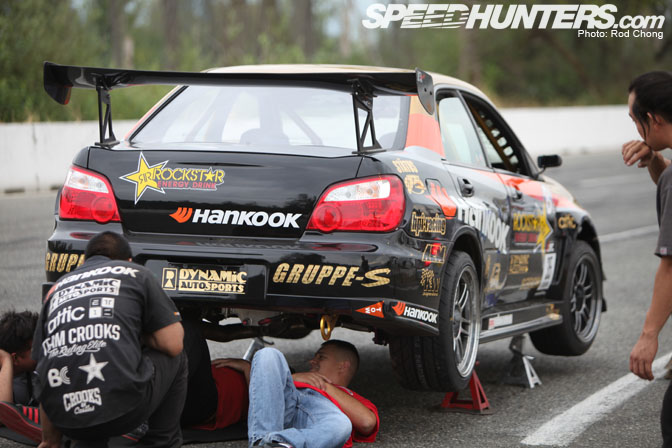 It took a while to get out to Evergreen Speedway and by the time we arrived, all the running for the day was done… The only thing happening was a mid season technical check up for the Formula D drift machines.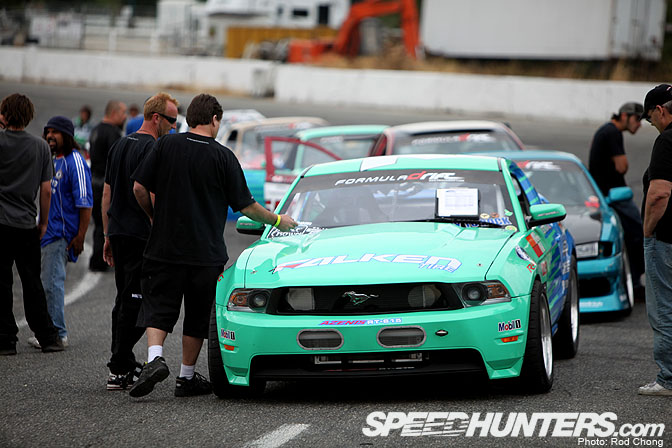 Here half the field of cars are lined up, awaiting their turn for inspection… Check out JR's new headlights on his freshly repaired Mustang. Looks good!… BTW have a look at the front vs. the rear track on his car…Something's up there.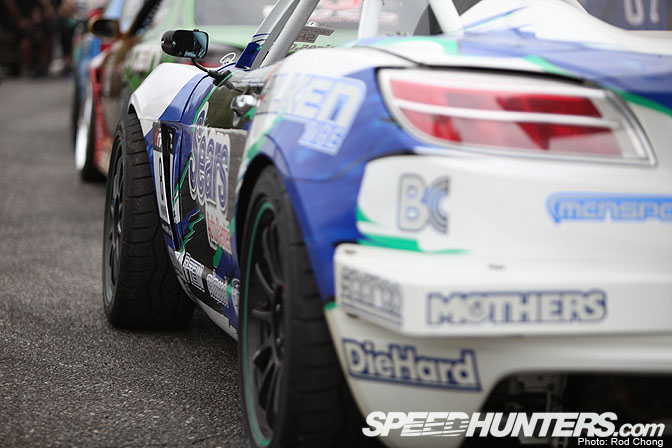 Darren McNamara's car also seems to have a similar setup. The front track is much wider than the rear… I don't know why I didn't notice this before! The objective with this set up is to completely remove any sign of understeer… it seems to work as the ASD built cars are usually at the front end of the grid these days.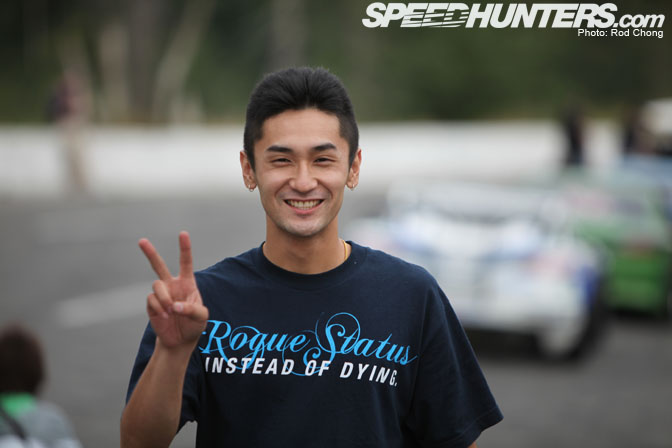 A familiar face: Ken Gushi.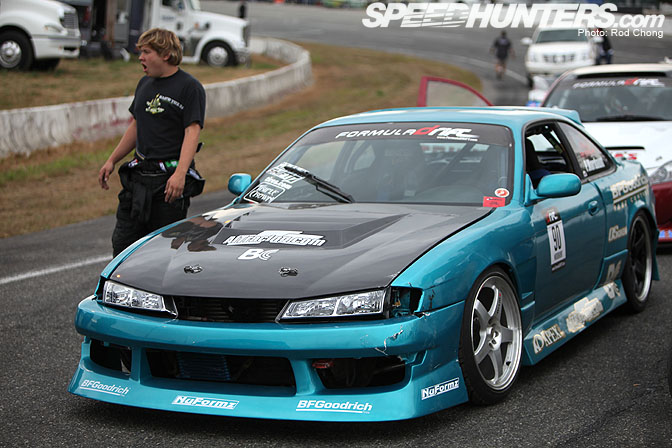 Pat Mordaunt is now sporting a new metallic blue paint job. Looks good IMO!
Wake up there Pat!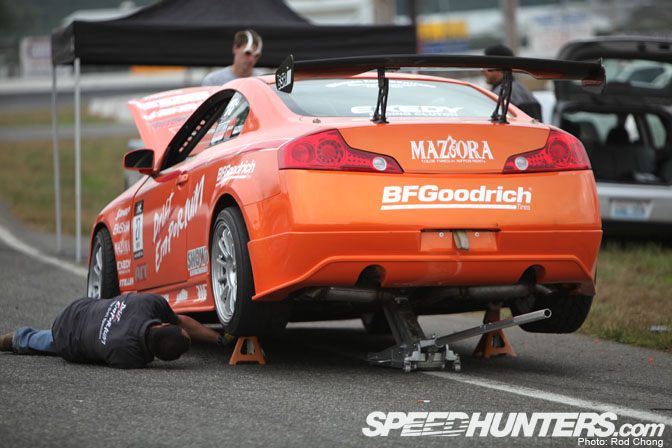 Ron Ewerth's Infiniti G35 getting ready for its tech inspection…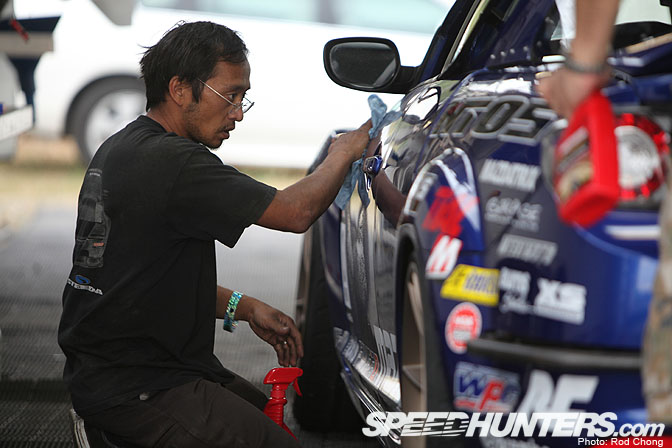 Here's a candid snap of Ron Bergenholtz giving some love and attention to his team's RX8 drift machine.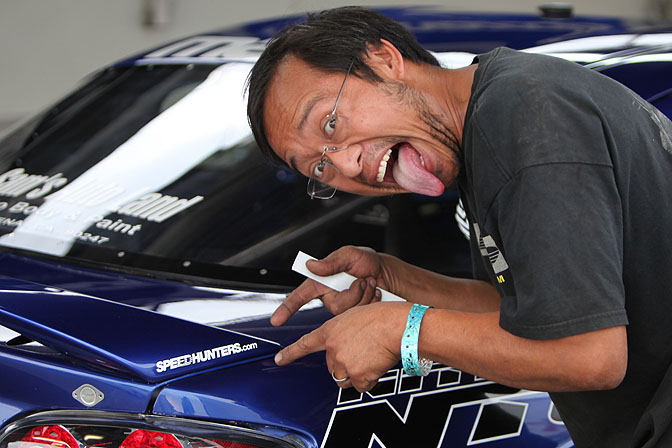 We reapplied some new Speedhunters stickers on the car too… Cheers Ron! BTW I have a bunch of stickers with me if anyone want any. I'll leave them on the AE86 in the Need for Speed SHIFT tent on Saturday.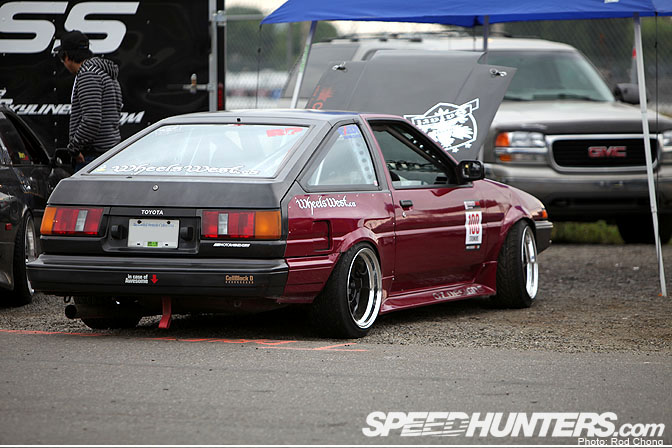 I'm pretty excited to see the Pro Am event running in parallel with the main Formula D competition. It will be my first chance to see some Vancouver based drift cars in the flesh.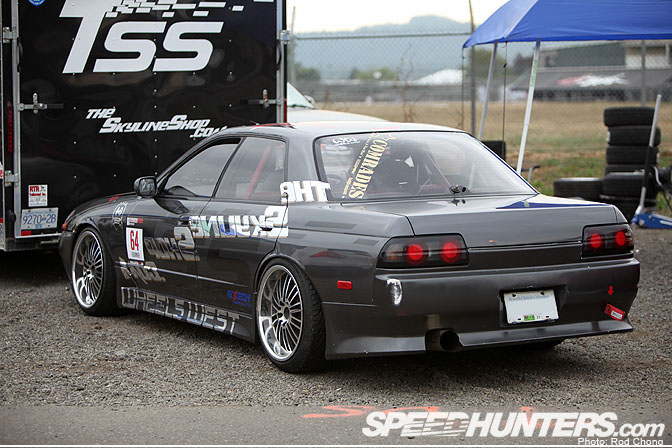 Here's another Canadian car and a relatively unusual chassis to be seen at an American event. A 4 door Skyline!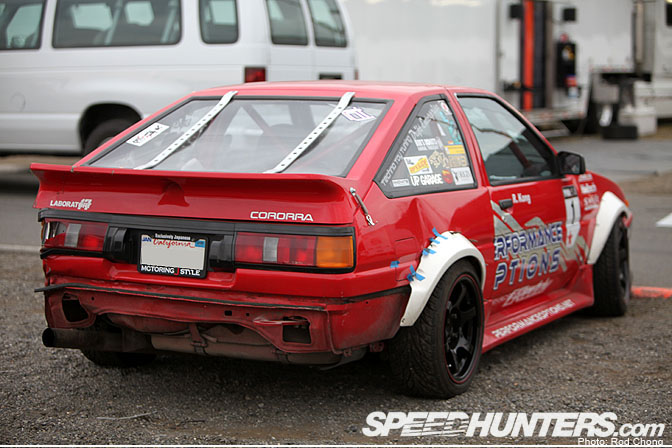 Cororra!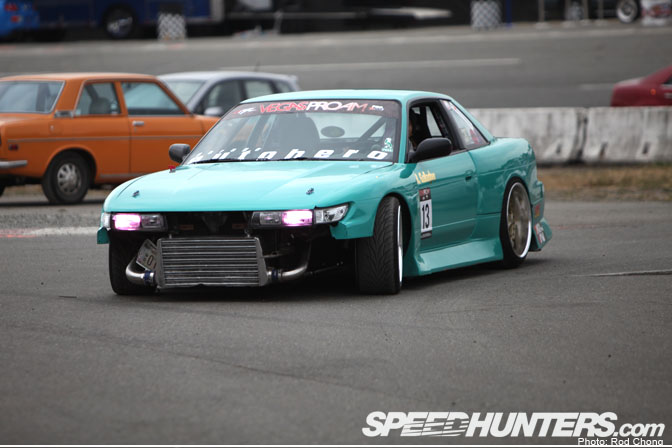 While most American Pro Drift cars are 100% form follows function this is less the case with street drift cars. You see a lot more emphasis on car style with these amateur machines. I'm sure most of you prefer this yes?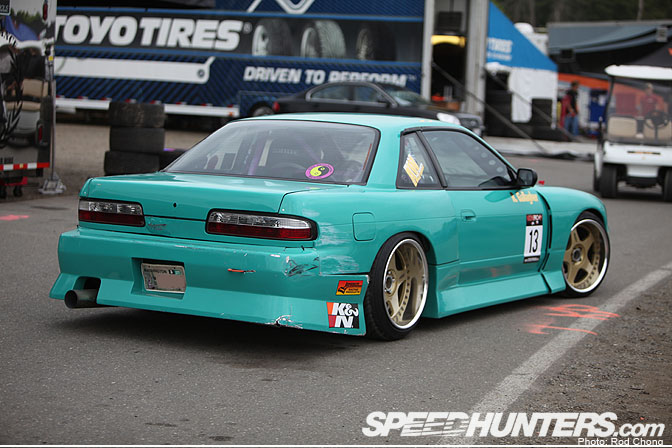 This S13 certainly is the business!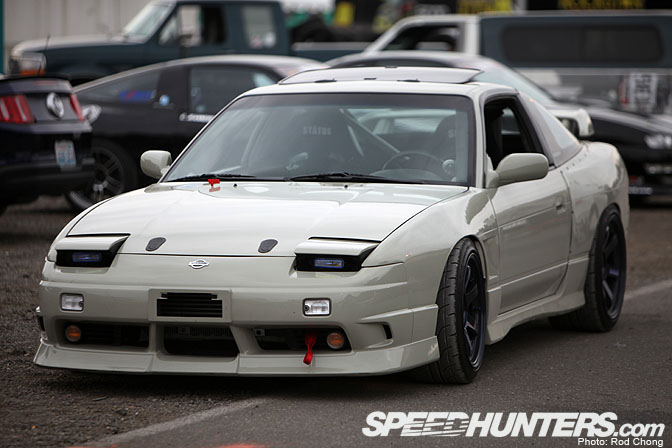 This S13 rolled in as we were getting ready to leave… It looks like it's been constructed in the style of Koguchi Power.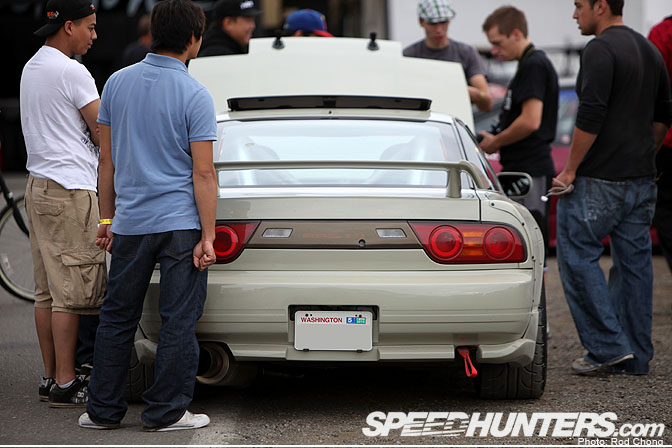 The owner popped the hood/bonnet and immediately a group of people gathered around the car oohing and ahhing… Why?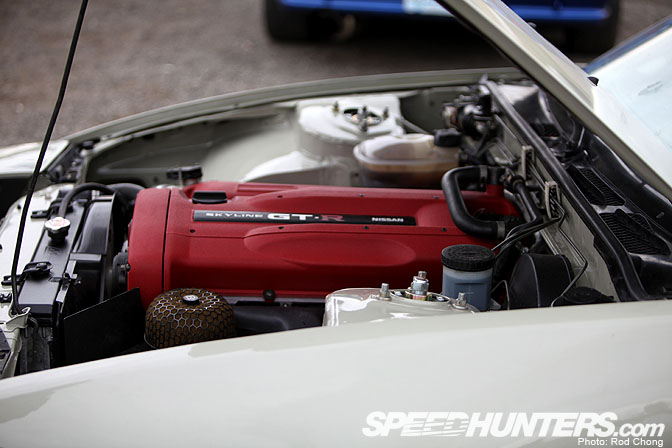 It was the presence of this rather large RB25 lump in the cleaned and smoothed engine bay… Nice!
Ok I need to sleep… talk soon!
:R