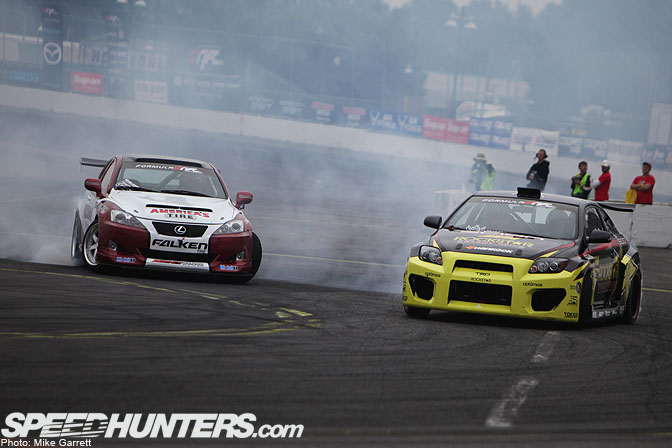 Just got back to the hotel after spending the day at Evergreen Speedway shooting Formula Drift Seattle. It's absolutely refreshing to be up here in the cool and green Pacific Northwest after getting accustomed to the hot and dry events we have back in California.
Well then, let's jump right into some of the action from today-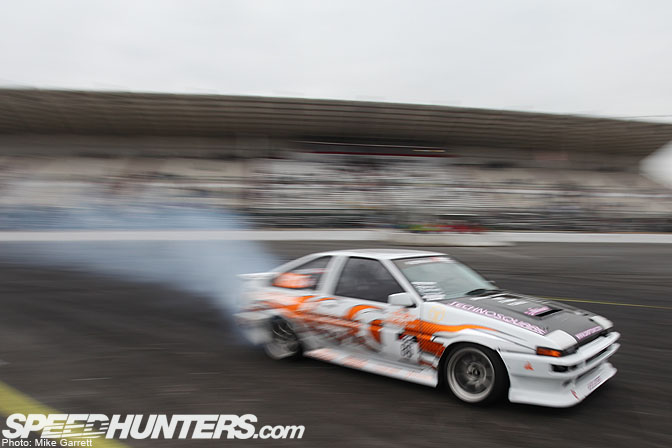 Taka Aono seemed to adapt well to the course at Evergreen Speedway – flicking his AE86 around with his quick transitions and a mashed accelerator pedal.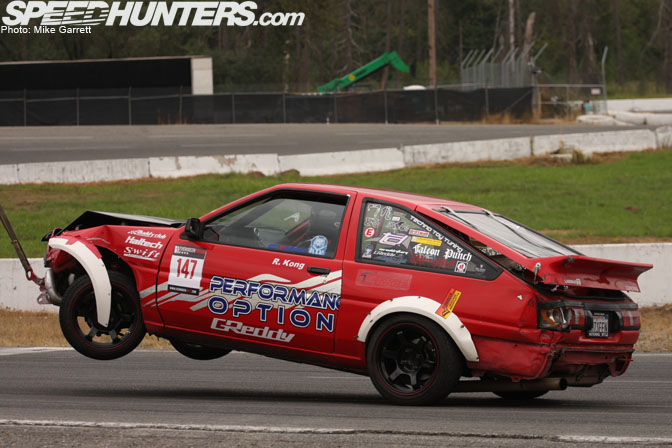 This Pro Am 86 driver wasn't so lucky. The walls and concrete K-rails at Evergreen Speedway make it one of the more unforgiving courses on the FD circuit. I have a feeling there will be more victims before all is said and done.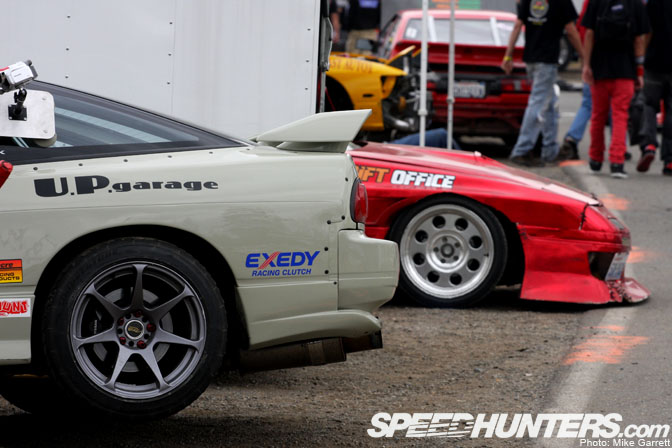 It's great seeing all the Pro Am events on the FD schedule this year. Not only is it nice to watch the grassroots drivers, but Pro Am adds a lot of local flavor to the usual Formula D cars and drivers.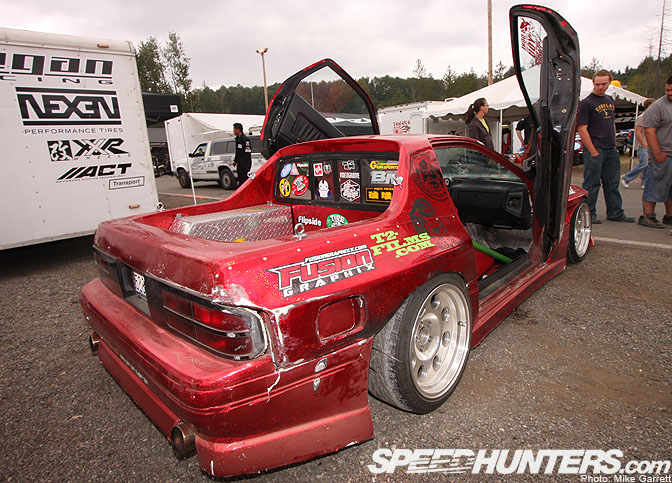 Speaking of local flavor, here's Earl's ridiculous FC pickup. I've seen countless photos of this car (truck?) online, but this was my first time seeing it in the flesh. Rad.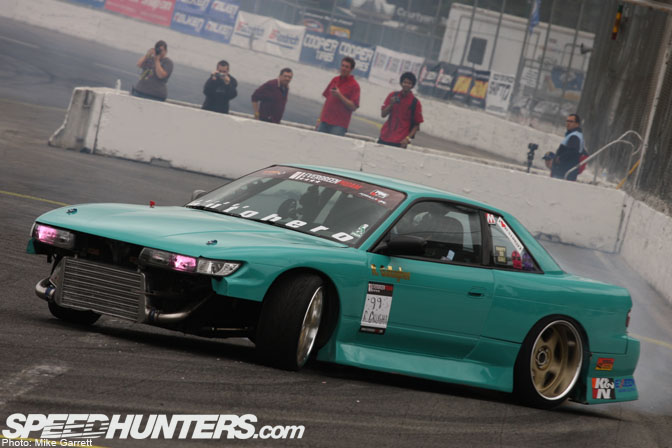 Roland Gallagher has been one one of the most dedicated privateer drivers in the USA. I've seen him at the last two drift events I've been to (FD Vegas and ASB), and here he is again tearing it up on his home turf.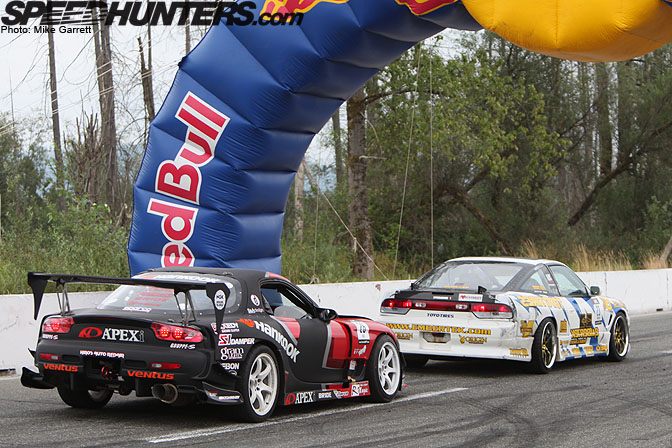 Former D1 drivers Michihiro Takatori and Ryuji Miki line up for qualifying under the Red Bull Arch. Both of these guys seem to be quite satisfied driving here in the USA.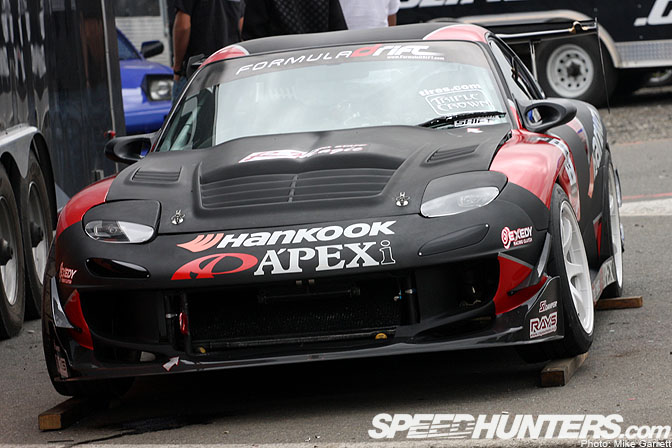 Miki's new R-Magic wide body kit looks incredible. This was already one of the most stylish cars in FD, but now it's at a whole new level. Unfortunatley Miki made contact with the tire barrier during his second qualifying run – tearing up his back bumper and giving a scare to some of the trackside photographers.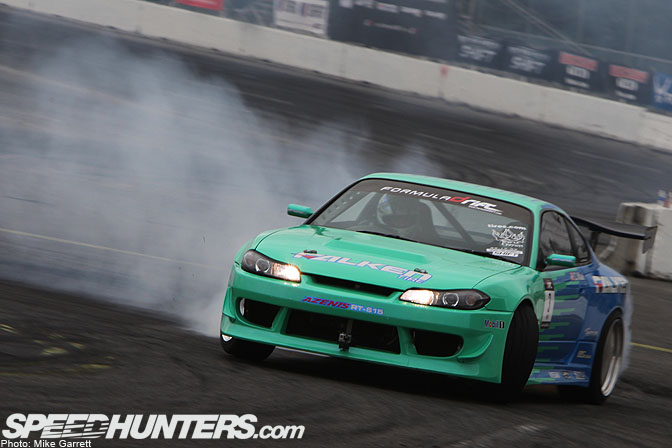 Calvin Wan had some nice runs today. Will this weekend finally be him and the the Falken S15's time to shine?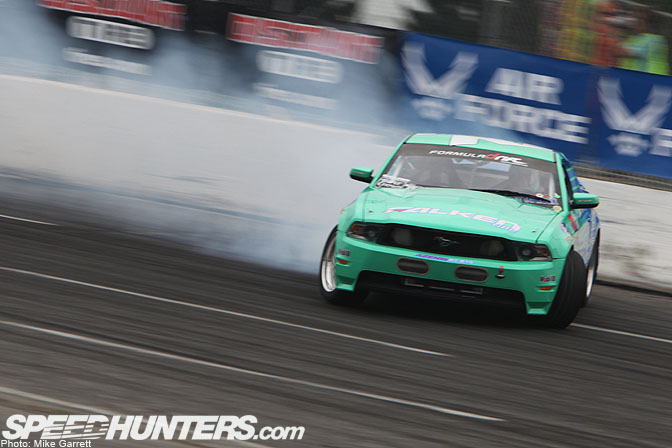 Calvin's teammate Vaughn Gittin Jr. looked untouchable on Evergreen Speedway's banking. Bumper to the wall and pedal to the floor- that's how it's done.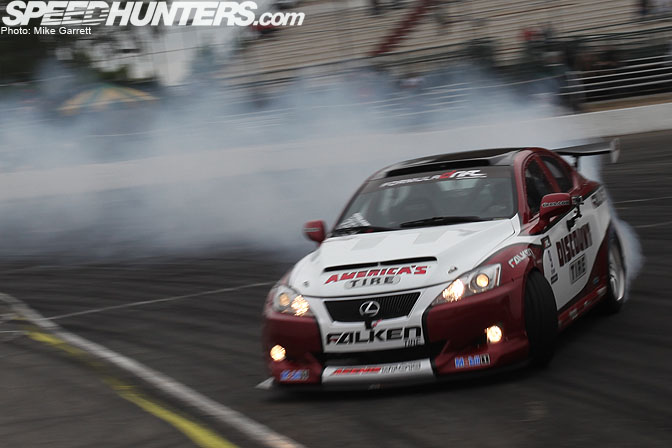 Also running well was Daijiro Yoshihara, driving the Discount Tire/Falken Lexus to fifth overall with a 74.6 run point qualifying run.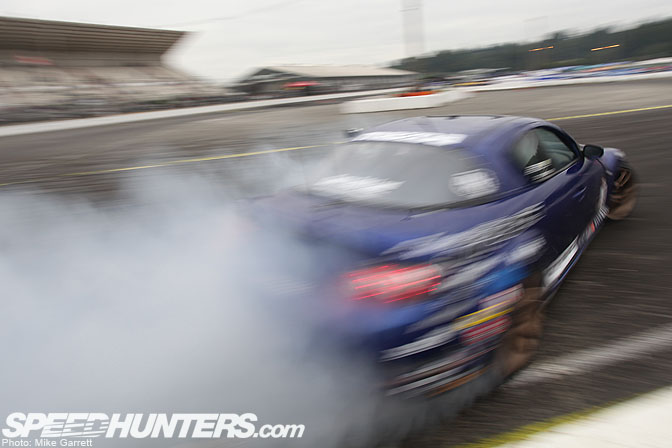 Justin Pawlak nearly takes my camera with him as he slides his way to a 77.3 point run, on his way to fourth overall.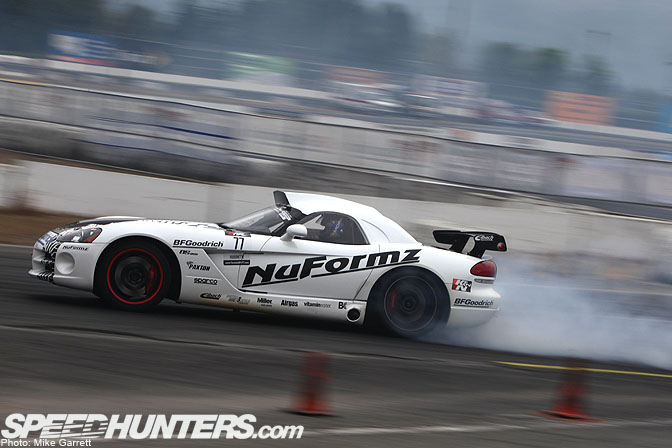 Sam Hubinette secured third with a lucky 77.7 point run in the NuFormz Viper.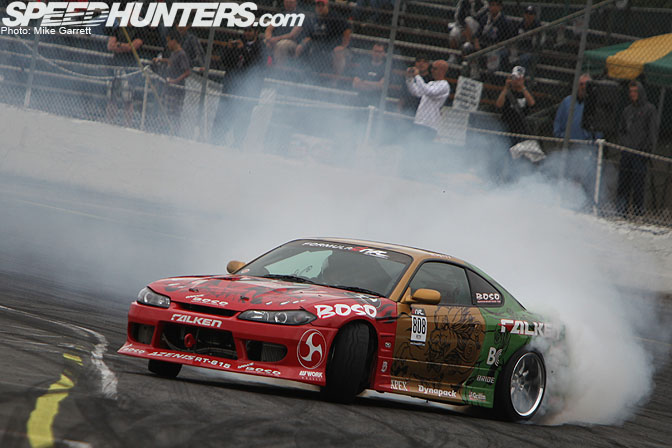 Give it up for Ross Petty and the Garage Boso/Falken S15. He was on top following his scorching 79.3 point run, but had to settle for second after one driver earned a slightly higher score…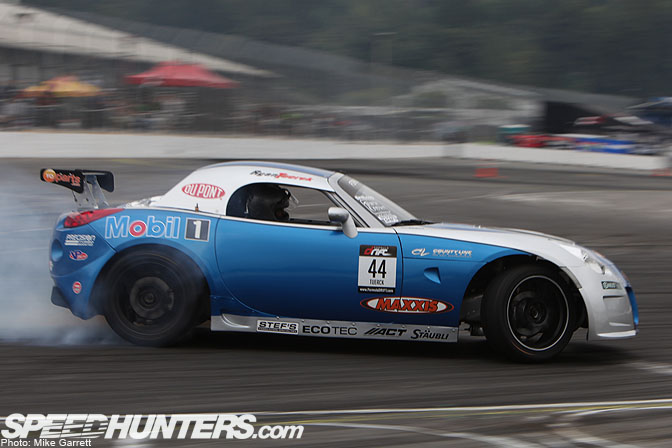 That driver was Ryan Tuerck, driving his Pontiac Solstice to first place with an 80.3 point qualifying run.
Because only 30 cars were able to qualify, tomorrow's Top 32 has been shortened to a Top 30. Should be exciting.
Here's the complete results list from Formula Drift-
1
R. Tuerck
44
80.3
2
R. Petty
808
79.3
3
S. Hubinette
77
77.7
4
J. Pawlak
13
77.3
5
D. Yoshihara
9
74.6
6
T. McQuarrie
17
74.6
7
C. Forsberg
64
73
8
T. Foust
1
73
9
V. Gittin
25
71.4
10
D. McNamara
8
70.8
11
T. Aono
86
70.8
12
T. Brakohiapa
18
69
13
E. O'Sullivan
35
68.1
14
K. Gushi
5
67.9
15
S. Verdier
12
67.4
16
R. Nishida
31
67.1
17
J. Maeng
51
66.8
18
M. Takatori
23
63.6
19
R. Millen
6
63.5
20
K. Yamanaka
7
59.4
21
K. Mohan
99
58.7
22
Y. Kondo
52
57.4
23
M. Essa
101
55.6
24
A. Pfeiffer
88
53.5
25
T. Suell
777
50.9
26
C. Wan
3
50.6
27
R. Ewerth
27
43
28
R. Miki
26
42
29
J. LeJeune
333
34
30
P. Mordaunt
90
20
Stay tuned for more from FD Seattle!
-Mike Garrett