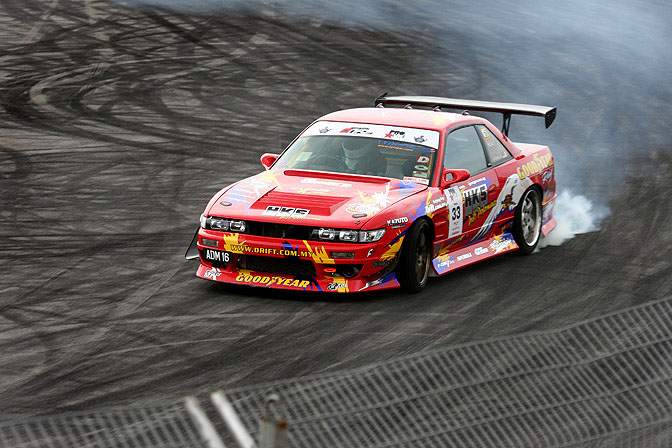 My name is Gabriel Tan, I am born and raised in Singapore, having followed the local performance car scene over the years, aided by the fact that my dad used to run a car repair shop.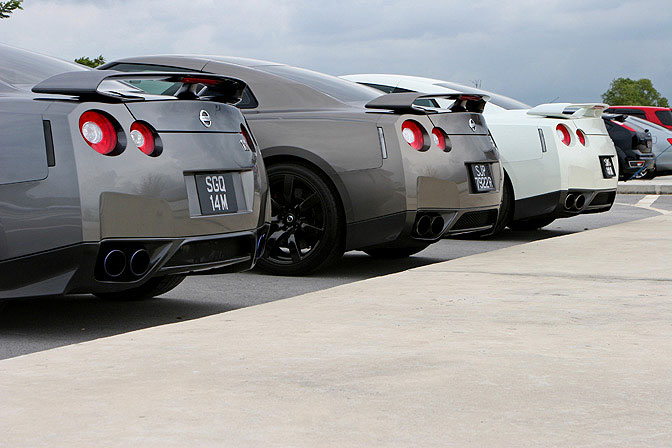 Singapore's tuning scene is very active, with many garages and outstanding modified machines as well as an abundance of exotic supercars including the R35. I think Singapore probably has the highest density of R35s in the world. The
new GTR isn't an official import for Singapore but given our proximity
to Japan, the business acumen of parallel importers and the relatively
low price of a GTR, that means our streets are crawling with them. Last
I know, we have over 400 (!!) of the latest Godzillas in a country
smaller than New York City.
You can read more about Singapore's tuning scene on my blog Carbon Clad Cars.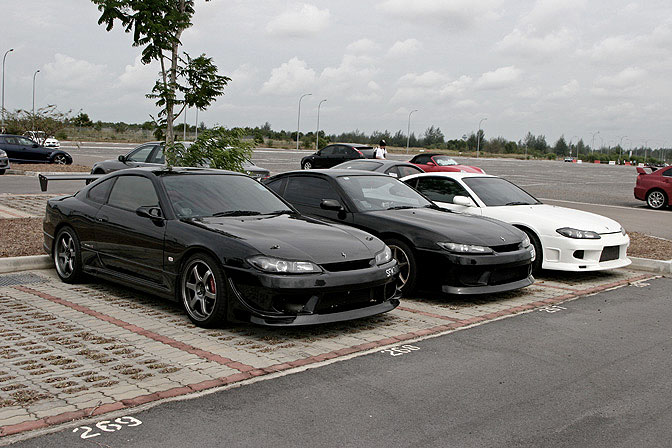 The blog is written together with my buddies Jackson Lim and Julian Poon. Jackson's I.T and design skills jazz up the blog while Julian is an avid freelance photographer, with the photos in our first Speedhunters contributed article taken by him.
Personally, I am more of a Japanese motorhead and my daily driver is a Nissan Silvia S15 (pictured on the left). I have owned and modified it for the last 3 years or so, with power currently at just below 400 ponies.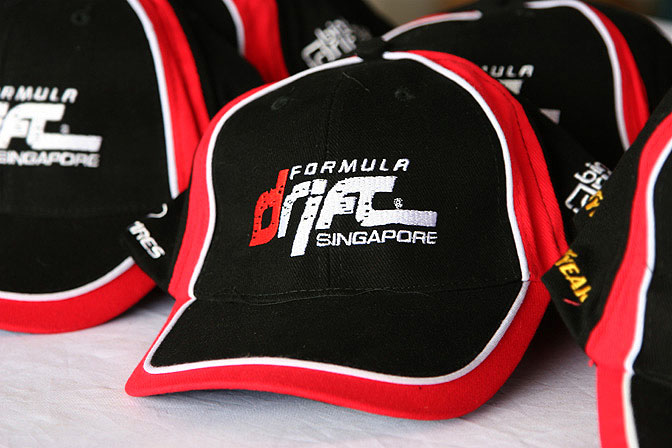 Formula Drift was held for the second time in Singapore last Sunday after the inaugural event in 2008.
 
This year's event took on more of a grass root feel, with 37 top-level amateur drifters from Singapore, Malaysia, Indonesia, Thailand and Hong Kong.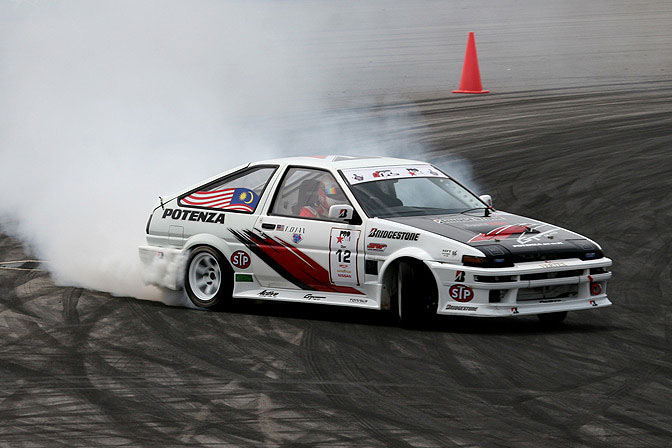 Notably absent were Ryuji Miki and Mad Mike, who took 1st and 3rd last year but 2nd-placed Tengku Djan from Malaysia was present with his diminutive but mighty AE86.  You might also recognize Djan from his appearance in D1 Grand Prix's 2007 "World All-Star" tournament at Irwindale Speedway where he placed 4th.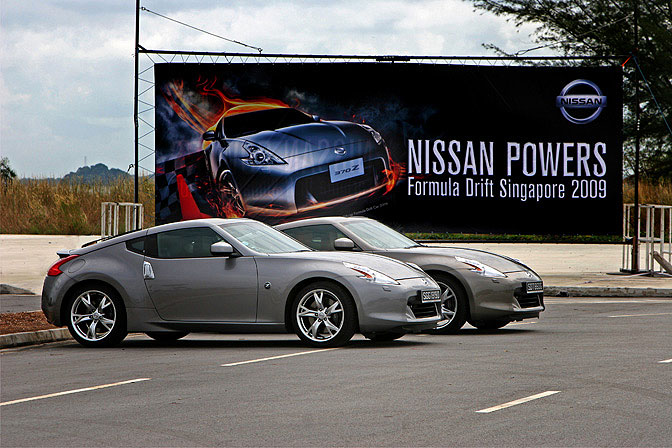 The new 370Zs have already hit Singapore in force and they are starting to fill up our roads.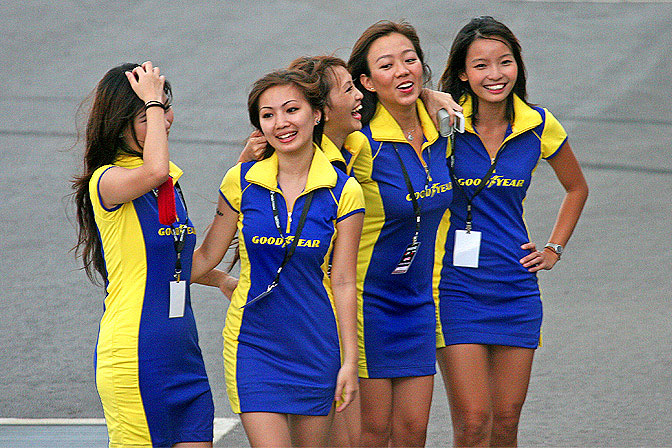 Goodyear was one of the sponsors for this event and their promo girls were out in force.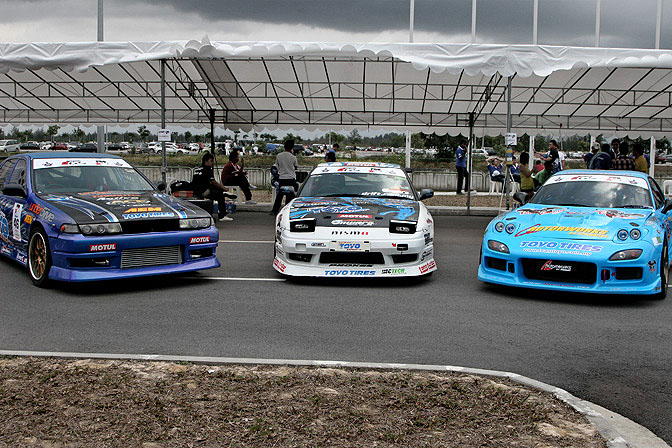 In the pits, many of the teams show off their cars. Styling of the drift cars borrows heavily (if not entirely) from Japan as you can see here.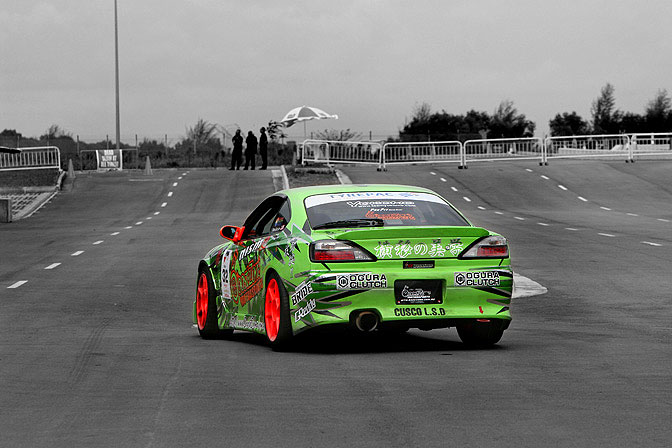 One of the competitors from Boostzone in Malaysia. This S15 owner is likely not a shrinking violet with the orange rims and green paintwork.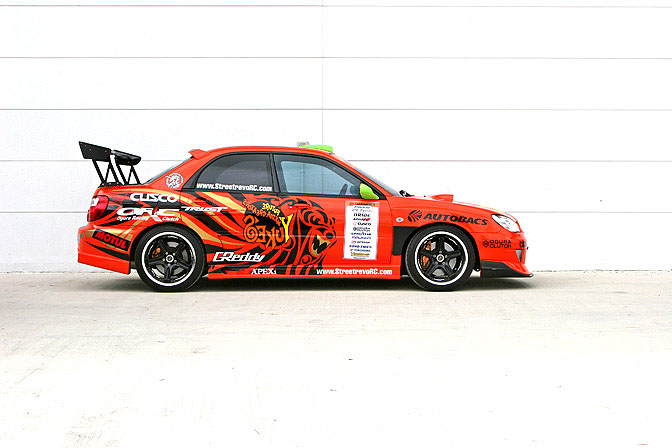 I did a double take and almost thought that Team Orange was in town. Upon closer inspection, it's just a Singaporean practicing the sincerest form of flattery with his car.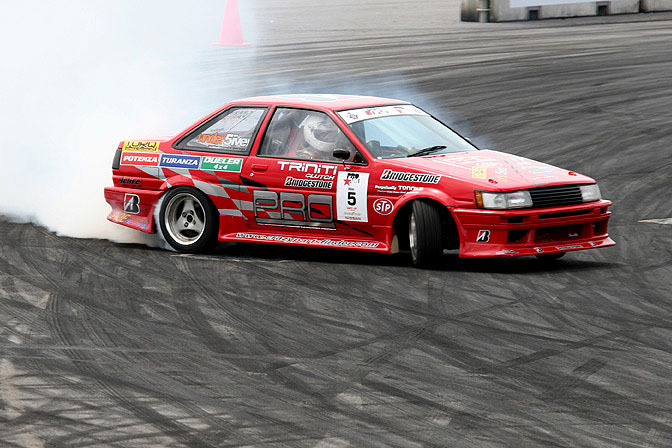 The circuit this year was more compact and technical versus last year and this reduces the entry speeds significantly. The top speed was 104km/hr last year whereas it's only 87km/hr this year by Tan Tat Wei, though it does speak volumes of his intestinal fortitude when there are plenty of higher-powered cars going slower.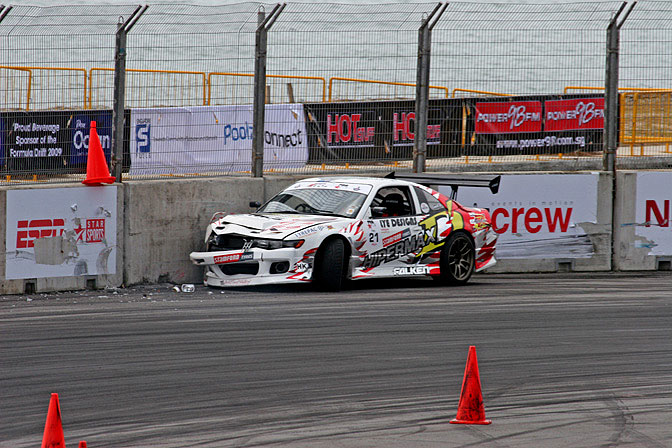 Tighter circuit plus amateur drivers usually result a crash here and there. Especially during the qualifiers.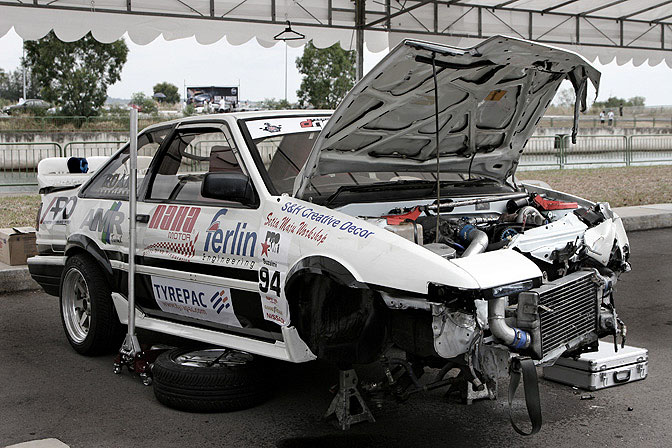 Or two…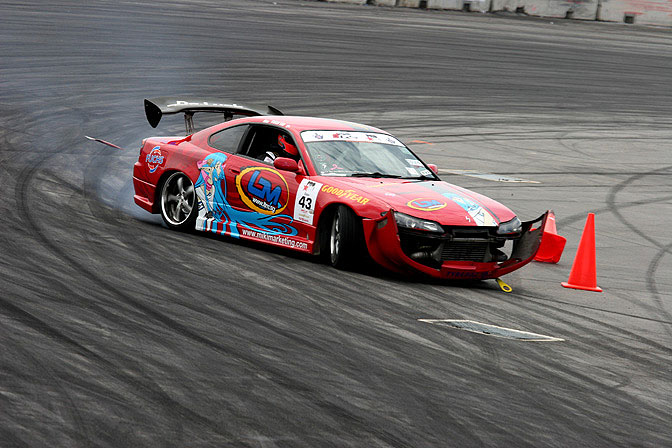 Or three.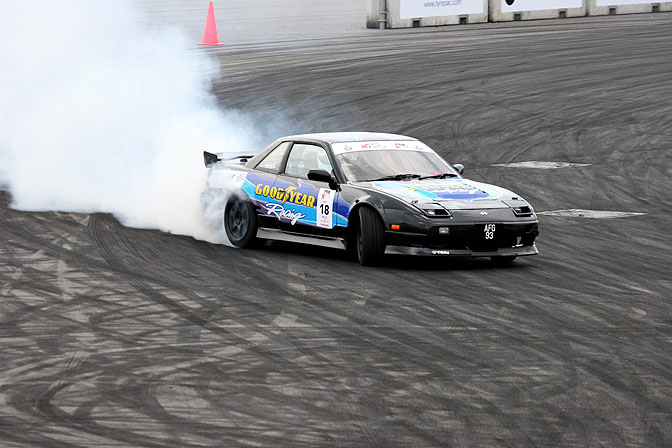 Within the top 16, the standards picked up immensely. Ariff Johanis, the eventual 3rd place winner, carries good speed and huge amount of smoke throughout his runs in his understated 180SX.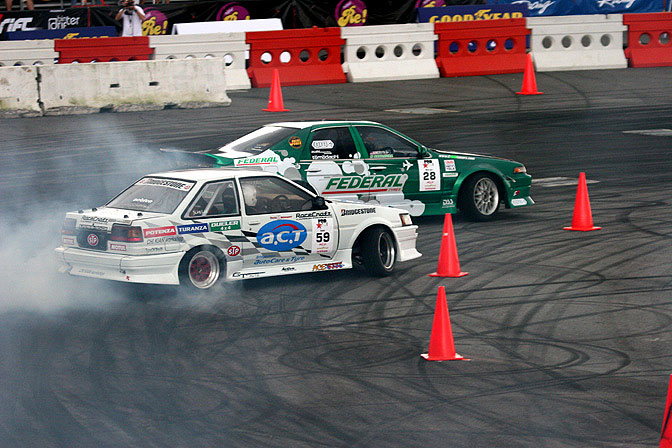 In a close battle of the Toyotas, Ivan Lau's Hachi Roku took out Mervyn Nakamura's A31 Cefiro to proceed to the top 8.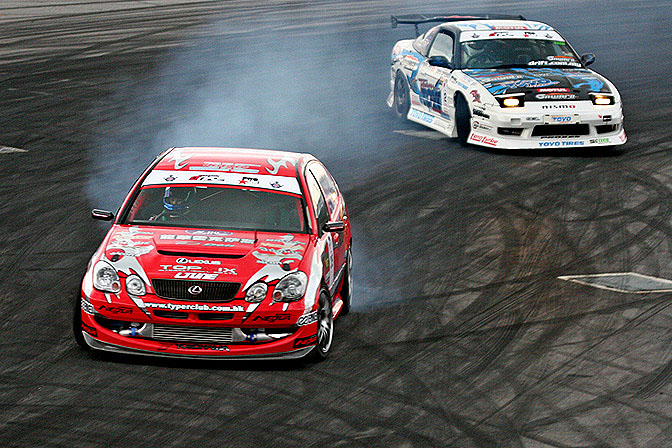 In another top 16 battle, this rather uncommon choice of a Lexus Aristo from Type R Club in Hong Kong with mega bucks mods (I spotted a 2JZ and HKS T04Z in its engine bay and monstrous Alcon 6-pot picks up front) did battle with Lim Zee King's white 180SX. Unfortunately, the driving was rather uninspiring, with the luxo-barge dispatched quickly by Zee King.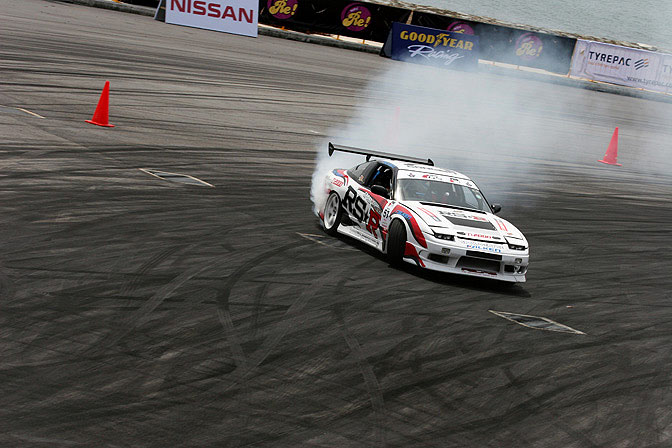 Yet another 180SX, this one is piloted by Singapore's very own Jansen Tan. He ended up the highest ranked Singaporean in this competition with a top 8 finish.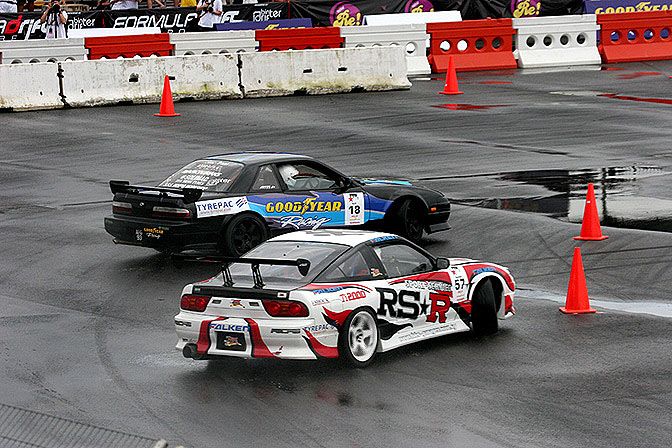 Jansen was taken out by Ariff who managed to get away after the second clipping point. Ariff went on to face Tengku Djan in the final 4. You can see the track is rather wet in this photo, as halfway during the top 8 round, it started to rain heavily and competition was halted for a while.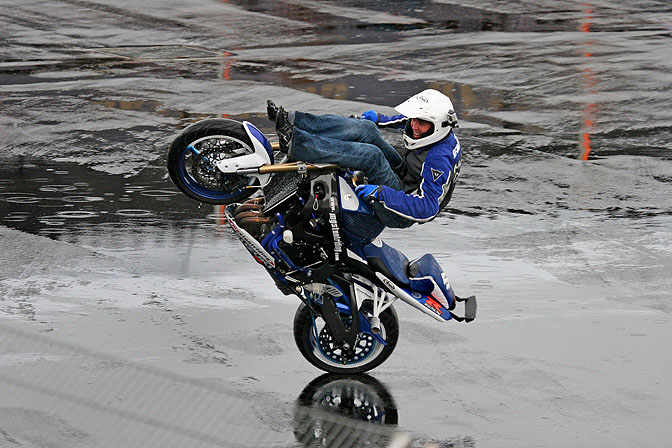 A little moisture didn't stop Irish daredevil Mattie Griffin from coming out to keep the crowds entertained with an amazing performance. Nothing like a legs-over-the-handlebars-wheelie IN THE WET to show that you got skills!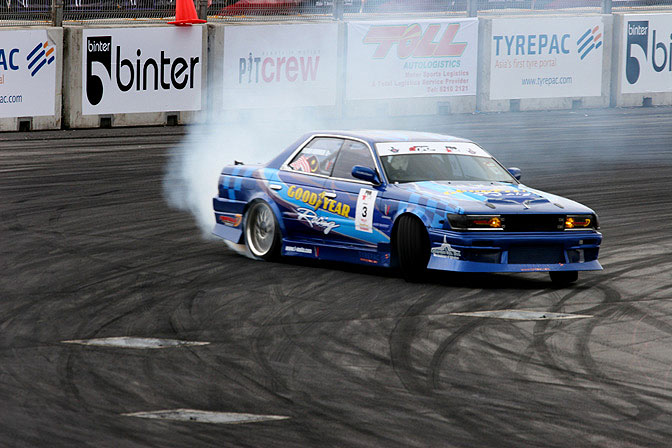 Another attention grabber throughout the competition is the Nissan Laurel piloted by Johan Azam. If you don't see it in person, you wouldn't believe that a 1980s four door family sedan is competitive and agile enough to make it to second place in a Formula Drift competition.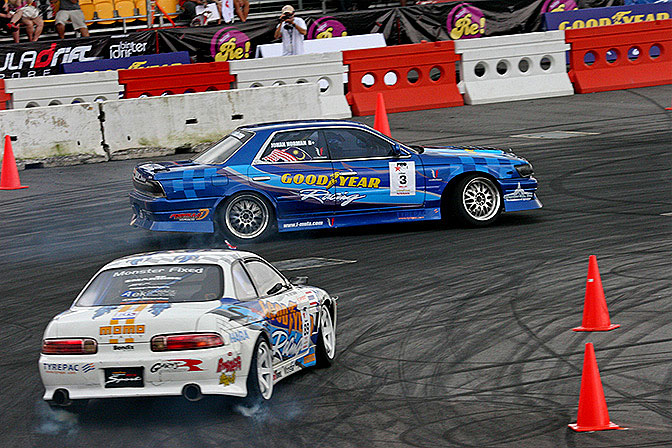 Here's another shot of Johan's Laurel getting away from Nakorn Cotraviwat's Soarer during their Top 16 battle.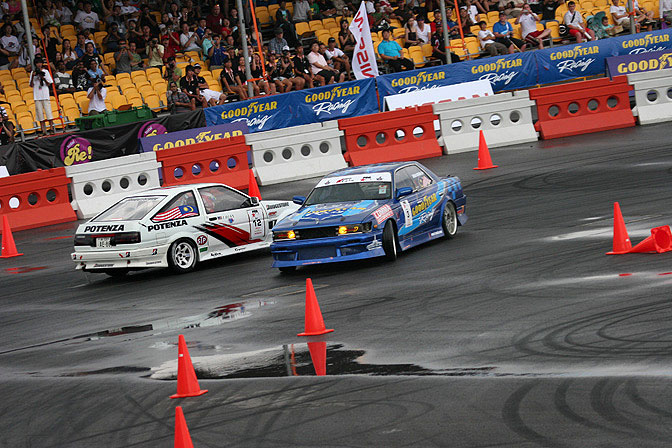 In the final battle, Johan was taken out convincingly by 'Tandem Assassin' Tengku Djan. With only a bee's pointy end separating the two cars when Johan spun out, Djan narrowly managed to avoid t-boning Johan and overtook to win the 2009 Formula D Singapore championship!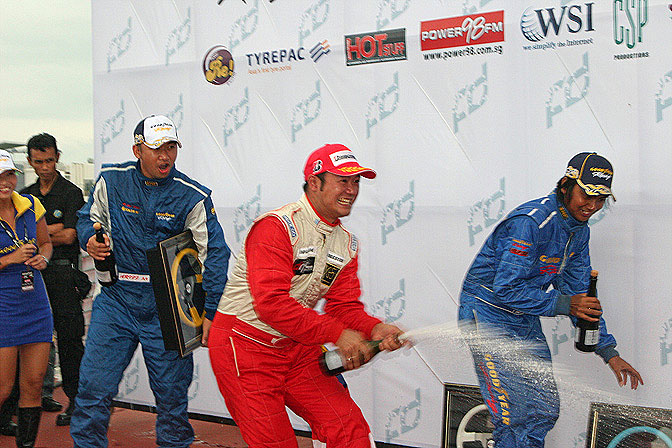 In the end, it was an all-Malaysian podium with champion Tengku Djan celebrating with the customary champagne shower. Runner-up Johan (right) and second runner-up Ariff (left) look happy just to be out of Djan's way.
With Goodyear and Formula Drift announcing that they will be extending competitions to Thailand and Malaysia in November and December, it looks like we'll be having more drift action ahead in Southeast Asia for a while. Stay tuned for more Formula Drift Action from this part of our world!
-Gabriel Tan
Photos by: Carbon Clad and Julian Poon