From the super fast sweeping turns of Brands Hatch  to the tight and technical custom made Santapod track, round 5 of the NFS-EDC championship could not be more different to all of the previous rounds.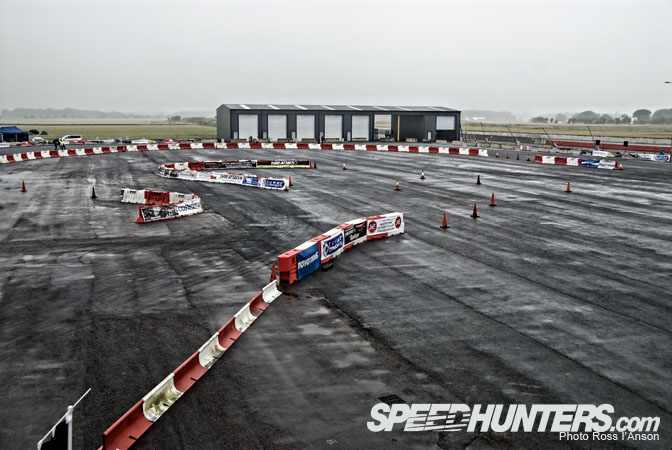 8am and the British summer time played its trump card and delivered a mix of drizzle and heavy showers of rain making conditions a little tricky. Designed by head judge Maz the track consisted of a fast sweeping righthander forcing the drivers out to the wall for the following hairpin then into a technical left right flick before powering over the finish line, a mix of bumps and slippy conditions and the promise of a concrete wall if you got it really wrong made for some tentative practice laps…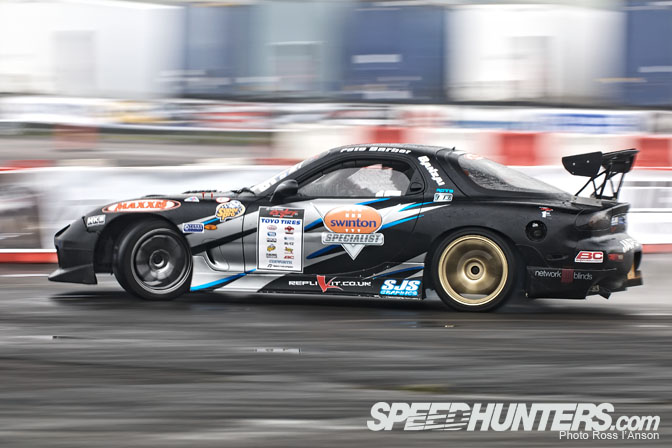 ..but it wasnt long before the consistantly fast Peter Barber was recording speeds of 70mph across the bumps in the Swinton RX7  making the track come to life.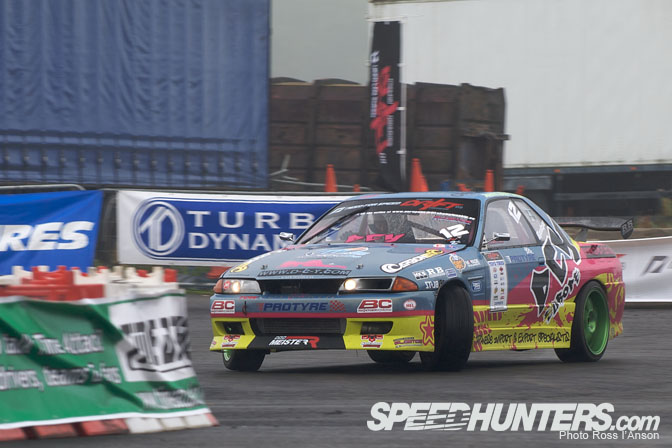 As practice continued conditions thankfully started improving…..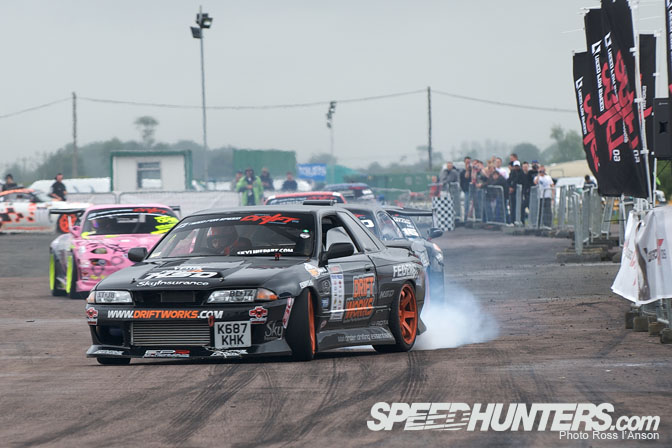 ..so much so that Ben (Bon) Broke-smith Phil Morrison,Martin Ffrench, Peter Barber and Brett Castle put on a epic display of skill with a 5 man drift train..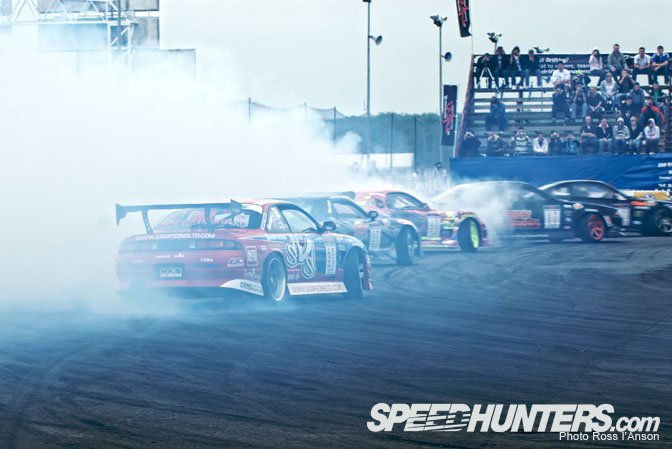 ..seriously impressive to watch they repeated it 3 times thankfully giving me time to scuttle off to another part of the track a better view point.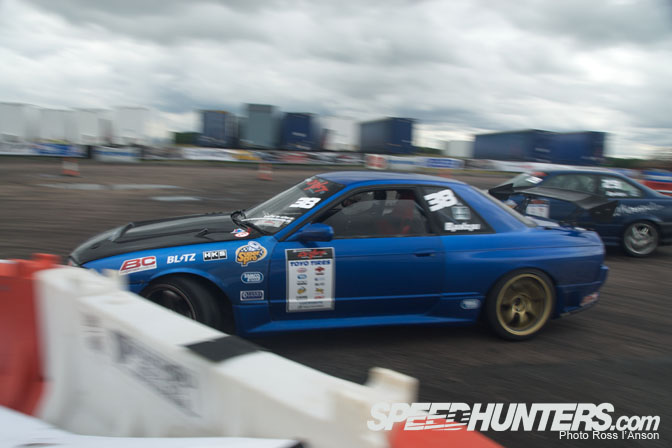 with practice over the competition got into full swing first to go was Ian harrison and Steve Will, a brave move from Harrison for a overtake into turn 1 didnt quite pay off putting Will through to the next round.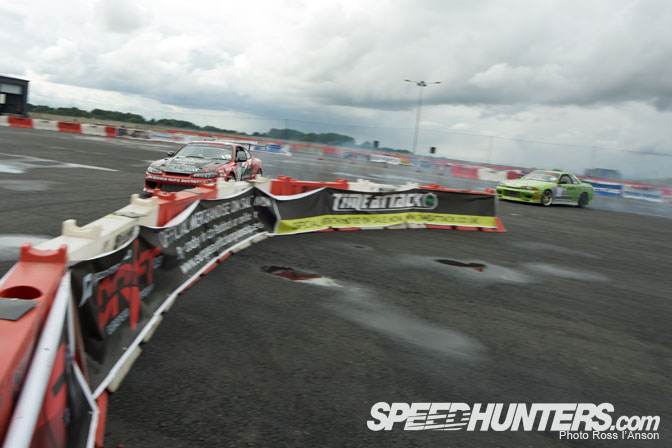 Paul Conlan took a relatively easy   win against Alexis Drew.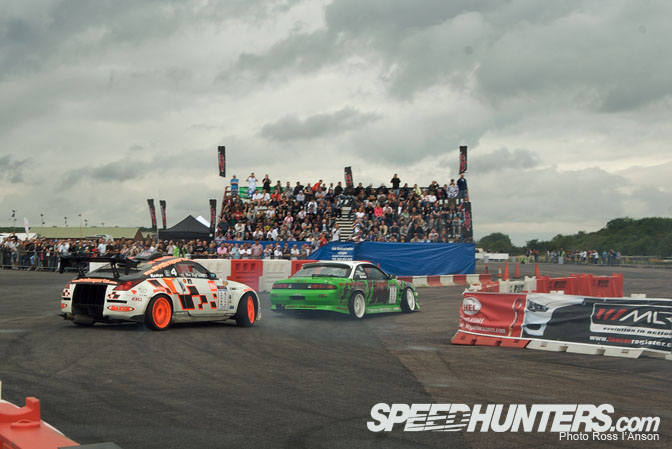 As did round 4 winner Mark Luney against Paul Cheshire.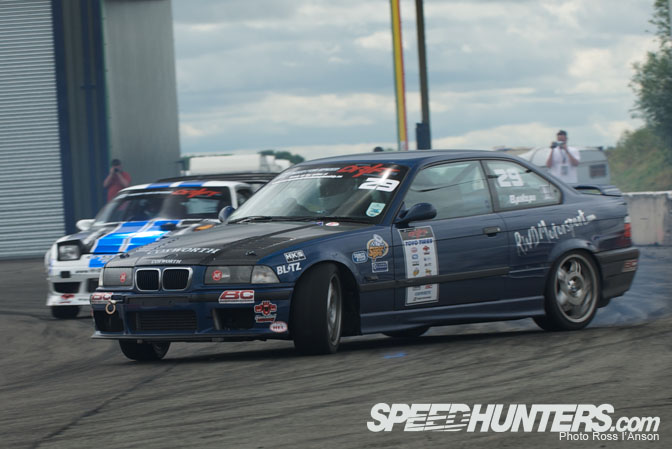 Next up was Steve Will and Alan Mccord too close to call the heat ran OMT with Mccord taking the place in the next round.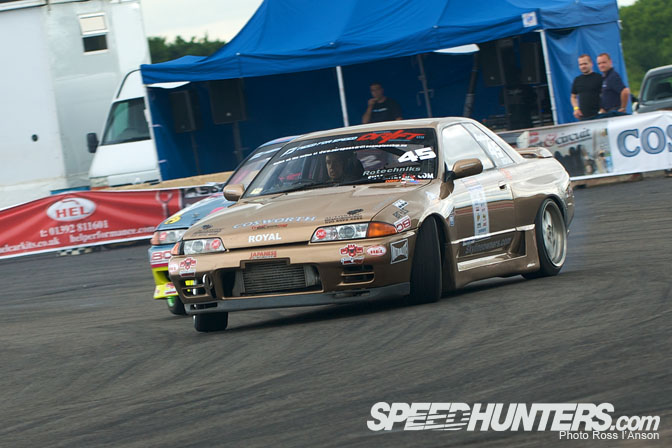 Dave Monghan lost out out to the on form James Russell.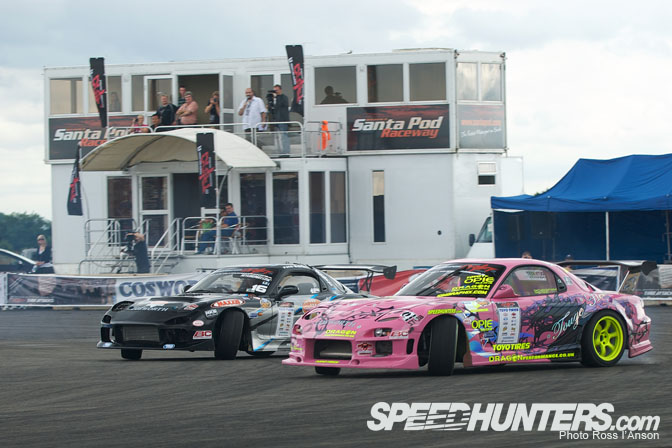 Irish legend Martin Ffrench's first time in NFS-EDC saw him up against Peter Barber for a battle of the RX's…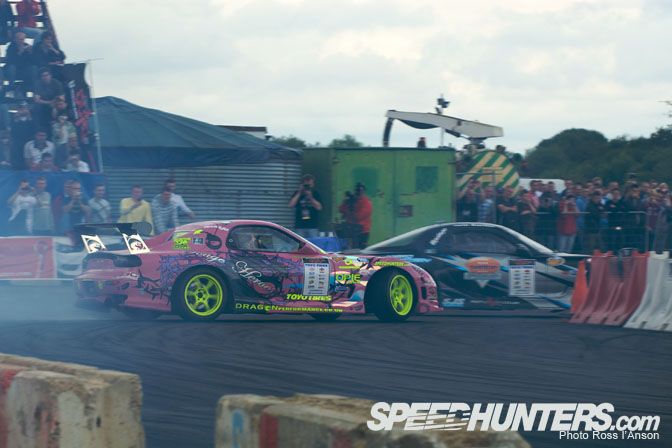 …an incredible noise from the two mazdas and a very close battle eventualy saw Martin ffrench going through to the top 8.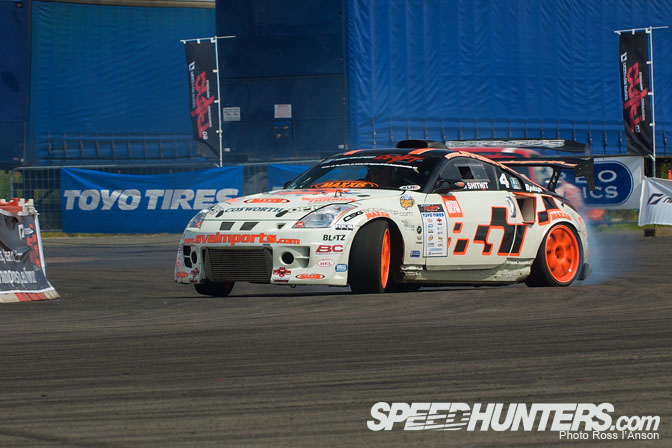 Into the top 8 and first up was Paul Conlan V's Mark Luney, running bumper to bumper another 5-5 was recorded making it OMT for the Irish drivers…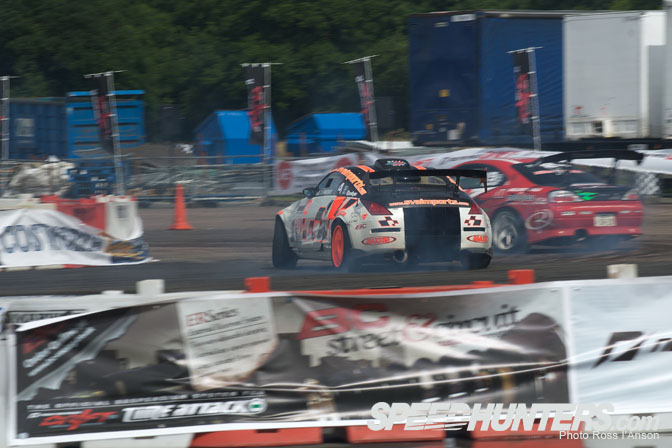 ..at this level it can be the smallest mistake that can decide a battle Luney straighted in turn 1 giving Conaln a 6-4 advantage and a ticket into the semi finals.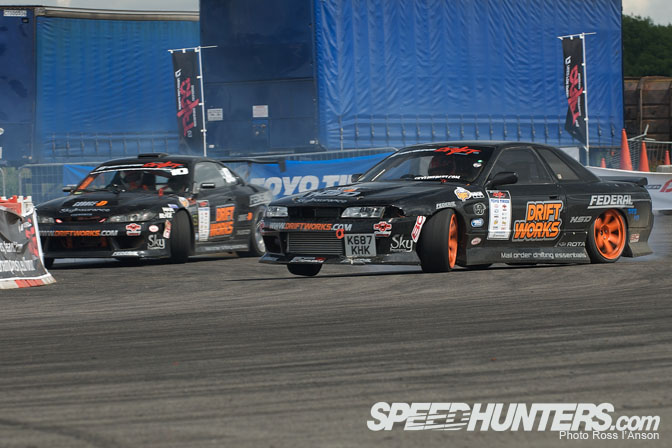 Round 5 saw the welcome return of reining champion Ben Broke-smith to NFS-EDC, and in a twist of fate he found himself up against his  team mate Phil Morrison for a semi final place..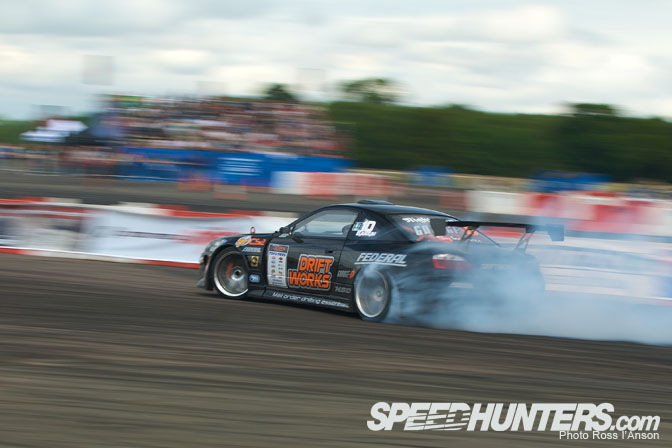 ..as soon as i saw the Driftworks guys roll onto track i knew it wasnt going to be a straightforward battle, ive seen Morrison and Broke-Smith run together before and its almost impossible to judge between them unsuprisingly the battle went OMT, chasing his team mate Bon eventualy went ito the hairpin a little hot and had to  correct giving Morrison the advantage and the win.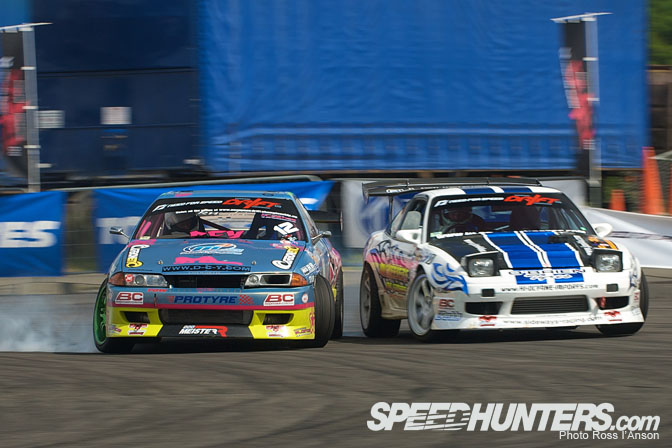 James Russell saw the tinyest of gaps into turn 1 and went for the overtake….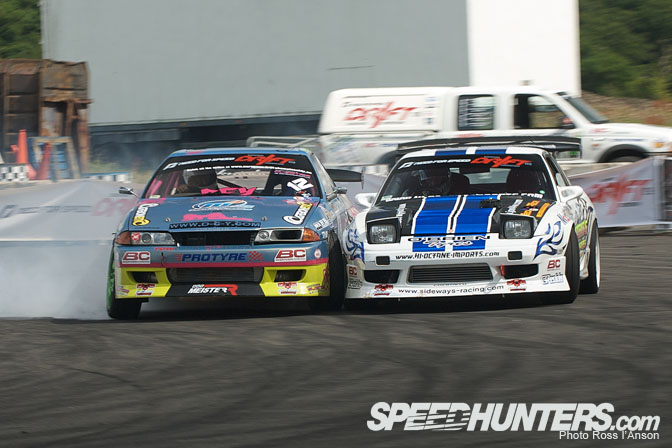 ..however against a driver like Alan Mcord its not quite that easy and contact was made giving a 10-0 advantage to Mccord..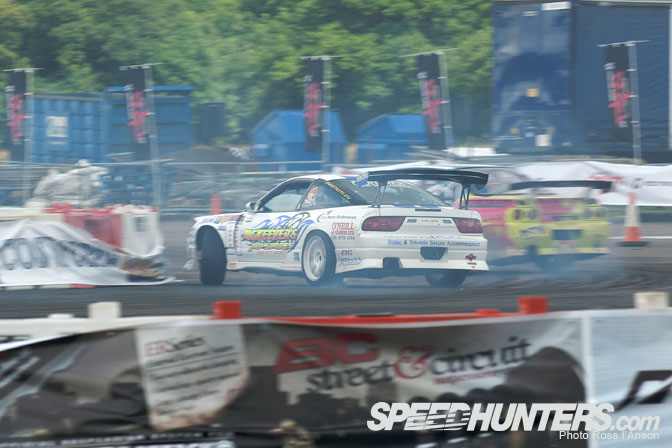 ..Mccord with a huge advantage progresed to the next round.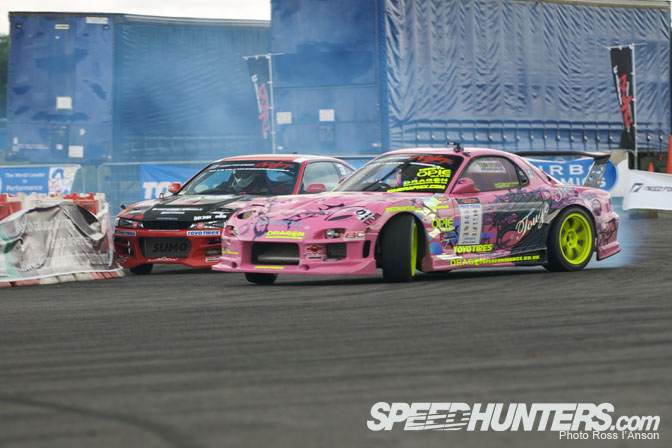 Another very close one between Martin Ffrench and Brett Castle saw yet another OMT..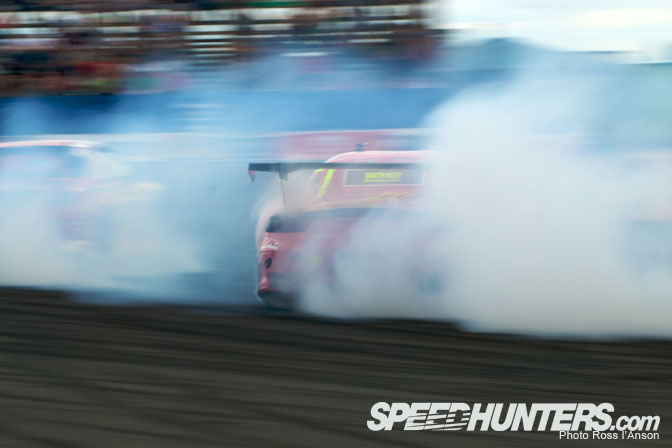 ..the hairpin claming another victim Ffrench closing in to close on Castle and spinning putting Castle through to the semis.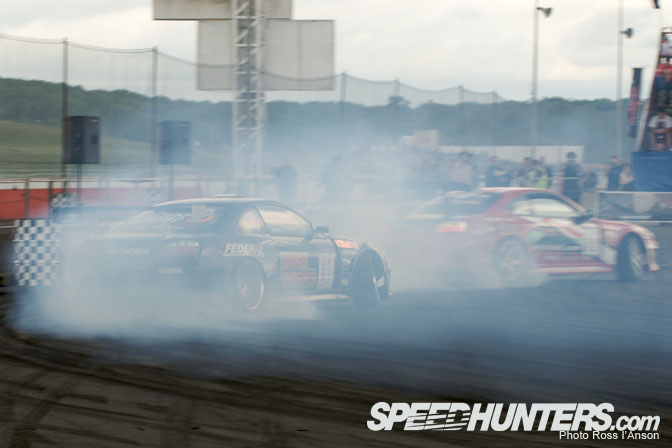 Into the semis and Morrison took the win against Paul Conlan.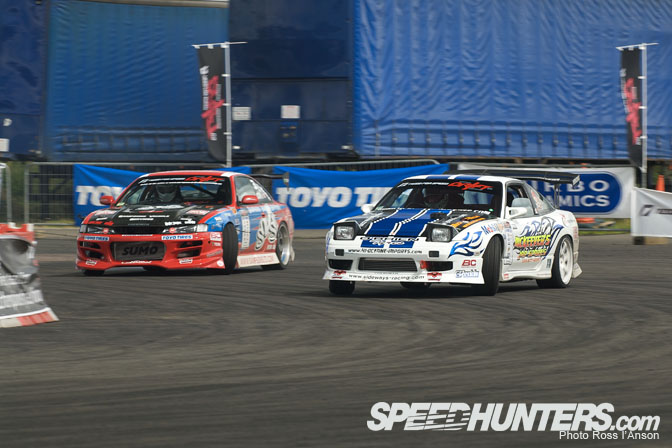 The technical santapod track was producing some suberb battles most too hard to call the Castle Mccord semi being no exception, matching each other blow for blow the battle went OMT..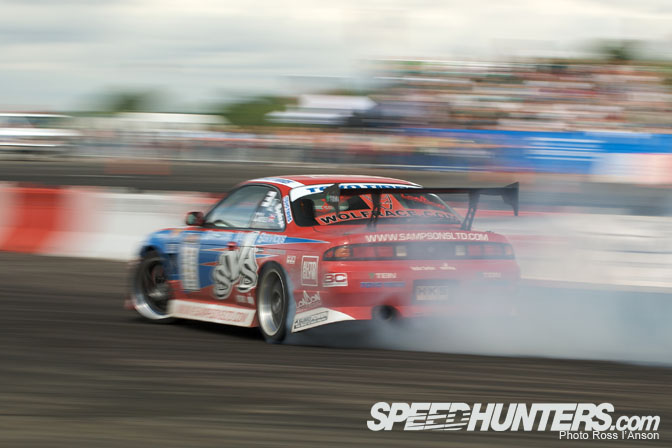 …until a big mistake from Castle left him at a massive disadvantage and out of the running with Mccord moving on to the final.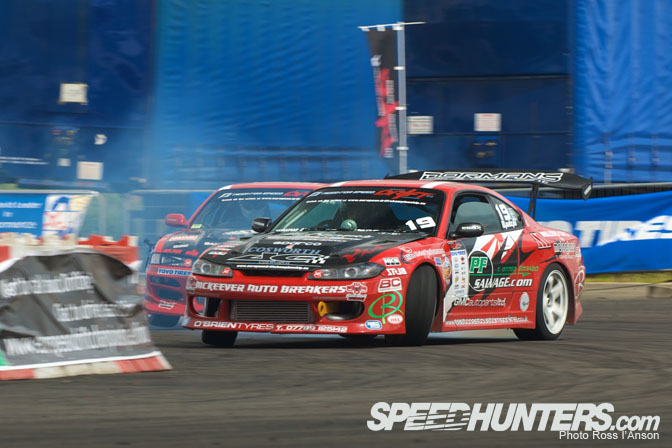 Castles day was not quite over tho as he still had the 3rd place run with Paul Conlan to contend with, another bumper to bumper battle sees Brett Castle secure 3rd place.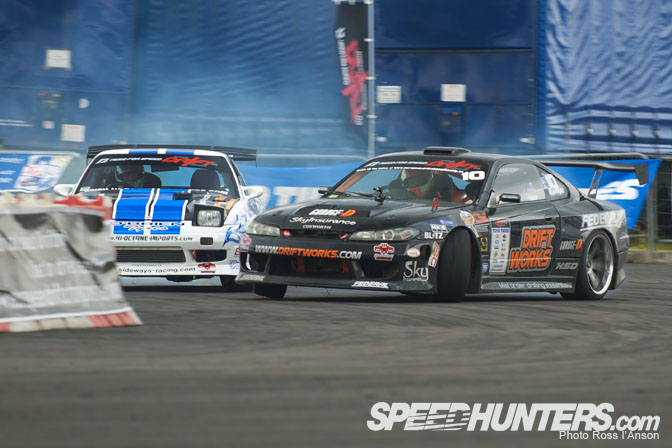 So on to the final Alan Mccord and Phil Morrison, both drivers on stunning form neither  putting a foot wrong all day..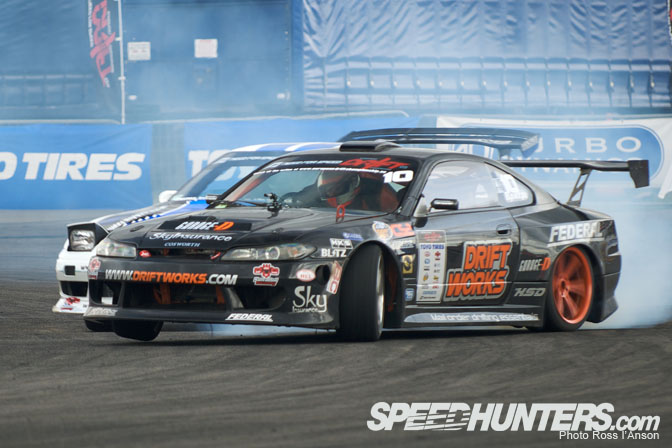 ..impossible to tell apart the battle ran OMT twice until..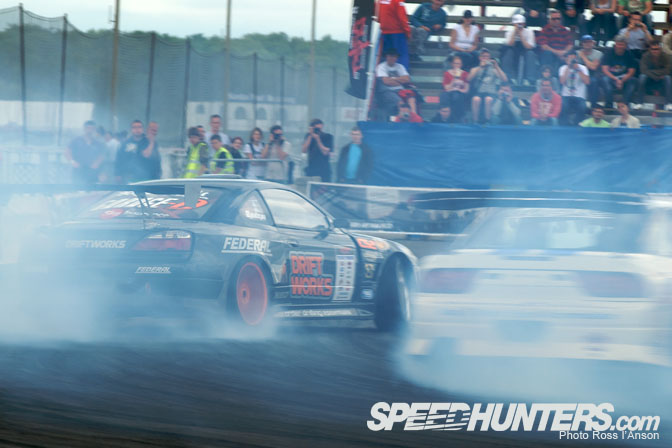 ..Mccord made the smallest of errors and breifly straightened  giving Morrison a 6-4 advantage and the overall win.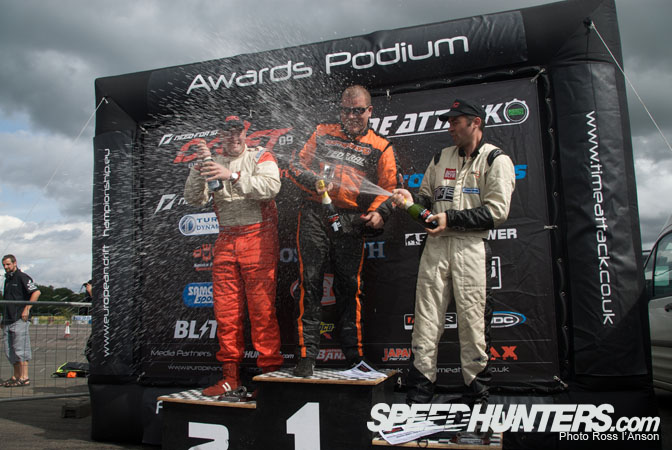 With round 4 over Phil Morrison now leads the championship by 40 points going into the final round, but with Mark Luney Alan Mccord and Peter Barber still within striking distance there is everything left to play for the Snetterton final has all the makings of event of the year!.
POINTS AFTER ROUND 4:
1. Phil Morrison (Nissan R32)…        335pts
2. Mark Luney (Nissan 350Z)…        295pts
3. Alan McCord (Nissan S15 V8)…    280pts
4. Pete Barber (Mazda RX7)…        265pts
5. Brett Castle (Nissan S15)…        220pts
5. James Russell (Nissan R32)…        185pts
7. Paul Conlan (Nissan S15 2JZ)…    175pts
8. Declan Hicks (Toyota Soarer GZ20)…    150pts
9. Kieron Cameron (Nissan S13)…    90pts
10. Ian Harrisson (Nissan R32)…        80pts
11. Stewart Hansford (Nissan S13)…    75pts
11. Paul Cheshire (Nissan S14A)…    75pts
13. Andrew Cooper (Nissan S14A)…    70pts
14. David Monaghan (Nissan R32)…    65pts
15. Gary Hughes (Nissan R32)…        60pts
16. Keith Hammond (Nissan R32)…    55pts
16. Steve Will (BMW M3)…            55pts
18. Martin French (Mazda RX7)        35pts
19. Ben Broke Smith (Nissan R32)…    30pts
19. Steve Evans (Lexus IS200)…        30pts
19. Alexis Drew (Nissan R32)…        30pts
23. Dwain McKeever (Nissan S13)…    25pts
24. Richard Bradley (Nissan S14)…       15pts
24. David Waterworth (Nissan S13)…    15pts
24. Daniel Eyles (Nissan S13)…            15pts
24. Kiyoshi Kawabata (Nissan PS13)…  15pts
24. Anthony Scott (Nissan PS13)…        15pts
29. Rennie Morrocco (BMW E36)…        10pts
Ross I'Anson