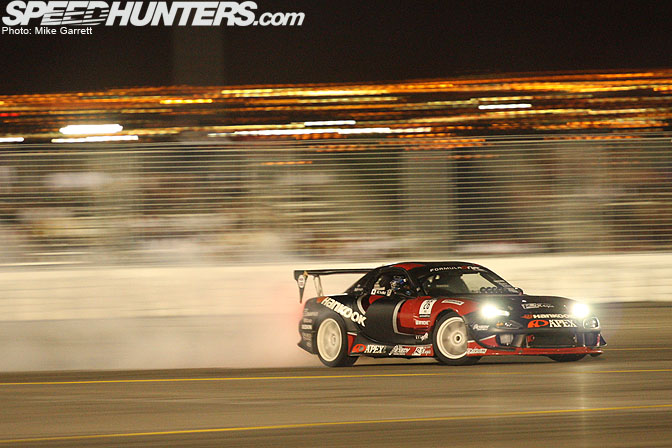 You may have noticed a lack of posts from me over the past few days. This is because I've been busy driving around SoCal shooting features that will be appearing on the site later this month. For the second part of my road trip, it was away from the beautiful SoCal beach weather and off to scorching hot Las Vegas for the fourth round of the Formula Drift series. I'm not exactly sure why they choose to hold the Vegas event in July, but so far the action has been good enough to make you almost forget about the blazing temps.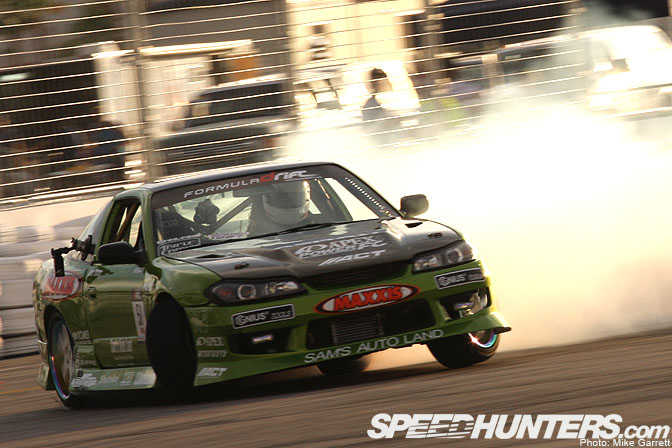 The FD drivers first took to the the track early in the evening for a couple hours of practice. The track here in Vegas is lined with concrete walls, which leave little room for error – especially in the high speed entry area. Some drivers were obviously struggling with the course, while others like Joon Maeng made it seem easy. This guy gets better at every FD event I got to…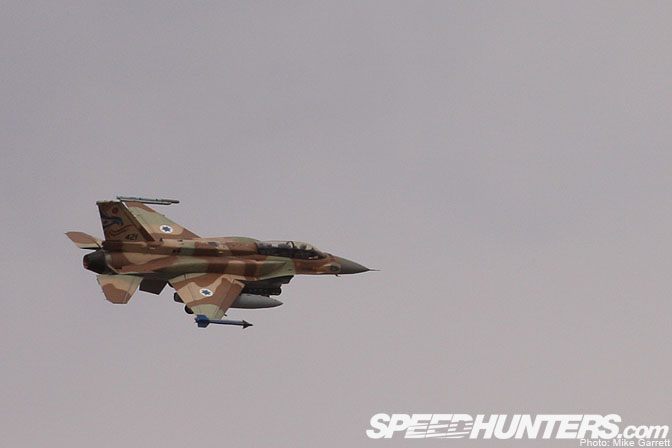 The Las Vegas Motorspeedway is located very close to Nellis Air Force Base, which means it's quite common to see fighter jets roaring overhead. No need to schedule a fly by…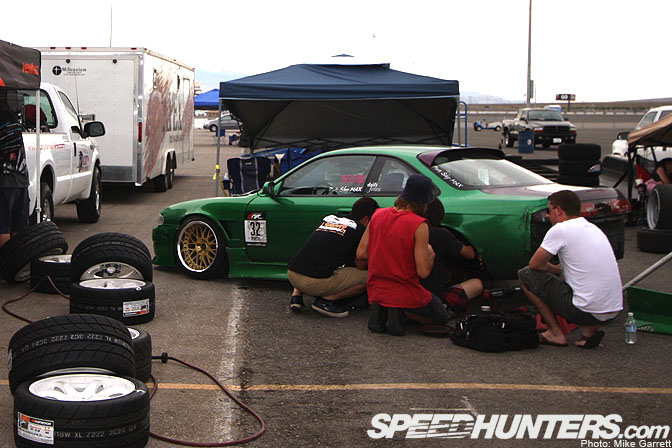 Back on the ground, we see Matt Powers' S14 in the paddock prior to qualifying. Matt was able to get the job done, squeezing by and claiming the 31st qualifying spot for today's competition.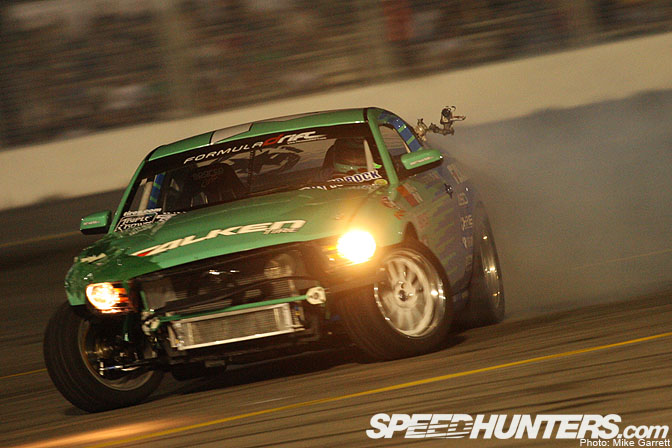 During his first practice run of the day Vaughn Gittin Jr. took a HARD hit in his Ford Mustang. The car looked to be done for the weekend, but miraculously the ASD crew was able to get it back in shape for JR to qualify 19th. More on this wild story later…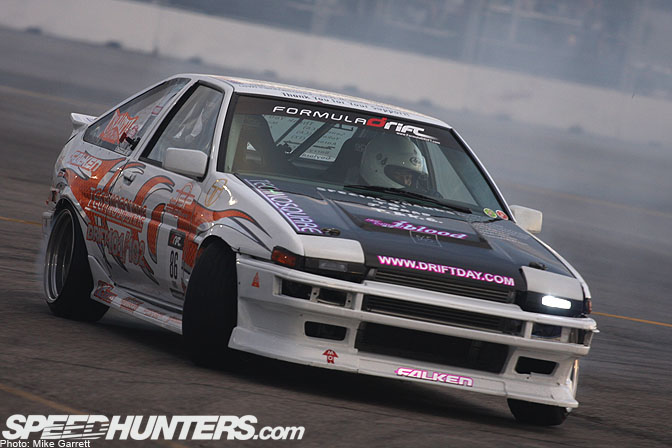 Qualifying just ahead of JR in 18th position was Taka Aono in his AE86. Nice job Taka!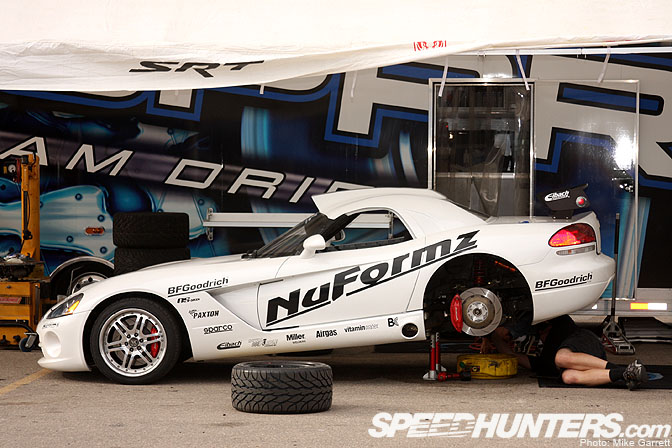 Sam Hubinette's Viper is now sporting a much more restrained livery. The team may have a lost a big sponsor when Mopar dropped its support, but that didn't seem to phase them. Sam qualified sixth overall.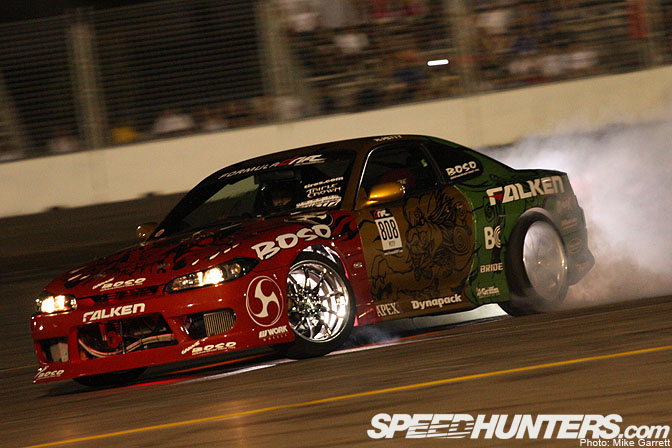 Fitting in well with the glitz of Las Vegas was Ross Petty's S15 and its trick strobe lighting….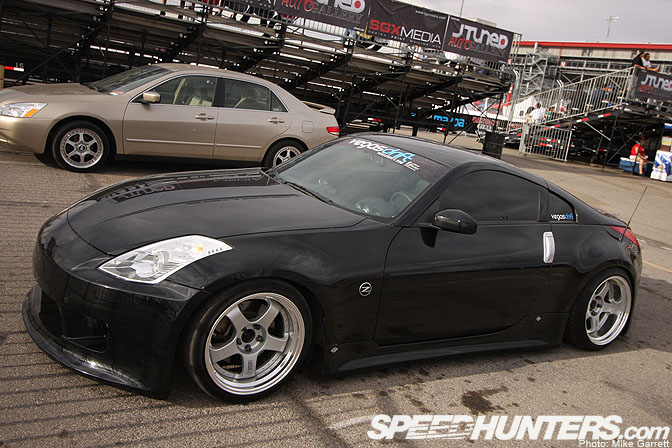 This local Z33 caught my eye as I made my way across the paddock. Hot.
And now a quick look at the top five qualifiers -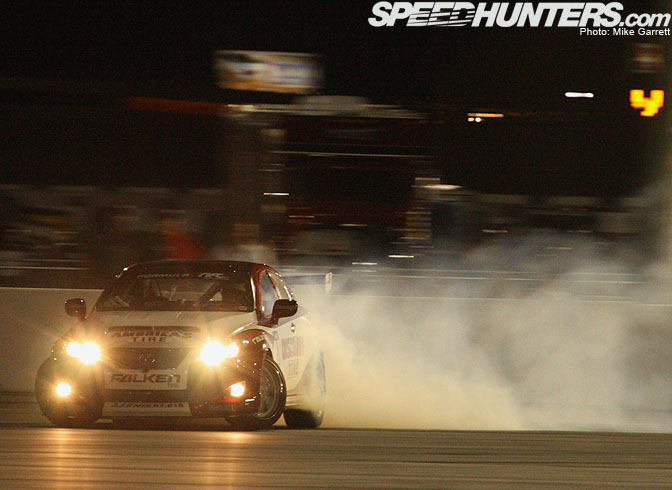 Dai Yoshihara was one of the most consistent drivers of the day, nailing an 89-point qualifying run for fifth overall.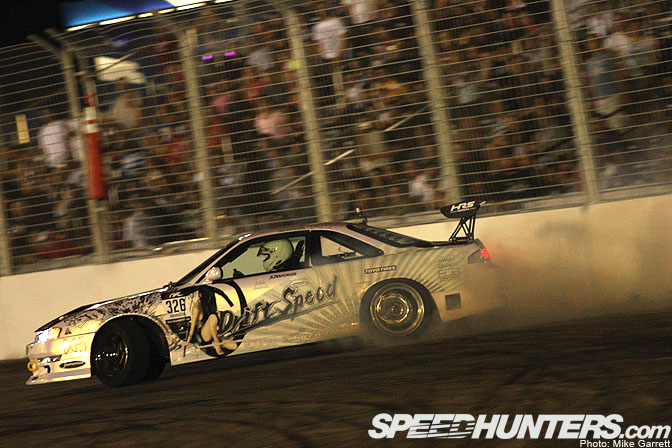 Mitsuru Haruguchi jumped into one of the Drift Speed cars for this event, and displayed some his trademark ass-first entries and wall-scraping angle. A 91-point run earned him fourth overall.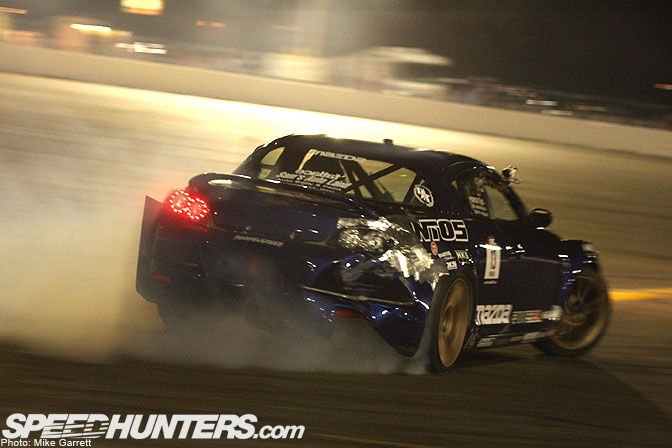 Justin Pawlak gave the wall a passionate kiss during practice, but still qualified with a 95 point run to take third. His new RX8 is totally ridiculous…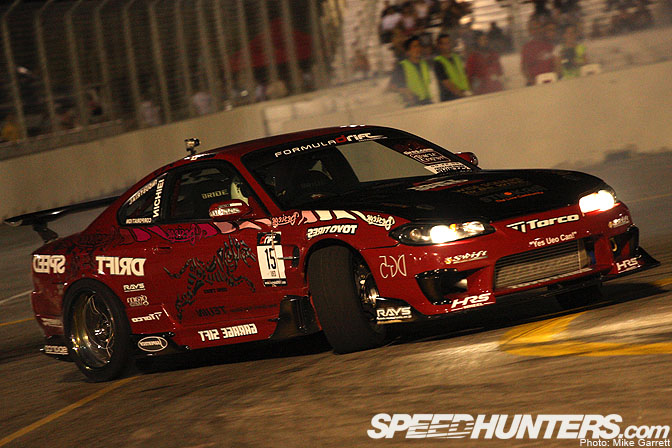 Katsuhiro Ueo is back for this event in the Drift Speed S15, and the former D1 champ did not disappoint last night. Ueo had the second highest qualifying run with 95.4 points.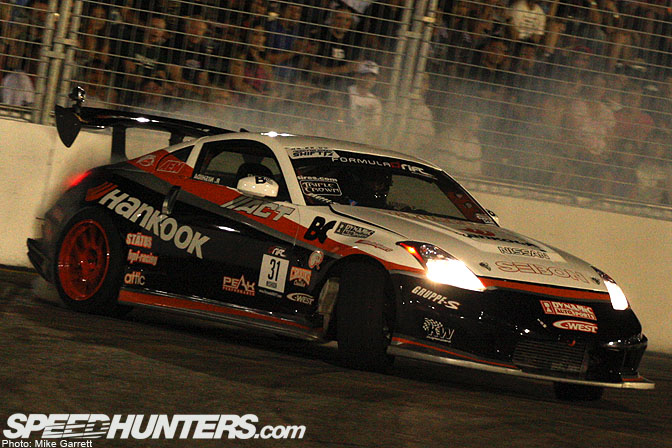 And qualifying first was Robbie Nishida who drove the Hankook Z33 to an incredible 96-point run. Robbie has been itching for a victory this year, and he's certainly in a good spot heading into tonight's competition.
Here's the complete Top 32 qualifying results.
Current FD points leader Darren McNamara was unable to drive his Saturn Sky due to mechanical trouble, and attempted, but failed to qualfiy using the S15 Silvia borrowed from Calvin Wan. Rhys Millen also failed to qualify for the Top 32.
1 R. Nishida 31 96
2 K. Ueo 15 95.4
3 J. Pawlak 13 95.1
4 M. Haraguchi 326 91.6
5 D. Yoshihara 9 89.7
6 S. Hubinette 77 88.5
7 C. Rydquist 46 87.5
8 S. Verdier 12 85
9 M. Essa 101 83.5
10 C. Forsberg 64 82
11 T. Suell 777 81.2
12 K. Mohan 99 80.7
13 E. O'Sullivan 35 79
14 K. Yamanaka 7 78.9
15 R. Tuerck 44 76.6
16 K. Gushi 5 74.1
17 T. McQuarrie 17 73.5
18 T. Aono 86 71.3
19 V. Gittin 25 71
20 T. Foust 1 70.8
21 P. Mordaunt 90 68.9
22 R. Miki 26 67
23 B. Sherman 22 64.8
24 Y. Kondo 52 62.5
25 R. Petty 808 62.2
26 M. Takatori 23 60
27 A. Pfeiffer 88 59.8
28 K. Hayashida 33 59.2
29 J. Maeng 51 57.8
30 T. Brakohiapa 18 55.7
31 M. Powers 32 52.7
32 C. Canul 30 46.5
Alright back to the track fore the main event.
More from FD Las Vegas soon!
-Mike Garrett