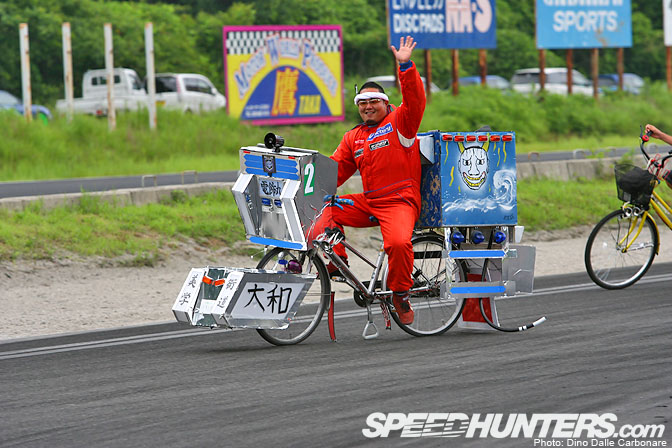 I couldn't pass up using this picture as the opening shot for a last look at the action from the Street Legal event in Nikko. During the driver presentation Jikuya got the judges and spectators falling over laughing when he slowly made his way onto the track on a dekotora-styled bicycle! At the same time Nakamura was on his own customized pushbike, fitted with air horns playing the Godfather theme song.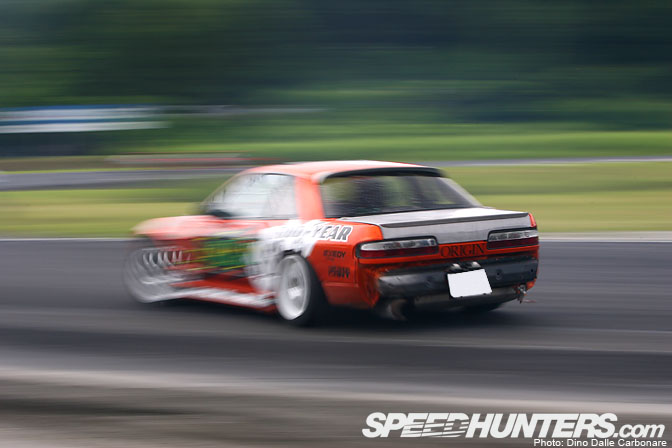 A lot of drivers removed both front and rear bumpers for some of their practice runs, something most drifters do at Nikko. It's not a forgiving track if you overcook it!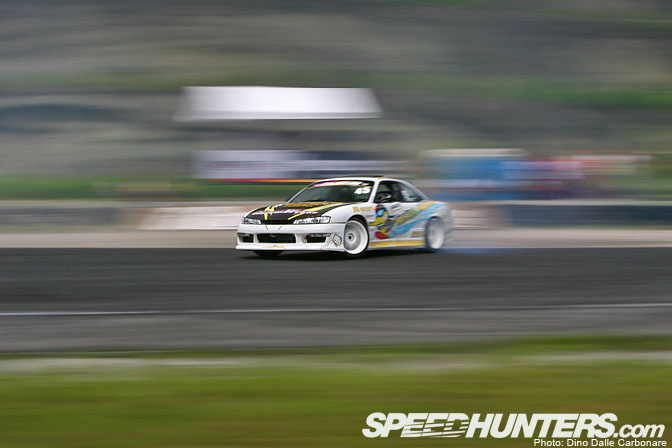 Ishii's S14 flowing through the main judged corner.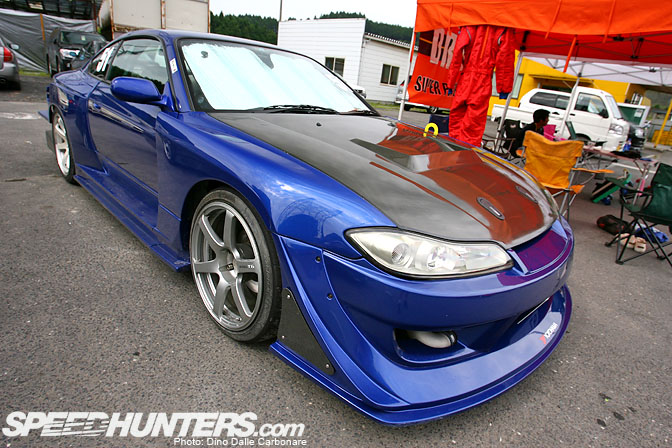 Earlier in the morning I spotted Okachan from Yashio Factory arrive into the car park with Yamashita's GP Sports kitted S15.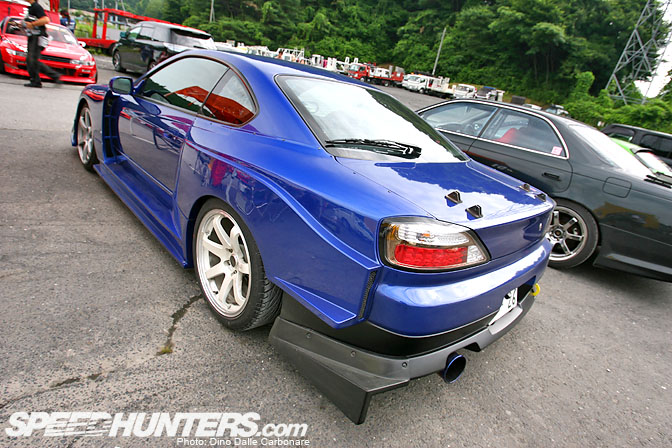 Yamashita didn't make it through the Saturday qualifying round so was playing spectator on Sunday.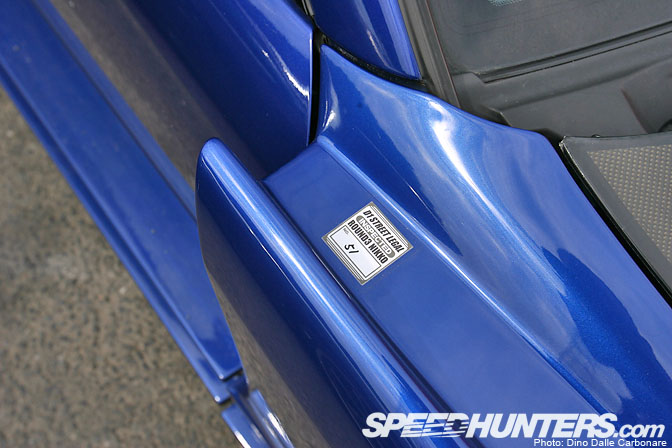 I can't believe he drifts such a spotless car! Have a look at those wild front fenders, nice place to hide the inspection sticker.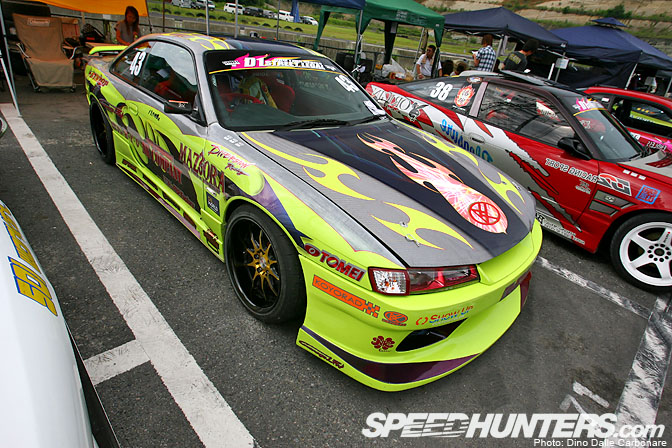 We saw Kawakami's S15 plough into the gravel in Part 2, here it is all clean and ready to go before the event kicked off.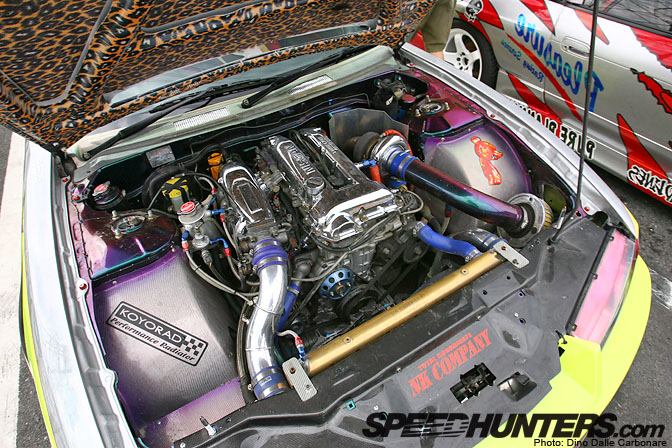 On top of the exterior being covered in silver carbon fiber some areas of the engine bay are too! Maziora chameleon paint is used on the suspension turrets as well as the intake pipe.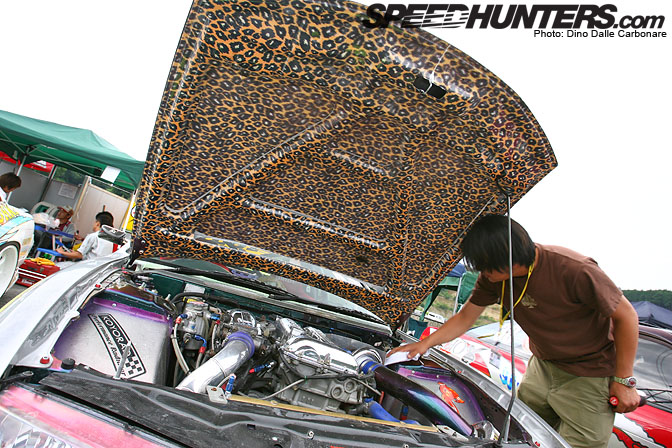 When I was taking pictures of his car Kawakami, seen here polishing that expensive paint, told me the underside of his hood is done in Shibuya kogyaru style LOL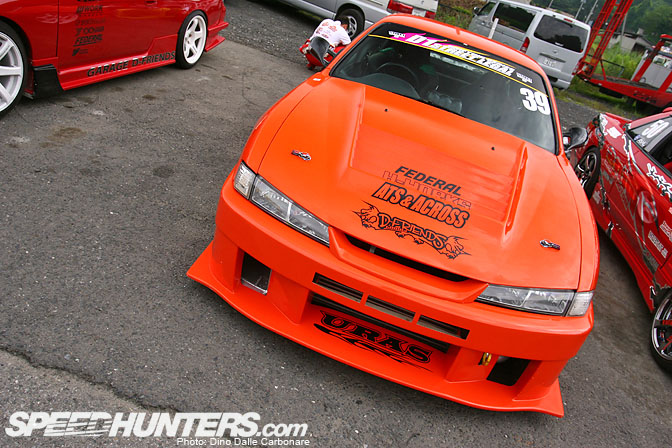 This has to be one of the nicest S14s I have ever seen!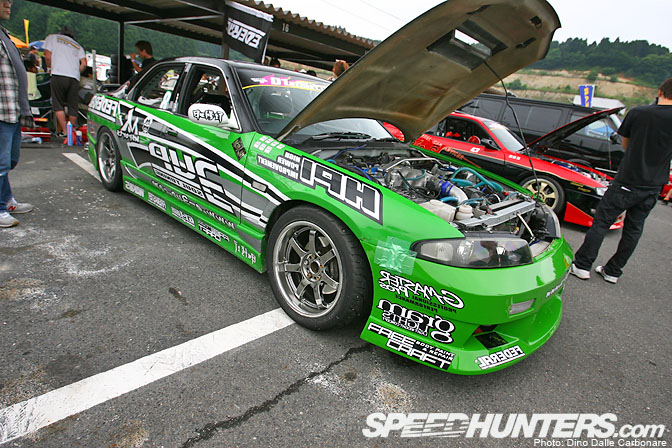 Mikami's 3UP 430 PS 4-door Skyline.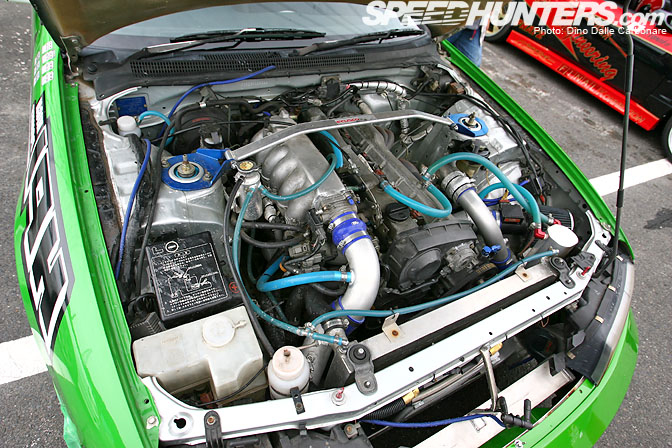 The engine bay looks rather stock, with only a turbine upgrade in the form of an HKS GT3037 Pro S and a full mount intercooler being the most obvious additions.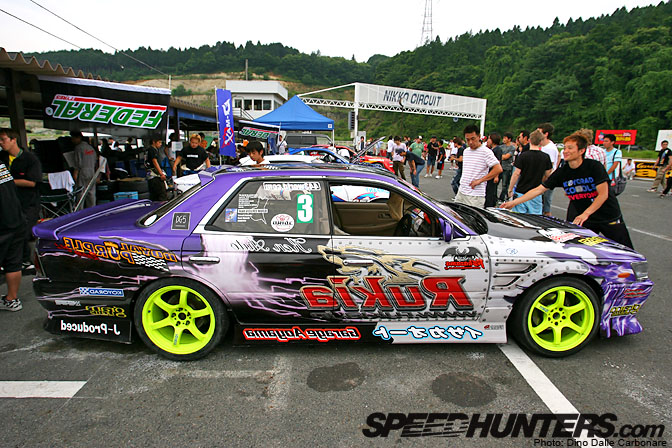 Kiguchi's Laurel suffered some mechanical problems, meaning he was unable to compete on the Sunday. A real pity!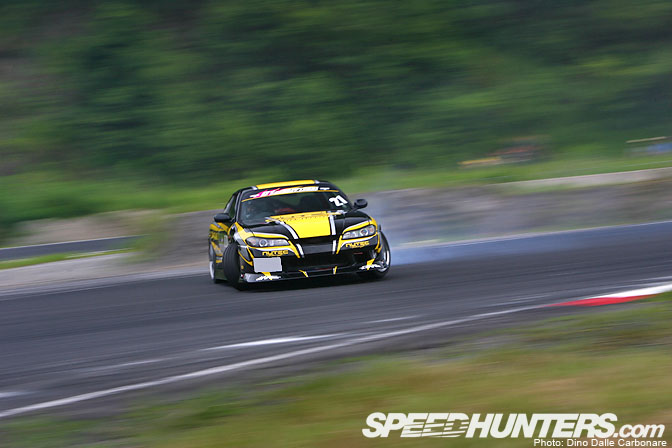 Full lock on entry, exactly how it should be done!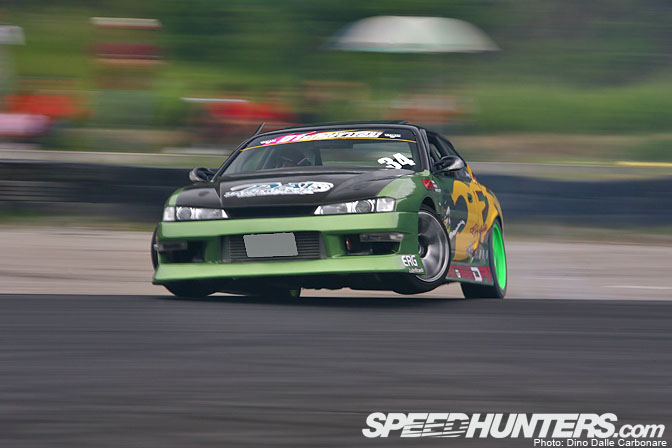 More wheel in the air fun…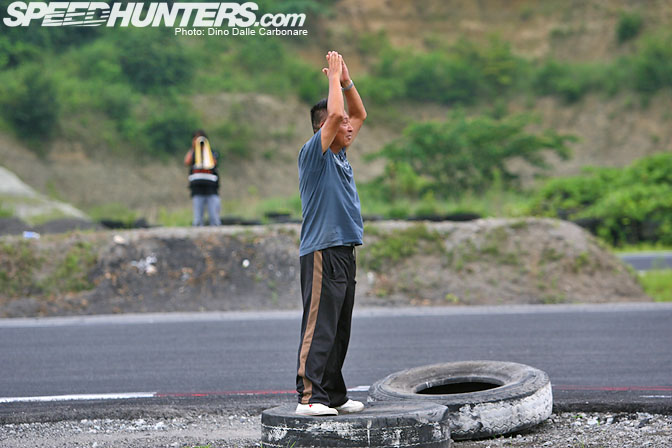 Daijiro Inada pretending to be a cone!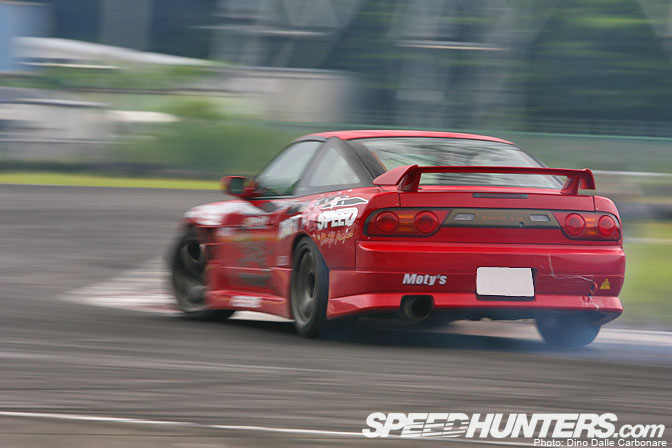 This is potentially the place when you can start to really burn rubber, but most were backing off as it's not part of the judged area.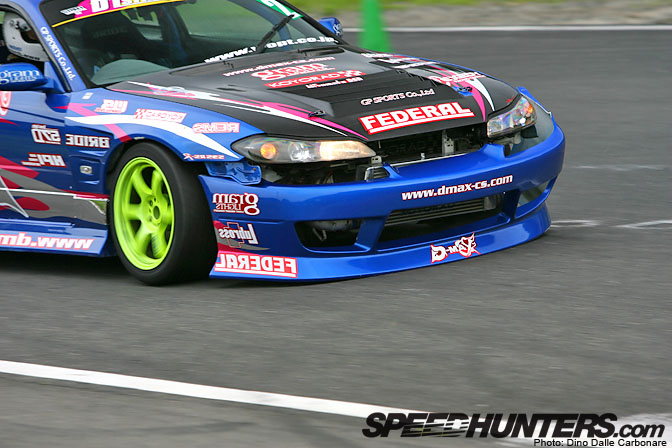 Nakamura losing his second front bumper of the day!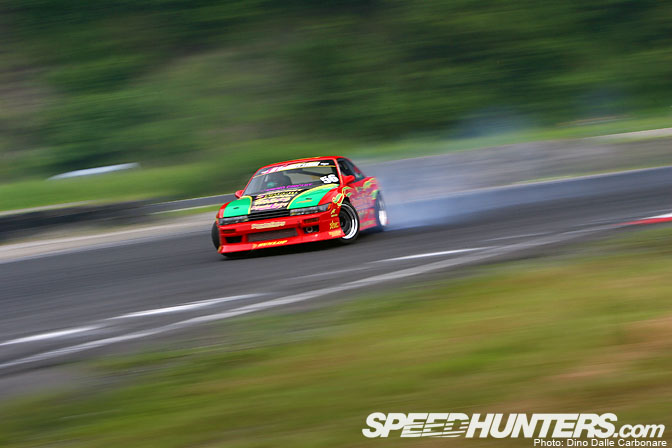 Saito-san in full attack mode in his Tokonatsu Factory S13.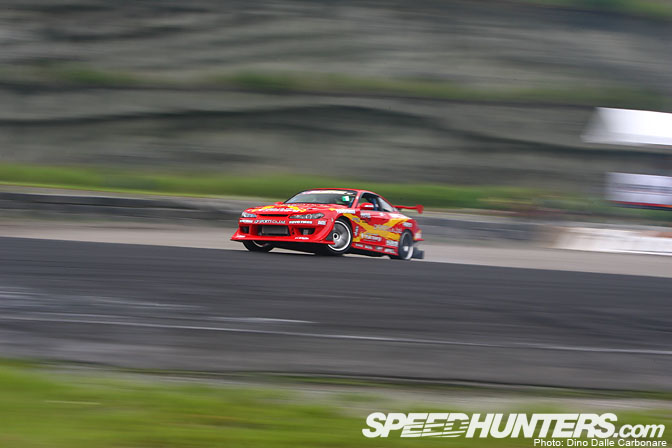 Hope you enjoyed the coverage from this Street Legal event. Next appointment with D1 will be at the end of next month for another GP twin-rounder, up in Ebisu. Make sure you check back for that!
-Dino Dalle Carbonare