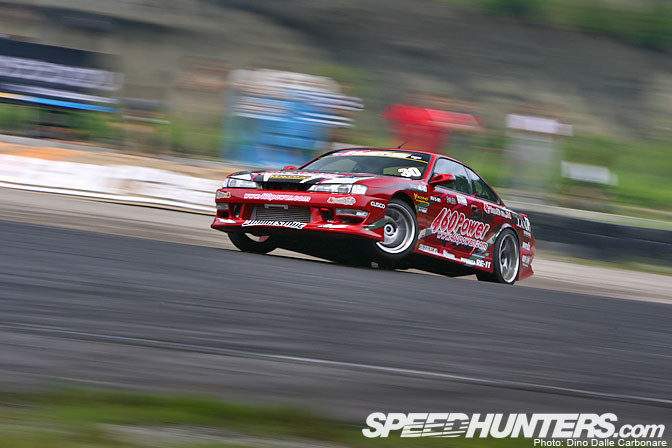 It seems we just can't keep away from tire smoke here at Speedhunters! With Mike and Linhbergh in Vegas for Formula D and Ross at Santa Pod for the NFS European Drift Championship, I certainly couldn't come up empty handed from over here in Japan, could I? So it was yet another early rise as I got in the Legacy and shot up the Higashi Kanto express way to Utsunomiya, the home of Nikko circuit for the third round of the D1 Street Legal championship.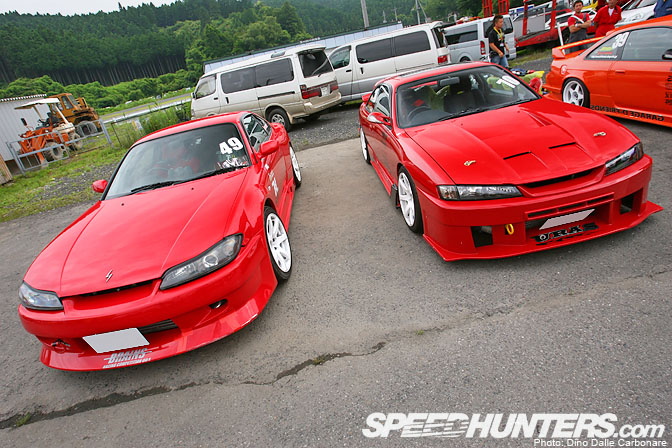 The paddock was already buzzing, with teams getting their cars ready for the day's action at what has to be one of the best tracks for drifting.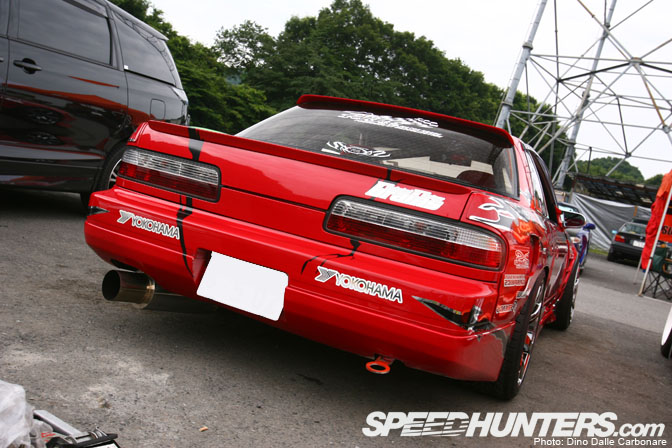 As ever, I spent some time strolling through the paddock checking out the varied line-up of cars.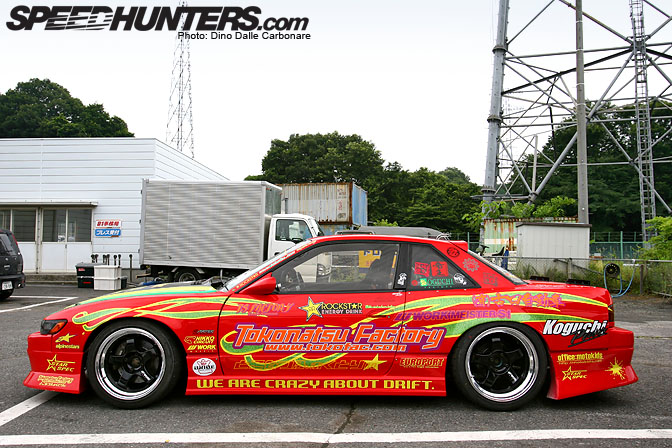 Built by Koguchi Power and Tokonatsu Factory, Saito's S13 was one of my favorite cars on the day sporting a near perfect stance and a simple and clean body. The Work Meister S1's suite it rather well.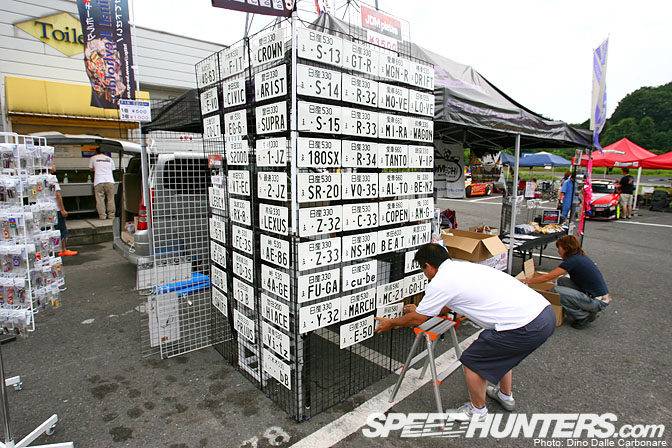 The fake number plate fad continues, and seems to be spanning to include some curious cars like the GOLF, MINI and AMG? I guess that is one way to inject some JDMness into your Euro ride!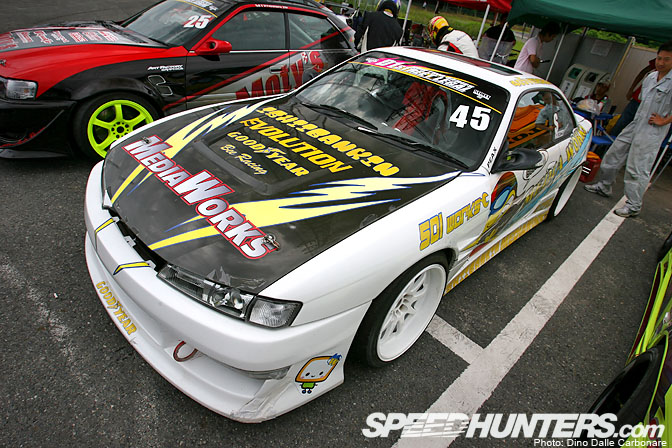 White on white for Ishi's S14 Silvia which was dressed up in some pretty colorful graphics.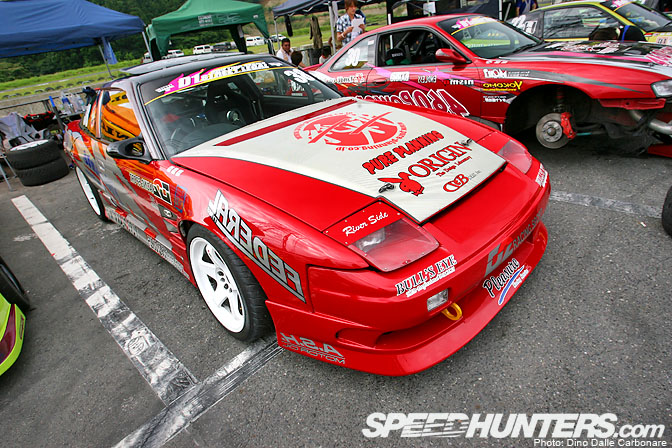 There is hardly any difference between SL and GP cars, or so it seems. Drivers seem to be getting a lot of backing and the level of both engine preparation and exterior modifications is just as high.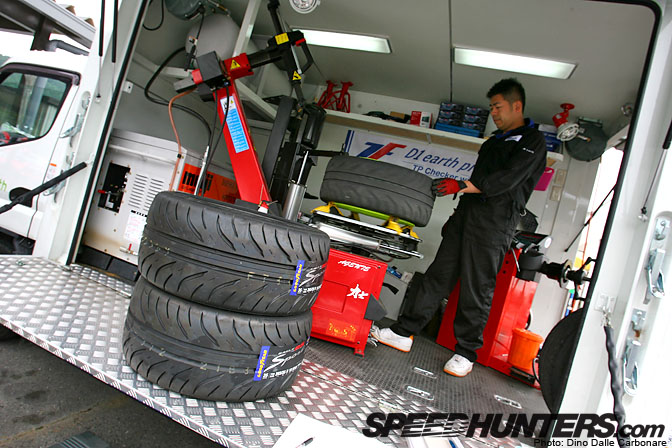 All-in-one mobile tire changer and balancer service offered out of this micro-truck. Everything in Japan really is small! If this was in the US it would be a 10 m rig!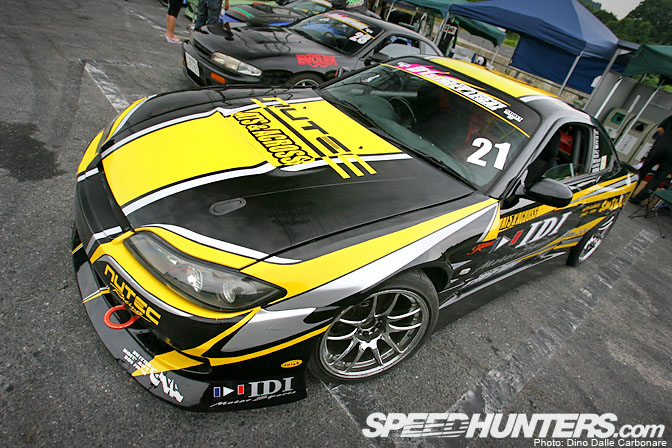 The ATS & Across livery on this S15 looked great and really stood out on track.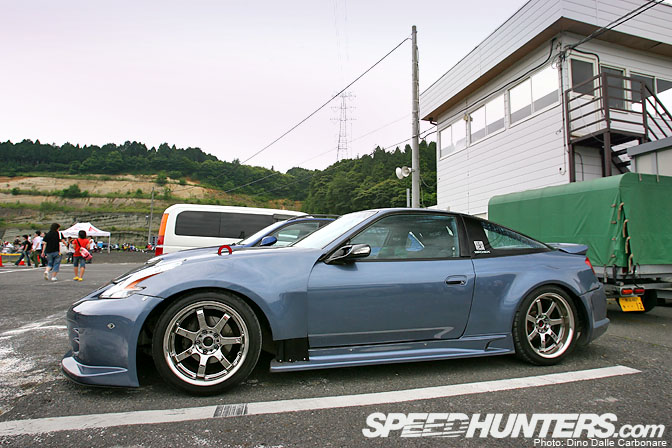 Inada-san showed up with his recently modernized D's Sports GT Stream Z Jr. Like we saw in Nagoya at the Exciting Car Showdown, the RPS13 has now been fitted with Z34 front headlights.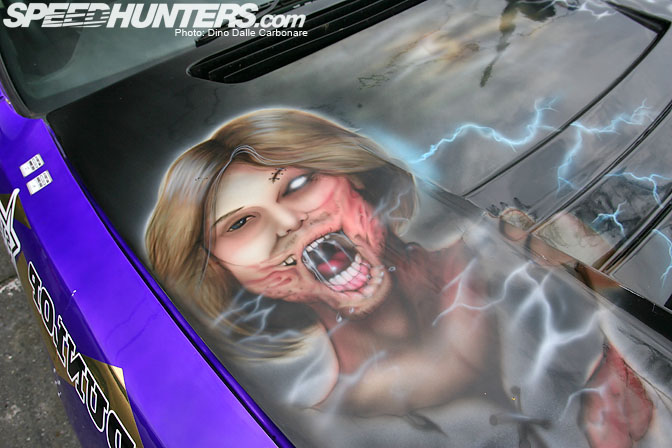 I guess this is one way to scare the competition!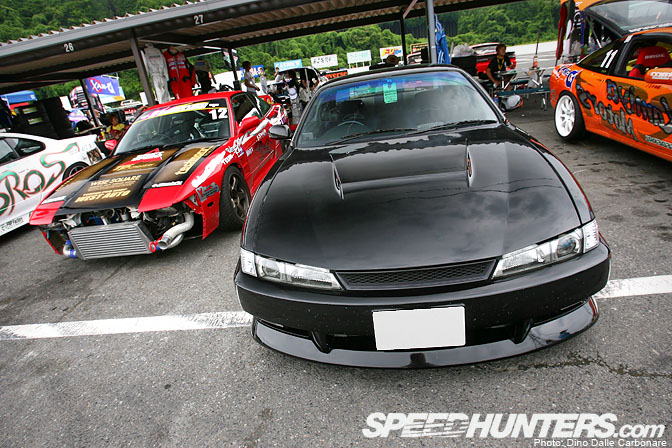 This S14 didn't participate on track, but the reason I took a few pictures was because it looked particularly well modified…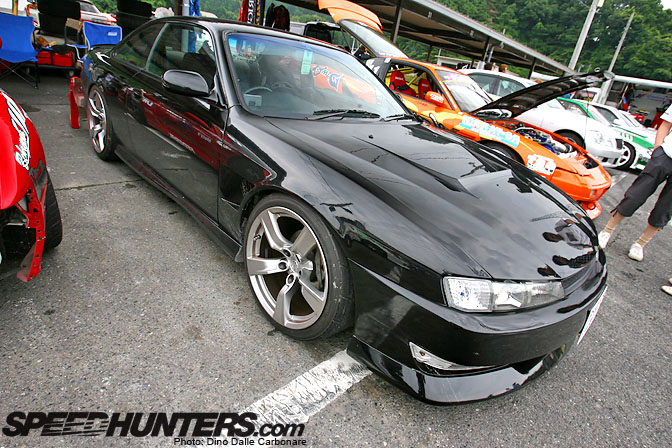 …and rather unique thanks to a set of 350Z OEM 18-inch wheels.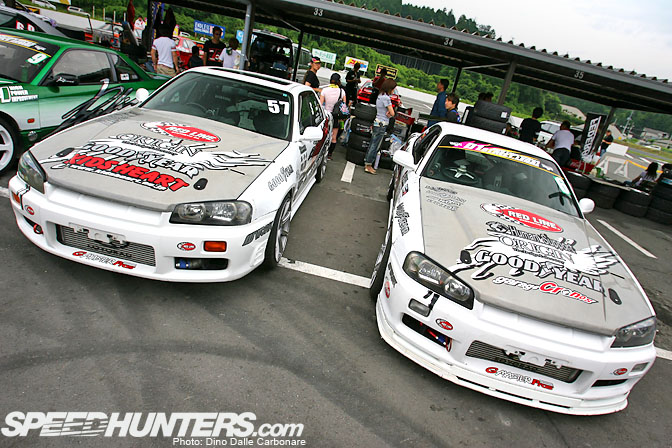 Tezuka was back out in Nikko with his Kid's Heart ER34. Rie didn't manage to qualify on Saturday but her 4-door Skyline was on display in the paddock. I'm beginning to like the white and silver carbon combo, looks pretty cool in the pictures.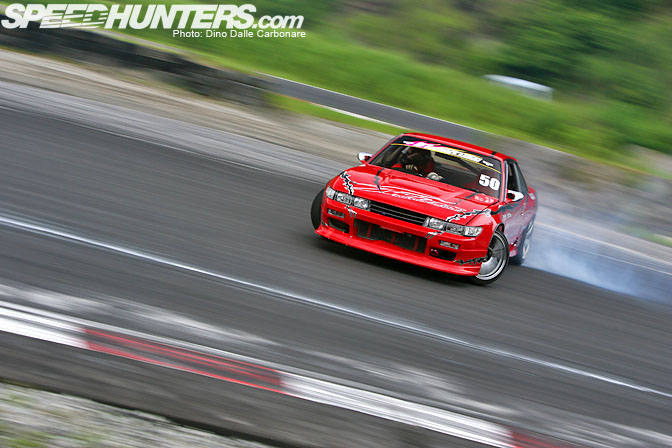 It wasn't too long before the first practice run got under way. Nikko is my favorite place to shoot any drift event as you can get so close to the cars from virtually any side of the track you care to venture to. Try doing this at a GP event and you would be shouted at by one of the marshals in no time! Hatsuda above is getting a great angle as he comes in with both rear wheels locked.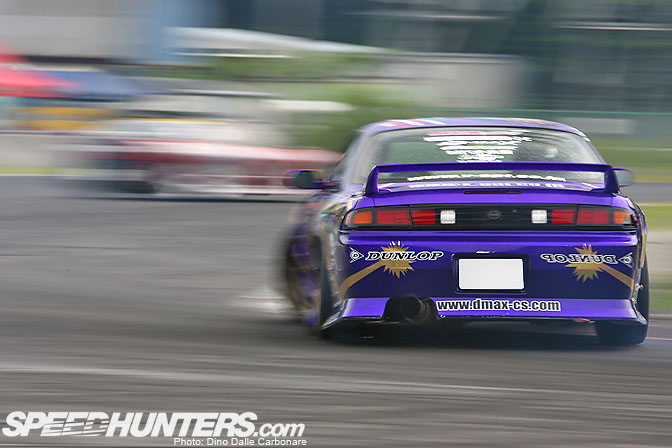 As the action continued the skies turned rather dark for a while as a few rain drops began to fall. This however didn't hinder proceedings as drivers simply adapted their techniques to the slippery surface.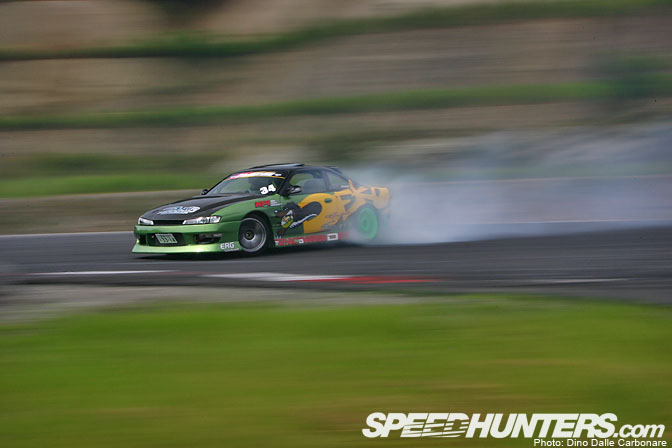 The rain stopped as quickly as it arrived meaning the drifting continued through till lunch time when the qualifying sessions ended.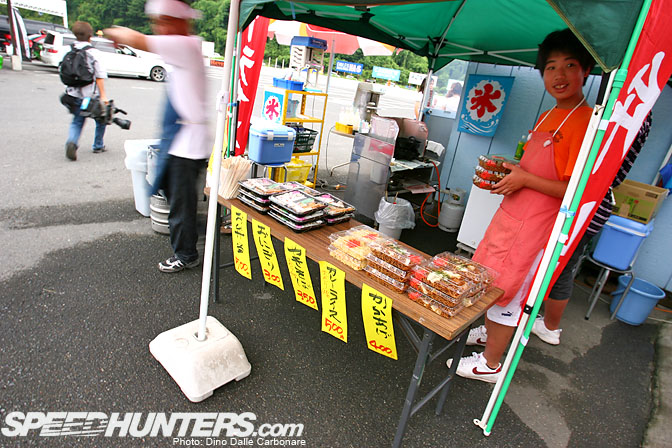 Nothing like some yaki-soba or curry-rice to fill your stomach up during lunch time! To keep people cool under the deceptively strong sun rays (yes I got fried yet again!) Kakigori (ice shavings with syrup) were on offer too, something I managed to slurp down before the Best 16 got under way.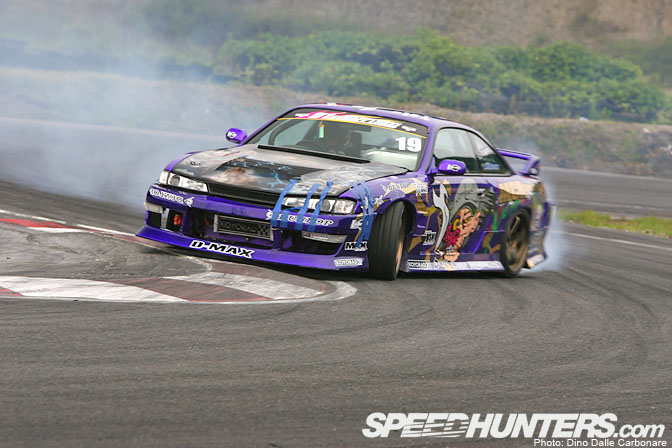 Here is Masashi Yokoi as he tackles the infield chicane after the main judged corner. Nikko is so well suited to drifting that you can tackle it sideways all the way, something drivers were not doing yesterday to save those precious tires.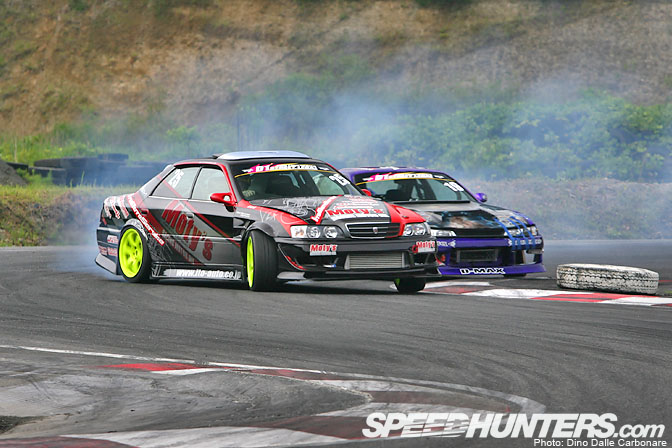 Here is Yokoi and Ito in their Best 16 battle. The Kazama Auto JZX100 is one car you cannot help but like with those massive flared fenders. The tight course meant that drivers were feathering the throttle rather than mashing it, so the smoke clouds were not as big as in Ebisu.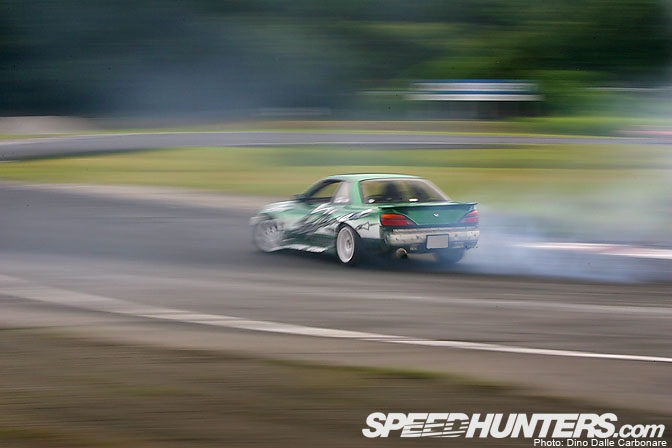 The team Refined S13 with S15 front and rear end, looking especially well color-coordinated among the natural surroundings at Nikko!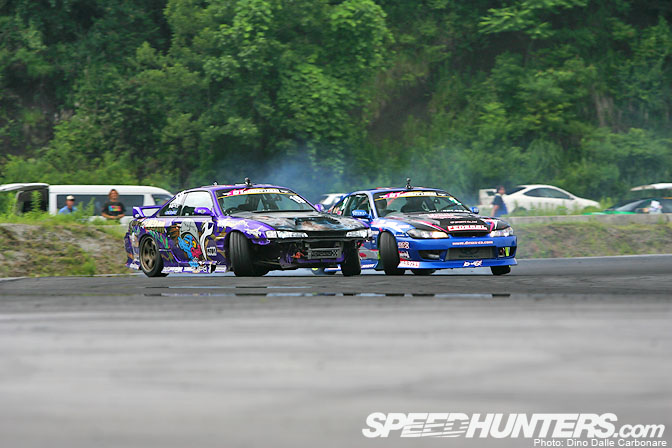 The Best 16 tsuiso battles ended in a well fought final against Yokoi, who by the end of the day had lost a bumper or two, and Nakamura in the D-Max S15, also on his second or third front bumper! These guys went at it like true pros with a series of seemingly perfects drifts. Tsuchiya, Nomuken, Kumakubo and Suzuki in the judges stand were baffled and kept calling for one-more-times. Every run was consistent from both drivers, driving the crowds wild.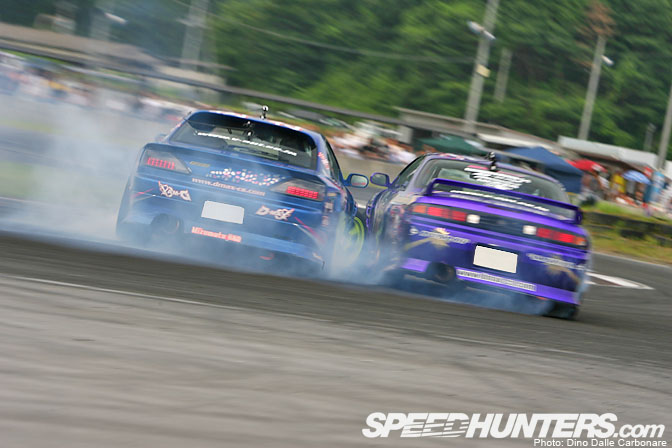 Just look at how close Nakamura manages to stay in this final run!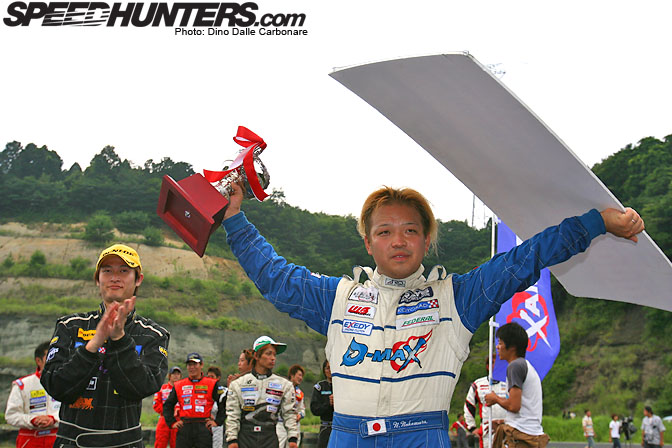 Thanks to a slightly more aggressive style, not to mention staying glued to the purple S14 of Yokoi, Nakamura grabbed first place bringing home yet another victory. The 27-year old from Nara is one guy I'd really like to see in GP next year!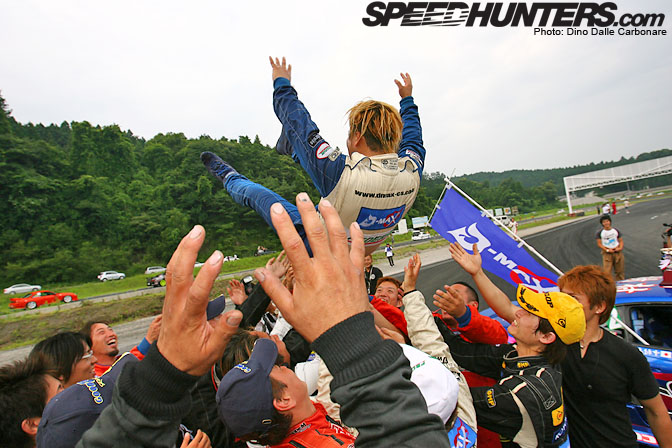 All the drivers threw him up in the air after the ceremony There is tons more sideways action to come from Nikko, make sure you don't miss it!
- Dino Dalle Carbonare