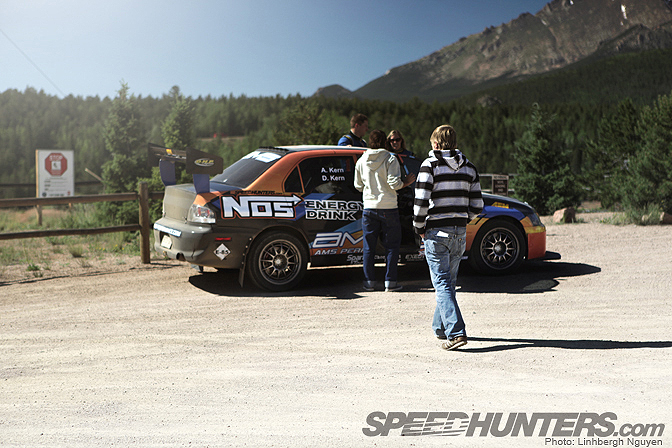 As everyone already knows, there's a huge difference between a
professional racing team, and a bunch of friends banding together to
form a racing team for a weekend. With a lot of the works teams,
there's a sense of practiced mechanical
precision that happens. Words are prompt, to the point, and delivered
in the most professional manner. I've personally witnessed a polished,
and well oiled racing team get down and dirty when the going gets
tough. And watching a racing team put together mangled car in no time
flat is a spectacle in itself. There are professional racing teams,
grassroots teams, and the guys in between like the team and drivers
behind this Pike's Peak Mitsubishi Lancer Evolution.
Our
new media
partnership with NOS Energy Drink gave us the opportunity to spend time
and hang out with the NOS / AMS Performance family to document their
journey into the clouds.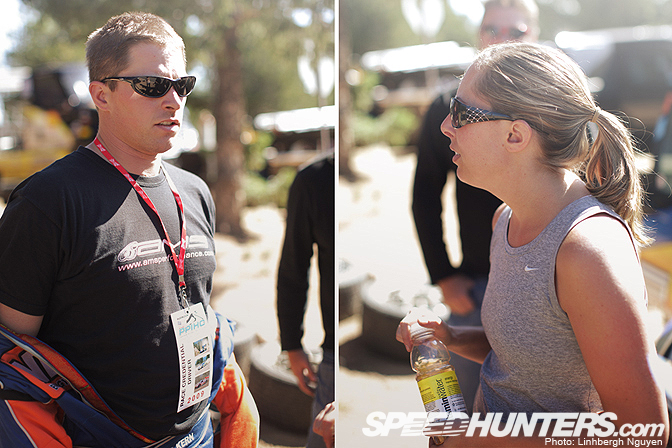 This man on the left is David Kern, and the lady on the right is his
wife Allison Kern. David is the driver of the NOS/AMS Evo, and Allison
holds on to dear life as his co-driver/navigator! If that isn't a
perfect marriage (no pun intended, I swear!) for a pair of rally
partners, then I wouldn't know what to say…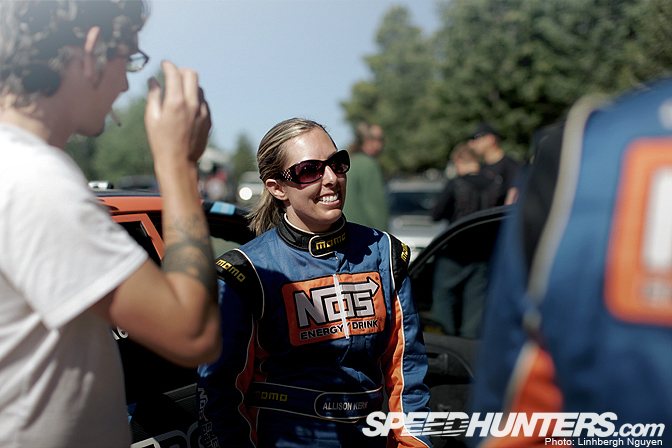 The team holds together like a family. They joke with each other
incessantly –even when they're working through issues that the car
has. They banter with each other about whatever they have on their
mind. And when the going gets tough, they band together in the most
professional of ways, but still holding that kindred family spirit.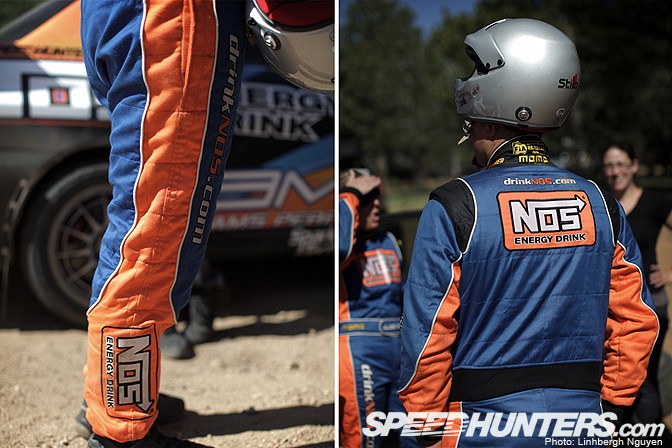 When fans come around, you can see a bit of hesitation for them to come
closer, for autographs, to both Allison and David because of the
professional look they have going with their NOS racing suits, and of
course, the matching NOS liveried Evo. But after a second of
hesitation, and a somewhat small feeling of intimidation because of the
professional face that the team puts across, the fans come in, and find
out how warm and friendly the driver and co-driver are. This is a far
fetch from the sterile, clean, meticulous, and mechanical nature of the
more professional works teams…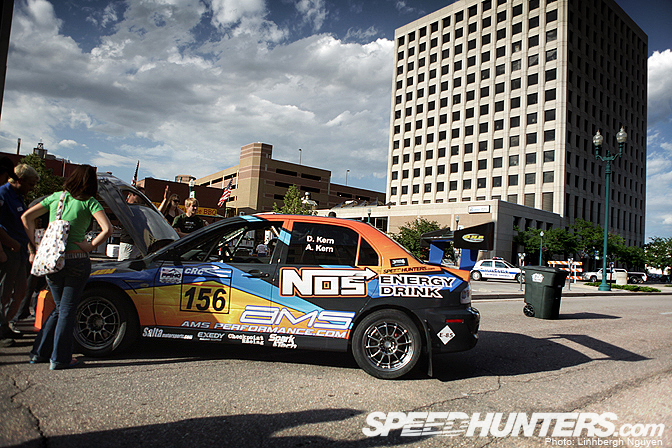 After Friday's early morning practice and qualifying (which I've posted up photos earlier this week here),
there was a great festival put on by the city of Colorado Springs to
coincide with the weeks events at Pike's Peak. This is the time that
fans can come up close to all the cars' that will be racing that up
coming Sunday, and also get a chance to get autographs and chat with
the various drivers. There was also a great chili cook off which all
the local fire fighters competed against each other for the best bowl
of chili! Endless bowls of Chili, Pike's Peak race cars, and the sounds
of race cars starting up and revving for fans, is quite the experience.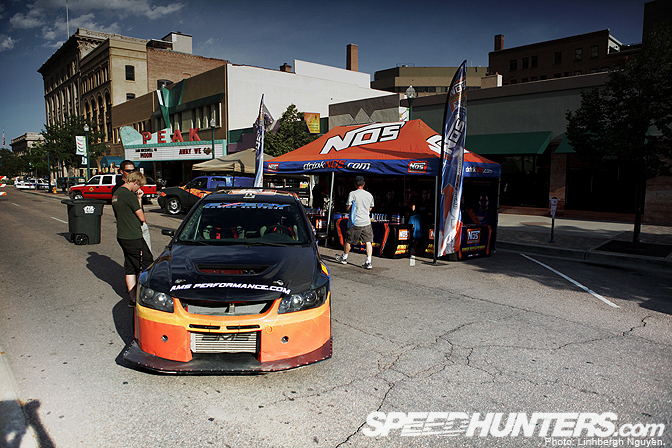 Here is the NOS booth at the 2009 Pike's Peak Fan Fest. Plenty of
free samples of NOS Energy Drink were on hand for festival goers to taste.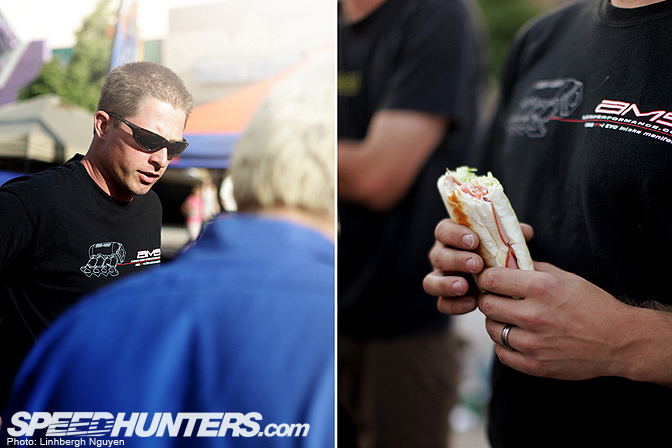 David was around his car and the NOS booth primed and ready to talk to
the fans. There were even some people from the other teams that came by
to chit-chat. Let me tell you, there was some serious racing
conversations going on!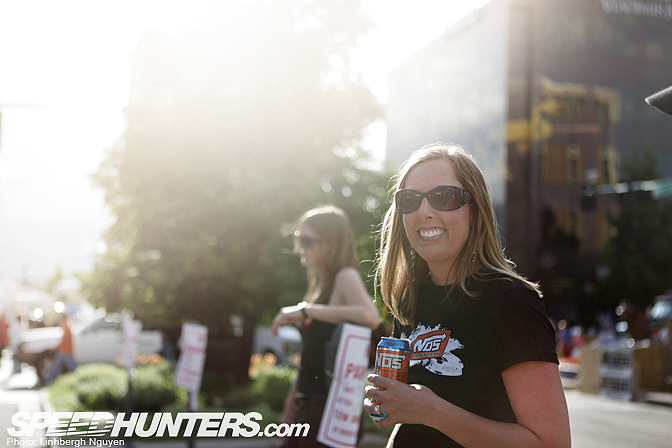 Allison on the other hand kept things light and cheerful.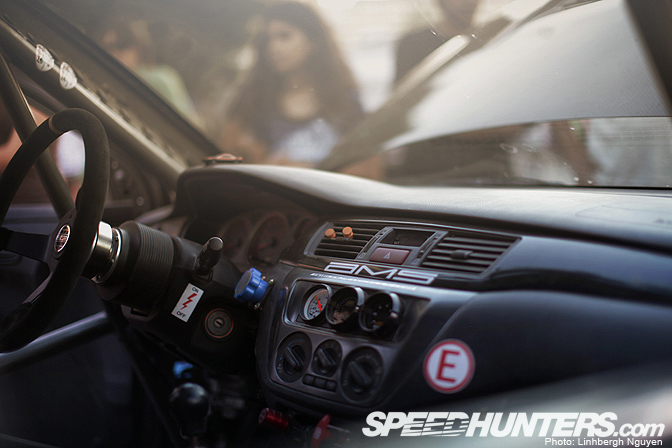 The fans crowded around the car, checking out every bit of the car that
they can. David and Allison were more than happy to answer any
questions about the car.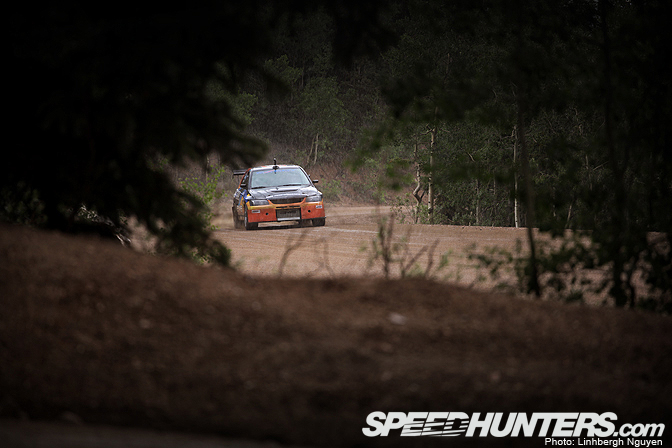 But all that bantering,
joking, and light hearted fun aside, these guys were a racing team. And
they came to Colorado to tackle the most formidable hill climb in the
world.
Race day saw for some epic weather. Down at grid, it
was hailing. I was camped out mid way up the mountain, and it was
pouring rain. Then at the top, it was snowing… Despite having a turbo
line burst at the start of the race, David managed to wrangle every bit
of performance that the car can muster and managed clock a time of 12
minutes and 10 seconds and walked away with a second place win for the
open class!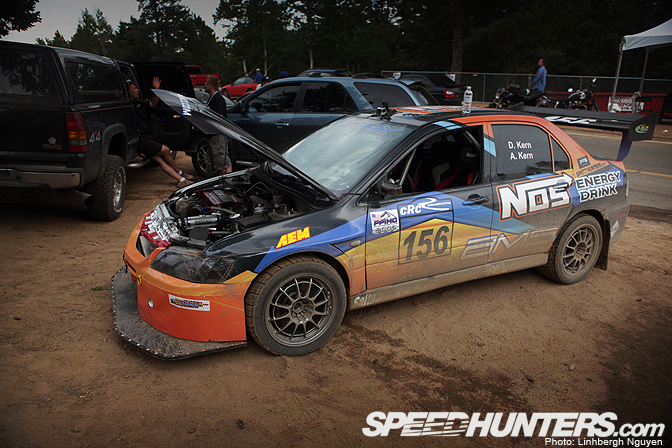 Here is the car looking proper after coming back down from the top.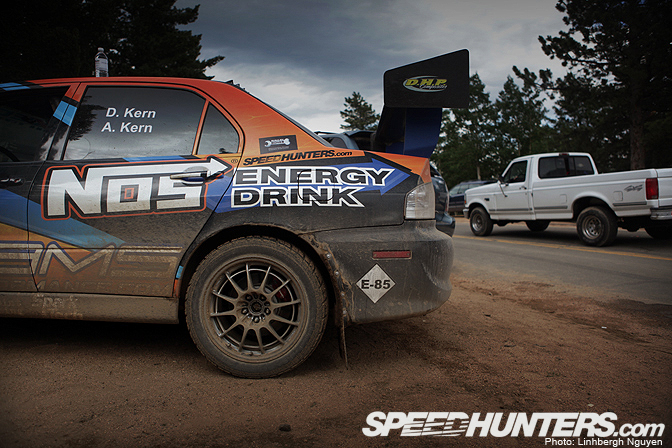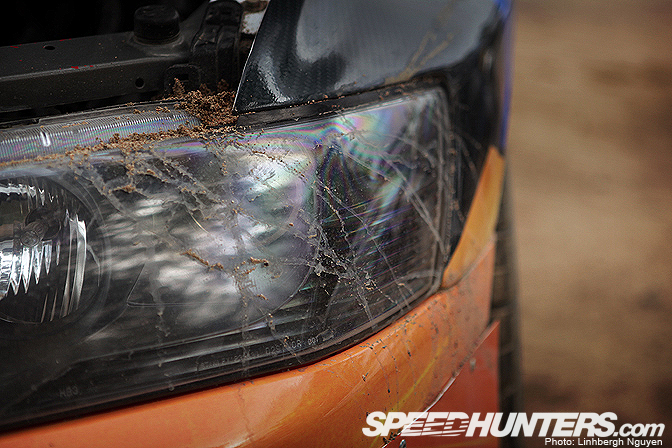 I absolutely love how dirt encrusted the whole car is. This is how a proper rally machine should look like at all times!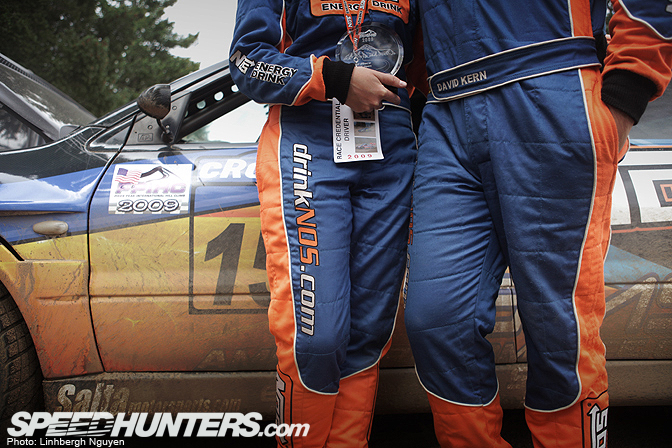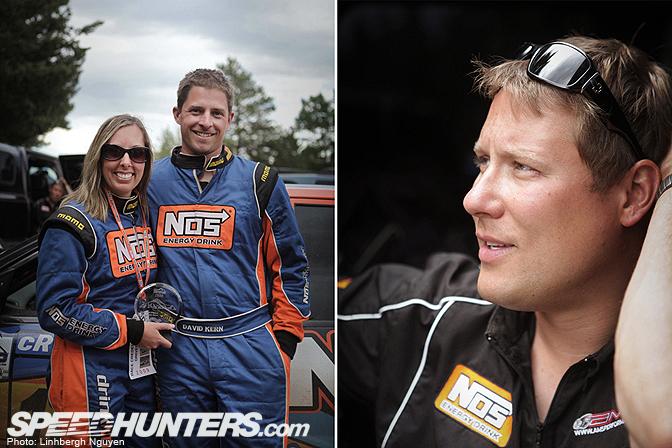 David and Allison Kern with their second place trophy. Martin Musial, from AMS Performance, looks on like a proud dad.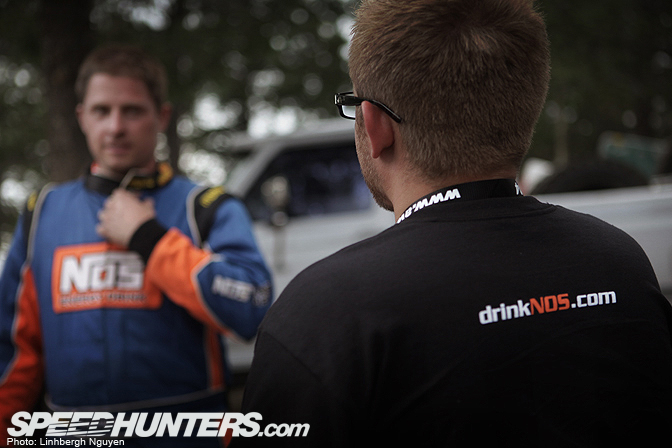 David Kern and the AMS Performance marketing director, Rich Karbowiak,
chat about how absolutely on it he was driving up the mountain.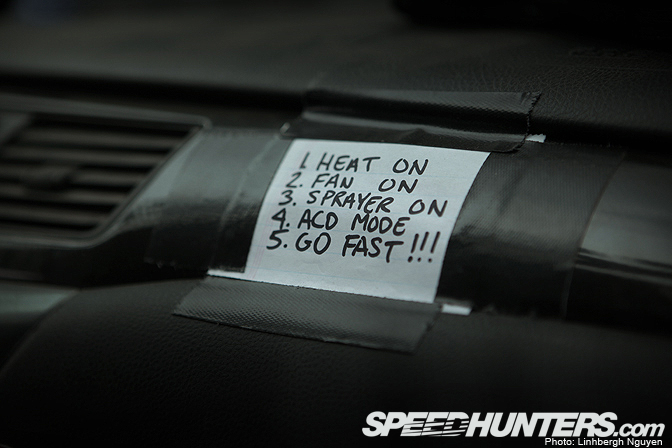 We end with a reminder to the heart this team has. It was a fantastic
opportunity to be able to spend time with group of people that really
got along more like a family, than a professional racing team. But in
the end, they really were a professional racing team. David, Allison,
Marin, and Rich all agree that they could have taken first place if
that line hadn't burst, but you know what? This is racing, and well,
*** happens, and they understand that. Second place isn't the best
place on the podium to stand, but that gives them that much more
incentive and motivation to come back next year, and do the absolute
best they can.
Just like Pike's Peak, the top step on the podium really isn't that
tall when you actually get to the top. And the NOS/AMS Pike's Peak team
is a family, and this family wants to be the best. The journey to
Pike's Peak 2010 has already started.
:Linhbergh Nguyen
Speedhunters Pikes Peak 2009 Coverage