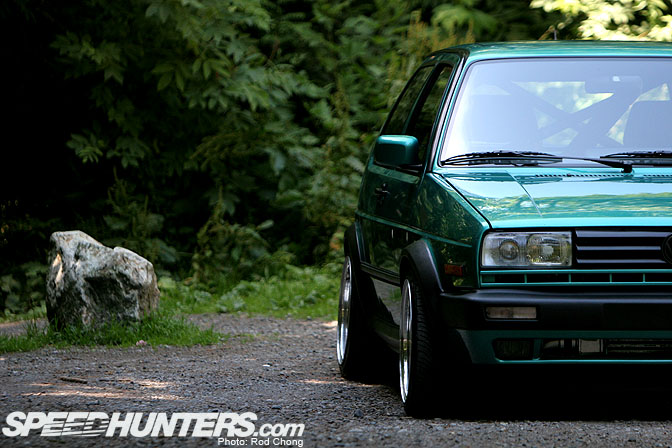 I used to have a good fashion designer pal, who once told me of a meeting he had had with Creative Director of a well known German urbanwear fashion line. The Creative Director said something quite interesting in their meeting: "Fashion is Communication. At every moment, the clothing you wear is telling everyone around you what kind of person you are, what you value, and what you want to say about yourself. Even if you choose not to pay attention to the details of your personal style, this is also a statement about your values".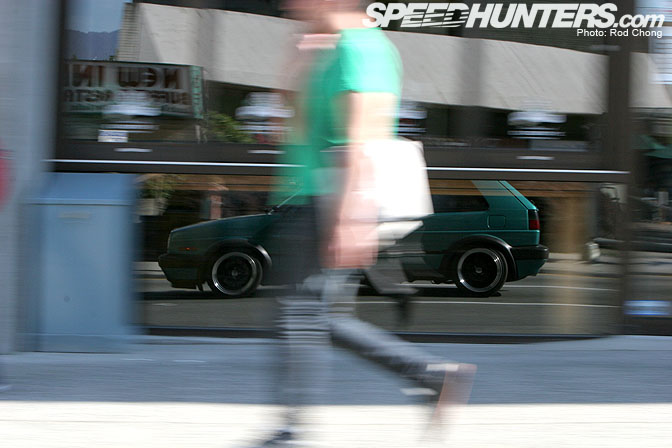 Now we could take this same statement and attach it to your choice of automobile. Do you choose to drive a new car? A modified car? A vintage car? A high performance car? An economy car? What does this say about you? Are you an extrovert? Do you like people checking out your machine?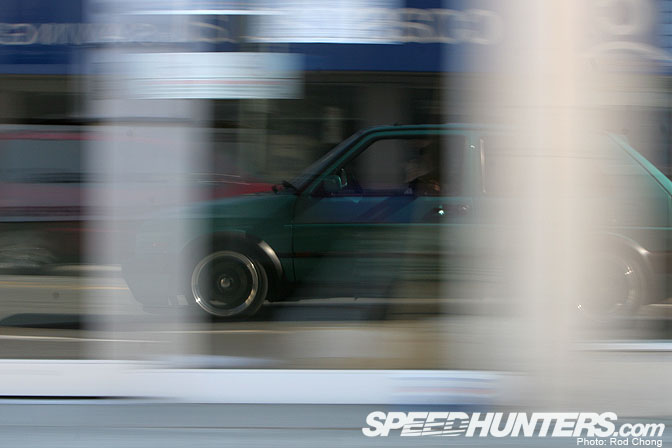 Let's narrow the focus into those of you who drive modified or performance cars….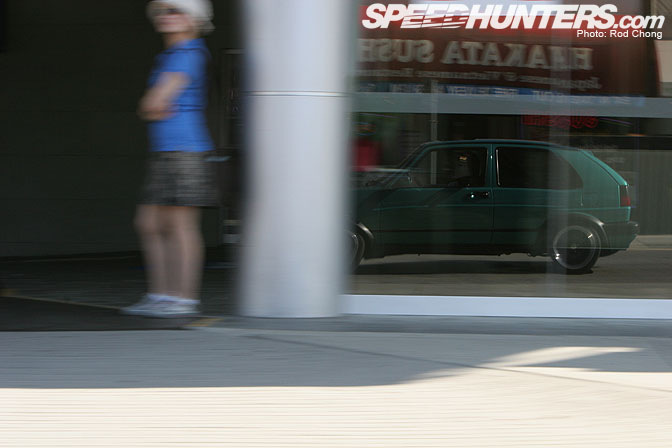 Are you aware of the image your car projects as you drive it around town? Are you aware of people looking at you? Do you like this? Does it give you a little kick to fill up intersections with the noise of your exhaust pipe?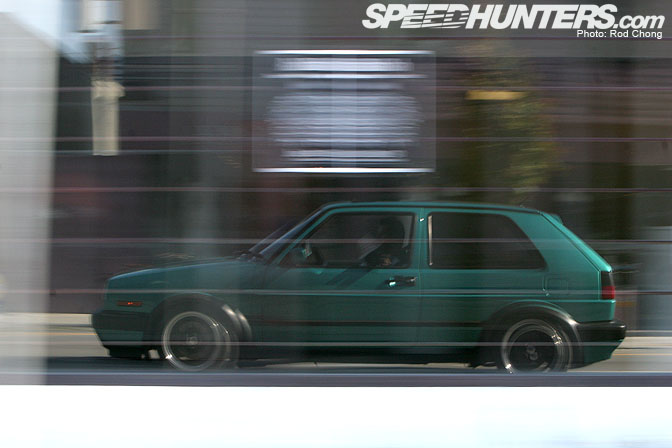 Do you look to see the reflection of your car in city windows?
Perhaps the most extroverted amongst us like cars that scream "look at me!"… while others prefer to fly under the radar. The owner of this sleeper MkII Golf, Scott Murray is somewhere between the two.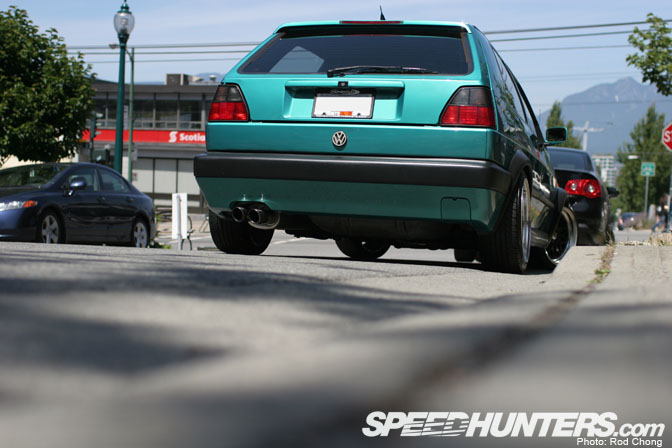 If you saw this car parked on the side of the road, would you take a second look? It's a rather clean example of a GTi, a very popular hot hatch back in the day after all. The stance is low, but it's not exactly advertising its performance capabilities is it?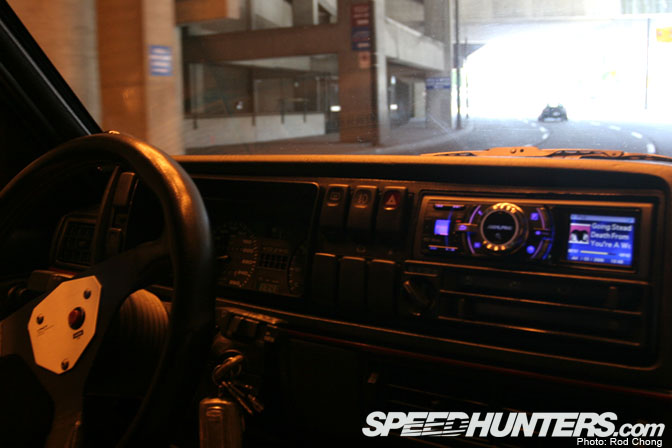 It's only once you get in the car that you realize that this is no ordinary GTi…. far from it. The first clue is the engine tone… it's low and throaty and definitely doesn't sound like a 4 banger.
Mash the throttle and the car plants down and  leaps forward like a bat out of hell. There is no way a front driver would accellerate like this.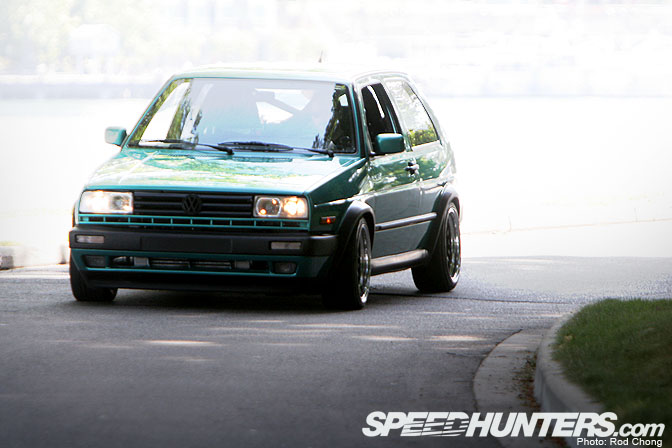 Under hard accelleration, low engine note is replaced by whooshing and chirping from under the hood… There's definitely something special happening here!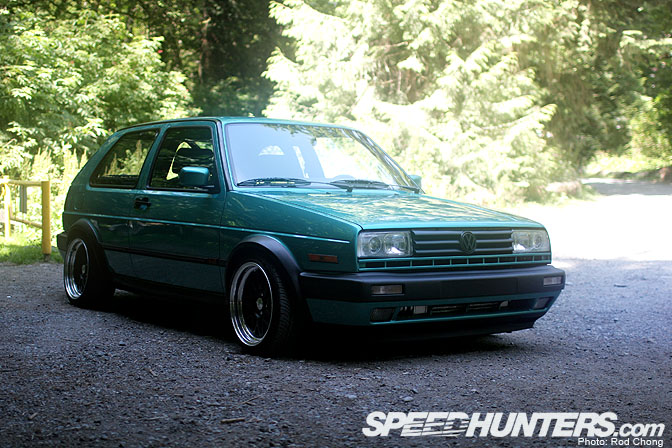 So what can I tell you about this car? It started life as a typical 1992 VW Golf GTi seemingly destined for a normal life in Vancouver, Canada.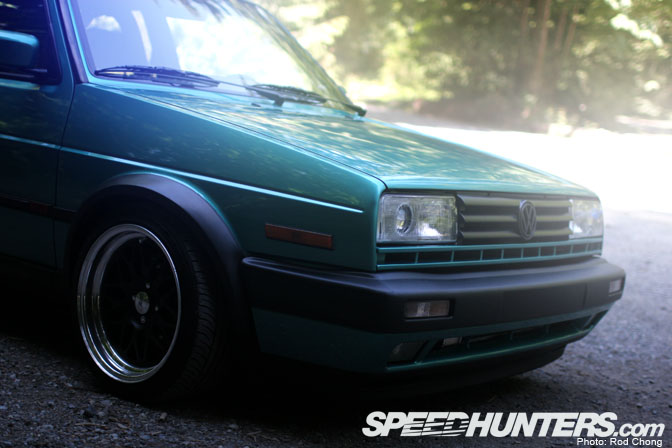 However in 1994 a Vancouver VW shop named Ron's Parts (later RPI Equiped) embarked on the ambitious project to rebuilt the car to become the world's first ever AWD VR6 conversion. Although several low volume AWD Golfs had been produced in Europe previously, they had never made their way to North America and certainly never featured a VR6 engine.
For those not familiar with the lingo of VWs, the VR6 is a narrow block
six cylinder engine first introduced in the Passat and the Corrado in
the early 1990s. However, this engine at the time was not available for VW's AWD Syncro system. So a custom bell housing had to be machined up to mate the VR6 engine with a European spec AWD Syncro Passat drive train.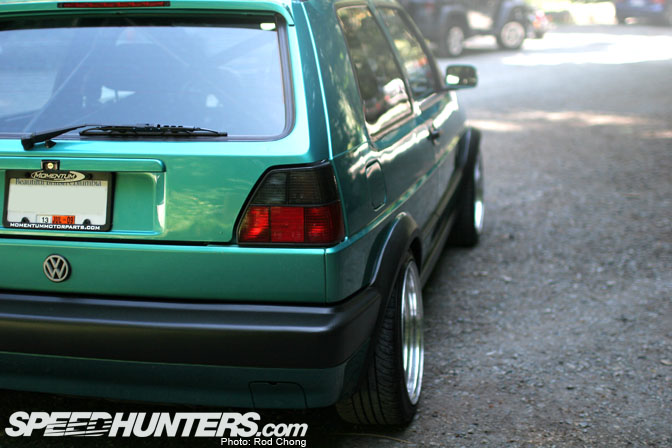 Installing the Syncro system involved cutting up the shell to add a center tunnel from a Corrado and a European model VW Rallye Rear floor pan and gas tank.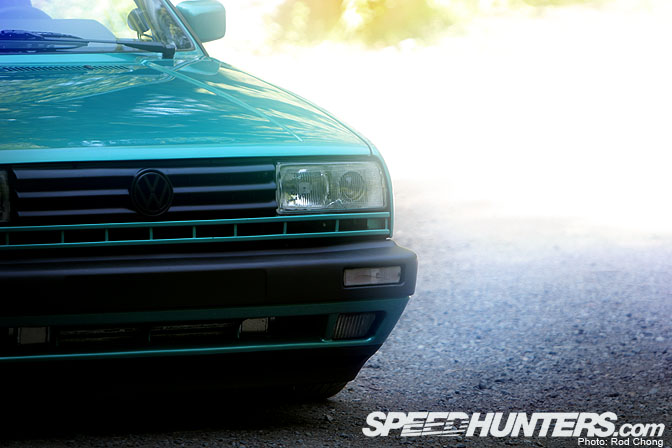 The front headlights and radiator supports from a VW Golf Rallye were also added to the front of the car. For those who don't know, the VW Golf Rally was a limited edition European homologation special rally car built in 1989 only. So these headlights are quite special indeed.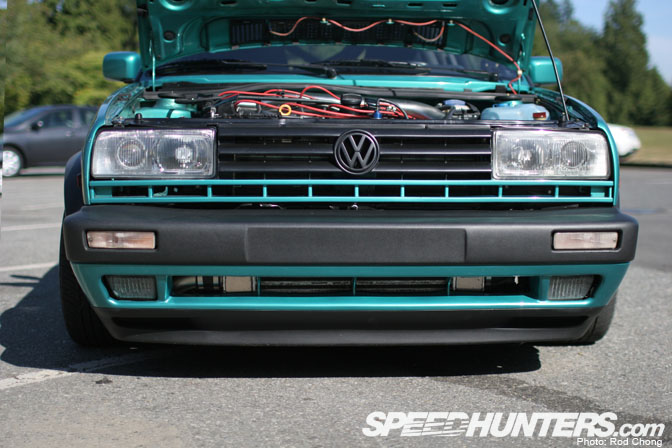 Around five years ago, video game producer Scott Murray aquired this very special GTi and laid down plans to massively increase it's performance potential. The intercooler, just visible under the bumper, is an indication of this reworking.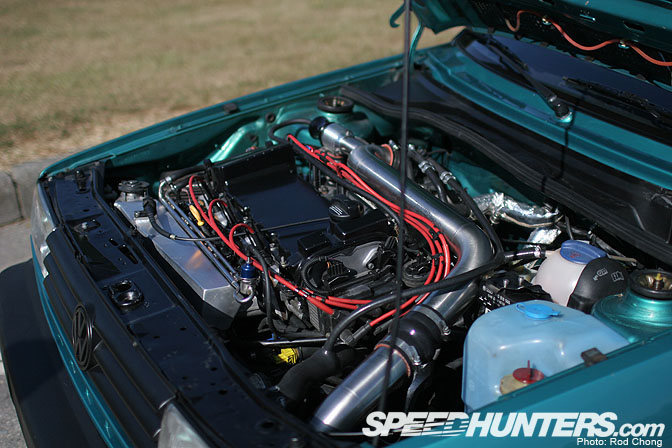 A new turbocharged setup was prepared along with a fresh, high perfomance engine.
Looking at the VR6 installation, you an see there isn't much extra room in the engine bay.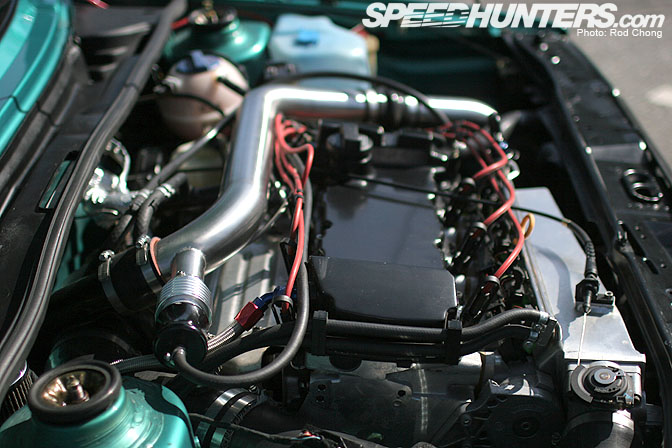 Engine specs look like so:
OBD1 Passat 2.8L VR6 converted to OBD2
MMP 8.5:1 head spacer
MMP turbo manifold
MMP short runner intake manifold
Pauter rods
ARP head studs
DRC stage1 short runner VR6 cams
Garrett GT 35/40R .82 exhaust housing
MMP stainless charge piping
MMP 4inch MAF and Intake
MMP stainless 3" downpipe
Garret intercooler core
Eurosport external oil cooler
MK3 radiator (narrowed)
MMP Phenolic spacer
Snow Performance MAF meth injection system
Techline Turbo X coating on all high heat components
Tial 44mm Wastegate
Turbosmart Plumb Back 38mm DV
C2 42lb fueling setup (C2 630cc ProMaf setup installed soon)
Eurospec adjustable FPR
MK4 fuel rail
Bosch 42lb injectors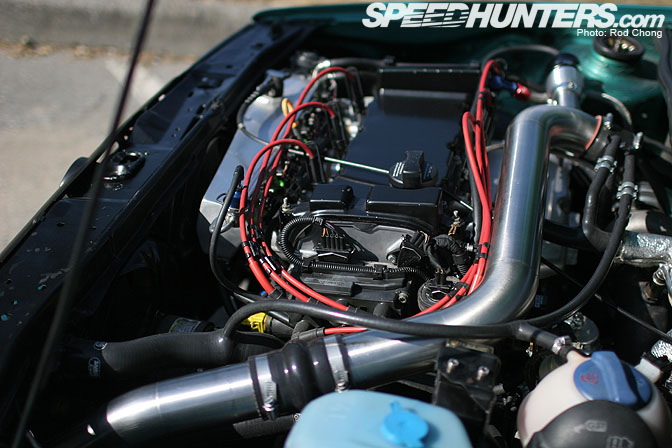 Power is said to be around the 450 bhp range… with such a light chassis and AWD, this is quite a potent combination!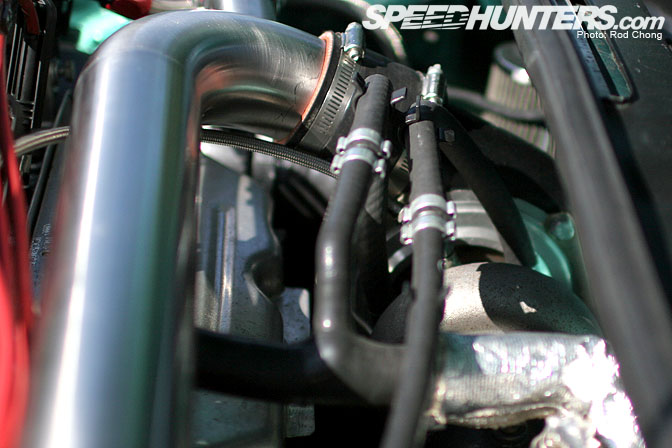 Here's a closeup shot of the turbo setup.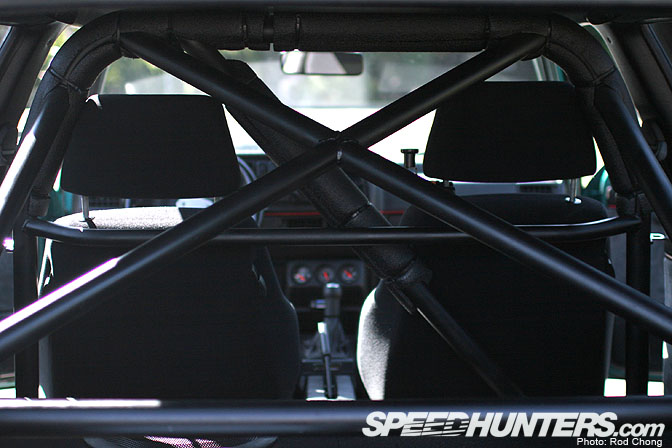 Inside we see a MMP welded-in roll cage with X brace, and rear tower cross brace. The rear seats have been deleted.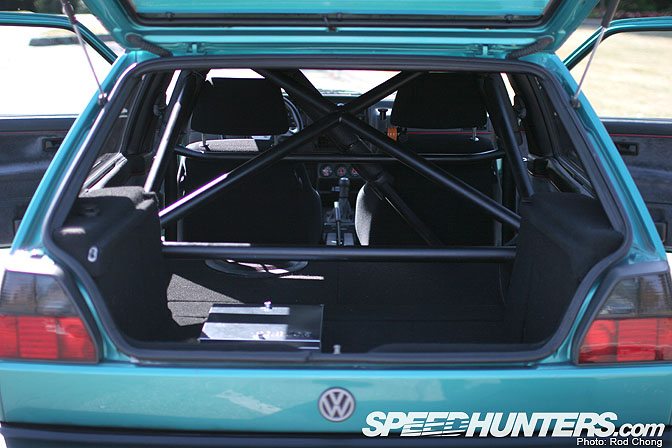 You can also see in this shot how the battery has been relocated to the rear of the car.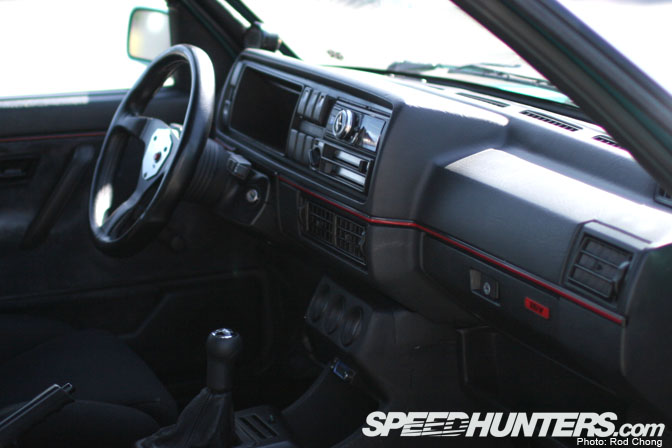 My dad used to own an MkII Jetta so this is a bit of a familiar view for me! It's quite the classic dash and Scott has maintained it well.
Inside he's running the following:
Greedy Profec B spec 2 boost controller
Innovate XD-16 Wideband and gauge
Autometer boost/vac. gauge
Autometer EGT Gauge and probe
Autometer half sweep Oil Pressure gauge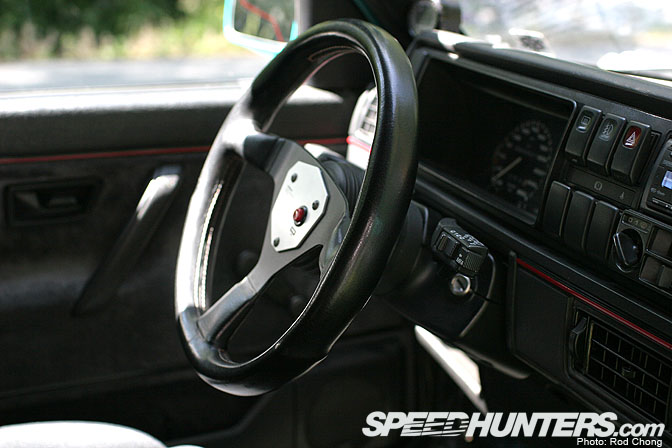 Like the Momo wheel? Works for me!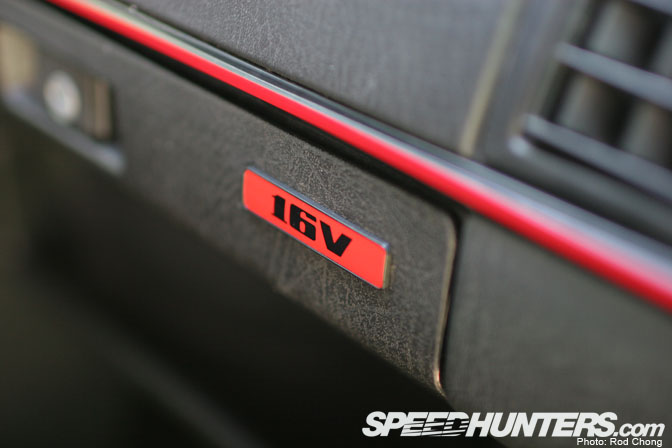 I found this 16V badge to be quite funny…. the car only ran this engine for 2 years before it was converted to VR6 spec!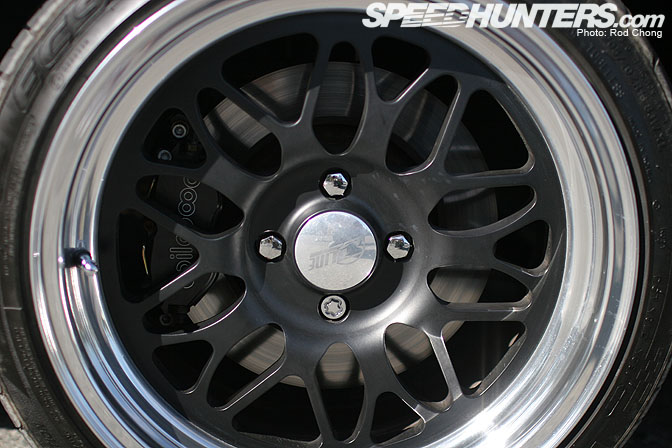 For brakes Scott is running MMP Wilwood 4-piston radial-mount calipers on the front and Mk4 calipers out back. For wheels the Golf sports J-Line SDMs sized to 16×8. Tires are 205/40/16 Kumho SPTs.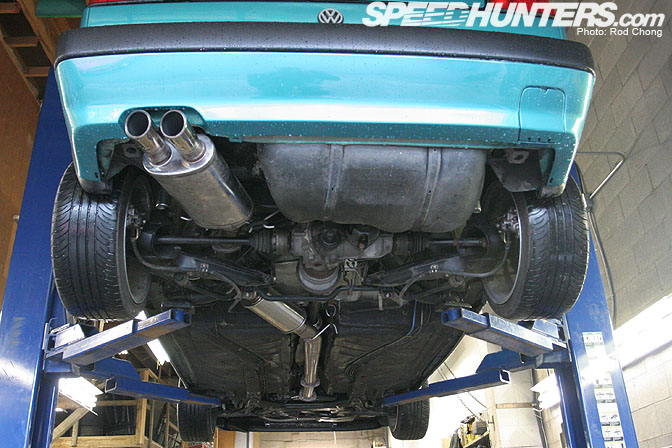 This car feature wouldn't be complete without a look under the car would it? Let's check out all the custom work under it. First off you can see the Golf Rallye gas tank. It's a different shape to the normal Golf tank to allow room for the rear diff.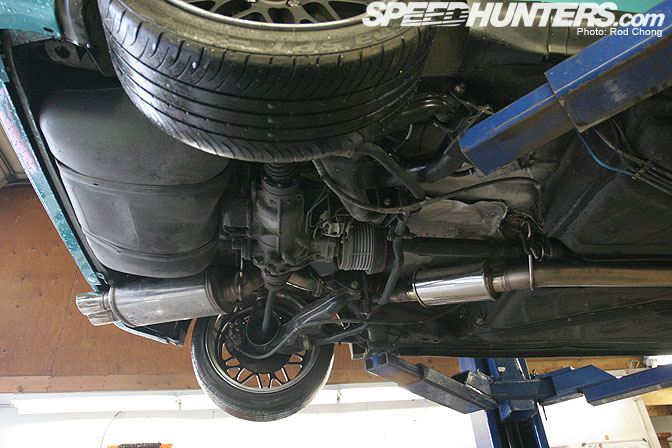 The entire Passat Syncro rear subframe bolts onto the rear Rallye sourced floor pan.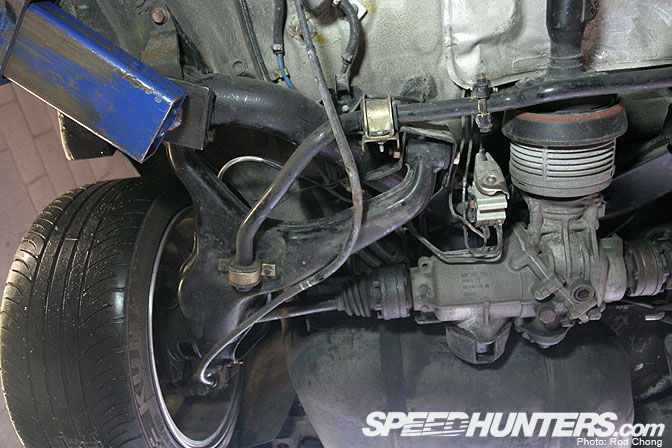 Here you can see the installation in great detail. Everything was black powder coated a few years ago, but this car gets driven HARD all the time…. so please excuse the grime!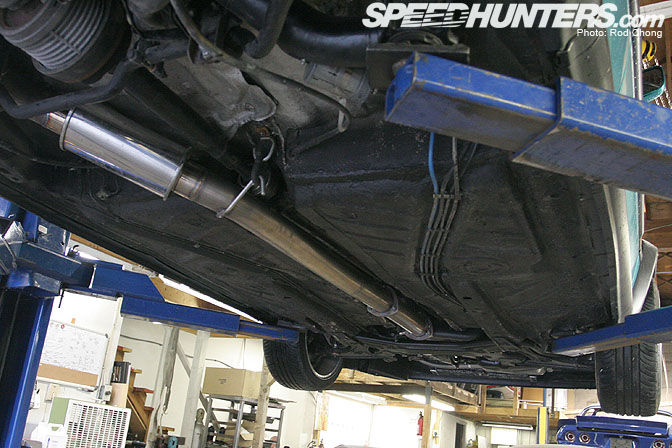 Check the Stainless 3" exhaust system… it sits just below the drive shaft. Under normal conditions only 10% of the power is sent to the back of the car, it's only under hard accelleration that the system reverts to a 50/50 power bias.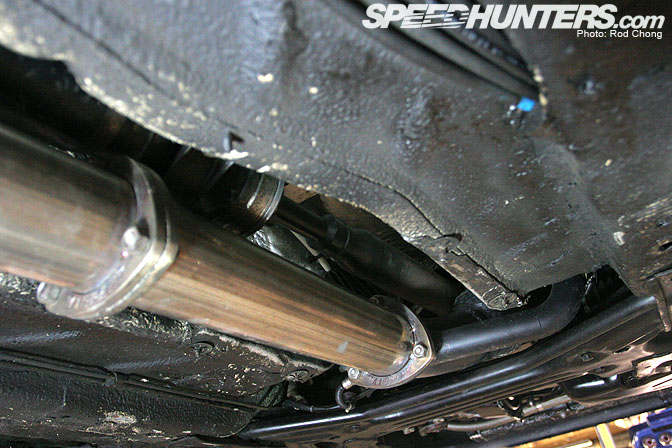 A close up of the Corrado sourced transmission tunnel… Meanwhile up front a LSD keeps the power under control.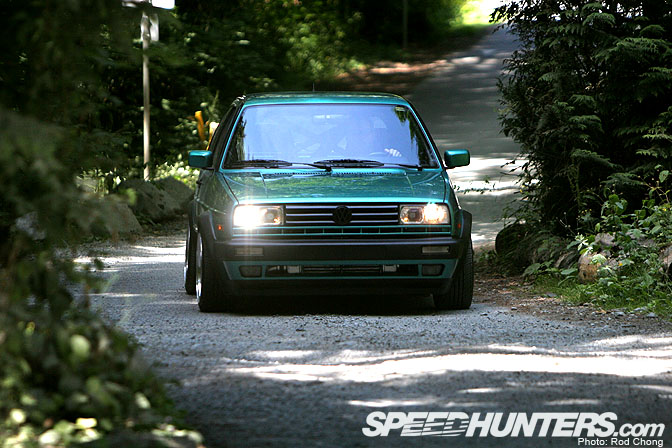 Interestingly, although the car is rather suble in it's presentation, Scott's VR6 AWD Turbo GTi does attract a fair amount of attention as we tooled around Vancouver.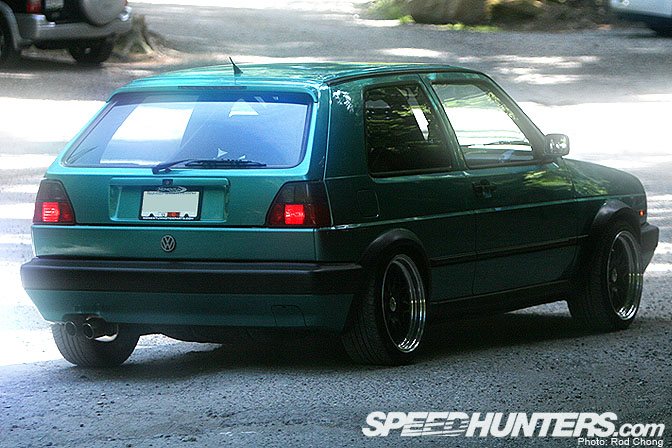 Perhaps it's the engine bark or maybe people remember these cars fondly. Whatever the case, this car communicates a sense of joy and fun to any one who notices it. And that's a good thing, isn't it?
:R