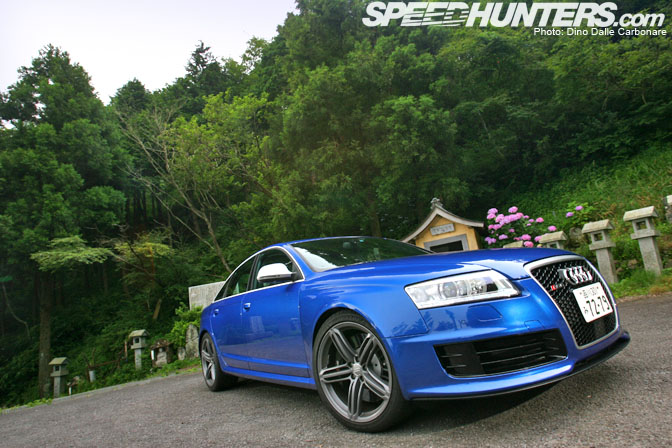 It has taken one week of driving and a few days of reflection, but I have come to the conclusion that the Audi RS6 may well be the best all-rounder money can buy. The first day I picked the car up from Audi Japan I headed straight down to the Hakone Turnpike for a day of hard driving. One quick blast to the top of the summit revealed an immensely powerful car, one that was maybe trying to play supercar too hard, given its obvious limitations in other areas.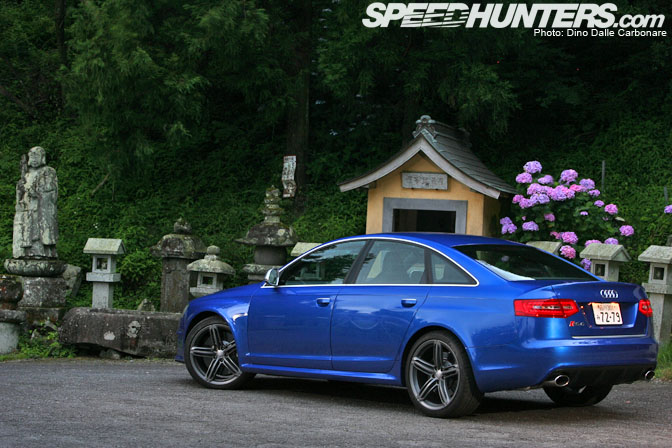 Based on the A6 the RS6 (RS stands for "Renn-Sport") is offered as both a sedan, like the test car you see here, or the slightly more practical Avant version, wagon to you and me. The test car sported a "Sepang Blue" body color, one that I though matched the sporty intentions of the car rather well. The optional 20-inch wheels were fitted but no ceramic front brakes, curiously not available in Japan yet.  This might be down to the fact that Tokyo traffic moves at an average of 25 km/h on a good day, with the national average speed not being much over double that.  Audi though it was probably better keep the initially limited supply of carbon ceramic rotors for markets that really need them, like Europe where average speeds are significantly higher than in Japan.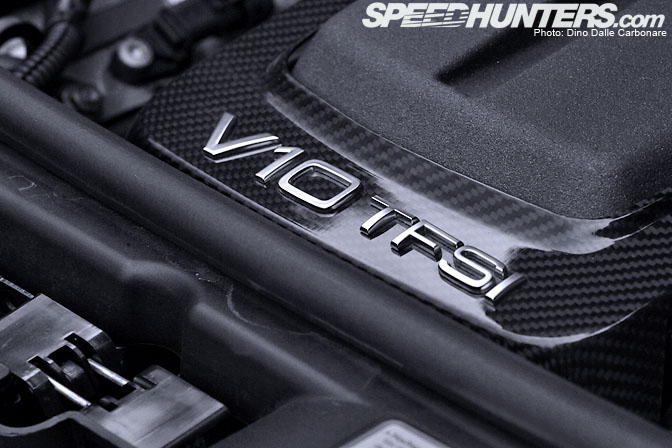 Of course what makes that RS6 badge on the trunk lid so special is what Audi have shoehorned into the engine bay, their most powerful production engine to date. 5L of V10 turbocharged bliss is what propels this 2+ ton tank from 0 to 100 km/h in 4.6 sec. 580 PS in a 4-door sedan is bordering on insanity, and German manufacturers are showing no signs of backing down from this power war that seems to have been going on for well over a decade!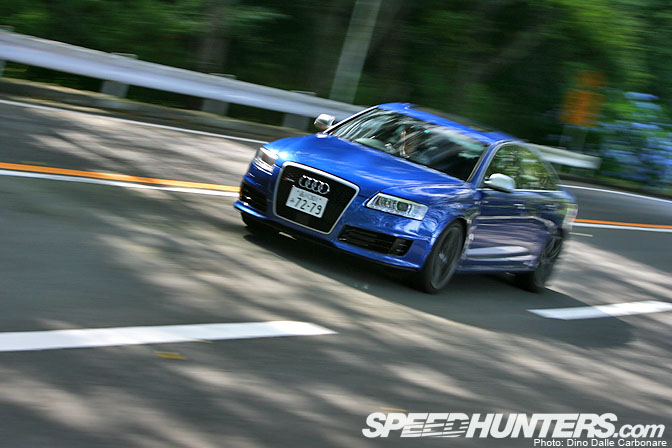 The Hakone Turnpike combines the sort of roads the RS6 loves to swallow, with long straights connecting up cambered third gear corners as the road snakes up the side of the mountain to the summit, from which on a clear day, Mt. Fuji can be seen in all its glory.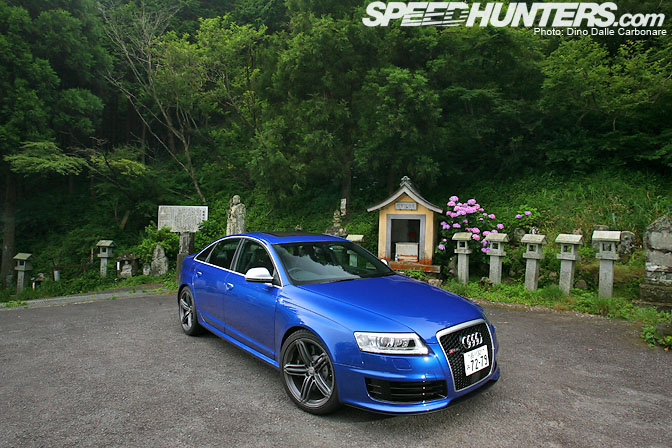 Design wise, Audi have stayed elegantly conservative, with only a slight bulging of the fenders along with a slightly more aggressive front bumper hinting that this isn't any ordinary A6.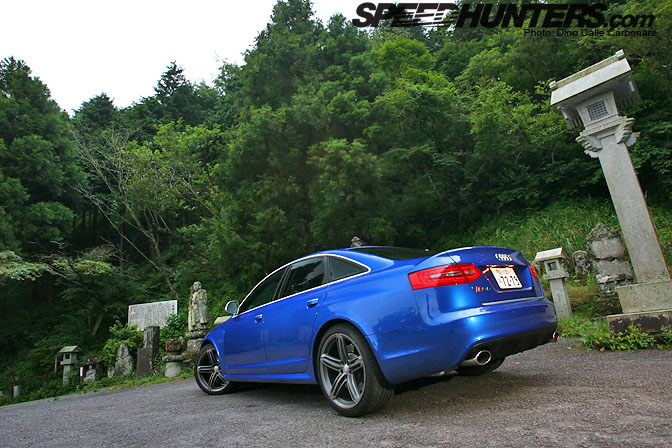 At the rear an integrated trunk spoiler helps keep the rear end planted at high speed, while the large bore oval exhaust tips are another little giveaway of the performance that lies within.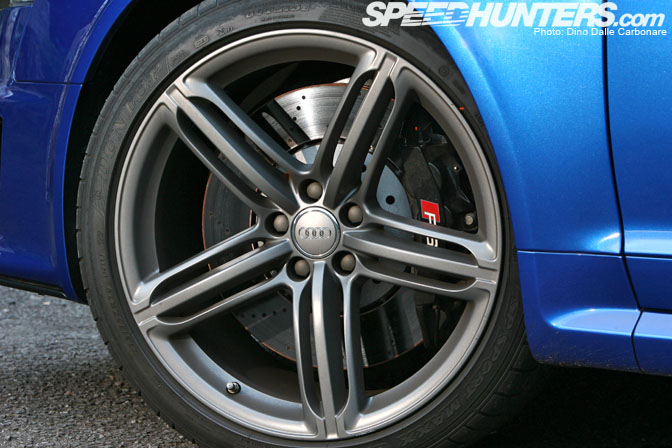 I thought the optional 20-inch wheels looked sensational, and especially liked the dark satin finish. The Dunlop SP Sport Maxx tires measured 275/35/ZR20 at each corner and provided monumental amount of grip and traction combined with Audi's Quattro AWD drivetrain.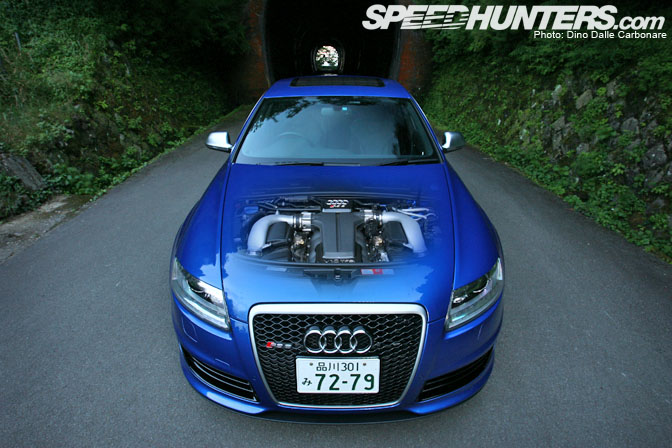 You can see here just how far forward the turbocharged 5L V10 sits in the chassis, all well and truly beyond the center line of the front wheels. It's like the reverse of a Porsche 911!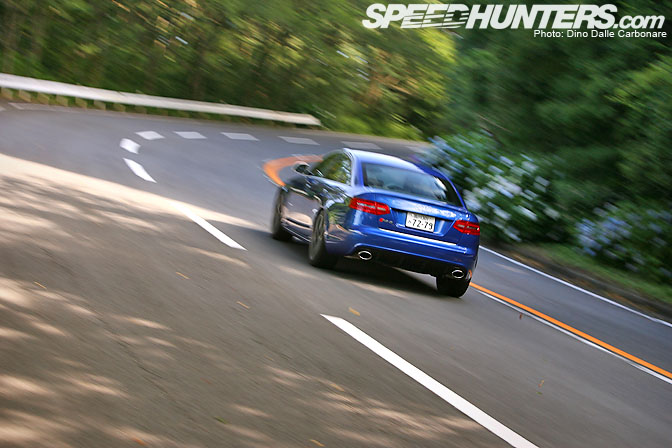 With all that weight hanging over the front wheels you would think it handles like an overloaded Costco shopping cart, but I was pleasantly surprised. Treat it with a bit of respect and the RS6 can be manhandled around corners with amazing agility, considering it tips the scales at over 2 tons. You are always aware of its mass and its weight distribution when pushing very hard, but the active suspension does a very good job of keeping things under control. You can choose three damping settings, Comfort, Dynamic, and Sport, the dampers instantly changing character upon your selection. In "Sport" the RS6 stays impressively flat through the corners with the steering wheel tightening up, offering a reassuringly meaty feel.  Physics can never be fully defied and the RS6 will eventually start to understeer, the front end washing progressively wide.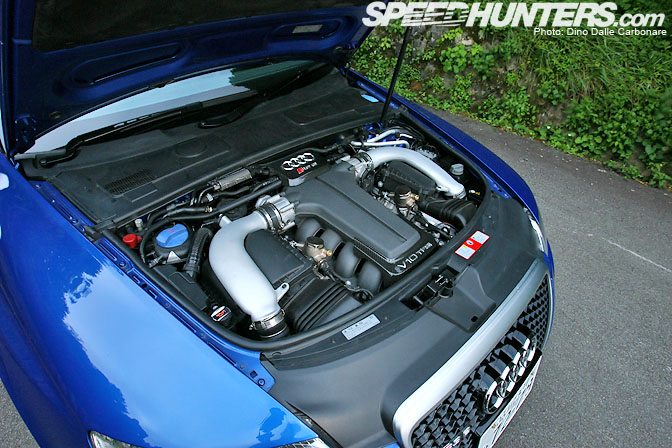 The mighty V10 is another marvel of an engine from Audi. After sampling the deliciously creamy V8 masterpiece fitted to the R8 the other month, this force fed powerplant in the RS6 couldn't have been any more different. The first time I turned it on I was slightly disappointed, my expectations shattered from what I can only describe as a slightly ricey idle. There is no 10-cylinder Lamborghini-like explosion of revs, it is all very muffled and mature, something that actually suits the RS6 rather well once you give it more consideration. That V10 offset blare never really makes itself heard until you really stamp on the gas, and when you do you are rewarded with a comical amount of torque. It's hard to get your head around the numbers, 650 Nm are developed from just 1,500 rpm in a plateau all the way to 6,250 rpm. In practice this means instant acceleration any time you even look at that accelerator pedal and thanks to the 6-speed ZF automatic transmission it all happens so effortlessly. In manual mode the gearbox is amazingly fast for a torque converter with instant shifts as soon as you pull the right steering wheel mounted paddle towards you. Down-changes are rewarded with a rev-matched throttle blip and with the gear selector in "S" mode it all happens a little quicker, the electronics allowing you to use all the 6,700 rpm the engine has to offer.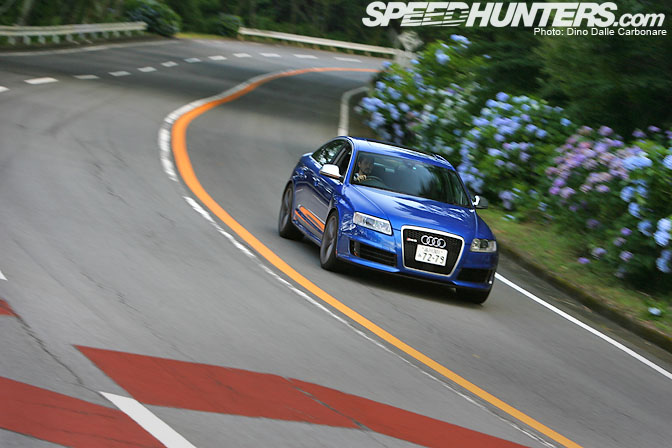 In Hakone the RS6 put its massive braking system to the test, and again physics cannot be played around with for too long.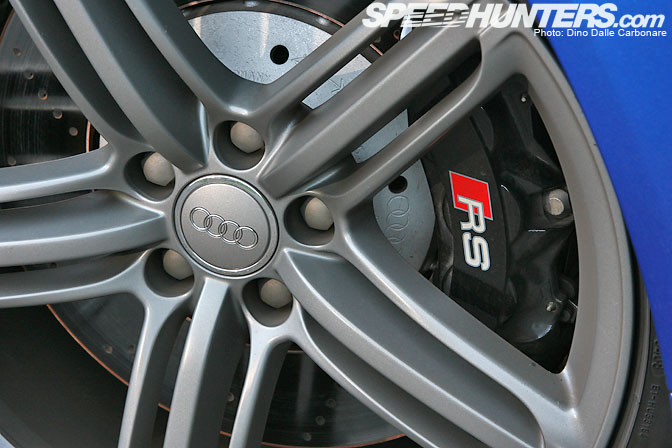 Despite having huge 8-pot calipers biting down on ø 390 mm floating rotors at the front, brake fade didn't take all that long to come into the equation with pedal feel becoming mushy and the brakes no longer providing that instant initial bite. I'm pretty sure more aggressive pads would improve things but it was rear end stability I was more concerned with. Going into corners hard on the breaks the rear became rather twitchy swinging out wide and at times requiring a dose of opposite lock.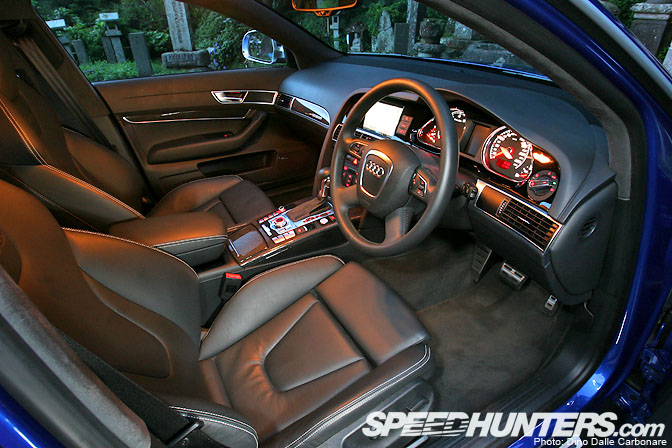 Apart from the RS6 stitched sport seats (more aggressive sports buckets are an option) and the carbon trim it's all normal A6 inside. Nothing wrong with that, this is one of the best interiors to be in with top of the line materials on every surface and that reassuringly tight Audi build quality. There is plenty of toys to play with like the very powerful Bose surround sound audio system, hard disk navigation, digital-tv, direct controls to your iPod and phone as well as optional things like adaptive cruise control and blind-sport warning system.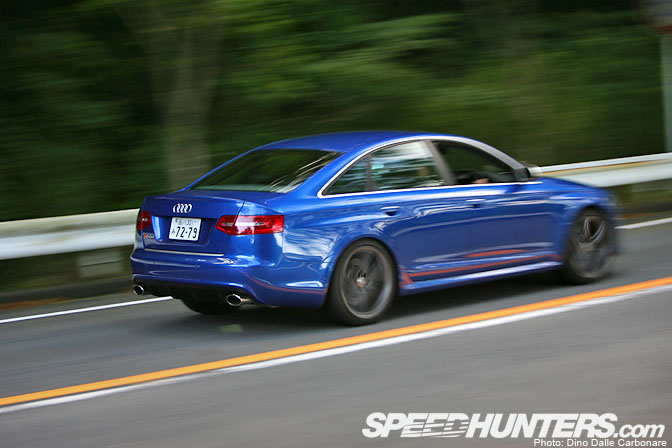 After the drive in Hakone I used the car as my daily driver for a week, I hauled my gear to shoots, went shopping, drove it on the highway and around the congested center of Tokyo. When not hunting down GT-Rs the RS6 can easily play luxury cruiser, set the suspension on Comfort, let the gearbox take care of things and it's a great car to drive around on a daily basis. Which brings me to the only negative aspect about this car, its appetite for fuel. Driving around in Tokyo in continuous start and stop traffic the RS6 returned 3.3 km/L, which is simply disgraceful. Things get a little better on the highway with the trip meter averaging around 8.5 km/L, only if your drive very carefully.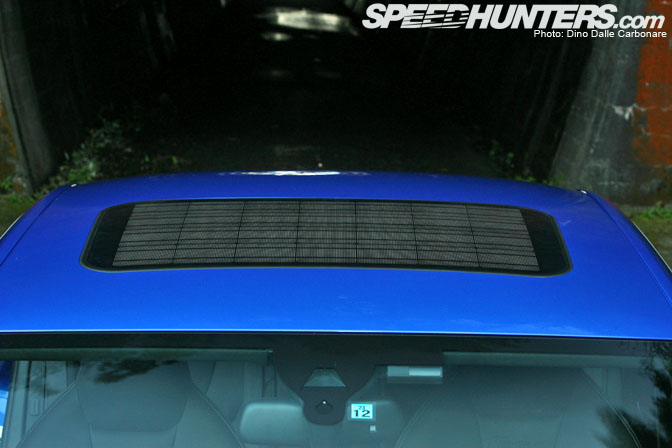 One gadget I really appreciated was the sunroof mounted solar panel which when needed, would turn the air conditioning on at its lowest setting when the car was parked, keeping the interior nicely chilled.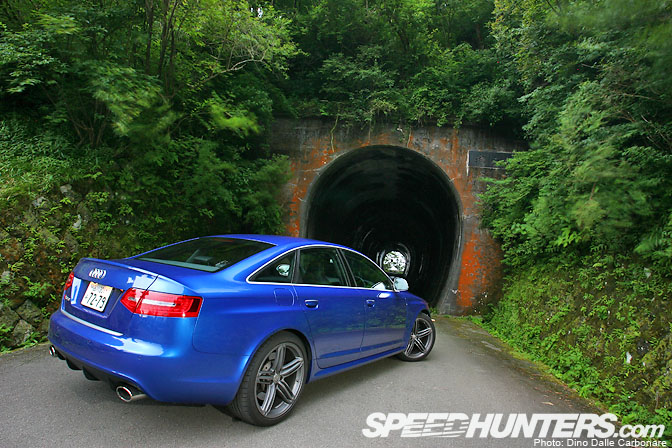 The RS6 is a car that didn't make any sense to me initially. I made the mistake of looking at it as a sports car and with its huge weight and sedan (or wagon) shape, I just didn't understand it.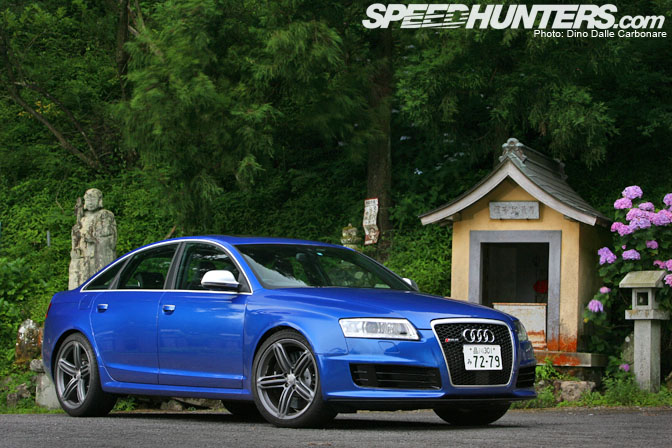 But driving it around, using it as I would any other daily driven car it brings so much to the table, pretty much everything anyone would ever need from a car…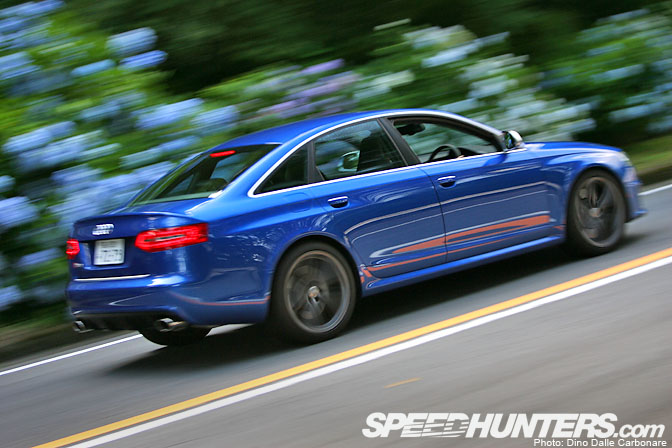 …with the bonus of supercar-like performance!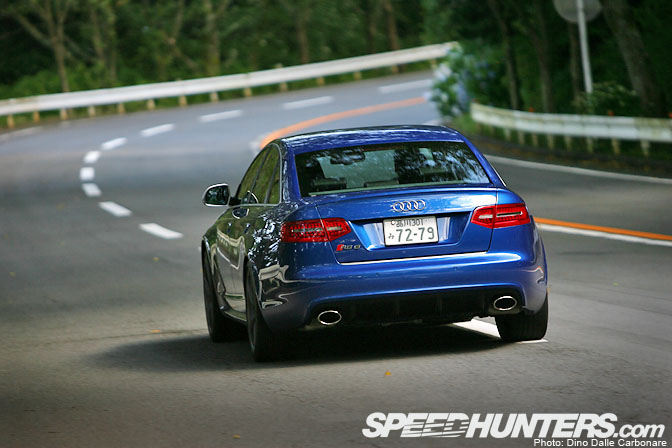 Looking at the RS6 in this way it makes perfect sense, it is an impressively complete car provided you can afford it (¥17-million in Japan) and if you don't mind stopping for fuel ever day! I would definitely have to choose the added practicality of the Avant variant, which I personally find more attractive than the sedan.  I was sad to see the RS6 go, one of the best cars I've had to drive, and one that has made all of my cars feel depressingly slow!
-Dino Dalle Carbonare