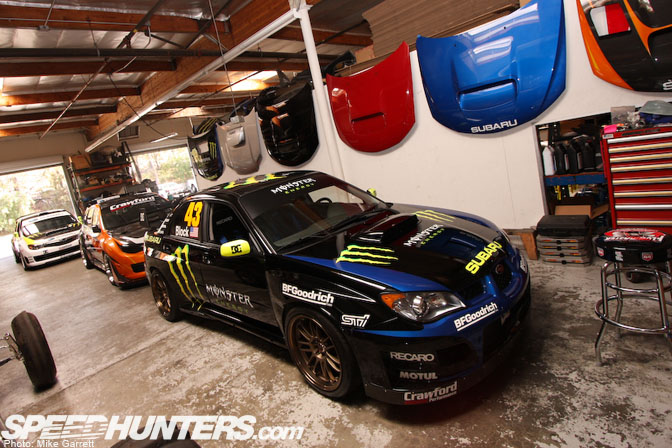 When I arrived at the home of Crawford Performance in a quaint industrial park in Oceanside, I wasn't sure what to expect. Would this be your standard tuner shop? Or maybe something a little more unique? After being greeted by founder Quirt Crawford in the office, we headed out to the shop – which is where I saw the scene above.
There was Ken Block's original Gymkhana car, the Crawford time attack car, and the new Gymkhana 2 car – all sitting neatly in a line. Surely I'd entered paradise for Subaru fans. Now I may not be a Subaru owner, but after talking to Quirt and getting a tour of the shop, I felt like I wanted to be one.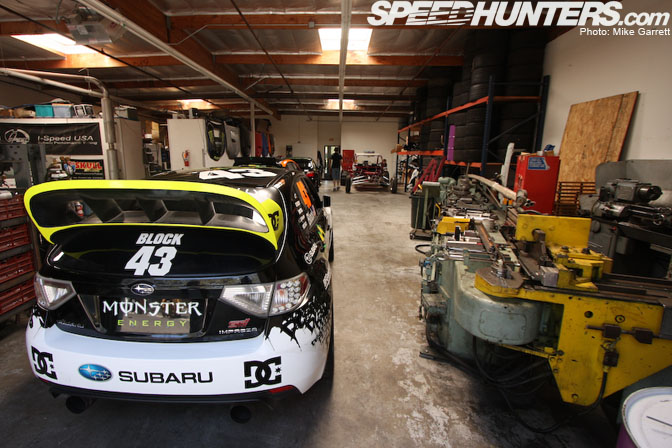 The sight of the Gymkhana Two car parked alongside some of the in-house fabrication machinery was an impressive one. This was my first time seeing this car, outside of YouTube of course.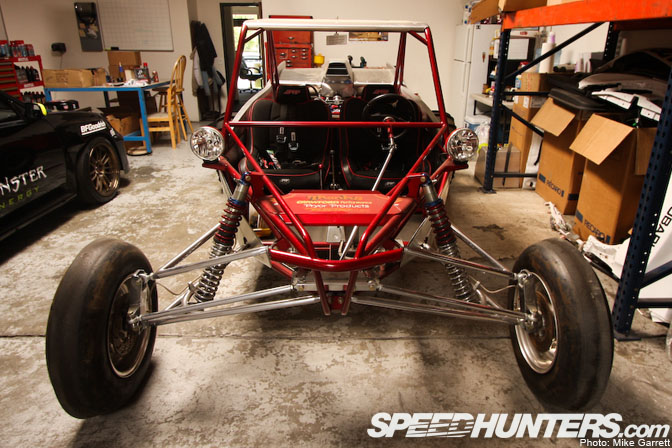 Also tucked into a corner of the shop was this dune buggy. After talking to Quirt a bit about the history of the company, the importance of the buggy was realized.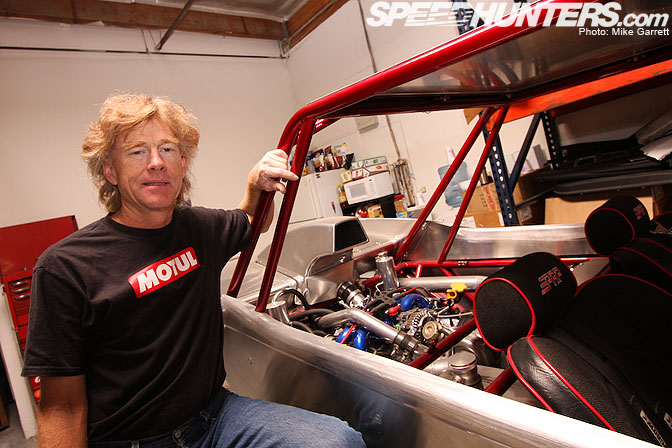 You see, it was actually through dune buggies that Quirt caught the bug for building Subaru engines, and eventually Subaru cars. After playing with VW engines and even Mazda rotaries, Quirt found that the Subaru flat-four was unmatched when it came to horsepower and torque – the latter of which is extremely important when running on sand. Before he'd even laid a finger on a car, he was selling turn-key Subaru engine packages for buggy owners and buggy manufacturers.
Eventually, when Subaru brought the WRX to the USA in 2001 Quirt began working on the cars. Now with the popularity of Subaru tuning around the world – that is the company's primary focus. It's very rare for them to work on buggies any more.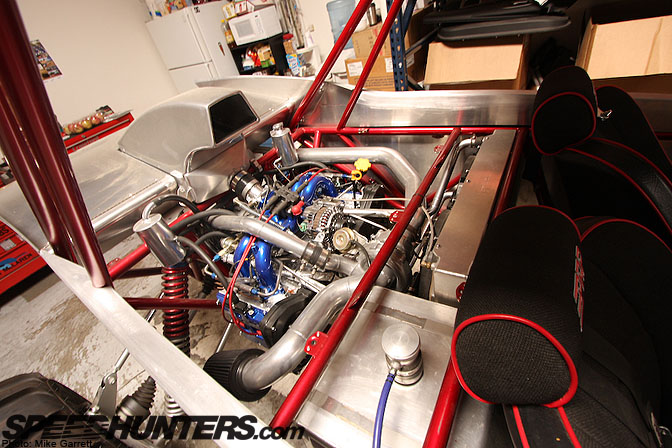 This particular buggy was running a 600hp 2.6 liter stroker with a GT30 turbine. If that's not enough, Quirt's personal buggy is making 1000hp, which according to him is WAY too much power. At that point Quirt says a buggy is extremely difficult to control, and literally painful to drive. Can you imagine what 1000hp would feel like in a car as light and raw as a dune buggy?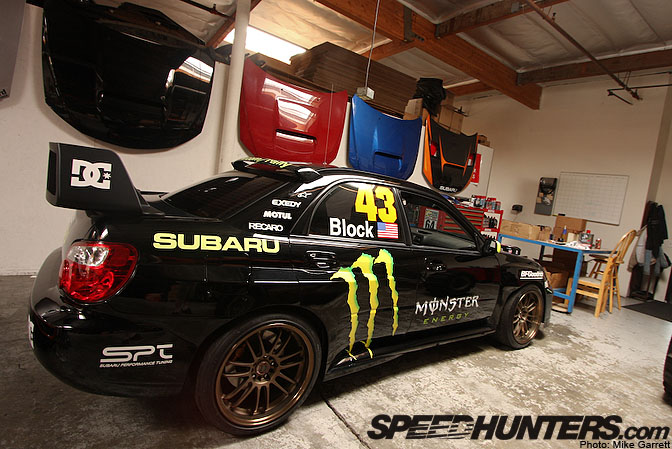 Another view of the original Ken Block Gymkhana car. Although it's still an incredibly capable machine, Quirt says Ken doesn't want anything to do with this car now that he's got his new toy. This car will eventually wind up in Subaru's museum. I was thinking if there was an "Internet Video Museum", than this car would also deserve a spot there…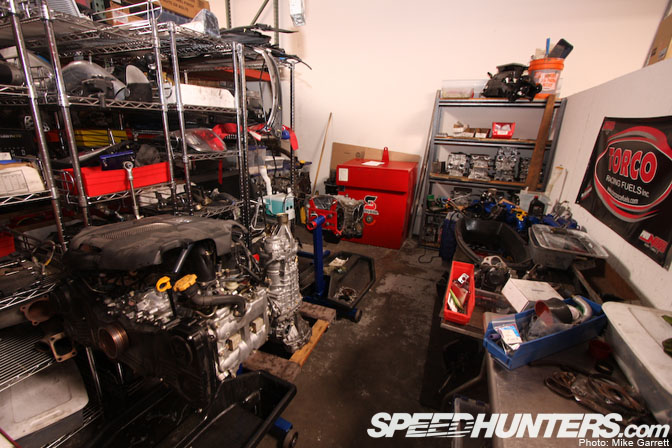 One part of the shop is filled with nothing but spare parts. Engines, turbos, gearboxes, body panels, and everything else can be found stacked on the shelves.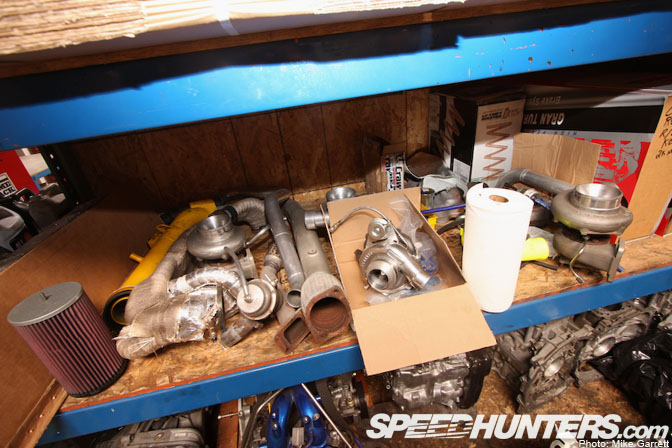 Turbochargers anyone? The kit on the left had previously been used on the time attack car before being swapped out for a larger piece.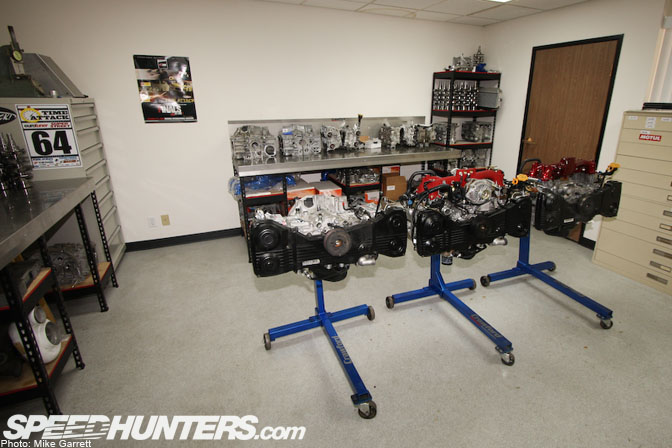 This is the magic room where all the engine work occurs. It's a much different atmosphere than outside in the shop.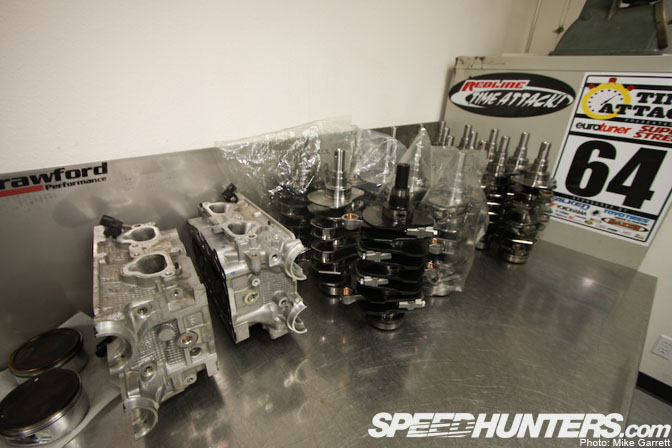 Quirt learned about engines when he worked for Nissan running their dynos. This was during the glory days of Nissan's IMSA GTP program, so he was surrounded by the high performance engines and racing components of the time.
Currently Quirt builds Subaru short blocks for customers all over the world. The engines are used in everything from rally cars to drag cars, and plenty of street cars. One customer even ordered a 2.8 stroker for use in a street car. Subaru guys are nuts!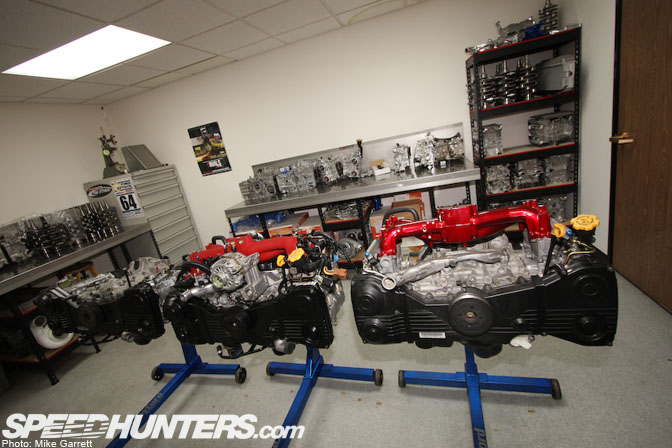 Virgin engines waiting to get the Crawford treatment.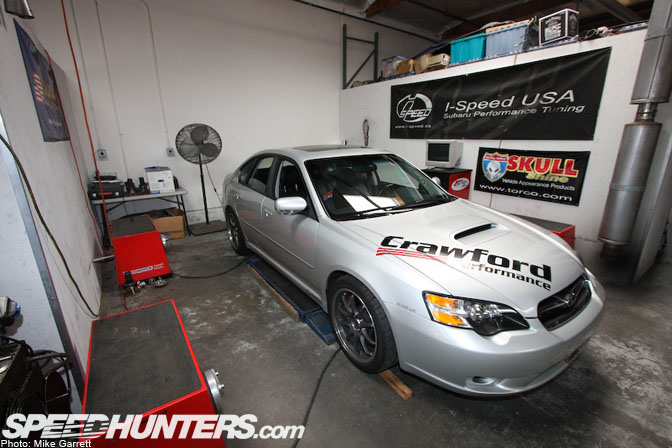 This Legacy GT has served has Quirt's daily driver for years, and is about to go under the knife for a much-needed engine overhaul. This is also the spot where power is measured on the shop's four-wheel dynapack. After I left they were planning on putting the time attack car on the dyno to see how much power it was making with the upped boost.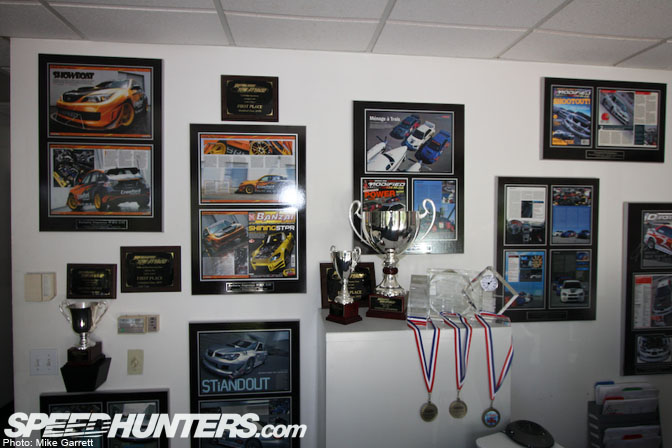 Like any well established shop, the office at Crawford is filled with framed magazine articles, trophies, and other items chronicling their achievements.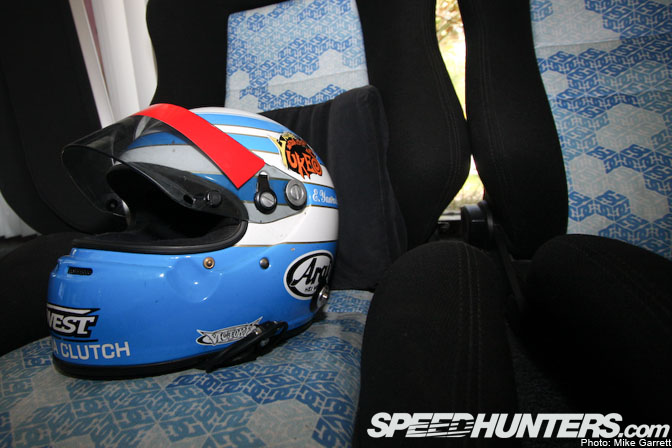 I spotted Tarzan Yamada's famous blue and white striped helmet sitting in the office. Apparently Tarzan enjoys working in the United States so much that he's considering moving here permanently…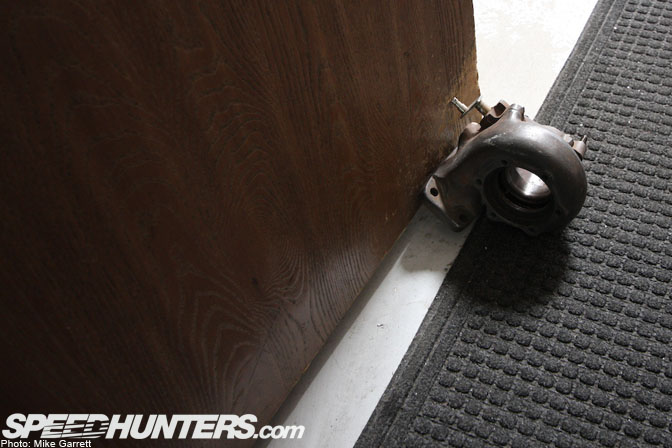 And finally, a turbocharger being used as a door stop. Oh what a twisted place this is – and I mean that in the most flattering way possible.
Big thanks to Quirt Crawford and the rest of the crew for accommodating me on my visit.
-Mike Garrett