Well Exotics and Luxury month is about to end and we're about to usher in a month devoted to AWD cars in all shapes and sizes (although you can expect to see a lot of Imprezas, Evos and GT-Rs)… I wanted to end my own writing on the subject of supercars with a good look at two legendary machines Dino and I encountered right at the end of our Ferrari Museum tour.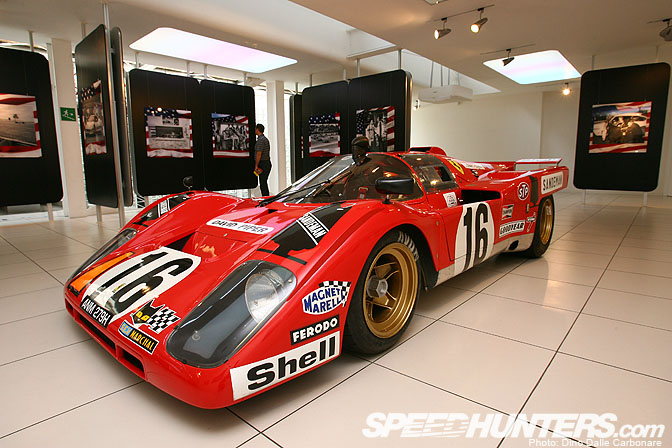 I don't know what the Galleria Ferrari museum director was thinking when they put these two cars in a separate room from the other machines, but it was a perfect setup for me. There was a bench right beside this car so you can sit and "appreciate" it as if you were sitting in an art gallery. I arrived in the room well before Dino, so I took a moment just to sit and ponder what had been a monumental day.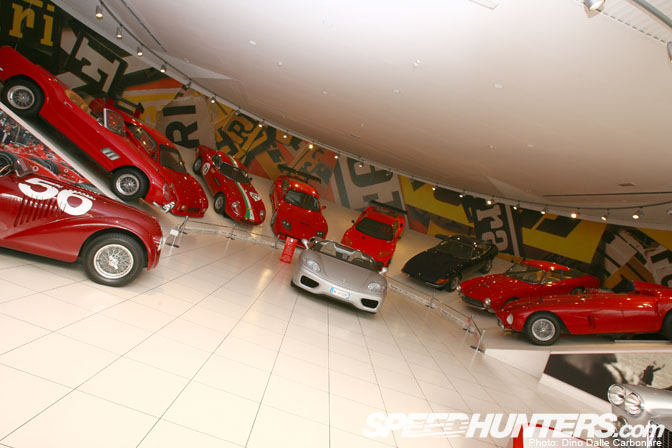 But before we get into our final look at these two iconic Ferraris, let's take a quick tour of another section of the museum. This is basically a half carousel featuring some of the most valuable Ferraris on the planet. I can't imagine the sum total worth of all of these cars!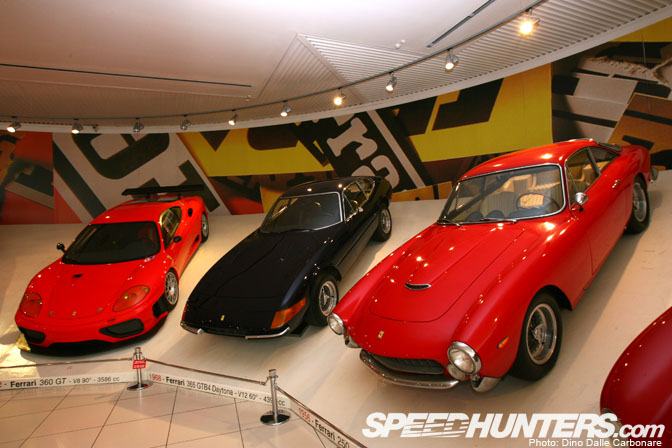 Looking back, I just didn't have the emotional energy to fully appreciate what I was seeing here…. but from right to left we have a : a 2002 360 GT, a 1968 Daytona (my fave of the three), and a 1956 250 GT Coupe (which is pure elegance, isn't it?!).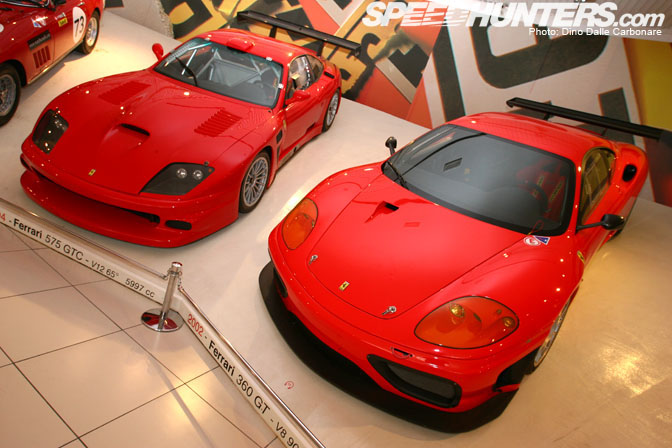 Next to the 360 sits a 2004 575 GTC race car. This was Ferrari's own official racing version of the 575 which didn't quite live up to the standard set by Prodrive's privately developed 550-GTS.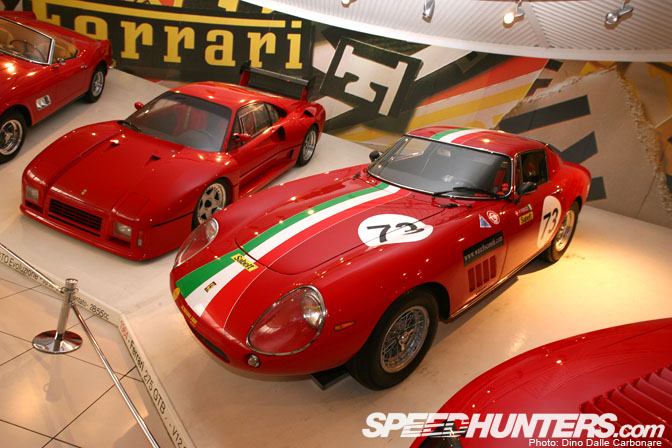 Next up is a car I know reasonably well: the 275 GTB. We created one of these cars for the PC sim video game GT Legends in my previous life as a video game producer.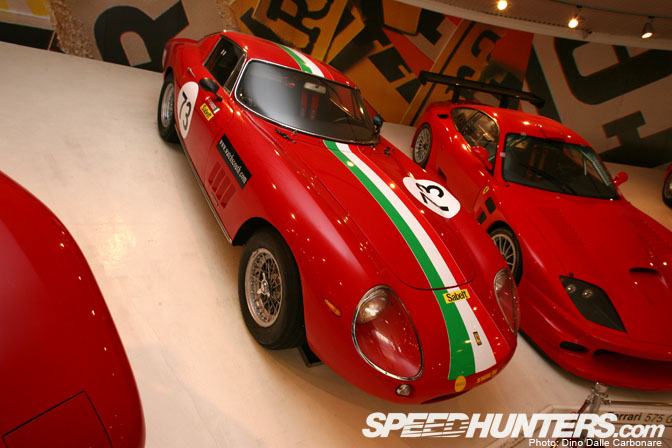 This car is a little underrated in the history of Ferrari Grand Tourers as it bridged the gap between the more famous and desirable GTO and Daytona models. I have fond memories of flogging a 275GT around Europe's top race tracks in GT Legends! Fun times.
How about some Group B wildness for you … a 1986 GTO Evoluzione. Like the orphaned Porsche 961, this car was intended to be a Group B racing car. Before it had a chance to hit the race tracks, the Group B category was axed by the FIA so, instead, Ferrari used it as a test bed for the upcoming F40 supercar.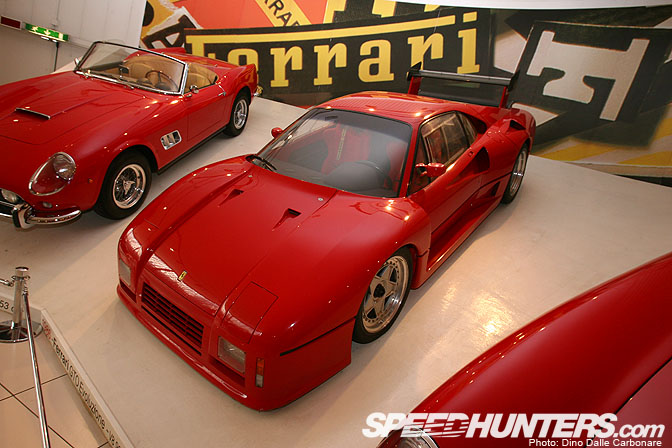 It's pretty clear this is the missing link between the 288 GTO and the F40. Only 5 chassis were constructed in total. Top speed depending on gearing was said to be 225 mph… A wicked machine if there ever was such a thing.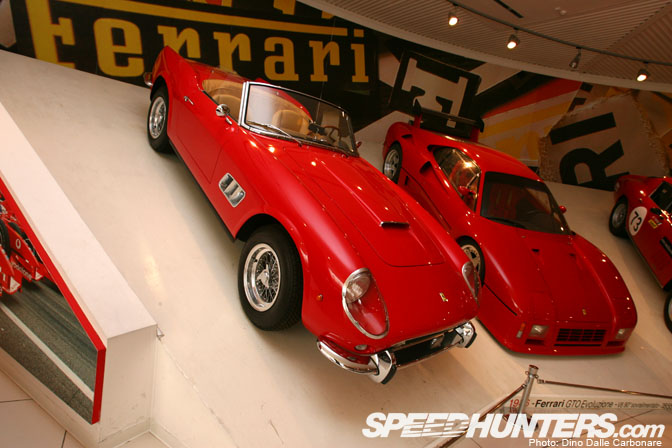 You want to know something funny about this carousel of Ferrari GTs? It smelled like oil and rubber…. something I've never experienced in a museum previously! Perhaps the smell was was pumped in to aid in the experience of the cars? Or maybe one of them was leaking hahaha…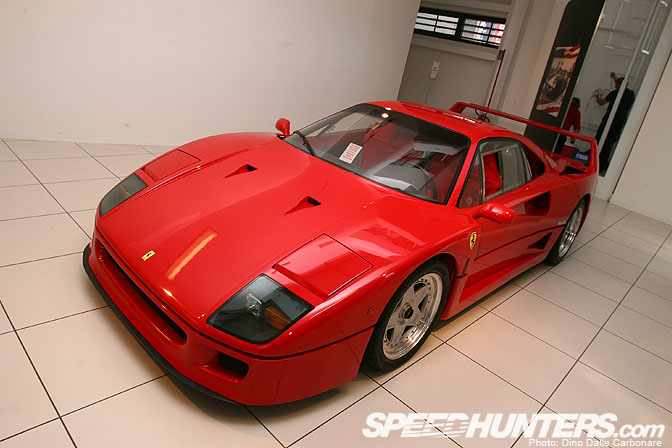 Now this is the stuff dreams are made of, wouldn't you say? My personal favourite road-going Ferrari: the F40.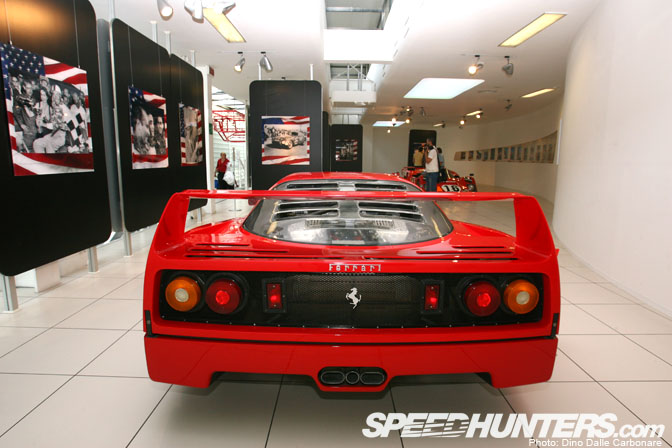 This was the first road legal production car capable of reaching 200 mph…. indeed, it held the title of the world's fastest production car from its introduction in 1987 to 1989.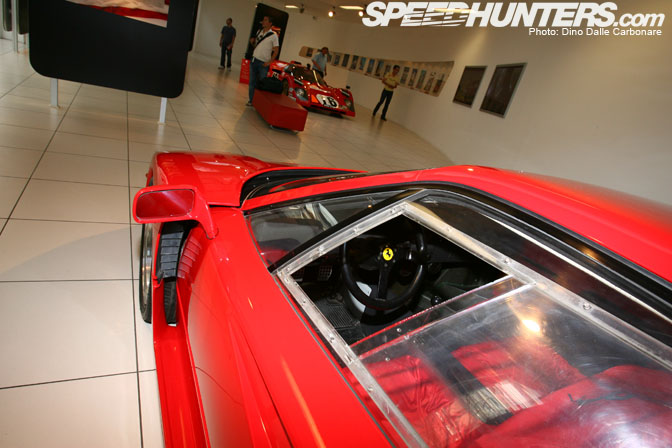 The F40 was the last car to be commissioned by Enzo Ferrari before his death in August of 1988.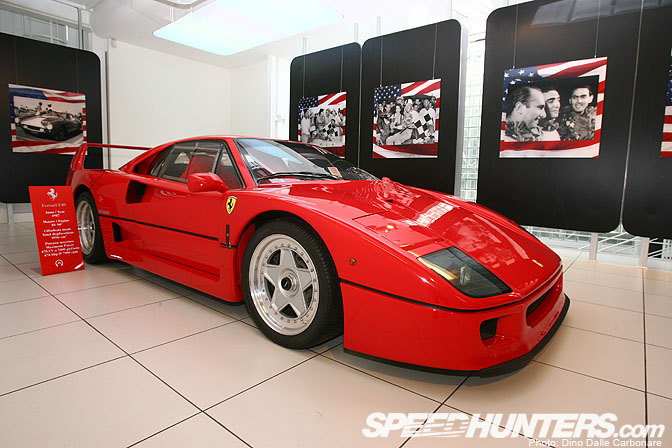 It's the grand total summary of his life as an auto builder – all funnelled into one machine.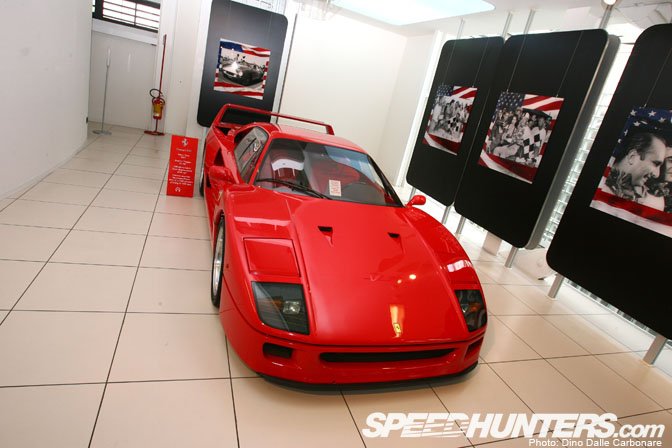 For me, there is a human spirit in this car, which is lacking a bit in the later machines…. a personal touch.. But I am probably biased as this is a car from my youth…. Thoughts?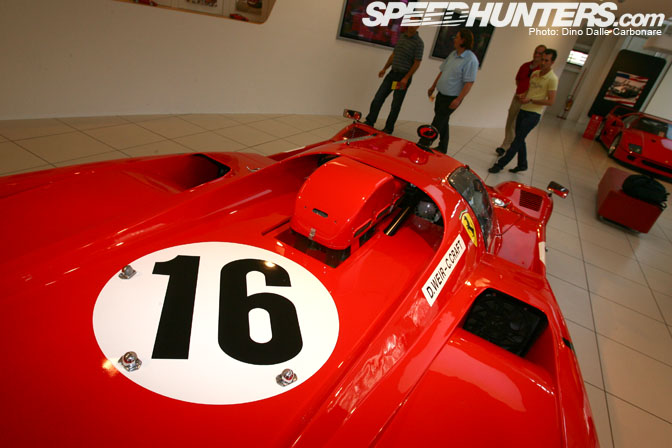 Let's walk over to the other side of the room now…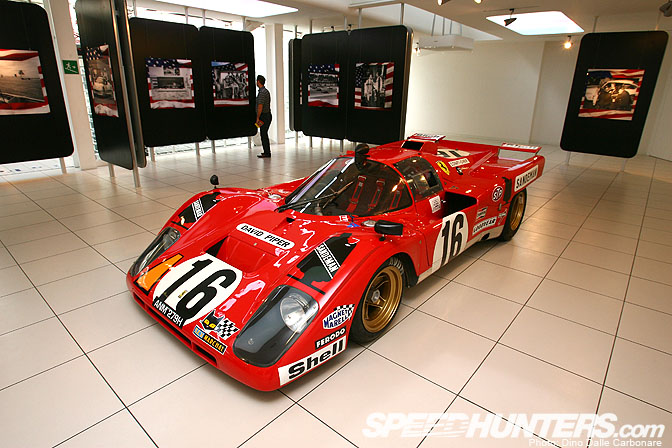 Mmmmm….. I don't know about you but for me this was the top car in the museum.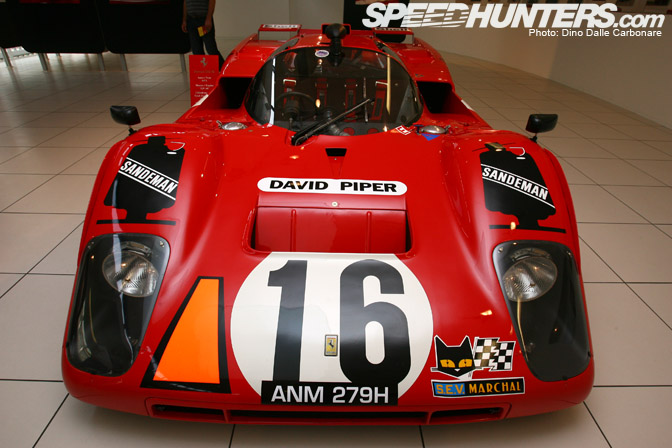 The Ferrari 512M.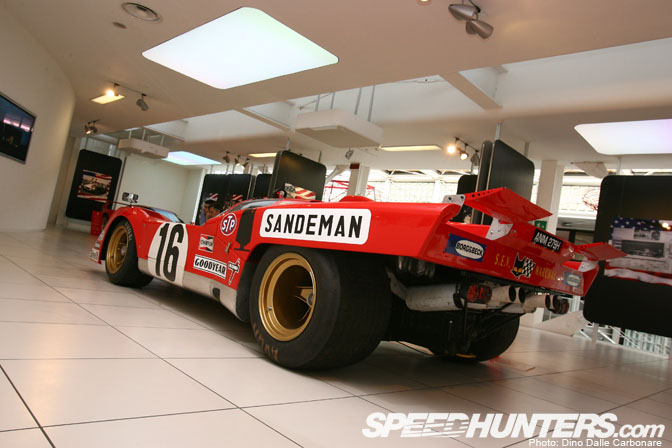 This car was the only true rival to the Porsche 917 – a machine whose legend is inextricably linked to that of the 512M.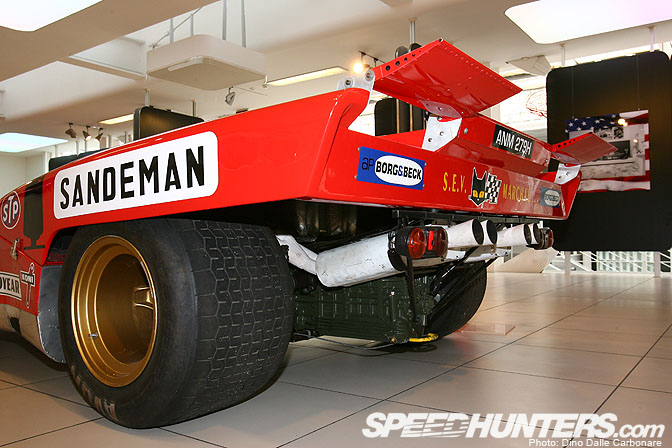 This car opens a doorway into another time and place. A time when Ferrari was winding down its involvement in sports cars… and Porsche was just getting going.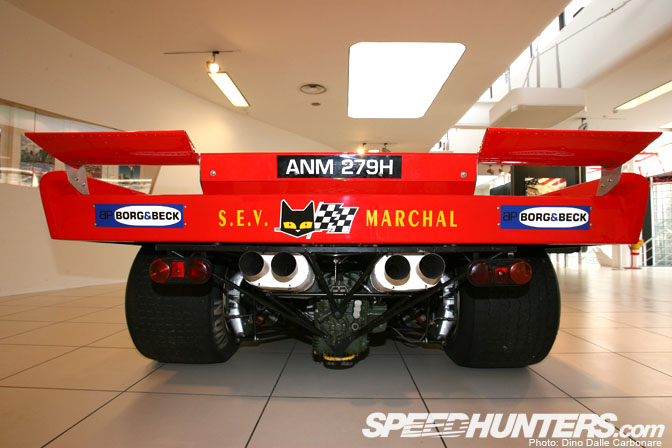 If you want to experience the glory of this era of racing, I highly recommend you check out Steve McQueen's Le Mans film. You can see what these cars look like at speed in some of the greatest filmed racing sequences ever. Period.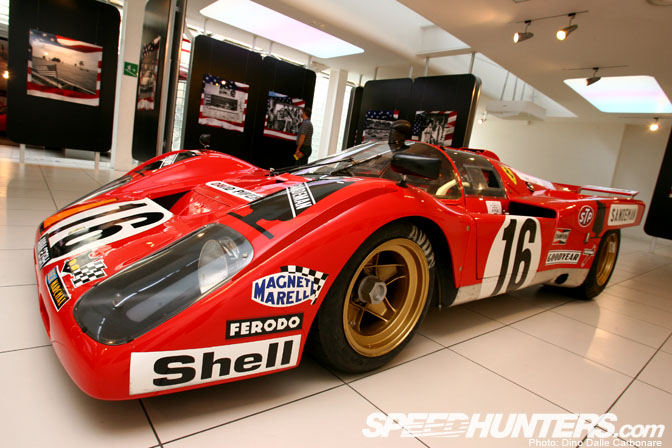 Are you with me here? Or am I just talking to the wind?
After waiting for Dino to finish taking his snaps of the F40 and the 512M, it was time for us to leave the museum… but we had one more stop before we could head back to the quiet of our Bologna hotel. I'll show you that in my next story!
:R
 June Exotics and Luxury Features on Speedhunters
Galleria Ferrari Parts 1, 2 and 3