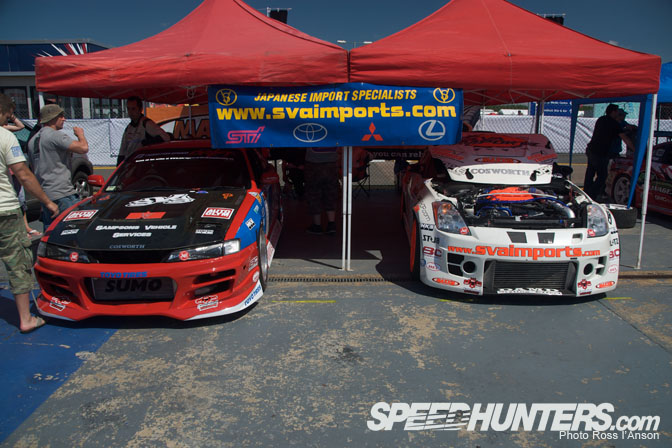 Time for a look back at the goings on in and around the paddock at NFS-EDC round 3 with some photos that don't make it into the event reports.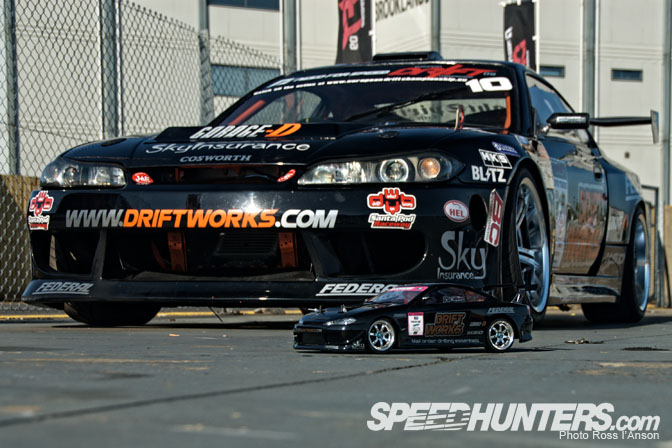 Something you don't see every day a R/C replica of the Driftworks S15 complete with miniature Phil Morrison behind the wheel.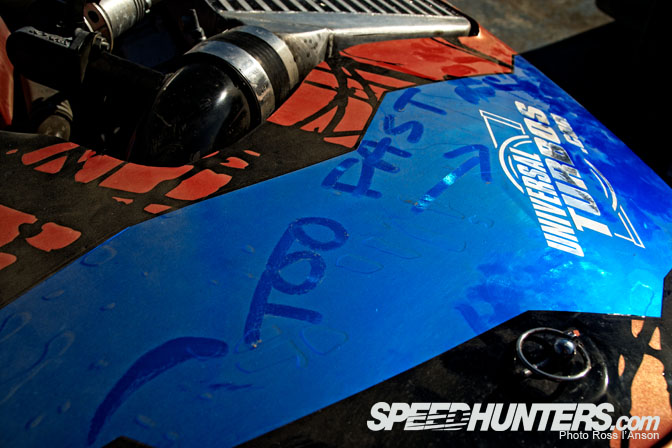 Walking round the paddock as everybody was packing up i noticed somebody had been commenting on Declan's little trip into the scenery..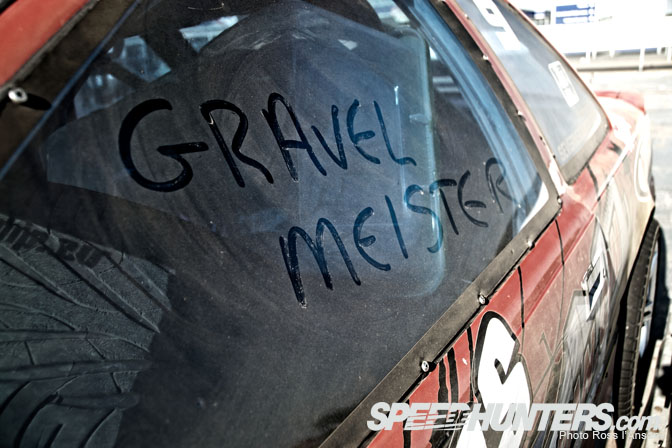 ..the dust from the gravel traps gets everywhere so if you cant wait to get onto the internet you can leave you views directly on the cars.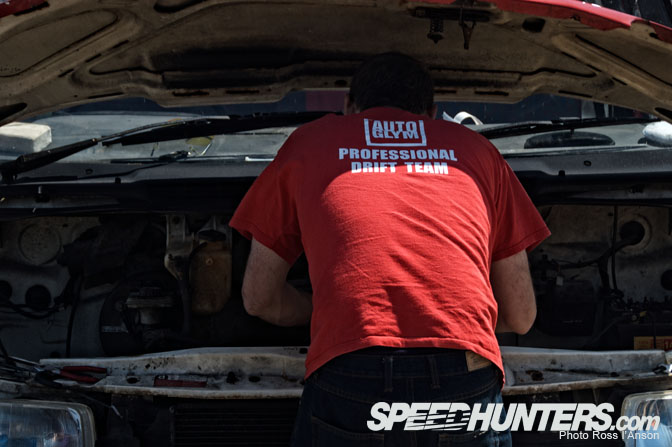 Not a great day for EDC driver Steve (stiggy) Evans, after all night trying to get the new Lexus ready then loading up and heading off to Silverstone with no sleep his van broke down 5 miles from the track, it goes to show how close the NFS-EDC community is because as soon as news was out that Steve was stranded Peter Barbers dad and the SVS team launched a rescue mission to get him to the track! Steve then had to spend the whole day repairing the van to get him home again.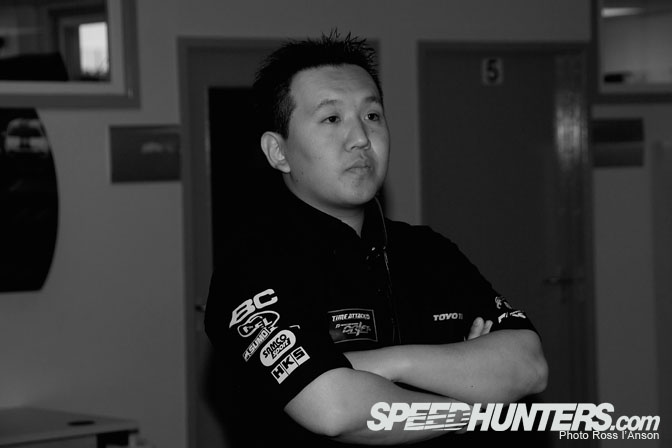 As usual Maz was judging and voicing the drivers briefings but the obligatory ribbing of the gravel hunting drivers was down to….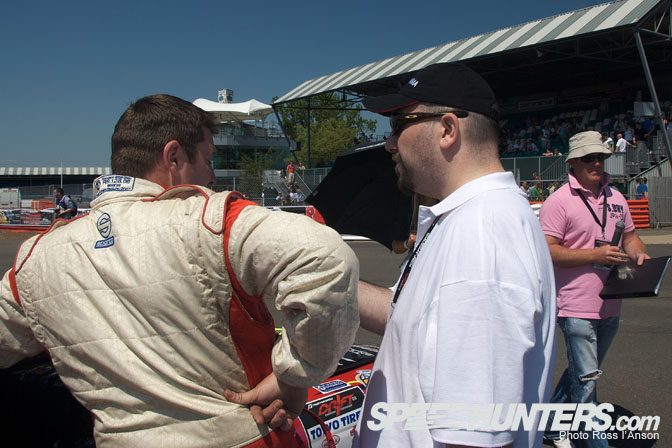 …James Grimsey and Tim Marshall, both absent from NFS-EDC so far this year they returned to do a excellent job of commentating the event.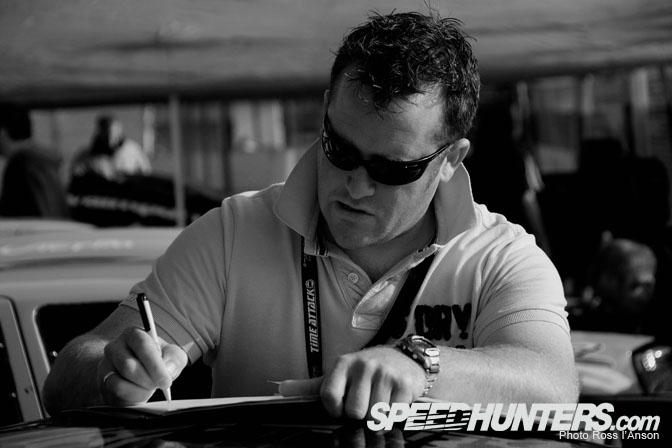 Tim out taking notes for the commentary.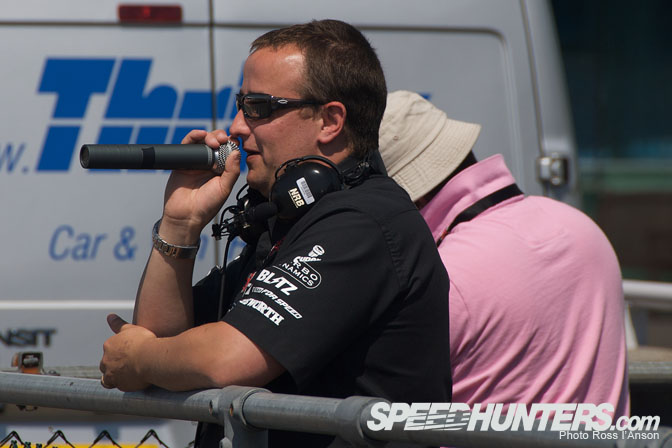 Even Rob Barnes had a go.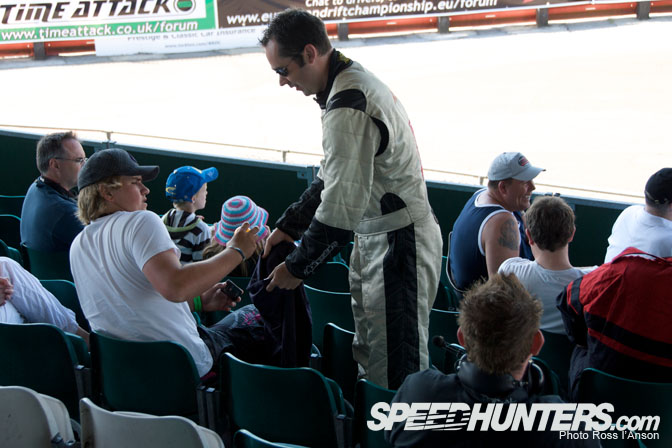 With no qualification this year this is how the Tsuiso battles are chosen, balls are drawn out of a bag by spectators to decide who drives against who.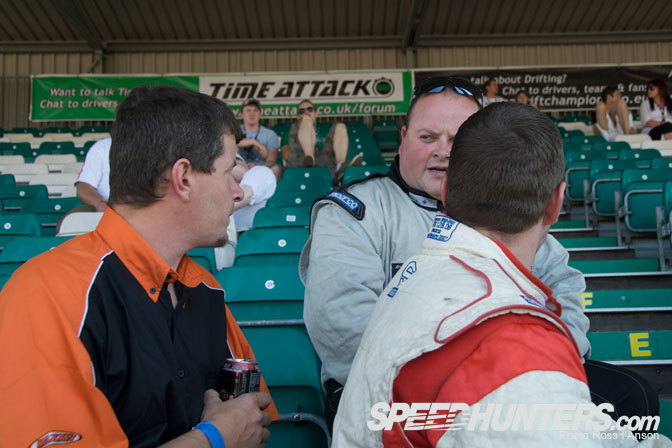 to make it fair all the drivers have their chance to take the bag into the grandstand, true driver/crowd interaction.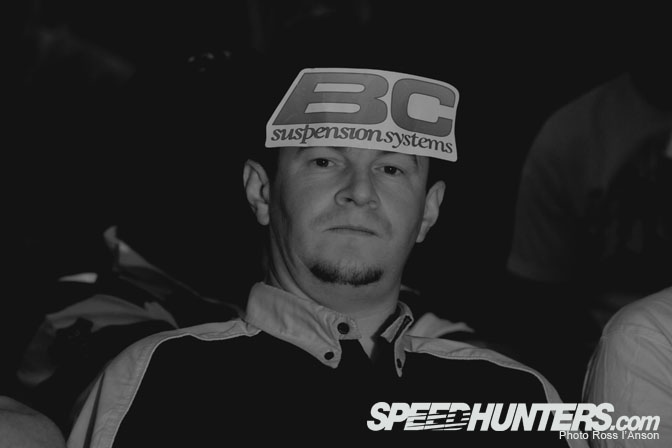 Declan's new sponsor  was very demanding when it came to sticker placement.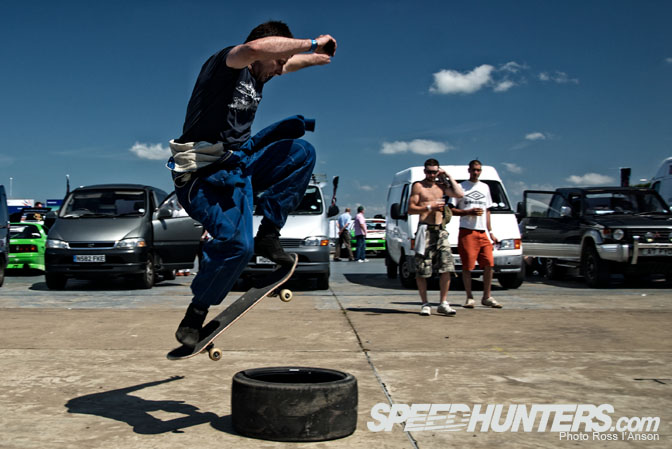 Drivers choose different ways of relaxing during lunch……Dave Monaghan chooses the skate approach.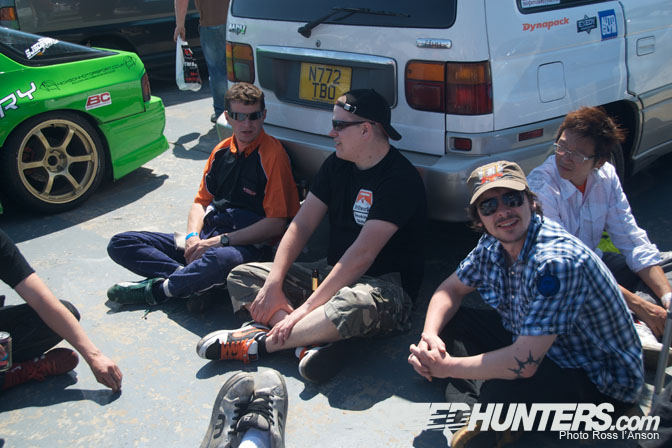 With the S15 lunching a engine during practice Phil Morrison gets a rare chance to enjoy a beer and a chat at a event.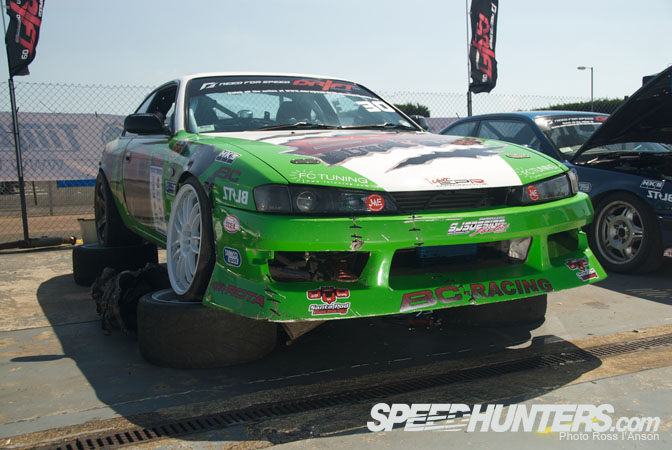 Another casualty of practice, Paul Cheshires S14 after destroying another gear box.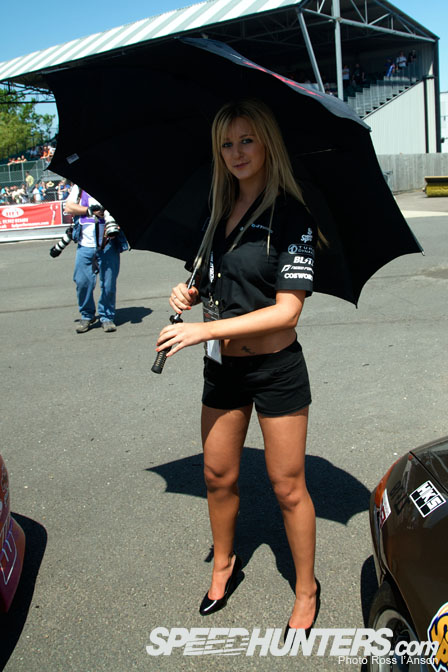 The new NFS-EDC pit girl Michelle Westby, with a lesser spotted John Brooks in the background.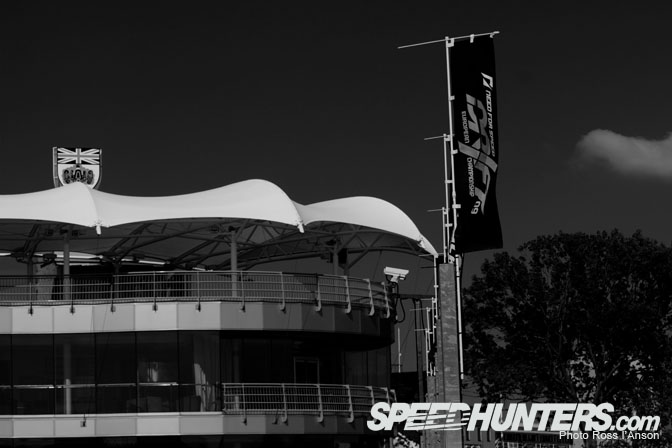 Drifting at the home of British motor racing, long may the partnership continue.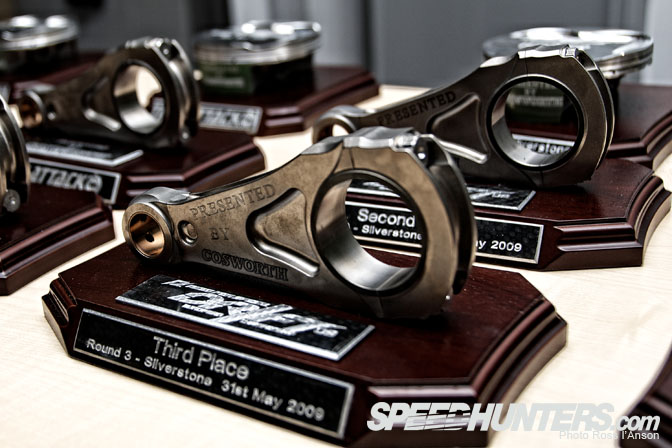 This is what your competing for….a gorgeous Cosworth F1 piston or con rod trophy.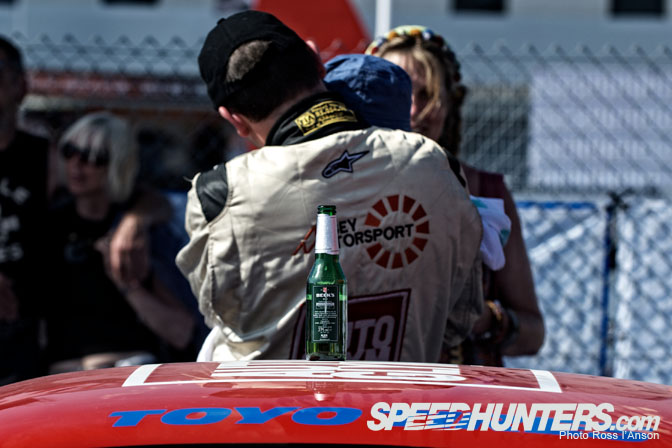 A screaming hot day and you've just had a scary neigh on 100mph trip into the gravel during the final battle….Brett gets a well deserved beer and a hug from his new son.
-Ross I'Anson
Silverstone NFS-EDC and Time Attack coverage on Speedhunters