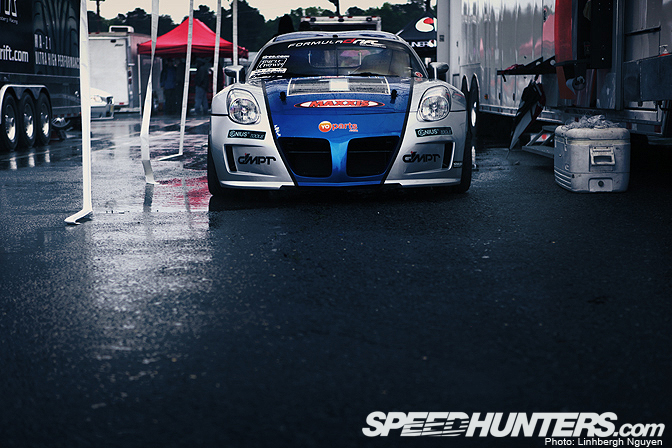 Remember in grade school when it rained and recess was inside the classroom? Everyone was glad it was breaktime, but the mood was still a bit down. Not even Legos or Monopoly was able to up everyone's mood. That's exactly how it felt like today at the Wall Speedway in New Jersey, the host of round 3 of the Formula Drift championship.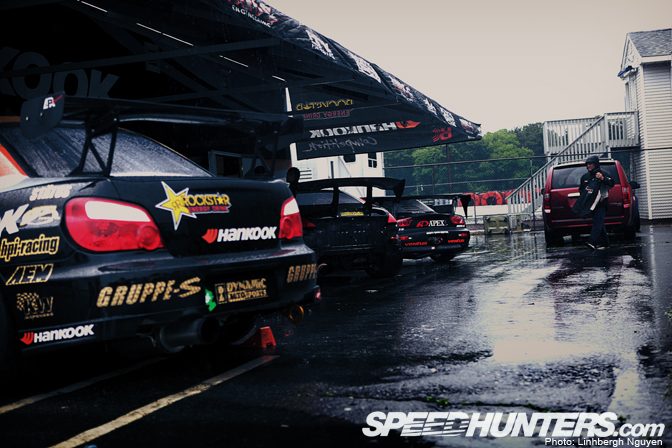 It rained constantly throughout the morning. Practice was put on hold during the morning because the track, quite literally, became a swimming pool.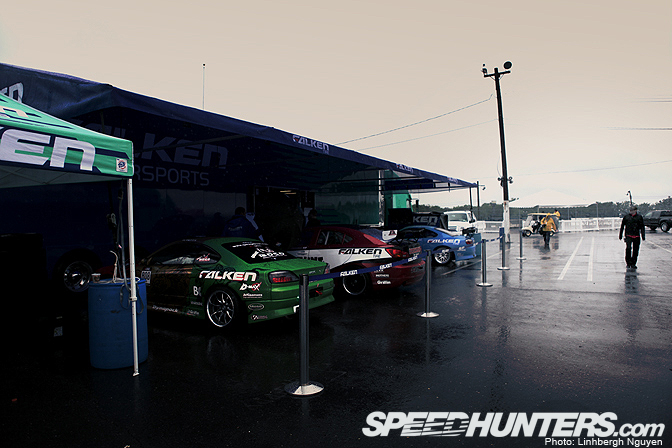 Everyone up and down the paddock played the waiting game, just waiting for any let up in the weather. The guys at Falken, and really, everyone else had nothing better to do but to hang out and do something they rarely do these days: be ricers and just hard park the hell out of their cars.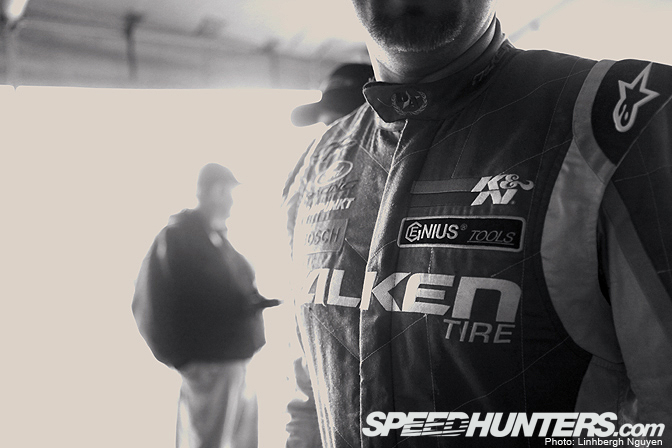 Even though the mood was a bit down, it did not dampen (no pun intended, I swear!) everyones' spirit. Everyone hung out, had a few laughs, and tried their best to not get wet!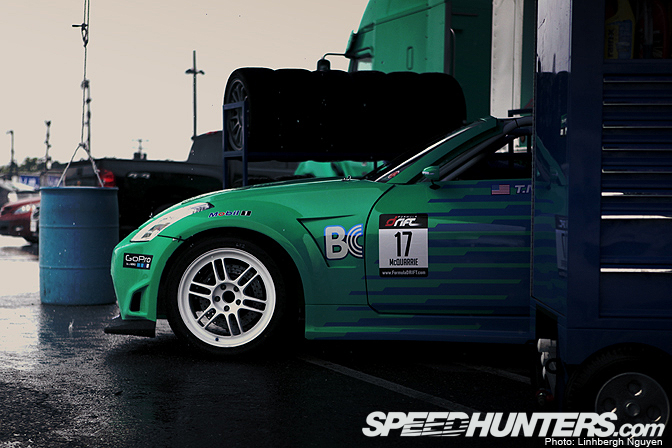 Tyler McQuarrie and his Falken Nissan 350z looking hard while hardparking in the rain.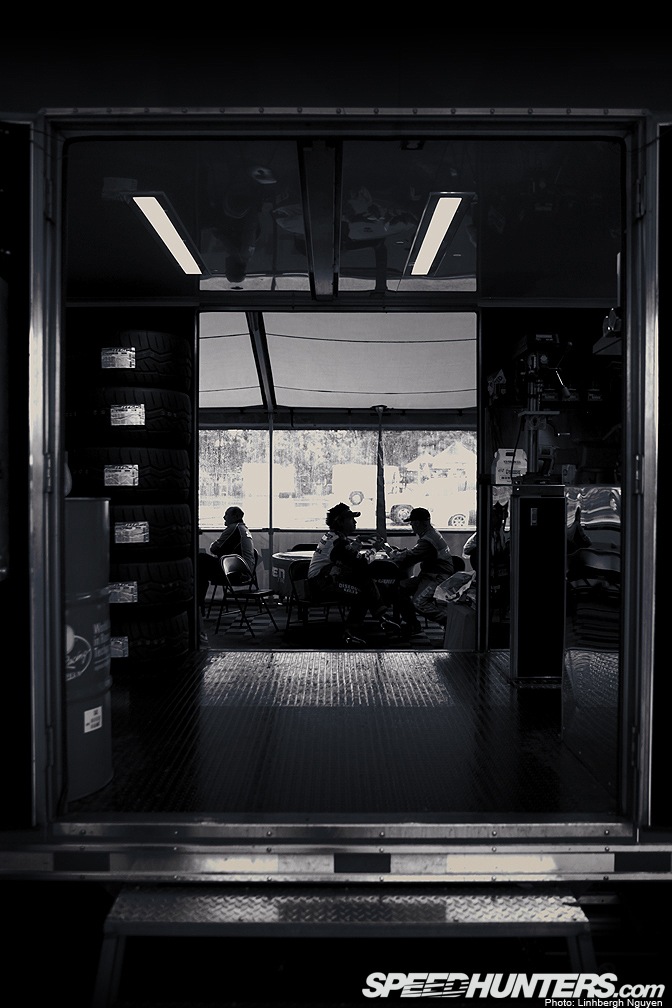 Daijiro Yoshihara and Tyler McQuarrie staying dry in the Falken staff area.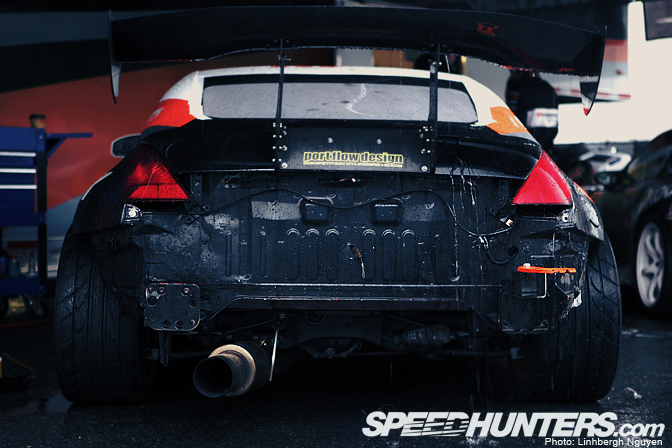 It seemed like I started quite a snowstorm the last time I posted a car with no rear bumper. So here's another. Robbie Nishida's 350z looks absolutely mean with a combination of seeing the wide rear tires and by having no rear bumper.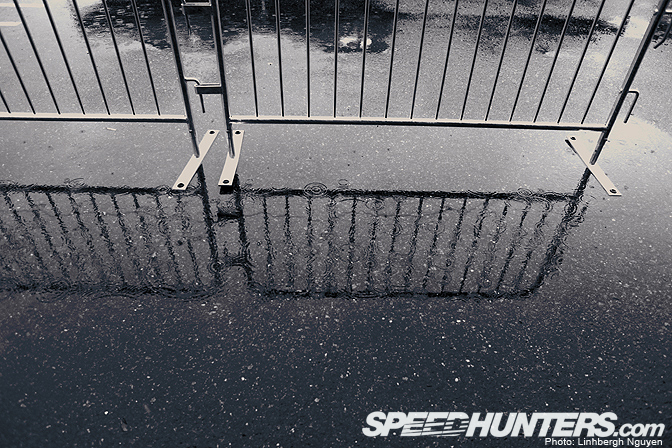 It rained and it rained. The drivers all joked about putting prop shafts for propellers on their cars since that would be more effective in these weather and conditions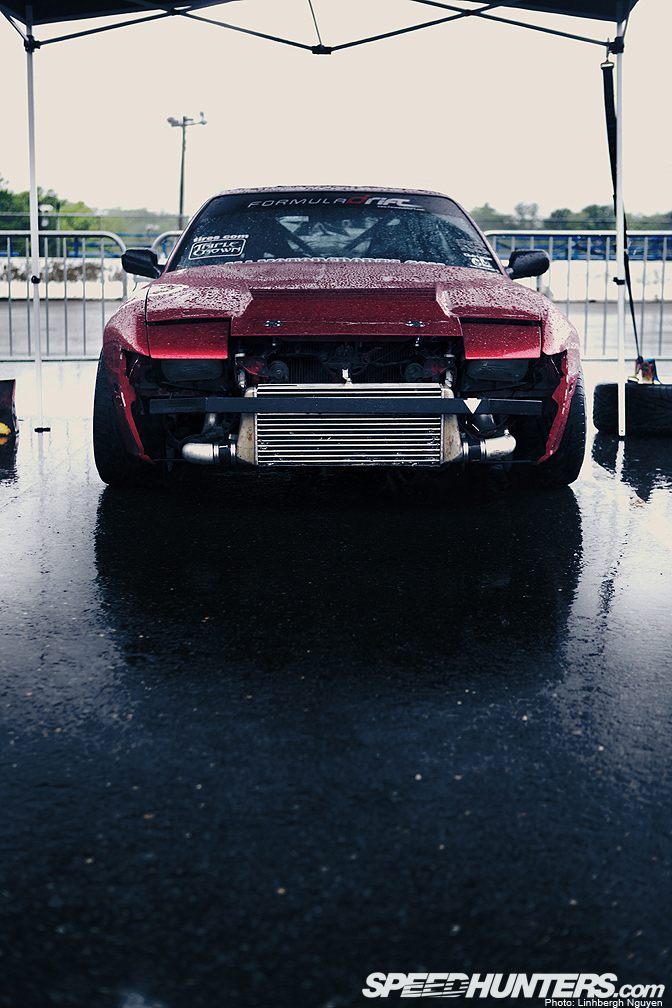 Hard parking in the rain looks pretty damn hard when you have a car that sitting like this, with no front bumper and showing off that huge intercooler.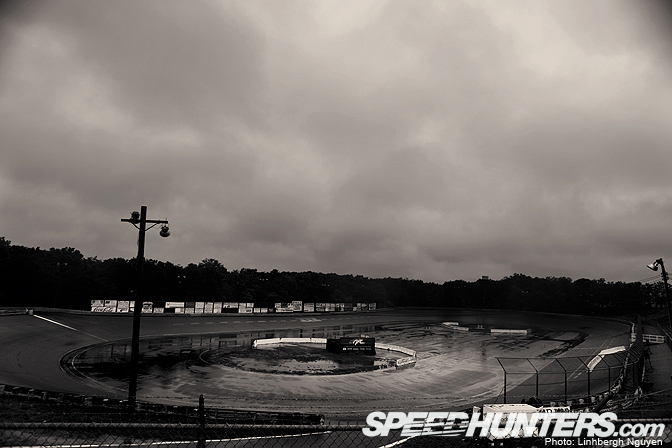 They say it always rains at Le Mans, but it rarely ever rains this hard
at a Formula D event. Practice was put on hold for the morning, then
later during the day, it was announced by the Formula D staff that
qualifying was moved to early tomorrow! Everyone was a bit bummed that they didn't get the chance to play in the playground that is the Wall Speedway. I am personally bummed because I was so excited to shoot some photos of the drifters rocking out in the rain. Is it bad that I am hoping for some light rain come tomorrow?
Now, if you'll excuse me, I have to get out of these wet clothes. So stay tuned for more coverage of Round 3 of the Formula Drift Championship!
-Linhbergh Nguyen