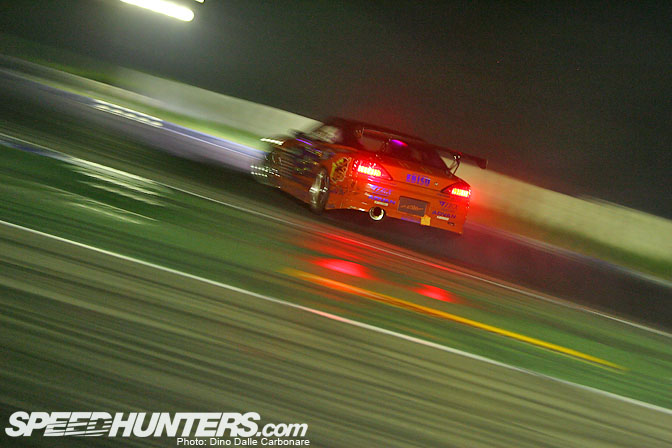 When I was up in Ebisu for the D1 Street Legal the other week-end I heard the guys from Team Orange were going to organize a special car meet on Saturday night. With the promise of a night drifting exhibition there was no way I was going to pass this up, even if I was exhausted from shooting since the early hours. So after a quick one hour nap back at the hotel in Koriyama, it was straight back up to Ebisu.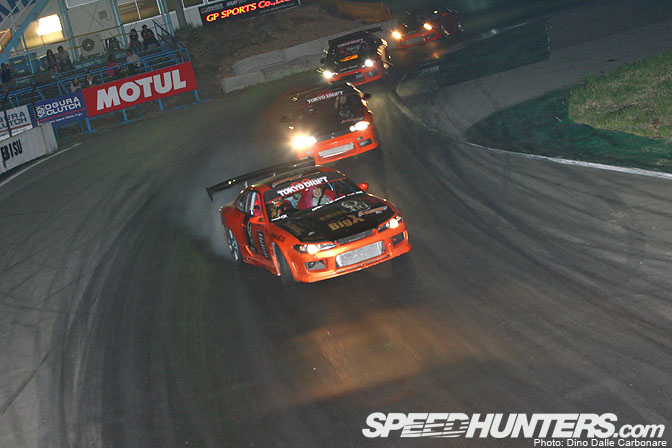 Just as I arrived Kumakubo and company were getting ready to go out on track, so I quickly set up my camera and headed to my favorite spot on top of the pit roof.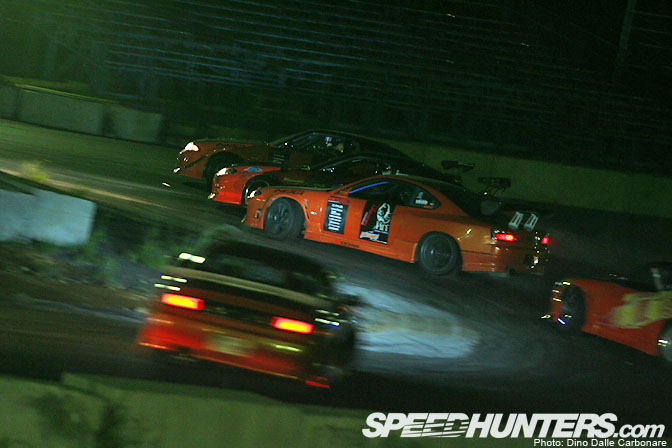 I thought I was back at the Drift Matsuri for a second!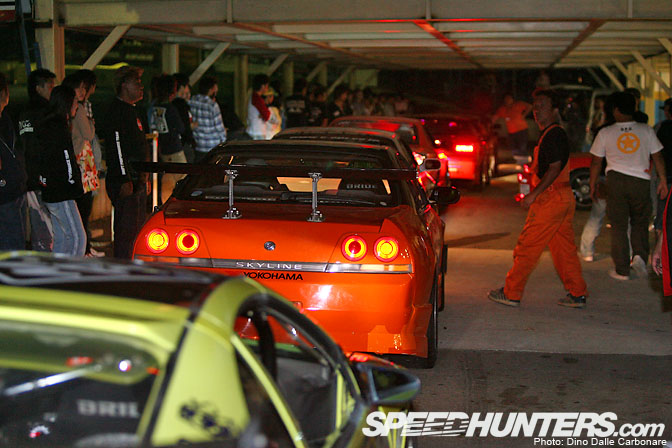 Every two laps the Team Orange cars, along with the other participants, came back in to pick up more people for rides. Just look at how packed the covered pits were!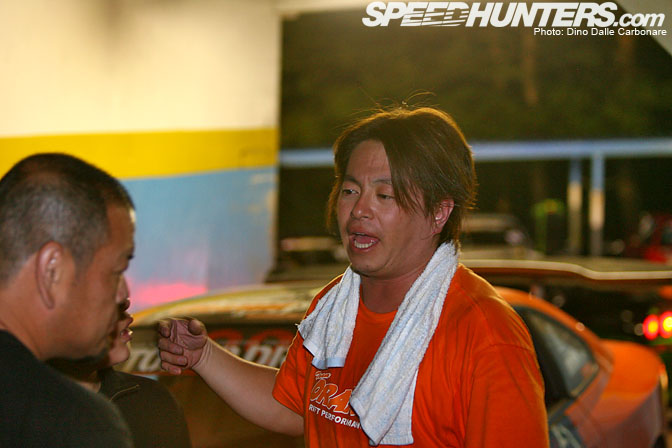 Tanaka-san was behind the wheel of his demo S15 and looked like he was right at home in there! The atmosphere was very open and it was great seeing the Team Orange guys chatting with the fans and enjoying what they love most. I always say that without Kumakubo and Team Orange, drifting in Japan wouldn't be what it is today, and these kind of events are the perfect example.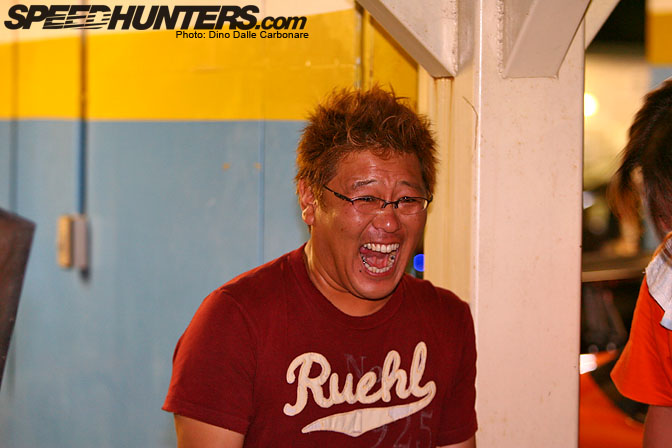 Kumakubo having a good laugh.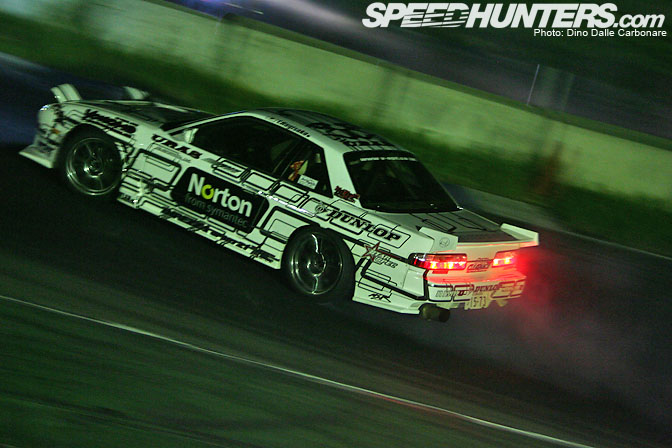 Drifting has, since its roots, been practiced mainly at night so there is something so right about seeing cars slide around in the dark like this.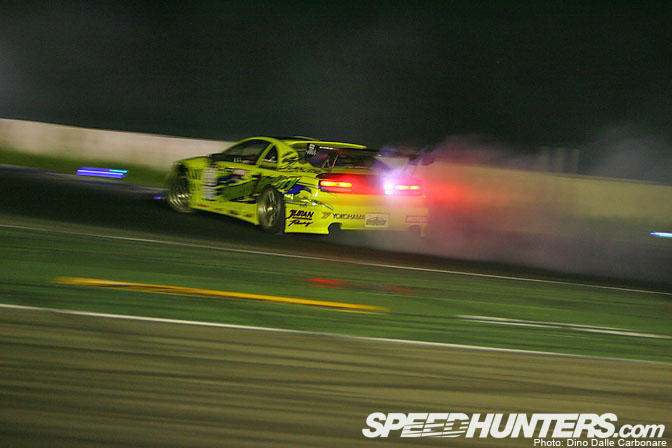 Makes for some pretty cool shots too, just don't forget to set that ISO real high!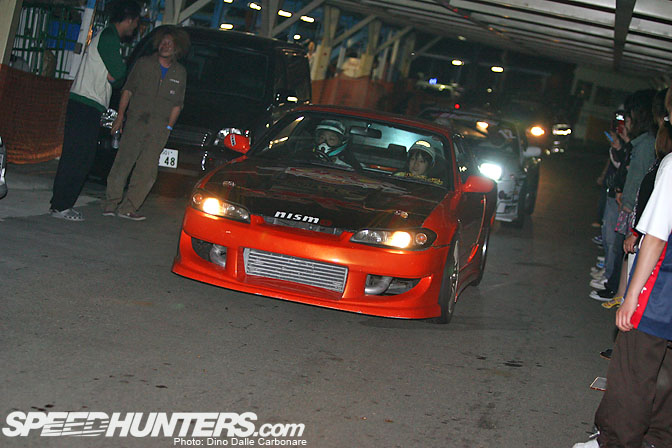 The lucky passengers are brought back safe and sound to the pits. Most people came out of the cars speechless…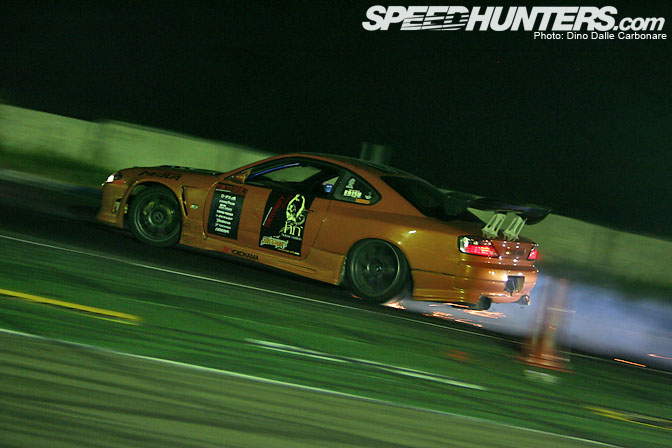 As I discovered at the Drift Matsuri last month delaminating tires make for some spectacular effects at night. Kind of reminds me of "Back to the Future," I guess the S15 was just about to hit 88 mph LOL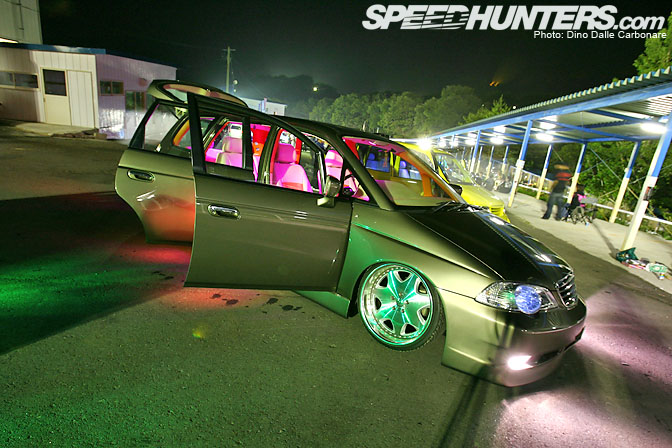 After the drifting exhibition, it was time to check out the "Super Car Meet" that had gathered in the paddock.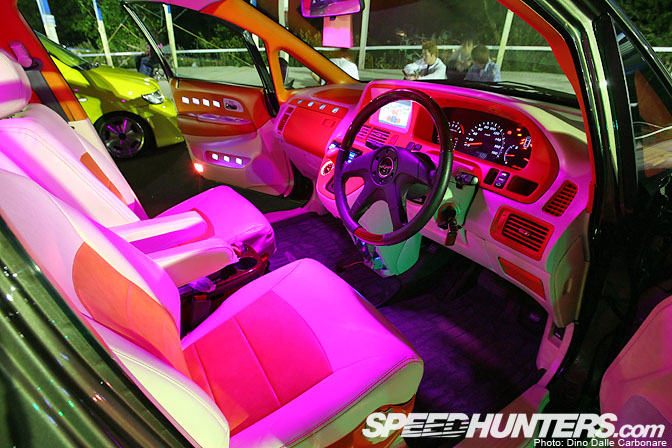 It resembled a Saturday night Daikoku PA meeting, with lots of show cars, minivans of all sizes and a few VIP rides.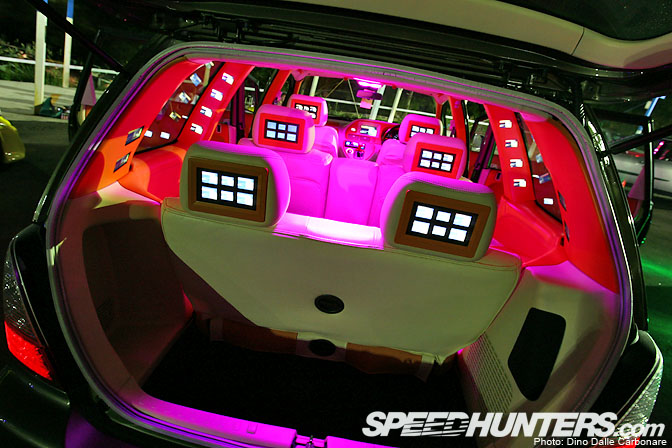 Check out the interior of this Odyssey! I've been noticing this new trend of putting small LCD screens everywhere.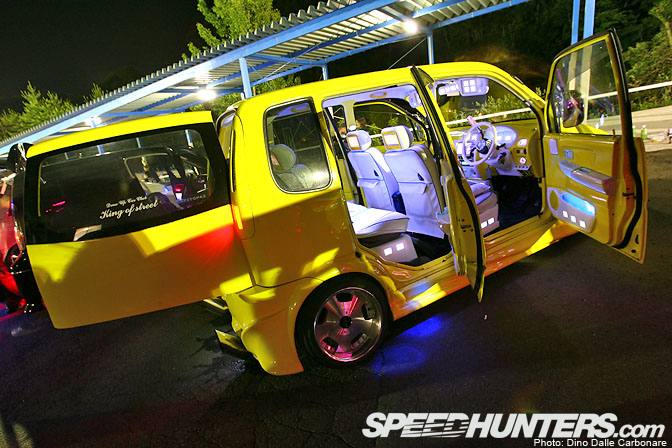 Have a look at this Suzuki Wagon R, I think the poor little 660 cc engine is going to struggle hauling around all that audio and video equipment!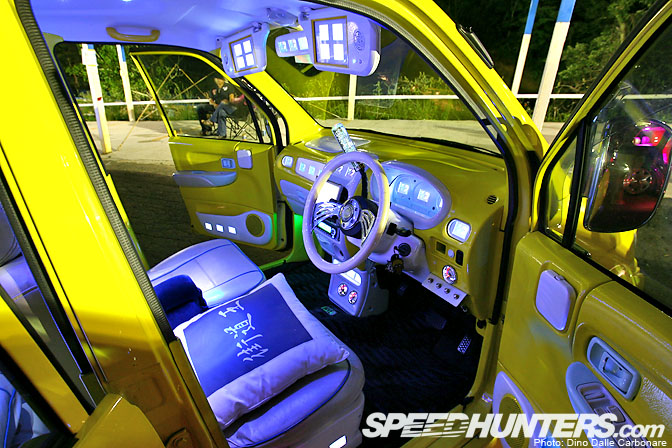 You need sunglasses just to sit in the interior! 
This Odyssey was by far the most extreme show-car at Ebisu with one of the most complex body kits I've ever seen. All of the lines on the body were highlighted by thin strips of chrome. The wheels fitment however, was quite wrong.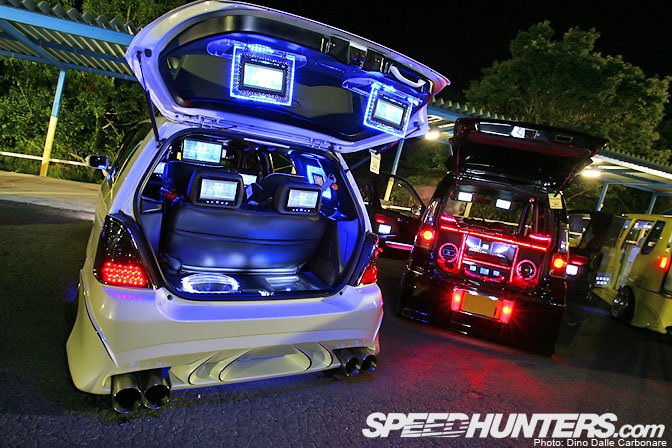 Things at the back were just as intense with screens even flipping down from the hatch door!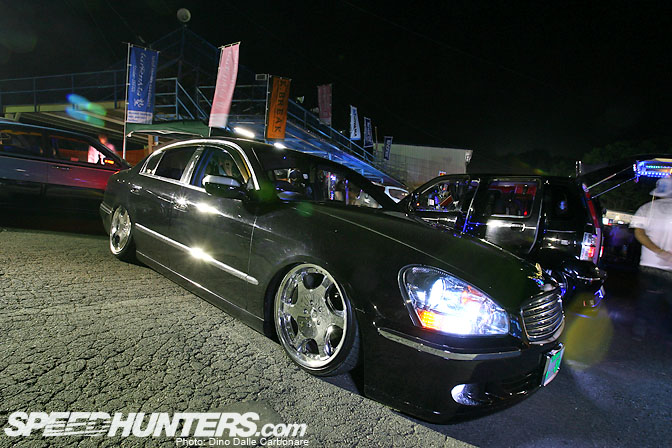 Ah, this is more like it. A proper VIP sedan with massive rear negative camber. Judging from some of the comments on the Junction Produce President post, I'm guessing this will go down a bit better even if the wheels could sport better offset.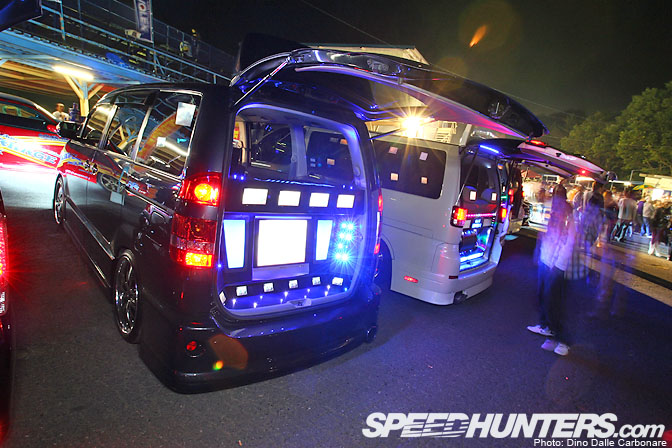 The Toyota Voxy and Nissan Elgrand are just what you need when you want to stuff the trunk area full of screens and subs. The Elgrand was pumping out some ridiculously loud music all night!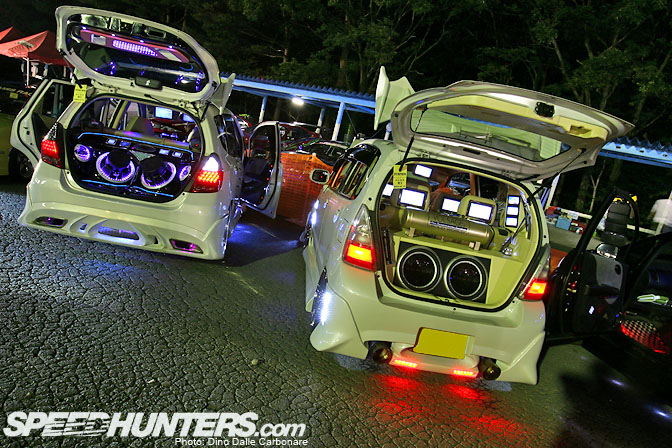 I'm glad I decided to check this meeting out, the drift exhibition was by far the highlight of the night with the cars that had gathered a rather interesting addition. This is yet another side to Japan's car-crazy culture.
- Dino Dalle Carbonare