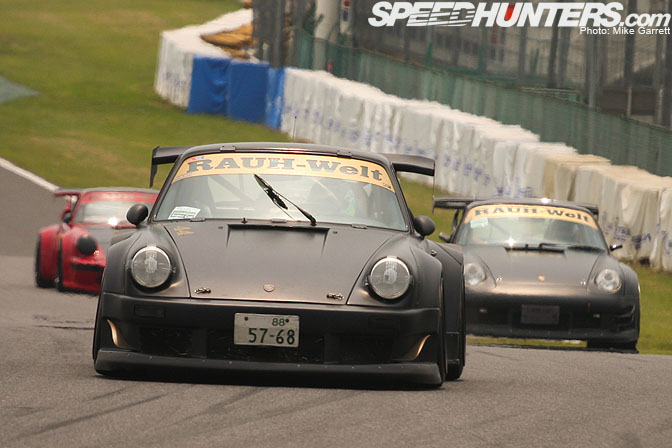 When I was living in Japan, Tsukuba Circuit became a bit of a second home for me. It was close by, and featured some of the best car action in the world – paradise for a car crazed dude like myself. Of all the events I've been to at Tsukuba, few have left a bigger impression on me than the Idlers Club races. Idlers is where the internet legend of the Rauh Welt was born and is where you'll find the very best in Japanese automotive culture. When I found out there was going to be an Idlers event during my visit to Japan this month, it was tough to hold back the excitement.
After a quick stop by Seven Eleven for some breakfast, it was off to Tsukuba Circuit for the second Idlers Club sprint race of the season.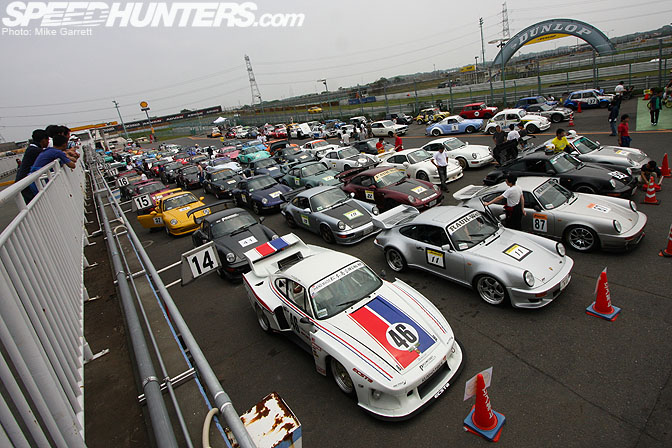 I'm pretty sure I've taken this exact photo at all the Idlers events I've been to. It's pretty hard to resist when there's such a high quality assortment of machinery piled into the paddock.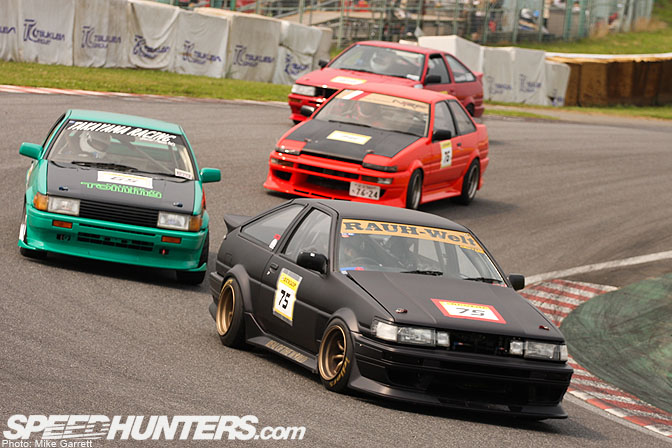 There have been a few changes to the event format since the last time I've been to one of these. There's now an all-AE86 trophy race that's been added to the festivities. It was a bit like an N2 race except that the cars were slightly more street-oriented.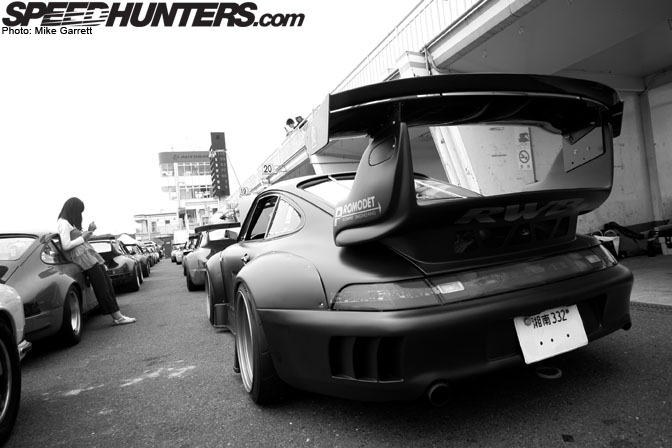 It was nice being able to see the flat black RWB Porsche 993 in the flesh. It looked even better than it does in photos, especially as it ran alongside Nakai-san's matching 930 during the Super Cup session.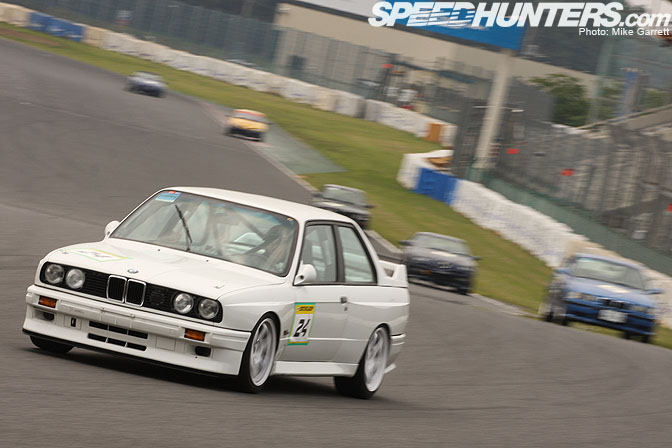 The Euro Class was dominated by BMW M3's, including this white E30 fitted with a matching set of TE37's. This is what you get when you combine one of the most loved German cars of all time with one of the most loved Japanese wheels of all time…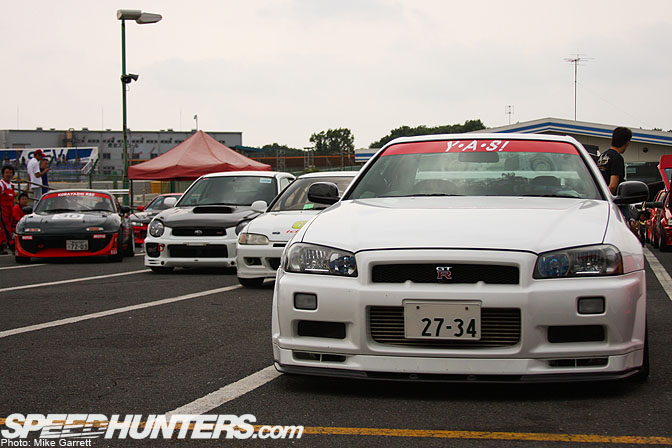 Besides the Hachiroku race, the GT Fighters class provided a nice sampling of tuned domestic cars. I can't think of too many other places where you can see an R34 GT-R battle wheel to wheel with cars like a KP61 Starlet or an EG6 Civic.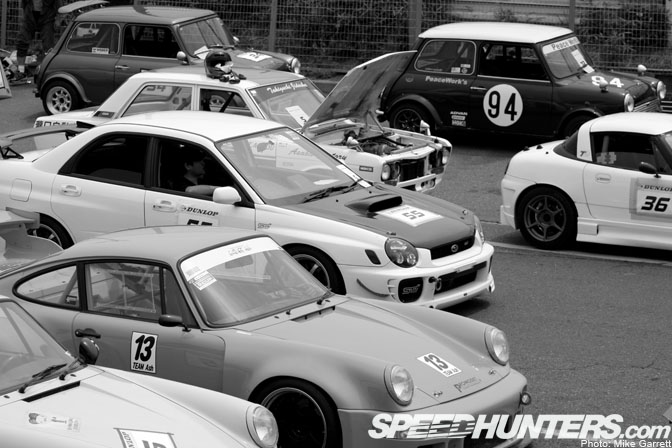 The variety of cars at in Idlers event is quite staggering. There's literally something for everyone.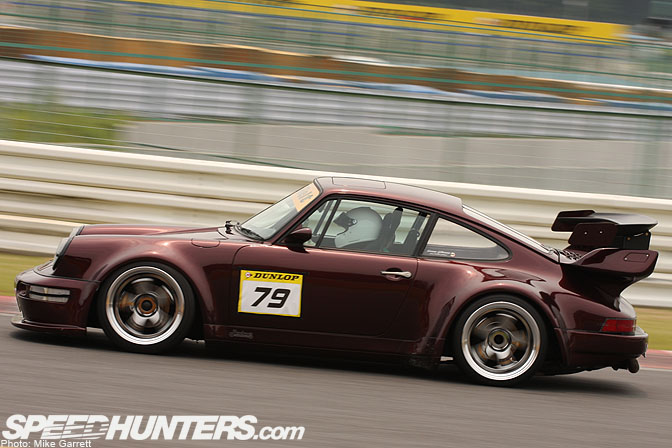 The "RWB-look" may be defined by satin paint and wheels, but this 930 shows that it also looks great with a bit of shine to it.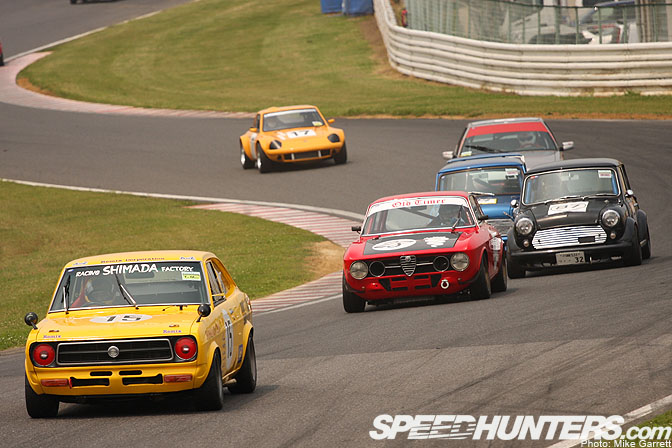 Vintage cars also played a big role in the event. Here we a humble little B110 Nissan Sunny being chased by a pack of imported machines during a mixed makes race.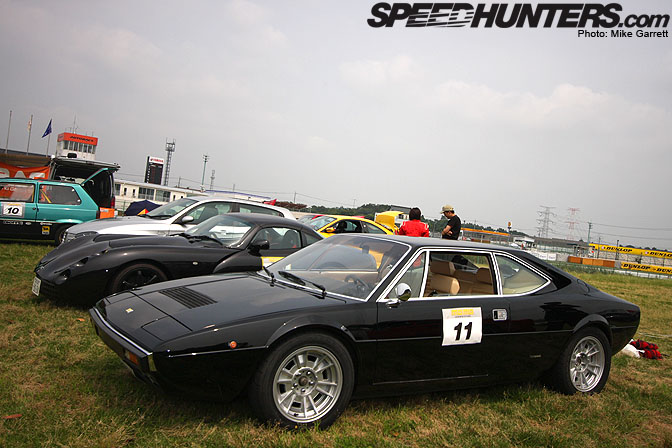 In keeping our monthly theme there were a few exotics taking part in the action, including this Ferrari Dino 308GT4.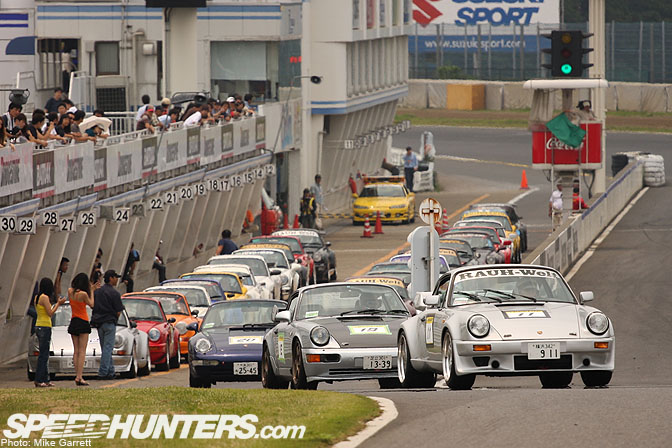 You know those moments when you look at your surroundings and think "there's no place in the world I'd rather be"? Watching the Porsche field roll out onto the track yesterday was one of those moments.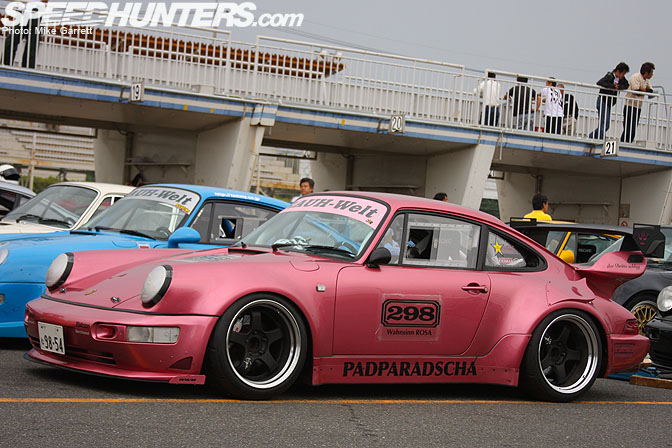 This 964 was another of the many cars repping RWB yesterday. Never before has a pink car looked so terrifying…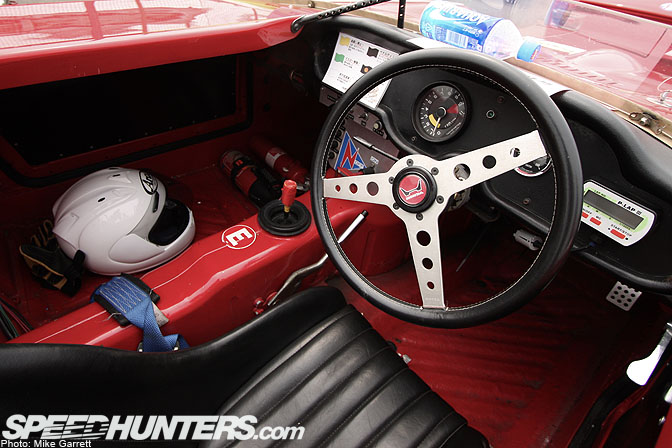 A glance into the cockpit of this '66 Honda S800 roadster brings upon the sudden urge for some motoring.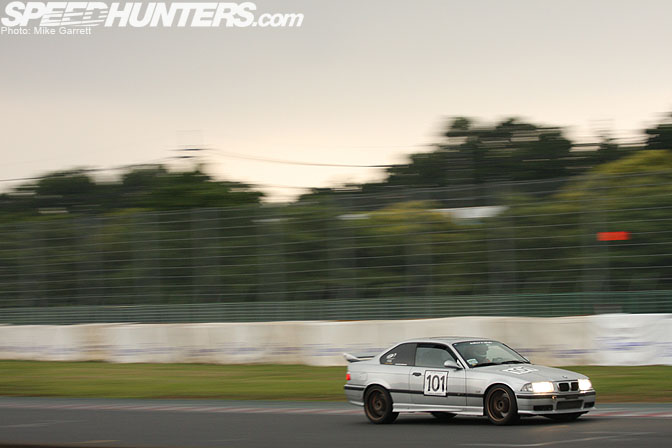 An E36 M3 blasting down the front straight in the afternoon under darkening skies. In Japan this time of year, the threat of a big rain storm is never far off.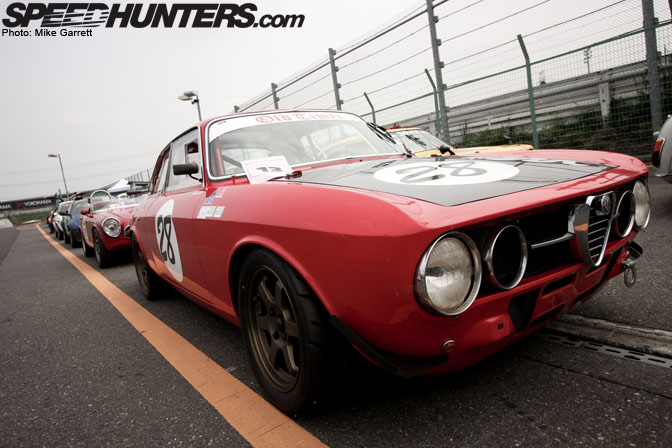 The striking looks of this track-ready Alfa Romeo GTA are enhanced with a set of TE37's. It's tough not to become an Alfa fan after being exposed to all the badass examples in Japan.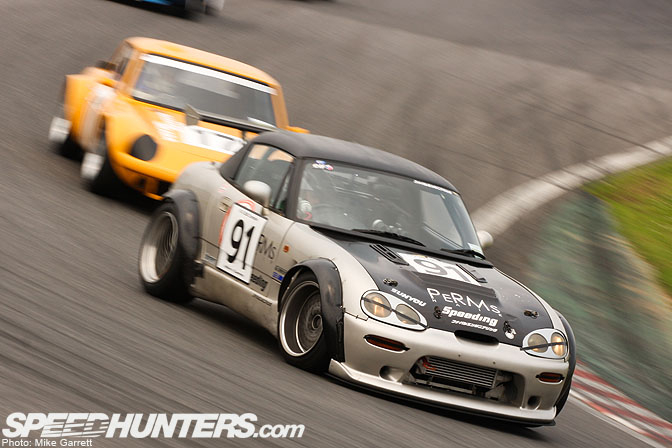 As its name suggests, the GT-K class was for kei cars like this fully-tuned Suzuki Cappuccino. It was quite a sight to see this car out there amongst the classic Minis and Volkswagens.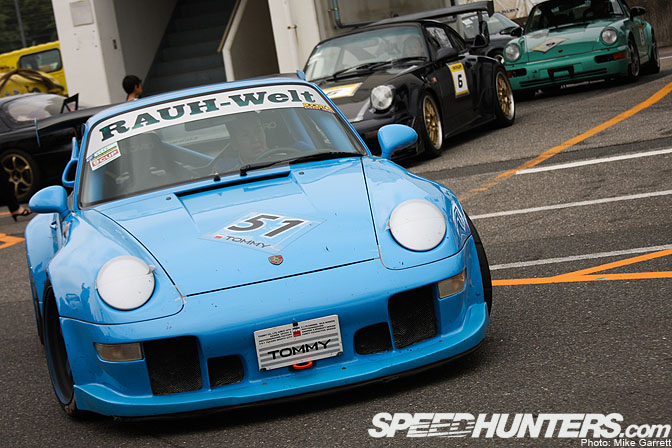 The RWB "Tommy" 993 rolls into the paddock following its final track session of the day.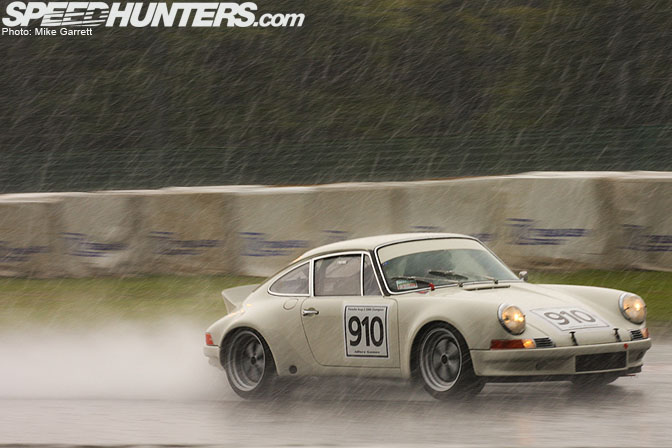 Remember when I mentioned the threatening skies earlier? Well, late in the afternoon they opened up with a heavy downpour and some incredible thunder. The Porsches continued to the race in the rain, but eventually it got so heavy that the race had to be finished behind the safety car. You just gotta salute the owners that took their valuable cars out and hammered them during the rainstorm – especially since older Porsches are known to be handful to drive even in normal conditions.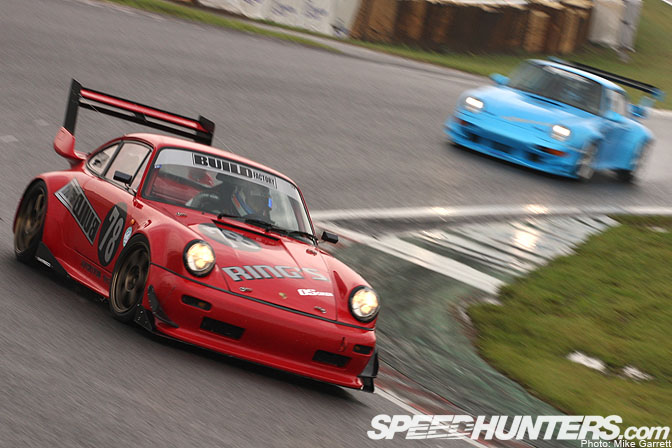 As quickly as it started, the big storm passed – just in time for the Super Cup racers to take to the track. The combination of the high powered machines and wet track was a dangerous, yet exciting one.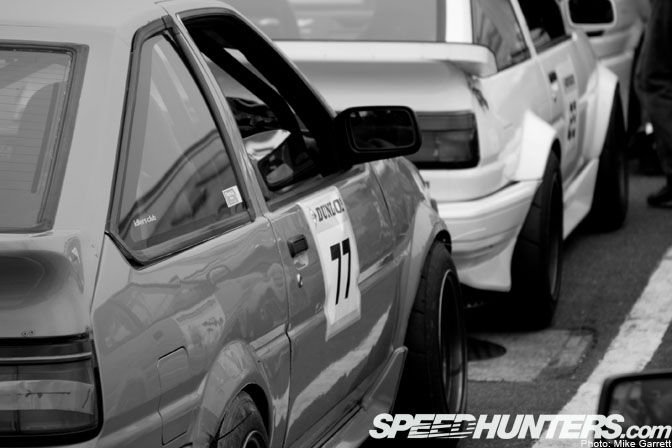 Yep, just another fantastic day in Japan.
I'll be back soon with much more from the Tsukuba Idlers Games.
-Mike Garrett