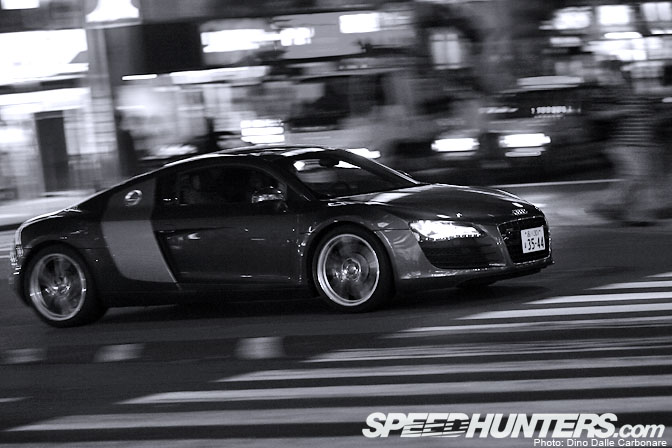 Monday morning, 10 am, I'm sitting in the foyer at the head-office of Audi Japan waiting to pick up my ride for the week. With this being Exotics and Luxury month I thought it would be the perfect opportunity to get behind the wheel of something special, a car that defines the modern day exotic, yet manages to impress on many levels. I chose the R8 you see here, and used it all week to get a real sense of what it's like to drive around in a true supercar.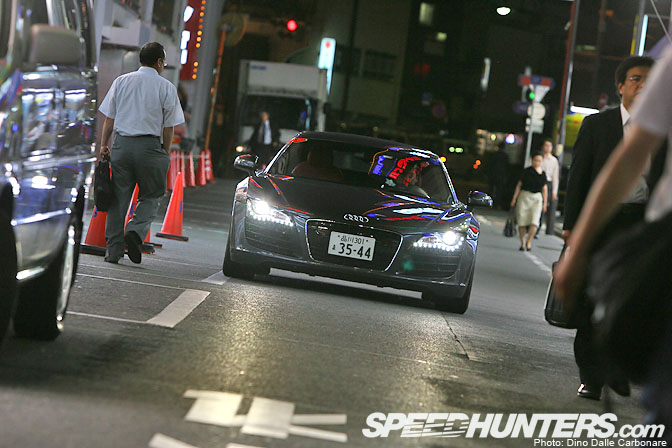 Where to start? The engine? The semi-automatic gearbox? Well it has to be the design doesn't it. There is no other car out there that resembles an R8. Its general dimensions are kind of similar to the car it shares its underpinnings on, the Lamborghini Gallardo, but Audi have created a very unique design.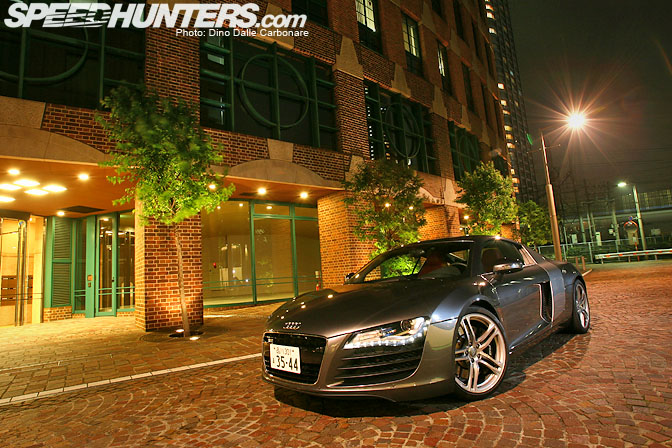 It sits low, very low and wide (like a supercar should), something you have to constantly remind yourself of when you drive through the tighter streets of Tokyo.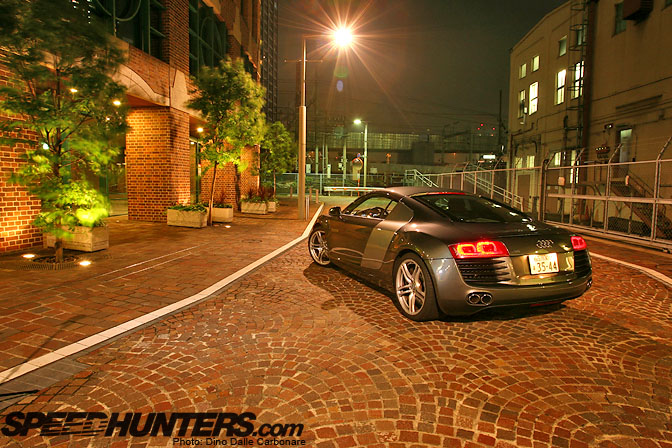 The rear end is just as purposeful as the front with the massive louvered air outlets that expel heat from the engine compartment.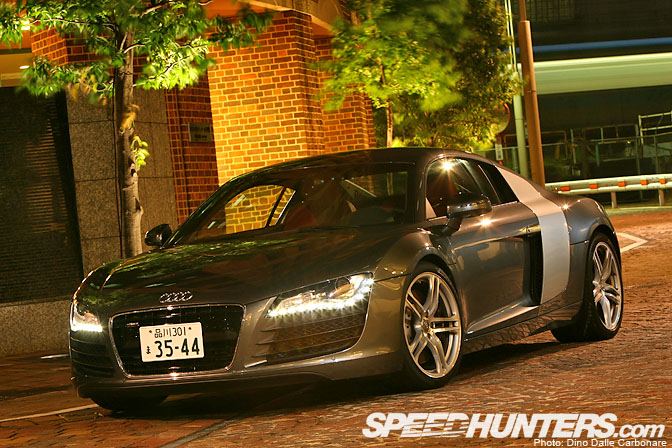 The strips of LEDs that run along the lower contour of the headlights highlight the car's design especially at night, a great touch that seems to be getting copied by more manufacturers. Audi even offers the world's first full-LED lights for the main and high beams, a pretty expensive option.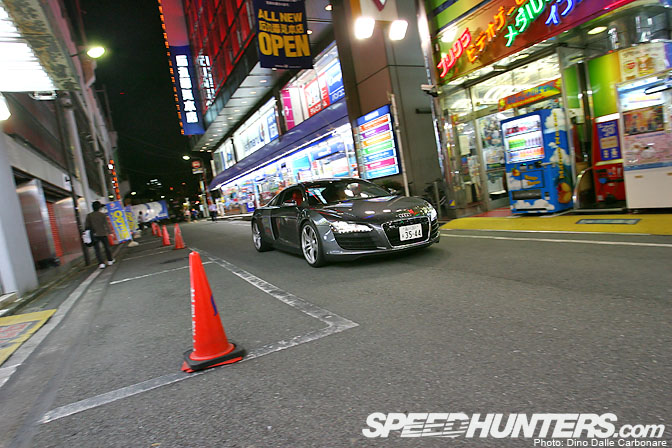 With help from my friend Adam we took the car for a shoot around Akihabara, Tokyo's electric town where you can find anything from electronics shops all the way to the famous "maid cafes."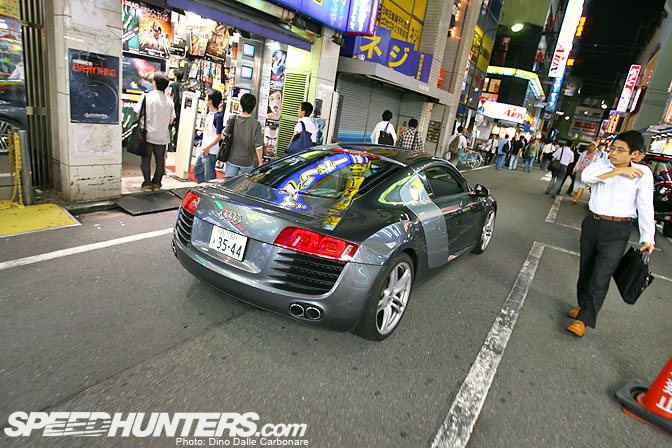 The R8 was getting as many looks as the foreigner driving it!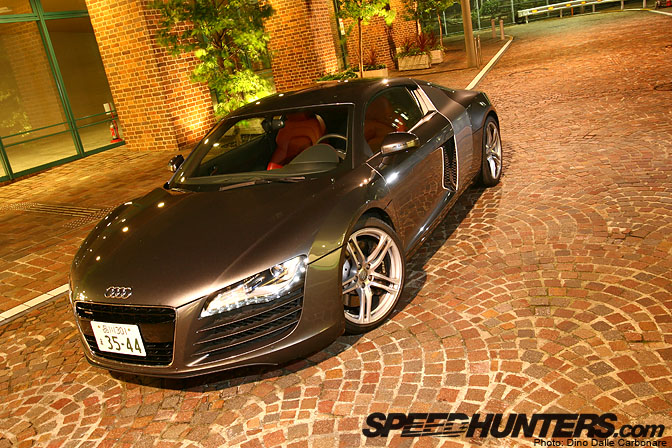 This is my favorite angle of the R8, it looks like an angry snake ready to bite and unleash its venom!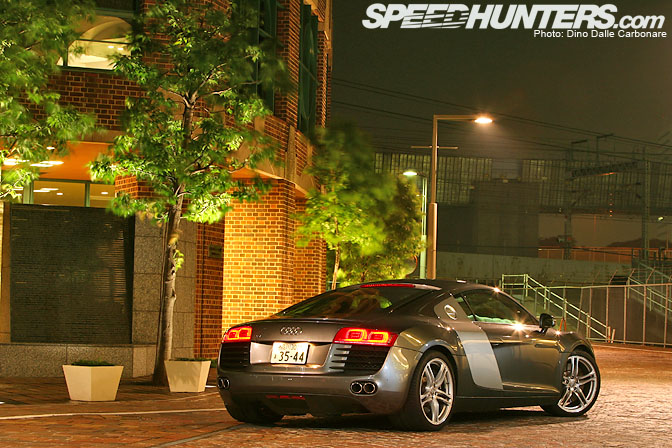 I found the perfect location for a quiet midnight shoot in a new business area of Shimbashi in central Tokyo. As you can see from the surroundings they tried to recreate an Italian "piazza" look with cobblestone streets and brick buildings.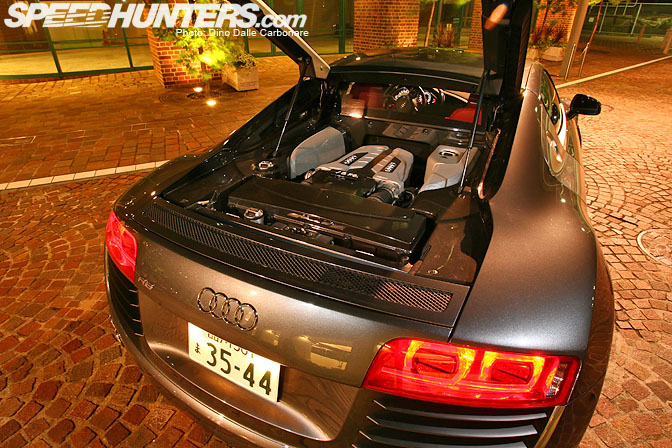 Behind your shoulders sits Audi's masterpiece, the 4.2 L FSI V8 that has also made an appearance in the venerable RS4. The figures speak for themselves, 420 PS at 7,800 rpm and 430 Nm available from 4,500 rpm all the way to 6,000 rpm. In practice it is actually even better than the numbers suggest because 90% of that torque is pretty much available throughout the rev range, making it extremely responsive. Put your foot down in any gear and the V8 rumble intensifies as the R8 shoots forward under acceleration. The sound is simply to die for, actually scratch that, it's not a sound it's a symphony! I absolutely adore this engine, the sound, the power, the relentless acceleration, there is simply nothing negative you can say about it except that it likes to drink high octane fuel at an alarming rate! It actually returns pretty good consumption figures when letting the cruise control do its thing, I saw up to 11.5 km/L average (trip computer) at one point. But around town it drops to around 3 km/L, but don't take this figure as an accurate indication as I was usually two gears lower than I should have been just to hear that V8 sing!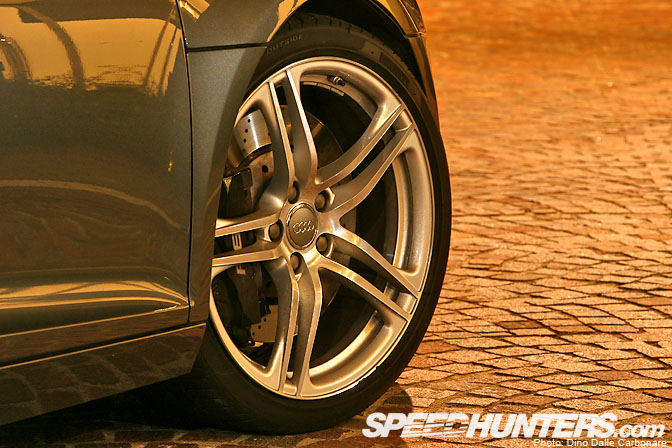 The 19-inch wheels sport a pretty simple design that reminds me of the Advan Model 5, and are shod with sticky Pirelli rubber that offers very high levels of grip, something that was proven when taking a few laps of the C1 highway that loops around Tokyo. Those massive 6-pot brakes do a great job of shedding speed off fast and without drama and offer great pedal feel, a first for Audi.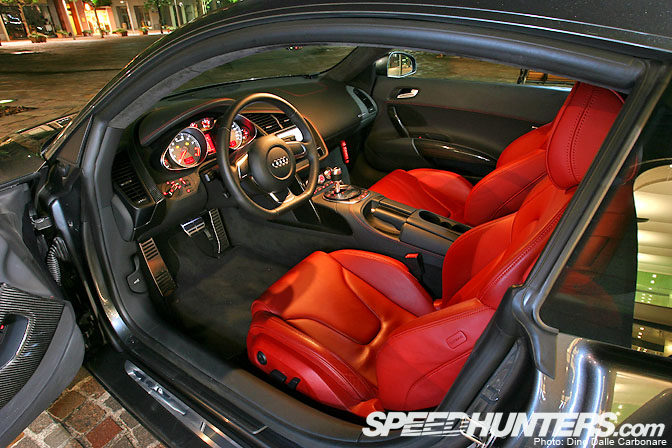 The interior is a very nice place to be in. The seats are very comfortable with plenty of electrical adjustments which allowed me to find a good driving position. The instrumentation has that typical smooth Audi design as does all the switchgear and commands. The build quality pretty much puts most car manufacturers to shame! As you can see from the picture the car I was given was fitted with the 6-speed R-tronic semi-automatic transmission. For me this was the only disappointment of the R8. After having driven over a dozen R35 GT-Rs, including the SpecV and a few tuned examples, the gearbox in the R8 simply feels dated. The shifts create an incredibly long pause in acceleration, which when short shifting through the gears can be pretty savage. With time you learn to back off as you change up, which does smooth the gear change out a little. In "Sport" mode the shifts are taken care of much quicker and it actually feels better, so I found myself driving around in manual mode with the sport setting engaged, giving me the most control over the gearbox and shifts. Flat out the gearbox works well, its smoother and faster but still nothing compared to a dual clutch transmission. Of course all of this headache can simply be avoided by opting for the good old fashion gear stick and clutch pedal!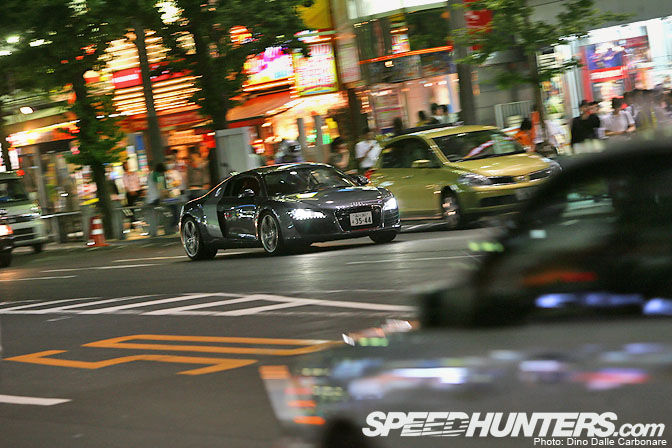 Back on the streets of Akihabara the R8 did a great job of fitting in, its futuristic design and techy LED lights blending in nicely with the surroundings.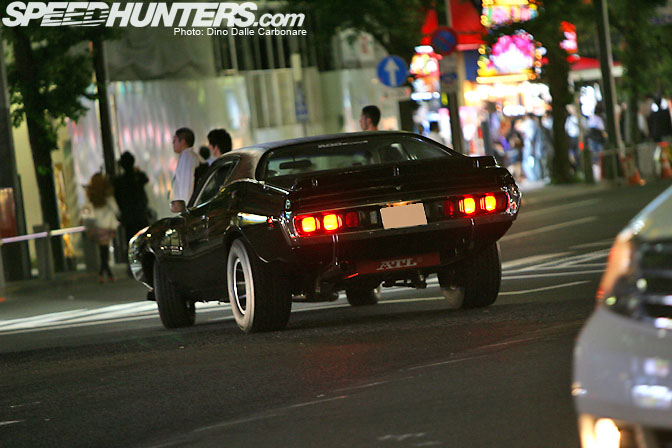 Akihabara is a really cool place as on top of all the shops and weird people there are always cool and interesting cars on the streets like this crazy muscle car…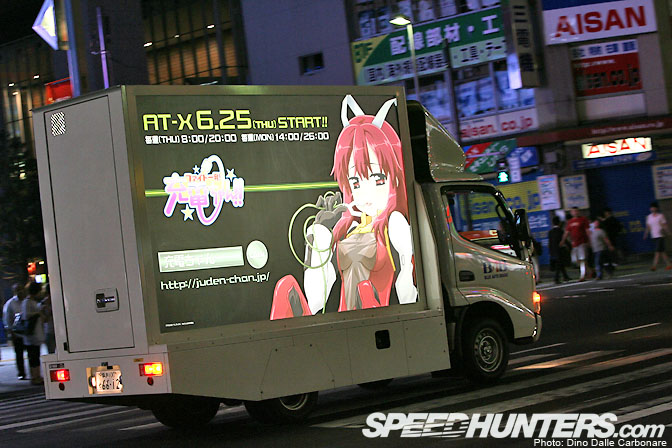 …or a mobile billboard for an upcoming anime movie!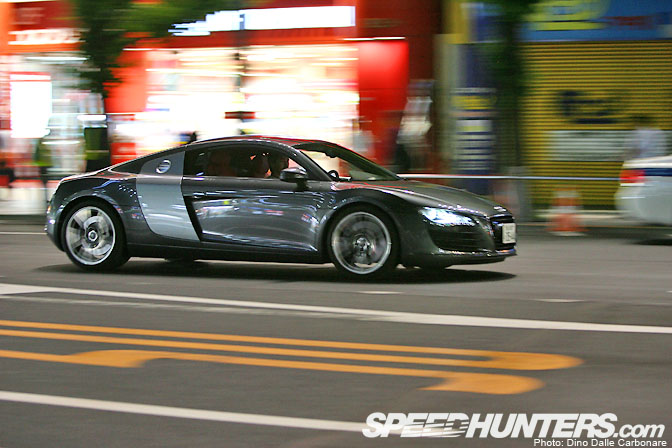 The R8 was a very comfortable car to ride around Tokyo in, the suspension handled even the worst road imperfections without drama. A tighter and more focused character was only a button press away as the "Audi magnetic ride" stiffened up the suspension. I'm usually used to driving heavy front engined sports cars like a GT-R so for me the light front end (44/56 front/rear weight distribution) did feel a bit weird. However there was plenty of bite and feel and not once did the car understeer on me.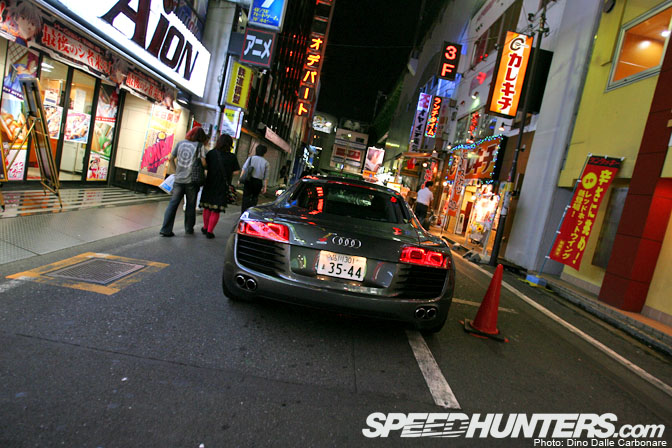 See what I mean when I say it fits in well!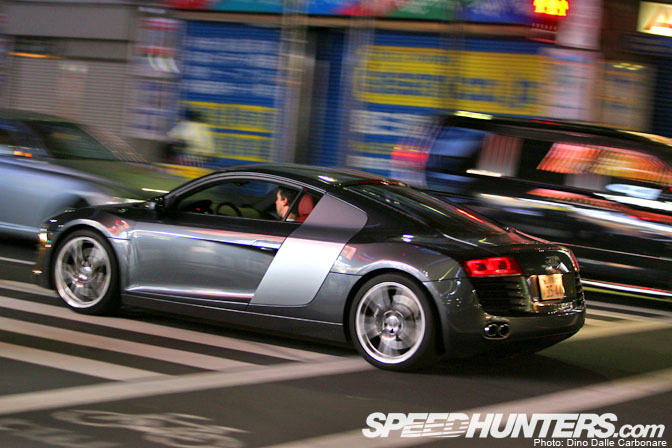 Those curious "side-blades" I just don't understand, sure it's different but I feel they interrupt the flowing profile. There are even carbon ones as an option.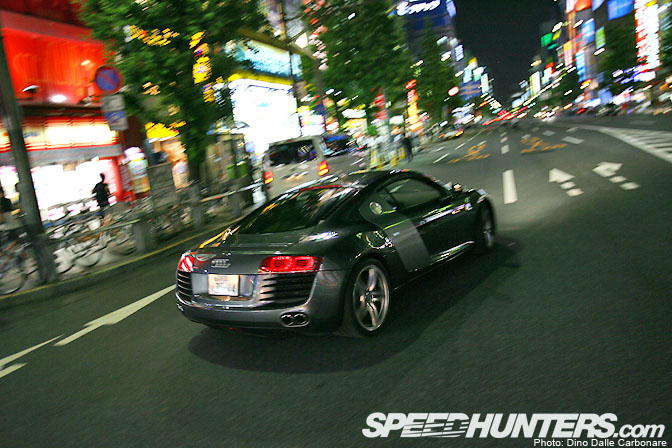 Driving slowly up and down the main Akihabara street sent the R8's oil temperature gauge to around 110ºC! You could literally cook an egg on any of the rear body work and hatch glass!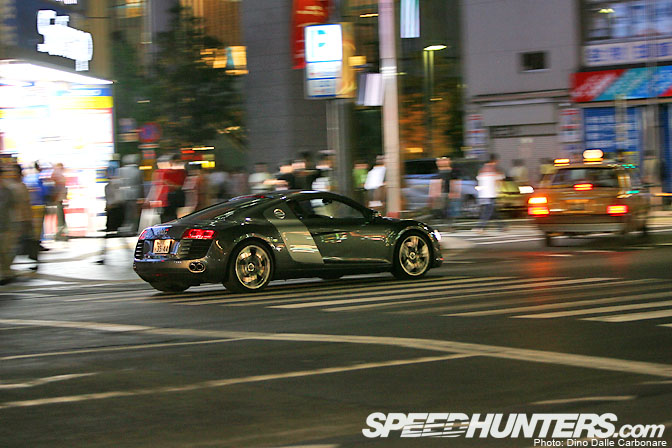 I had such a blast driving the R8, it went well beyond my expectations as I never thought it could be so easy to live with.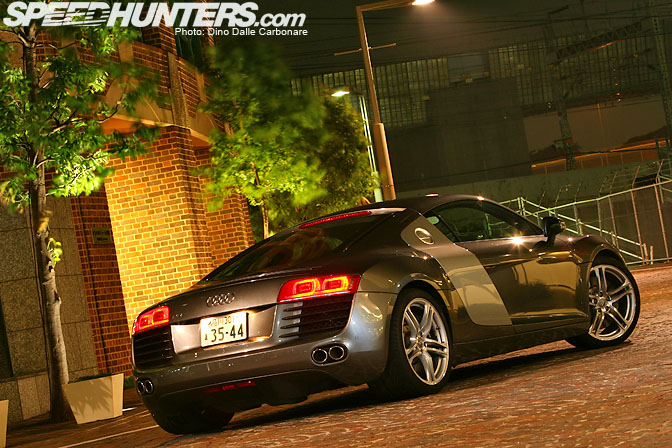 The Audi R8 showed me just how good supercars are getting these days, it was a pity I couldn't hit a race track with it to really dig deep into its handling and all-aluminium chassis. With the V10 model hitting dealers next month maybe I can get another chance!
- Dino Dalle Carbonare