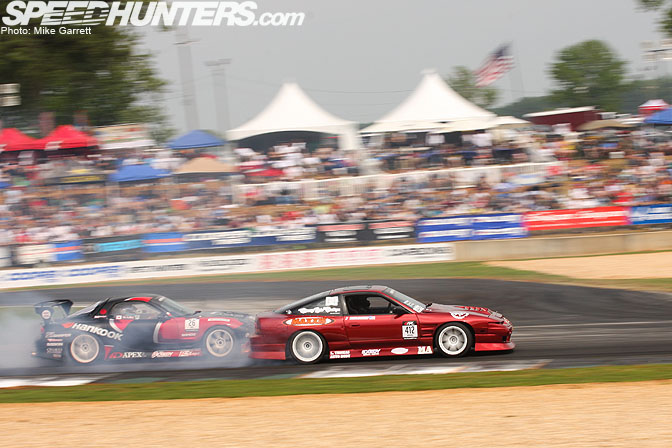 With all the VW-Audi stories I've been working on over the past week, I still have a bit of Formula Drift coverage that I need to post from last weekend at Road Atlanta. After reading some of the other blogs and forums out there some are calling this the best FD Atlanta ever or even the best Formula Drift event ever. Personally, I haven't been to enough FD events to make a claim like that, but last weekend's event was certainly exciting.
On that note, let's take a look at some of the battles from the Top 32 tandem competition.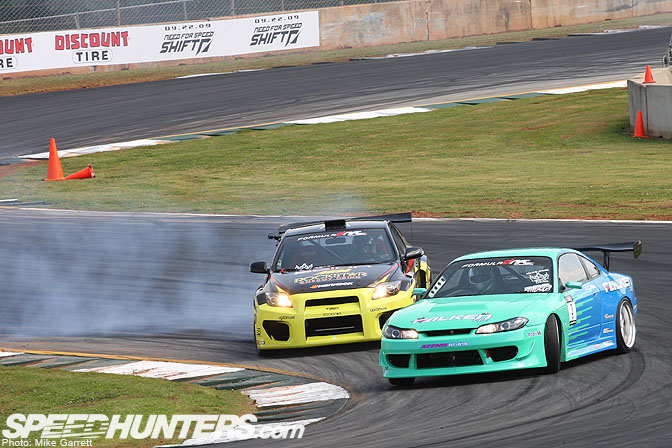 The first tandem match of the day was between number one qualifier Tanner Foust and number 32 qualifier Calvin Wan. There weren't any surprises here. Even though Calvin's broken spindle cost him some valuable seat time on Friday, he still did an admirable job running against Tanner. In the end Calvin and the S15 just couldn't match Tanner's speed and angle, especially in the horseshoe curve.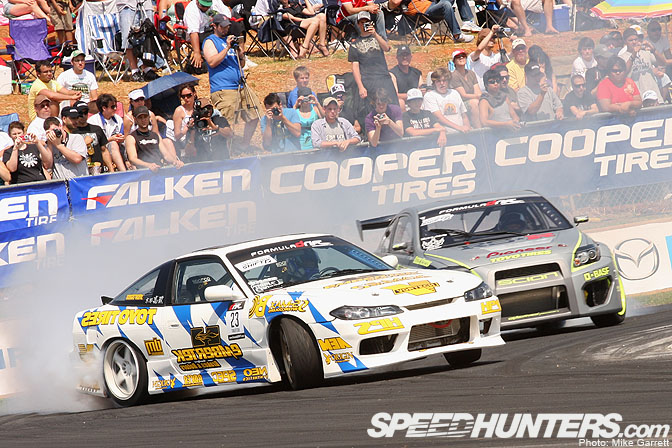 You've probably heard that Ken Gushi had a good run in Atlanta. That doesn't mean it was an easy one. Ken's first opponent was Michihiro Takatori in his S13, and this battle required a One More Time before it could be finished. Ken was able to advance when Takatori swung wide in horseshoe. The Atlanta course has some very fast sections, but Takatori was just one of many drivers who ran into problems in the slower, but tricky horseshoe area.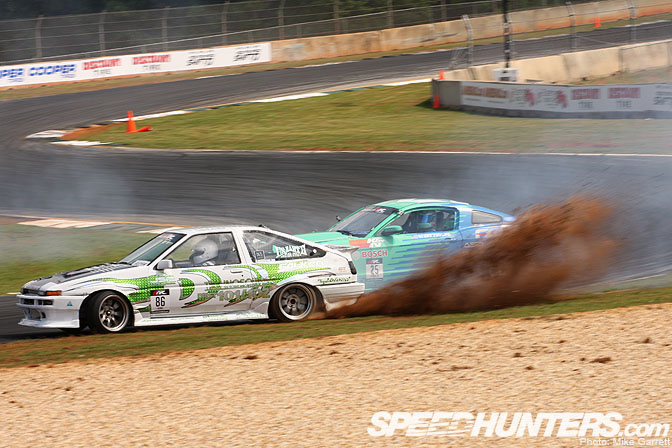 Next up was Taka Aono vs. Vaughn Gittin Jr – a battle of two equally aggressive drivers in totally different cars. It was pretty clear from the start that Taka wasn't going to be able challenge JR head-to-head, but at least he made up for it with some dramatic dirt drops. JR would move on to the Top 16.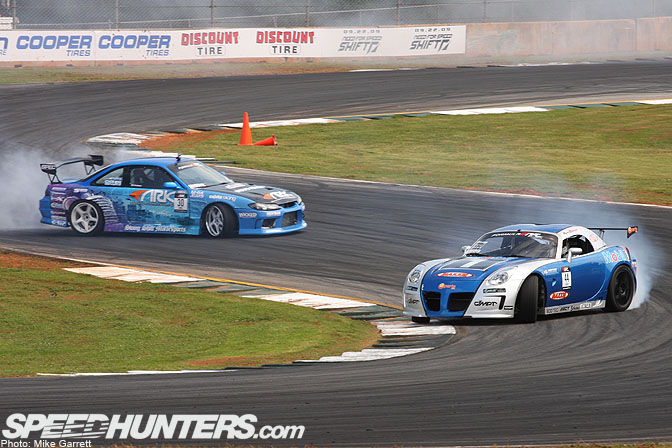 The next match was basically over before it started. Casper Canul developed a catastrophic engine problem during his match with Ryan Tuerck and retired during their first run. Unfortunately his S14 also dropped some oil on the track, creating a mess which took a few minutes for the track crew to clean up.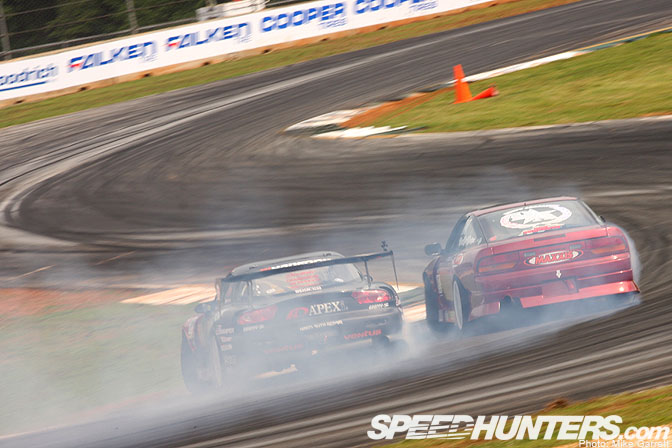 Once the action started again, Ryuji Miki faced privateer driver John Wagner. Wagner pretty much sealed his fate during the opening run when he swung wide into the dirt outside of the first corner, but their second run was much closer. The former D1 champ Miki would move on to the Best 16.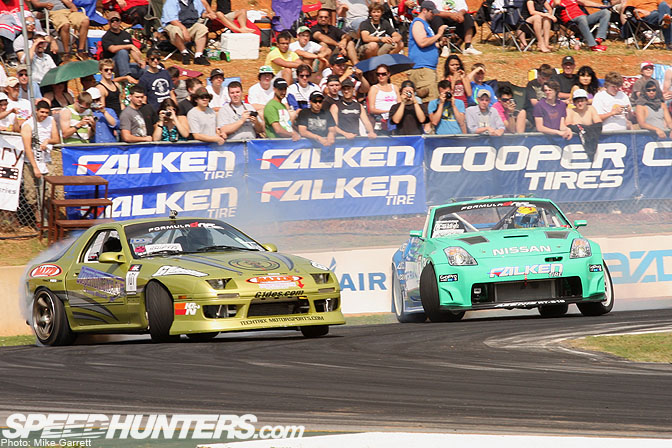 The next pair to take to the track was Tyler McQuarrie and Mike Essa. This was another match that would need a OMT to finish. During the first of their sudden death runs, Essa entered the first corner with too much angle and floated off the track into the dirt. Tyler advanced, but we saw some great driving here from Essa, who's a Formula D rookie.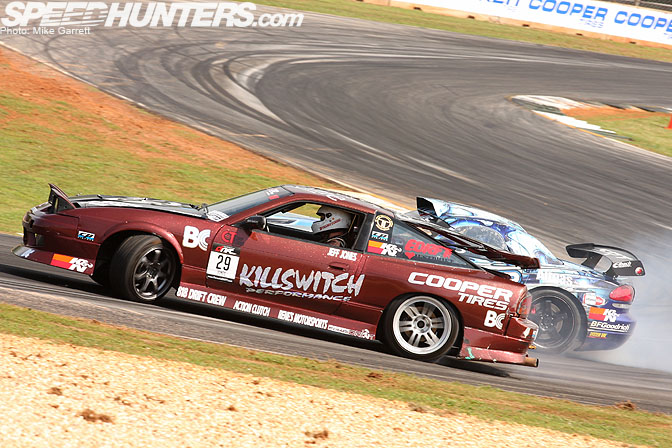 Sam Hubinette faced Jeff Jones in the next battle. Sam actually lost his drift for a moment when Jeff's rear hatch flew open in front of him, but the judges ruled in Sam's favor because the hatch should have been properly secured. The crowd was disappointed, but Sam was awarded the victory and moved to the Top 16.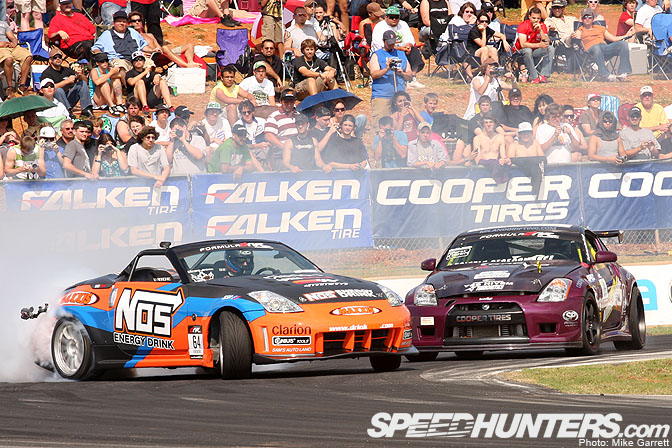 Chris Forsberg went against Chris Kregorian in the next match. There was really no compeititon here – Kregorian swung into the dirt on their first run and couldn't hold his drift during the second run. Forsberg moved on without breaking a sweat.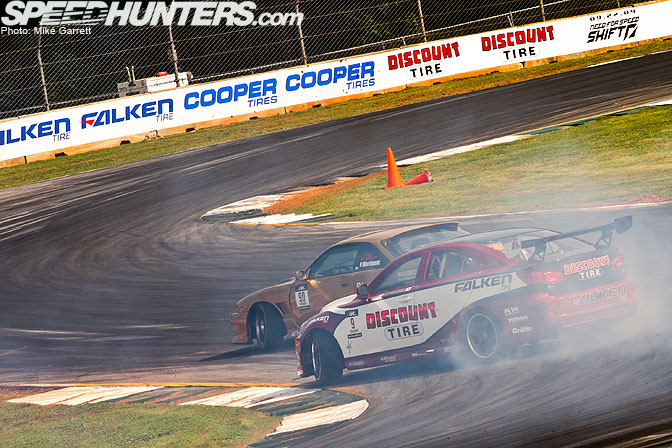 The next match was one the day's best – Daijiro Yoshihara vs. Pat Mordaunt. The battle was finally decided during their OMT run when Dai inadvertently cut into Pat's line around the horseshoe. Dai, who was the weekend's number two qualifier would be eliminated as Pat moved on to the Top 16.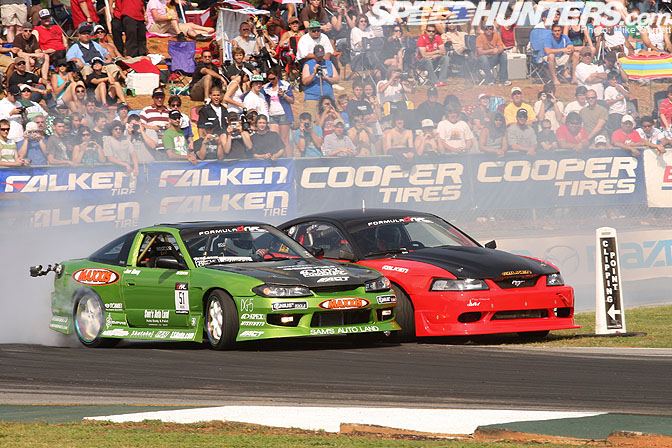 A similar thing happened in the next match between Joon Maeng and Doug VanDenBrink. Doug's Mustang was much too shallow when they pulled out of the horse shoe and he ended up taking over Joon's line, which forced Joon's S13 to spin. It obviously wasn't intentional, but it was more than enough for the judges to give the victory to Joon.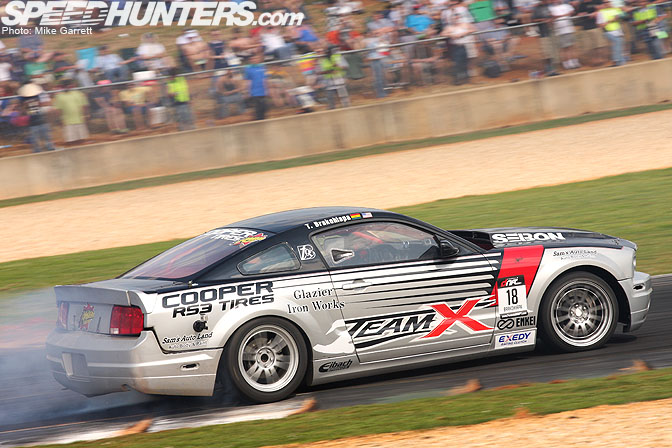 The next match turned into a solo run for Tony Brakohiapa when his opponent Stephan Verdier's WRX retired with a rear diff failure before they even came to the line.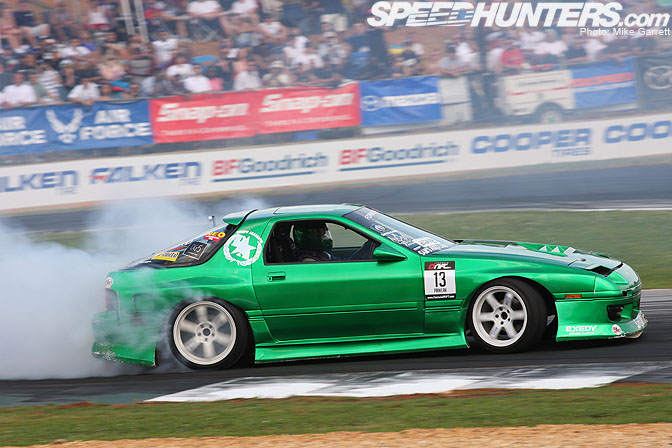 Next up was Justin Pawlak vs rookie Matt Waldin. Matt did his best against Pawlak, but a spin in the horse shoe handed the battle to JTP. As you can see, JTP's new RX8 was not yet ready for competition in Atlanta. Will we see it in Jersey?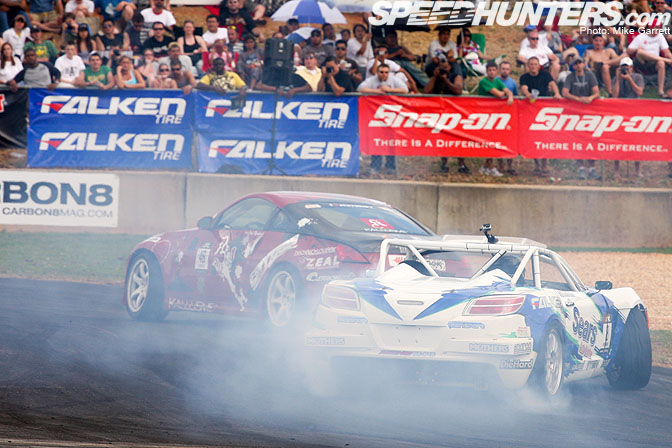 Carl Rydquist is certainly a driver to watch in Formula D this year. In practice his entries into the first corner looked as good as anyone else out there. It took a One More Time before he was eventually eliminated in his Top 32 match against Darren McNamara.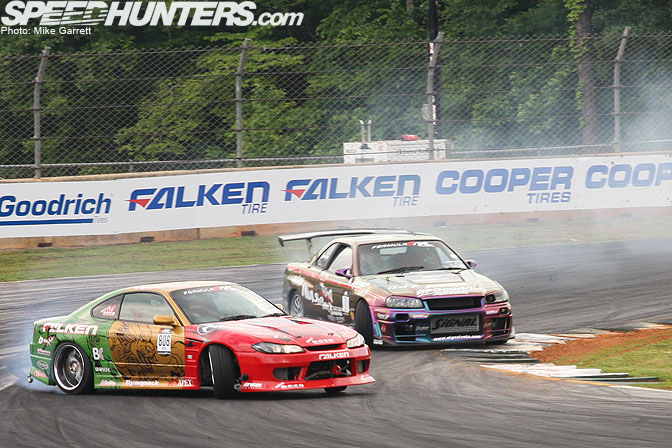 The battle between Ross Petty and Kenji Yamanaka was a good one, but Ross was the one earned the ticket to the Top 16. He did this by bringing a bit more angle then Kenji while leading and then by keeping his S15 stuck to Kenji's R34 like glue when he followed.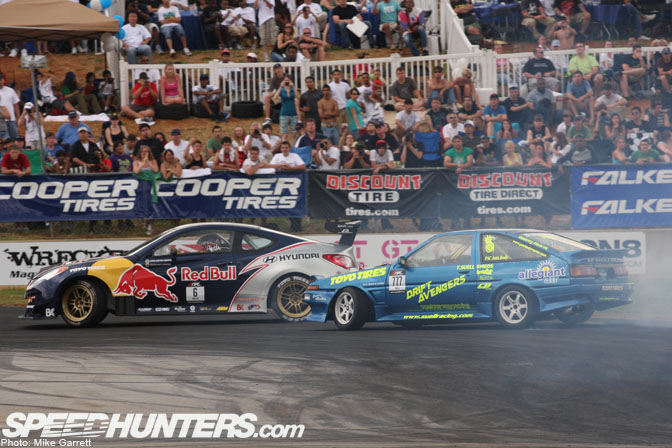 Tommy Suell had the potential for a big upset when he faced Rhys Millen and his Hyundai. However, all hope for the upset was gone after Tommy spun the AE86 near the horse shoe entrance. Rhys and the Genesis would move to the Top 16.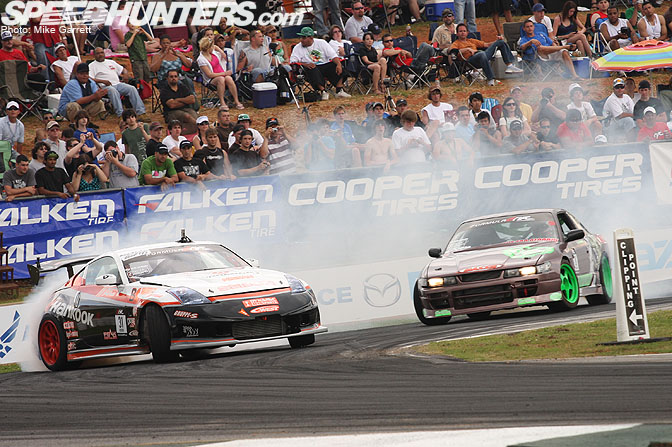 And rounding out the Top 32 was the match between Robbie Nishida and Brian Wilkerson. Brian ran well in his first FD event, but he just didn't have the speed or angle here to match Robbie's Z.
Next time we'll look at rest of the tandem action from FD Atlanta.
-Mike Garrett