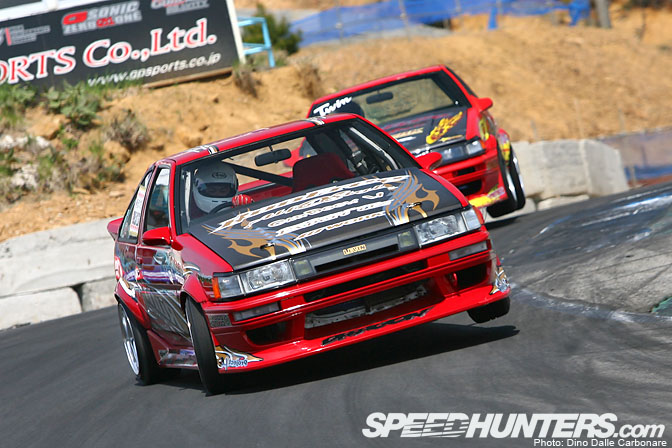 As a final installment from Ebisu and the crazy Spring Drift Matsuri I have chosen some of my favorite shots I got during the week-end. Remember these two Run Free hachiroku's sitting quietly in the pits in Part 2? Well here they are catching some air at Minami, dropping down sideways onto the pit straight.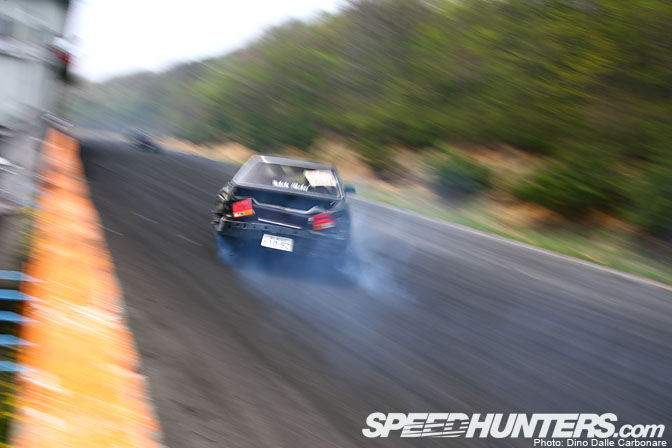 I found myself returning back up to "Kita" countless times, as the little course was just jam packed with cars throughout the day. Check out this ride as it blasts past the wall on the straight completely crossed up. The rear end is all mangled up from a bit of an impact, can anyone guess what car it is?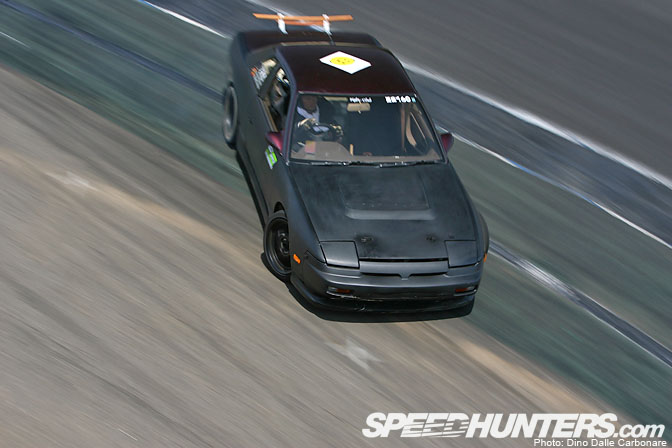 This is the car Drift Samurai should be driving. Take a look at the katana spoiler! Quite original to say the least.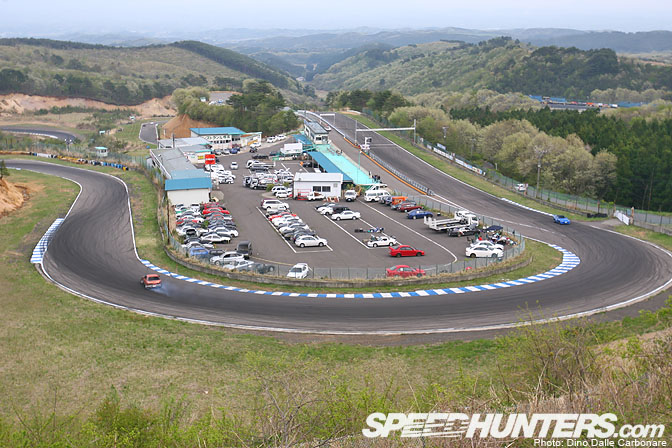 While waiting for brave people to go up on the Touge course I sat down and admired the wide open view of the Higashi course.  This is the biggest circuit at Ebisu, mainly used for grip, bike races as well as the some endurance events. I personally love this track, short, sweet and pretty technical. For fans of all things JDM you might have seen it in some Hot Version DVD's, Tsuchiya and the team are out there regularly testing tuner demo cars.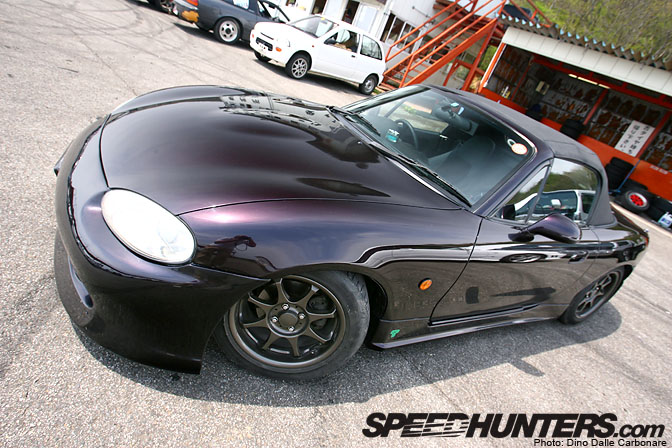 I kept bumping into this little Miata but never managed to see it out on track!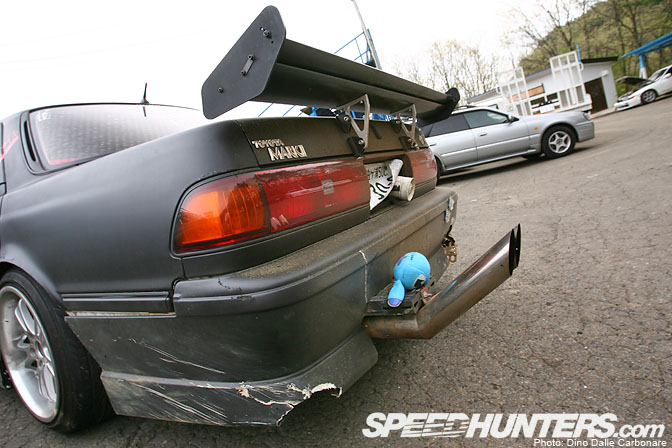 Bosozoku style meets drift! Apart from those massive drain-pipe exhausts this MarkII was looking pretty standard in the engine bay, proving once again that you really don't need much to enjoy a bit of drifting. Little suicidal furry toys are optional.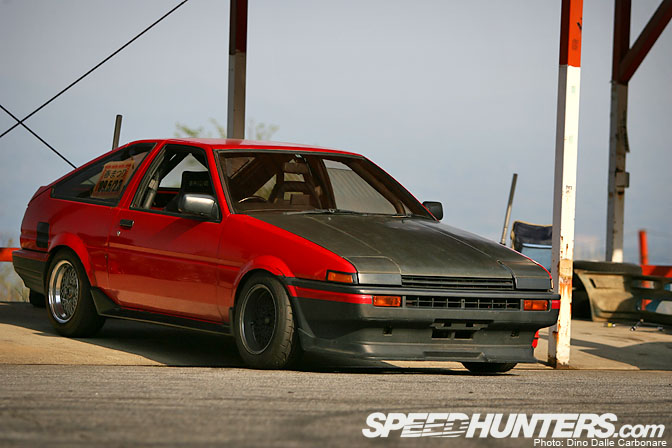 If pictures like this don't get your juices flowing than you just don't get it. Simple yet extremely purposeful is how I would describe this black on red AE86. Advan Neova's on the front for good grip and garbage rubber at the back for a slippery rear end.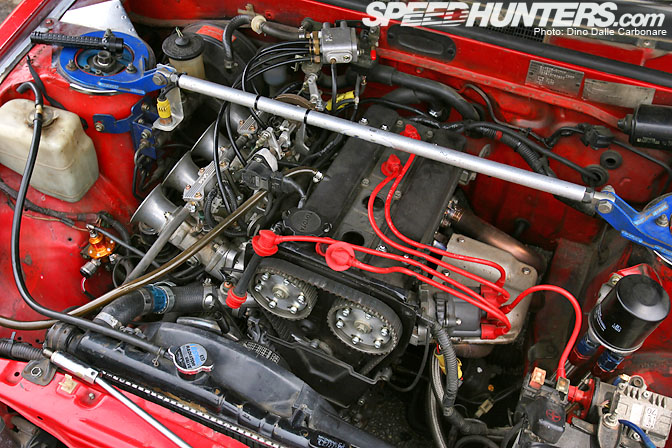 This is what it was running under the hood. You can just imagine how it screamed out on track with those open trumpets and race headers!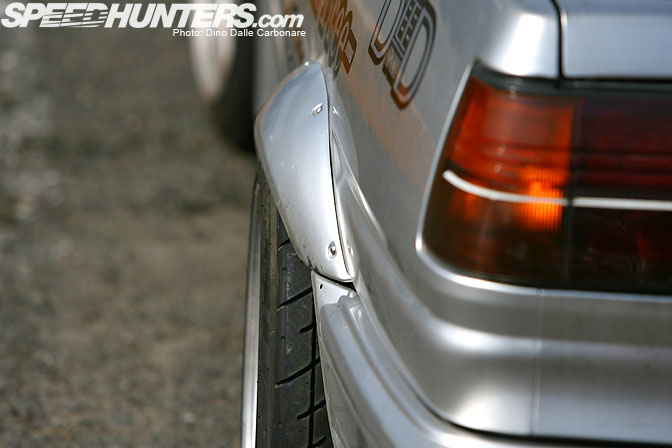 I've noticed that most people here at Speedhunters appreciate an aggressive offset, so thought I'd post this pic, again from an AE86. Neova's at the rear, probably set up for grip!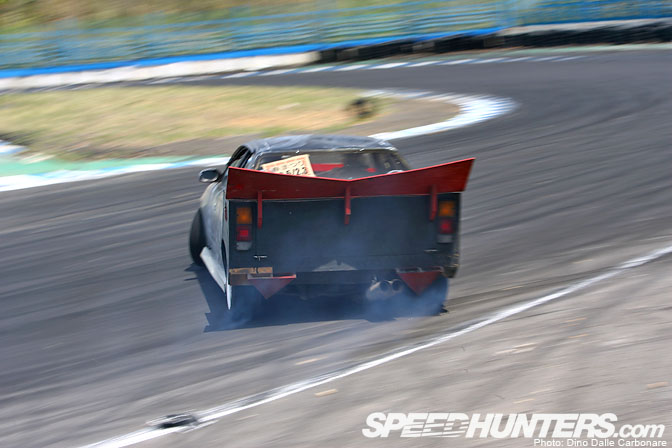 I already showed you guys a picture of this contraption based on an old MarkII, but realized that without a rear view you really can't get the full effect!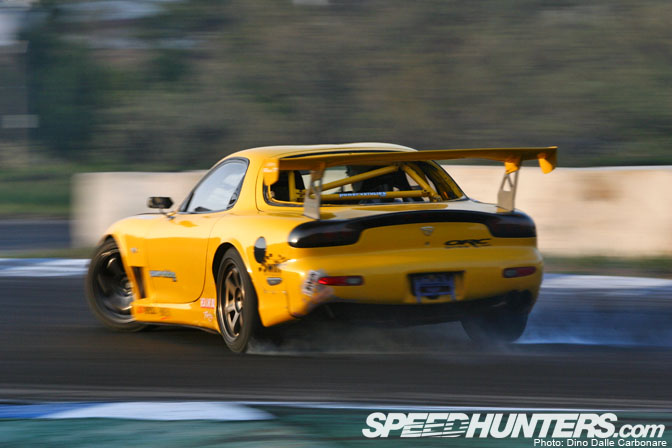 Andy of Powervehicles.com was out briefly at Nishi and Minami on Saturday after spending half a day trying to get up to Ebisu. Golden Week traffic was really bad for everyone. Not wanting to risk getting his immaculate JZX100 ruined before the D1 Divisional in Mobara, he showed up with his yellow FD, a car I personally hadn't seen in action for about 2 years. The RX7 however suffered some small problems meaning he didn't enjoy it as much as he could have.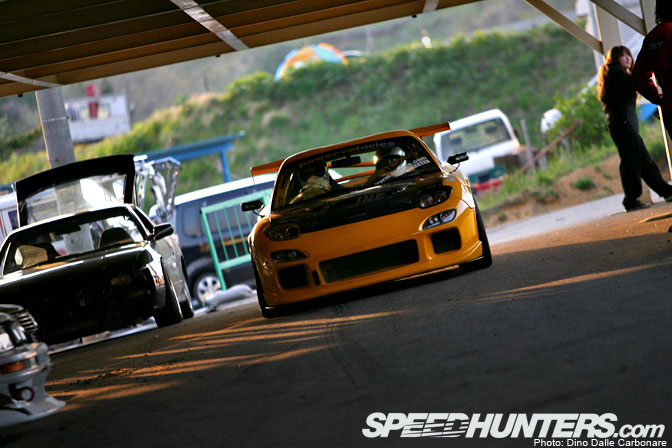 The FD looked so mean driving through the covered pits at Minami.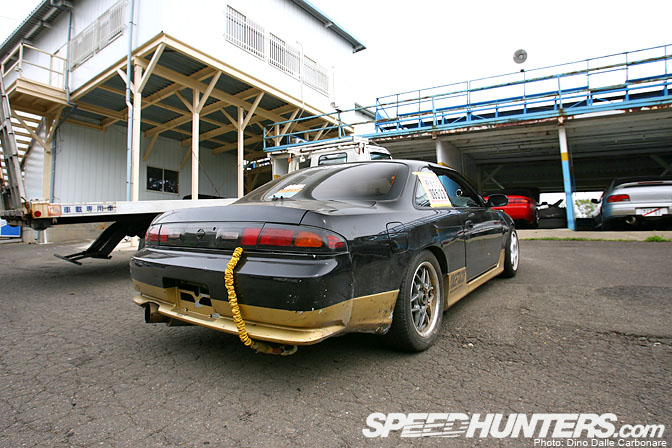 I found this S14 quite funny, it was drifting around all week-end with a tow-rope already connected to the rear hook. Dedicated tow-car!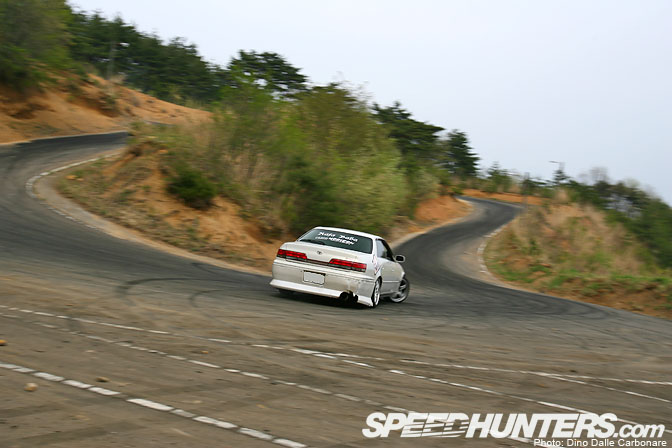 The Touge course at Ebisu is quite imposing. I think drifters must look at it like skiers and snowboarders look down an extreme slope. It's tight, unforgiving and extremely technical and should only be attempted if one is very confident of his/her's skills. This JZX100 seemed to be dong a good job, at least in the main hairpin bend in front of the entrance.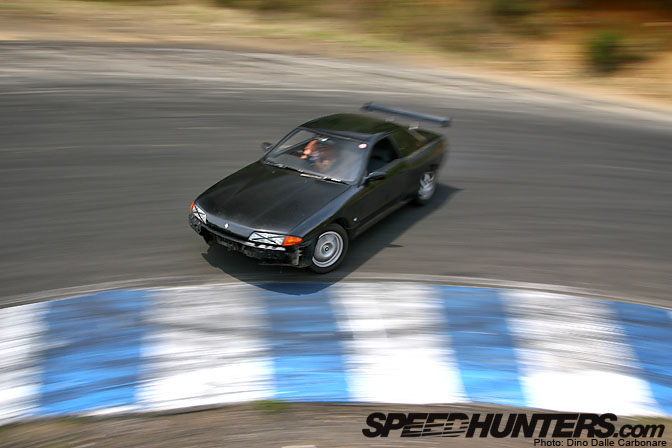 Here is the crazy Aussie Adam again, getting his feet wet at Kita. He seemed to be nailing his entrance and exit very well on the first corner and as a total newbie improved rather well over the week-end.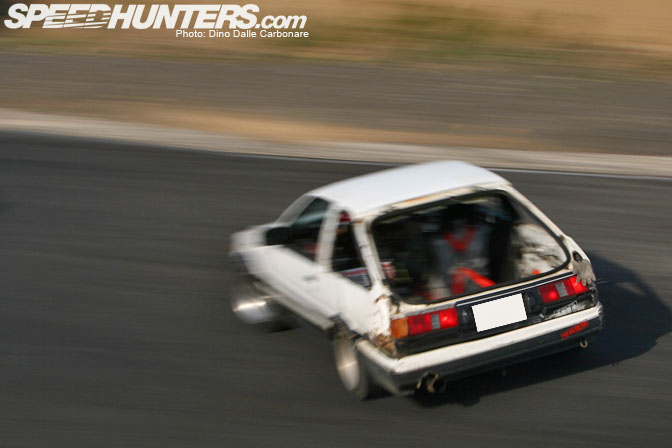 This is Goto-san, a hachiroku driver which seems to have a reputation as one of the best out there. He was always drifting in tandem with his crew, all driving AE86 and older generation Corollas. I spotted the rear hatch in his pit at Nishi, he must have removed it to keep the rear lighter, or for improved ventilation!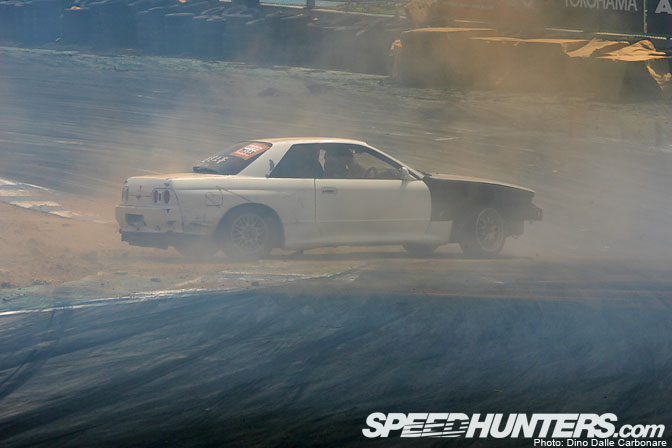 Back at Minami things began to intensify towards the end of Sunday afternoon. Drivers were pushing harder and harder while those behind the missile cars decided it was time to go full out.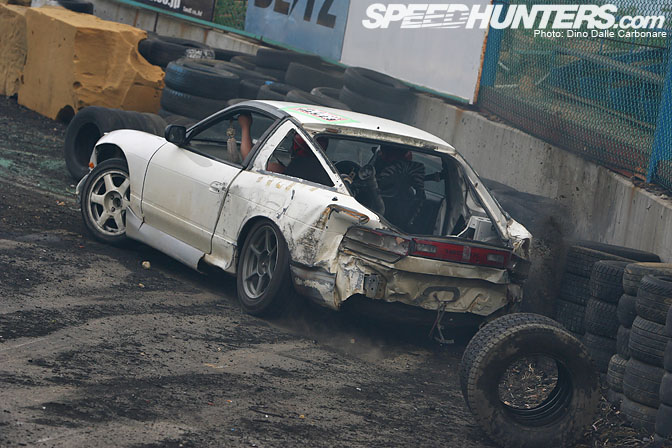 I decided to follow the final moments of a rather unfortunate RPS13, which had already seen some pretty heavy impacts with various walls and tire barriers. In fact this is the car in the wallpaper I posted earlier this week.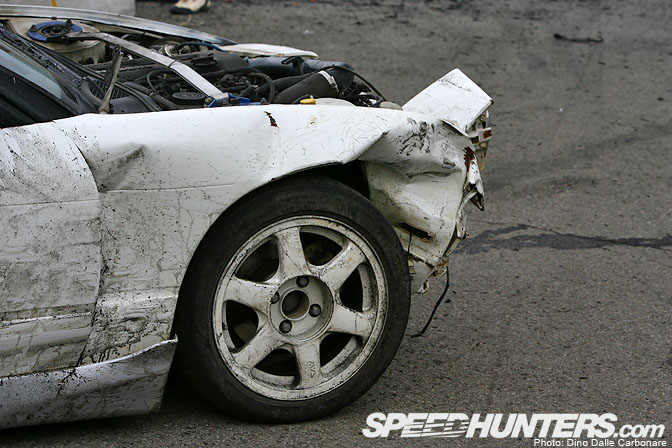 After a rather big crash the driver stepped out, suffering for a bit of a sore neck. The front end was barely recognizable and I was pretty impressed it could still actually function!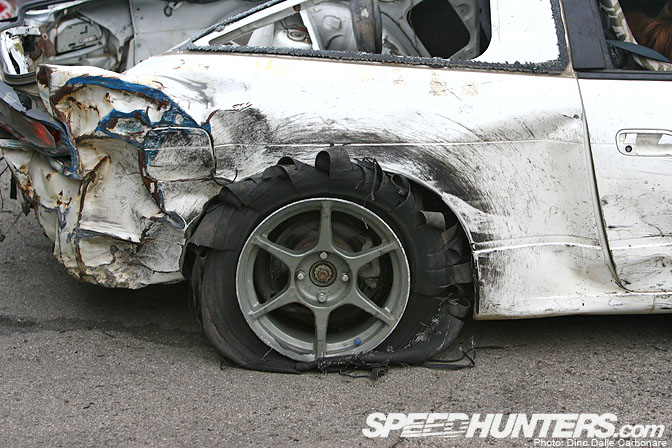 After a few more laps one of the rear tires burst, but that didn't stop the driver who just kept going. By the time he came back into the pits things were looking very bad.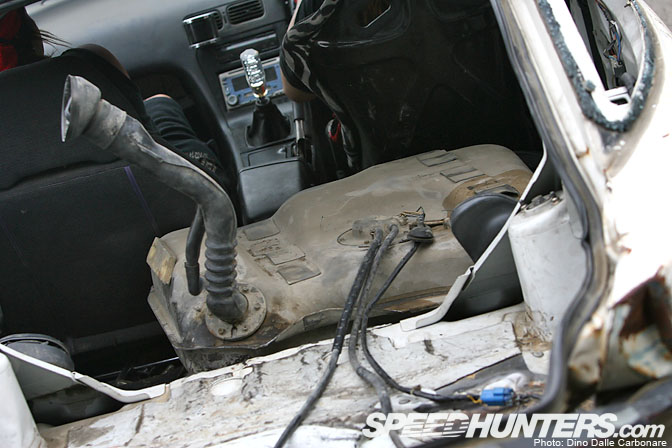 A major rear impact the earlier in the day meant the fuel tank could not really fit in its original position. That was no problem, it was simply thrown behind the front seats! You can see the fuel lines and power cable for the pump are still attached. "Dodgy" is a word that springs to mind!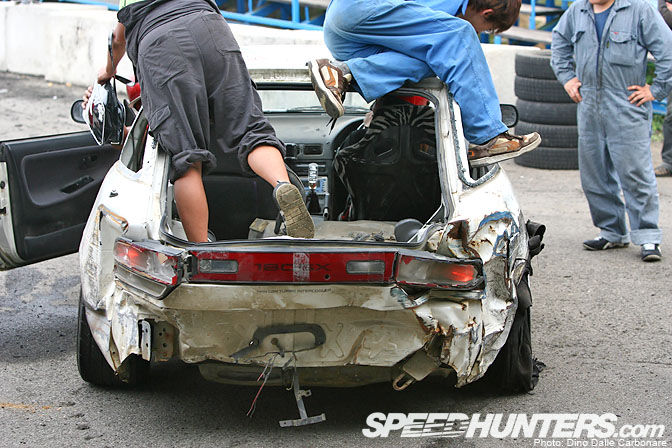 Despite the serious damage the car was actually driven away with about 4 people on board! The rear end had been so deformed it looked more like the back of a Porsche 928! That is about it from the Drift Matsuri, but for all you drift fans out there stay tuned for more slipping and sliding from the D1 Divisional in Mobara.
- Dino Dalle Carbonare