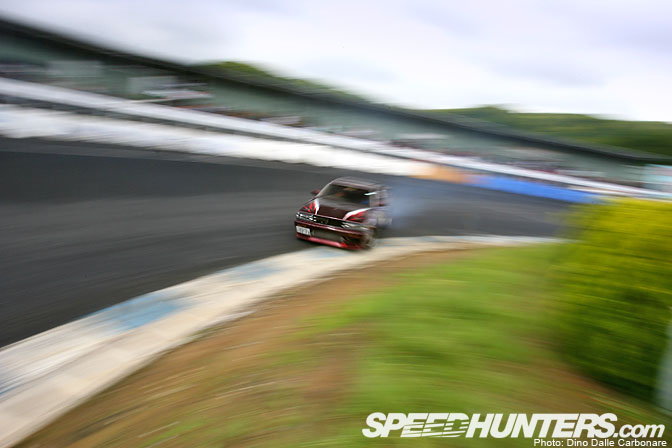 A couple of days before I got a call from Rod telling me I had to meet up with him in Italy for a last minute Speedhunting trip, I was getting soaked in Mobara. The event? D1 Divisional, where aspiring drifters compete to get the sought after points needed to certify for a D1 Street Legal license.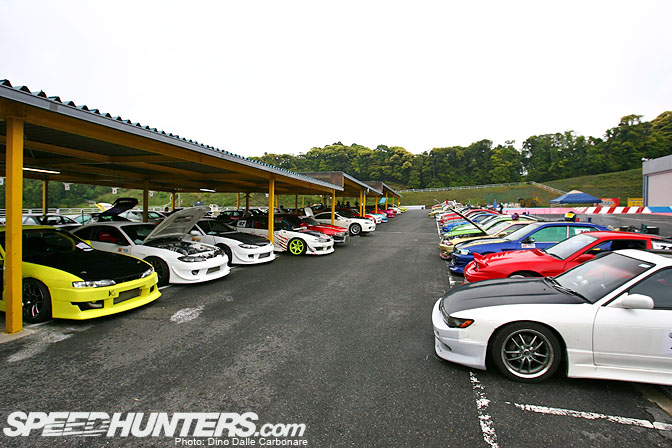 For me these are the events that best represent the whole drift culture in Japan. The atmosphere is so chilled out, everyone is out to have fun and try their best to get those ever important points.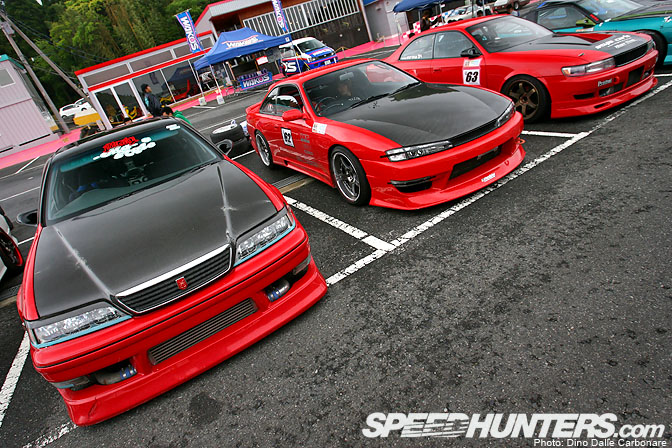 With a turnout of around 70 cars this was going to be a great day of drifting. And a quick walk around the paddock at Mobara revealed some pretty mean machines, like this red triplet here.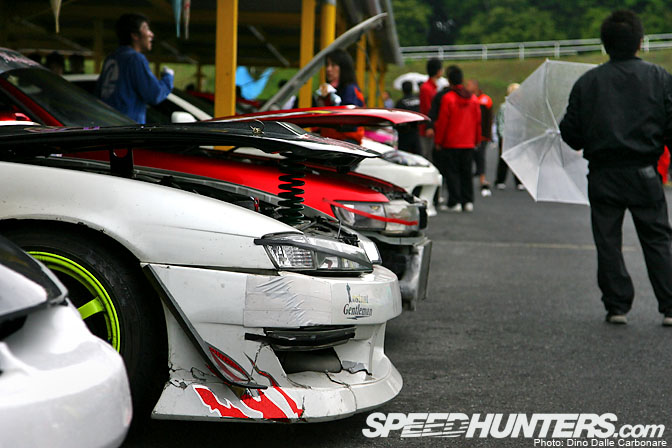 Here is a novel idea for keeping your hood propped open! Might need a slightly taller spring if you need to work under there though!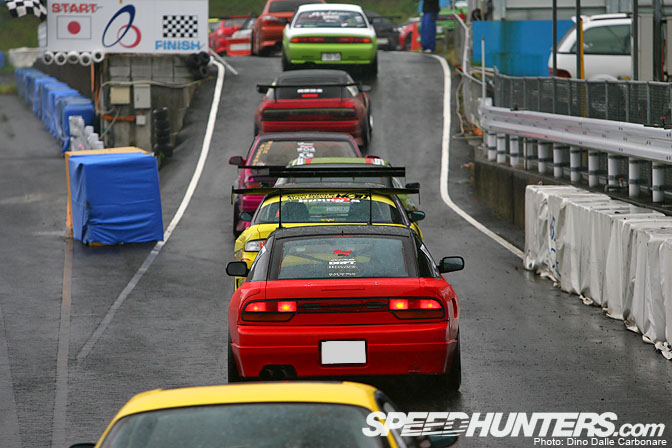 The weather was far from cooperative on the day with rainfall pretty much beginning once the first group of cars hit the track.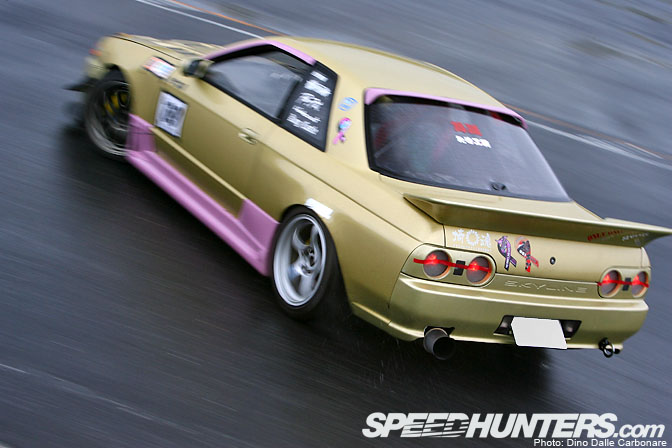 But nobody was complaining as the extra slippery conditions called for some pretty cool action. Check out this gold/pink GTS-t sliding around on the wet tarmac,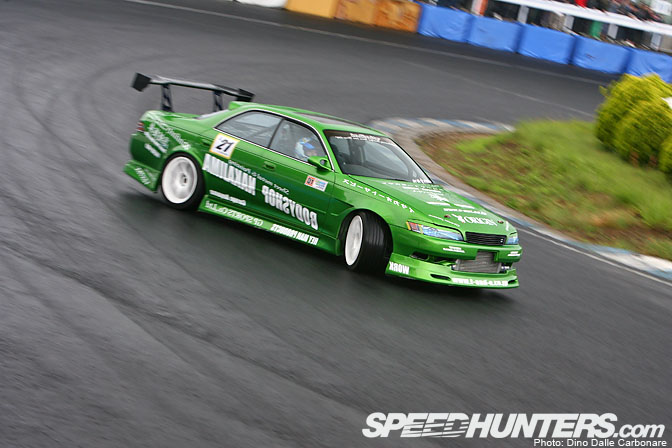 I was very impressed at the quality and level of mechanical and aesthetic tuning most of the cars were sporting. This Nakajima JZX90 looked good enough to compete in D1-GP!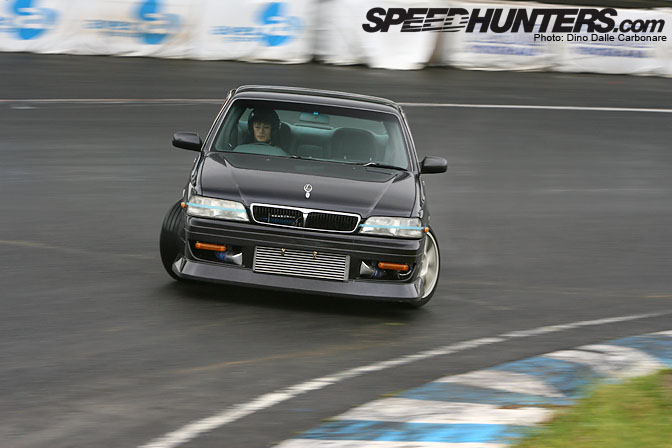 Everything is so stress free at Mobara, I was allowed to move around, trying different shooting locations as well as getting down by the inside of the corner, right where most cars were clipping the apex.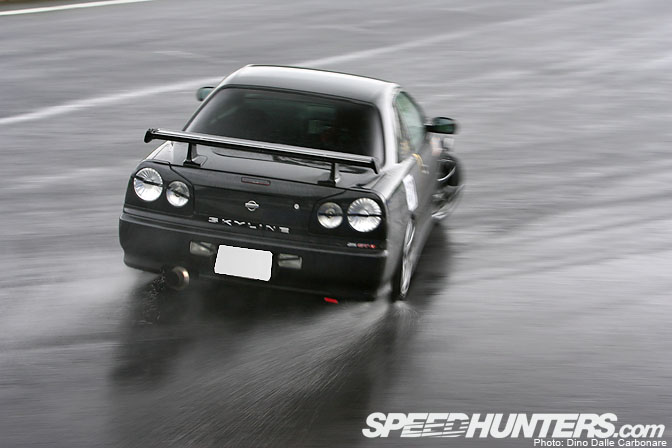 This ER34 GT-t was on top form getting some wild angles on the corner exit, but things would end up very messy for it later on in the day.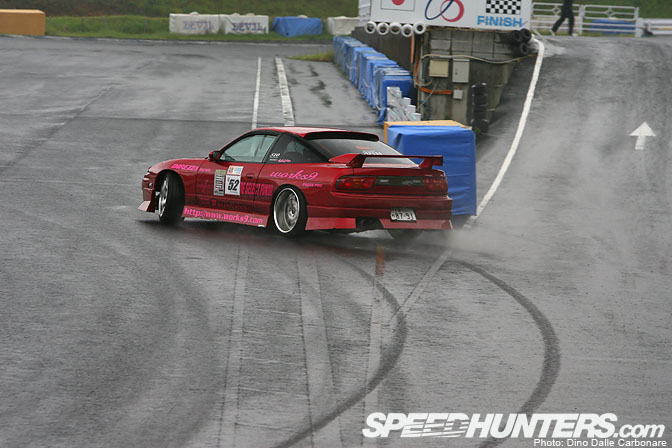 It looked like every car was going straight for a collision with the pit wall from where I was standing!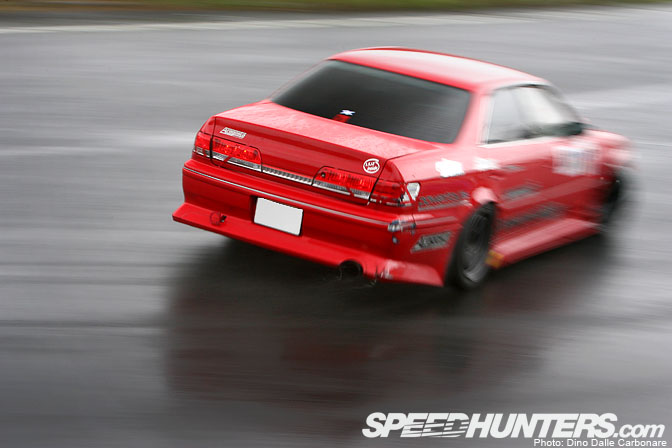 Andy from Powervehicles put on a great show, manhandling that overpowered JZX100 of his around the main judged corner.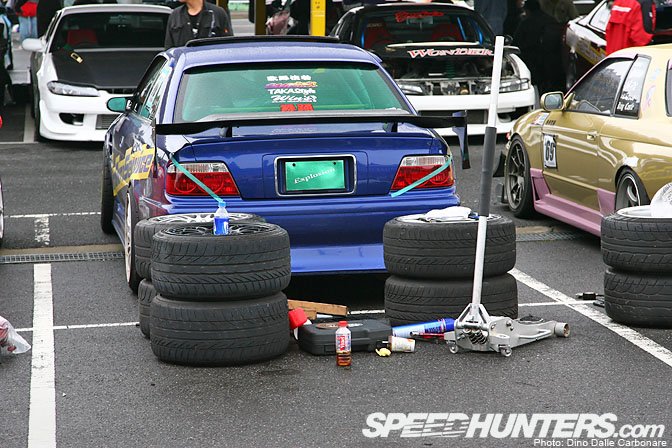 No point showing up at a D1 Divisional event without plenty of rubber. Notice how this Chaser has a set of sticky Bridgestone Potenza RE-01R for the front and some regular trires for there rear. The gold Skyline was running Advan Neovas up front.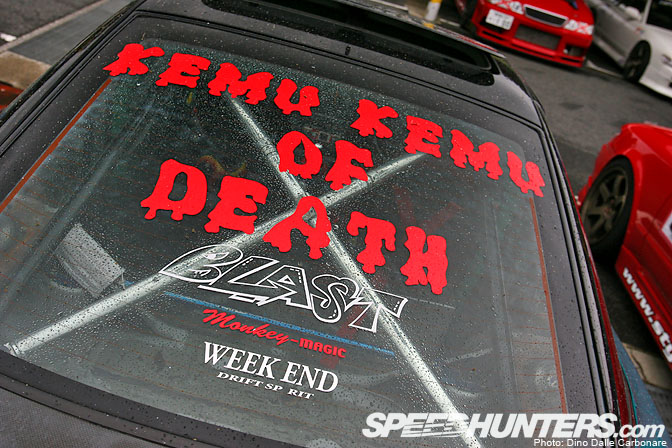 I love checking out all the wild team names, "Kemu" means smoke so you can imagine what the is hinting at!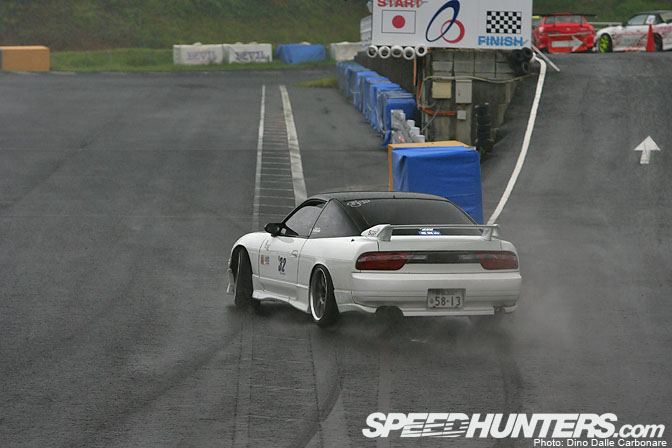 An imminent crash? Not quite, but this 180SX is the one that got the closest! After spending the previous week-end at the Drift Matsuri in Ebisu I was craving for more wall hits LOL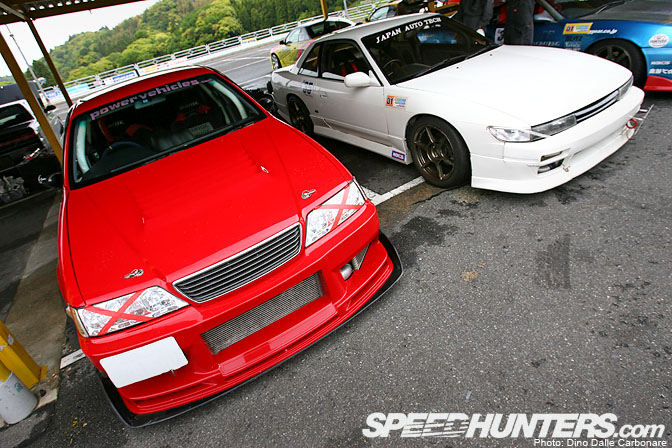 Here is Andy's MarkII, we will have to do a feature on this car as it's one of the cleanest rides in the pro-drift circuit. In his following outing at Honjo Andy ended up blowing the gearbox, something that happens often for him! At this level, even transmissions start to become consumables.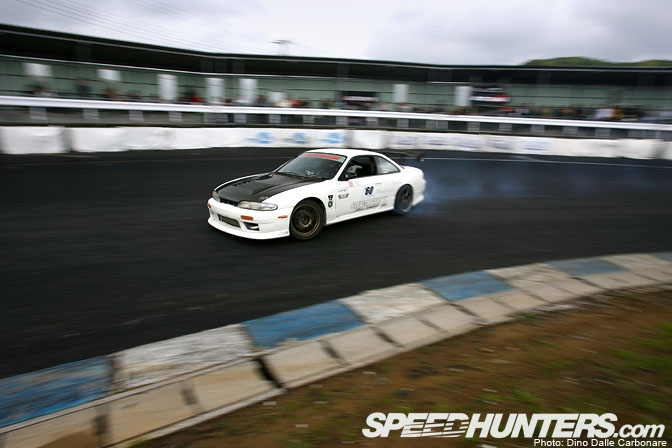 A little bit after lunch time, the rain miraculously stopped and the track began to slowly dry, giving us the first glimpse of smoke!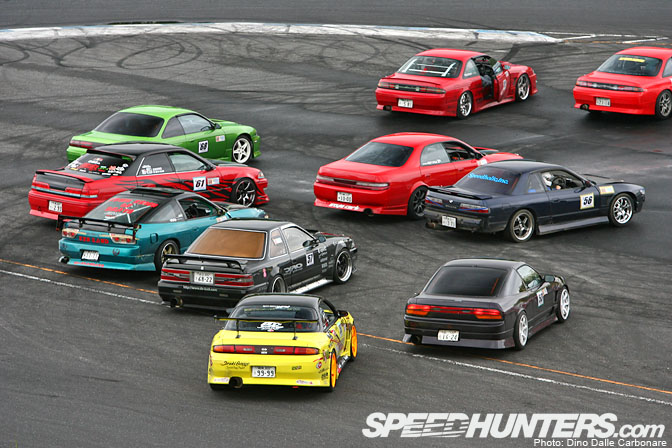 This is the final round of qualifiers, who ever made this would go through to the Best 16.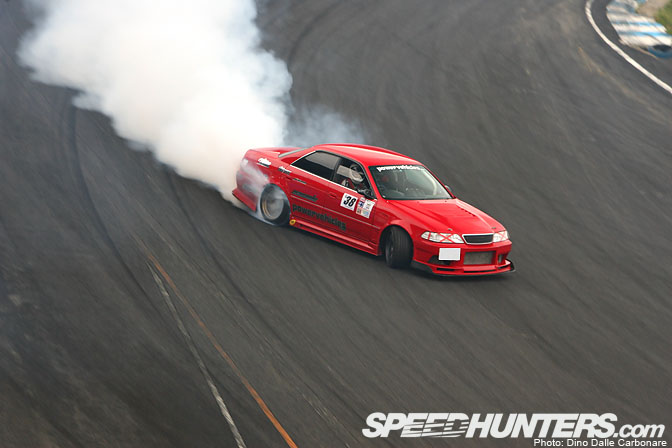 Andy took advantage of the dry tarmac tapping into all his 600+ horses. He put in a series of perfect runs with tons of smoke but it didn't get him anywhere as the judges didn't think his line was good. Better luck next time as they say.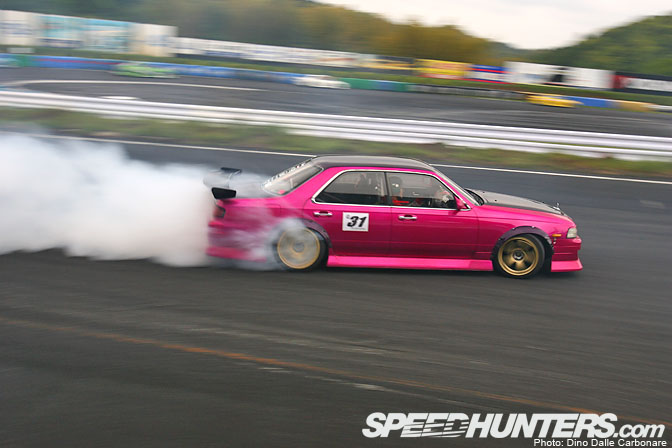 The tire shredding continued!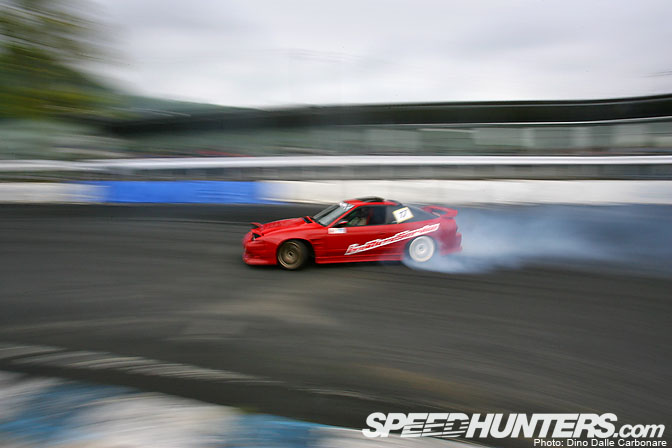 As I moved back into the center of the track the rain began to fall, giving way to slippery conditions once again.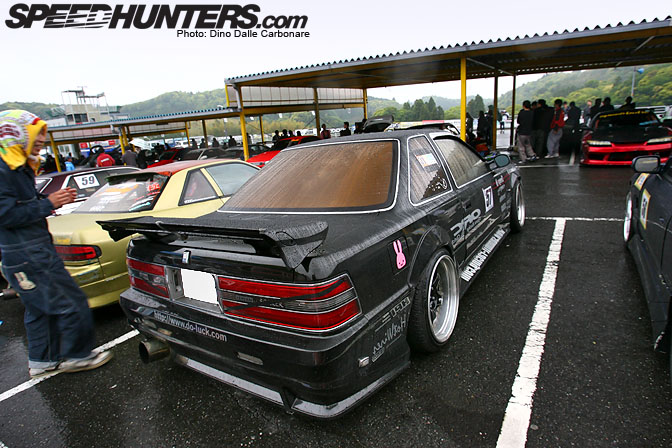 Before the Best 16 got under way I took another look around the paddock and spotted this Do-luck kitted MZ20 Soarer, one of my favorite cars of the day.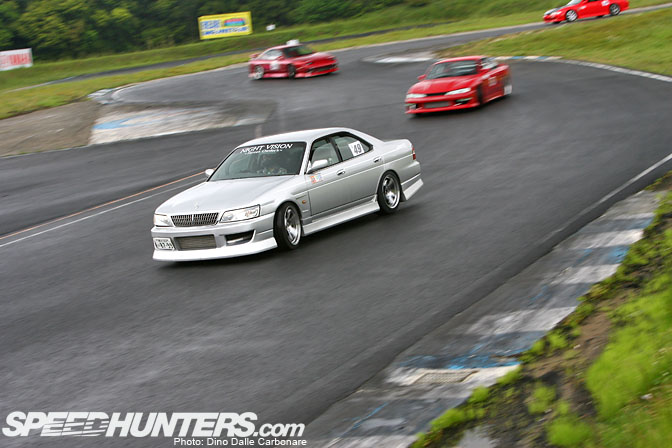 There is a lot more to come from this very wet Mobara D1 DIvisional, so make sure you don't miss the next posts!
- Dino Dalle Carbonare