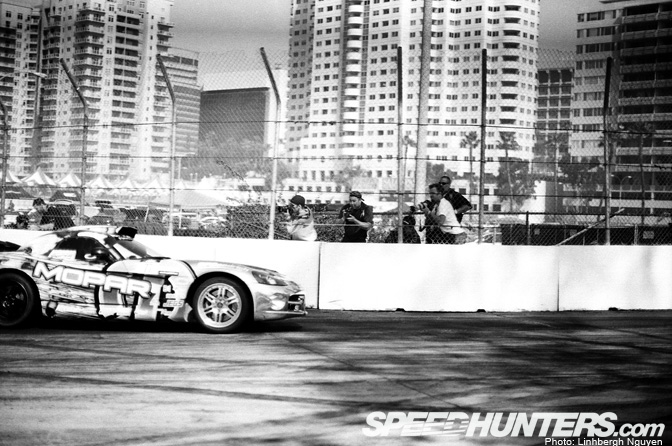 Take a moment to glance at this photo a little bit longer than you normally would have. Did you grip that mice a bit tighter? Or, did this photo somehow give you that edge-of-your-seat feeling? This photo holds a sense of absolute tension and drama. However, the drama does not originate from the MOPAR Viper, but instead from the photographers. Notice their body language. They've been anticipating the car to pass and this is the exact moment of release or, for some, at the apex of taking their shot. This is the power that photographs have over any
written word.
All these shots, in this second installment of
the Art of Formula D Long Beach, were taken with a 35mm camera and
black and white film. There has been no post processing of any sort
with these shots. Any post work would take away from the magic that
film holds.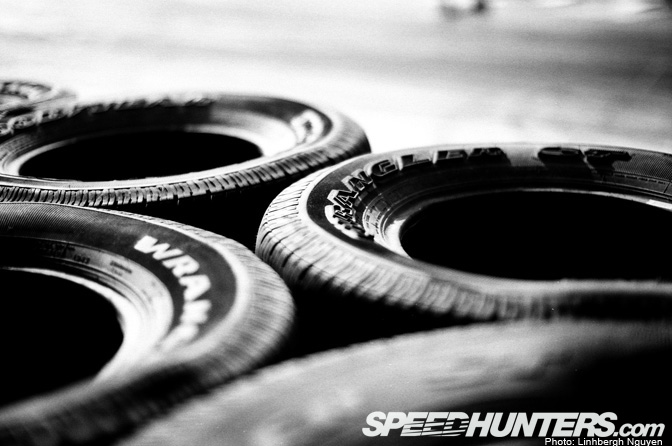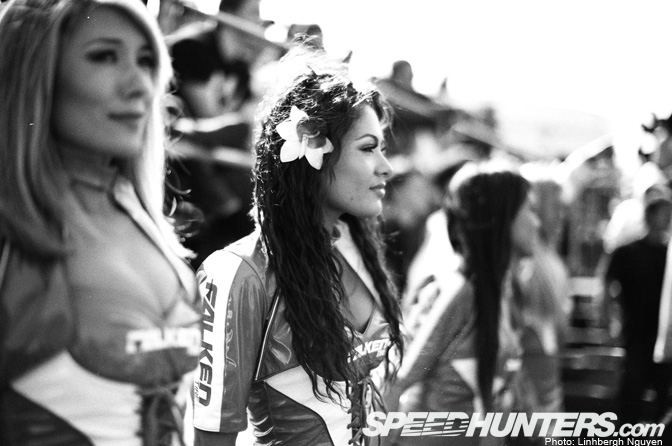 The magic is produced by a film camera is intangible and nearly
indescribable. These Falken girls would look completely different (mass
produced even) on a digital, but on a film camera and at the right
moment, they look exceptionally elegant, classy, and loving that exact
moment in time.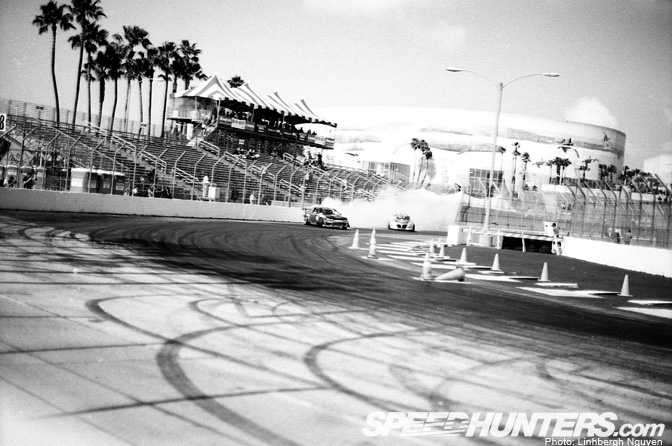 There's something raw and completely gonzo about this photo. The drama
in the above image is on the two main characters on stage, and
everything else around it are just spectators to this opera. Take a
moment to take in the next two images, put on your favorite tune and
just sit back and stare. The photos somehow leap from the screen and
become alive in your mind –that is the intangibility that I have been
speaking of.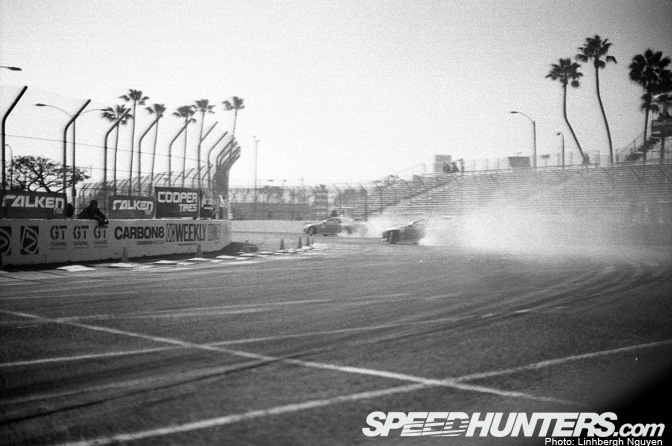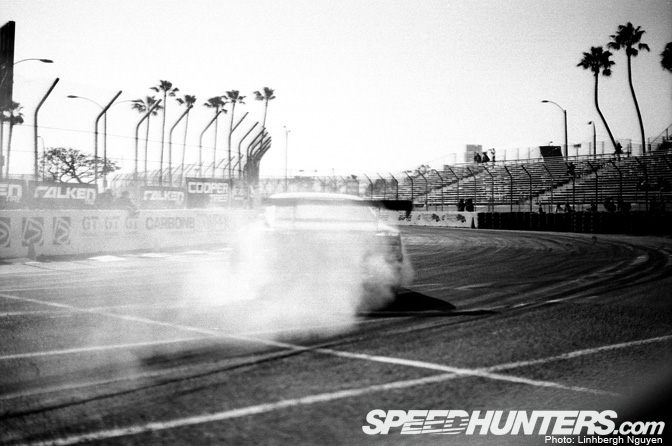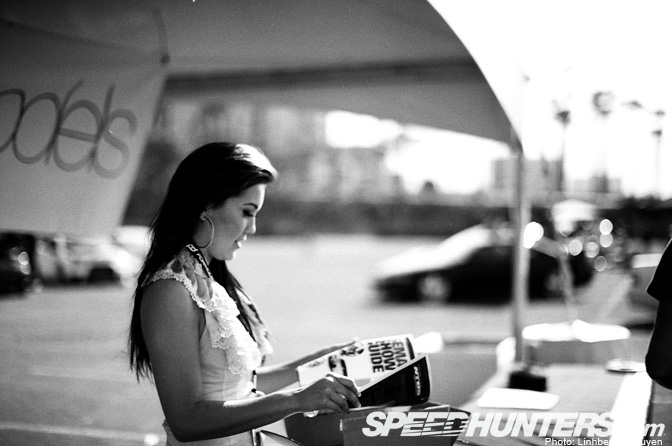 A quiet moment spent with the beautiful, the otherwise busy, Lisa Kim Flemming.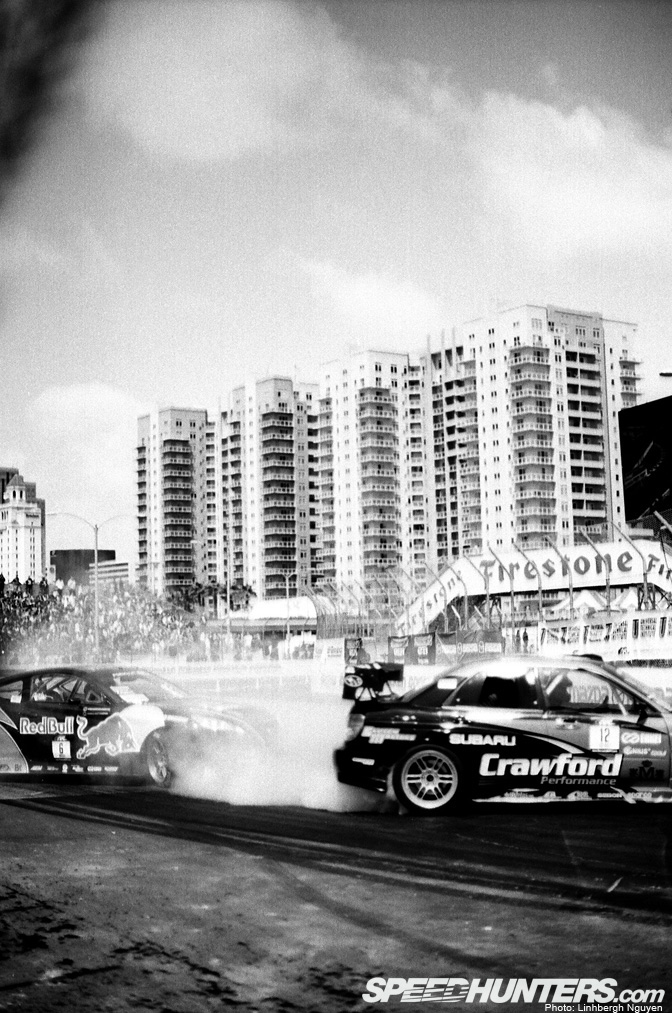 Here's a snap from the battle between Rhys Millen and Stephan Verdier.
There's so much energy and passion captured in this photo. Who
would've known that the drama between them would end up being an upset
for Millen and a huge victory for Verdier!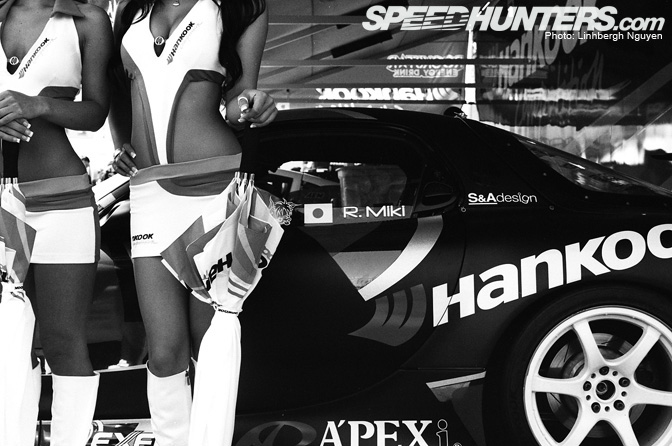 There's an abstract nature to this photo that I love. The play with
abstract shapes reckons back to the post-modernist era of art with
artists like Gustav Klimt, Frank Stella, or the early cubist work of Roy Lichtenstein.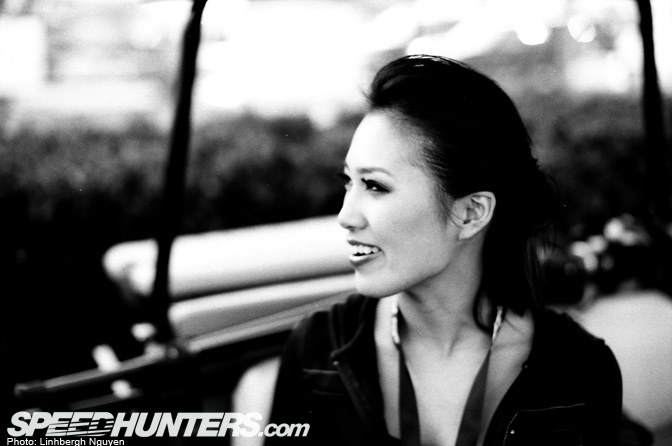 When a lot of these girls saw me come up to them with my camera, they
would immediately get into their practiced pose and smile. I had to
tell them not to pose and really, hang out as they were before I came.
A few of them had trouble with this, but a few others did not mind at
all. I was able to capture great moments of intimacy with these girls.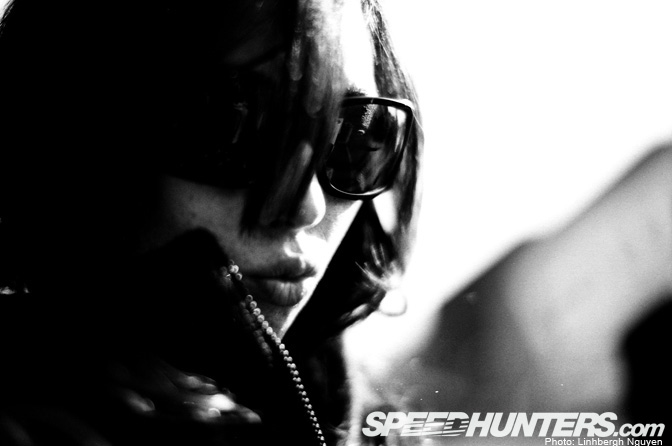 The best moments in life are those moments that are quiet. The ones you
have the time to take the moment in and remember it –really remember
it. We tend to not remember the moments like when we ask these girls to
pose with us for a picture. But we do remember those genuine smiles and
seductive kisses. These are those moments that we keep warm in our
minds.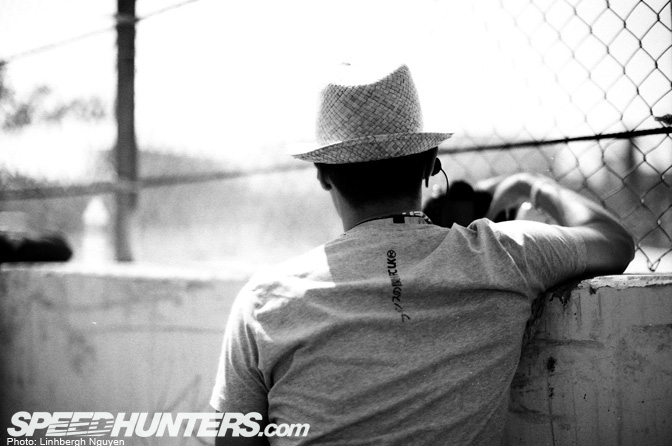 Here's our lovely SpeedHunters Creative director, Rod Chong, having his quiet moment and doing what he loves.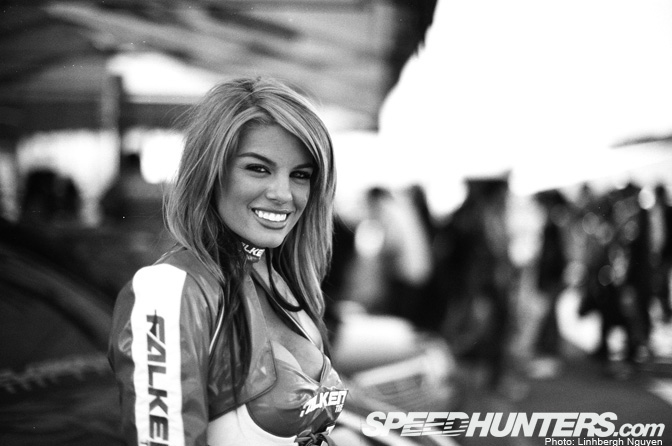 A genuine warm smile…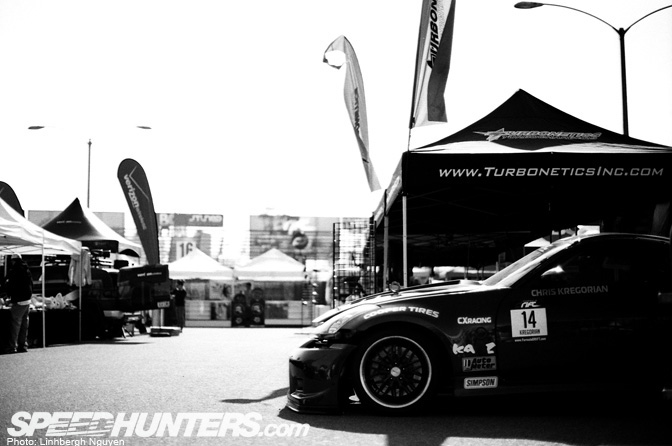 …and a genuinely warm sunlight.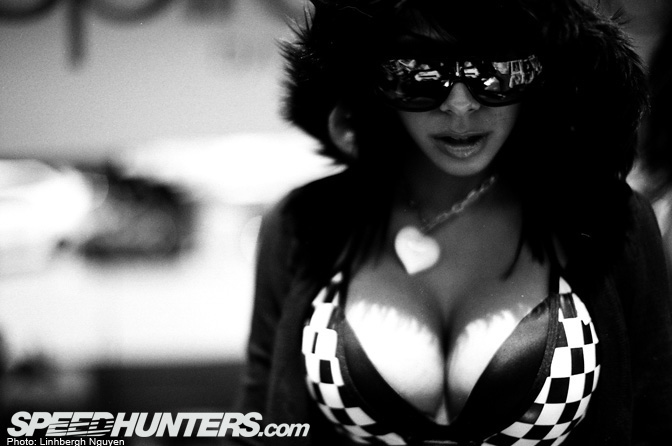 Drama, pure drama.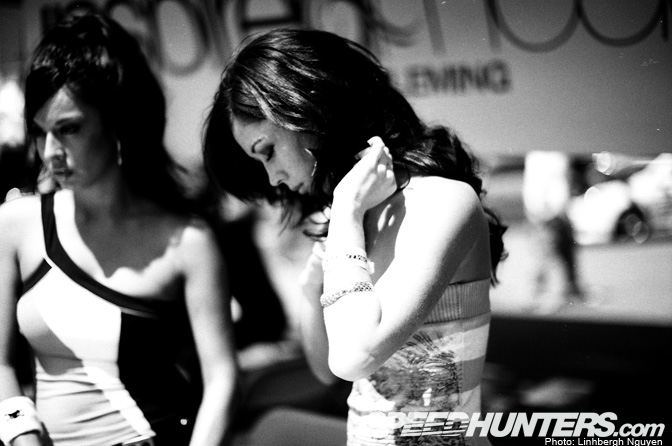 It's
moments like this when these girls are at their most beautiful –when
they're at their most natural state just being themselves. These quiet
moments have their own little dramas behind them.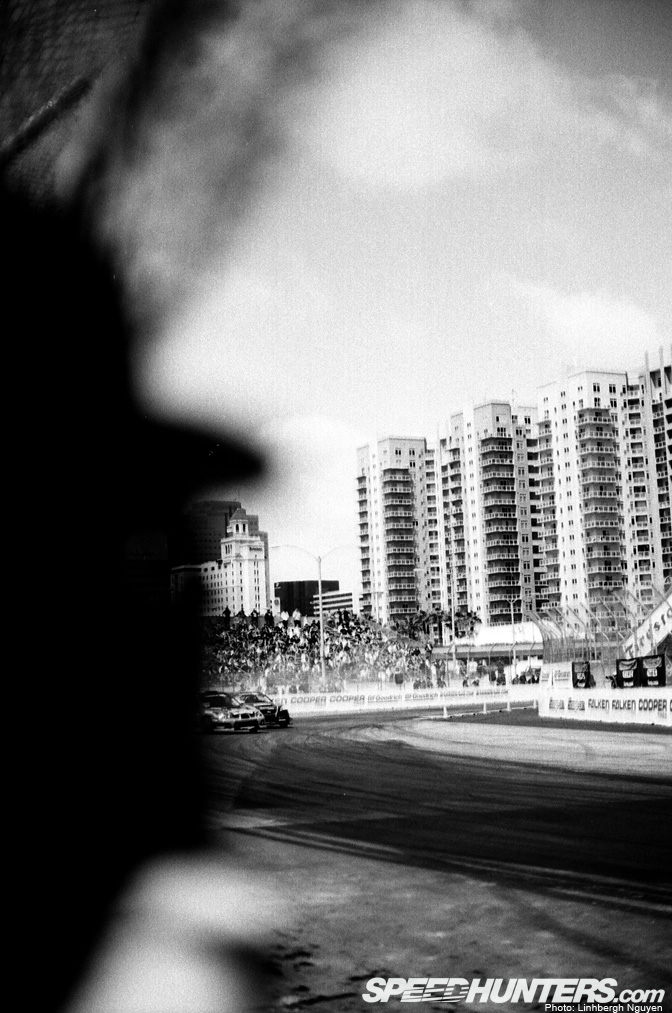 Drama
is everywhere in life. Drama is the fundamental reason why we're gear
heads. Without it, we'd be have soulless hunks of metal. It's the
people that are behind these hunks of metal that bring us the
excitement and drama that we all crave for. Photographs taken from film
cameras brings a side of drama that very few of us ever get to see
–it's the magic of the analog mediums. I'm sure many of us still have
those VHS tapes with Power Ranger episodes, and copies of old Option
videos sitting on the shelf. There's the dust of nostalgia that
blankets those tapes. Photographs shot with film definitely still holds
that magic of nostalgia, even if the photographs were taken during the
present day.
-Linhbergh Nguyen