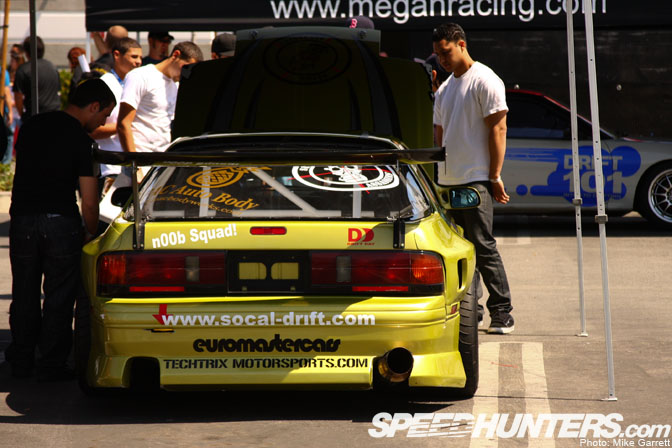 With the start of the Formula D season just a few days away, Formula D got together with the Universal Technical Institute to hold a preseason tech day on Saturday at the giant UTI campus in Rancho Cucamonga.  After an uneventful drive down to SoCal and then a trip through the wonderful LA traffic out to Rancho Cucamonga, I arrived at UTI to have a look at the festivities and get an appetizer for the FD opener in Long Beach next weekend.
The primary purpose of the event was for Formula D teams and drivers to get their tech inspections done before the Long Beach event. Throughout the day drift cars would come and go, representing teams big and small.
During the time I was there, I spotted a few of the anticipated new cars we'll be seeing in FD this year.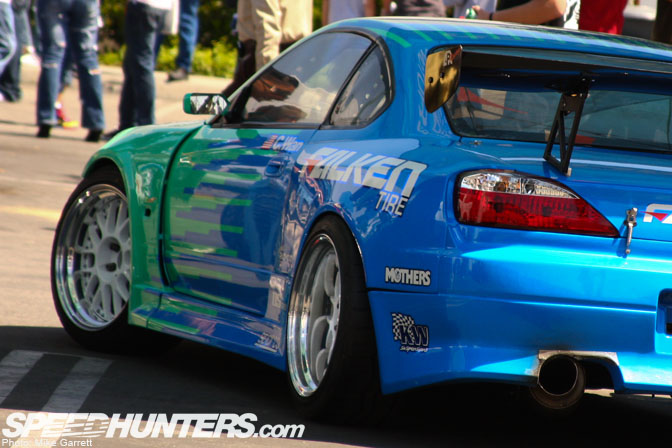 One of them is the new Falken S15, which will be driven by Calvin Wan. We've all seen the photos, but the car looks absolutely stunning in person. For you drift car style fashonista, '09 looks to have some good stuff…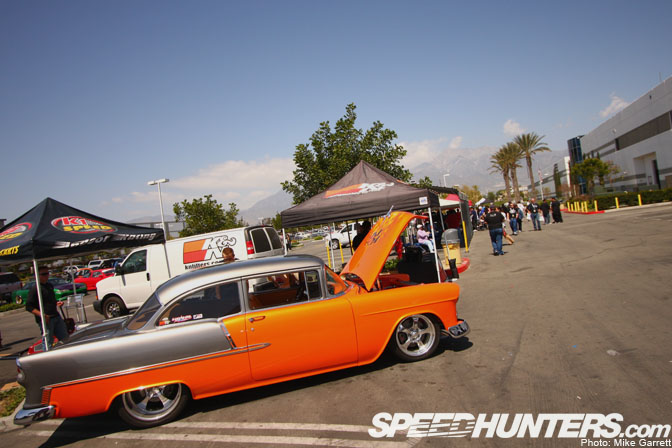 Unfortunatley this '55 Chevy will NOT be part of the Formula D roster this year. It's a demo car that K&N brought out for the event.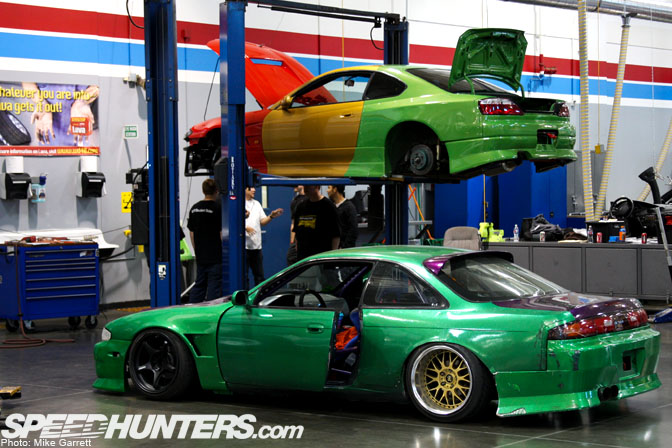 Here's Matt Powers' S14 (which you just saw in Linhbergh's radical feature) and Ross Petty's new S15 Silvia taking their turns in the tech inspection area. Can you see what I was saying about car style this year?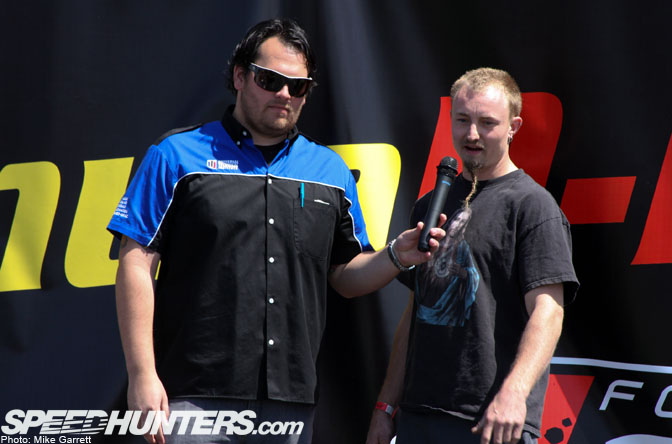 Ross talking a bit with J-Rod about the S15 build. We'll have more on the "Rossta" S15 during our FD Long Beach coverage next week.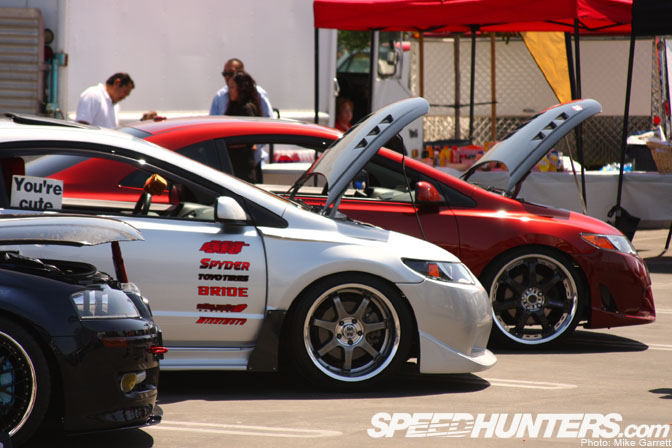 There was also a small group of show cars that were on display in the parking lot. It doesn't look like this scene has changed too much during the time I was out of the country…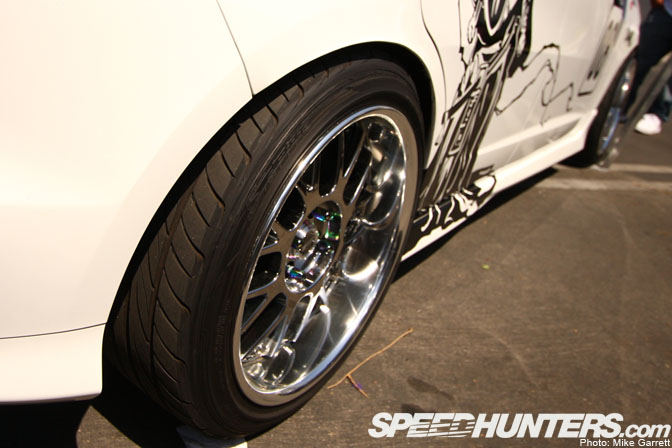 I was impressed with the wheel and tire choice on this new Honda Fit that was part of the car show. SSR MS1-R in 17×8 +20 front and and 17×9 +25 in the rear…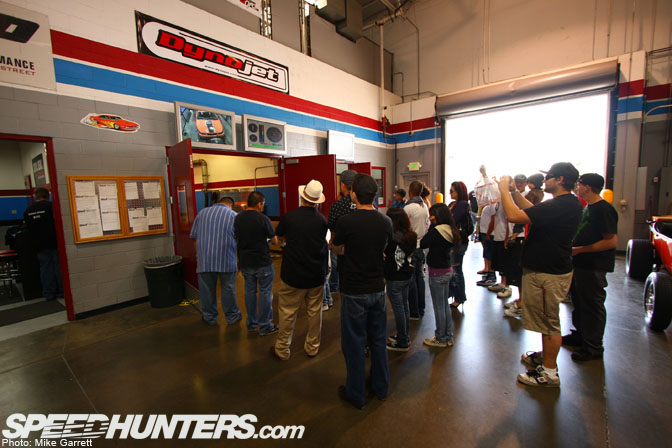 As part of the event UTI also opened up its facility to the public, and people seemed to be enjoying the displays – particularly the state-of-the-art dyno area.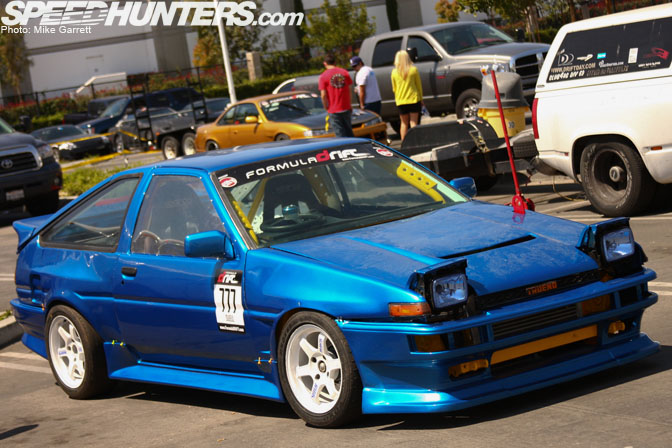 Tommy Suell's car was looking as good as usual. Something for the AE86 fans to look forward to next weekend on the streets of Long Beach…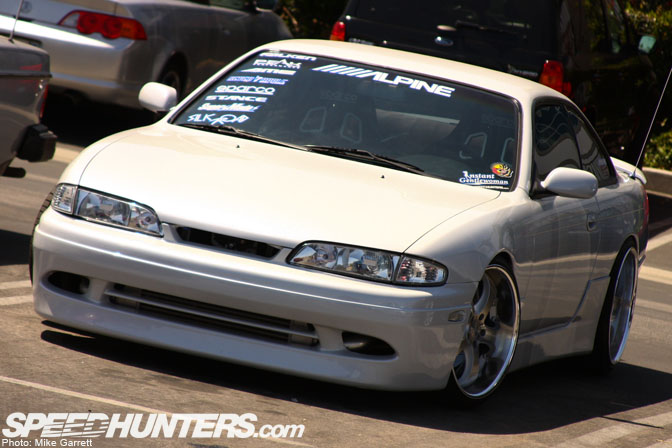 I spotted this classy looking Supermade-equipped S14 in the parking lot and couldn't resist snapping a picture.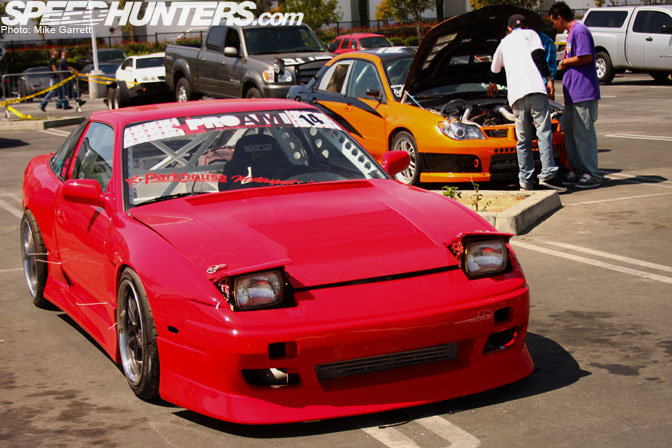 There's red, and then there's the scorching color that this RPS13 is coated in. No camera tricks here…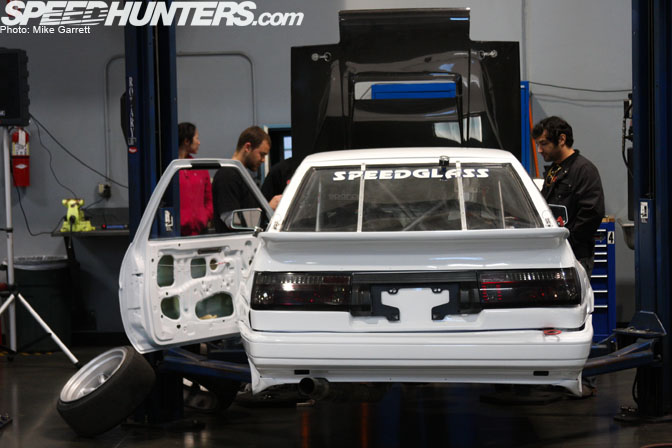 Here we see Taka Aono's AE86 undergoing its tech inspection on one of UTI's lifts. Nice to see that Taka will be back out on the FD circuit this year in his AE86, which has been redone in white for '09.
I'll be back soon with more preseason odds and ends from Formula "D-Day" at UTI.
Speedhunters April Drift Features
-Mike Garrett