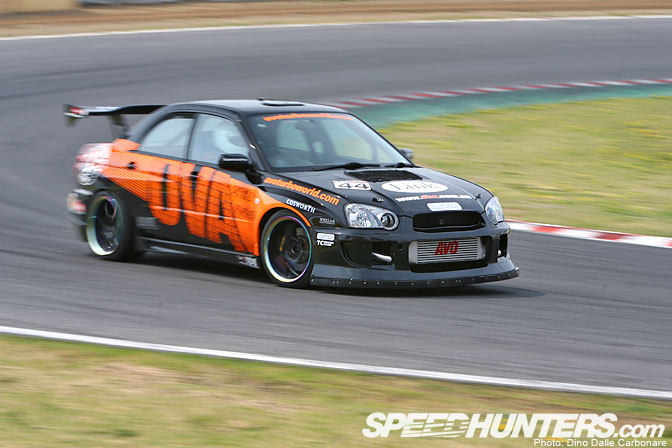 The 2009 Hyper Meeting in Tsukuba turned out to be a very reassuring event for the whole tuning industry surrounding Evos, Imprezas and the odd Legacy. Compared to last year's event the uncertainty with the new Impreza and Lancer has all but disappeared thanks to tons of new products having been developed. You can now find all sorts of new bits and pieces to spice up the exterior, while on the engine front things have taken a huge leap. This however doesn't mean that older cars have been forgotten, far from it in fact, as you can see from the opening picture of the AVO Impreza on track.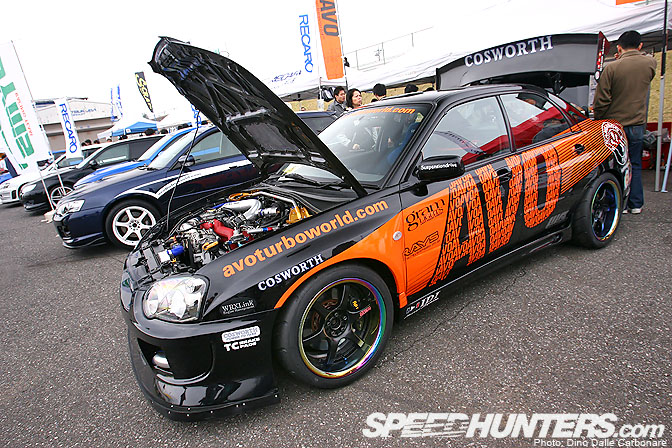 This GDB sports a smooth widebody kit, seamlessly integrated into the lines of the car. Check out how far the titanium lipped Gram Lights stick out at the rear!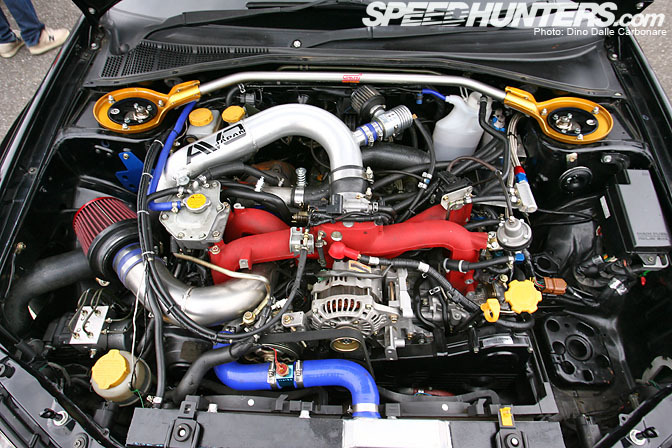 The Cosworth blueprinted CS600 EJ25 block and forged internals are good for 600PS at 1.8 bar thanks to the AVO550 ball-bearing turbine.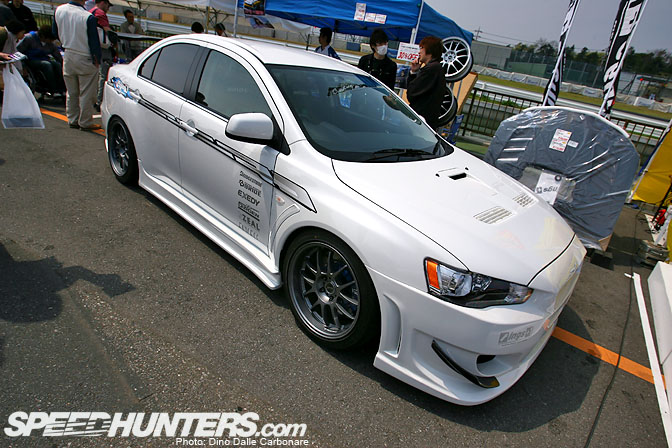 Igns showed off their CZ4A EvoX which on top of the full body kit sported slightly blistered rear fenders.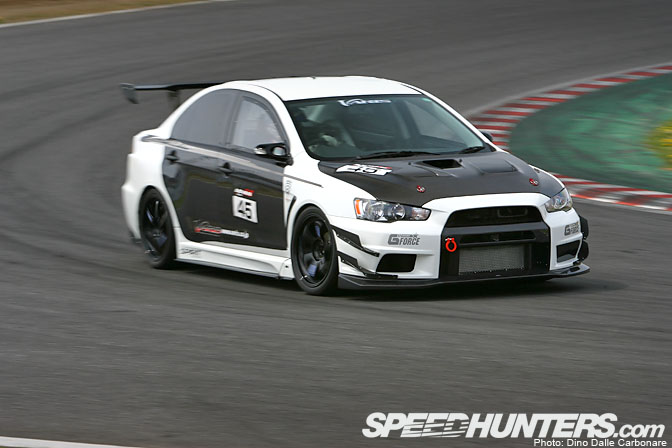 G Force really went full out with their new time attack car based on a white EvoX. I was really impressed with the quality of the Varis body parts, panel fit was superb as was the carbon weave on the doors, hood and front lip. With Taniguchi at the wheel this X managed to lap Tsukuba in 1'00"697, a very respectable time.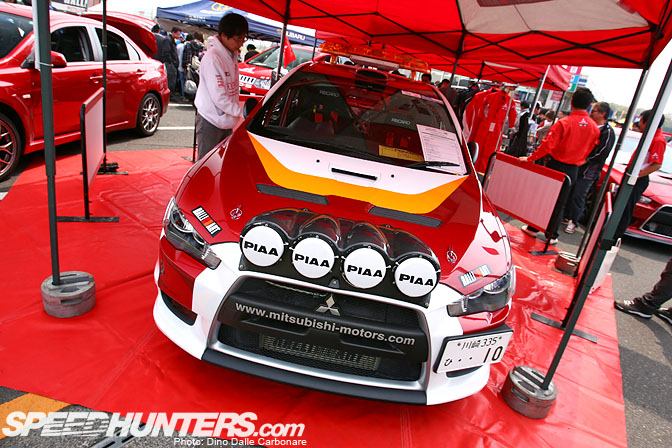 Seems MMC had no intention of severing its links with the rally world, by bringing the works EvoX, which competes in the Rally Japan championship.  I thought it looked pretty mean with those four PIAA projectors on the hood!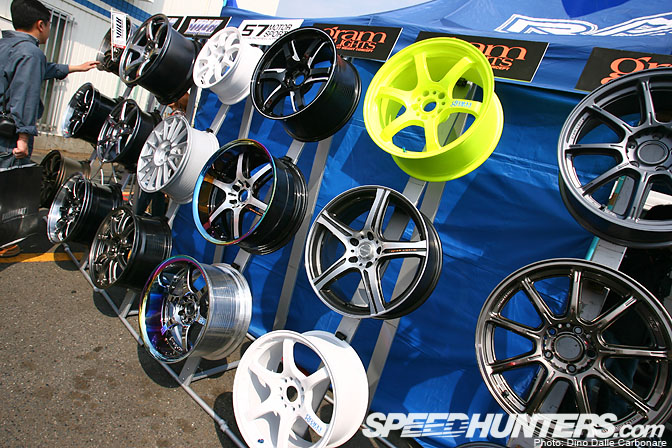 Seems Rays Engineering comes up with a different wheel design every month, which is just fine with me as I have a real fetish for anything the company makes. My favorite two wheels for 2009 have to be the TE37 G2 as well as the Gram Lights 57 Accelerate, especially with the huge titanium-effect lip.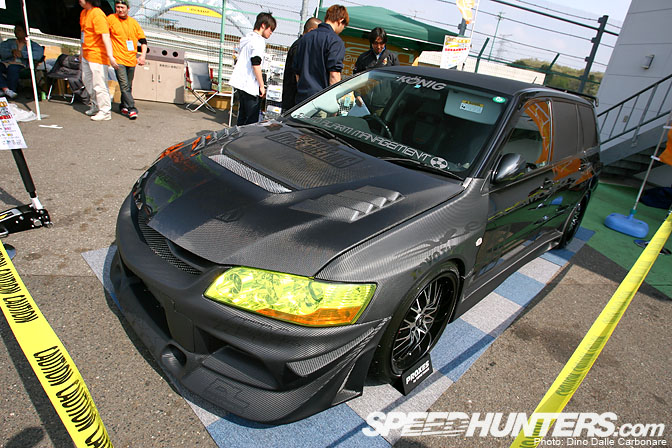 This A2M Evo 9 Wagon is one car I had to take a closer look at. I thought these guys were crazy for fitting a carbon bumper, fenders and even rear windows to a station wagon, but it turned out it was actually carbon-look vinyl applied just like graphics would be. Certainly looked like the real thing, even up close, except when running your fingers over it. Still, this will definitely come in handy for some applications.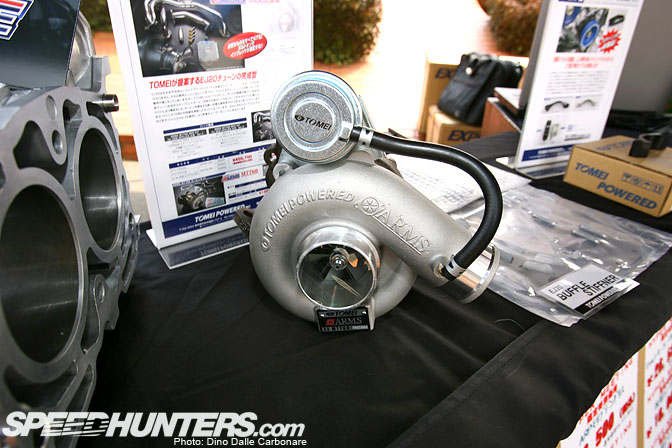 I take my hat off to the guys at Tomei as they create the highest quality engine parts out there. On top of this ARMS turbine for the EJ20 they are currently developing parts for the 4B11. Expect some interesting products soon.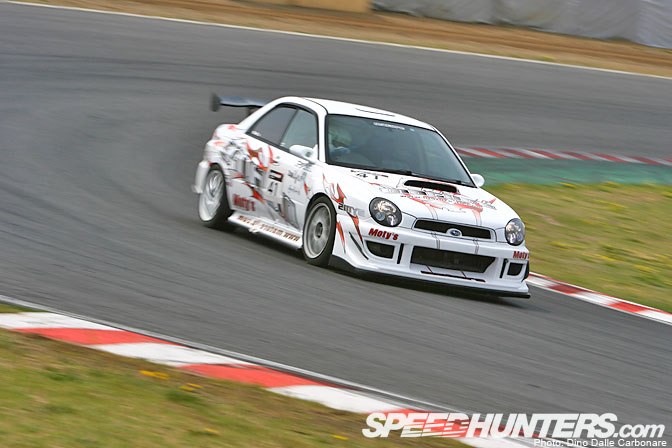 The bug-eye GDB from Mature put down a fastest lap time of 1'03"392…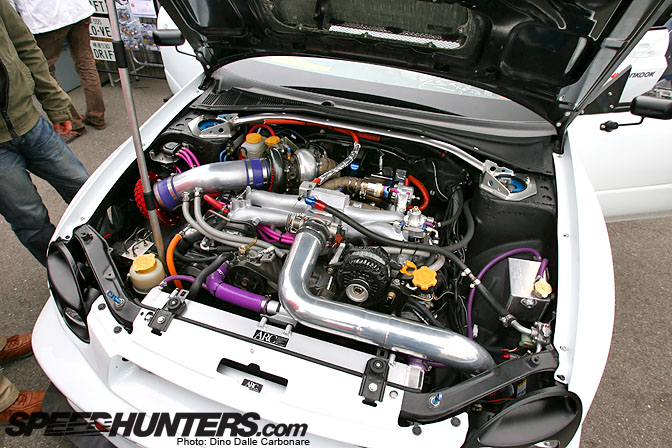 …but it was the Do-Luck bug-eyed Impreza that really caught my attention. The Hyper Meeting was the car's debut and shakedown, so they were taking it pretty easy. This is a very serious machine, built from the ground up to be a full-out time attack car. The chassis has been spot welded to increase stiffness, something you can see around the suspension turrets. The engine looks like it means business, especially with that high-mount Turbotecnics blower!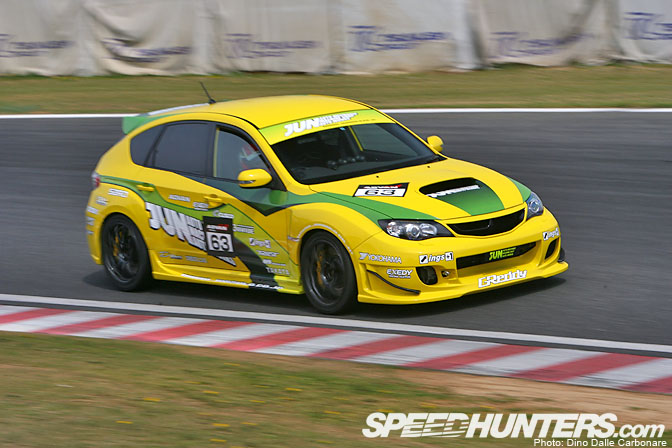 The JUN GRB Impreza, first shown at this year's Tokyo Auto Salon, was looking great out on track.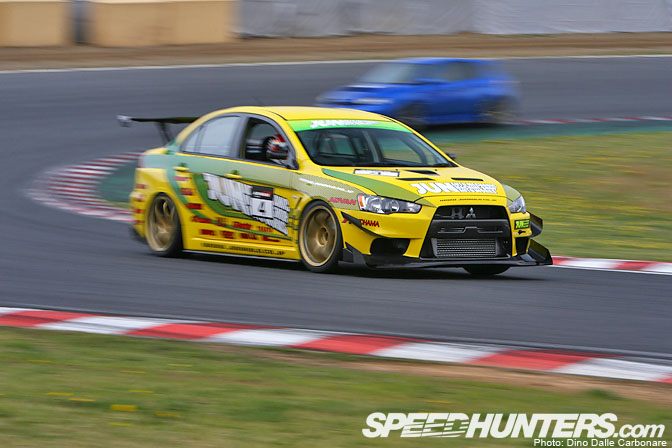 Sporting the same livery was the JUN Evo X, the second fastest car of the day with a 59"292 lap. JUN is busy developing lots of parts for the 4B11 so expect this car to get much faster during the course of this year.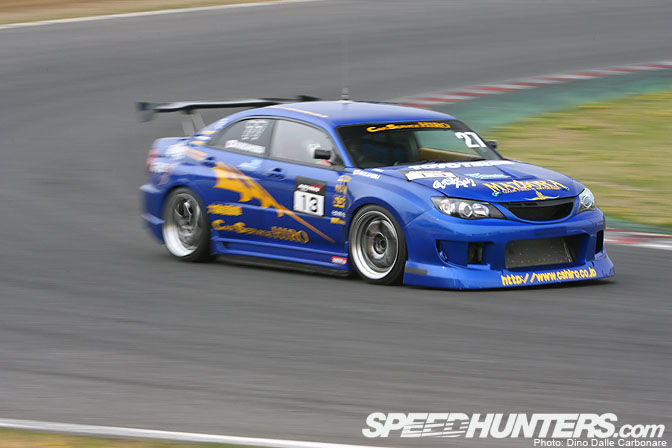 Nakamura-san from Car Service Hiro, was ready to get well under the 1-minute barrier with his chopped and GRB-faced GDB, but was forced to retire due to an intercooler pipe coming off. Some just can't digest the way this car looks, personally I quite like it, it's definitely unique!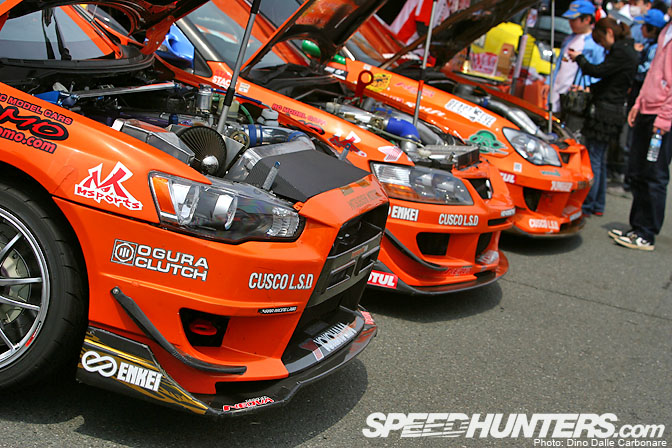 As a final shot a tight crop of the front ends of the Team Orange cars.  Kumakubo, Suenaga and Tanaka were busy all day showing off their skills, even taking a few lucky people out for rides. Stay tuned for more action from Tsukuba, with a look at the fastest and most extreme Lancers and Evos that participated.
Dino Dalle Carbonare