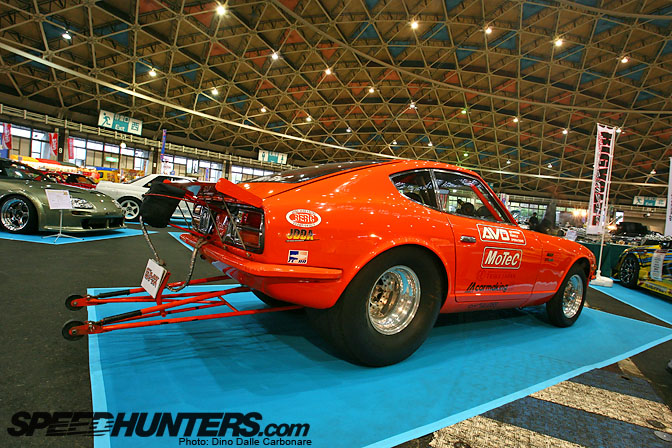 For the final installment of the Exciting Car Showdown in Nagoya I thought it would be nice to take a look at some new cars, as well as some old ones. The AVO/Motec Japan 240Z JDDA Pro Street drag machine is a combination of both, being built around an S30, but powered by a more modern engine.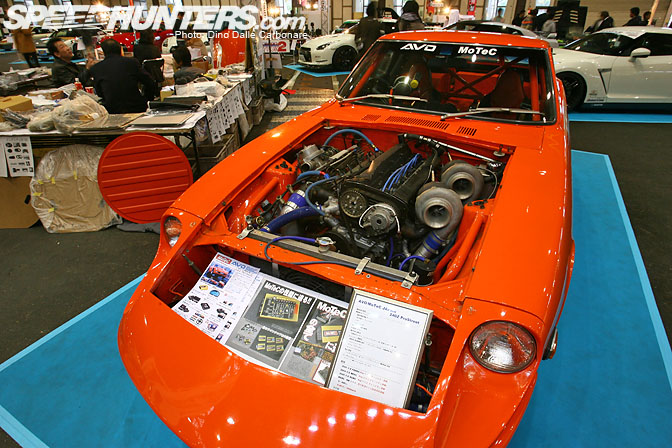 Here is a look at the twin-turbocharged OS Giken RB30, capable of producing 1150 PS and propelling the bright orange Z down the strip in 8.46 sec. Engine management is, of course, taken care by a M800 Motec unit.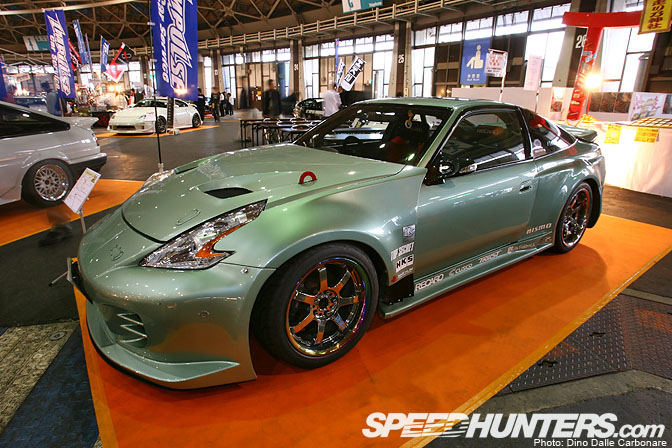 Daijiro Inada's daily driver, on top of his Top Secret tuned 911 Turbo, is this D's RPS13 which seems to be suffering from a pretty serious identity crisis. Nagata-san at Top Secret has just finished the updated conversion at the front-end, which saw the replacement of the older Z33 headlights with the newer Z34 units.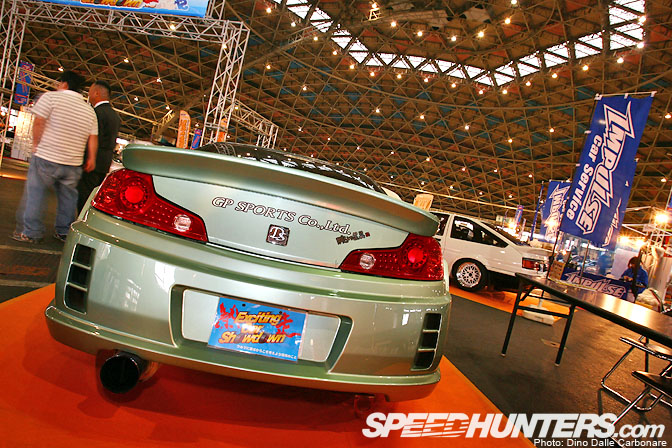 At the back V35 Skyline tail lights are still used, although there may be a chance these could get replaced in the future. There have been a lot of cool Nissan models out lately so we are sure Dai is thinking hard. V36 or R35?? Who knows!
I quite like how this shot of the RH Factory Hakosuka came out, with the 600 PS Garage Yawata R35 looking mean there in the background. This GC10 looks so period perfect with the oil cooler fitted onto the bumper and gold/polished Watanabes.  Powering it is an L28 stroked to 3L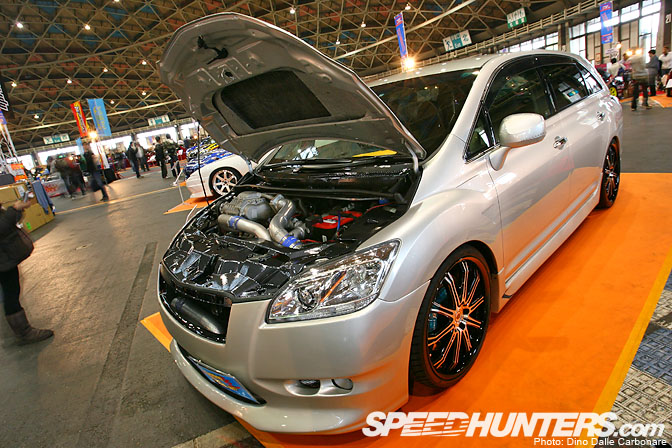 This Forte Toyota Mark X Zio (pronounced Gio) is definitely one car I was not expecting to see at the show. Based on the Mark X sedan, this cross-over mini-van mutation, is usually more at home doing the supermarket run, not sitting on a car show floor.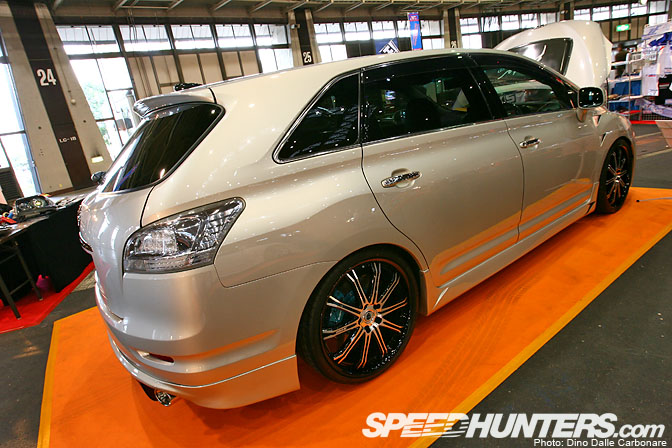 The 20-inch Work wheels make the Zio a little more appealing, as does the supercharger sitting in the engine bay. No specs were given on power, unfortunately, but the guys at Forte really showed us how even sedate family cars can be transformed with a few cool parts.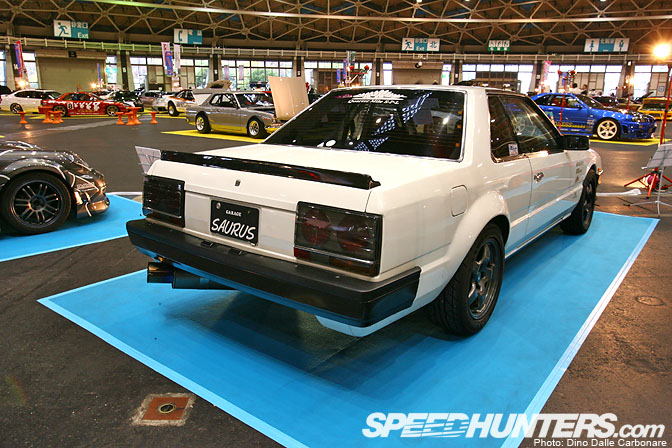 This DR30 Skyline from Garage Saurus we have already seen, is a bit of a blast from the bast. I really like the simple 80's boxy lines, the BNR32 wheels and the angled exhaust silencer. This is one car I hope to shoot in more detail in the future.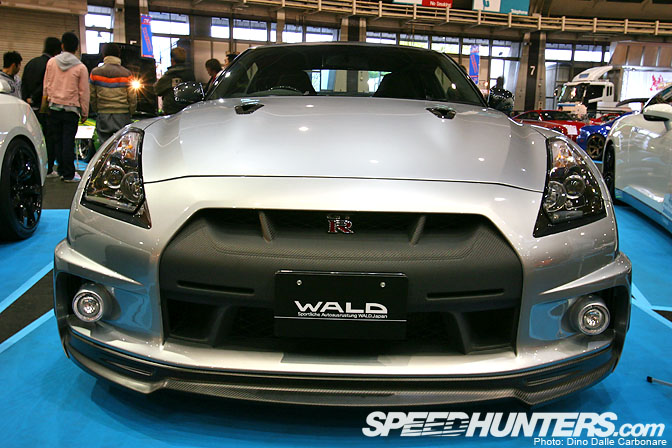 There were a lot of new GT-Rs at the show and the Wald R35 was without a doubt the most extreme on the body-conversion side of things. Looks are subjective, so I won't make a comment, but you can't argue with the quality of these parts. That dry carbon front spoiler and grille are so well made!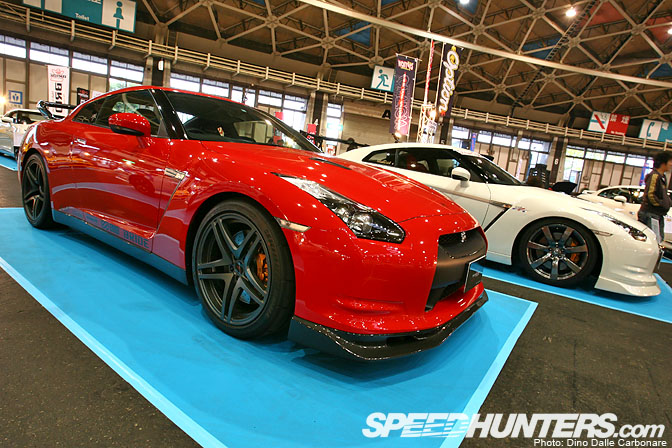 I'm a great fan of the Enkei wheels fitted to the Shadow demo car. I like the design and the choice of color but most of all these are quite a bit lighter than the stock ones you can see on the Yawata car behind (why is that R35 always in the background of pictures!). Thanks to magnesium alloy construction they weigh a massive 2.05 kg less for each of the front and 1.6 kg less for each of the rear wheels.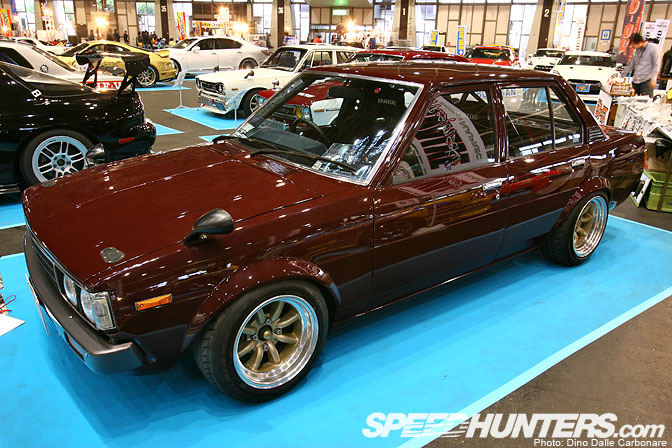 This Motor Fix KE70 Corolla was looking fine with its glossy brown paint job and gold Watanabes. The idea when building this car was to shave as much weight off as possible, something that was done by stripping it of unneeded stuff like rear seats and trim and usign FRP body panels. They managed to get the weight down to 800 kg.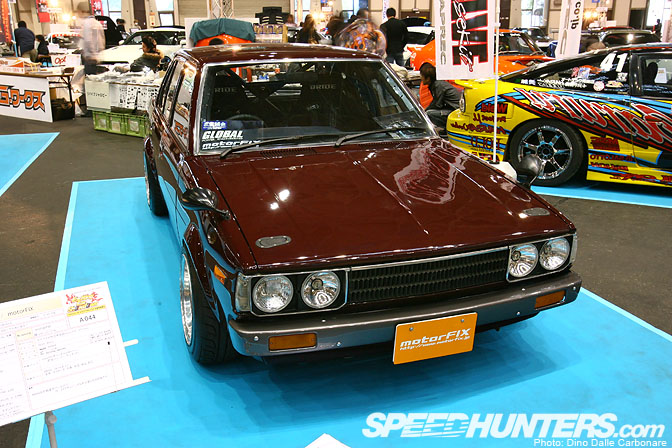 A 3S-GE from the Altezza was swapped in and left pretty stock, only changing the camshafts for a max output of 210 PS.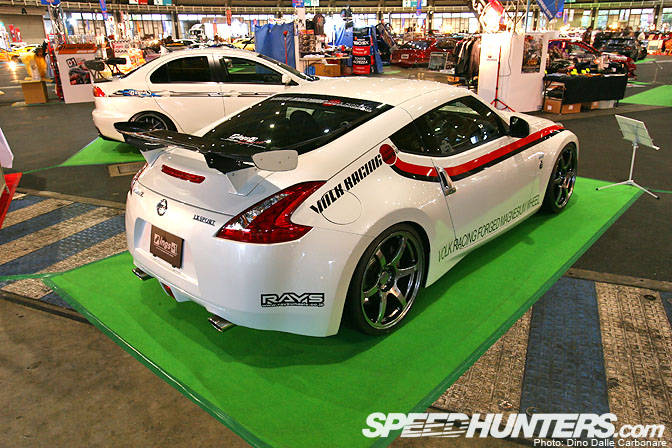 Ings and Rays Engineering collaborated on this 370Z, and the EvoX you see back there behind it. I have always liked the TE37s, I actually have a white set for track use, and I have to say that I think Rays did a great job with the G2 version. The 20-inch ones fitted to the Z34 really worked well with the Igns body parts.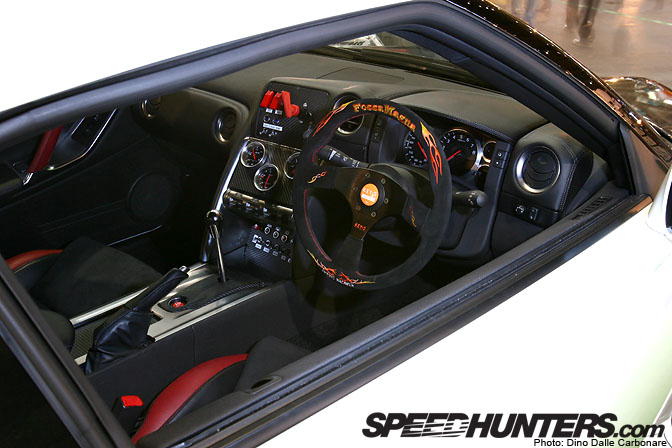 Nomuken's new drift car? Who knows, but the Blitz mechanical sequential R35 GT-R we will be keeping a very close eye on. There was talk at TAS of it being used in time attack too, but I guess we will have to wait and see how it all develops. The conversion done to the driveline so far, is a work of art.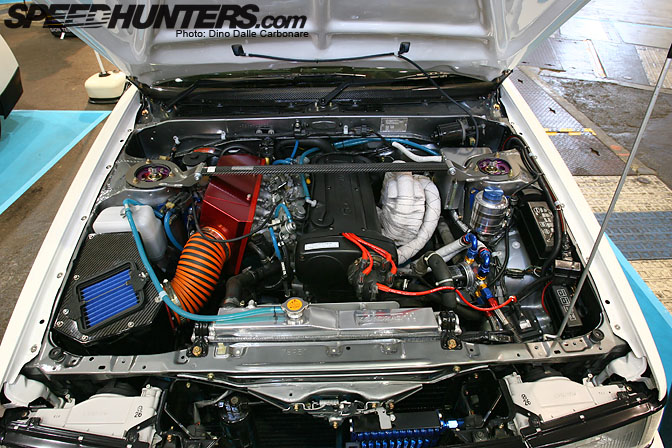 Another "new & old", older car, newer engine build. This Bride AE86 was showing off its 20-valve 4AG swap joined by interesting parts like titanium headers and a carbon airbox to feed the individual throttle bodies. Putting out just under 200 PS this is one of the cleanest street-going AE86 I have seen.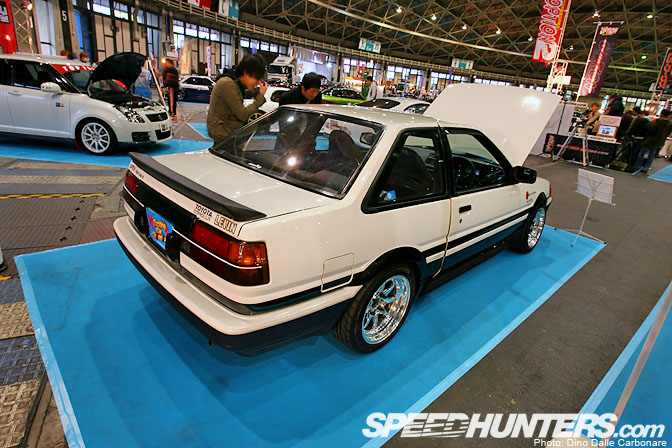 Here is a quick shot from the back, personally I would have pushed those Wise Sports wheels out just a bit more!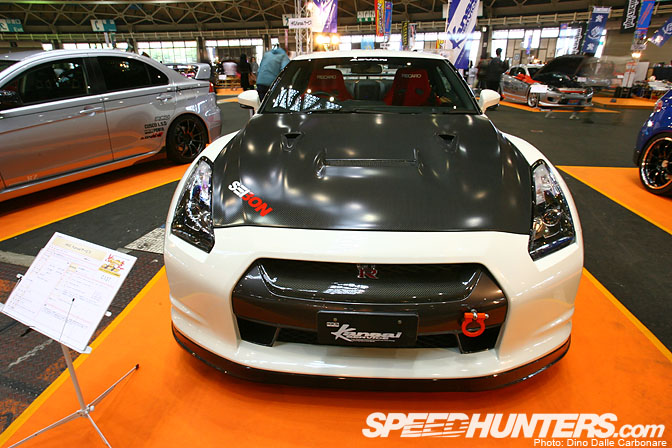 Again, a car from HKS Kansai Service, this time their R35, sporting a new design Seibon dry carbon bonnet.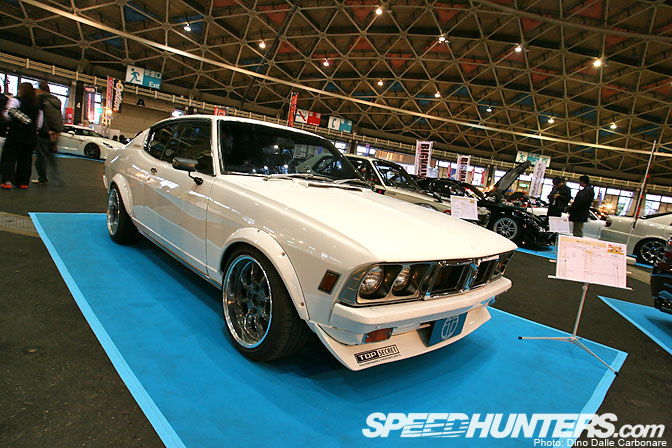 One of Top Secret's ongoing projects. This A57C GTO is actually Shibuki-san's personal ride, and has just received a 4G63 swap. Once the work under the hood is all done I will dropping over to Chiba to take a closer look.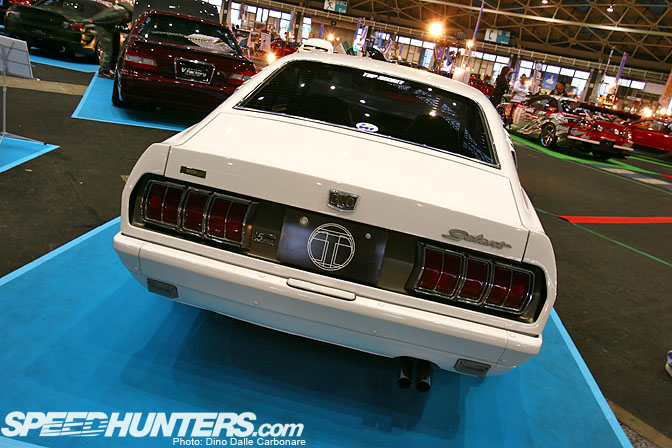 For now enjoy the cool 70's lines!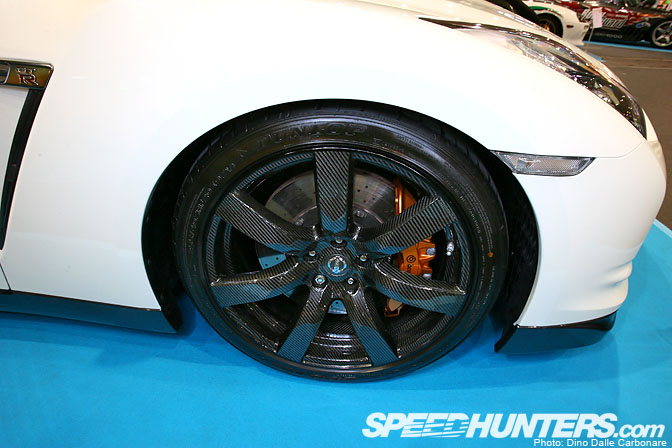 As a final shot, I thought this was rather interesting and innovative. Dry carbon wheels, or a simple carbon-look wrap on stock wheels, on this Bride R35 demonstrator? It looked like the real thing to me but it's actually a protective process done to the stock wheel by the guys at Carbon Dry Japan.
That's it from the 2009 Exciting Car Showdown in Nagoya, hope you enjoyed the coverage. There are a lot more events coming up this month so make sure you check back often to see what is going on over in this side of the world.
Exciting Car Showdown in Nagoya
Dino Dalle Carbonare