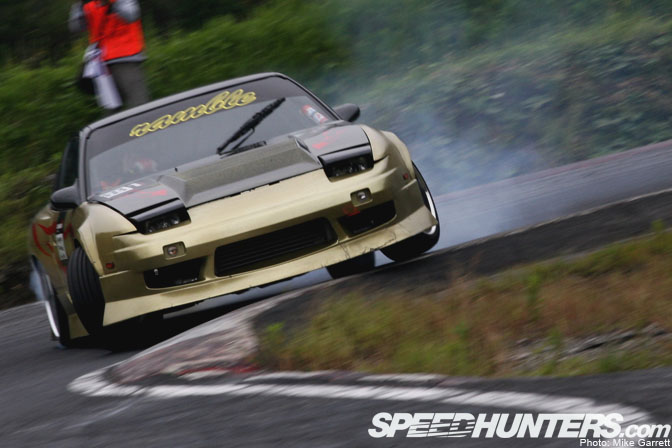 When I look back on my personal experiences with drifting, three big moments come to mind. The first of these moments would be when I was first saw video of drifting. I don't remember exactly when it was, but it had to be some time in the mid '90s when I was in junior high school. There was a short clip on television (the original Speedvision maybe?) showing some drifting from Japan, and I remember thinking it was one of the coolest things I'd ever seen someone do in a car. I don't even remember it being called "drifting",  I only knew it as "those crazy guys sliding their cars around corners".
The second moment wasn't until 2004, when drifting was really starting to explode here in the USA and I attended one of the D1 USA events. Like Rod mentioned during this month's editorial, there is just something incredible about watching a pro drift event in person, especially if it's your first time.
The third moment is the first time I ever tried to to "seriously" photograph drifting, which was in 2006. Considering what I spend my days doing now, this was by far the most important of my "three drifting moments". Those photos looks pretty bad when I look back at them, but at the time I was so proud of myself. It's not that I thought the pictures were particularly good, it was just that they looked so cool.
That brings me to main point here. It's hard to find something more fun to photograph than drifting. Clouds of tire smoke, flying body parts, crashes, and cars with their front ends pointed right at your camera as they slide past you – and not just during a few well-timed seconds, but for hours on end, over and over…
I love photographing drift.
As I look forward to getting down to Long Beach next weekend to shoot my first American pro drift event in quite some time, I thought I'd put together a gallery of photos that demonstrate the variety and power that you can find in the world drifting, whether it's backyard privateers or pros that have made careers of participating in this ridiculous sport…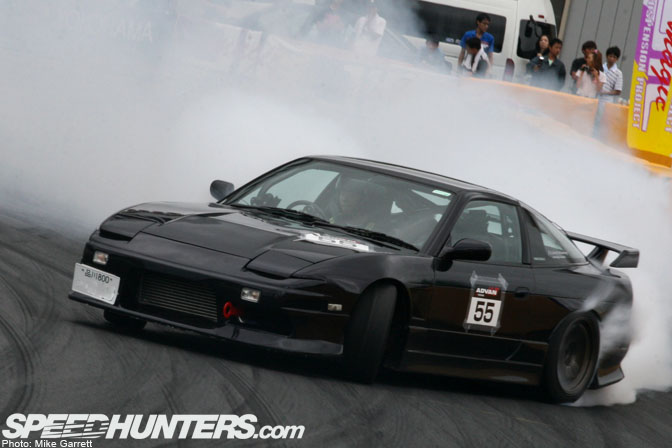 Honjo Circuit, 2008. I wish I could say that I was "OG" enough to have experienced drifting when scenes like this were as serious the sport got, but unfortunately I was just a teenager goofing off with my buddies in high school during those days. Luckily you can still experience this on just about any day of the week at any racing circuit in Japan…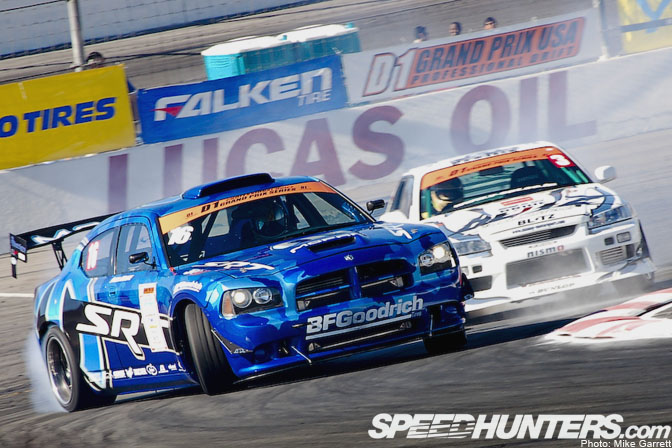 Irwindale Speedway, 2007. Two high profile drifters coming together from opposite sides of the globe in very similar, yet very different four-door drift cars. There's a lot of people who are worried about the politics and big money in pro drifting these days, but I usually forget about that kind of stuff when I see scenes like this in my viewfinder…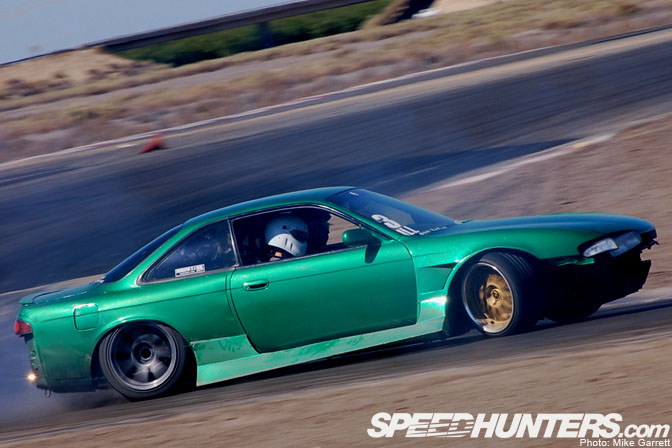 Buttonwillow Raceway, 2007. Then again, I get just as excited watching people like Matt Powers drive their home-built cars just as hard as any pro, without forsaking ground scraping, aero shattering, wheel poking style…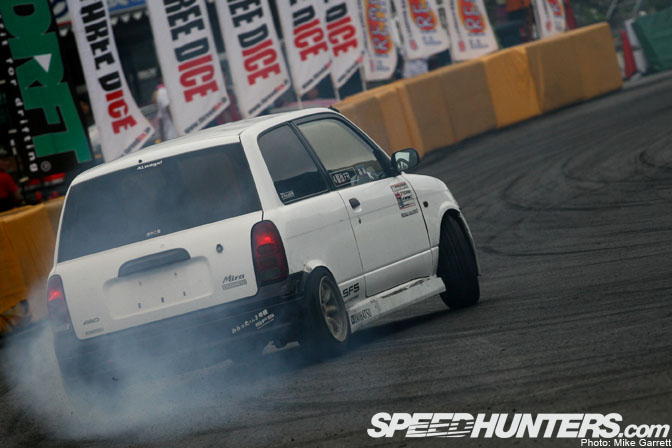 Honjo Circuit, 2008. The cars are important too. Besides those mainstream drift cars, there are those unusual machines that have people grinning before they even roll onto the track. When they start laying down better runs than the guys in Silvia's and 180's, those grins turn into stares of disbelief.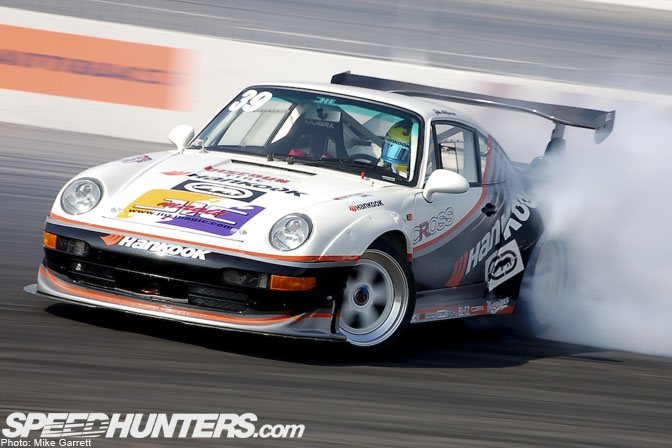 Irwindale Speedway 2007. And sometimes there are those drift cars that excite us not just with their style and uniqueness, but with the looming threat that one small mistake by the driver could result in a repair bill of astronomical figures.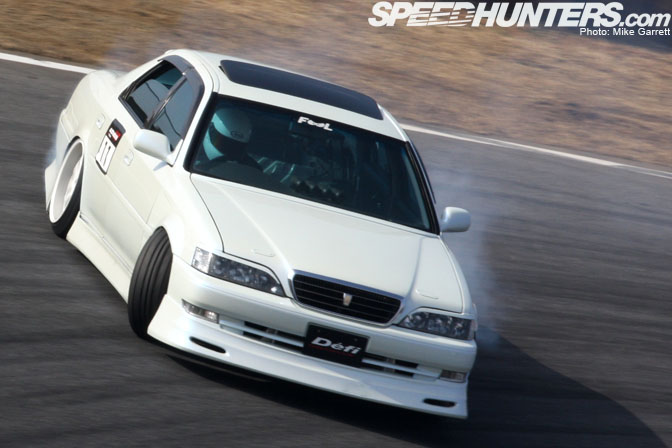 Tsukuba Circuit, 2009. Ah the magic of drifting. The sight of an incredibly stylish car that would break your neck even if you saw it parked – made better by the fact that it's sliding by you with smoke pouring out of the fenders while making sounds that can rival any piece of music out there.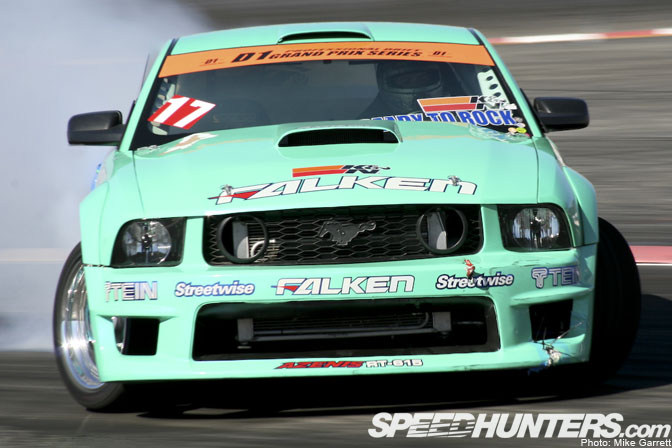 Irwindale Speedway, 2007. Is it strange that drifting can make me feel unusually patriotic? A Mustang smoking the back tires is as American as it gets, and watching Vaughn Gittin Jr. and his 'Stang in action is right up there with attending the Super Bowl or camping out in front of Mt. Rushmore while a flock of bald eagles fly overhead…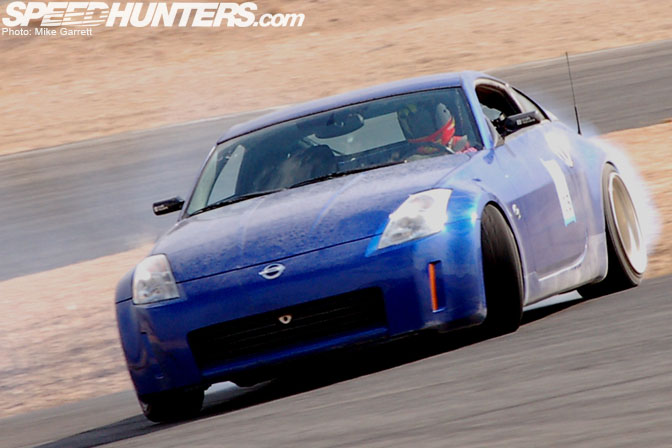 WSIR Horsethief Mile, 2007. No matter where you live, a trip to the nearest grassroots drift event should be at the top your to-do list. You'll see everything from guys out there thrashing on their late model daily drivers…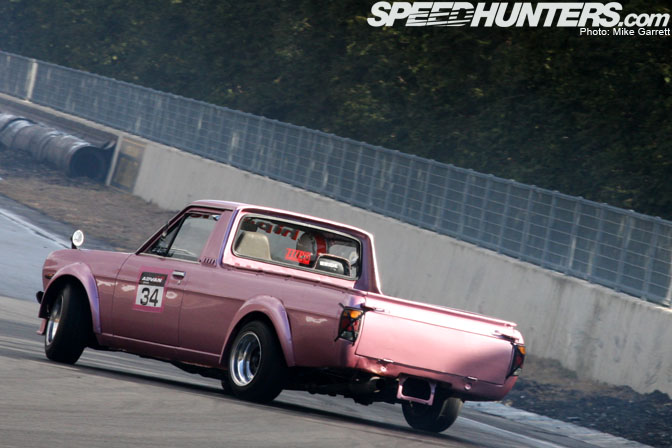 Fuji Speedway, 2009. ….to cars that some would consider "antiques".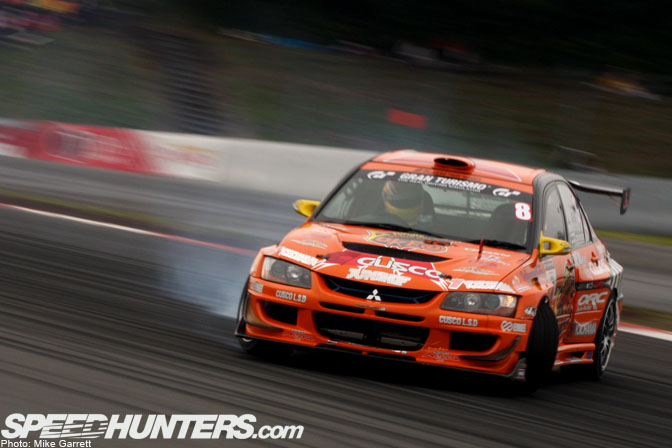 Fuji Speedway 2008. Another thing that all should experience in person at least once, a D1GP competition round in Japan. Who cares about arguments on sponsors and judging when you're watching Nobushige Kumakubo throw down a flawless run around the Fuji D1 course? There's nothing debatable about that.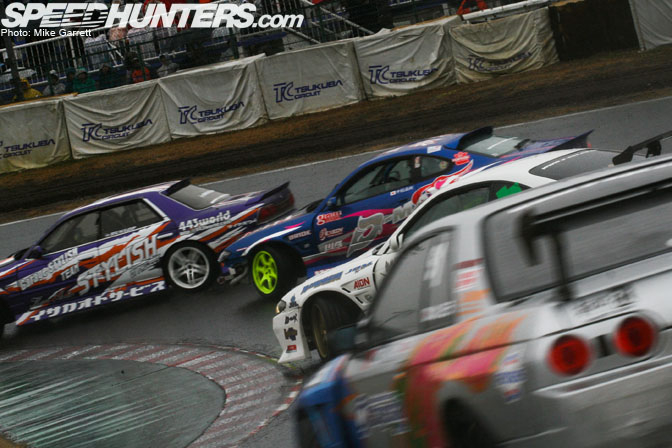 Tsukuba Circuit, 2008. I'll finish off with this shot of D1 Street Legal drivers doing a four-car tandem practice run during the rain-soaked D1SL finale at Tsukuba last year.Despite the fact that I was drenched in rain water, had a nice coating of mud chunks all over me, and was just a bit worried that my expensive digital camera wouldn't survive the day, it was hard to think of somewhere that I would rather have been…
I can't wait until Long Beach!
-Mike Garrett