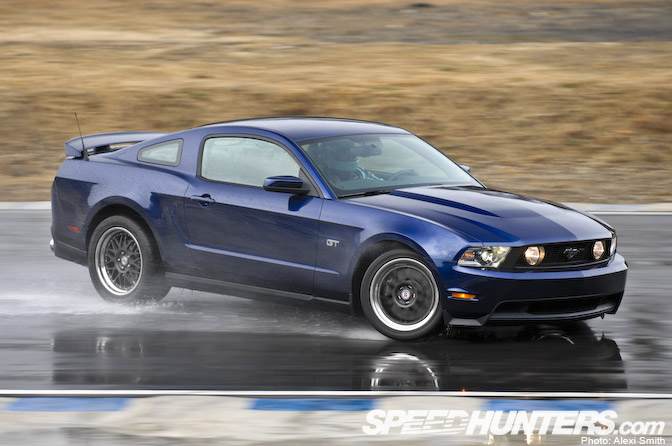 To call JR's trip to Japan amazing would be an incredible understatement. In less than two days, he had gone from watching street drifting in a deserted industrial area of Osaka to meeting and drifting with some of the most famous racing drivers in the country for a Best Motoring Hot Version video shoot. The Hot Version DVD series regularly features foreign models lined up against locally tuned cars, so JR's Ford Racing-enhanced 500hp supercharged Mustang added a distinctly different look and sound to the day.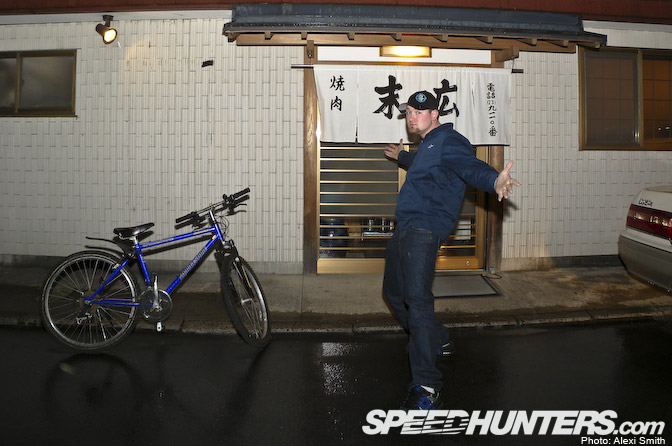 The night before going to the track, we were told that some of the Japanese staff were meeting for some yakiniku and kappa hai (shochu, water and sliced cucumber highballs) at a local izakaya, so JR headed along to join them.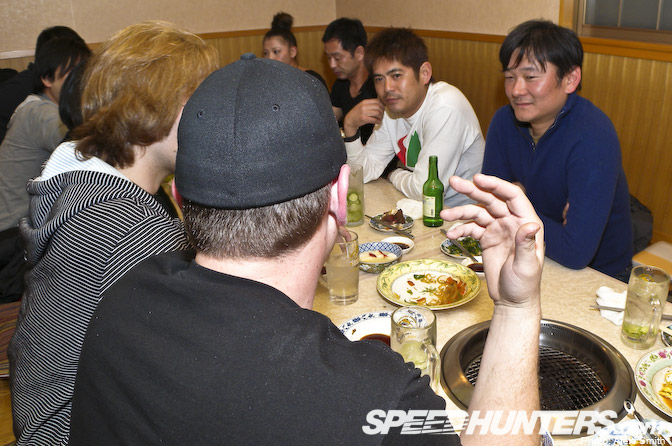 Keiichi Tsuchiya and Manabu Orido were there, and to his left is Eiichirou Yamada, the Deputy Editor-in-Chief of Best Motoring.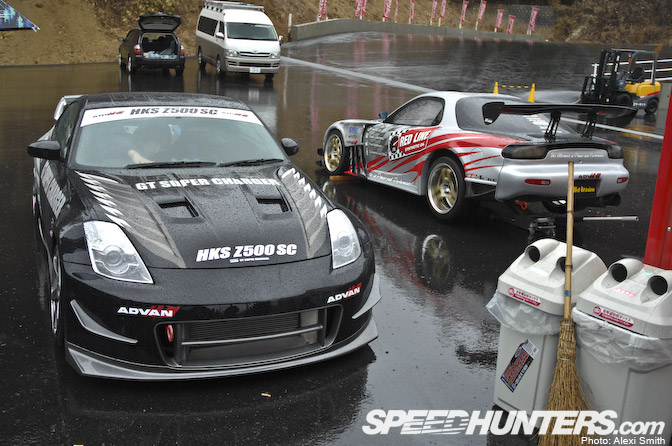 Unfortunately, the weather looked like it was only going to get nastier when we arrived at YZ Circuit's East Course, also known as Mizunami Circuit.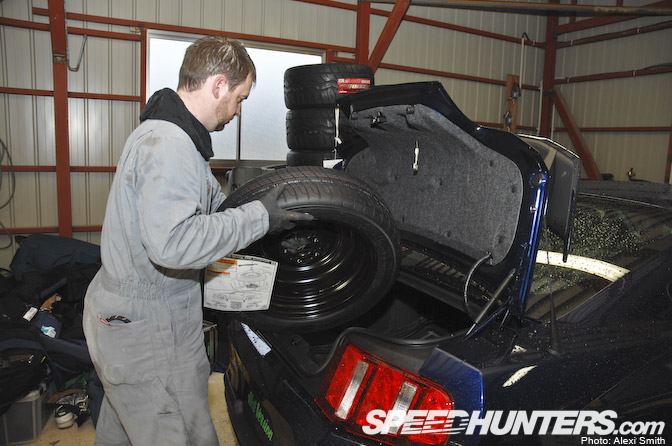 The full details about what Hot Version were shooting that day have to be kept a little bit secret, so we can't give away all the details. Even though, this picture of Mickey pulling the spare tire from the trunk (it had been in there the whole time!) should give a hint that performance was a bit more important than usual.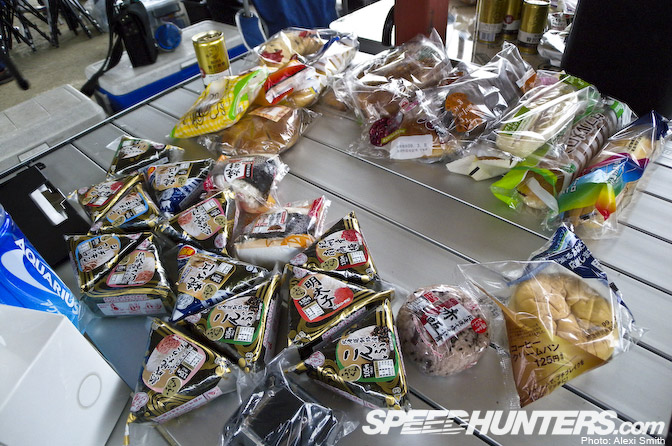 This is the way to cater a video shoot. What looked like the contents of an entire Japanese convenience store had been laid out for everyone to eat. Shown here are a selection of onigiri stuffed riceballs and various pastries.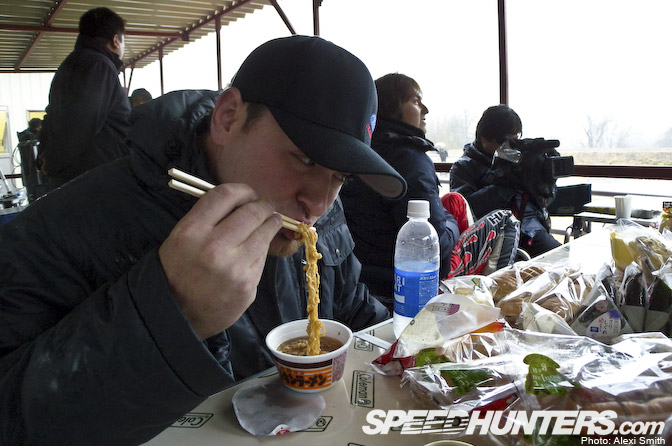 For an early snack, JR wanted some noodles, but couldn't decide from (or read) the dozens of packs in a box beside the catering table. I picked him out a bowl of Nissin "Chicken Ramen", which has been sold in Japan since the late '50s, and is the father of all modern cup ramens.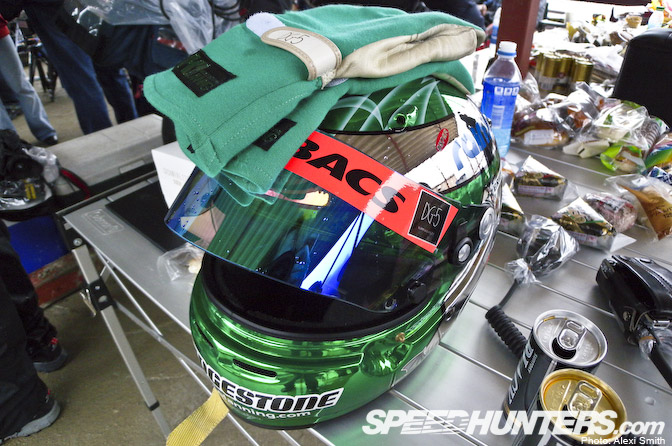 If you don't recognise this helmet, you should at least recognise the face in the next photo.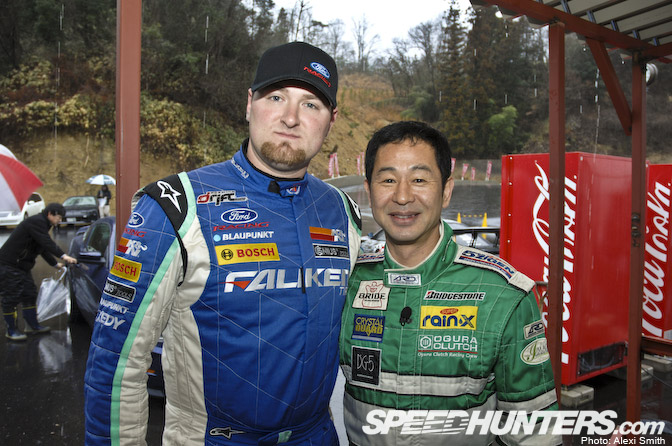 I distinctly heard Keiichi Tsuchiya say at one time during the day that JR is the best drifter in the USA. Yeah, how do you like that?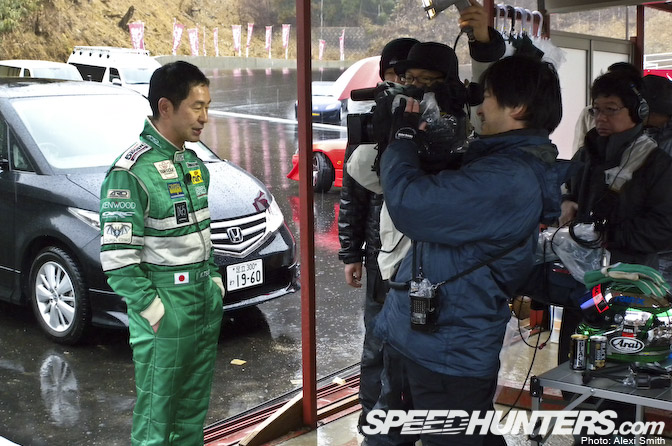 Tsuchiya was busy all day with giving his monologues and opinions to the Hot Version cameras.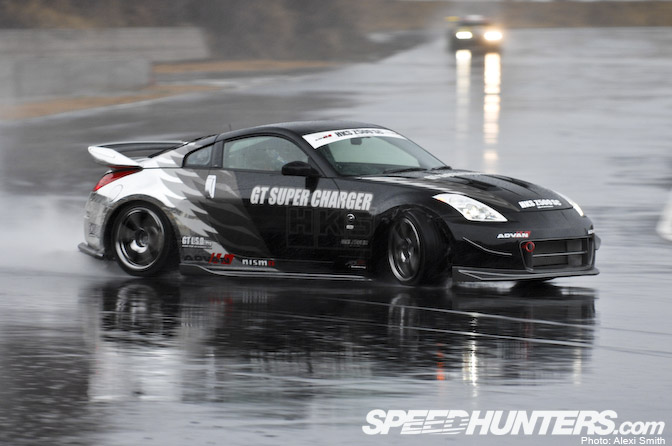 This Fairlady Z driven by Nobuteru Taniguchi was equipped with a new supercharger that HKS are developing. The new kit makes a lot more power than the supercharger that HKS currently makes for the Fairlady Z, and requires a stronger set of HKS pistons and conrods.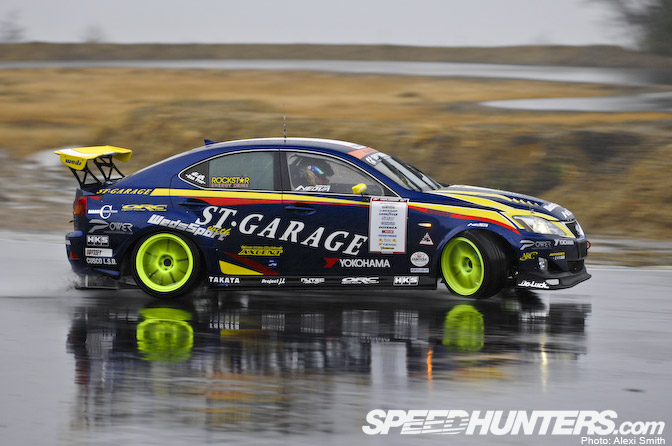 Orido's car was his own 2JZ-powered Lexus that he intends to campaign in the occasional D1 round this year.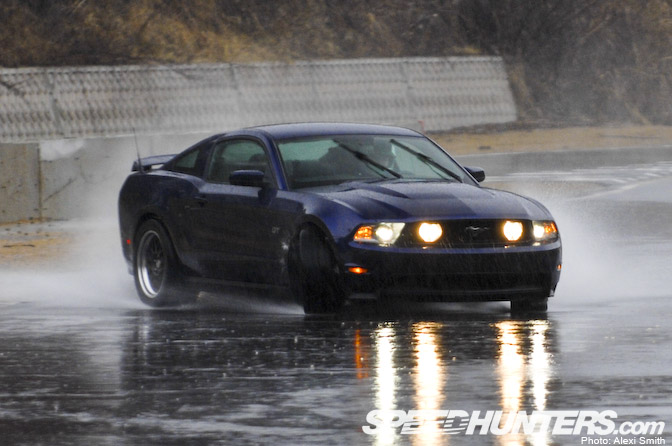 JR didn't hold back in the practice sessions, and quickly got a feel for the course layout.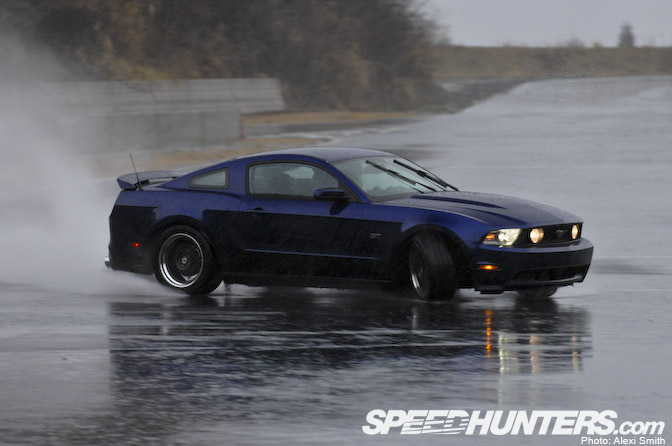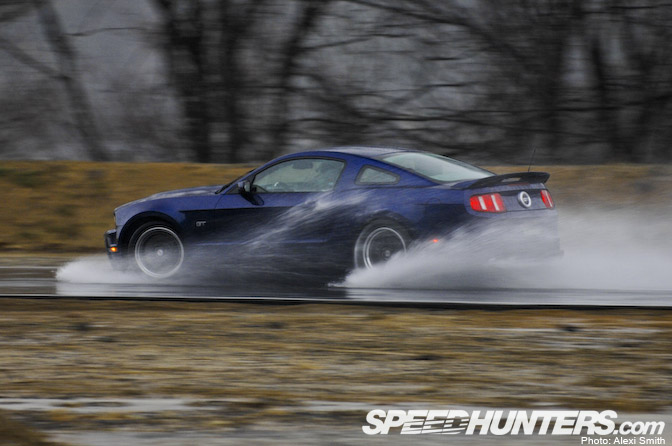 There were quite a few large standing puddles of water that looked quite spectacular when the cars drove through them at high speed.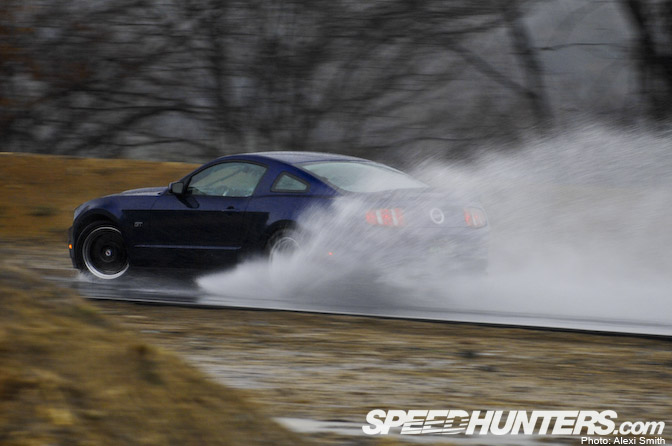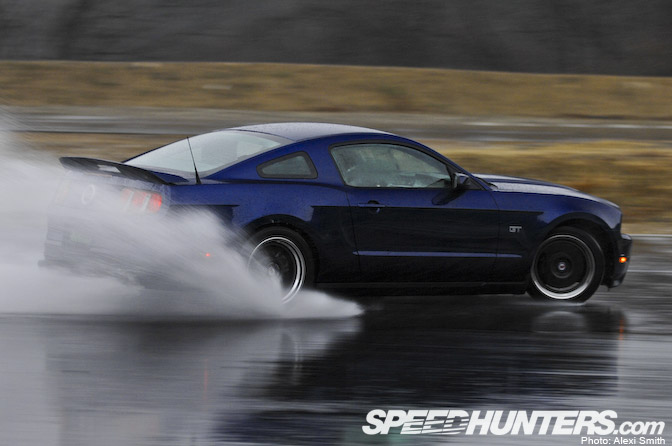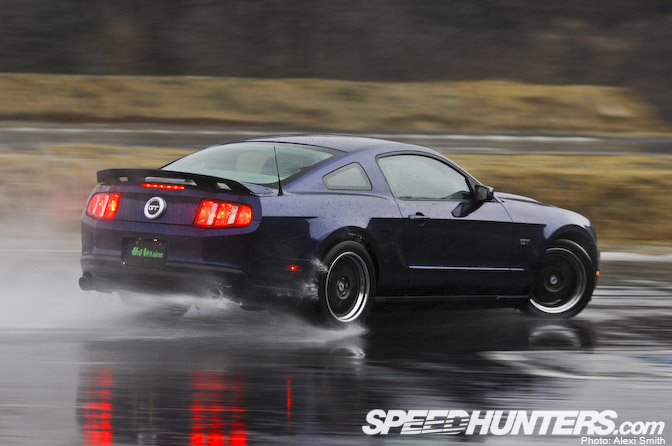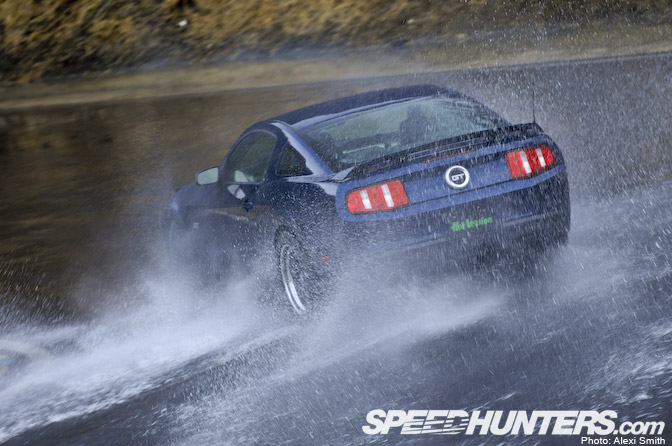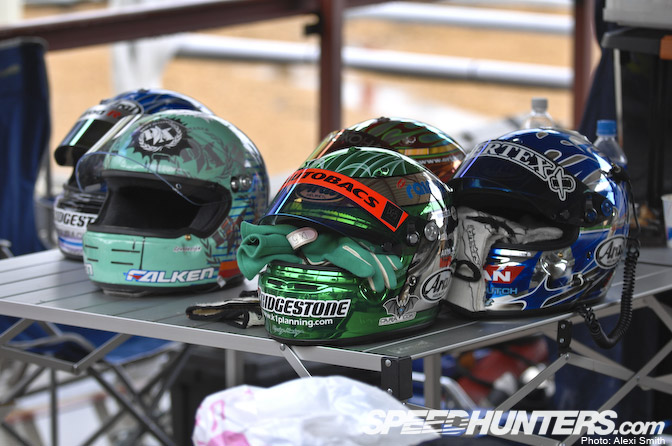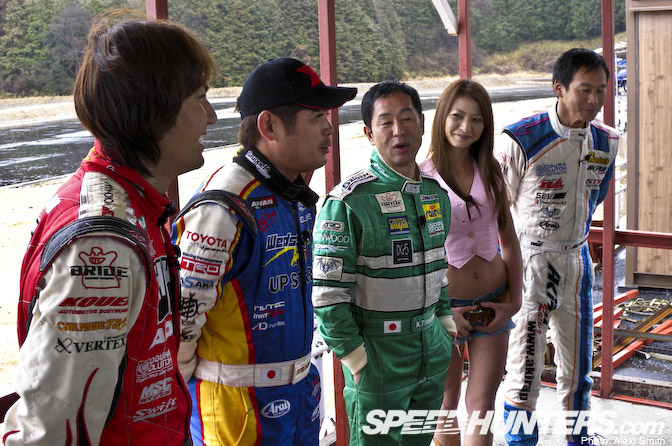 Nobuteru "NOB" Taniguchi, Manabu "Max" Orido, Keiichi "Dorikin" Tsuchiya and Akira Iida.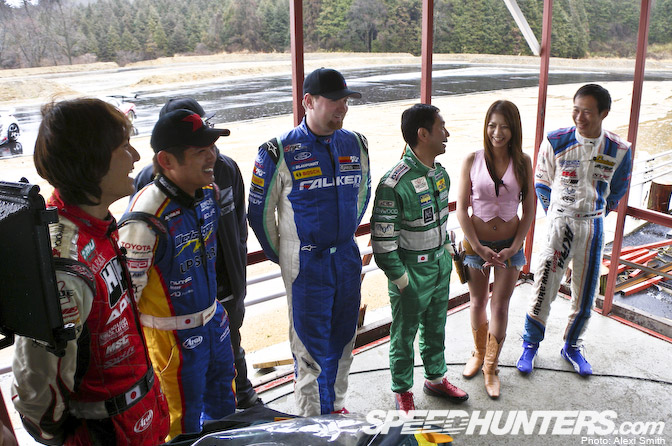 JR fit right in.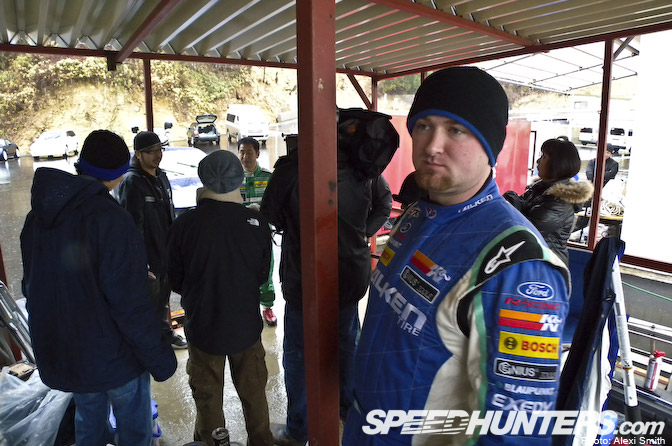 While Tsuchiya was being interviewed by our camera crew, JR got his game face on.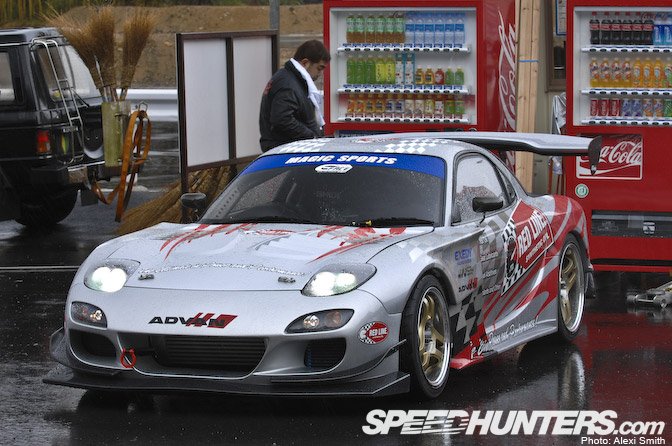 Akira Iida was driving this RX-7 built by Magic, a small RWD racing specialist shop.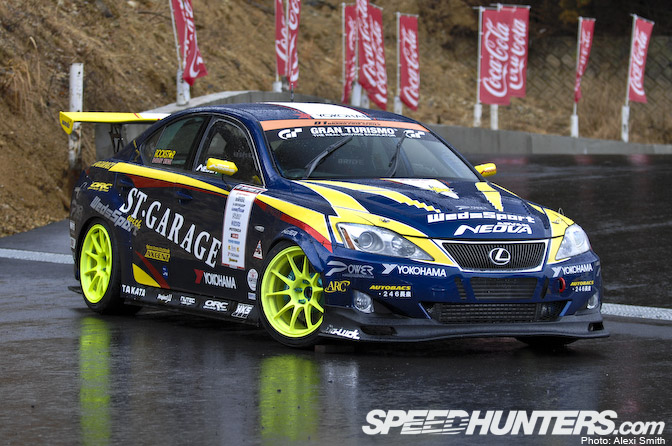 Doesn't look too bad, if I do say so.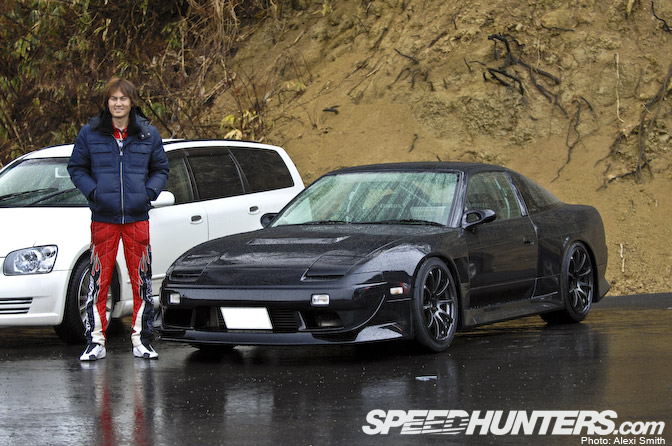 Taniguchi might have been driving the HKS Fairlady Z on the track, but the car he rolled in to get there was pretty nice too. This Vertex Ridge-kitted 180SX used to be NOB's signature red, but after somebody rear-ended him in traffic, he decided to have it resprayed in black.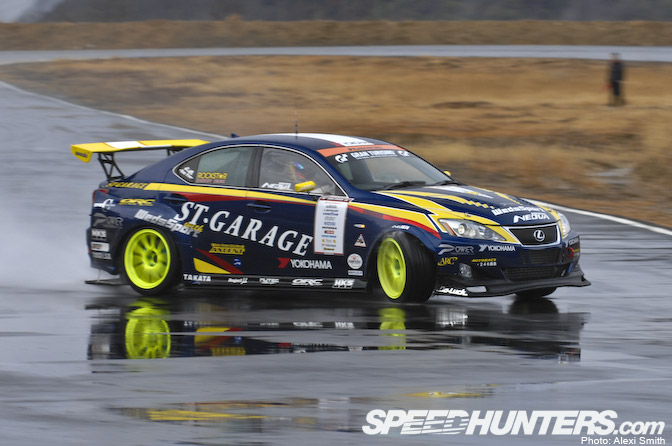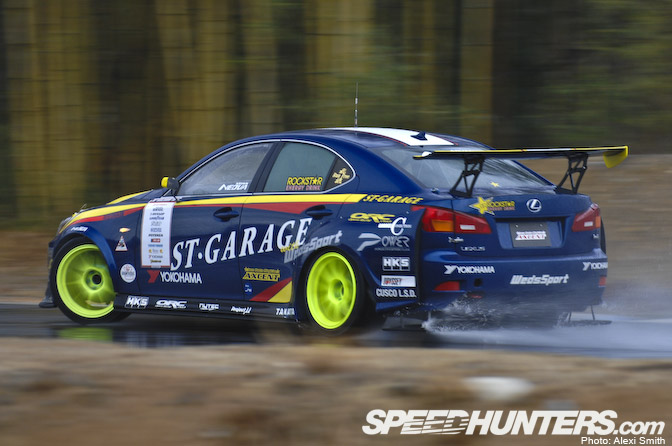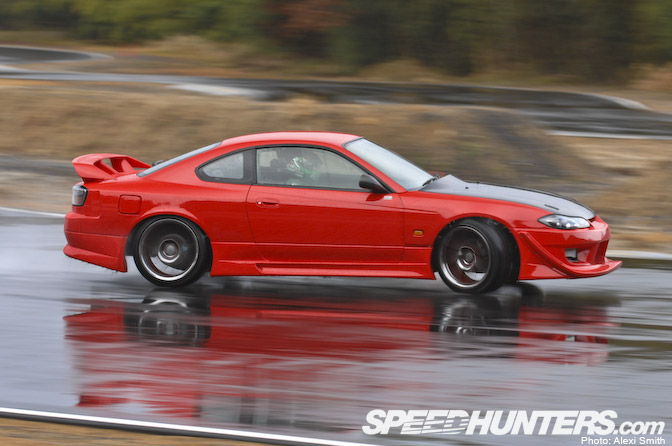 Tsuchiya was driving this S15…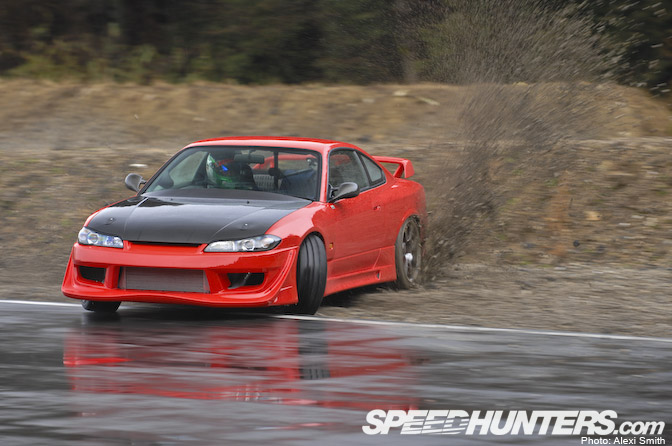 …and occasionally having a little bit of trouble with it.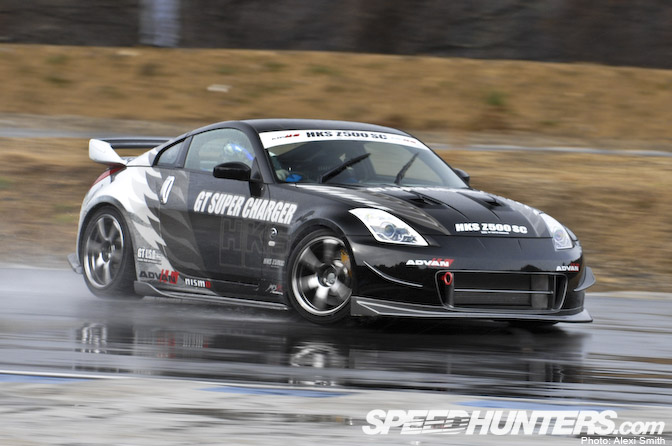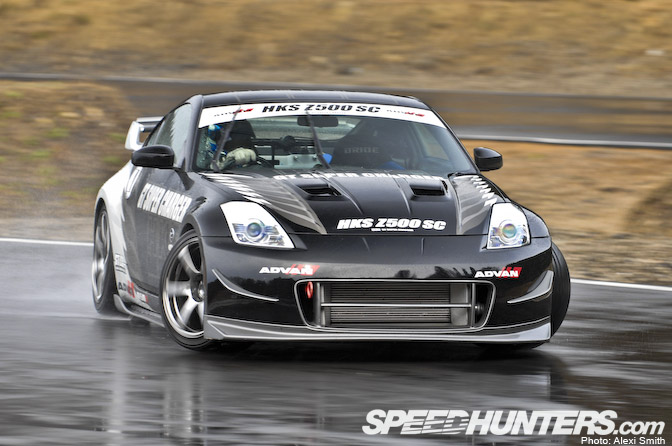 The supercharged VQ motor sounded as angry as a Le Mans racer. It would have been great to see and hear in drier conditions.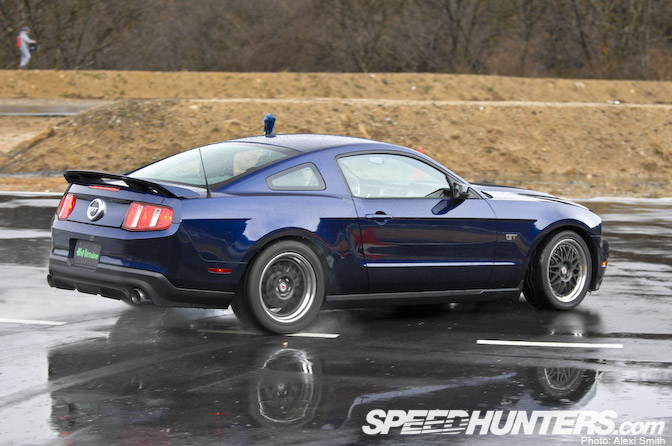 A wet track meant no smoke, but JR did a fist-out-the-window-rolling-burnout start anyway.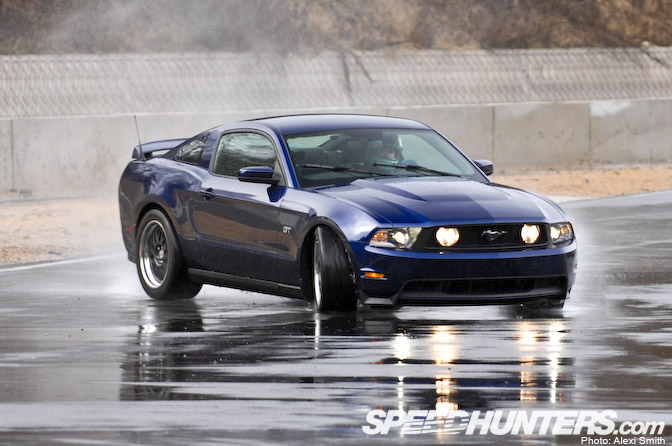 As you can see, the Mustang looked great out on the track.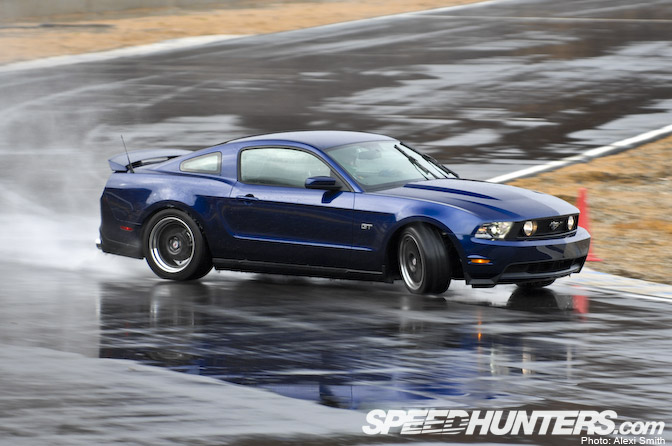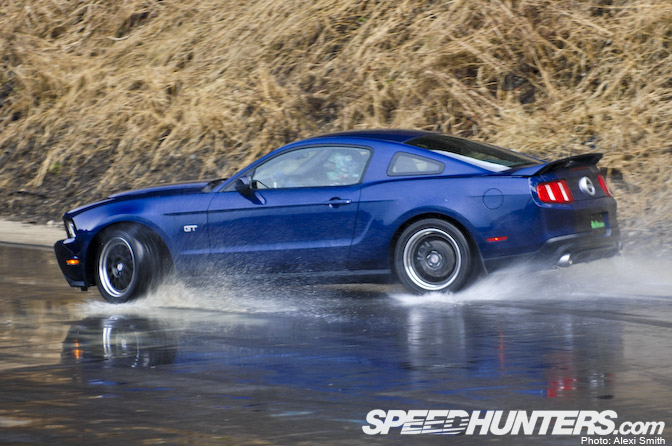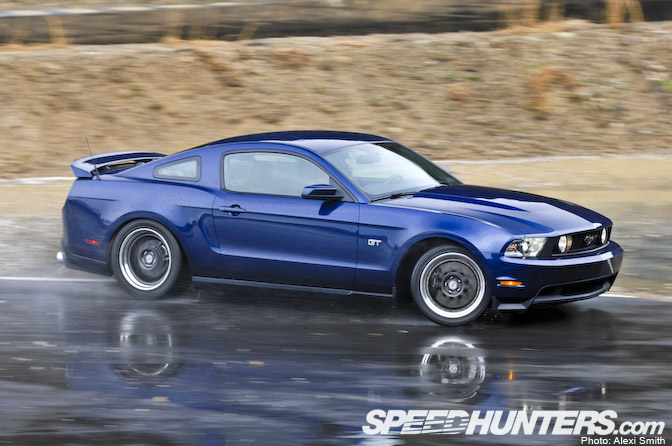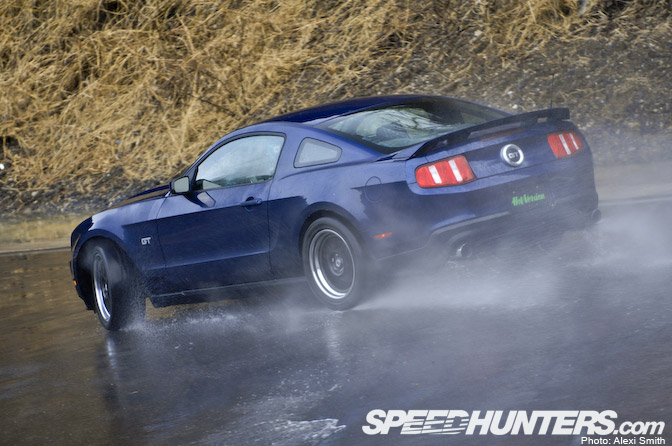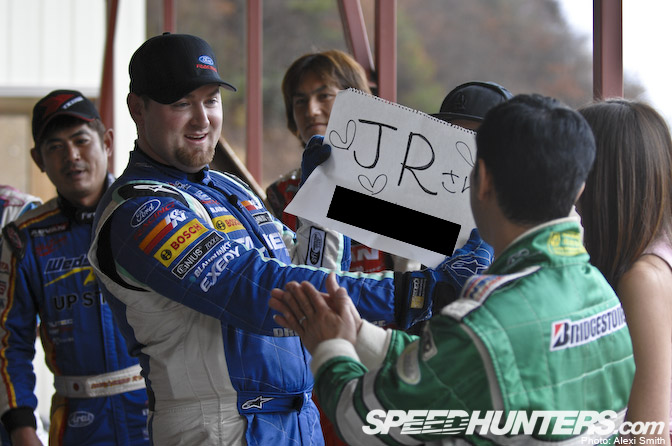 For the final results, you're just going to have to watch the Hot Version video!
-Alexi Smith