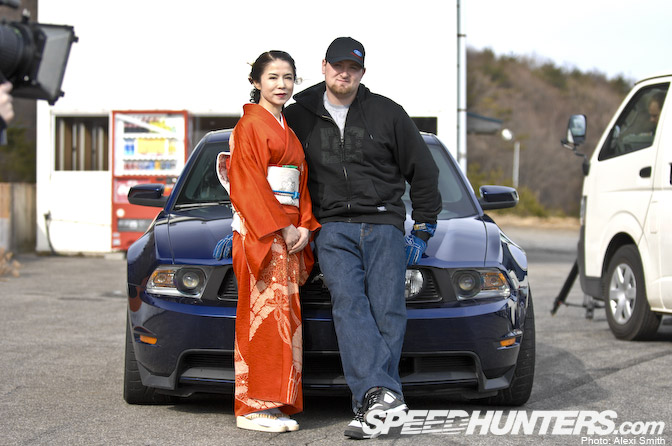 The entire time JR has spent in Japan has been a great example of cross-cultural exchange, centred around the common language of drifting. Even if you can't communicate with words, a simple clutch-kick and smoke of the tyres speaks volumes.
So why is he standing next to a lady in a kimono? You'll have to read on to find out.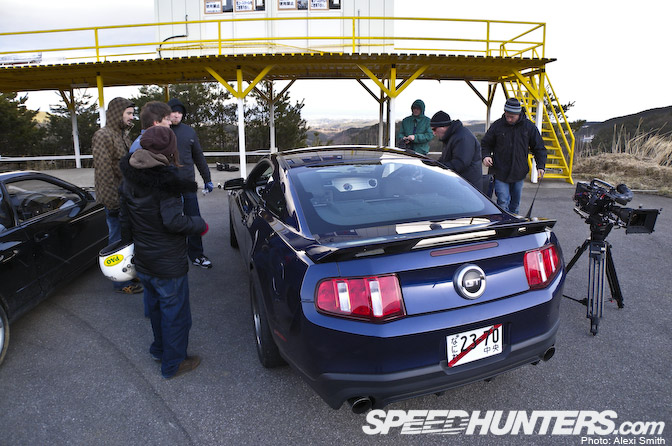 To give JR a bit of much needed rest, we sent the supercharged Mustang on ahead on a truck to give him a bit of time to sleep before driving the 180-odd miles to Ebisu Circuit from Tokyo.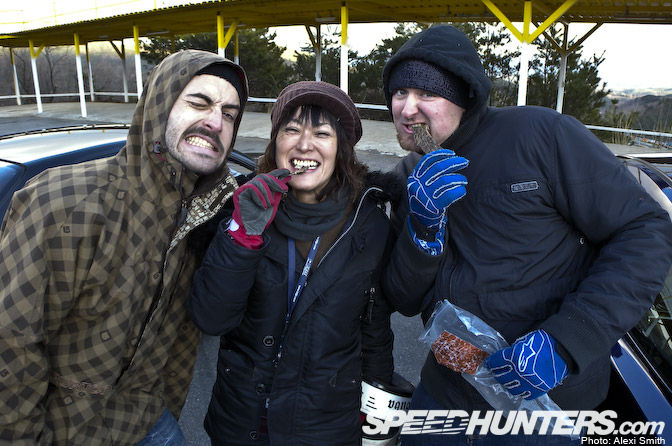 Shino from Shino Kouba garage trucked the Mustang up in the morning, but decided to hang around and check out the action. JR thought that a bit of genuine American beef jerky would be a good way to exchange some more culture. I thought it was pretty tasty too.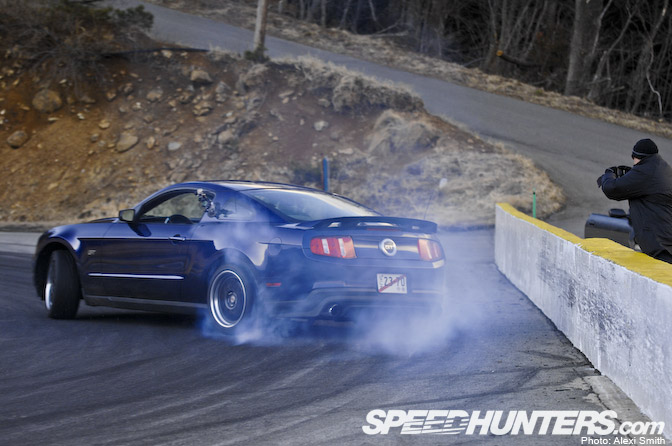 Would you feel comfortable getting this close to a wall in a car that isn't available to the public yet?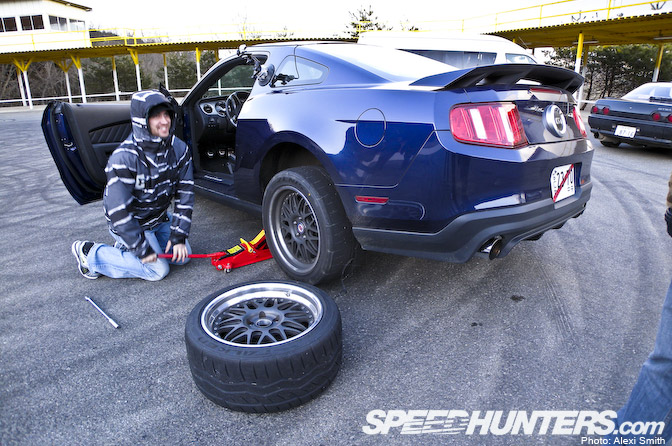 Of course, JR kept Mickey busy all day.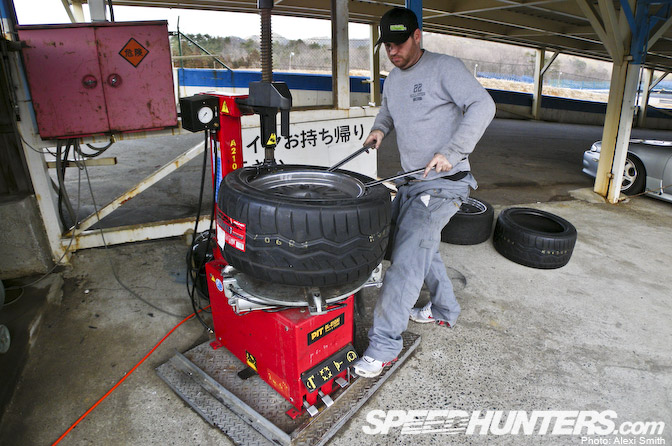 Mickey had a bit of a hard time mounting the Mustang's tires on the Ebisu tire machine, which is usually used with tyres that are small and soft enough to not even need any bead lube.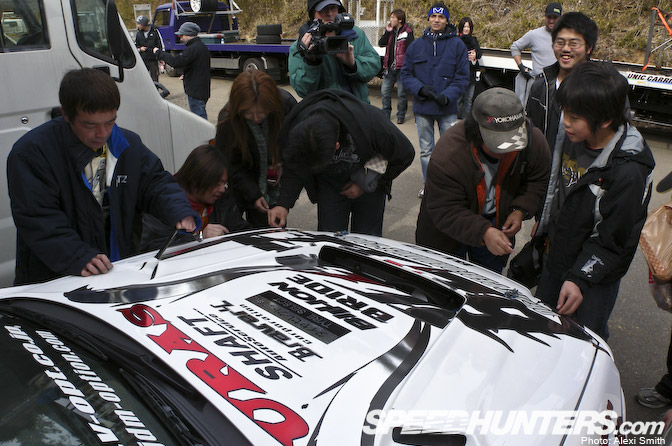 The main event for Saturday was a video shoot for Option with a group of D1 drivers who were there practicing on the South Circuit for the upcoming first round of D1 to be held there at the end of this month. Unfortunately, because I had driven my Skyline for about 600 miles over the past few days as well as joining JR on his late night street drifting and karaoke adventures, I took the morning off and slept in before leaving Tokyo and missed the action. Our video crews as well as the Option crew were there, so you'll be able to see it that way. After the shoot, Nomuken asked some of the crowd to help him pull the stickers off his car before it received a new sticker treatment for 2009.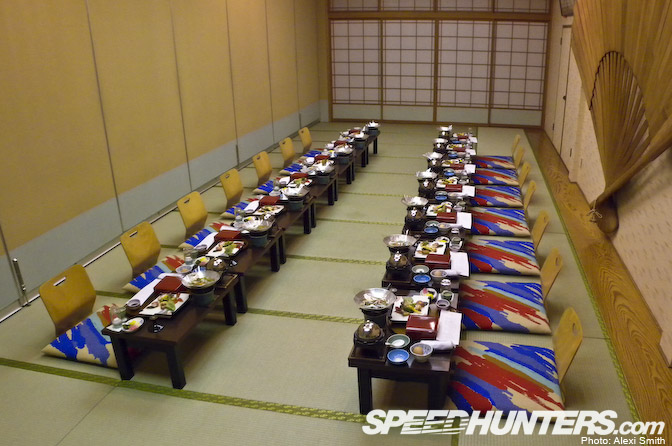 At night, we stayed at the famous 75-year-old Azumakan hot spring hotel in the nearby town of Dake Onsen. Some of the American crew weren't too keen on the idea of sleeping in a room with four or five people on futons, but I love staying in an onsen, especially when the food is laid out as well as this.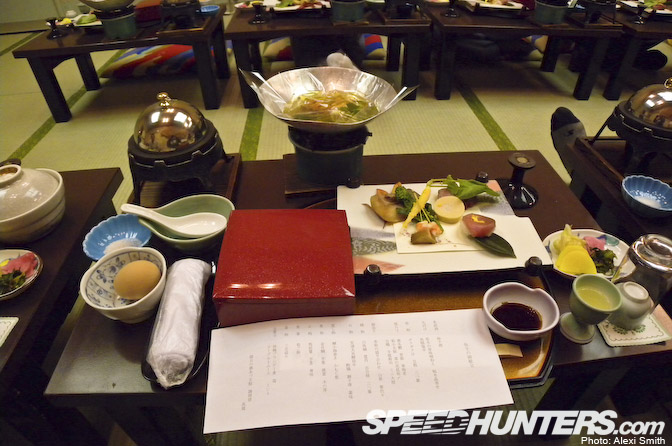 There were over ten courses served, with food like pickled vegetables, sashimi, bamboo shoot rice, rare steak, raw egg in sea urchin nabemono, grilled fish caught in a local frozen lake and stewed pears with mint sauce for dessert.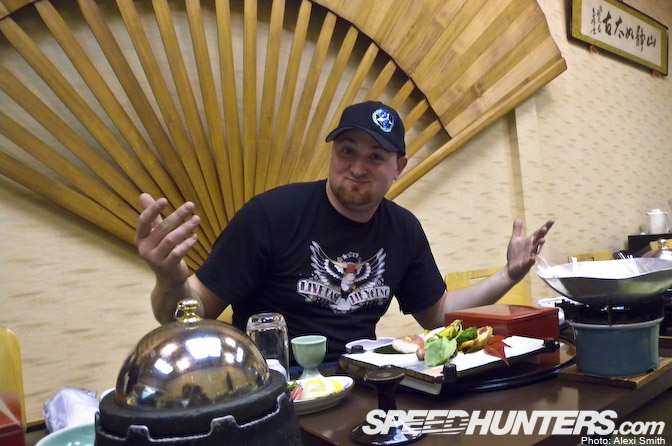 Hey, this is just how JR rolls!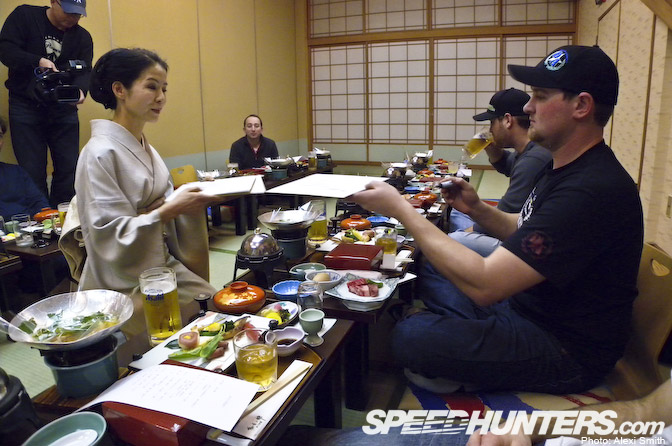 Somebody (was it me? I'll never tell!) let it slip to the hotel manager Misako Suzuki that JR was a famous drift driver from America. It turned out that she knew all about drifting due to the popularity of nearby Ebisu Circuit. She returned a few minutes later with a couple of shikishi (Japanese autograph boards) for JR to sign.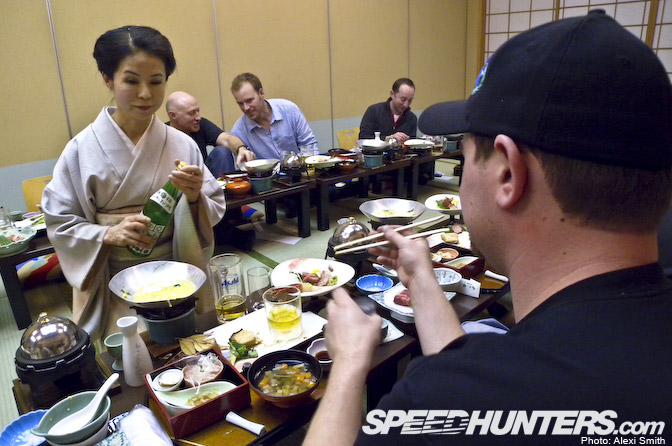 Since he was an honoured guest, Ms. Suzuki stayed with us for the rest of dinner and kept JR's glasses filled with Scotch whiskey and local sake. She asked if it would be possible to come out and visit us at the track the following day and come for a ride! Of course, JR said it was OK.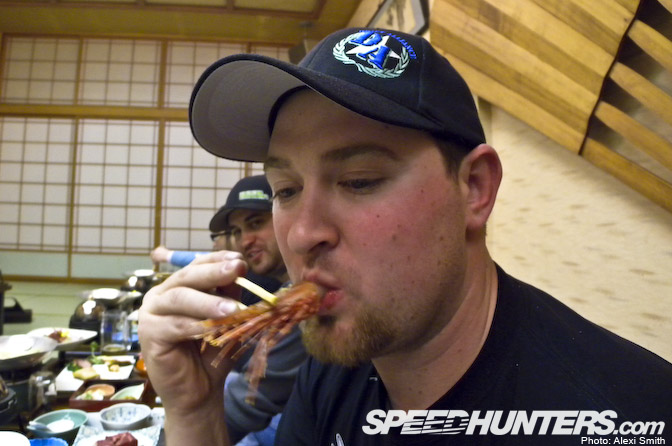 You wouldn't think raw shrimp would be very tasty, but in some ways it's more delicious than the cooked version.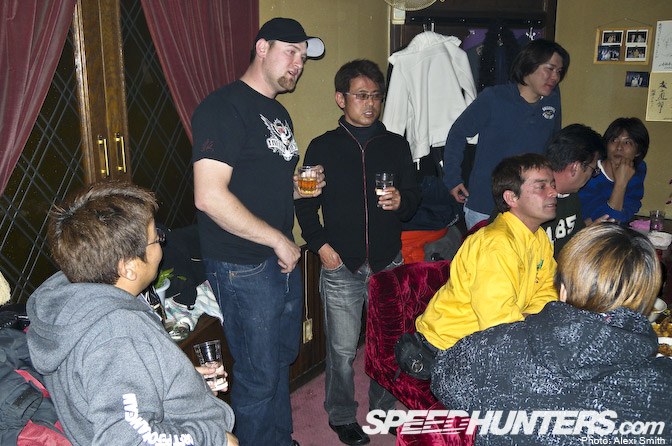 After dinner, we headed down to Nihonmatsu to a local bar where Kumakubo and some of the other D1 guys were hanging out.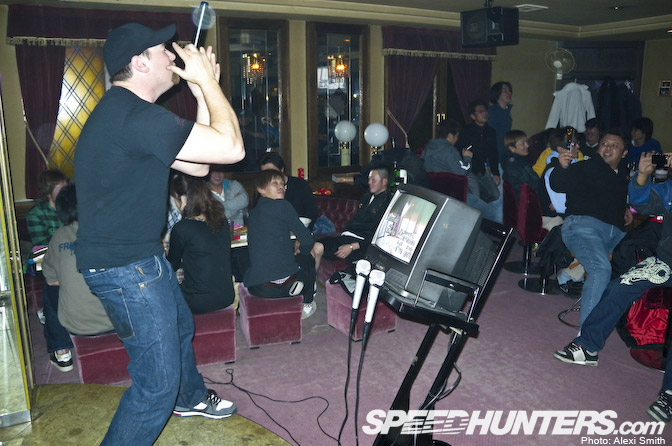 After very little convincing, they handed JR a mic, and he belted out his version of "Livin' on a Prayer" by Bon Jovi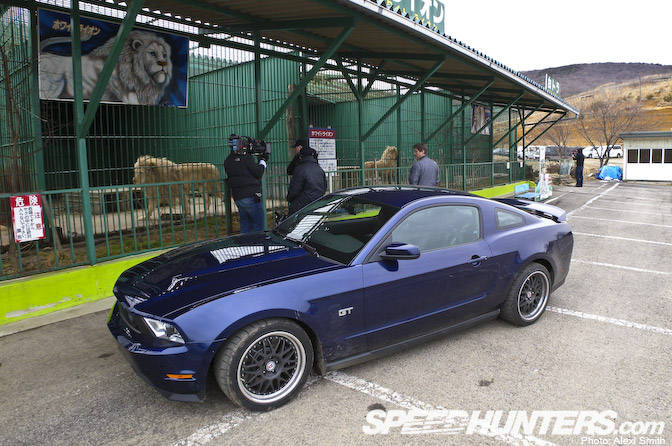 Ebisu Circuit shares the same grounds as the Tohoku Safari Park. Where else in the world can you drift within eyesight of lions? The lions actually seemed to take a great interest in the sound of the Mustang, and whenever JR drove up or away from the enclosures, they would all run to the front and look at the car. It must have been the deep, growling engine note.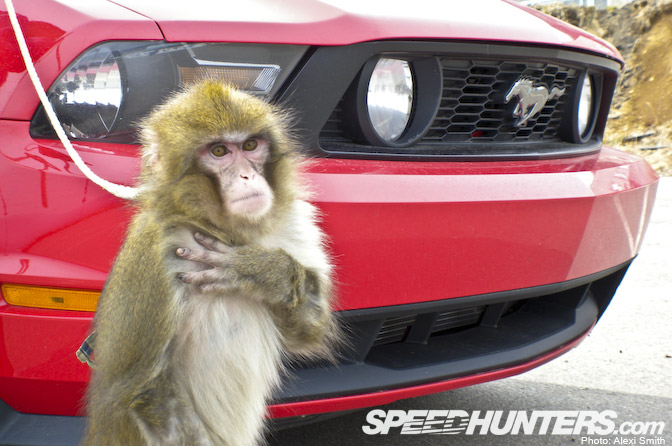 Word. "M" for Mustang.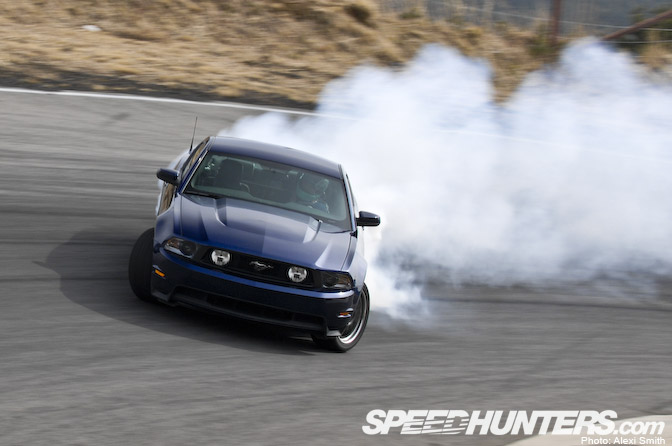 On Sunday, JR headed up to the North Circuit at Ebisu to get some more practice and shoot some more video.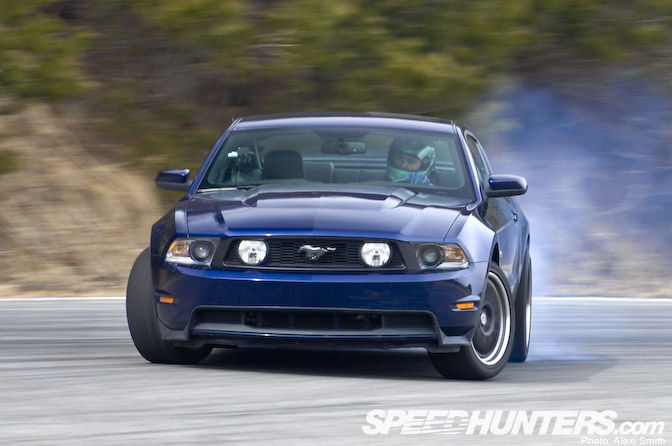 It was great to see him get right into the high-speed corners, especially since the North Circuit has very little run off, or as they say here, "no escape zone".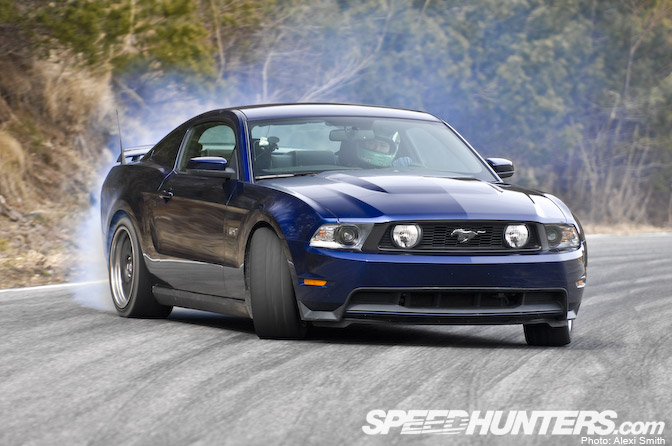 Kicking sideways over the blind crest entry is something that most drivers don't work up the courage to do for quite some time. JR was doing it within a few laps.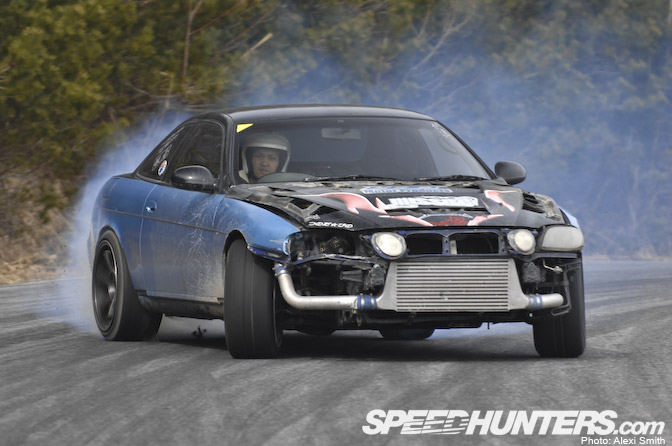 Robby Nishida was there too in his Soarer missile to give JR some advice.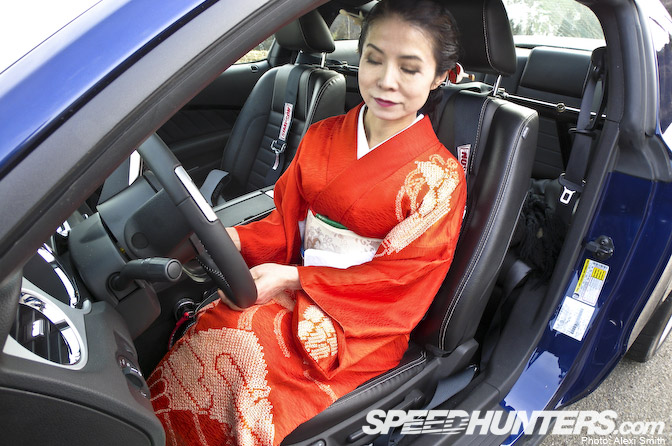 Sure enough, Ms. Suzuki showed up right on time in a full kimono! She said she wanted to be the first person in the world to go drifting in a Mustang while wearing a kimono. Do we have any challengers to that record? She even did her hair in a special low style so she could wear a helmet over it!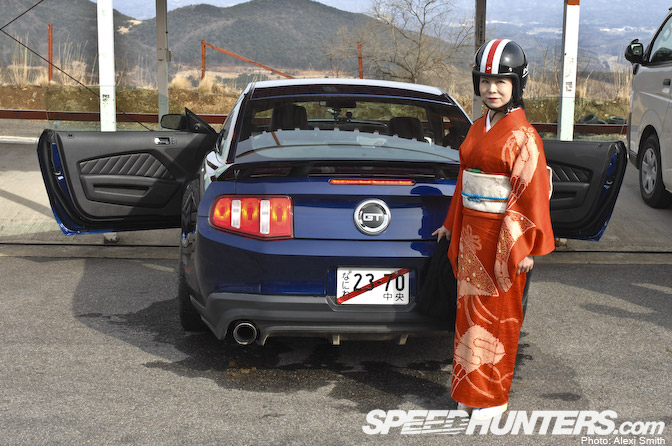 This photo is so East vs West my head hurts.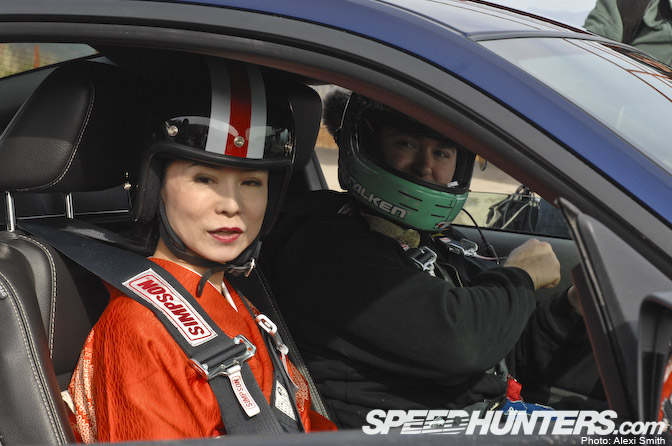 After a quick strap-in JR headed out.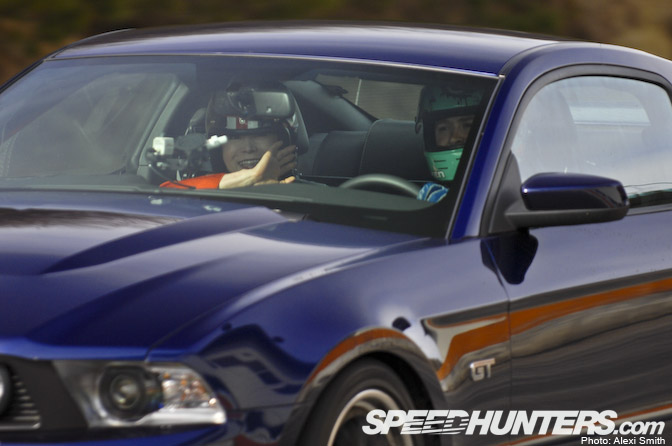 She was laughing and waving to the camera crew the whole time.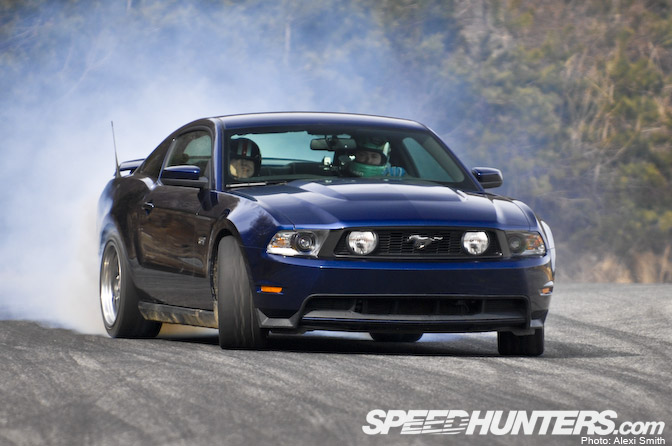 Maybe this third-generation manager of a respected hot spring hotel has a secret streetracing past that we don't know about?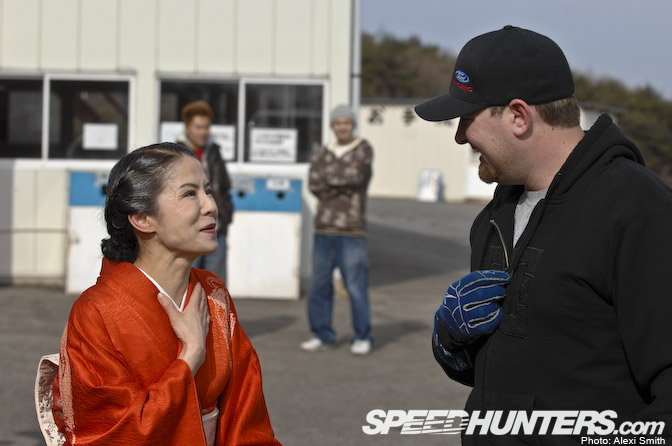 Ms. Suzuki said that it was a little bit scary, but JR seemed like a very skilled driver, so she wasn't worried.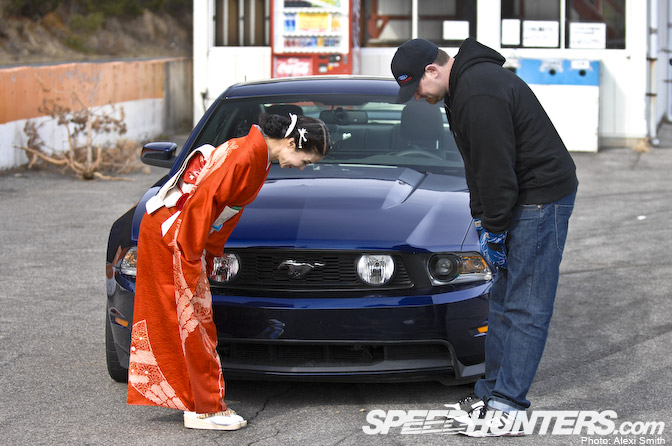 JR won't like me saying this, but he's actually bowing like a girl. Guys are supposed to keep their necks straight and put their hands on the side of their thighs, but we'll just let that slide this one time.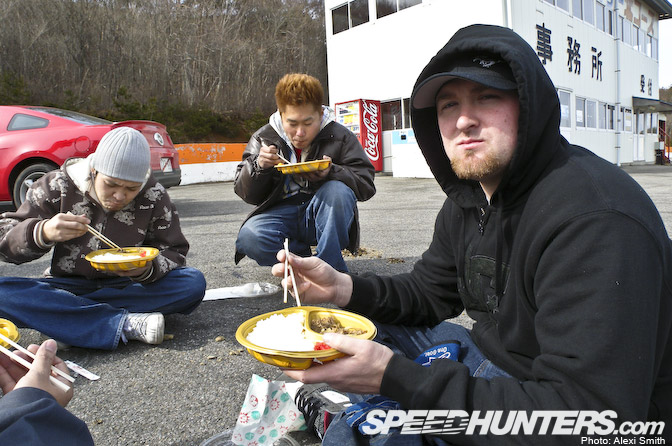 After a quick BBQ beef and rice lunch from the Safari Park restaurant, JR got back down to business.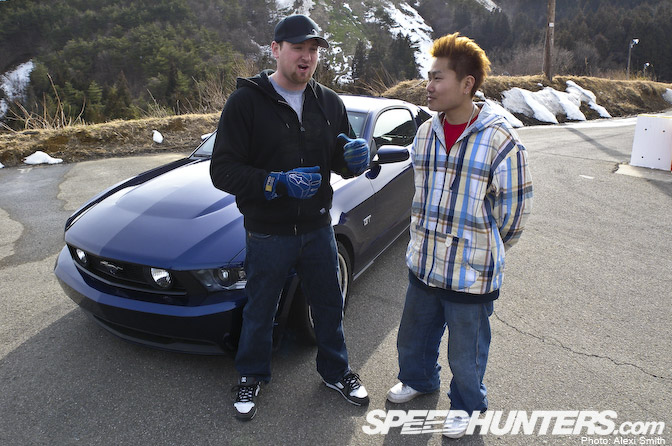 2008 D1 Grand Prix Champion Daigo Saito is switching from his JZX100 Mark II to a Mustang for this year's competition, so JR was keen to see what he thought of the new 2010 model.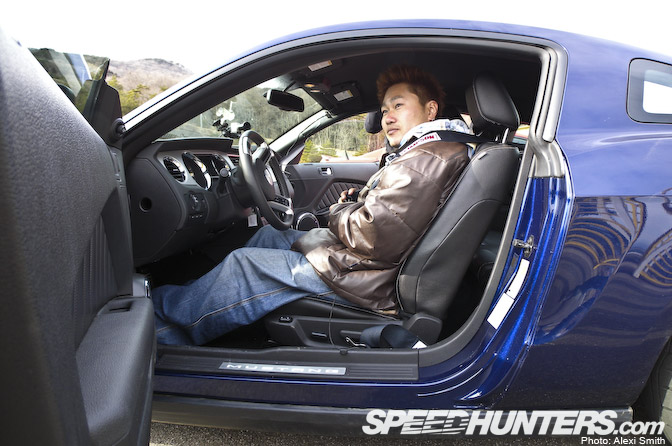 At first, we didn't know if he'd be able to get the hang of the reasonably standard Mustang…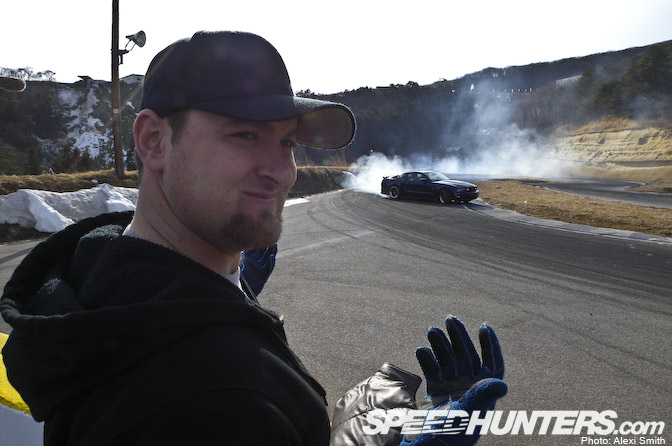 …but he had absolutely no trouble on the small School Course track…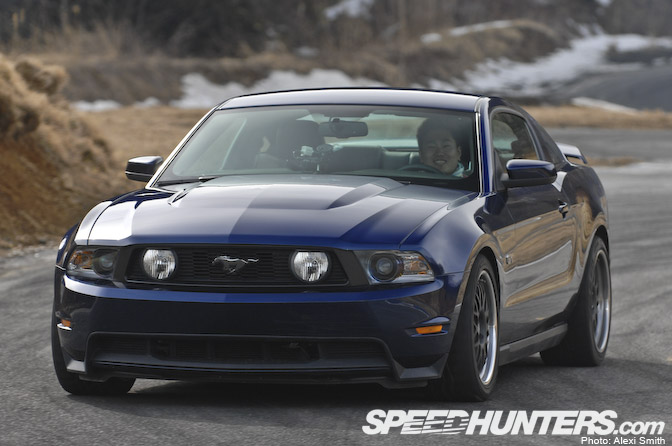 …and seemed to enjoy it a lot.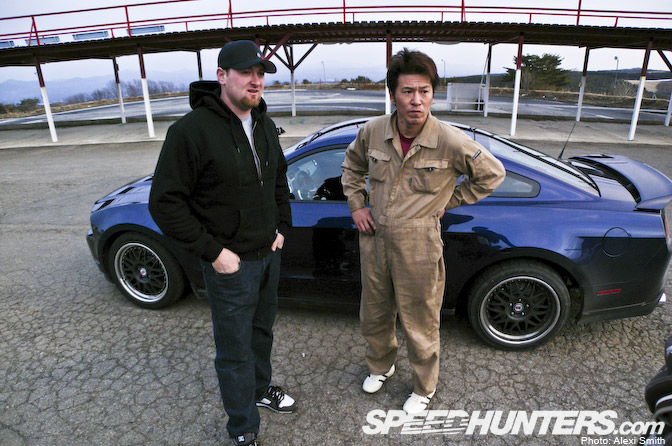 JR even managed to get Yoshinori Koguchi's opinion of the Mustang. The unanimous descision of everyone? It's a whole lot of fun to drive.
So, that's it for my coverage of JR's trip to Japan. I look forward to watching the video version! Hopefully, there's not too much of our karaoke sessions in there…
-Alexi Smith