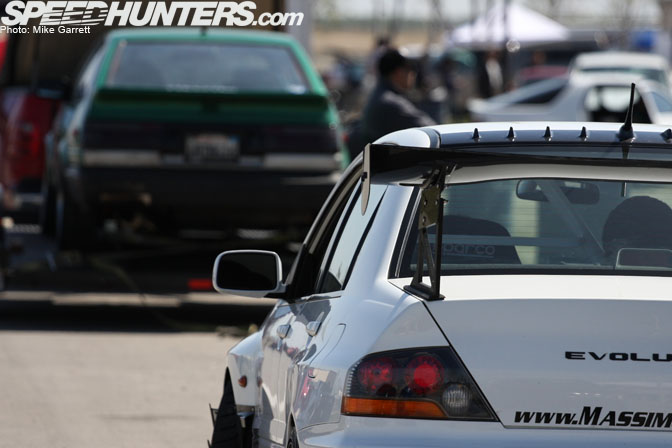 I've been back home in the USA for a few weeks now, and I guess you could say that I'm over what they call "reverse culture shock". With the 2009 racing season now in full swing, it was time to head out to Buttonwillow Raceway this weekend to have a look at the opening round of the 2009 Redline Time Attack series. Before leaving for Japan, I had spent a lot of time shooting time attack events at Buttonwillow, and I was excited to see how the American time attack scene had changed during the time I was gone. Sunday morning I loaded up the car and headed down the dusty highway to the birthplace of "Time Attack USA".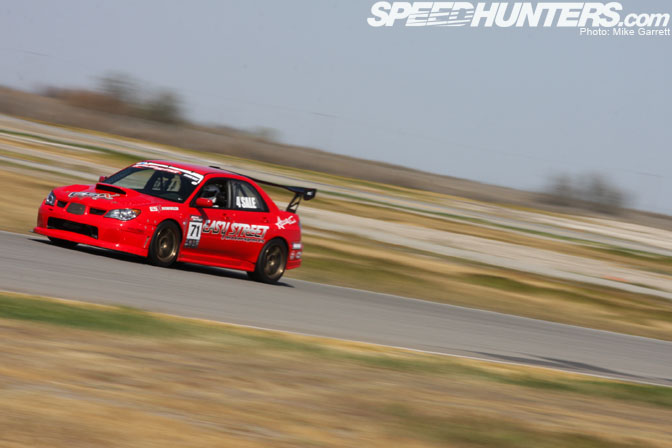 I don't think there's a single person out there who will tell you that Buttonwillow Raceway is a scenic or exotic racing circuit, but it's featureless vistas do have a unique charm to them. When I first watched the cars take the track for their practice session early in the day, a sense of nostalgia over took me. I was back…
With clear skies and temperatures only reaching the mid '70s it looked like it would be a fine California day, but high winds in the area made things a bit difficult for everyone, throwing up dust storms and tumbleweeds (yes..tumbleweeds) throughout the day. Despite the strong wind and dustier than usual conditions, there was a huge of turnout of cars at the track, ranging from beginners in their daily drivers, to some of the biggest teams involved in the sport.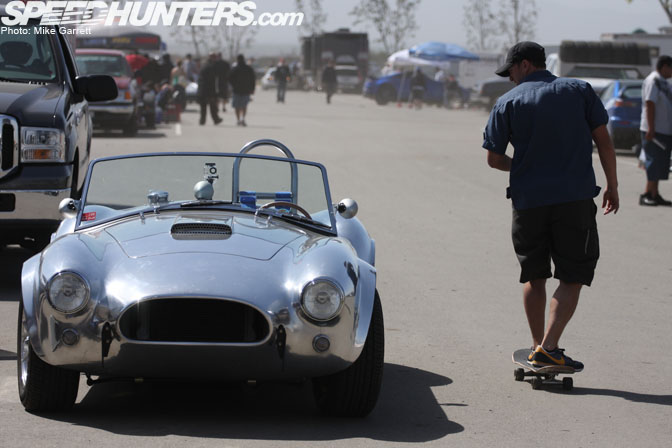 Unfortunately, this badass Cobra wasn't taking part in the on-track activities, but it did make for a cool scene in the pits as it drew the eye of all who passed (or skated) by. Note the dust cloud in the background, wreaking havoc on cars, skin, and camera equipment…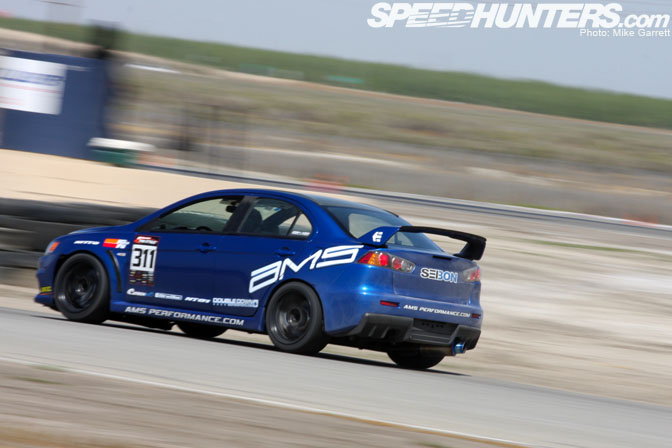 Even when I was in Japan, I did my best to keep up with what was happening back home, and one of the cars that I had been looking forward to seeing was the "Gates311" Evo X. I'll be posting more on the results of the event in the next post, but this car did not disappoint.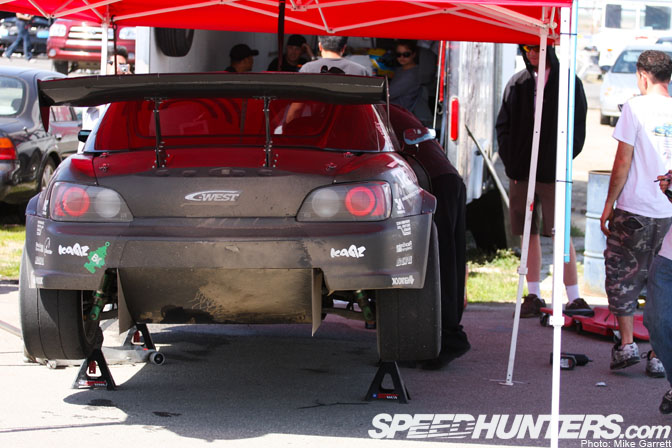 A favorite to take the number one spot in the top level Unlimited Class was the Brian Crower C-West S2000, driven by Tyler McQuarrie. This car just seems to get more and more wild each time I see it. Have a look at those rear tires!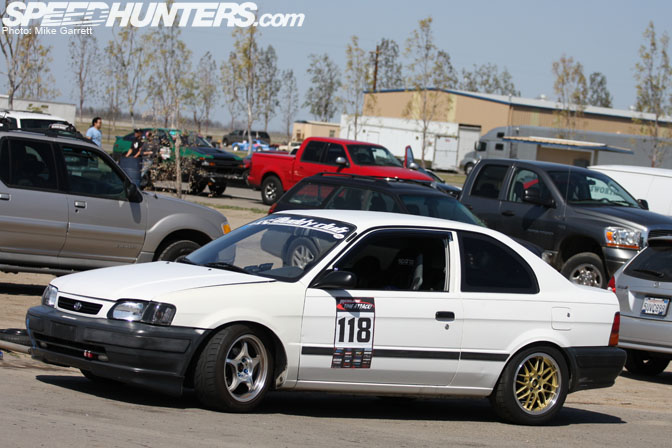 And on the other end of the spectrum, there were a lot of interesting street-driven privateer and grassroots entries that made also out to Buttonwillow. How many Toyota Tercels have you seen at the race track? If you look closely you can see an intercooler sitting there behind the front bumper.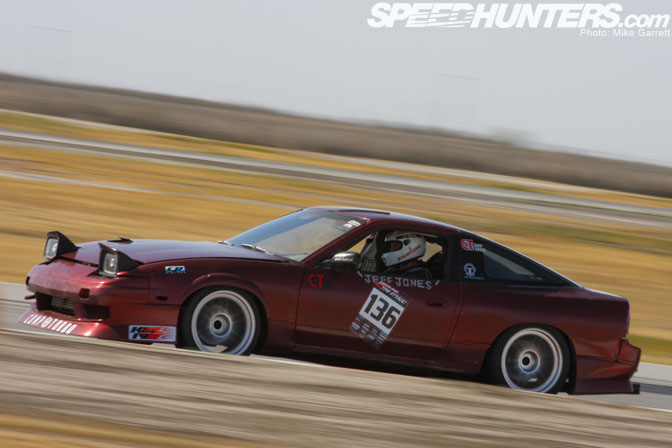 This S13 was moving with some surprising thrust, but judging by the smoke that came pouring out of it late in the afternoon, it experienced a bit of machine trouble…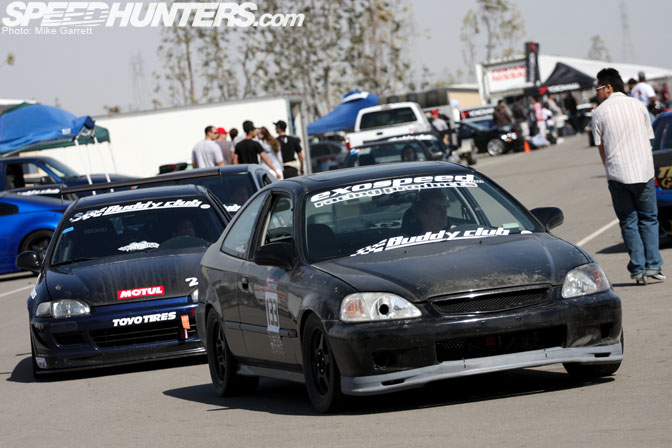 As you'd expect from a stateside track event, there were plenty of FF Hondas to be found in just about every class. In proper Buttonwillow fashion, nearly every car had an attractive coating of dirt and dust by the end of the day.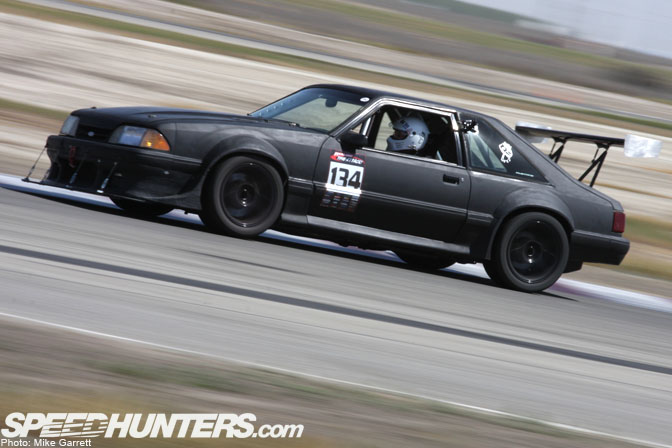 This flat black fox body Mustang brought some Mad Max attitude to the event. One of the things I like about American time attack events are the variety of cars you'll see out on the track mixing it up. This one of many V8-powered American cars that were competing, including several Mustangs and a few Corvettes.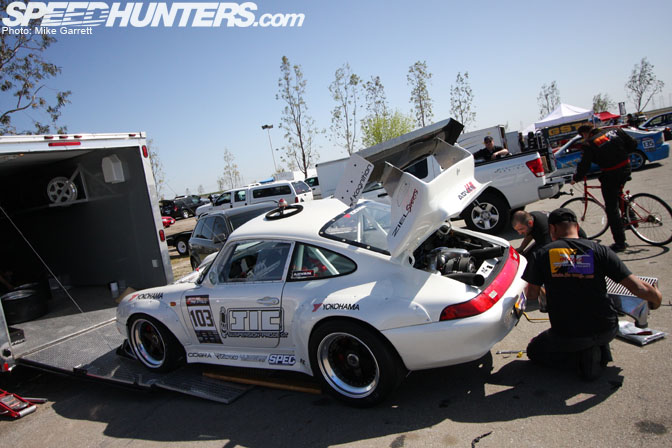 European cars had a strong presence as well, including some track-tuned Porsches. I was looking forward to seeing the JIC 911 on the track, but some mechanical trouble forced the crew to put her on the trailer early…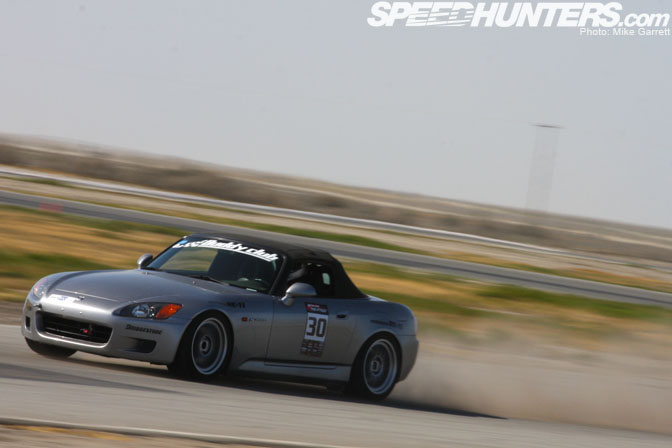 The S200 has been a popular track car for several years now, but there seemed to be even more of them out there than I remember before I left for Japan. This silver AP1 model was just one of many fast 'n sexy S2000's flying around the track on Sunday.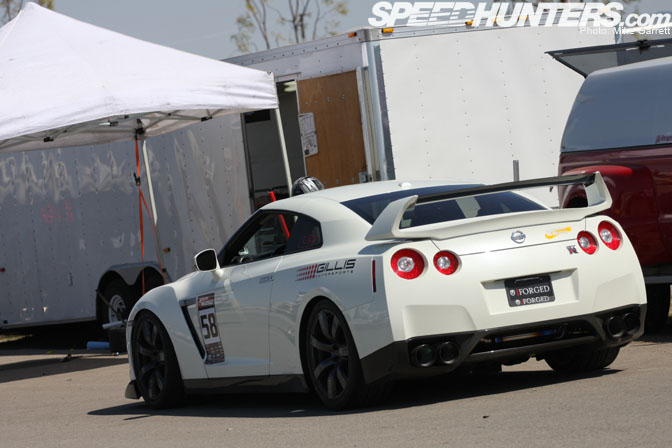 There were a handful of R35 GT-R's that out there as well, including this nicely done white car loaded up with Powerhouse Amuse parts. The R35's quiet, jet-like exhaust note was big contrast from some of the louder cars out on the track. I still can't help being amazed by how well a nearly-stock GT-R performs on the track.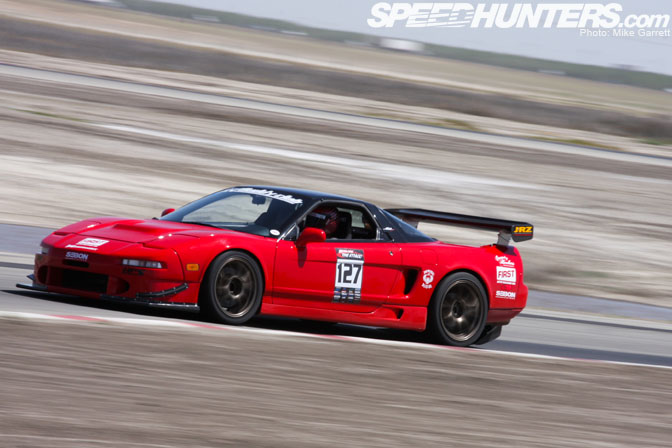 One thing that took me by surprise was the number of tuned NSX's that came out. As the early model NSX's get older and more affordable, they're becoming much more feasible platforms for dedicated track cars. I particularly liked the style of this red car, and despite being a platform coming up on 20 years old, the NSX still has an incredible amount of potential.
I'll be back soon with more from the Redline Time Attack season opener at Buttonwillow, including some of the day's results.
-Mike Garrett