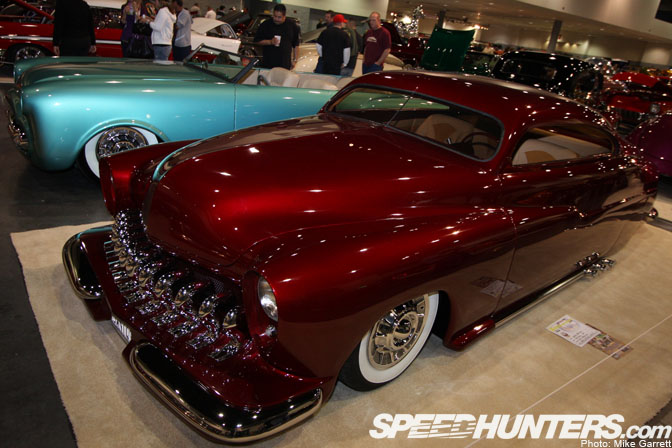 Contrary to popular belief, there are parts of California other than "SoCal" or NorCal". I grew up here in Fresno, which is basically halfway between San Francisco and Los Angeles. I like being here because I can easily jet off to any part of the state, but the automotive scene in Fresno is a bit lacking. Just as an example, the "VIP" trend has been in the USA  for several years now, but I've yet to hear of a single VIP style car here in Fresno, despite the fact that it's California's fifth largest city. When it comes to import cars, we might be a bit behind the times, but the central valley does have a very rich history of hot rodding and custom car building that spans back to the 1930's and '40s.
One of the biggest auto events in this area is the Fresno Autorama, which is celebrating its 50th anniversary this year. Local car builder Blackie Gejeian started the show back in 1958, and it's become a Fresno tradition and an event that receives nationwide attention due the selection of cars, which are picked by by Blackie himself. The '09 Fresno Autorama happened to be this past weekend, and I thought covering it would be a fine way to get back into the swing of things, and could "officially" mark my the begenning of my USA Speedhunting. On Saturday night, my dad and I headed down to the Fresno Convention Center to have a look at the famous Fresno Autorama.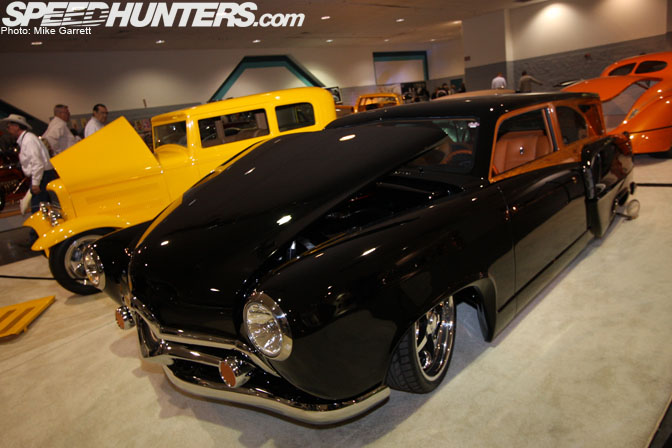 With around 250 cars total, it's not one of those giant shows that takes and hours and hours to see, but the quality of the vehicles on hand makes it more than worth the price of admission. The majority of the cars are pre '65 rods and customs, but a handful of "late models" can be seen as well. There were a lot of your standard billet-laden modern show rods, but also a nice selection of traditional machines, including several original show cars from the 50's and '60s. The Henry J Wagon in this photo was one of several big-name modern customs which were invited to the show.
One of my favorite parts of the Autorama were the original custom cars that appear just as they did back in the '50s and '60s. It's one thing to see a current build done with the nostalgic touch, but another thing to see the actual show cars from that time period. This "Mountain Pearl" '53 Ford F100 was originally built by Otto Rhodes in early 1960's was featured in many car magazines during that time.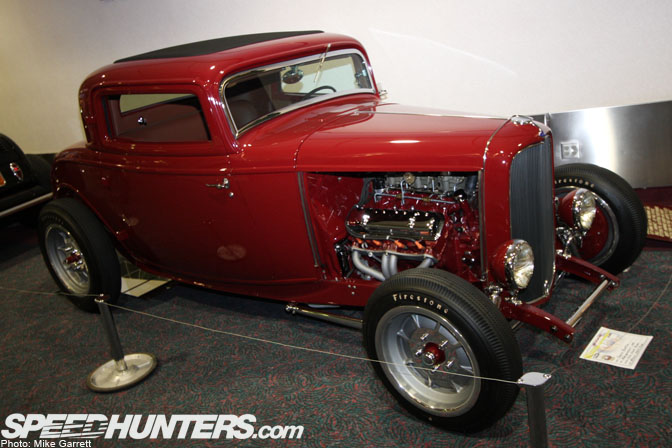 There were a bunch of '32 Fords at the Autorama. but this car from New Mexico impressed me more than any other. There is nothing trendy or gimmicky about it, unlike a lot of the rods you see these days. I liked the period correct '57 Oldsmobile engine, but it was the set of 16" and 18" skinny magnesium wheels that really drew me to this car.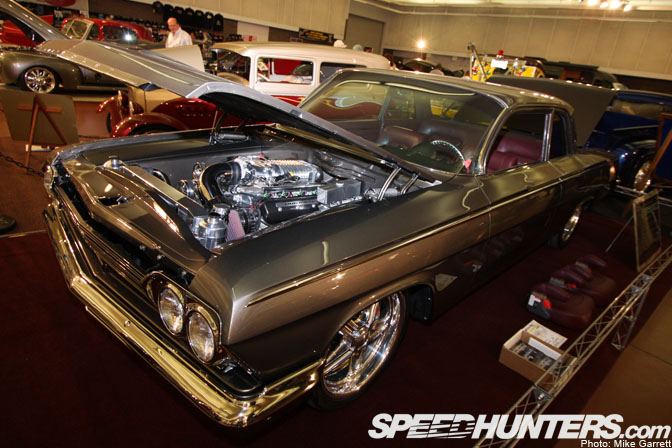 This '62 Chevy Biscayne is dubbed the "Hurricayne", and was obviously inspired by Troy Trepanier's "Chicayne" that won Hot Rod Magazine's "Hot Rod of the Year" award back in 2003. It wasn't until I got up close that I realized this car wasn't the Chicayne itself.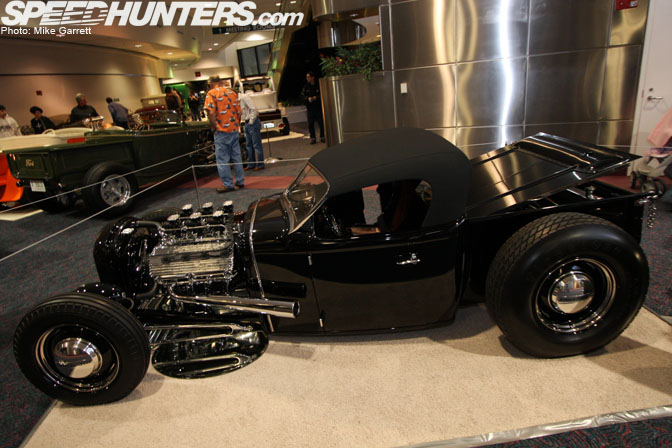 It's too bad they don't make pickups like this anymore.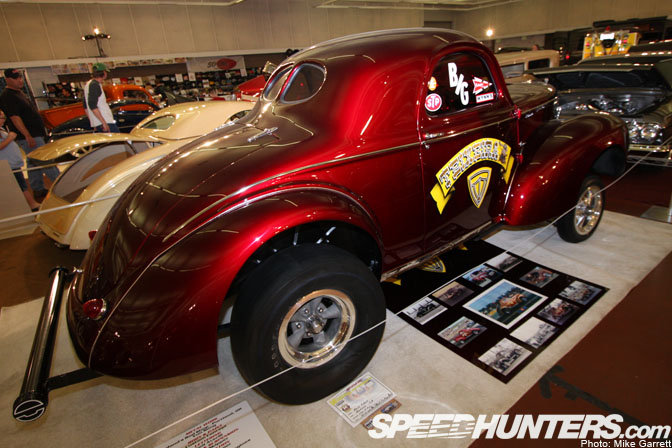 Unlike most of the cars at the Autorama, this WIllys gasser actually has some racing history behind it. You can see some of the vintage drag racing photographs there beneath the car. Unfortunatley, I'm not sure if any of the dragstrips in those pictures still exist…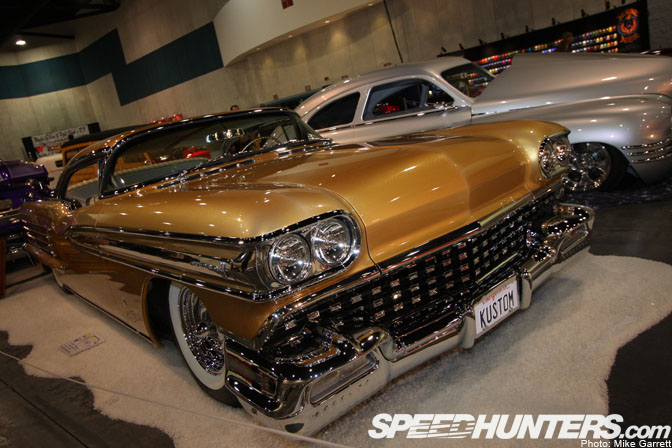 For extravagant late '50s road yachts, you don't need much besiies low stance, nice paint, and a few inches removed from the roof to have a gorgeous creation like this '58 Olds two-door hardtop.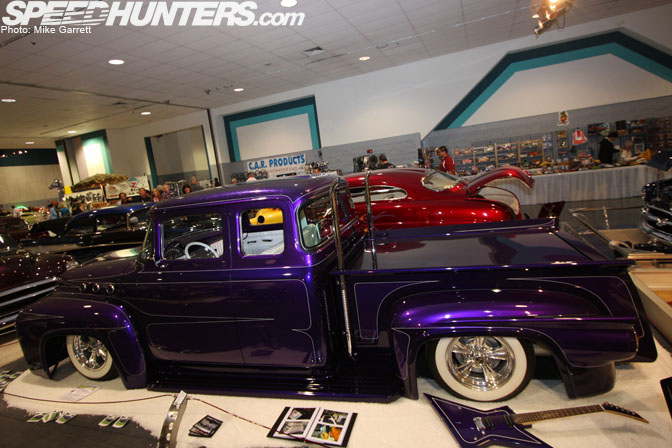 Here's another nice example of a fat-fendered Ford pickup. I'm not 100% sure, but I'm thinking the extended cab on this truck is a custom addition and not a factory option like the ones you see on modern pickups.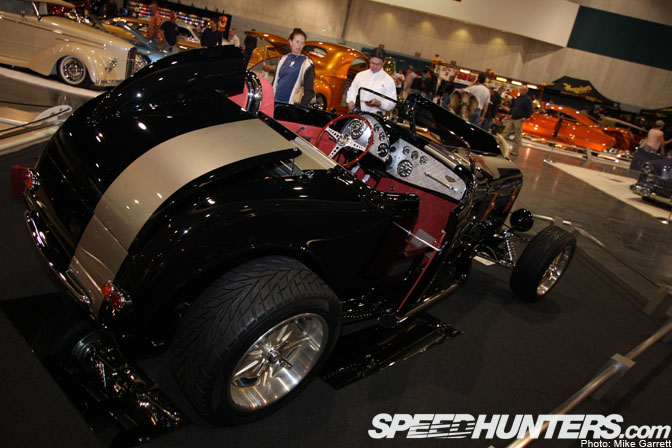 This roadster perfectly embodies the spirit of open-top motoring to me.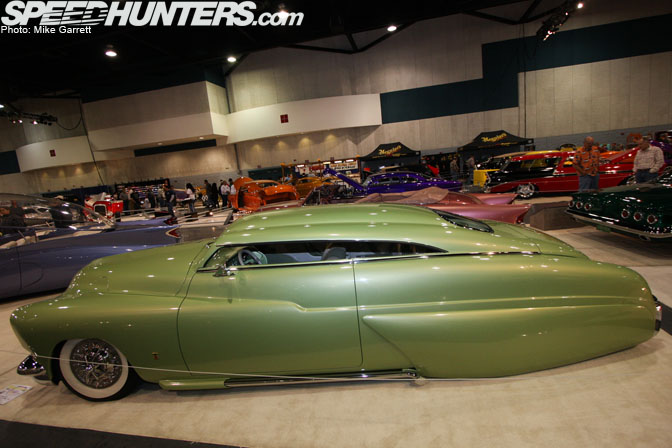 I was just studying the photo of this chopped sled when my wife walked by and said "hey, that looks like a UFO".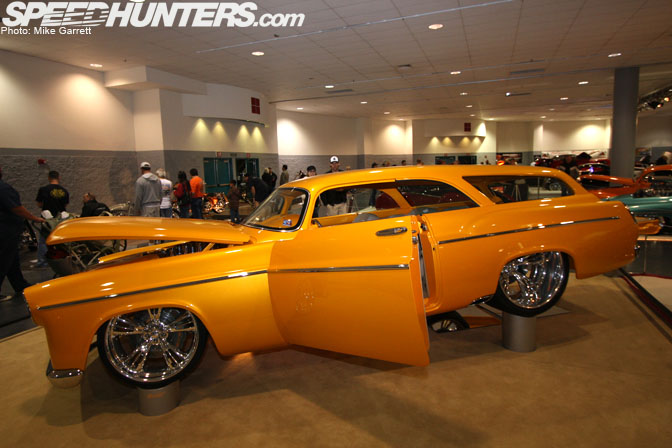 After looking around a bit, it appears this '55 Chrysler two-door wagon was featured at the Detroit Autorama last year. I can't help but feel a bit of pride for my hometown when I see these high quality cars coming here for the Autorama.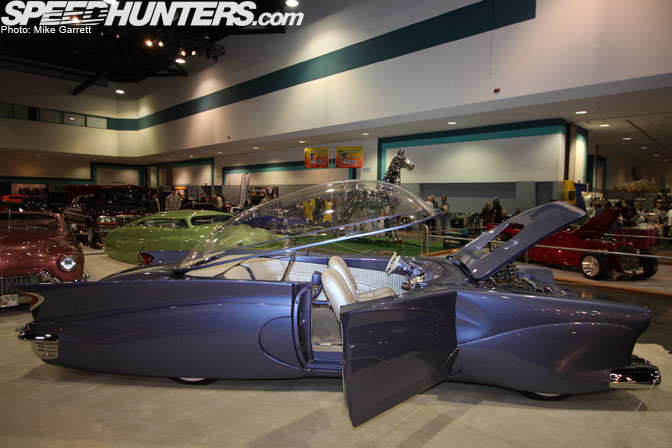 Lastly, the future is yesterday.
More coverage from the Fresno Autorama coming soon.
-Mike Garrett