Just last week, I was given the opportunity to test drive the R3 version of the 2009 Mazda RX8. Since Mazda's television ads state that there are more Mazdas racing on any given weekend than any other car brand, I decided that I should prove this theory by taking the RX8 to the track. Since some of my recent driving impressions took place at a road racing circuit, I decided to switch things up a bit and refresh my skills in solo racing, or timed autocross.
Searching the internet for a local event in my area, I was excited to find that the Evolution Performance Driving School (or Evoschool for short) would be doing an autocross clinic in Southern California during my birthday weekend. I contacted them immediately and signed up, as I knew my autocross skills were definitely rusty – even though autocross was what originally got me involved with racing, I hadn't personally driven at an autocross in years! Blame it on the hectic work and travel schedule! My Evoschool experience definitely made for an outstanding weekend. It was fun, I learned alot, and most importantly, it got me back on the track where I should be – sitting behind the steering wheel instead of standing behind the guardrail, taking photos. (That's me driving the blue RX8 R3 into the gate in the above photo!)
Evoschool clinics are taught by specialized autocross instructors, who are SCCA National Champion drivers in their own right. A few of the Evoschool instructors were even featured in the Speed Channel television show, The Setup, which dealt with race car preparation and spec racing of Pontiac Solstice GXPs.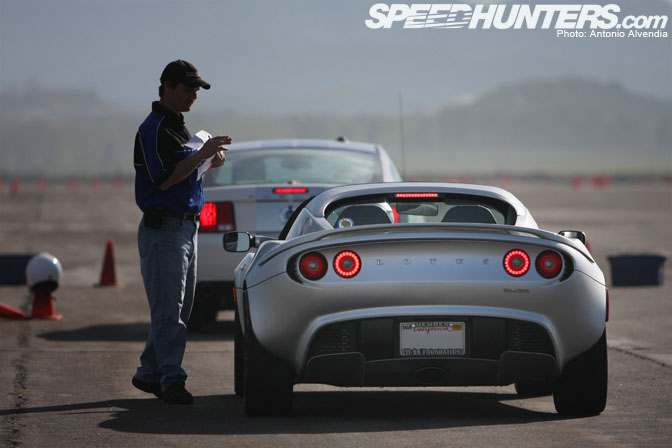 Autocross is fun. Therefore, Evoschool attracts people from all different age groups, ethnicities, and walks of life. Believe it or not, the owner of this Lotus, Linda Hiebert, is a lady in her 70s. Let me rephrase that. She is a lady over seventy years old that was consistently turning out much faster lap times than many of the 20-35 year old men attending the school! You'd better think twice before you say things like "you drive like a grandma!" Linda is definitely doing her part to shift that paradigm; chances are, she drives much faster than you!
Above, Evoschool instructor Mike "Junior" Johnson checks in with Linda before her run, reminding her to enter the slalom "on the back side of each cone." More explanation on this term later.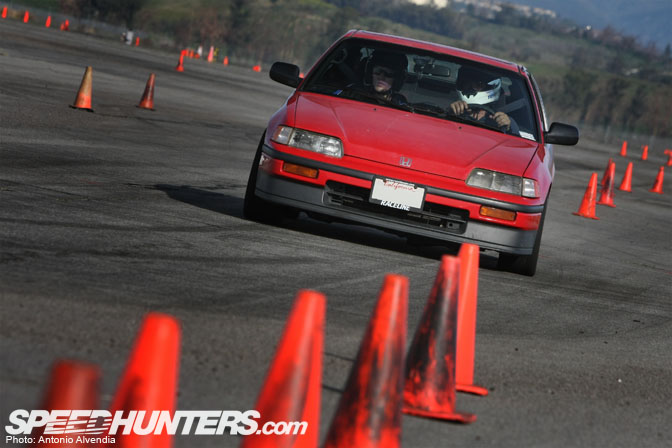 This portion of the course had students negotiating their way through a Chicago Box and sprinting to the next corner, which was a 90-degree right hand turn. As Evoschool instructor Ryan Buetzer sat shotgun with students on this portion of the course,  he emphasized the importance of braking in a straight line before attempting to make the right hand turn, so the car wouldn't understeer (plow) forward into the slippery dust filled areas of the track.
Even though "brake in a straight line" is a relatively simple concept that almost all road racers and autocrossers have heard before, it isn't always easy to do in practice. Speaking for myself, my autocross skills are admittedly rusty, so even though I have definitely known the "brake in a straight line" concept for years, I didn't realize that I was attempting to power out of the turn too early on my runs.
While he was sitting shotgun with me, Ryan Buetzer, who is a three time SCCA National champion, analyzed my driving, and told me that I needed to brake harder while the car was still going straight. At first, I was too concerned with scrubbing too much speed when braking. However, what I didn't realize was that the car hadn't finished its braking by the time I was beginning my turn-in. Although I thought I was correctly braking in a straight line, Ryan pointed out that I hadn't been slowing the car down enough, and when I began my right hand turn-in, most of the car's weight transferred to the front left tire, causing understeer.
What I needed to do was brake harder in a straight line, so that when it was time for me to turn right, the weight distribution would be a bit more even from the front to rear of the car. This would give the rear tires more grip, helping to push the car through the turns faster, instead of plowing with all the weight on the front left tire.
With Ryan's direction and expert analysis of my driving, I was able to drastically improve how I handled this section of the course – I braked a bit earlier and harder, which settled the car a bit more before I negotiated the 90-degree right hander. This resulted in me being able to drive a tighter line, which improved my lap time.
Above, this Honda CRX was being co-driven by Mike Shin and his girlfriend Lily. Mike equipped it with some simple bolt-ons, like coilovers, intake, header, and exhaust, but chose not to do an engine swap because Lily wants to compete in a particular class with the CRX; driving in all the autocross points events in Southern California. Next time you're at a Southern California autocross, look out for this car!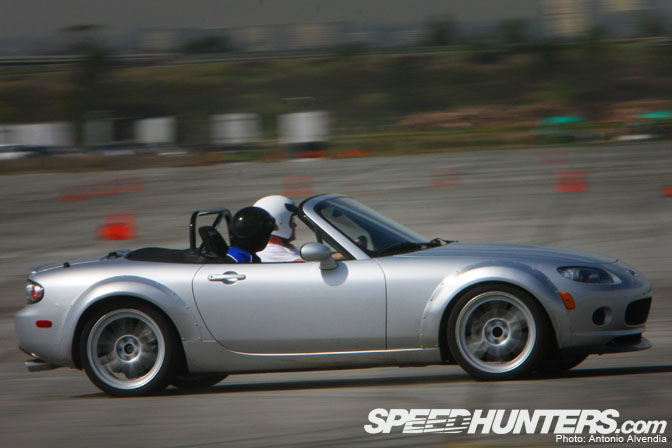 Mazda Miatas (or MX-5 Roadster, as the new model is officially named) are extremely popular for weekend racing, especially autocross. I drove the Evolution Driving School event in a Mazda RX8 R3, however, I think it would have also been fun to drive it in a new MX-5 like this one. I wonder if the owner of this car bolted on those big overfender flares because he has wider wheels sitting in the garage? I'd be interested in seeing what it would look like with some wider wheels; I haven't seen a newer body MX-5 with wide wheels and aggressive drop yet.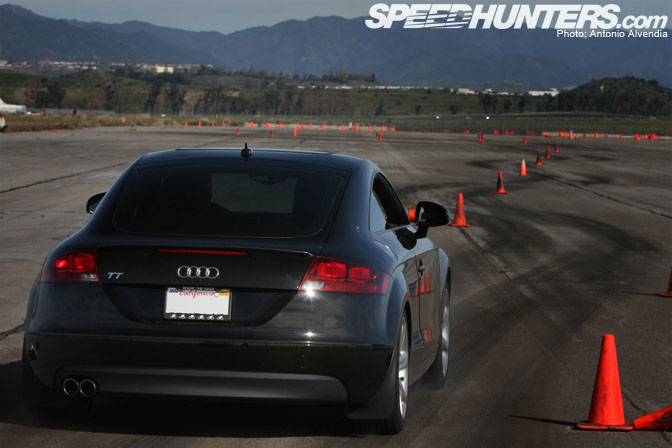 We often see cars negotiating their way through slaloms like this on TV commercials. However, negotiating this type of course isn't always the easiest thing for drivers. In fact, many drivers have a lot of difficulty in getting through slaloms quickly. Often times, drivers try to accelerate too much in the slalom, which causes them to go off line.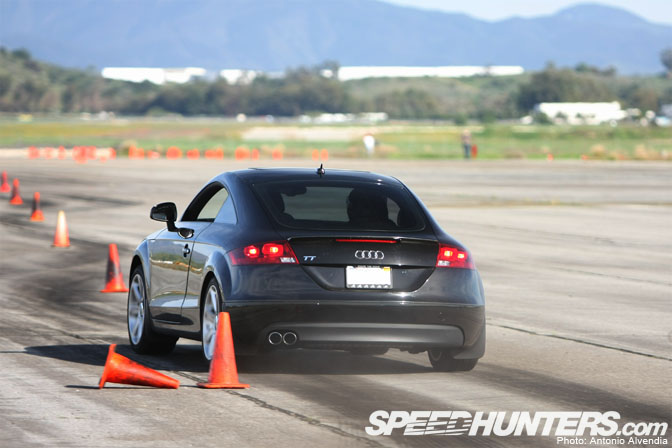 Evoschool instructor Kevin Dietz sat with me as I worked to improve my techniques for this portion of the course. Kevin pointed out that the key to driving through a slalom quickly is by starting it off right. During this section of the school, Kevin focused our attention on turning-in on the back side of the cone. Basically, the instructors made students pay more attention to how they entered the course. Specific attention was given to starting the turn-in on the back side (or far side) of the cone. (When you're approaching a cone, this means the 12 o'clock position.) Kevin directed us to basically aim our cars so we could get our doors as close as possible to the 12 o'clock position of the cones as we pass; this is the proper line through the slalom.
Once we had the basic concept of driving the proper line through the slalom, the instructors coached us to drive the slalom at a steady speed, so we could develop a rhythm, and the car could swing back and forth like a pendulum. When Kevin sat in the car with me during this section, he said I improved my handling of the slalom quite a bit, but I think we both know I still need a lot more practice to get it down perfectly. This being said, I can't wait to drive the next autocross event happening in my area. Practice makes perfect!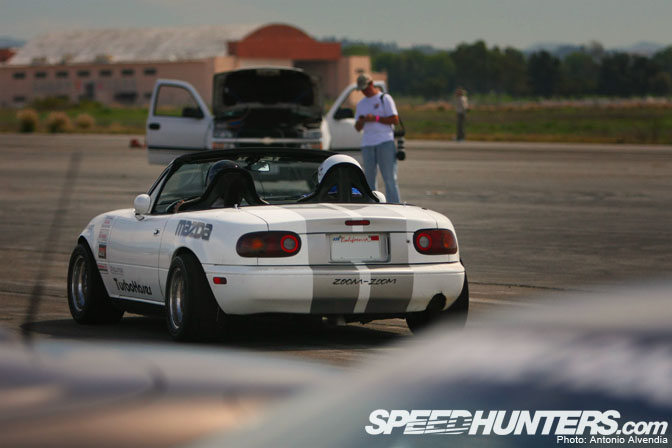 This Miata was turning out some of the fastest times of the day. It was a fully autocross prepared car, driven by two guys from San Jose. This Miata had race tires mounted on 13×8 Panasport 3-piece wheels, bucket seats, coilovers and an NA6 engine with some basic bolt-ons like intake, exhaust, and a gorgeous Racing Beat header.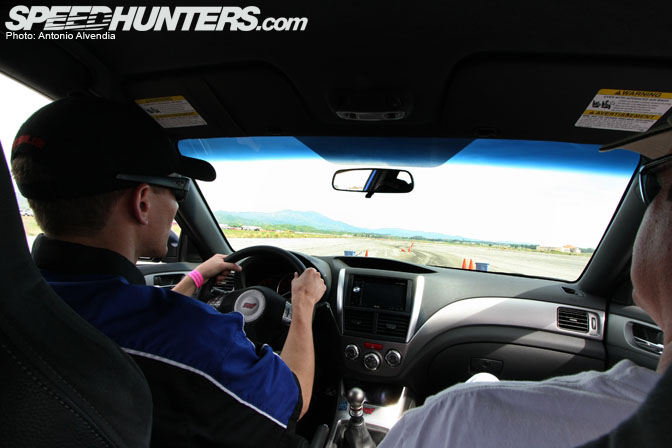 This is Evoschool instructor Ryan Buetzer driving us around in a student's brand new Subaru Impreza WRX STi. Ryan borrowed the STi because its 4-door layout allowed him to take three students around the track at a time, showing us the fastest lines through the course. In this photo, we were right about to enter the slalom portion of the course, and Ryan was showing us, by example, how fast one can get through the slalom if they focus on turning in on the back side of each cone, and maintain a steady speed to develop a rhythm while slaloming the cones.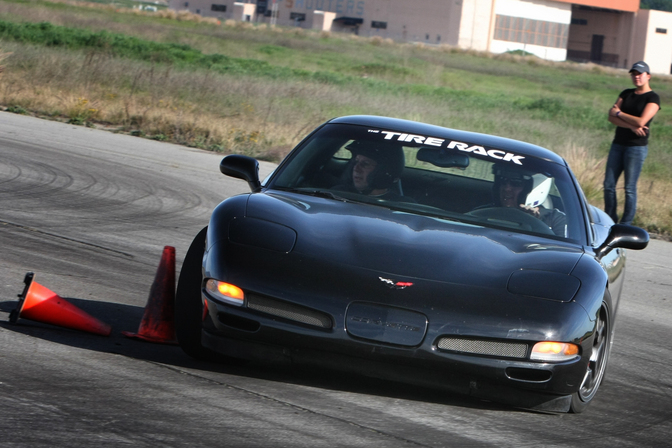 Another important secret of fast drivers is to look ahead. As we took turns driving the course with Evoschool instructors, they emphasized just how far ahead we should be looking. Prior to my enrollment in the Evoschool, I thought I was already doing a good job of looking ahead to the next turn as I drove the course. However, Evoschool's highly capable instructors helped us to discipline ourselves by forcing us to turn our heads as we negotiated through turns, which had us looking two and three corners ahead by the end of the day.
Above, Evoschool instructor and SCCA National Solo racing champion Kevin Dietz is behind the wheel of a student's Corvette Z06, showing the proper way to negotiate the final turn of the autocross course. After looking at the photos from Kevin's run, I noticed that he indeed practiced what he preached. He hit the brakes much earlier than many of us newbie students, settling the car, allowing the tires to focus on negotiating the turn only, instead of making the tires brake and turn at the same time. Kevin points out that "tires can only do one thing at a time. They don't like it if you make them brake while you're trying to turn. So you need to concentrate on braking in a straight line, and get all your braking done before you turn-in to the corner."
Notice in the photo that both Kevin and his student are also looking way ahead to the next corner, and looking ahead is one of the keys to going fast!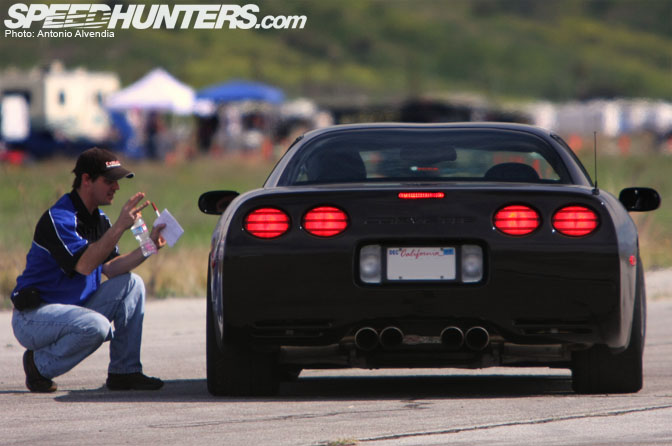 Later in the day, instructor Junior Johnson takes the owner of this Corvette aside after his run, to provide personalized driving analysis and coaching on how to improve the driver's lap times. Why should you listen to what Junior Johnson says? Well, you shouldn't. Unless you want to learn the secrets of solo racing from an eight time SCCA National Solo racing champion.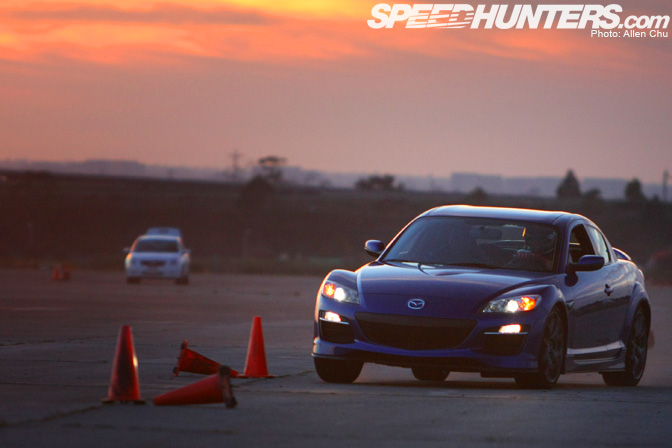 By the end of the day, I had absorbed most of the tips taught to me by the Evoschool instructors – although, admittedly, I still need a lot more seat time and practice to completely rid myself of bad driving habits like:
Turning in before I'm finished braking in a straight line
Not looking ahead far enough
Trying to drive the slalom too fast, which usually causes you to go off line
Laying on too much throttle when I'm trying to drive faster around a circular grouping of cones. Actually the fastest way is to use less throttle input, which allows you to turn in and hold a constant line, hugging the circle real tight, lessening the actual distance the car has to drive in order to get around the cones. Less distance equals lower lap times. Part of my problem earlier in the day was using too much throttle as I rounded the cones (I thought this would help me get around the cones faster). However, when the car started pushing outward, I tried correcting by adding more steering input. That didn't work at all; the car just kept pushing outward. Instructor Kevin Dietz showed me that if I would simply lighten my pedal pressure, I could keep a constant line, hugging the cones tightly, and the car wouldn't push. I shaved several seconds off my lap time with this newfound knowledge!
These are only some of the bad driving habits that the Evoschool instructors helped us rid ourselves of. By the end of the day, I had shaved 5 whole seconds off my original time from the morning sessions, and came within one second of instructor Kevin Dietz's lap time when he was behind the wheel of my Mazda RX8 R3. I'm sure Kevin could have gone much, much faster if he had more seat time in the RX8 though.
However, I was excited that I was even able to get close to his lap time in the same car. Kevin is an SCCA National Autocross Champion, for crying out loud! It's a testament to the ability of the Evolution Performance Driving School instructors that they could take me, a rusty autocrosser with tons of bad driving habits, and help me get close to one of the instructors' times by the end of the day. I can only imagine what types of improvements I would make as a driver if I returned to Evoschool's Phase Two clinic. I definitely will try to enroll in another one of their schools, and would encourage others to bring their cars out and have some fun as well!
You can get the Evoschool class schedule by checking out their website. It appears they have upcoming clinics at the following places:
March 13, 2009      Dixie SCCA National Tour – Evo Advantage
March 20, 2009      San Diego CA SCCA National Tour – Evo Advantage
March 21, 2009      Autocrossers Inc Phase One school at Blue Crab Stadium, Waldorf MD
March 27, 2009      SCCA ProSolo at El Toro CA – Evo Hole Shot
March 28, 2009      Lousiana's Delta Region Challenge and Phase One school
Special thanks to: Mazda North America for letting me borrow the Mazda RX8 R3 for the weekend, Evoschool Instructors for their outstanding curriculum and for making me a better driver, and to Allen Chu for driving all the way from Koreatown to Irvine to take some action photos of me driving!
-Antonio Alvendia