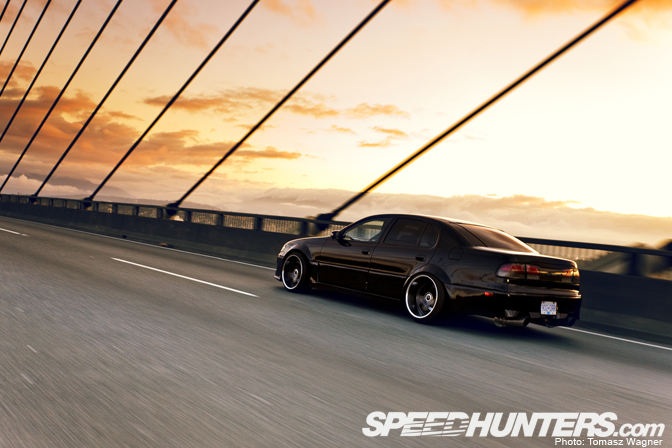 A few months back, the owner of this Aristo, Justin Wallace was faced with a bit of a dilemma. A Vancouver, Canada, law enforcement officer had decided that the wheel/tire setup on his VIP-style Aristo was "unsafe" and had the car towed away and issued with a vehicle inspection. 5 degrees of negative rear camber along with max stretched 275/30/19 tires on 19×12 Garson Deep Racing Ryugi rear wheels with a whopping -12 offset looked too radical for the police to cope with.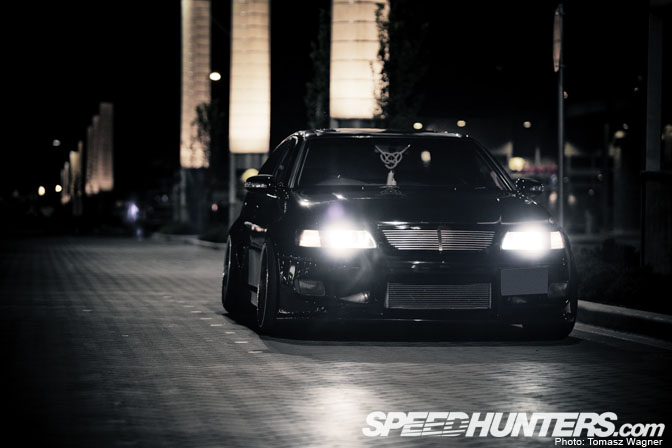 So what was Justin to do? He really wasn't too confident the car would pass the inspection with its aggressive wheel setup.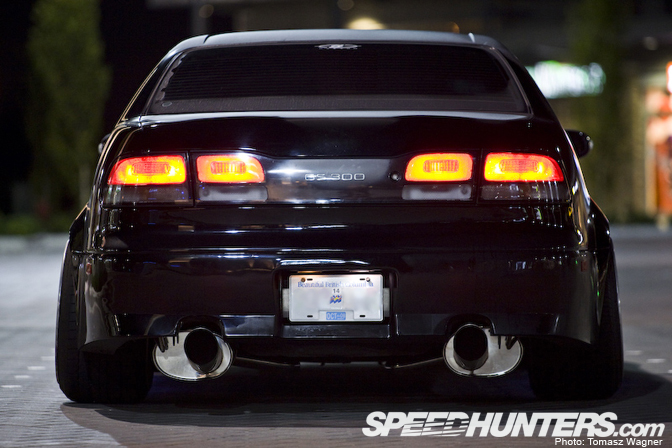 This is the view that sparked the cop's attention… Lots of Camber.
Now Justin is a full-on devotee of the VIP Style… or Bippu as he likes to call it (hmmm does this mean we should call drift cars dorifto cars?). He isn't someone who would cut any corners to reduce the authenticity of his machine. No way… in his mind, one must stay absolutely true to the spirit spirit of VIP Style… so what to do? He was starting to get a bit tired of being harassed by cops… and the towing charges were really denting his wallet.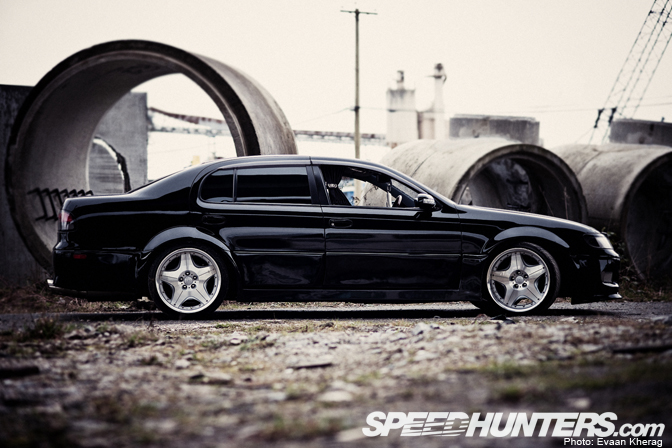 So in the end he decided to tone down his wheel setup, ever so slightly, and changed his rims and ride height for the inspection.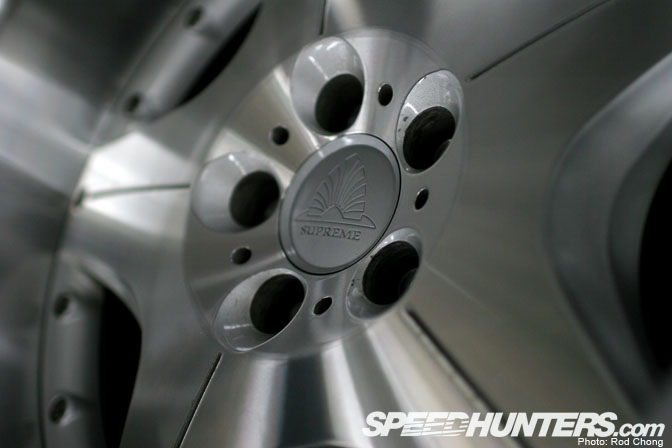 He went with a pair of Auto Couture Supremes: 19×10 in the front and 19&12 in the rear… same size as the Garsons but with less offset so he wouldn't have to run nearly as much camber to clear his already extended wheel archs. He also went from 275/30R19 to 285/30R19 sized rear tires… still stretched, but not quite as extreme.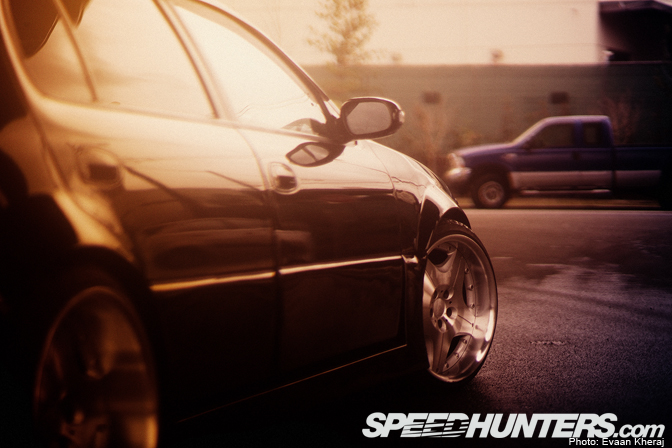 Problem solved! He passed the inspection…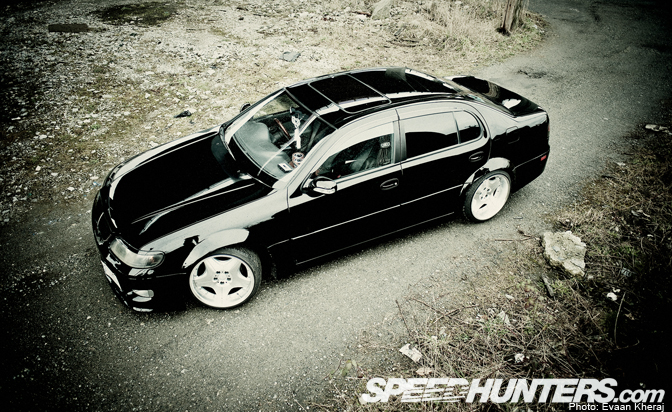 Justin will be the first person to tell you that his car doesn't have nearly as radical a wheel fitment as it used to. But he needed a daily driver in which he could get around town without hassle.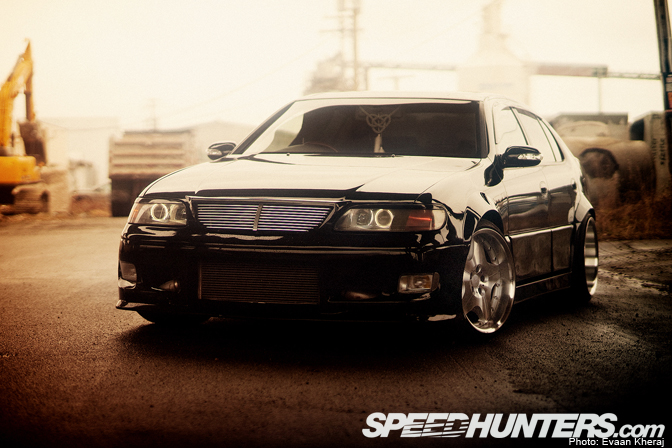 Would you have done the same thing? The car is probably one of the cleanest VIP Style JZS147 first-gen Toyota Aristos outside of Japan, but a few "adaptations" have been needed for the sake of practicality — remember, this is a daily driver… The car used to sit lower last year, but was raised up slightly to aid drivability. Vancouver's roads are by no means as billiard table smooth as in Japan, unfortunately.  The Aristo doesn't make use of air ride for extreme, car show style displays of lowness, but instead uses a set of Cusco Zero-1 Coilovers for its lowered stance.
The visual effect of the body work mods are quite striking and make it hard to believe this car is seventeen years old. The list of updates is extensive:

Fire Sports Side Skirts
Fire Sports Rear Bumper
Garson Exclusive Door Caps
Garson Exclusive Special Grille
Garson Exclusive Grille Frame
Custom Flared Fenders
Junction Produce LED Side Mirrors
Puddle Light Kit
Lexus GS300 Headlights
Lexus GS300 Taillights
Lexus GS300 Rear Marker
Custom Painted Black Headlight Housing
Oracle Halo kit
Custom Eye Lids
6000k HID Low Beams
6000k HID Fog Lamps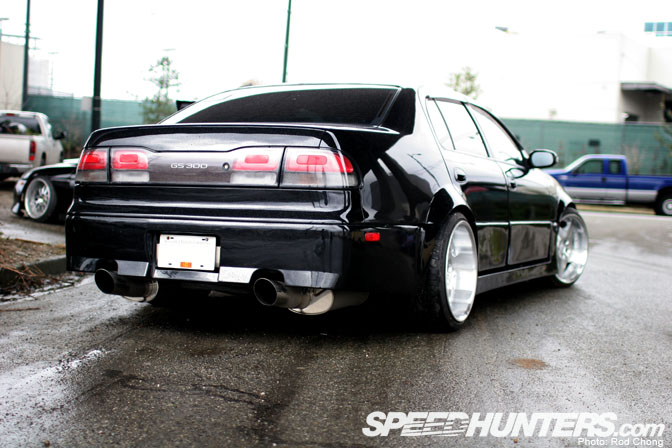 Those meaty rear pipes are by Junction Produce and give bit of an indication that this car is running a twin turbo 2JZ-GTE engine complete with HKS R-Type Front Mount Intercooler, Koyo Racing Aluminum Radiator, Fluidyne ATF Cooler and a Blitz SUS Air Intake.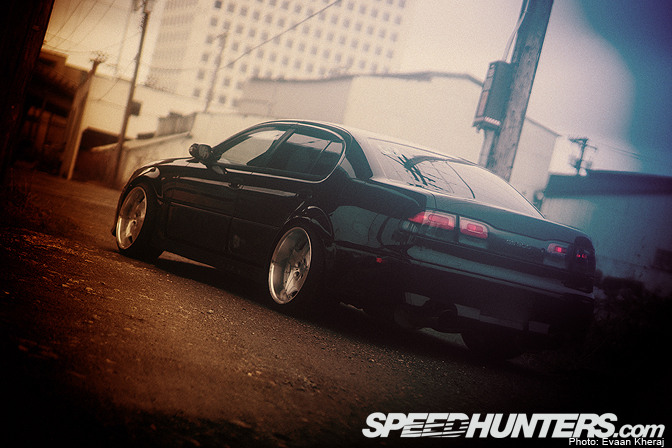 With its Supra-based turbo engine setup, this VIP car has plenty of performance capabilities on offer.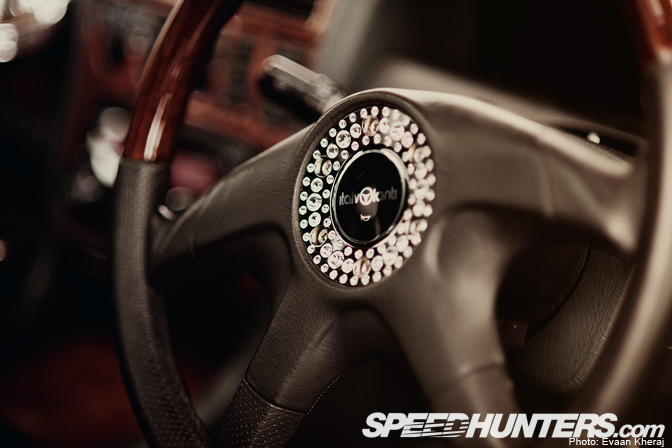 Right – let's move inside the Aristo. Justin has put a lot of effort into customizing the interior with JDM goodies like this Garson/Italvolanti Wood Grain Steering Wheel complete with a Garson/D.A.D Luxury Crystal Ring.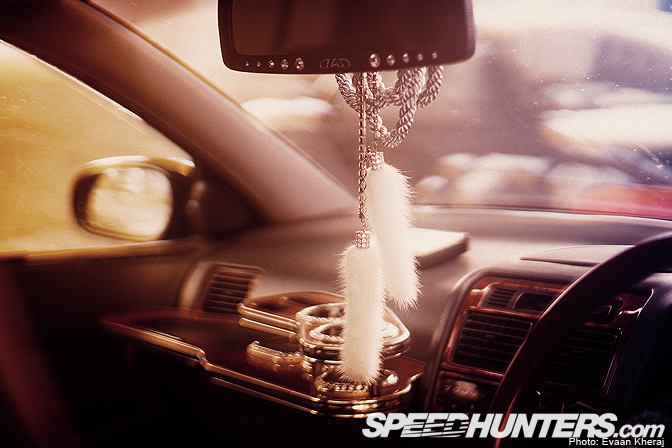 In fact, the whole interior is peppered with Garson accessories. In this shot you can see Garson/D.A.D Mink Crystal Chain….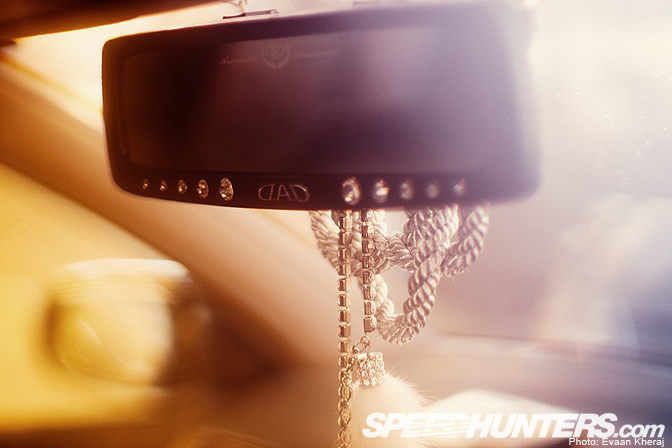 …This is wrapped around a Garson/D.A.D Luxury Mirror…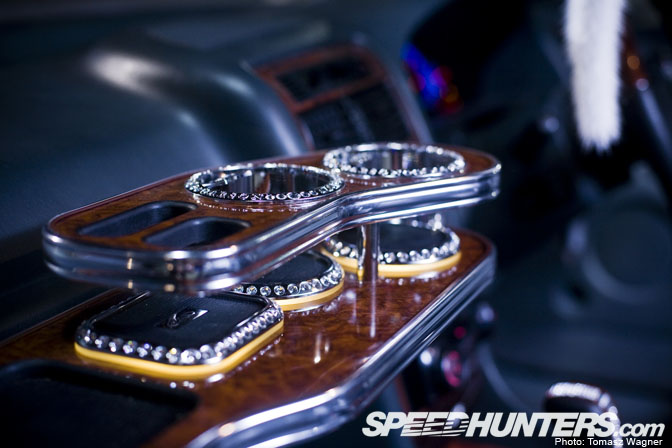 Justin could have a very romantic time in this car, no? It feels like a bit of a jazz club :>…. Here we are looking at a Garson/D.A.D Front Table, Luxury Crystal Coaster (Leaf & Crystal), Luxury 2-Way Table Ring (Chrome & Crystal) and Coaster Light Kit…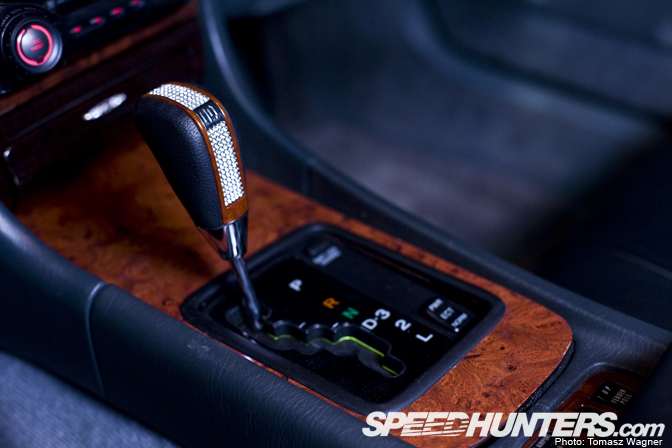 Jazz definitely should be the only music played in this car… The gated shift assembly has been lifted from a UCF20 Celsior with a Garson/D.A.D Shift Knob added for that high quality touch….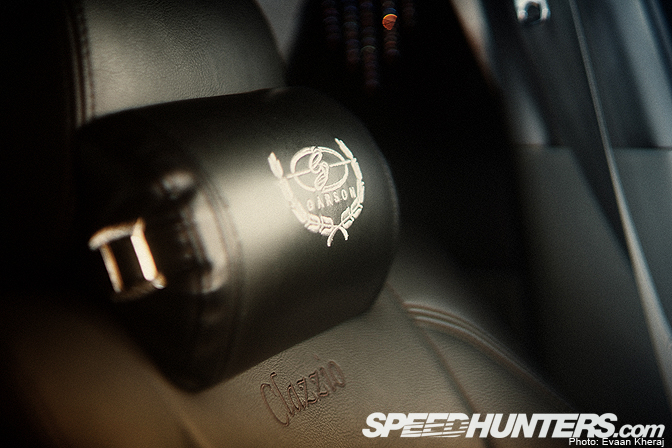 Does Garson make nice, narrow mod style suits and narrow ties to go with their VIP accessories? Surely you need to dress up to drive this car?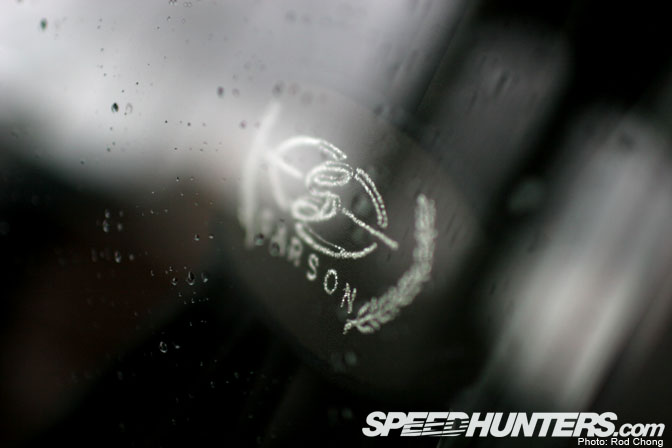 It was a bit of a miserable wet and cold day when we shot the Aristo last week… hence the rain droplets on the window… Behind the glass you can see the Garson curtains….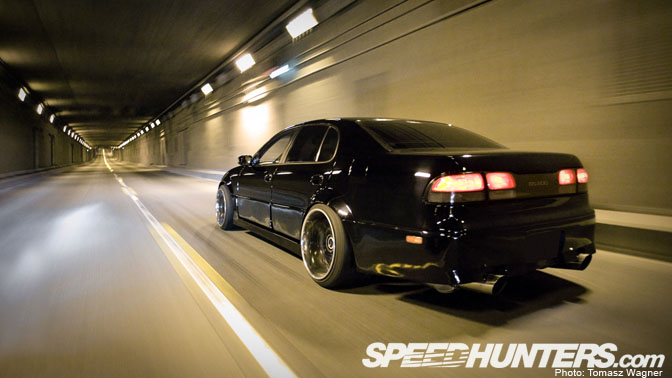 Here are a few more shots of the car with its old wheel setup…. It's a bit of a pity that the customization of cars tends to attract unwanted attention from the cops. Especially with cars that are more style oriented rather than speed focused.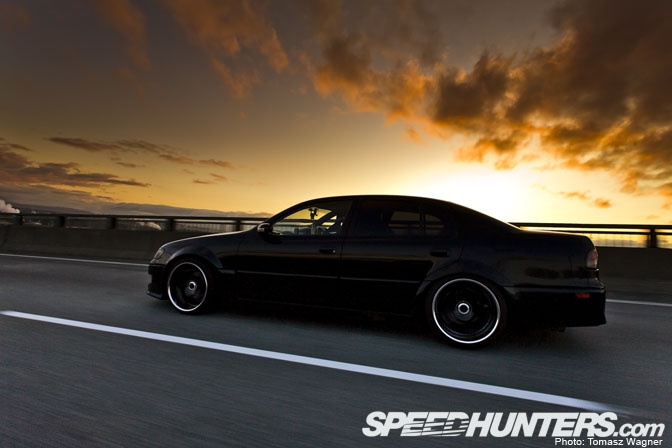 I have to commend Justin for what he's done with this 1992 Toyota Aristo. He has taken an old luxury car, and given it more presence and style than the majority of cars on the road today…. even with its slightly more practical ride height and wheel setup. His dedication to VIP Style and attention to detail is very inspirational for all of us.
Thanks to Evaan Kheraj and Tomasz Wagner for the photos!
:Rod