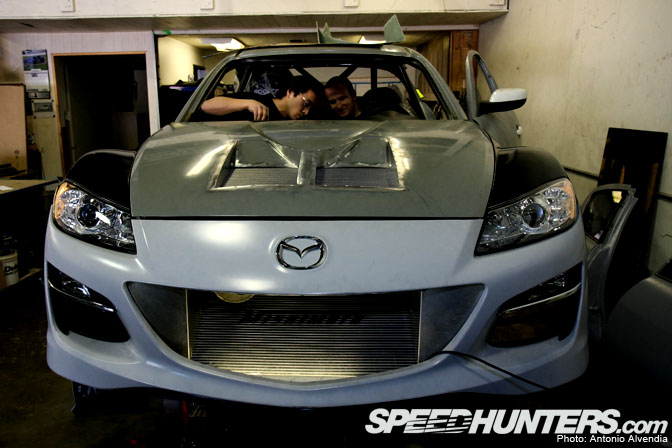 For some reason, people have a tendency to underestimate Bergenholtz Racing. That's a mistake. Big mistake. Bergenholtz Racing was the most successful privateer drag racing team in the NHRA Sport Compact Series, using unrelenting determination and ingenuity to clown the big dollar budget of GM over and over and over again. Don't believe it? There's a display case full of Wallies (the coveted NHRA Wally Parks trophy) at Ron Bergenholtz's Orange County home to prove it.
Ron B and the crew continue their quest for greatness with the build of this Mazda RX8, which will be momentum-bringing future superstar Justin Pawlak's ride for the 2009 Formula D season. People better keep their eyes on Justin. He has just the right combination of driving skill, hunger, determination, and down-to-earth attitude to make him an extremely popular star in the world of drifting. Justin has great car style personally; his FC3S RX7 and FC3S drift truck have been seen on Speedhunters before, and there's no doubt they will appear in many more magazines and websites in the future. The best part? Justin is striving for success, but he isn't trying to become some Nascar driver or action sports hero – Justin is well grounded, staying true to his love of drifting culture and his friends who have supported him from day one. This is absolutely the recipe for success and authenticity in this sport, which is already plagued by outsiders and fakers trying to capitalize on the commercial aspects of drifting's popularity. But Justin isn't one of those guys. With an expert race team manager/crew chief like Ron Bergenholtz on board, he's bound for success. I said it before when I was interviewed for an issue of PASmag, and I'll say it again. Justin Pawlak is going to be big. Real big.
As big as that ridiculously huge Mishimoto radiator in the front bumper.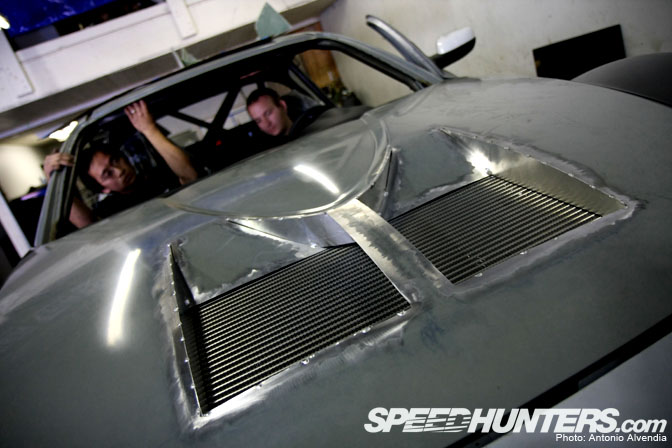 Enough about the guys for now. Let's talk about the car they're building. Ron and the crew at Steen Chassis hand customized this aluminum drop vent hood to cool off the humongous intercooler. Ron mentioned that he wanted to use a huge radiator, a huge intercooler, and a very big turbo, but it was sort of difficult trying to mount it all in the extremely tight-fitting engine bay of the RX8. Of course, being an extremely creative fabricator, he was able to customize everything to make it work.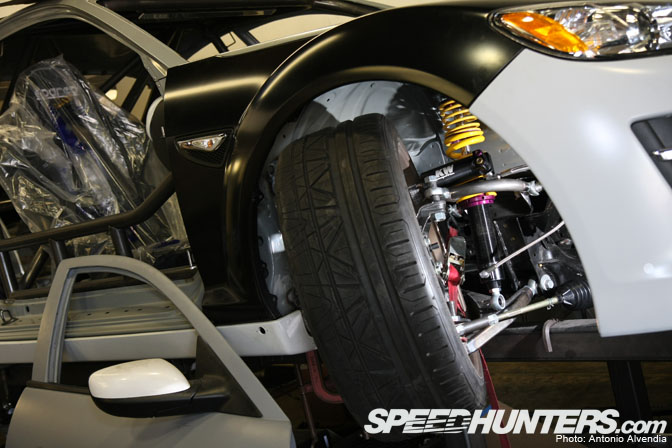 I honestly have never seen an RX8 that has this much thought put into it. In fact, it's probably the best RX8 build I've seen thus far, including other professionally built RX8s in the USA and Japan. Ron and the Steen Chassis crew spent a lot of time engineering the suspension geometry; all the suspension pieces are adjustable, and just look how much steering angle they were able to achieve! As you can tell from the photo, Ron and Justin are using some specially made coilovers from KW Suspensions, which were engineered Germany specifically for their setup, and flown in just for their car. This coilover setup isn't the standard Variant 3 that you can buy off the shelf, it's a specially concocted setup just for Bergenholtz Racing.
Even though you can't see them in this particular photo, the wheels that this RX8 will sport this season are by 5Axis Design, which is known for building impressive Lexus and Scion demo vehicles. They also have a line of 5AD wheels, which have a unique look to them, but would sell more quickly if only they would consult with me before finalizing the sizes and offsets. (Don't you love how I managed to fit something about wheel offset in this story, which has nothing to do with wheels?)
The Seibon fiberglass door that's sitting on the ground is quickly removable. I asked Justin how they come off, and he pulled the whole door off in less than a minute. I just hope they stay on there well enough when he's drifting at about 90+ mph.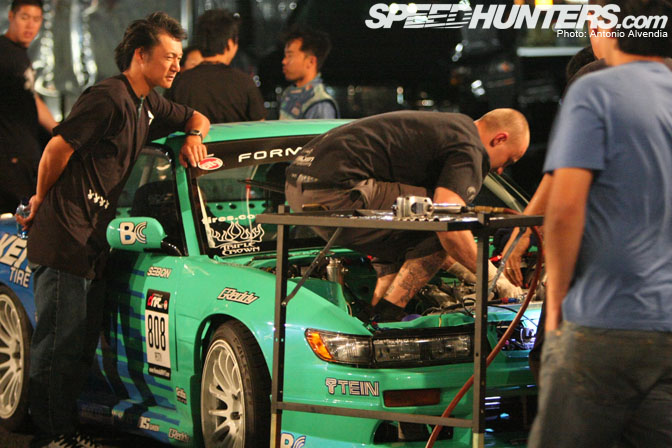 The super beefy rollcage was welded to SCCA-specs at Steen Chassis in Signal Hill, which is a lot more stout in diameter than what the Formula D specs call for. Of course, this means the cage is also heavier, but it's stronger, which is a good thing since the doors are made of fiberglass and since this is a dual purpose car – it can be used for drifting and time attack, with just minor tweaks to the settings of the car.
A trained eye will notice the sequential transmission and the dry sump reservoir sitting by the passenger kickpanel. Notice the crossbar on the rollcage roof? Most Formula D cars don't have this. See the chrome wink mirror attached up there, per request of Justin? The vatos all over East LA will be jealous of Justin's fully chromed out wink mirror. They'll be hitting him up, like "Hey homie, where'd you get that mirror, eh? Casper and Hector over there like your chrome, carnal!"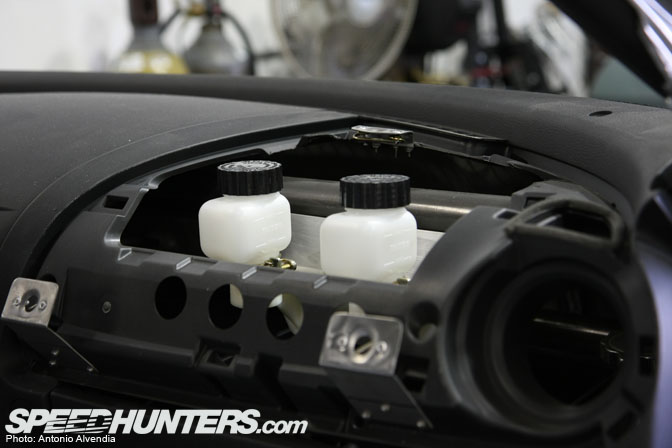 Who needs airbags? The brake and clutch master cylinders have been replaced with Tilton units, and mounted where you might normally find airbags. Since Ron B had to really make his dollars stretch when building this car, I think he might have had to sell the airbags and the catalytic converter to pay for some race parts. (Just kidding! …or am I?) Everyone thinks they're a high budget race team, but they're not. They're just a budget baller, high ingenuity race team.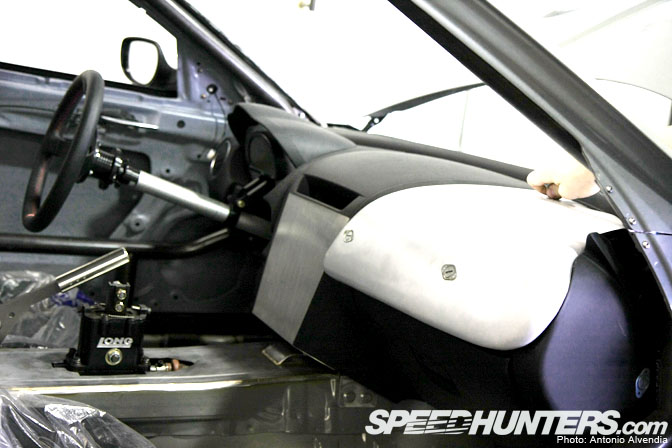 The fiberglass airbag cover on the dashboard was made by FC3S driver Kyle Mohan, who is also running an RX8 this year. Kyle was nice enough to let Bergenholtz Racing borrow his original piece so Ron could make a knockoff of it and use it on his own car. I'm sure others will want to buy that piece for their RX8s too. Some will want to mount gauges there, some will want to use it as an access panel like Ron did, and others will want to stick a DVD player and 12 inch subwoofer in there for their "showcar" RX8s. Brilliant.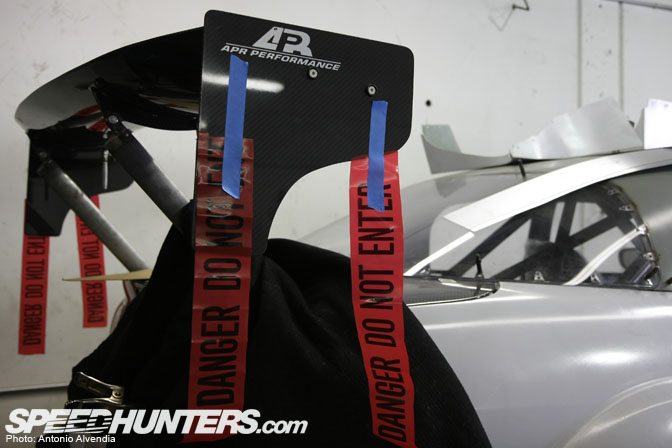 We've all seen APR wings before, but notice the streamlined tubing that Ron and the Steen crew used for mounting the APR rear wing. Those bars are not only strong, but they are also aerodynamic, and they're welded all the way down to the chassis, so their wing will work much better for creating downforce and traction than a wing that's just bolted to the fiberglass rear trunk lid. Keep in mind that most Formula D and D1 cars use wings that are only bolted to the trunk lid.
Oh, and remember when the Bergenholtz brothers came up with the wheelie bar idea on their FWD drag cars in the late 90s? When they first came out with the wheelie bars, all the traditional American domestic V8 guys and import guys alike laughed at them. Until they realized that the wheelie bars actually did work, and they actually did provide more grip for the front wheels.
Well, the Bergenholtz brothers have come up with something else for drifting now… no, it's not a wheelie bar. You'll just have to wait for Formula D Long Beach to find out what it is. Either way, I just gotta say, it never ceases to amaze me, how innovative these guys are.
Long Beach, here we come!
-Antonio Alvendia