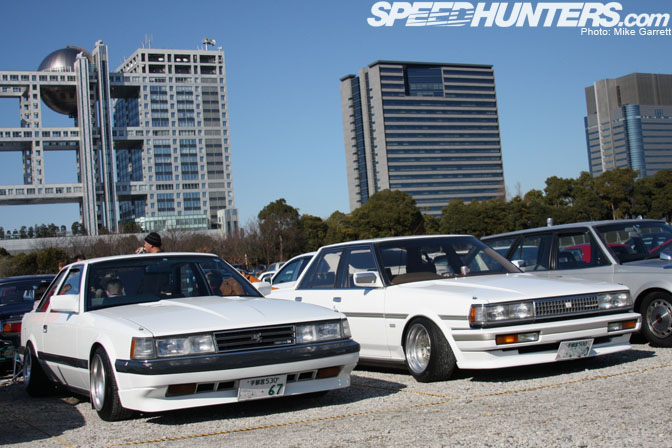 I'm going to be completely honest here. Back in my high school days when I spent Friday nights cruising with my buddies in a 5.0 Mustang, if someone came up to me and said that in a few years I'd consider 1980's Toyota sedans to be "cool", I would have laughed at them. In those days, I saw cars like the Corolla and Cressida as nothing more than beaters that parents handed down to their kids.
However, when I picked up my first AE86 a couple years later, I started learning more about other vintage Toyotas and they joined my growing list of "cool cars". Whether you are talking about Soarers, Crestas, Mark II's, or others, there's something great about these boxy Toyotas – especially when they are sitting low on a nice set of vintage Japanese wheels.
For this post I'll be showing a few of the late '70s and early '80s Toyotas I've spotted in Japan over the past year. As you'll notice, a great deal of these shots were taken at JCCA New Year Meeting, which is one the best places in the world to see classic Toyotas of all types.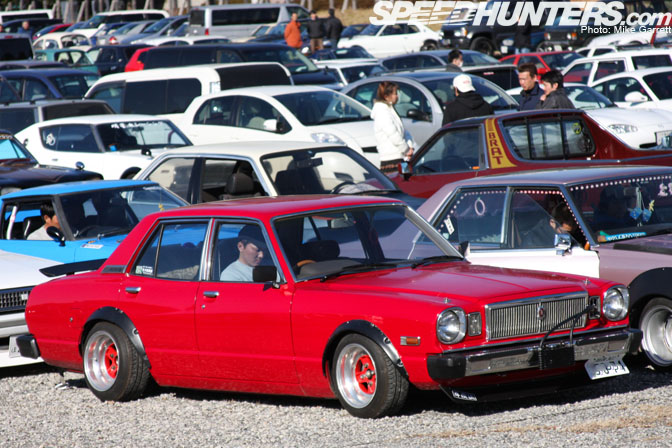 The X30 and X40 Chaser/Mark II is one of my favorite body styles from this period. This one is looking right with overfenders, SSR Mk.II's, and a chin spoiler. There's actually a guy in Japan that drifts a two-door version of one of these cars. Unfortunatley he lives down in Kyushu so I haven't been able to see it in person.
The simple, boxy GX71 is of the most popular cars in the kyusha scene. There are a few different body styles of the GX71, with the Mark II's headlights and roofline making it one of the more "sporty" versions.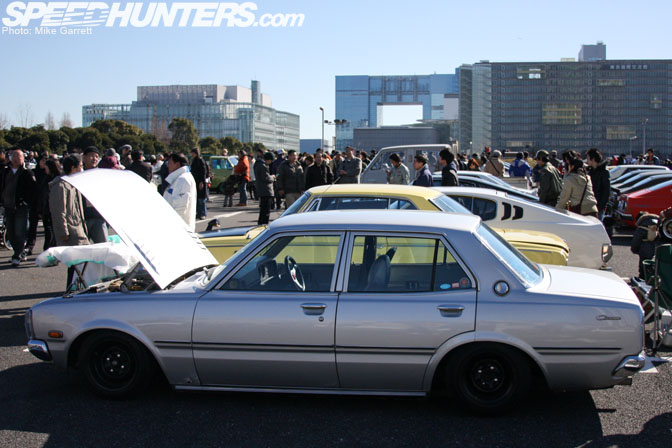 The Corona has always occupied a strange spot between the smaller Corolla, and larger sedans like the Mark II and Crown. You really don't see "fixed up" Coronas too often. This one looks pretty cool lowered on a set of widened black steel wheels. If you squint your eyes, it actually kind of looks like Hakosuka GT-R sedan…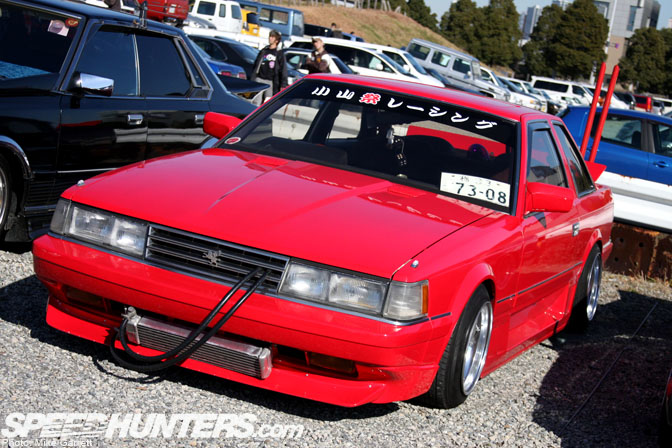 You can't talk about '80s JDM Toyotas with out mentioning the Z10 Soarer. It's simplistic styling lends itself well to the classic "shakotan" look, or to heavy modifications like long nose conversions, aggressive fender flares, and giant exhaust pipes. The Soarer was also one of the primary cars from the Shakotan Boogie manga series.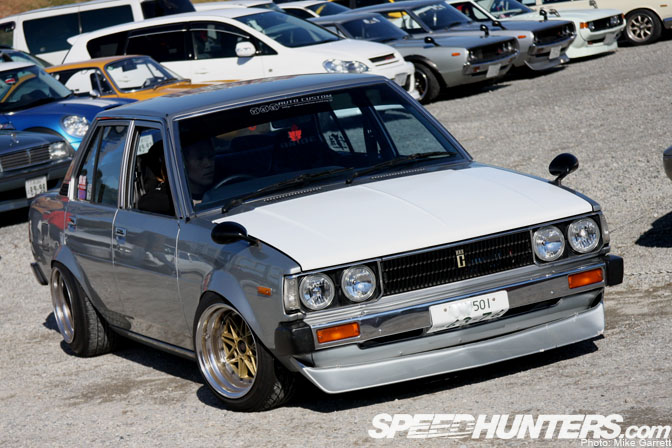 Here's a properly done nana maru Corolla with an set of negative offset Work Equips and custom fender work. There are lot of nice 70-chassis Corollas out there, but this car is one of my favorites.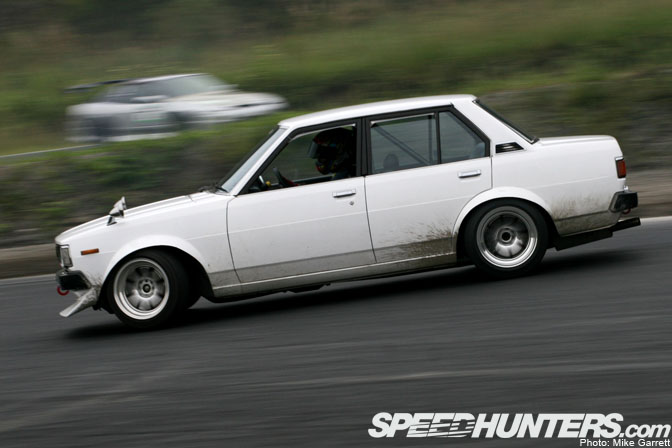 Then again, this one is pretty nice too. You might remember it from my MSC Nikko coverage last year.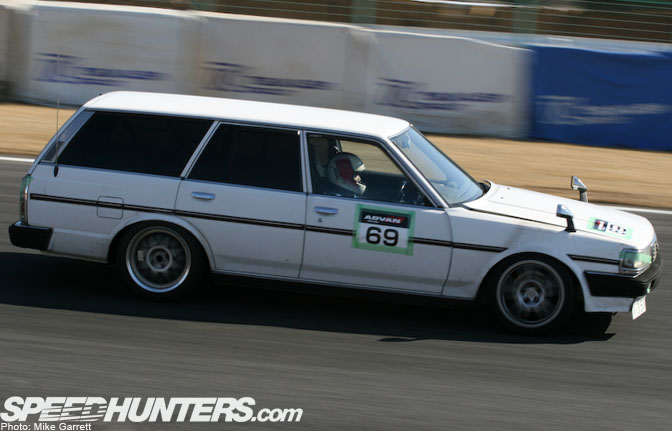 Or how about a home-built turbocharged Mark II wagon taking laps at Tsukuba Circuit? Toyota actually kept this body style of the Mark II wagon in production through the late 1990's. Like the Nissan Sunny Truck, it proved to be a popular work vehicle in Japan.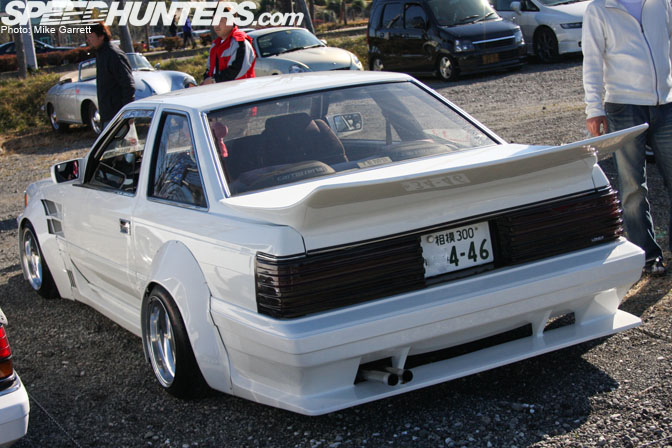 Here's another Z10 Soarer equipped with period style aero parts. Unlike newer models, the customization parts for these old cars usually have to be one-offed or purchased from small specialty shops. The customization also extends to the interiors which will be filled with old school Carrozzeria or "Lonseome Car-boy" audio equipment.
I'm not sure how many colors Toyota offered the GX71 in, but about 95% of them seem to be white. Obviously the purple on this Mark II was not a factory color choice…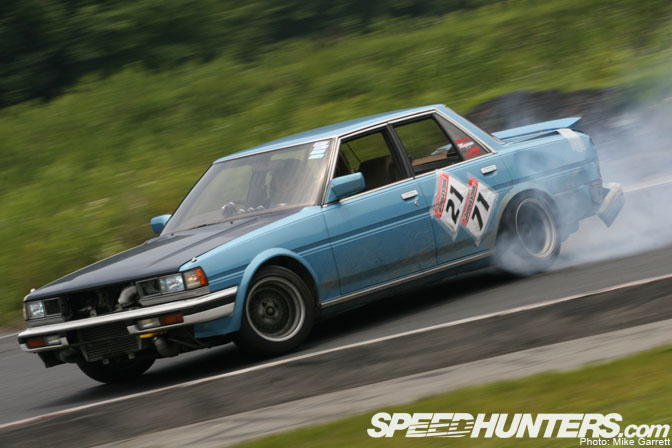 Finally, another shot of the 1JZ-powered GX71 that pops up regularly at Kanto area drift events.
Well, so much for hand-me-down high school beaters.
-Mike Garrett