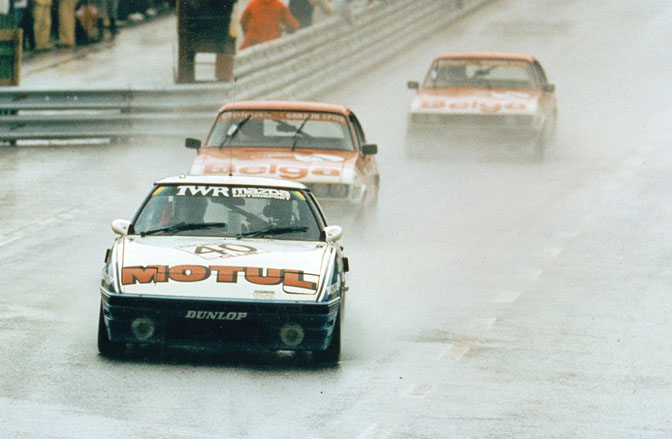 The 1991 Le Mans win by Mazda may have been the first for a Japanese manufacture, but Mazda made history in Touring Car racing a decade before. Mazda was back-to back British Touring Car titles in addition to an impressive win at the Spa 24 Hours (above), a first for a Japanese manufacture.
This was also a first for a Rotary engine.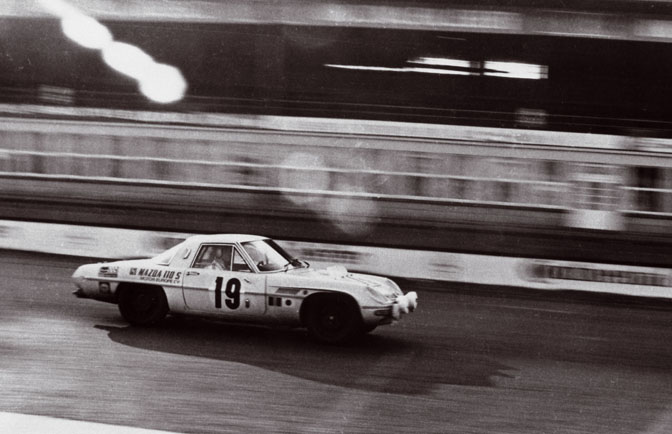 Mazda's first involvement in the European racing scene was at the end of the 1960's.
Straight in at the deep end, Mazda chose to compete in a 84 hour (!) Nurburgring race with two Cosmo Sport 110S. One car finished an amazing 4th, while the other retired with just three hours to go, after loosing a wheel.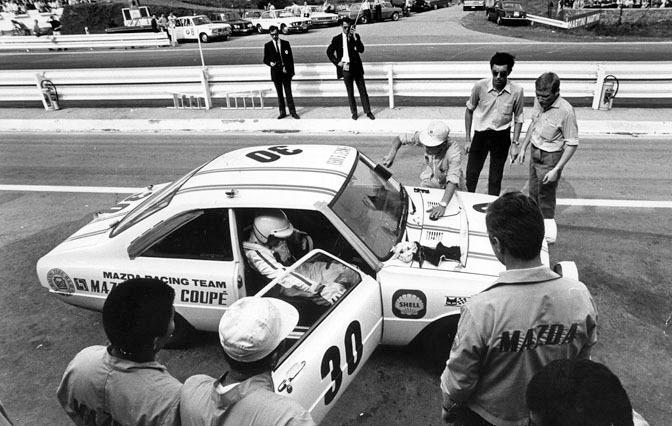 In 1969, the Mazda R100 Coupe race car made its debut in Singapore, winning a prestigious touring car race. The car was then entered  in a number of European Eu durance races to show off the Wankel Rotary Engine technology.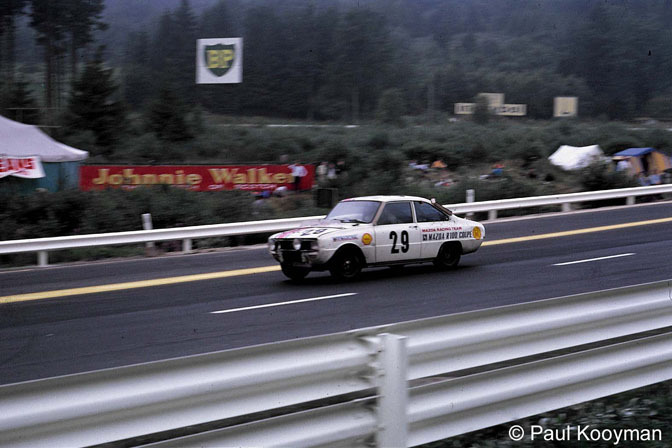 This early image from Spa-Francorchamps in 1969 (40 years ago!), finishing in a strong 5th position.
Special thanks to Paul Kooyman who supplied this and some of the other classic images here.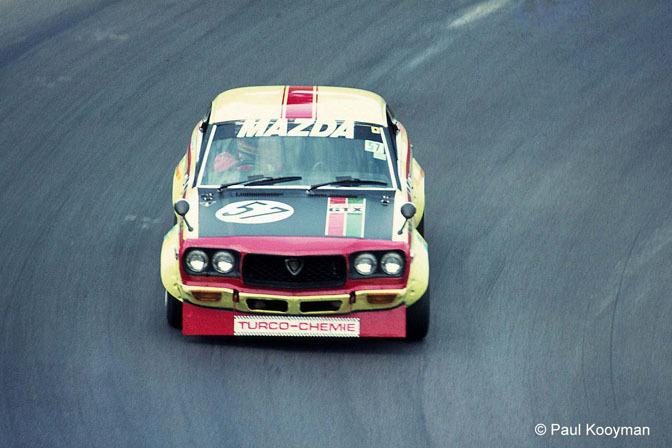 Mazda presence continued into the 70's in Europe. This RX3 is seen in competition at the Nurburgring in 1972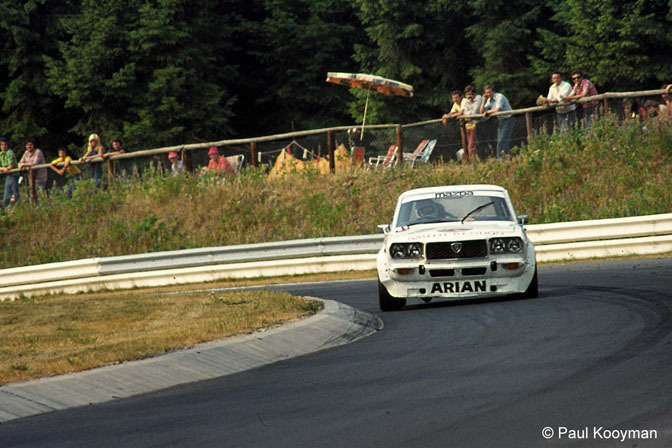 Fast forward a few years and the RX3 was still used in competition. This is the John Markey/ David Palmer car at the Nurburgring in 1976.
In 1980, Mazda GB announced they would enter the British Saloon (later to be changed to 'Touring') Car Championship with newly formed race team, Tow Walkinshaw Racing, entering two Mazda RX-7's. Somehow the team convinced the governing body to allow a 2 seater sports car into a saloon (aka sedan) championship, which was an unpopular move with many existing teams.
Win Percy was joined by Jon Morrission and the team were dominant in their class, taking the 1980 championship. I've tried to find images from the 1980 season, but after a month of searching the only image I can find is from a excellent painting by Andrew Kitson, which celebrates 50 years of BTCC.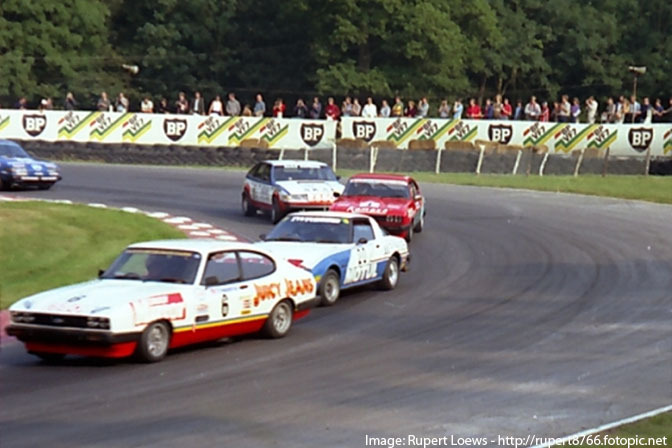 The champions returned to the series in 1981, with a new colour scheme, reflecting the Mazda corporate identity. The images above come from the 1981 Brands Hatch round of the BSCC.
Rupert Lowes has kindly allowed me to share some of his classic photographs.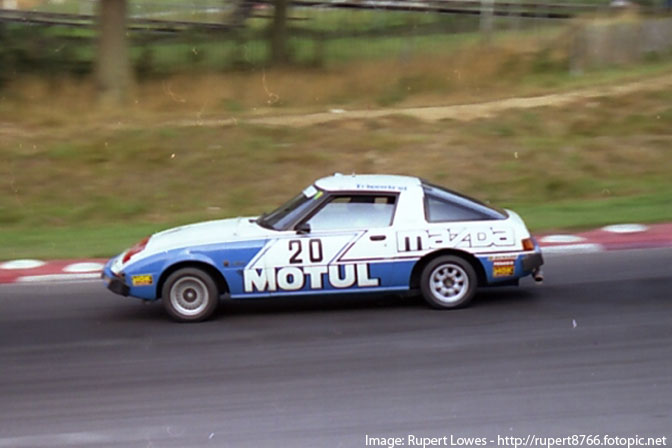 Win Percy would again triumph and take the championship. TWR and Mazda also ventured into Europe and ran modified cars at the 1981 Spa 24 hours (below).
Tom Walkinshaw and Pierre Dieudonne won the classic race, the first rotary win after a long battle with a BMW 530.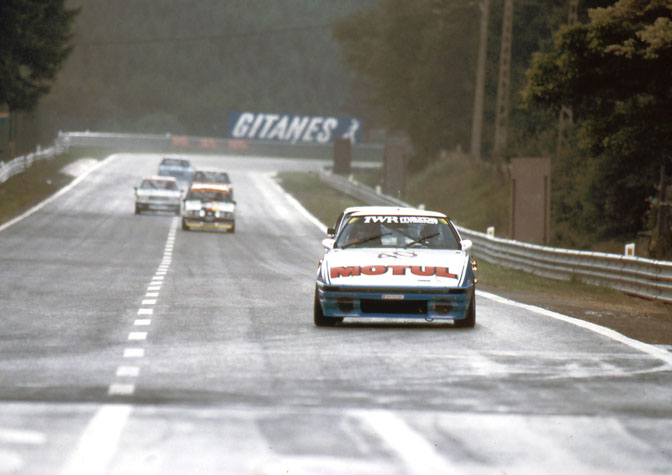 Their success came to an abrupt end at the end of the season. The Rotary engine was outlawed in BSCC and Win Percy fell out with Walkinshaw. Percy went off to Toyota and TWR started work on Rover and Jaguar Touring Car Programmes.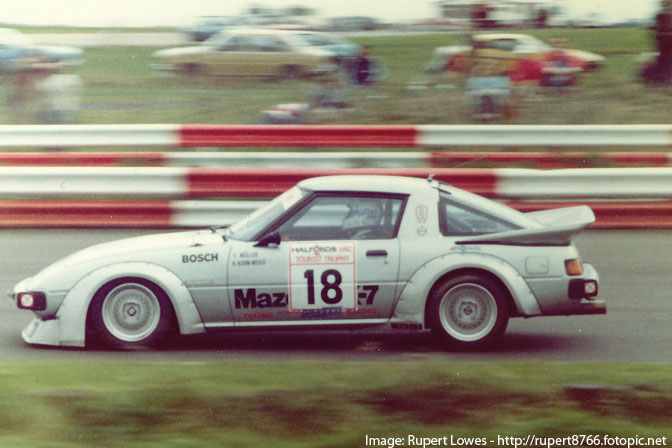 Meanwhile, the European Touring Car Championship and Touring Endurance races continued to see a limited Mazda presence. A number of privateer teams ran Mazda RX-7's including this Mullerbrau Racing entry.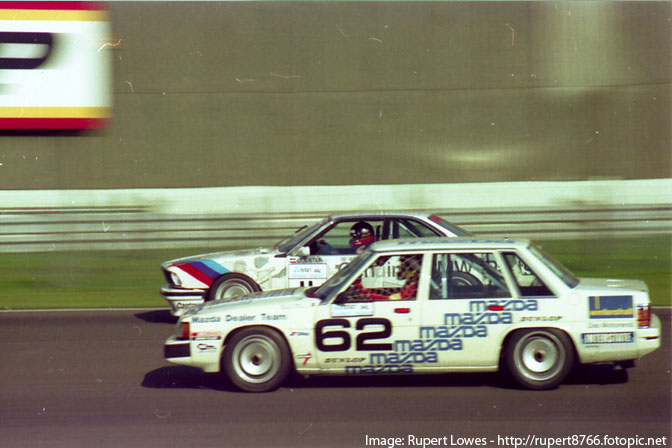 One of the more unusual entries was the rotary Mazda 929, seen here at the 1986 Silverstone 6 hours.
This car would solider on for a few more years. Doubt the aerodynamics were up to much!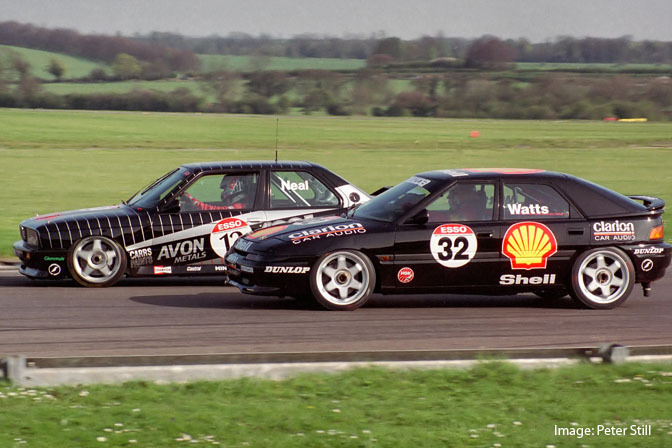 Mazda returned to the BTCC in 1992, with a low-key effort with Roger Dowson Engineering. Patrick Watts piloted the 323F model, with Shell, Clarion and Yokohama sponsorship.
Regular Speedhunter's contributor Peter Still supplied these images of Mazda's BTCC cars in the 90's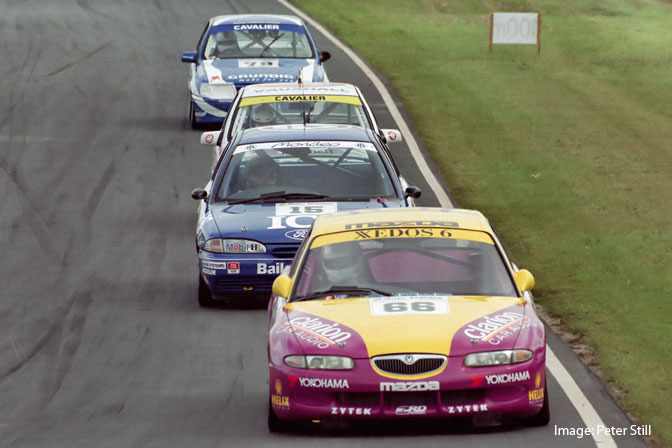 The following year saw a works backed effort using the new Mazda Xedos 6. Painted in a lurid Purple and yellow, the car was run by Roger Dowson racing and had a Zytek built V6 (which I believe had some similarities to the Mondeo V6 used in BTCC at the same period). Reliability of the new car wasn't great although Patrick Watts did manage a couple of 4th places.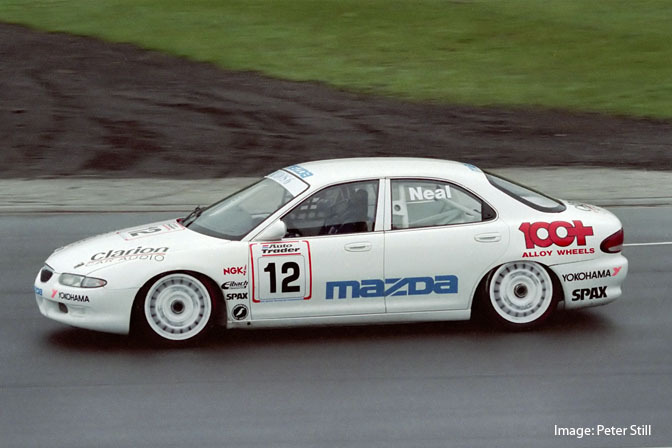 Roger Dowson continued with the Mazda into 1994, with assistance of Team Dynamics.
Matt Neal and David Leslie were the drivers. Both very talented, but funding limited the car development and success. The team pulled out of the series half way.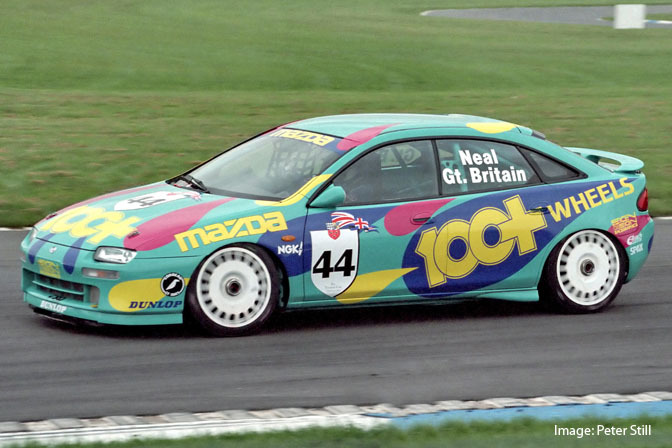 Roger Dowson and Team Dynamics built a, then, new-generation Mazda 323F for Matt Neal in the 1994 FiA Touring Car World Cup. The car was built using running gear from the Xedos 6, but was rushed and didn't have much development and wasn't competitive.
A second chassis was built for the following BTCC season but was never raced. Both cars now race in Historic Touring Car Racing in Europe.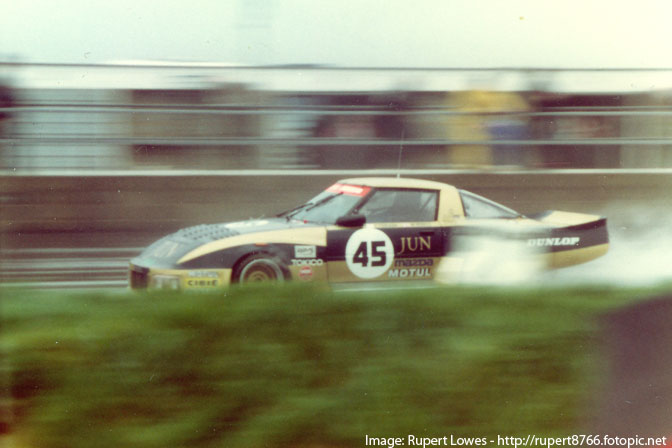 The RX7 was also campaigned in other series in Europe in the 80's. Regular Speedhunters will recognise the Jun car shown here, at the 1980 Silverstone 6 hours.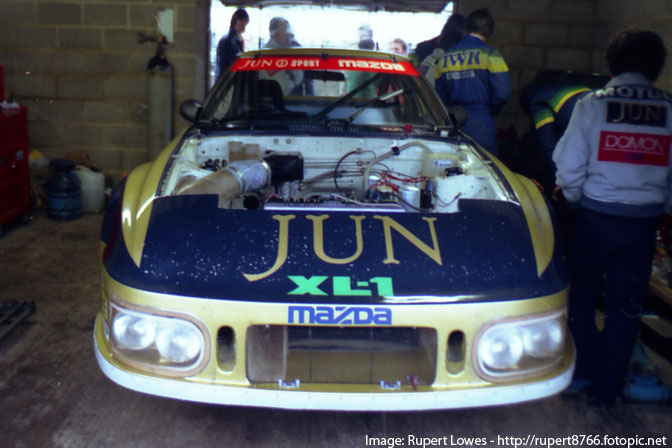 This effort was supported by TWR (nice jacket!) with Win Percy sharing driving duties with Yojiro Terada.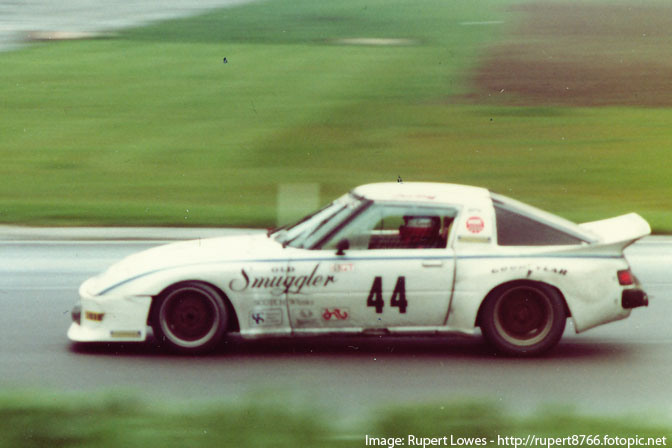 Another RX7, this time from the Silverstone 1000km endurance race in 1981.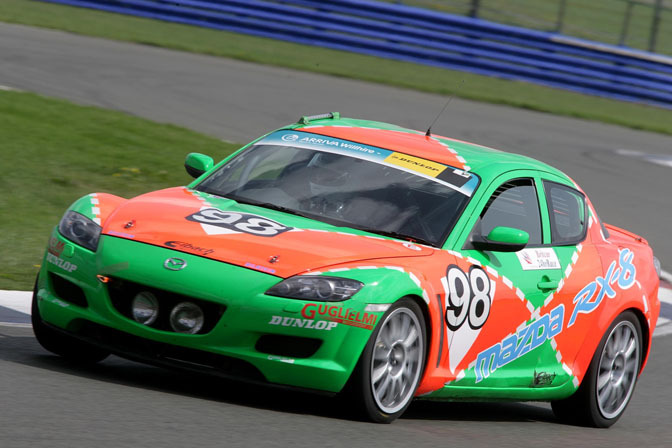 More recently, Mazda was involved in the 2005 and 2006 Britcar 24 Hours, complete with '787B' inspired liveries.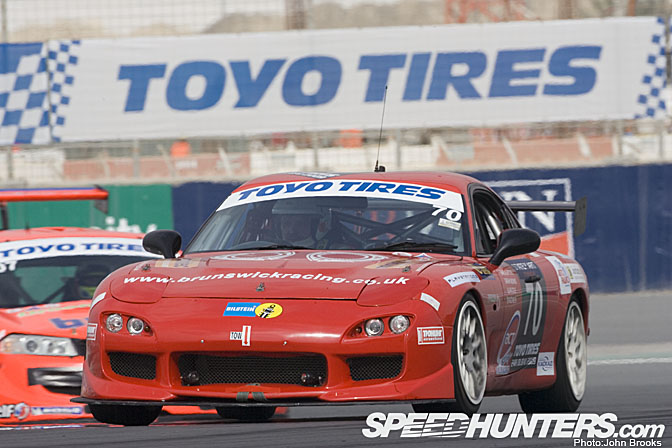 A RX-7 has been campaigned by Brunswick Motorsport for a number of years in endurance racing and was last seen at the recent Dubai 24 hours.
It would be good to see Mazda in touring car racing. The 323 and new 626 are perfect candidates. There were some rumours last year of a 323 in the BTCC, but this came to nothing.
I'll finish this piece with a classic shot from the Spa 24 Hours.
Special thanks to Peter Still and Rupert Lowes and Paul Kooyman for the use of these fantastic photos from years ago…Makes me feel old as I remember Win Percy in the Mazda all those years ago!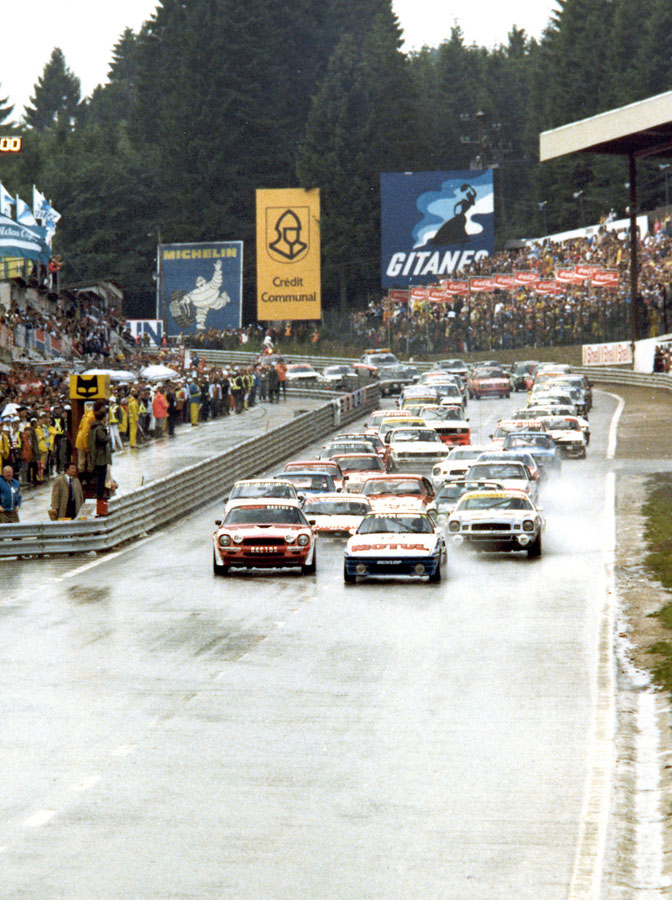 – Andy Blackmore
Images: Paul Kooyman, Rupert Lowes, John Brooks, Peter Still, Mazda
Mazda's at RacingSportscar.com