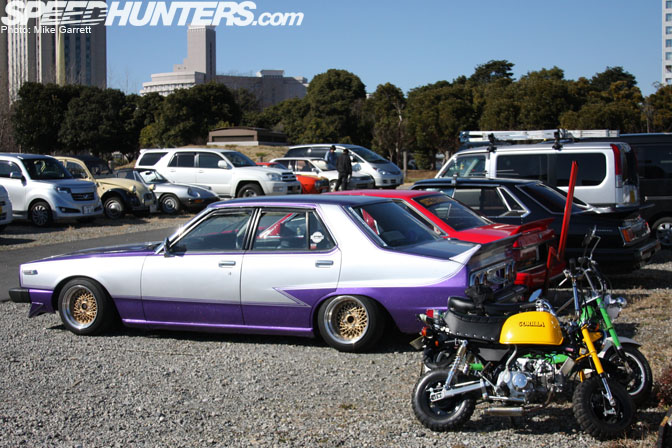 As I continue to go through my photos from last Sunday's JCCA New Year Meeting, I'm finding it quite difficult to choose what I want to post. There's just so much good stuff to choose from. Anyways, I'll open with this shot of a GC210 Japan Skyline parked alongside some mini-bikes. Looks like it could be ripped right from the pages of Champ Road, the monthly Japanese magazine dedicated to two and and four-wheeled kyusha and the lifestyle that surrounds them. This reminds me that I should do a Champ Road feature for you guys sometime…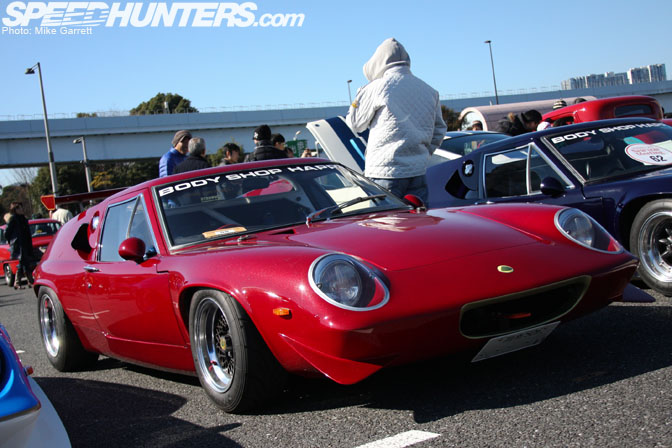 Here's another one of the Body Shop Happy Lotus Europas. This Europa, like most of the "Happy" cars is built for track use, and I've had the opportunity to watch these guys run at events like the JCCA Tsukuba Summer Meeting and the Interclub Historic Car Race. I'd be interested to see what percentage of the world's remaining Europas are in Japan, because there are tons of them here.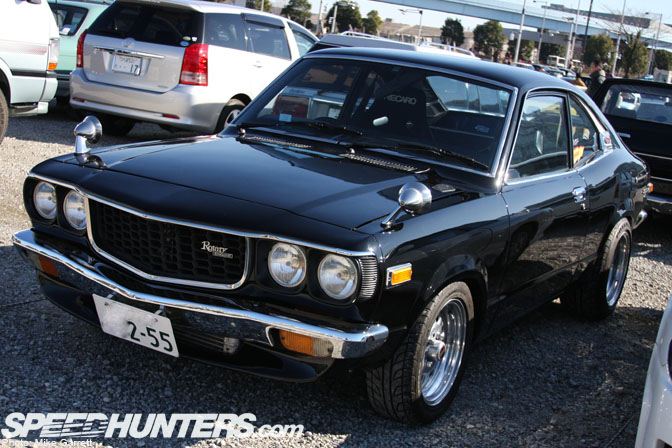 Here's something a bit out of the ordinary by Japanese standards. A Mazda Savanna RX3 with a set of skinny 'n wide Weld Draglite wheels. Also looks like there's a front-mount intercooler peaking out from behind the bumper.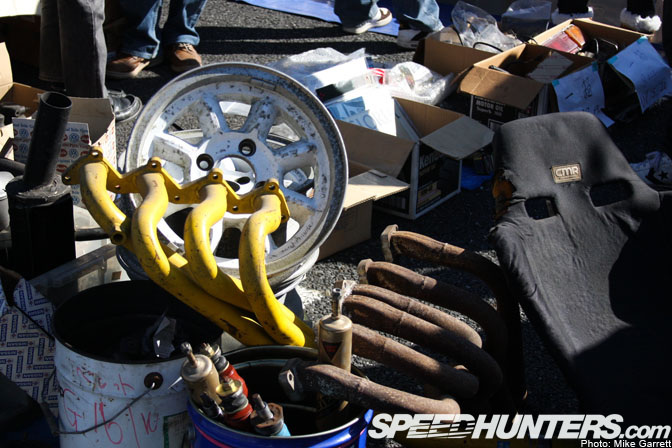 Well-used headers, a bucket seat, and some RS Watanabe wheels found in the swap meet. Some of you guys were asking how much this stuff was going for, and that's a bit hard to answer. It was definitely cheaper than what you'd find outside of Japan, but you won't find any sets of 14×9 -10 SSR's for $300. These guys know what they have, and there's still a big market for these rare and desirable parts in Japan compared to overseas.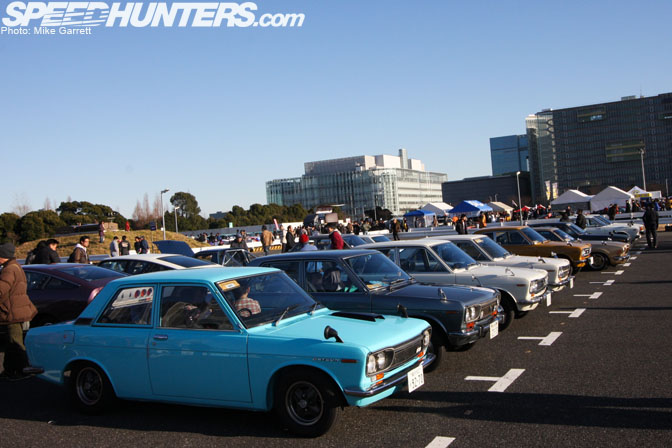 Plenty of 510 Nissan Bluebirds on display, including a few LHD Datsun versions from the USA. Like most of the cars inside the show, these were primarily original or lightly modified restorations.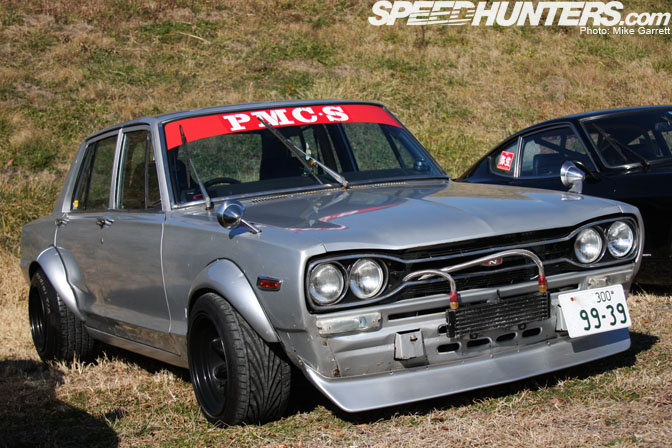 Generally, the older Skylines will be done pretty similar to each other, but there are always a few that stand out. This four-door Hakosuka with extra-wide Watanabes and over-fenders is one of them. Obviously this car was inspired by the PGC10 GT-R sedan race cars that dominated at Fuji Speedway.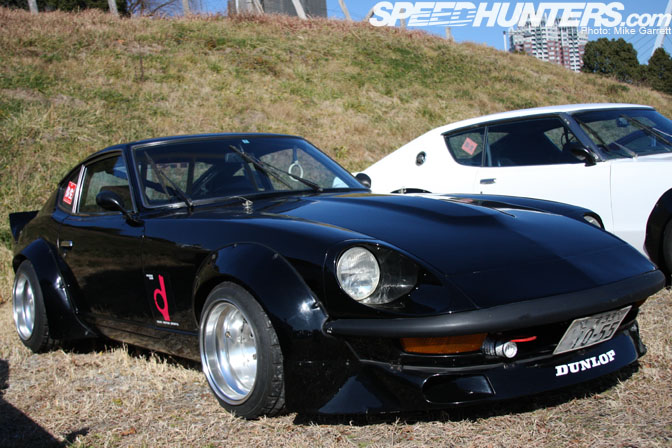 Parked right next to the Hakosuka was this jaw-dropping black S30Z that looks like it could come straight out of the Shakotan Boogie comic book series. G-nose, works flares, SSR Mark I's, and so much more. This was one of my favorite cars I saw all day, and that's saying a lot considering the company it was in.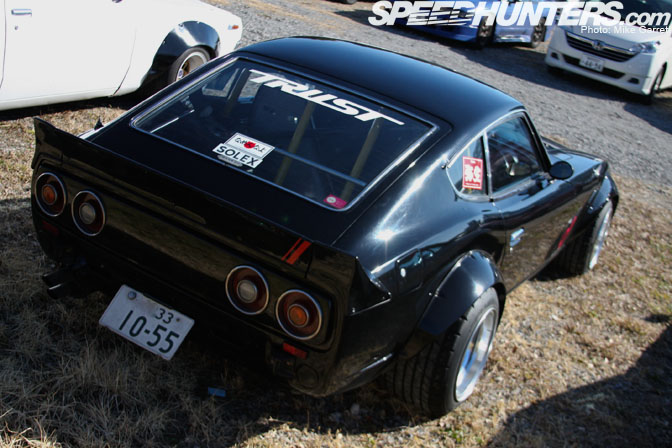 And the rear view showing the Kenmeri Skyline tail light conversion. Awesome.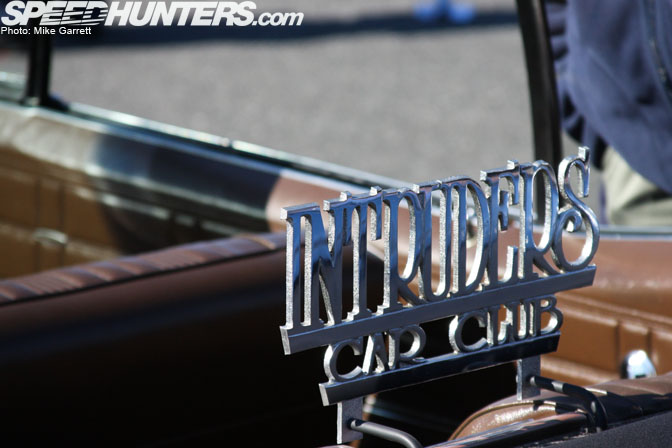 Intruders Car Club representing on a drop top '68 Impala lowrider.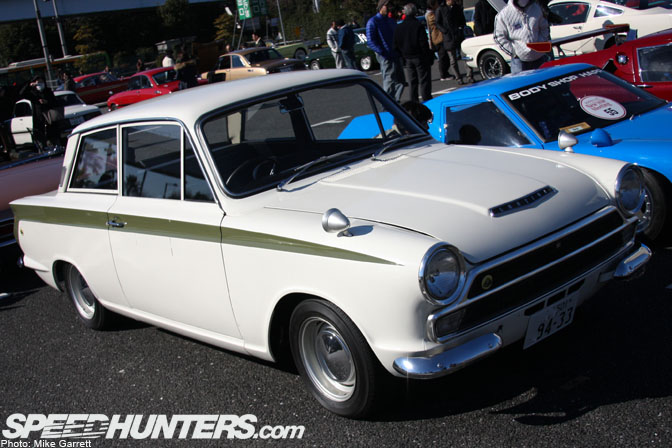 A nice example at one of the most famous touring cars ever, the Lotus/Ford Cortina. Oh how I'd love to have one these in my garage some day…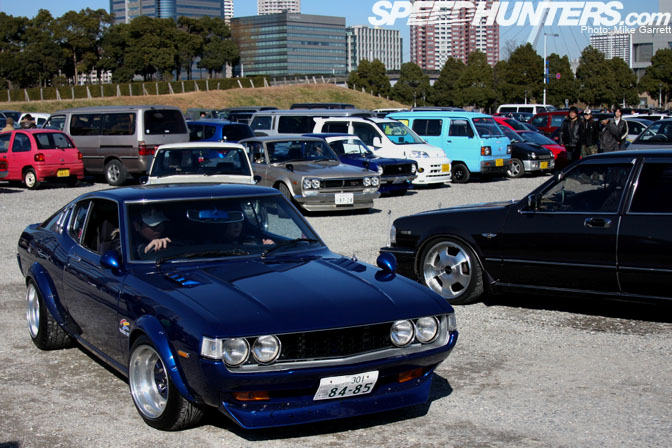 Another fine-looking Celica LB rolling out with some its buddies. The cars would pull up to the gate where the traffic officer was, and he'd direct them out as they revved up the engines and burnt rubber while blaring their musical horns. Sometimes you just have to love how easy going things are in Japan.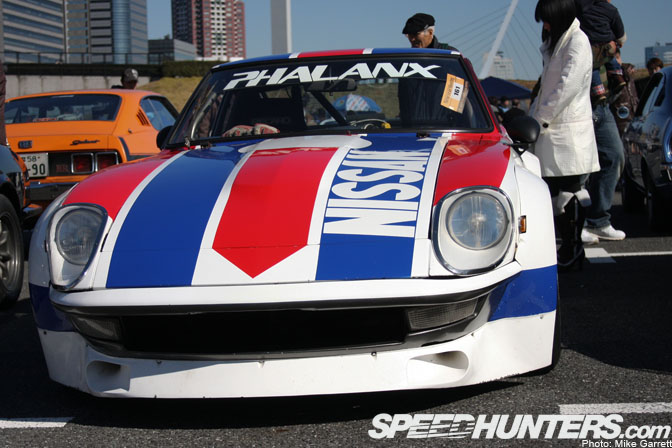 Alexi from Noriyaro.com was fortunate enough to get a shot of the awesome-looking owner of this works style 240Z. Lucky.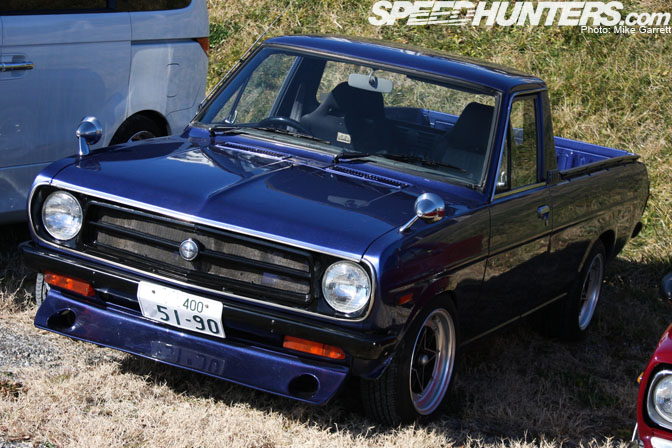 Here's another nice example of the "El Camino" of the Japanese classic car scene, the B110 Nissan Sunny Truck. Nissan actually kept producing the Sunny Truck into the early '90s, so there are quite a few of them out there.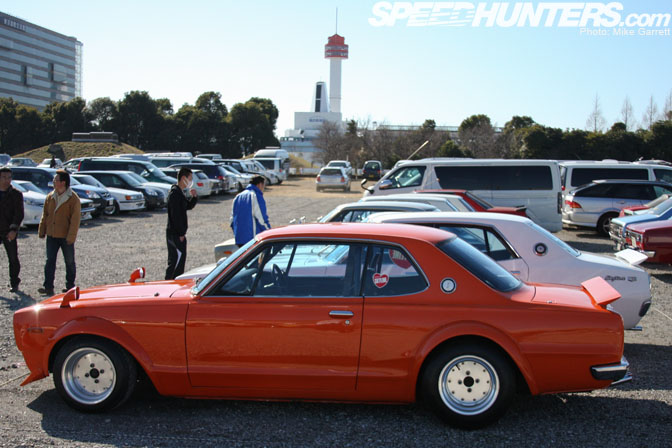 This Hakosuka Skyline caught my eye because of its unusual body color (orange), and its SSR Mark I wheels.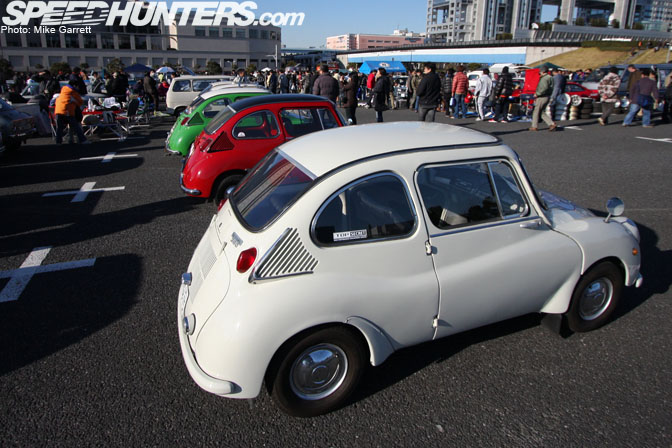 A few examples of Subaru's first passenger car, the 360. Have yet to see one of these with lowered on a set miniature SSR's…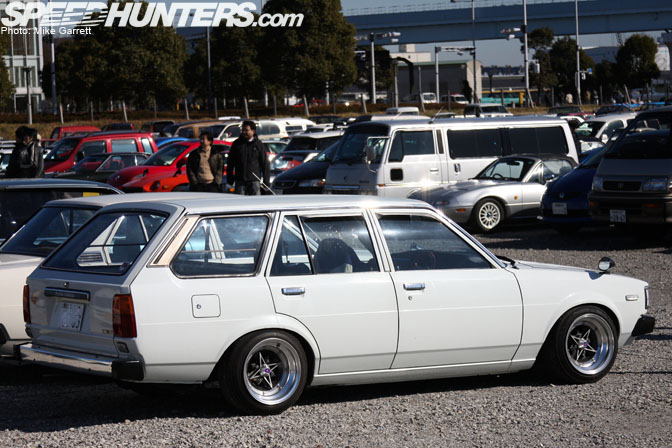 Nana Maru Corolla wagon done right.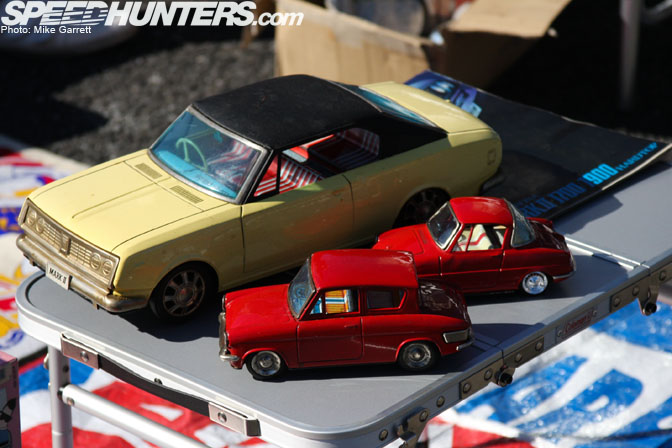 Old school toys from the '60s.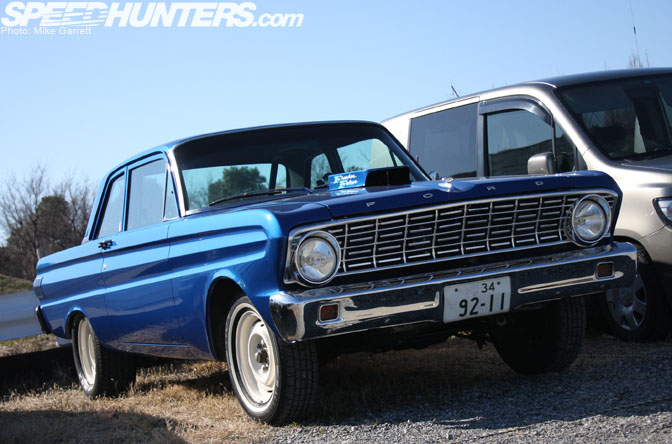 Another interesting parking lot find was this Ford Falcon with a '60s style pro stock drag look to it.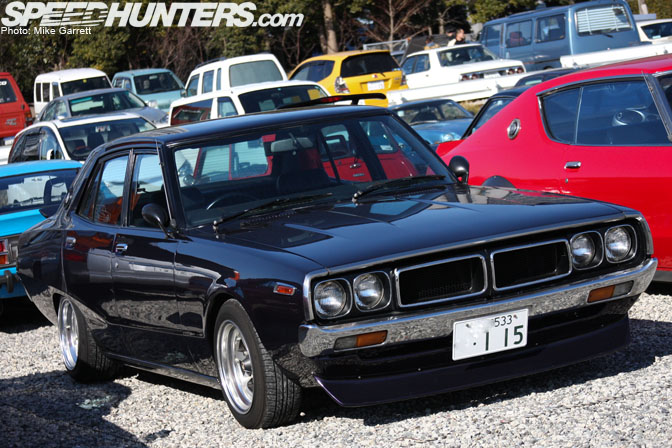 A simple and clean "yonmeri" Skyline sedan.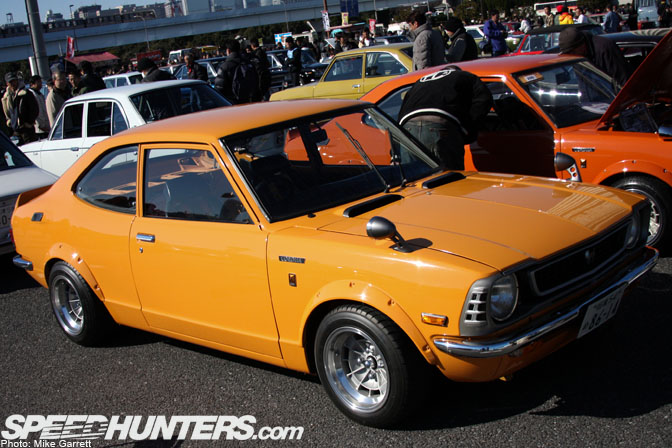 And finally, another nice TE27 Corolla for Antonio.
Hopefully you guys are enjoying this coverage as much I enjoyed the event,
-Mike Garrett