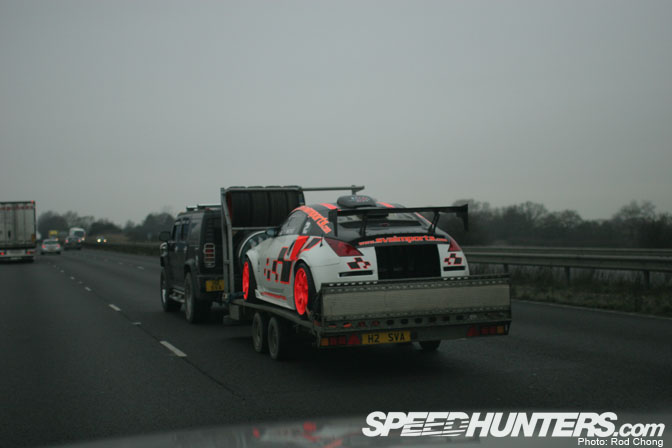 Erg I seem to be in the grips of permanent jet lag. Every day this week, I've woken up at 02:00 AM on the dot…Bleck….. However, this does allow me to get some blogging done on Speedhunters, which I suppose is good for you lot, our cherished readers….. hey, so I thought I'd start out my Autosport Show coverage by talking about the journey from London to Birmingham. This was an event in itself hahaha.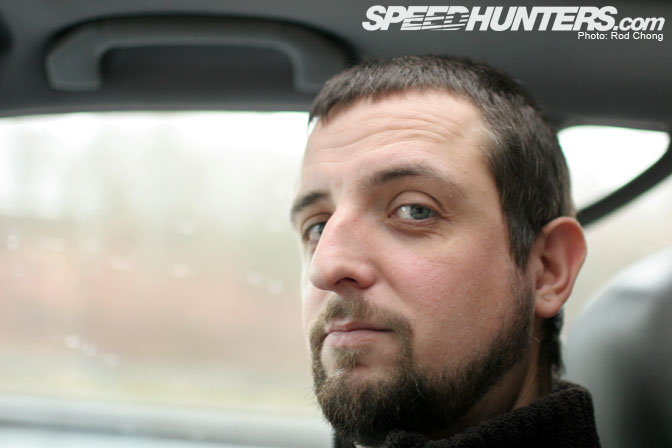 I travelled up to the show with Andy Barnes, one of the founders of the European Drift Championship/Time Attack UK and a well known British car builder under the name Sumo Power…. He also writes the odd article for Speedhunters in his spare time too….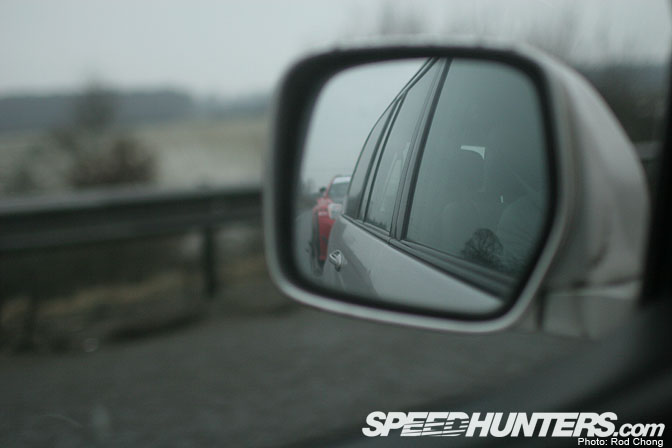 Now the EDC is participating in the Autosport Live Arena show this weekend, so we towed up Andy's Sumo Power 350Z along. This car was the first D1 spec drift machine to be built in the UK, and Andy has decided to enter it in the 2009 EDC as a team owner….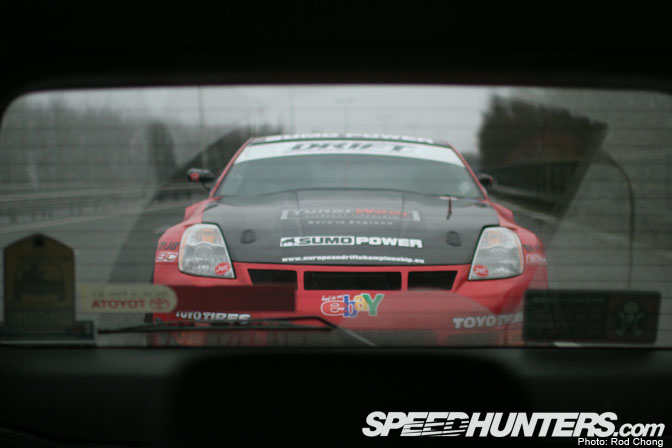 Follow the leader….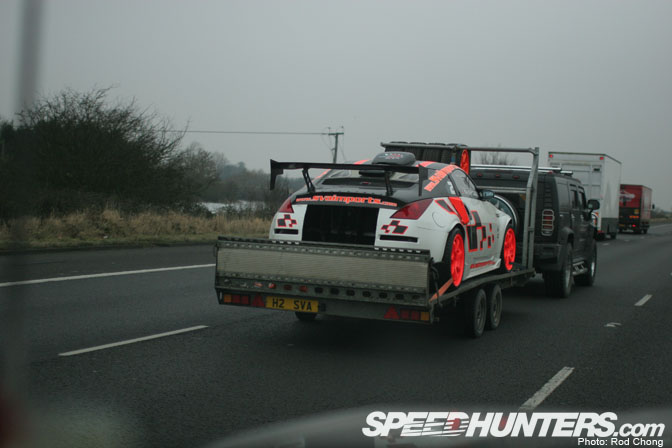 Man the UK is cold and dark at this time of year…. I'm wearing the world's thickest parka to deal with this… Anyway, after a short time on the road we caught up with the SVA Imports 350Z, who are also in the Autosport Live Arena. We got on the phone to them and decided to stop for a tea.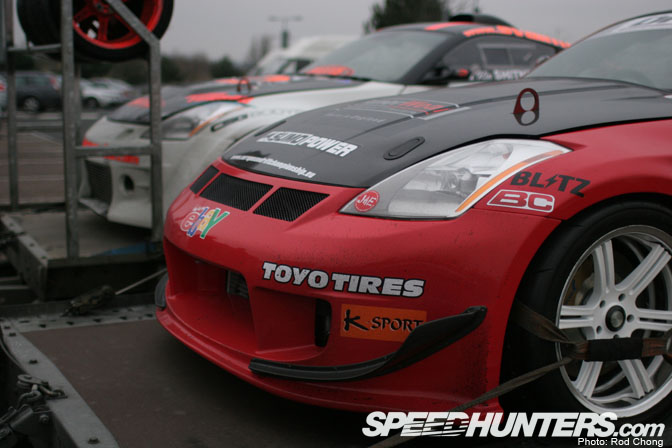 Once the cars were parked up, I decided to take the opportunity to do a little photo essay on the two top drift spec Zs in the UK.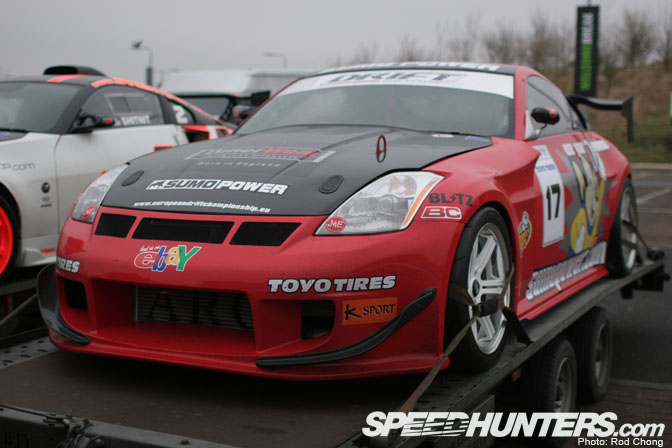 Some of you may remember this car used to be pink… Andy has now decided on a more manly colour perhaps?… Any thoughts on Mighty Mouse graphic? A win or a lose?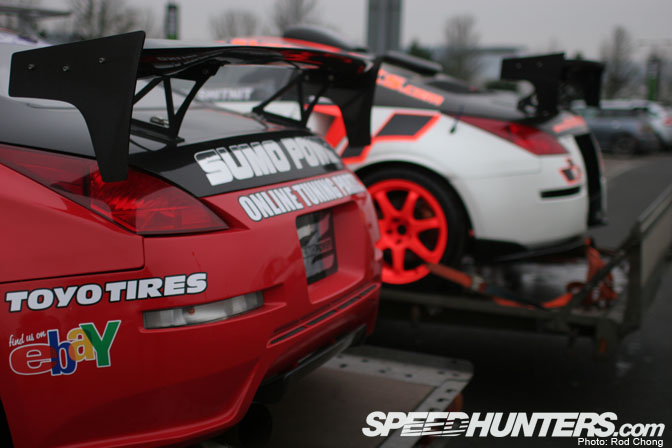 Ahh yes…. the rear ends….Hotness.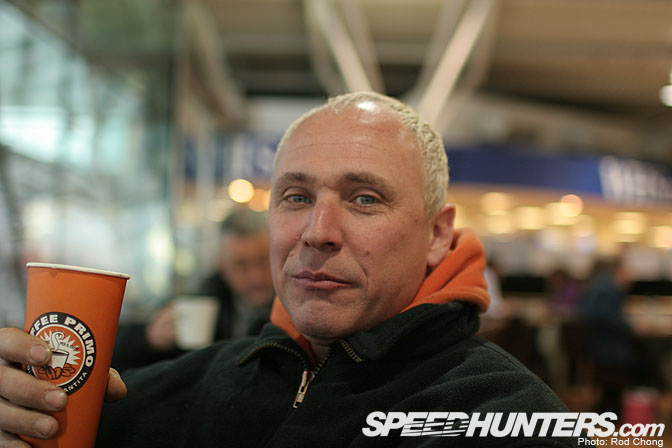 This is Raife from SVA Imports… He was entertaining me with tales from the five years he spent living in Japan…. and his time doing Futou Dockyard drifting in Nagoya.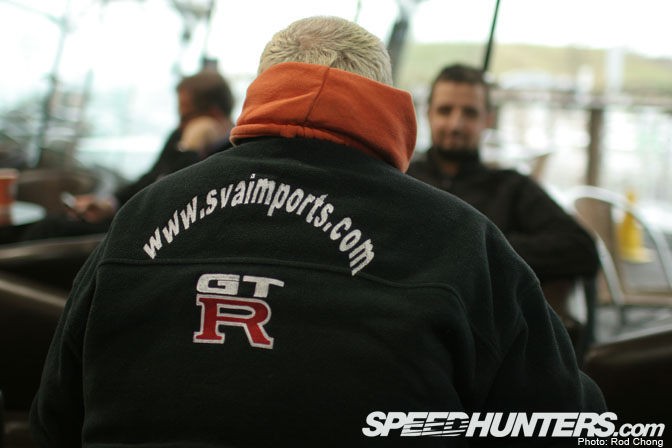 This is a man that owns several GTRs… including a 1000 bhp R34 V Spec…. We'll have to visit him one day to check out his set up…. in the mean time you can browse his website..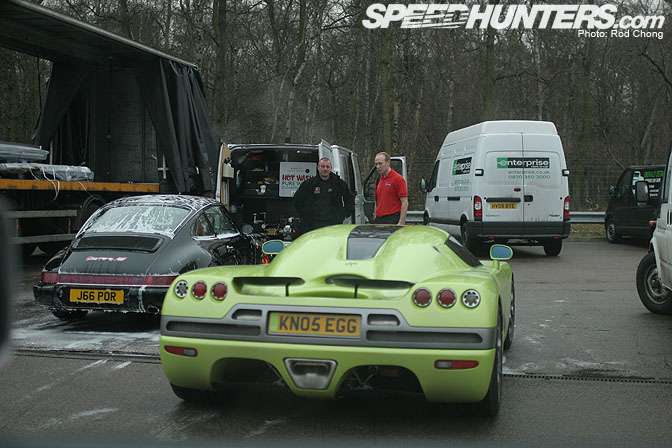 As we entered the Birmingham NEC complex, there were all manner of race and exotic cars being unloaded… we spotted this Koenigsegg….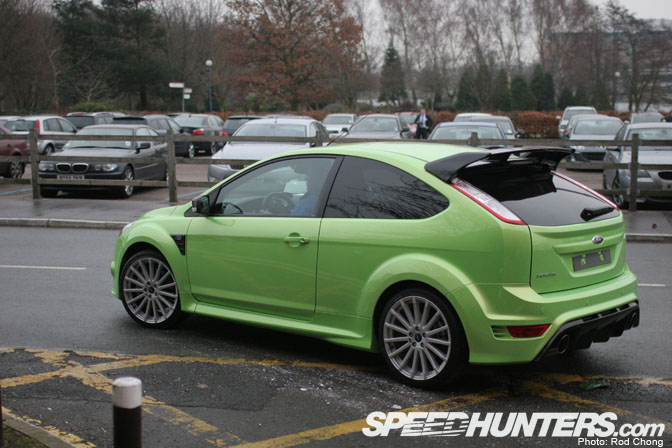 …also representing the colour green was this brand new Ford Focus RS. Quite an impressive looking machine.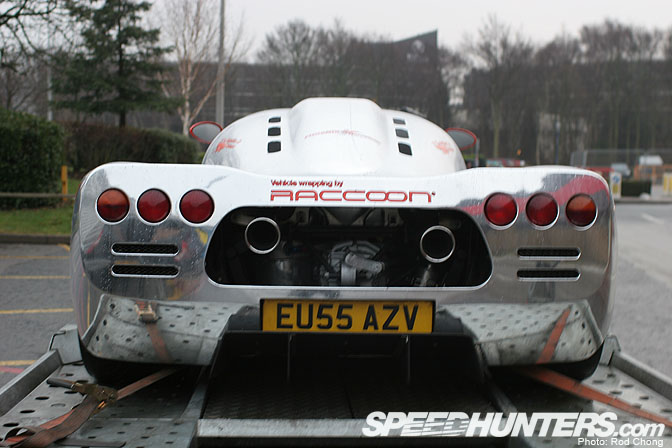 Or how about this all chrome Ultima? Coooolllll (said with Japanese accent…)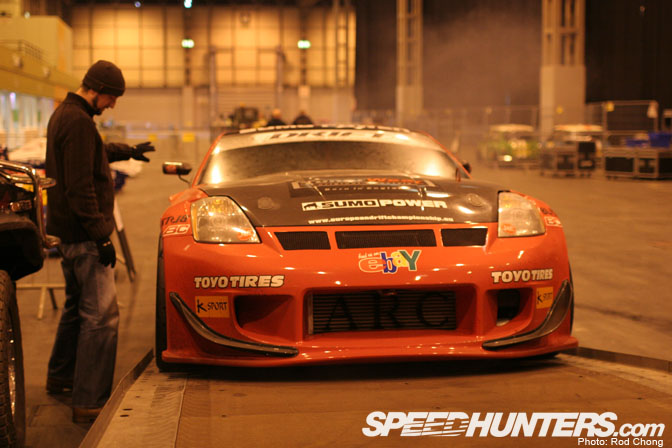 We drove into the Live Arena Show pit area and Andy started to unload his car.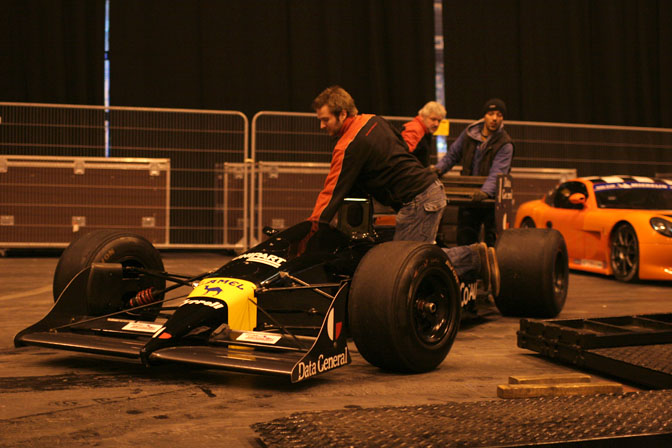 Next spot over, an old Tyrrell F1 machine was being unpacked from its trailer… I love the look of 1980s F1 cars… they look like proper race cars: Low and Wide.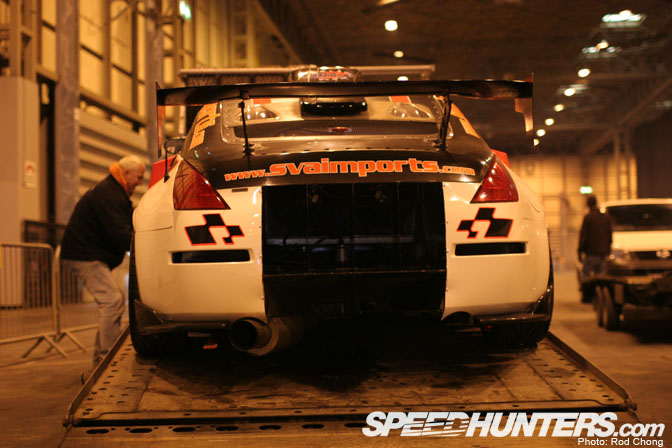 Raife (I hope I am spelling his name right) also started to unload his car. You'll notice this 350Z has a rear radiator setup like some of the Team Orange drift cars.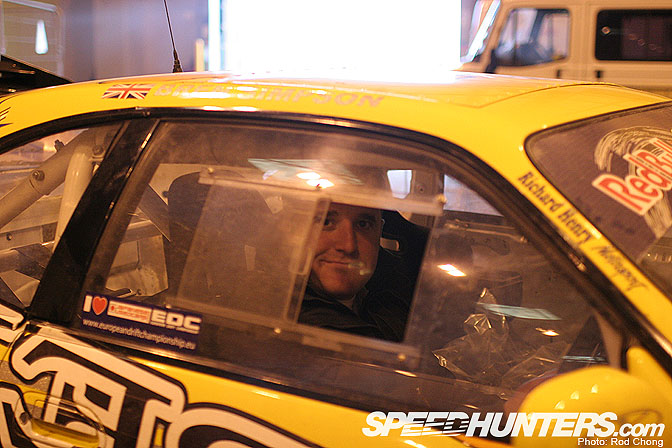 We also bumped into a familiar face from the Red Bull event… Drifter Tim Marshall.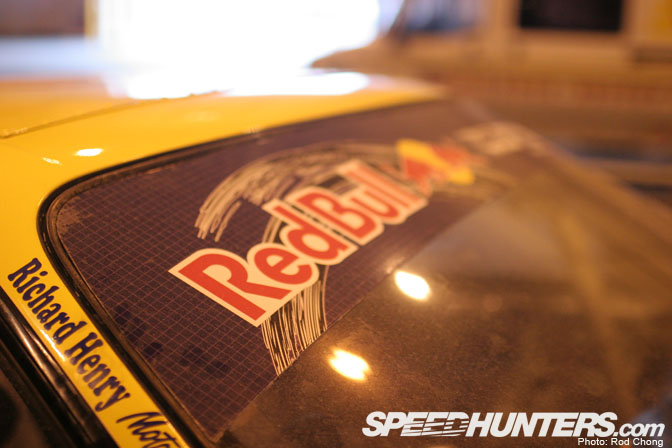 The car had literally just been picked up from the dockyards and was covered with a thin layer of dust. Notice the Red Bull logos are still present on the car.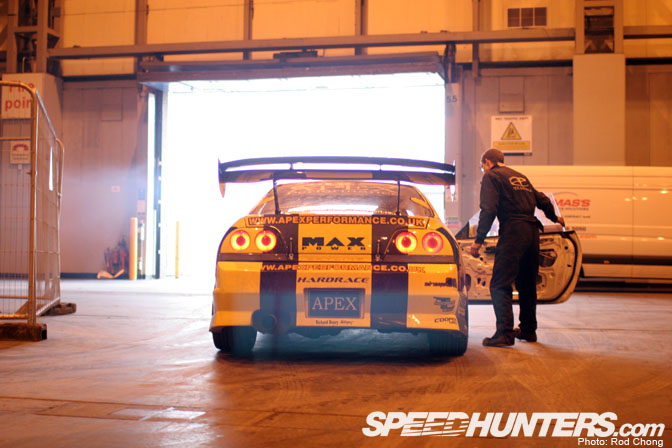 Word cannot describe the sound from this V8 powered R33, when fired up indoors…. I was literally jumping from shock every time he started the Skyline.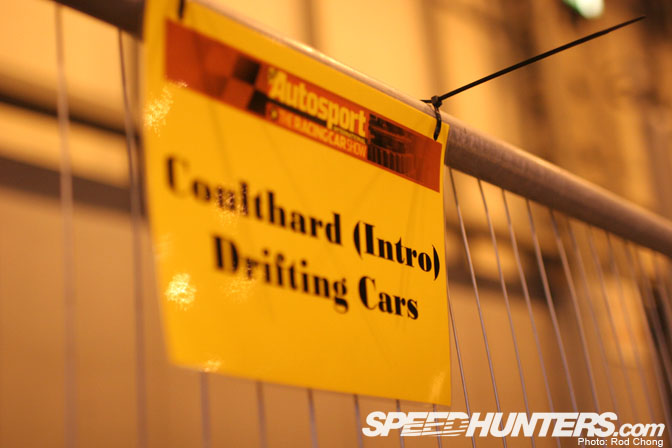 The drifters are part of the opening ceremony for the Autosport Live Arena. They'll be doing donuts around the host David Coulthard tomorrow!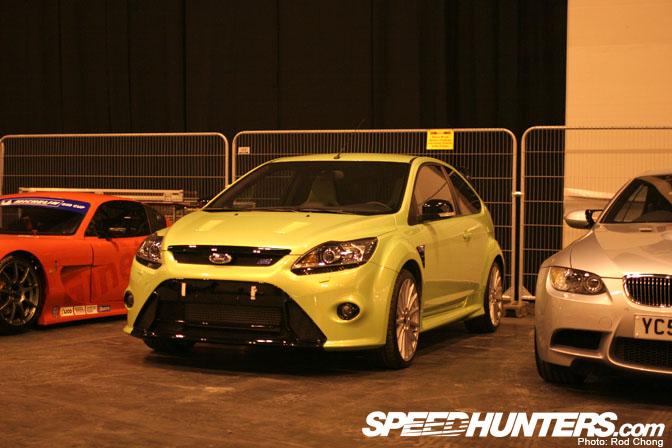 Here is that RS again…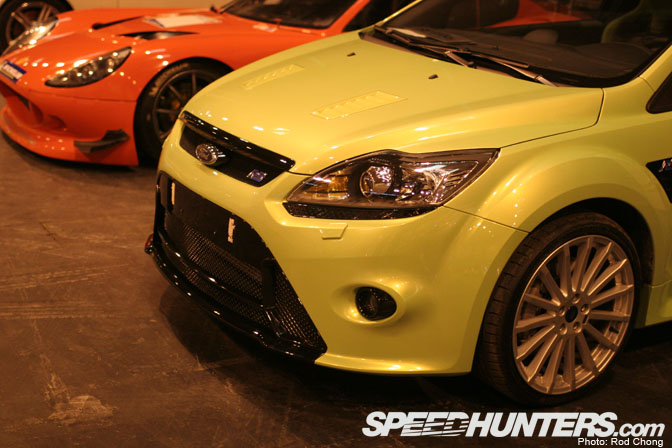 I'm liking what I'm seeing… finally a new sport compact car with some edge.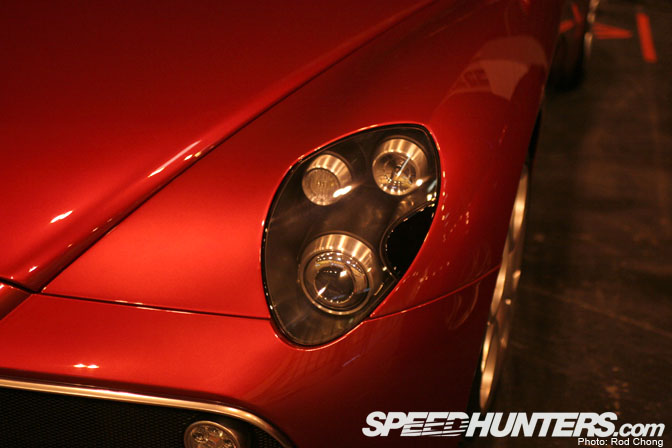 This was also the first time I've seen an Alfa Romeo 8C Competizione in the flesh…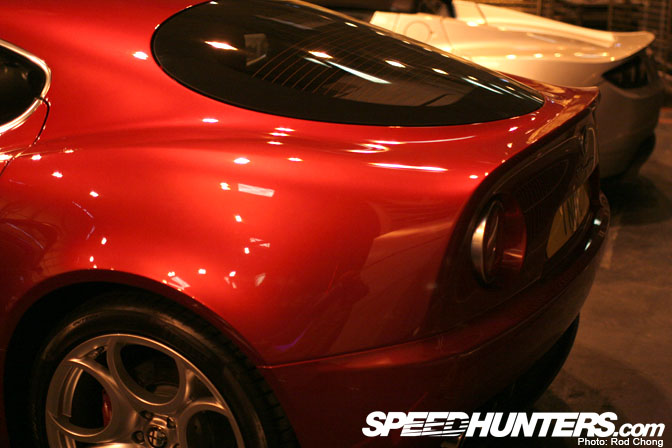 Man this car is ssssooooo sexy….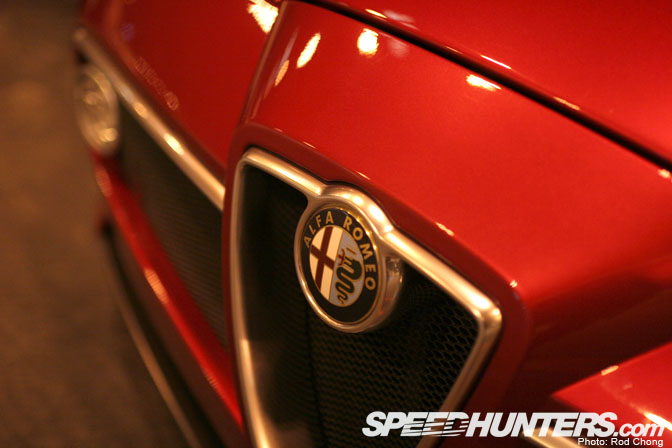 No one can do style better than the Italians no?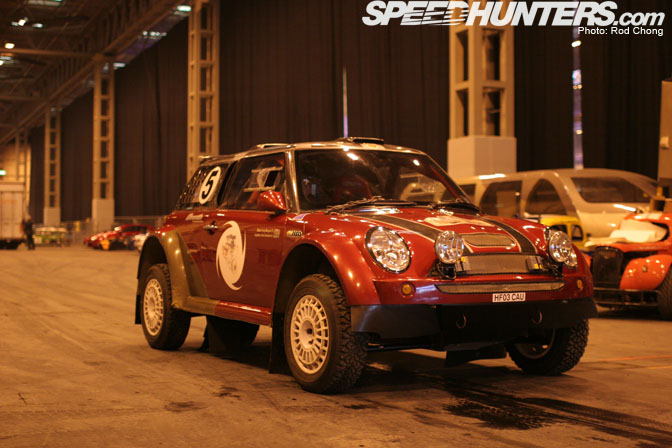 I'm posting this car for the NFS Community Manager back at the office in Vancouver, Andrew Collins who loves all things Mini related…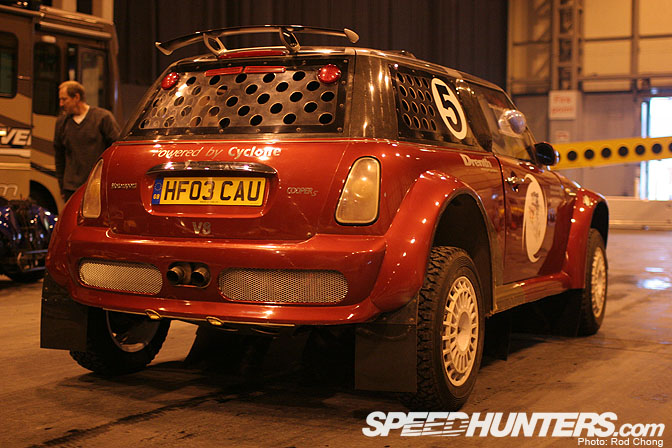 From what I can tell this is a Rallycross racer… it's a mid engined tube framed silhouette… pretty wild machine…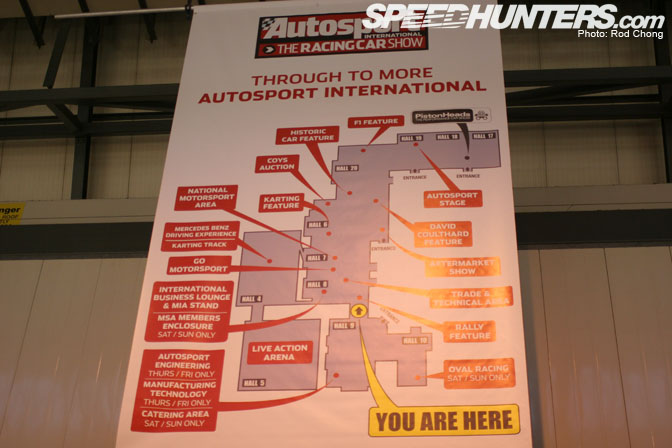 I decided to look inside the main hall show areas… this will give you an idea of the scale of the event. It is a must see show for any serious motorsports fan.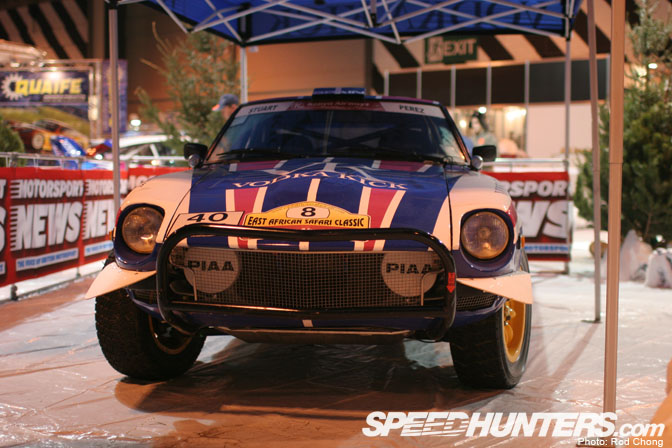 The Rally car display area was just being set up as I walked in … I was immediately drawn to this stunning 240Z rally car… wow!!! I take it you'll want to see more of this car yes?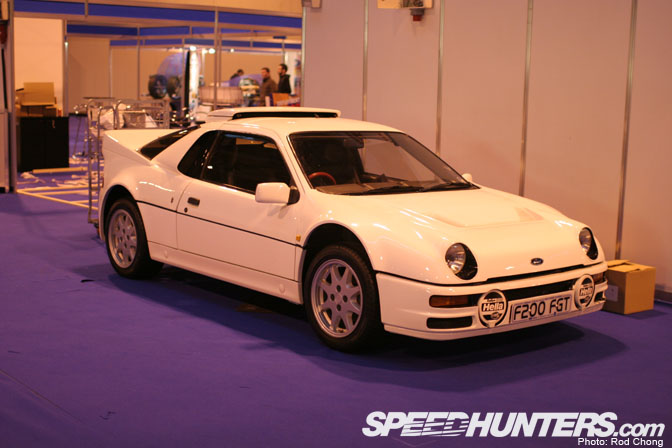 RS200 anyone? Are you drooling yet? Feeling warm and fuzzy inside?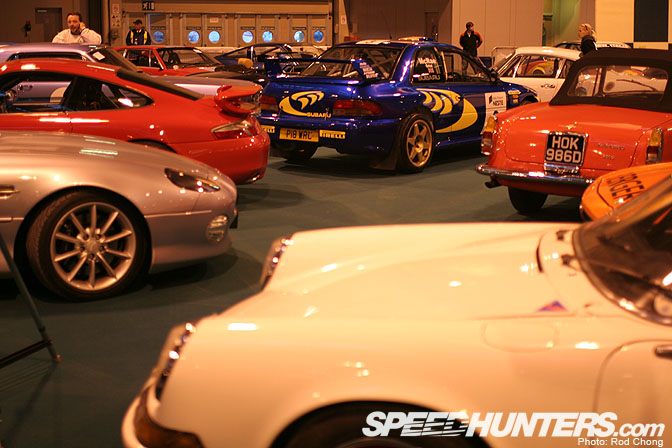 Coys had a large selection of auction cars… check the Collin McRae Subaru… I can't imagine how valuable this car must be!!!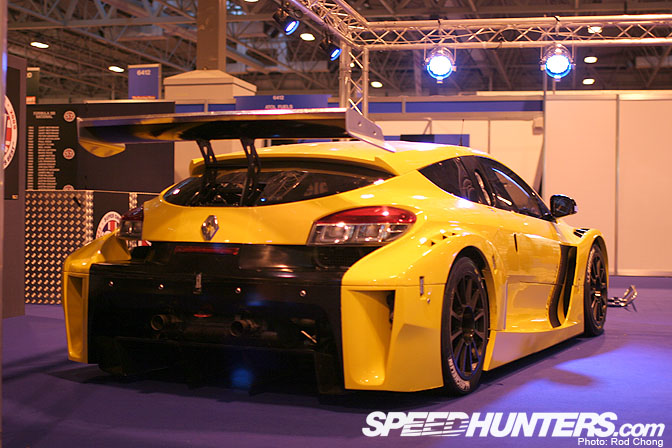 This is probably my fav car at the Autosport show so far… the new Renault Megane Trophy… I am astounded by the futuristic styling of this racer… Watch out for a full spotlight on it in the coming days.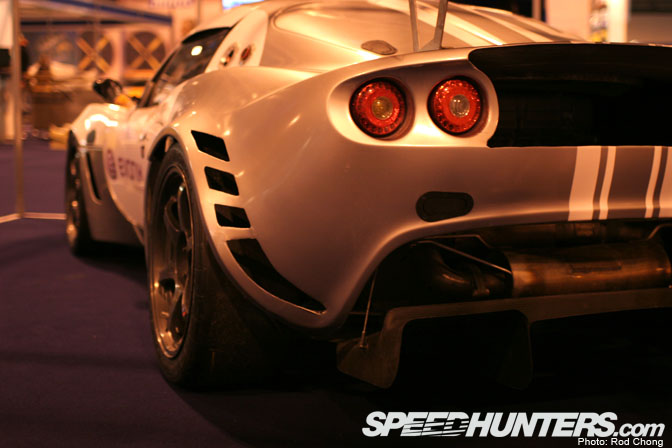 Another car that impressed me was this Lotus Elise circuit racer… I'll show you a full set of pics on this little monster soon….
Talk in a bit…
:Rod