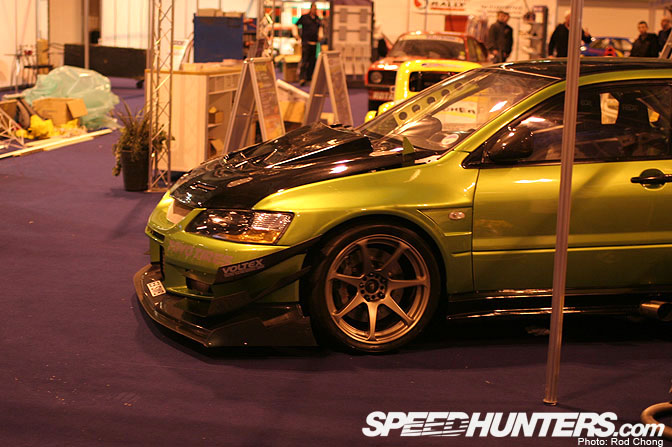 After looking around the Autosport show (most stalls were still being set up) my jet lag was getting to me so I sat down to rest at
the EDC/Time Attack booth…. But within a few minutes I heard this intense engine sound edging in my general direction. To my surprise, this wild Evo9 appeared along
the carpeted walkway… The freshly rebuilt Norris Designs Time Attack SWB
Evo.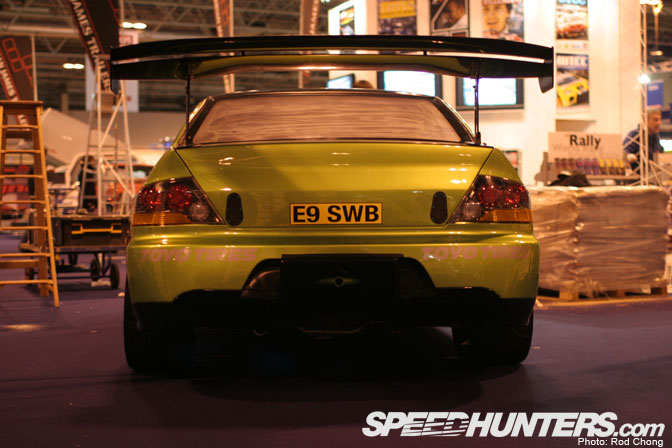 The car maneuvered into its parking position at the EDC/Time Attack
booth but I could only gape in awe. This, ladies
and gentlemen is, simply put; the wildest Evo on the planet.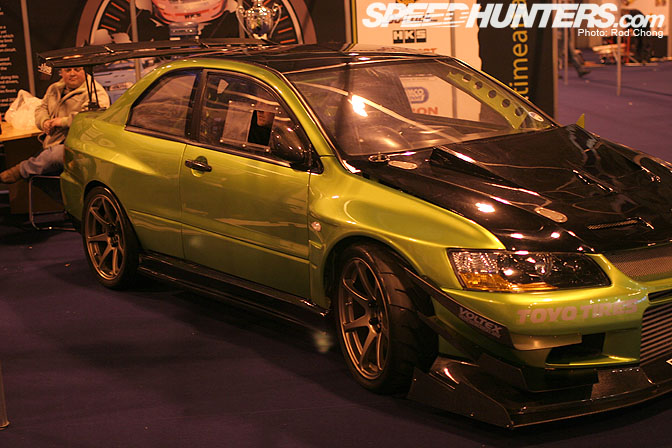 Notice that the car has been converted to be a short wheel base 2 door coupe…. Eleven inches has been removed from the wheelbase.
Notice that the roof has been chopped…. I am speechless…. ack…. ack….. ack….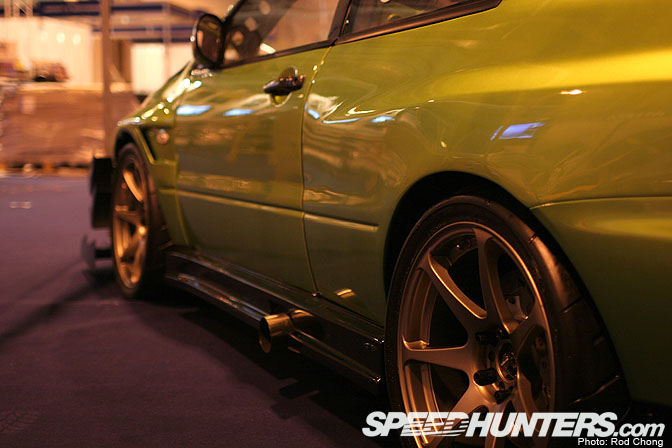 I can't wait to see what this car does on track….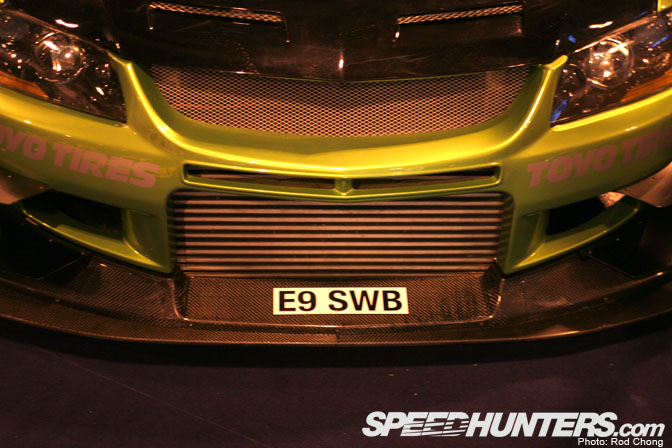 I want to point out my friends, that this 900 bhp car is STREET
LEGAL… and its owner, Simon Norris isn't averse to taking it out on roads, normally occupied by regular folks like you and me.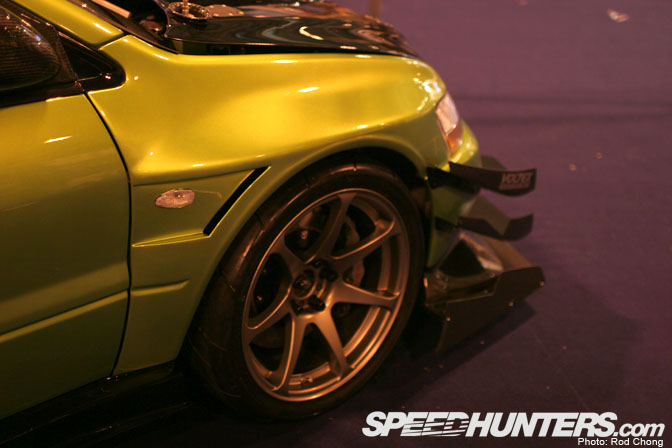 Are you conviced?… if not follow me…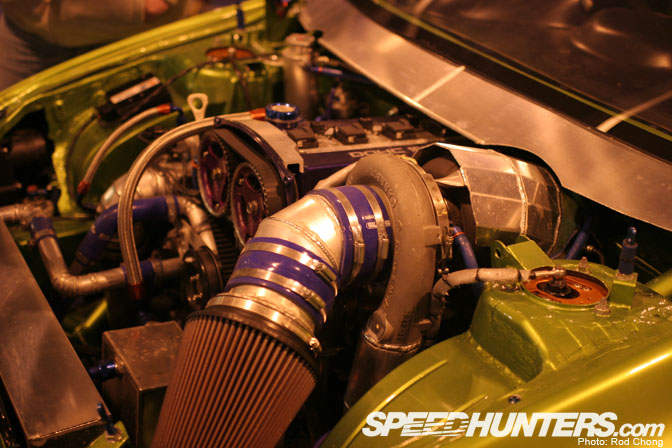 … and look at the engine setup. The first thing you'll notice is that the engine has been rotated 90 degrees… now why would this be? Well it is attached to a Holinger RD6 Sequential transmission and the complete drive train from a Skyline GTR… madness!
Current output is 928 hp @ 739 lbs-ft but Simon is building a new engine to push the output to 1100hp…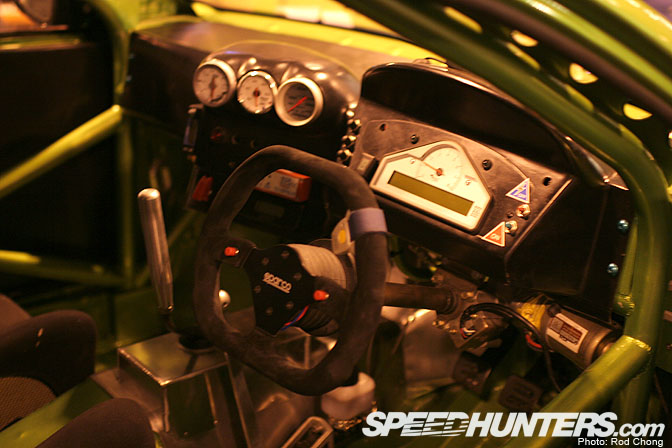 Here's the cockpit… I can only imagine what kind of nutter Simon must be, to go to the trouble to build this entire car…. Respect…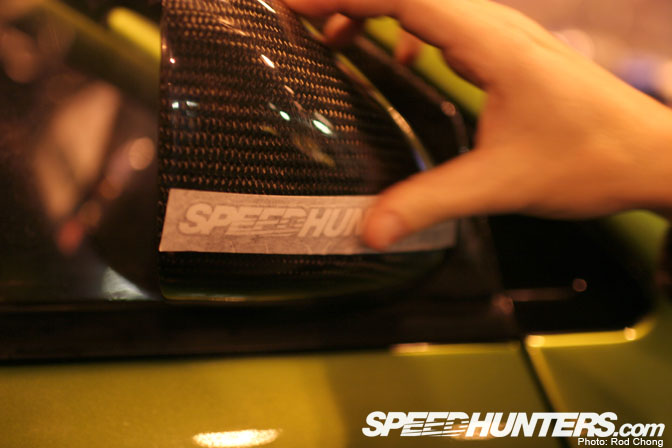 The only contribution I could make was to add a Speedhunters sticker….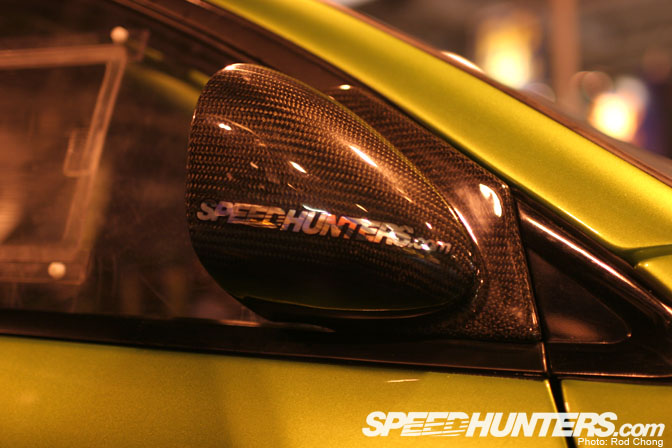 Much better…If you want to see more details on this car just ask….. I can found out more info if you are interested.
Ok that's it from me for now… This a pretty crazy time for the site with me at the Autosport show, John Brooks in Dubai and Mike Garrett at the Tokyo Auto Salon…. Fun times.
Best,
:Rod