Porsche month on Speedhunters is long over. So why would I decide to write a story about one of Japan's most influential Porsche builders, and have the aggressive wheel lip and stunningly stylish rear fender of Nakai san's Rauh Welt Porsche as the main leader photo? Because Nakai san isn't just a Porsche guy… his style and his influence has much more effect than you might think.
Before I continue too far with this story, I just wanted to point out that all these Rauh Welt shop visit stories you all have been reading would not have been even possible if it weren't for Kazuhiro Tanaka from Team Orange.
Yes, you heard me right, I said Tanaka, we're talking about the same guy – the long orange hair having funnyman who can kick your ass in tandem drifting any day. Tanaka is the one who tracked down the highly elusive Nakai san for me, and got him to agree to our photo shoot and interview. See, long before he was a D1 driver or a member of Team Orange, Tanaka was a member of the infamous street drifting crew from Ibaragi Japan called Rough World.
The Rough World name became famous with other street drifting teams because they pretty much owned their local touge roads, and all the members of their team drove super mean looking AE86s and JZX81 Mark IIs that were super low, with tons of camber, stretched tires, and wheels lips sticking out, etc – this look became known as "Rough Style." The members of Rough World were kings of the hill at their local Mt Tsukuba, and other nearby mountain areas. I've been bugging Tanaka, trying to get him to introduce me to Nakai san for YEARS! Since Nakai san was the leader of Rough World, and since Rough World has been one of my favorite AE86 street drifting crews from Japan; I've been a fan of the legendary Nakai san for a really long time. This means, way before this Speedhunters project was born, even before I started working on my book about drifting, before we started seeing hippari tire drift cars in the United States, and even before Yahoo Auctions for car parts became super ridiculously popular… Needless to say, I've met lots of celebrity racing drivers, music artists, actors, etc. Whatever… I don't care much about that, but meeting Nakai san in person was a big, big deal to me.
Let me tell you part of the long story of how this all started, several years ago. Back then, my friend Kenta (Tokyo Drive Productions) and I were still working for Japan's extremely popular grassroots drifting magazine, Hashiriya Battle Magazine (now closed). I was their US-based photographer and Kenta was a popular columnist in the magazine. Kenta's column, entitled Outer Drifter's Style, was pretty
popular with Japanese drifters who liked stories about the USA, including certain famous
drivers like Nobuteru Taniguchi and Nobushige Kumakubo. To make a long story shorter, Kenta began talking to Kumakubo in Japan; and when Team Orange came to the USA for early D1GP events, Kenta and I met up with them them and we quickly became friends. (They became friends with Kenta because he would always help them with their business affairs in the USA, whereas they probably only liked me because I took them to my favorite places to eat, lol). 
Fast forward several years later – Kenta and I were chillin out with Tanaka in Japan, having dinner at Kappazushi (a cheap sushi chain restaurant that we like going to), and I began asking Tanaka about his early years of drifting… and even though it was super difficult to extract any meaningful information from him while he was hunting for toro (tuna) in the rotating sushi conveyor belt next to us… he began telling us some of his old stories about his legendary AE86 drifting team, Rough World, and its infamous, well respected leader, Kei Nakai…
Back then, I knew Tanaka was a member of Rough World, and I knew that Rough World was a very well known (more like legendary) AE86 crew, but I didn't know a whole lot about their actual history, because I couldn't read the Japanese text in my old drifting magazines. I knew that a lot of my other AE86 friends in Japan had huge respect for Rough World and its leader, so I began prodding Tanaka to tell me stories about Rough World, so I could learn more about their history, etc. Let me tell you, pulling stories out of a person with an attention span as short as Tanaka's is no easy task!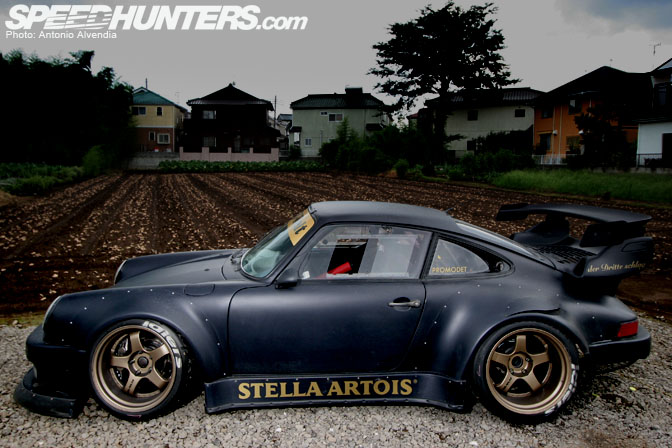 I don't think anyone can look at Nakai san's personally owned Porsche 930 and not think it looks amazing. As we walked around his shop, Rauh Welt (translated, it means Rough World in German language), our resident Porsche expert Rod asked him all sorts of questions about the specs of the Porsches he's built. However, one thing that totally stood out to me was when Nakai san said "it's not just about the specs of the parts I used. It's the theory and idea behind WHY I did it." True that!
For those of you that have read more than three of my Speedhunters stories, you will know that car styling is extremely important to me… you'll know that I never stop thinking about the overall look and stance of a car. Of course the wheels are an important equation here, they're crucial to the success of your car's look! So of course I have my favorite styles. In the language of Japanese car terminology, my favorite looks are known as: Onikyan (Demon Camber), Hippari Tire (stretched tires), Shakotan (super low height), and tsuraichi (this is when the wheel lip is super close/aligned to the edge of the fender. It literally means "to become one with the fender").
Anyone who's read Speedhunters knows I constantly talk about this stuff (sometimes to the dismay of the readers), and never stop preaching the gospel of good offset and stance. Those are some of my favorite aspects of old school drifting style! (I'm talking about late 1990s and early 2000s – not 1980s style btw) Stuff like demon camber, ridiculously stretched tires, super low slammed cars with really aggressive wheel fitment coming out to (or ever-so-slightly sticking out from) the fender… Both Tanaka and all my old Japanese drifting mags say that Nakai san made all those trends popular in the drifting world… he started it. I almost didn't believe it when Tanaka began telling me these stories, questioning what he was telling me with a dubious grin… "Are you effin serious?" I said (in translated Japanese, thanks to Kenta.) All of a sudden, Tanaka got all serious on me, and switched to an almost aggressive demeanor. See, for those who know Tanaka in real life, it's hard to imagine him serious, because he's always joking around and being funny. However, he is always completely serious whenever he's talking about topics relating to Rough World and Nakai san. Even though most people around the world know Tanaka as a member of Team Orange, he remains intensely proud of his roots as a member of the infamous Rough World (and with good reason!), and of course, a lot of respect for its leader – his sempai, Nakai san.
Tanaka continued on to explain how Nakai san also started trends like painting shiny wheels on drift cars flat black, cutting off the bolt tab on the edge of an AE86's fender and replacing it with zipties, and stuff like that. Crazy! These are all popular style elements of drifting, which trickled down from underground Japanese drifting culture to the mainstream drifting industry of today!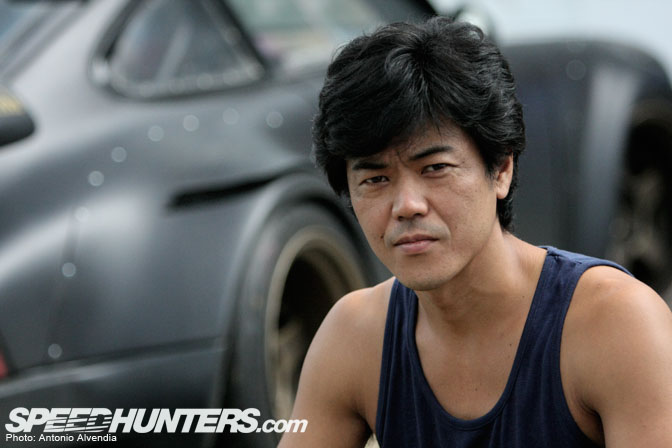 These must sound like pretty tall statements. Especially when the photo of the guy in question (above) reminds you of a scowling martial arts hero for some reason. It must be the poofy hair and the tanktop. I dunno.
I'm pretty sure that Porsche owners in Germany would be extremely surprised to find out that the builder of the evil, menacing widebody Porsches bearing the Rauh Welt name is actually a guy who could look like a stunt double out of a 1970s Bruce Lee movie. I suppose it just shows that sometimes building cool cars isn't only about legendary racing lineage… sometimes it's just about how gangster you're willing to get. Nakai didn't have a reputation for building and racing Porsches; he created a reputation for himself through his actions. Nobody in Europe, the USA, or Japan had ever heard of Rauh Welt Begriff before; but now they know. Nakai san is a man of few words. He lets his actions speak for themselves. And man, how loudly they speak.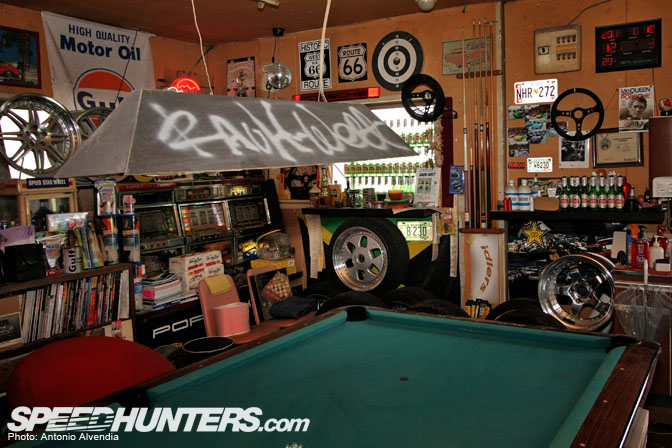 This is the lab. This is where the magic happens. I just love that "Rauh Welt" spray painted on the hanging light. Style, for sure!
I could just chill out here and stare at all the stuff he has in his shop for hours… I felt really humbled to be at Nakai san's shop. Sure, it's not all fancy like most of the Porsche shops you see in West LA or OC… but something about Nakai san's shop is just so raw. So pure. It gives you a sense of the man behind it; from the randomly scattered deep offset wheels, Porsche parts, Idlers logo stencisl and racing memorabilia hanging on the walls, to the pieces of vintage Americana like the old school slot machines, license plates and Route 66 signs hanging there. This place gives you a sense of Nakai san's personality. Very cool.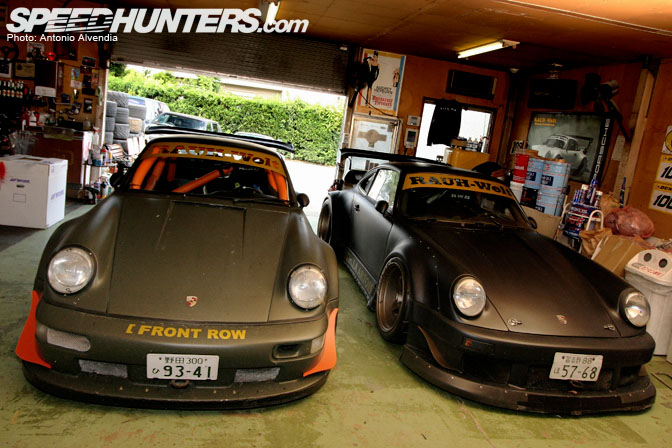 Speaking of style, these two cars make other Porsches cower in fear. Come on! From the dark satin paint to the low aggressive stance, both these Porsches look super mean and ready to take down whatever crosses their paths. For more info on these cars, look through the Rauh Welt features on Speedhunters.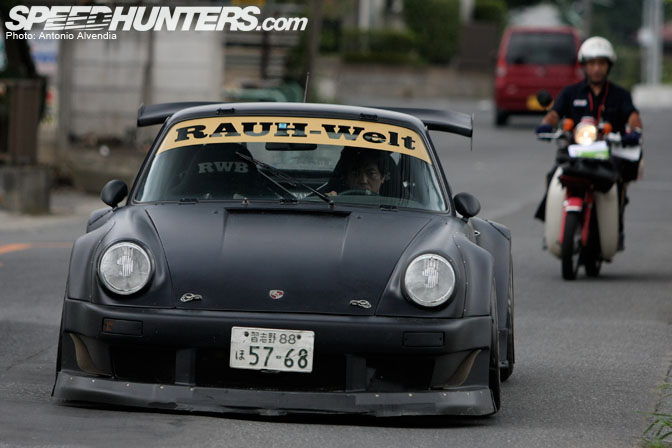 I included this photo just to give you a sense of how ridiculously bold and menacing Nakai san and his Porsche look when driving on the street. Even though this Porsche is primarily used for track purposes now, he admits that he drives it on the street every now and then, even though it's clearly illegal and doesn't pass the Japanese sha-ken inspection in any way. Perhaps its this "I don't give a damn" gangster attitude that makes him sooo cool.
Look, if you were the guy in the scooter behind Nakai san, wouldn't you stay a few paces back?! I know I would! When you see cars like this on Japanese city streets, you better be careful not to get in the way. This could be trouble.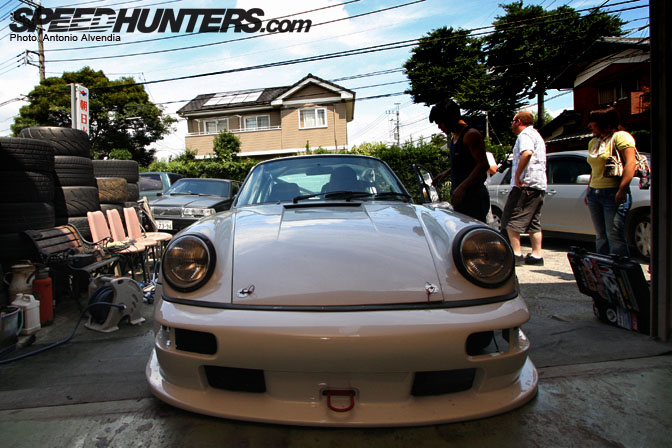 Here's one of the Rauh Welt customer cars – a gorgeous glossy white 911 being pulled out of the RWB garage. In the background, you can see Mike Garrett, his wife, and my stickered up Pelican case.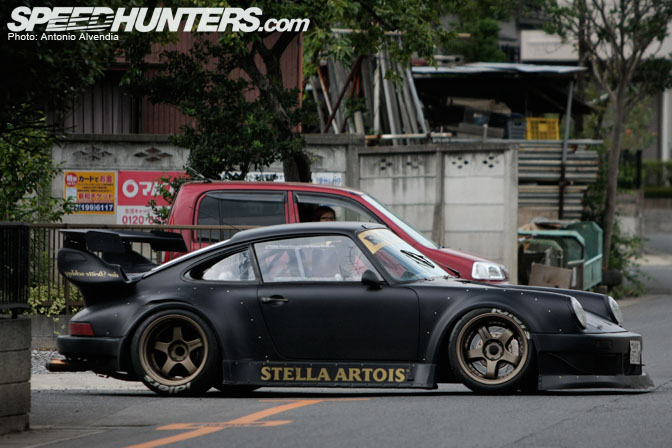 Just look at how mean this car looks!!! I can't wait to meet this car again! This is the type of car that inspires me to want a Porsche. For real! Time to start saving up my pennies…
-Antonio Alvendia
More Rauh Welt on Speedhunters