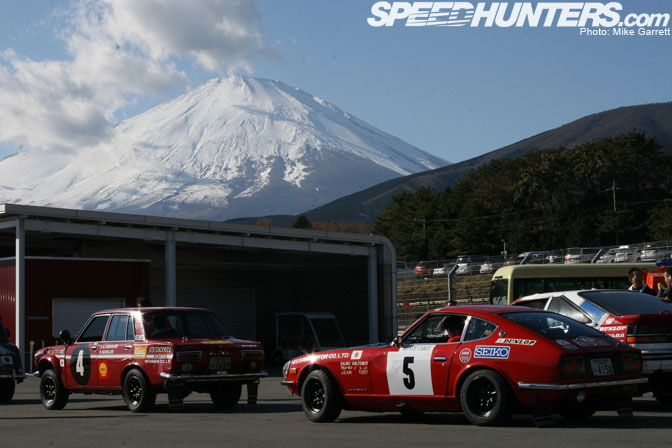 Like Rod said in his December editorial, our bombardment of Nissan features may be winding down but we still have some more cool Nissan stuff to post. For example, more photos from last weekend's Nismo Festival at Fuji Speedway. I couldn't help trying include Mt. Fuji in some of my shots from the event, all it takes is one look at the mountain on a clear day and you will know why it's such an iconic symbol in Japan. Of course the historic 510 and S30Z rally cars in this photo are also iconic to Nissan enthusiasts.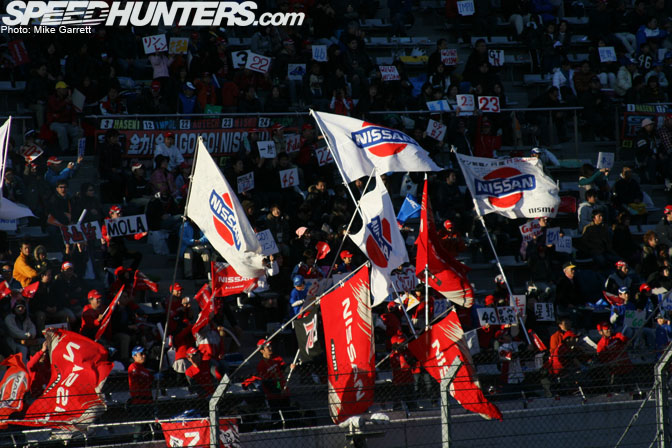 Looking into the main grandstands during the Nismo Festival, you'd think you were at a soccer game or something. There were tons of hardcore Nissan supporters waving giant flags and holding signs with the number of their favorite race car or name of their favorite driver. Coming from an American viewpoint, I'm not used to seeing fan involvement like this is anywhere in motorsport except for NASCAR races. The Nissan fans came to the event decked out in all their Nissan racing gear just as "traditional" sports fans would wear their jerseys to the big game.
I guess you could call these people "Japanese Nissan Hooligans". Luckily, I don't think they are in to getting drunk on Sapporo Beer and sake and then getting in fights with Toyota and Honda supporters at Super GT races.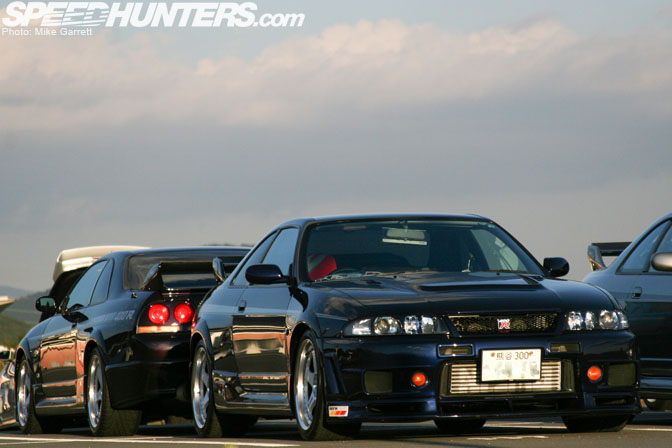 The 400 horsepower R33 GT-R-based Nismo 400R is one of the rarest Skylines ever. In fact I don't think I had ever seen one in the flesh until the Nismo Festival, where there were several gathered in the parking lot alongside each other.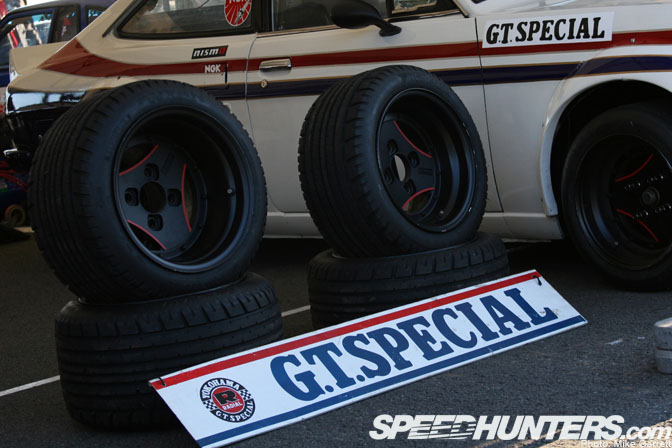 I thought this set of Advan A3A wheels looked cool sitting next to G.T. Special's B110 Sunny race car in the pits. Period racing wheels like these are a common sight on TS race cars like the Sunny and Starlet.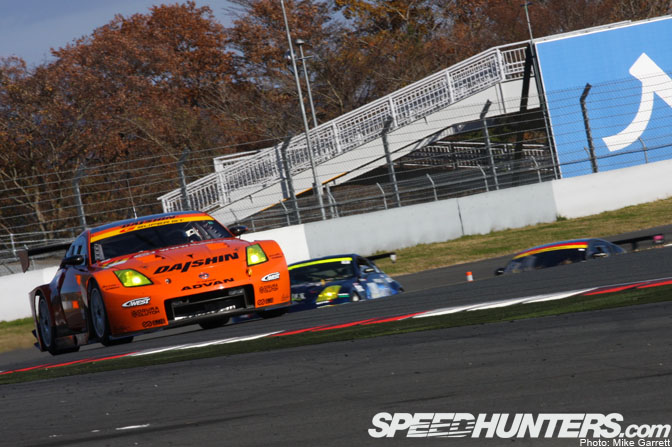 Here's Daishin Advan GT300 Z mixing it up with some Super Taikyu cars during the one of the day's exhibition races. The big news for 2008 was the success of the GT-R in the GT500 class, but the GT300 Z's also did very well, taking first and third place in the team championship standings. Again, it will be interesting to see if and how Nissan will develop the new Z34 for motorsport use.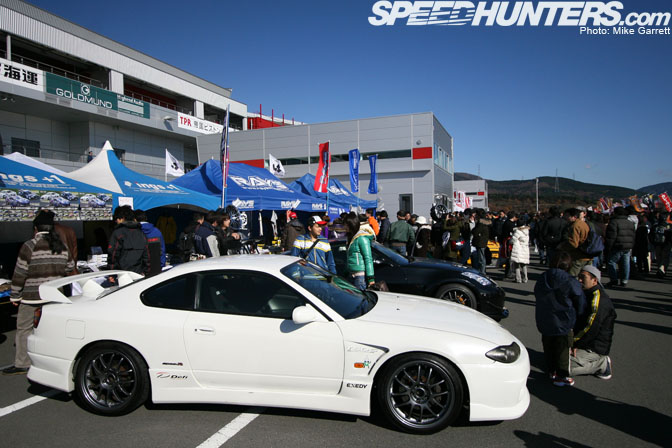 Here's the Ings S15 Silvia demo car in the vendor booth area. This was one of the most popular areas at the event for sure. In fact, there were so many people there that it was nearly impossible to get unobstructed shots of the cars on display. Seeing fans of classic cars, professional motorsport, and street tuning come together in one place is one of the cool things about the Nismo Festival. There really is something for everyone (assuming they don't have something against Nissan cars).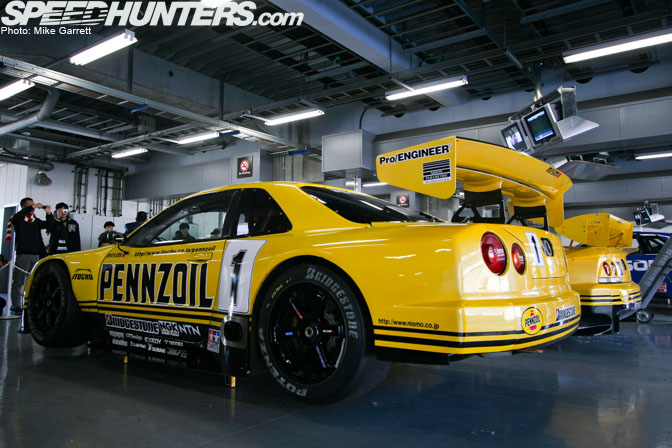 For me, seeing the older JGTC cars was one of the highlights of the event. Anyone who has been lucky enough to attend a GT race in Japan, or the California Speedway GT LIVE event in 2004 should know what I'm talking about. The sight, the sound, the feeling…it's awesome. I can't wait to watch Rod's films from the Suzuka race back in August.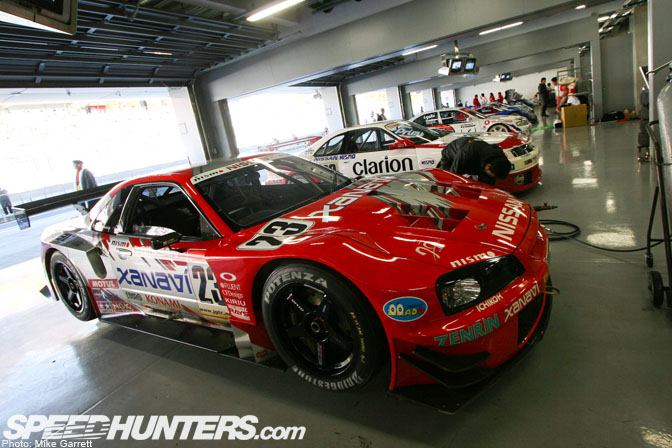 During the GT-R Special Battle, it wasn't one of the new R35's that came out on top, but the 2003 Xanavi GT-R driven by Takayuki Aoki. The R35's are much faster than the older cars, so they were given a handicap which tightened things up and gave the R34's a shot at victory. It was all in good fun.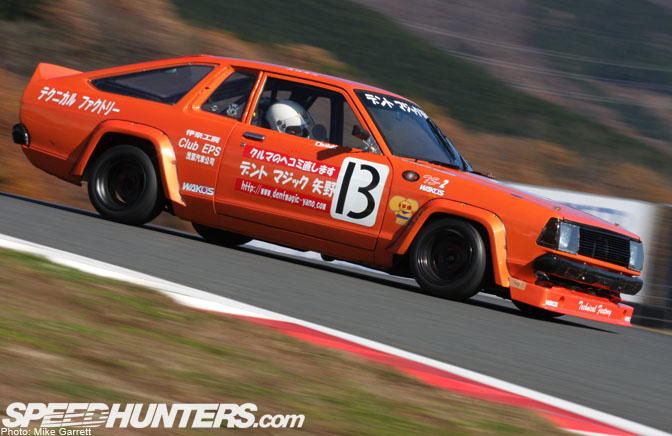 More historic race car magic with his B310 Sunny. Oh how fun it would be to build a TS-style car someday…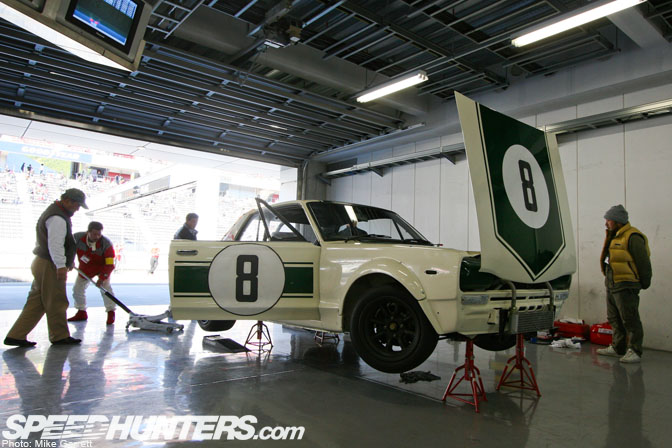 The classic KPGC10 Skyline and Fuji Speedway's ultra-modern pit boxes made for an interesting contrast.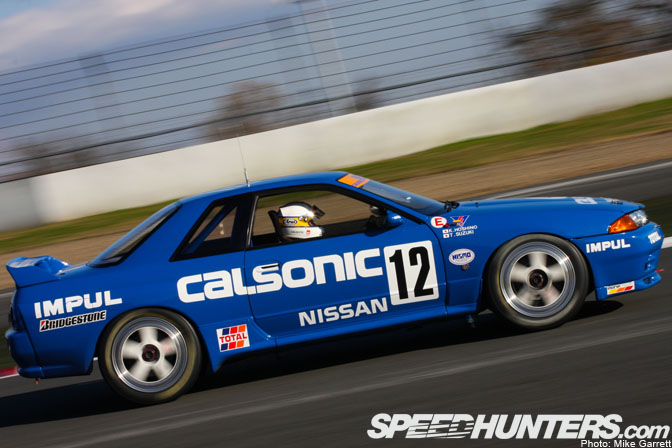 A close-up view of Kazuyoshi Hoshino in the pulling the Calsonic Group A BNR32 out of the Fuji Speedway's first corner. Hoshino joined veterans Mashiro Hasemi and Masahiko Kondo as pilots of the Group A cars during the GT-R Special Battle. All three of them also happen to be current team managers in Super GT.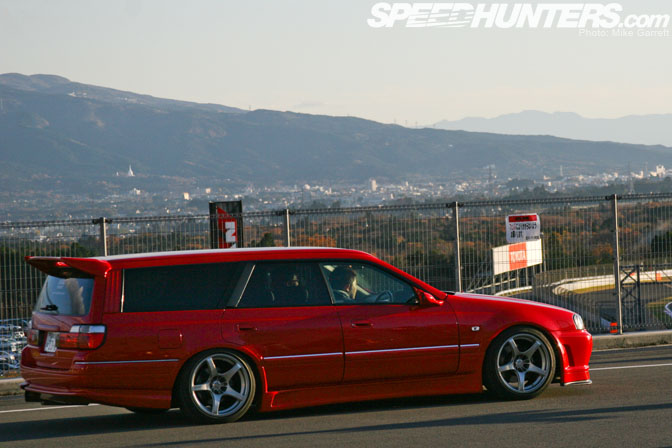 Here's something a little bit different to close out the post. Vintage race cars and Super GT machines are great and all, but how about this Stagea with an R34 Skyline front end? I don't think words can properly describe how cool this is.
More from the Nismo Festival soon. If you have any special requests, let me know and I'll try to dig up some shots for you.
-Mike Garrett