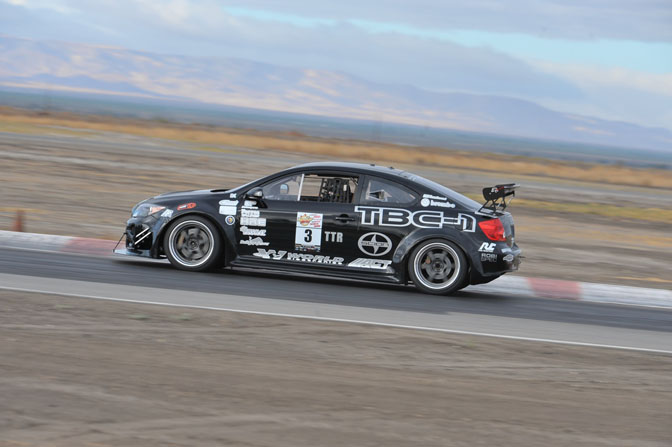 My final race of the 2008 season was the Super Street Super Lap Battle finale out at Buttonwillow. My team and I really wanted to finish the season off with a bang and do well in this last event. This event had a huge turnout and had drivers from all over the world there to compete.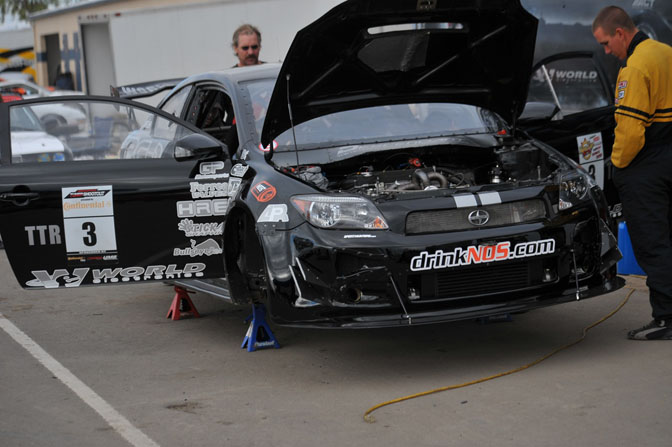 Our team knew that not only would our tC need to be on-point for this event, but that we needed to strategize a game plan because of some of the mechanical limitations of our car. We needed a plan that would allow us to run a good time in the first session, while the track was still fresh. Practice went awesome Tuesday, and we were very confident that we would be able to knock out a great time in the first session on game day.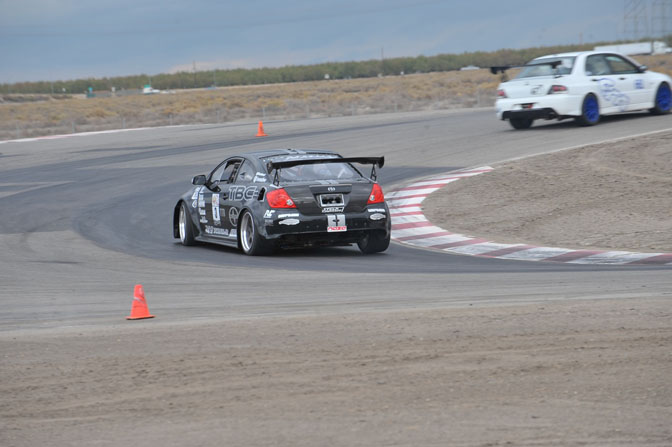 We confirmed on Wednesday that, just as previous years in this event, times in the first session would count, as well as the three sessions that followed. We were confident that if we went out there with a stock transmission and a TRD diff, we could do some damage, in a good way of course. So you can image how my team and I felt when 10 minutes before the session began, it was announced that the times for the first session would not count. And even worse, it was too late for us to change the transmission setup to use for another session.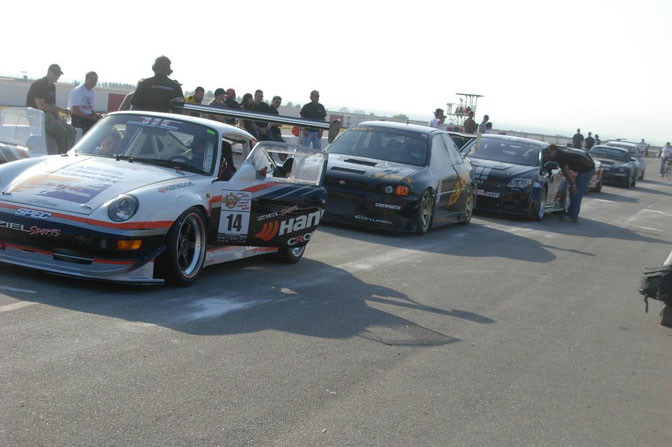 So I went out there and put down a 1:54.43, the quickest lap time for a FWD the entire event – I sure wish it would have counted though, but it is what it is. As frustrated as myself and my guys were, the only thing we could do was get back on the track and try to run another good number.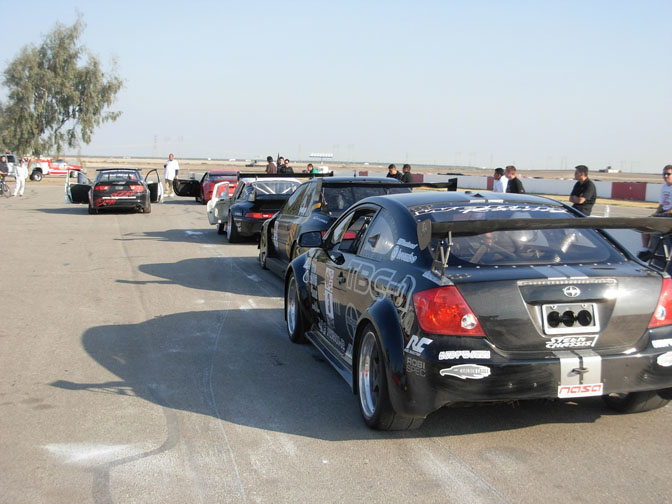 Due to some problems we were having, I wasn't able to make another full lap until the forth and final session. We put another stock transmission back in, knowing that it would last this session, even though we wouldn't have as much grip with the increased track and weather temps. I knew I had my work cut out for me, since besides not having as much grip, the track conditions were poor in the final session, as it had been beat up pretty bad and some fluids had been dropped. I ending up running a 1:56.1 and finished the event in 2nd place behind Hiranaka in the 5Zigen Honda Accord.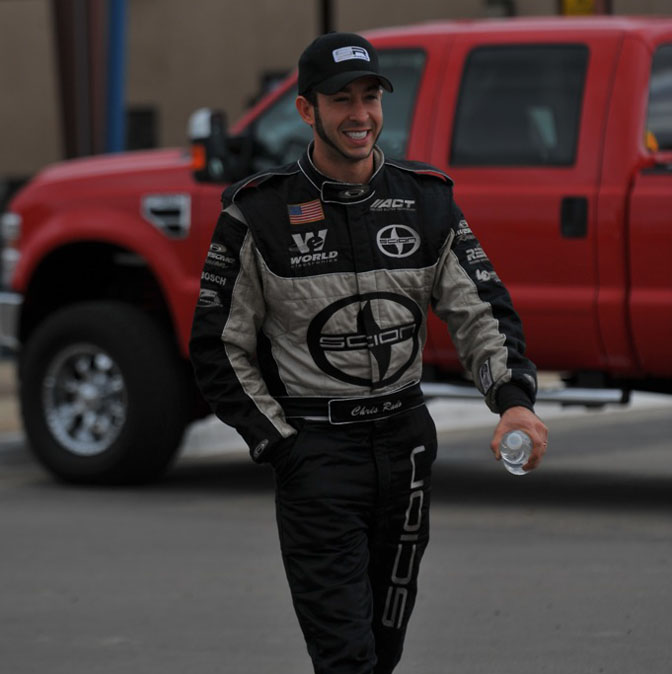 As frustrating as it was to come in second place, I was proud that we ran the fastest lap of the day, even if it didn't count. When it came to who was ready to race, there was no one as prepared as our team. We changed two transmissions during the day and swapped multiple parts. I seriously have the best crew in the entire world.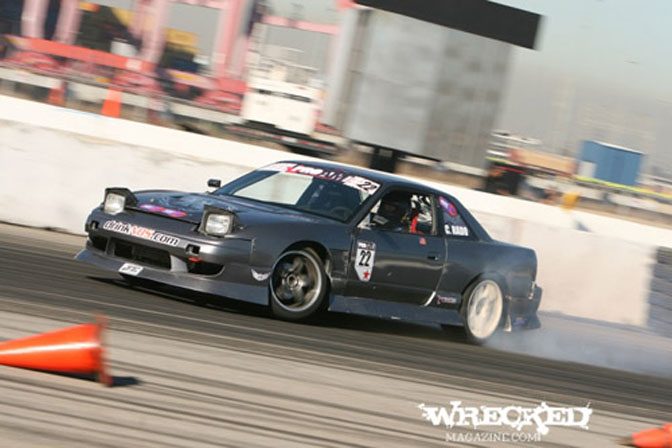 The weekend after this event, I needed to shift gears as I would be entering my first-ever drift competition which was the Formula D PRO/AM that was held in conjunction with the Redbull Drifting World Championships in Long Beach.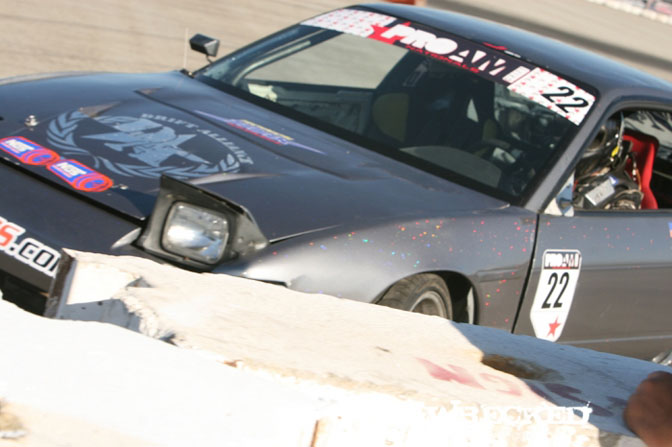 It was quite a rough weekend for me. Don't get me wrong – it was a blast for sure – but I made a couple of rookie mistakes that took me out of the competition. During my first qualifying run, I punted the car into the wall with a broken steering rack that I wasn't aware of until I flicked the wheel on the initial drift. Then for my next run, I read the course wrong going into the S part of the course, set the car up for the wrong side of the cones, and ended up spinning. The weekend was a great learning experience and was a lot of fun.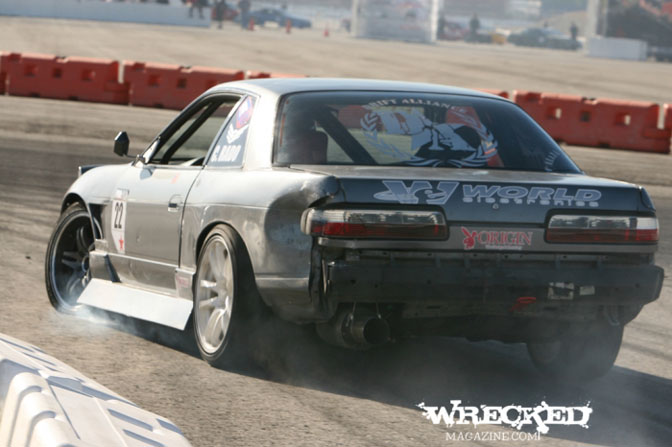 Obviously, I wish I could have done better, but that is what practice is for. Some people could have taken that and given up, but I choose to practice and continue working to achieve my goal. During the "off" season, which is not really ever "off" for any driver, so I don't even know why it's called "off"… anyway, back on track… during the "off" season, I will be building a drift car, which unfortunately can't be revealed yet. So stay tuned for that one!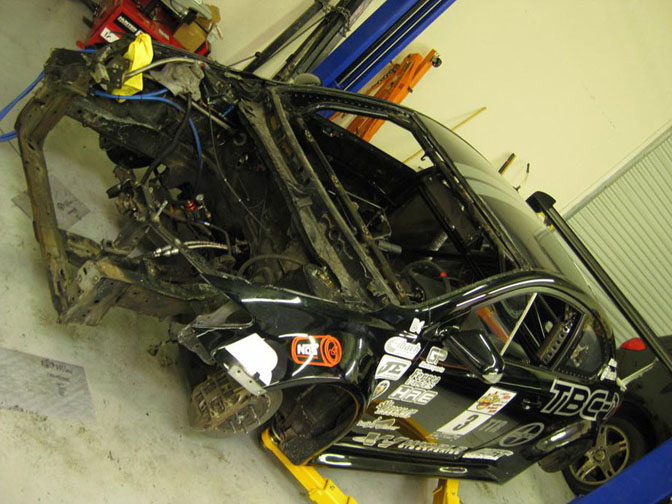 Now on to the other activities that myself and my team will be doing during our "off" season… First and foremost, we have been getting our current time attack car ready for the next season. One change that will help the car incredibly in its reliability and in its overall fast-factor is the new transmission. We are getting rid of the stock transmission that comes in the stock AZ and getting an Xtrac box, which is a sequential-shifting six-speed FWD transverse-mount transmission. As we saw at the Super Lap Battle finals, we brought five transmissions for the race, and we needed every single one of them. In just two days, we broke four transmissions and barely broke the fifth.
Having a working transmission is a big factor for us. It can stop us from missing one session, and that one session might have been just the session we needed to get a good lap time. We need to be on track every session possible to improve everywhere we can and get the most on-track data. Besides helping us not to break, the other awesome thing about having this sequential-shifted six-speed box is that I won't have to clutch it between up-shifts or down-shifts. If the box shifts faster, it is less time off the throttle. Not having to shift will also allow me to keep both hands on the wheel. Imagine that – a FWD car that you don't have to take your hands off the wheel – ever! Anytime you can leave your hands on the steering wheel to do the bidding of those front wheels, it makes it easier getting around the track which allows for faster lap times.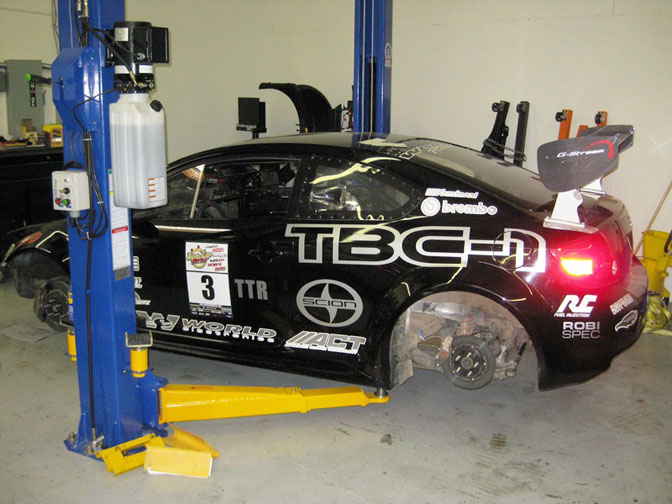 Another new thing we are doing with the time attack tC for 2009 is designing our own front spindle setups which includes hubs, front axels, and CV joints. Currently the front hub and front bearing assemble is all stock Scion tC stuff. All this stuff has proven to work thus far, but it has severe limitations because we run such a big wheel and tire package on the front and back.
The main problem we are having with the car right now is that we are using the factory hubs and bearings for the front spindle. As we turn the wheels to go around turns with a 10.5 inch wheel and 295 road racing DOT slicks, it's so much load on the bearing, especially since the wheel is so wide. The bearing deflects and it makes the whole wheel bearing assemble flex. When the hub flexes, it pushes the pistons into the calipers, and when the pistons get pushed in, you have no brakes and basically the brakes go to the floor.
So as a driver, this whole season I've had to compensate by pumping the brakes while going around the track constantly to make sure that we have brake pressure. Like at a track like, oh let's say like Buttonwillow for example, where there are six major braking zones. I have to get on the brakes  almost a second earlier just to make sure we have proper brake pressure so that I can get the car slowed in time. The last thing you want to do is to go into a turn hot and realize that you don't have any brakes – which has happened to me before. But, alas, we will be making custom hubs and custom spindles with big beefy bearings so that we will no longer have that issue.
We will also be taking a bunch of weight out of the car for 2009. Namely in the roof area and underneath the car, which is going to help us out a lot because we weigh in at about 2,800 lbs with me in the car. We also added a real rear spoiler with some added down force. The one thing our car lacks is down force in the back; yeah, it's gonna create more drag, but when you make as much horsepower as we do, you can just push through that, as long as we can keep the car glued to the track. We can go around the track faster, run better lap times, and all and all make the car perform better. So those are the major changes for the FWD car that we are in mid-process of.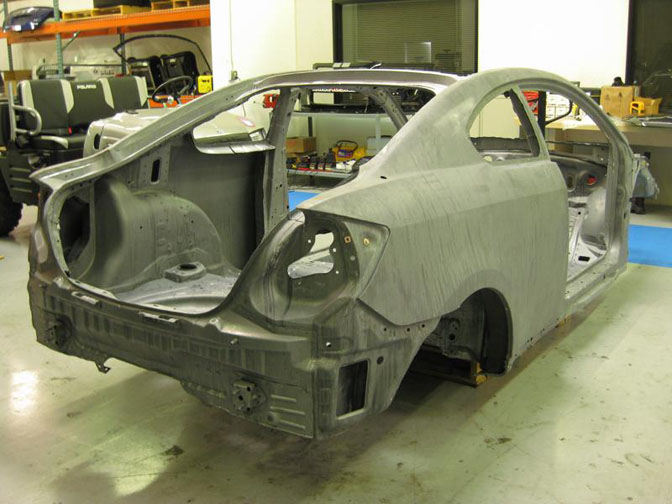 Now on to the AWD tC! We have finally received the car back from the stripping company. It has been dipped in acid and completely striped down, so now we can start construction on it. We have speced-out our transmission, our drive-train, our wheel and tire package which are 18 by 13 inch carbon fiber magnesium Dymag wheels – which are being made in Europe for us and are really special, super lightweight wheels for racing.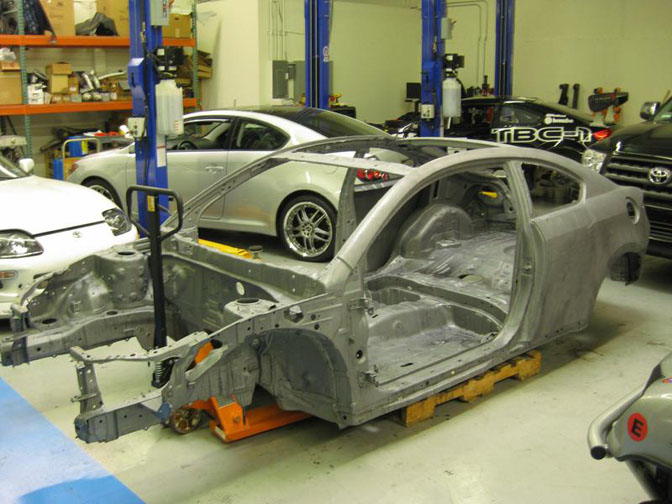 Penske is making us a killer suspension combination for the front and rear of the car. It's going to have the same kind of shocks that you would see in a Formula One car. The front of the car is still going to retain a strut, however. Penske is building their Formula One shock technology into a strut package for the first time just for us, which is really exciting. The carbon fiber roof, doors, and the rest of the body components are being made for us as well. We are just getting everything ready so we can hand it off to our chassis builder and he can start hammering away – mounting the drive train, the engine package, and designing the suspension.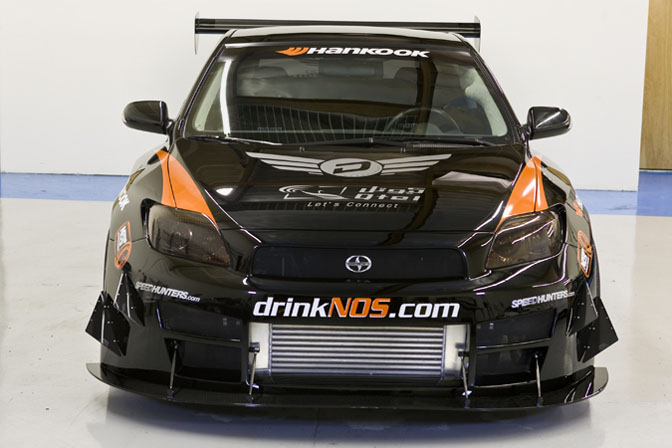 Here's what the AWD tC will look like when it's complete. It's going to be a very exciting car we are looking to debut it in late May, 2009.
In other exciting news, as of December 8th, our Descendent turbo kits and accessories officially went on the market. I'm very excited about that. It's going to be quite a busy off season with all the new modifications to the old car and the build of this new car. Not to mention, we are going to be making modifications to our drag car. We are toning down the drag schedule next year; we are only going to be doing three to four events. So we are really going to focus on the performance of the car at those events and push it to the limit. In 2009, I really want to continue to try to get people excited about what the possibilities are with our FWD car. Everyone knows that I and my team believe that the sky is the limit when it comes to the capabilities of these cars and we are here to prove it. 2009 is going to be awesome!
 -Chris Rado