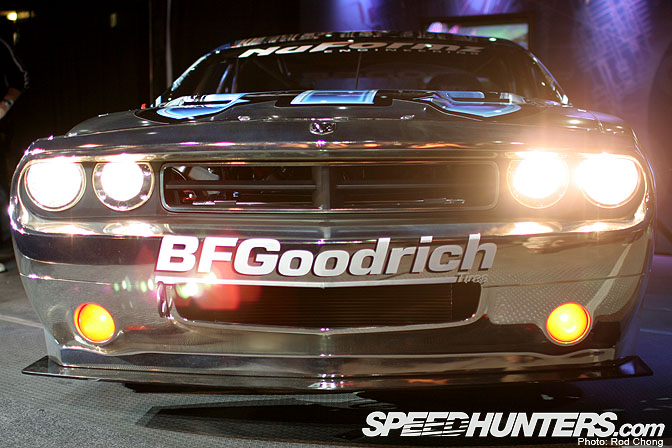 It seems that part of the life of a Speedhunter is that you need to learn to keep finding new ways to increase your productivity. "Go! go! go!" is the operative term. So with this in mind I am going to jump straight in to talking about my day 1 experiences at SEMA. I'll try and walk you through my entire day on the show floor…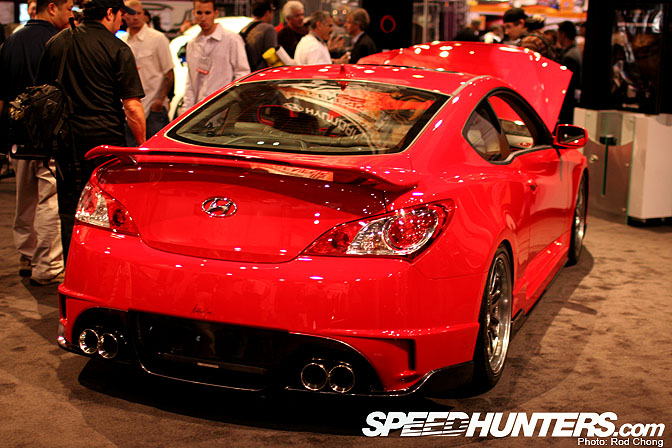 This is the first time BTW I've messed with one of the EA digital SLRs that we have kicking about the studio. Figured it was about time for me to do a bit of shooting on my own!…
Anyway… There were a few nice looking Hyundai Genesis coupes at the show. I'll have to go back and shoot them some more before the show is up. Above is the HKS USA-built car.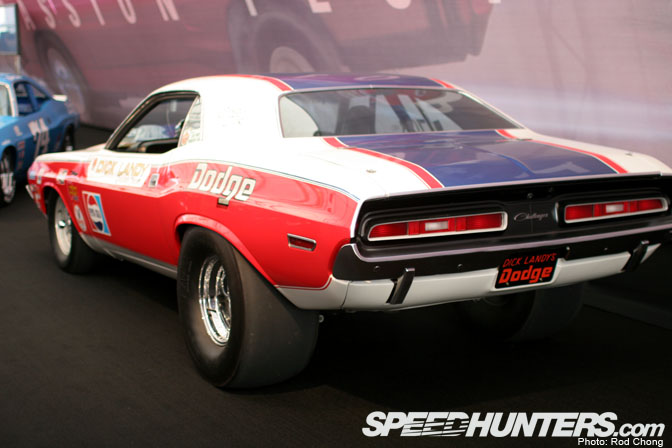 Muscle cars were out in force at SEMA this year. It seems like the interest in these cars continues to be the mainstay of the American based scene. This is a vintage Pro Stock car from the first years of the class.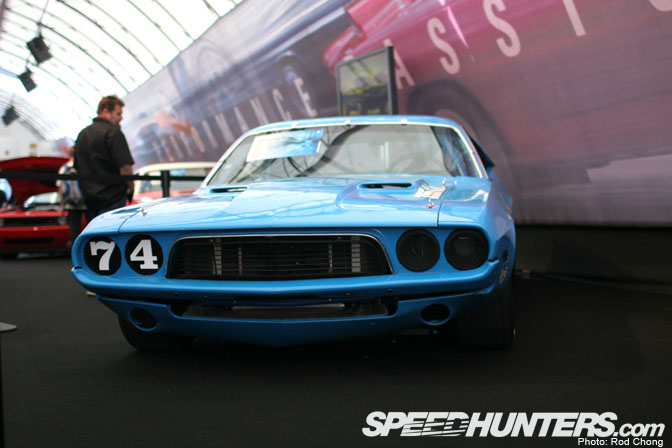 I love the look of this Petty '73 Challenger. I'm not sure if this was used for NASCAR or Trans Am… will have to go back and read the info card in more detail next time!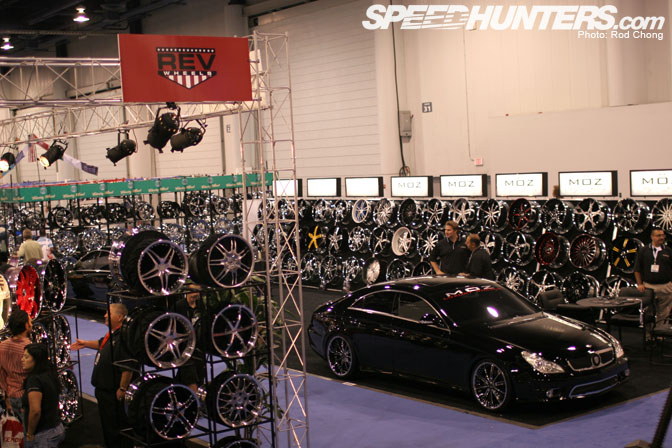 A sea of wheels. This photo gives you a good idea just how overloaded SEMA is with wheels, wheels and more wheels. Most of the companies seem to be pushing the blinged out Dub style of rims.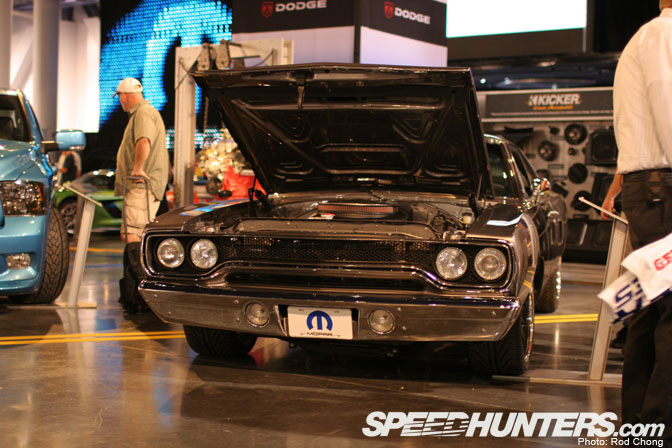 I do have a soft spot for the later, larger muscle cars from the late 1960's and early '70s. This Plymouth Roadrunner was on display at the Mopar booth.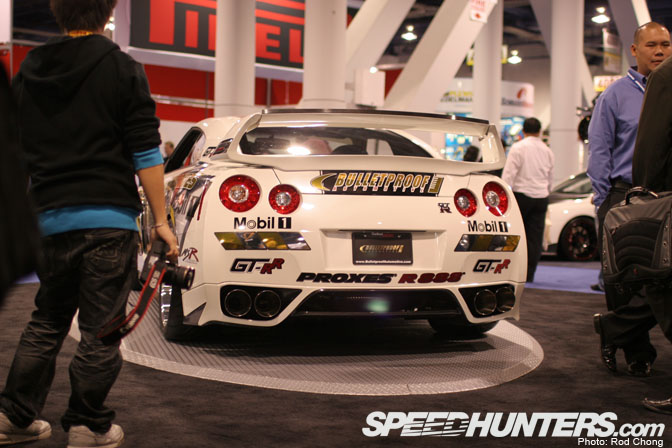 Bulletproof Automotive had two R35s on display at the show…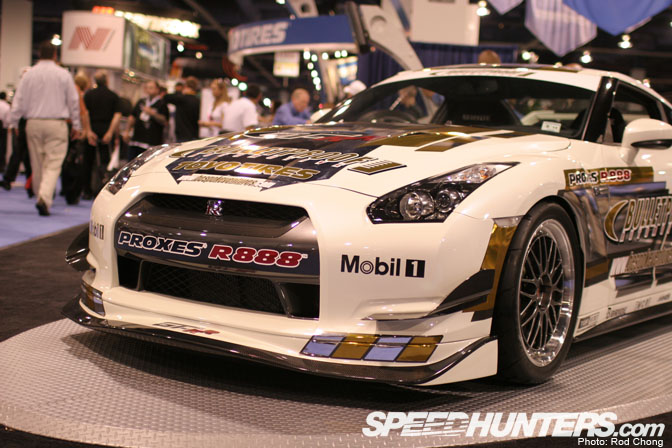 I'm not 100% sure if the livery on this R35 is as successful as it could be…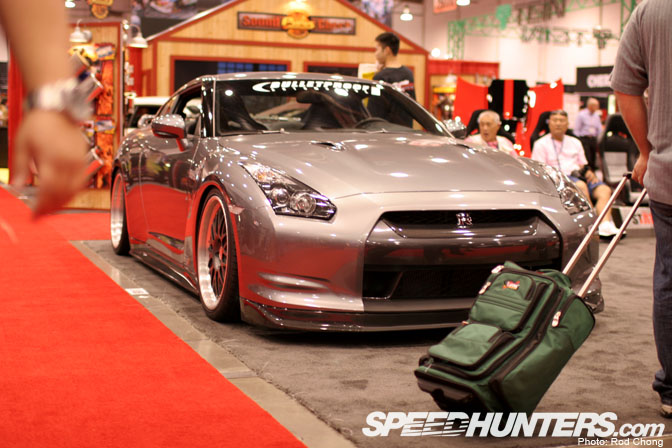 More successful to my eye is this version. Ben has slammed this car right to the ground. Looks great.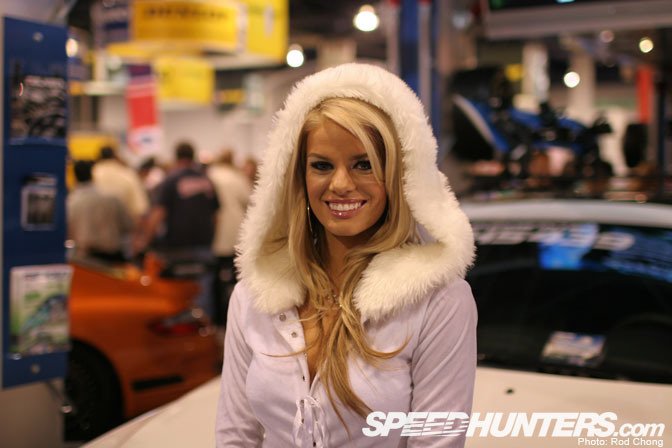 Strolling over to the Falken booth we were greeted by this honey in a little Xmas outfit…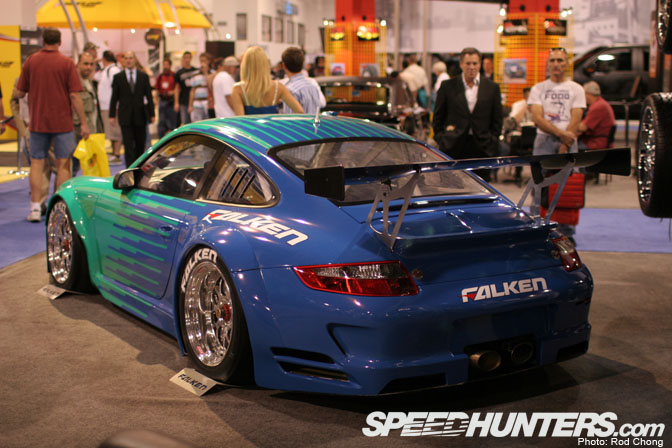 …. however being automotive purists we wasted no time in getting a snap of this new Falken race project. Gone is the Ford GT program and in it's place is this brand new Porsche GT3RSR. Should be good for Falken's road race tire program to have a competitive chassis to work with. Smart move.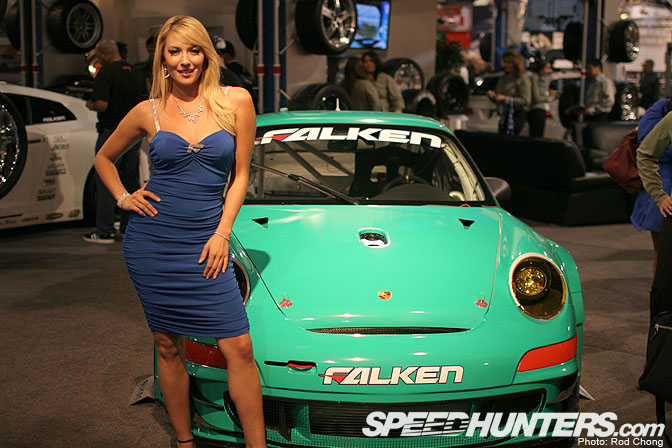 And moving round the front of the car…. err…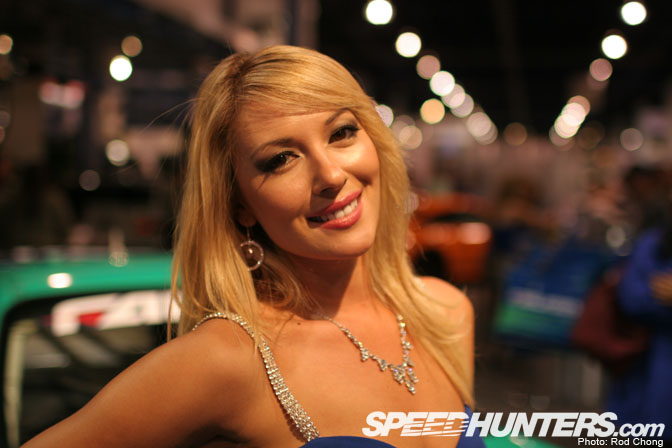 A moment of distraction….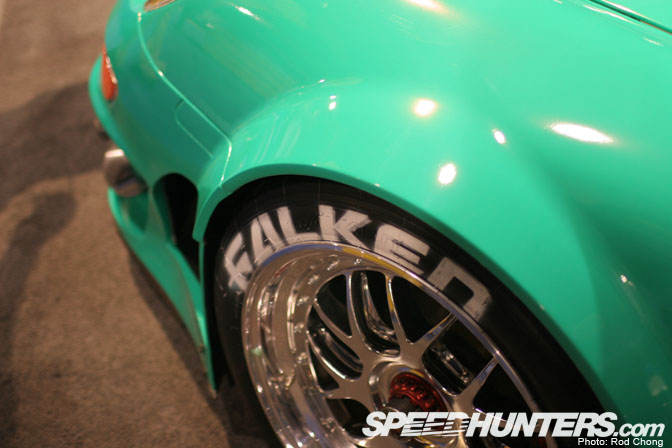 Right… back to the car….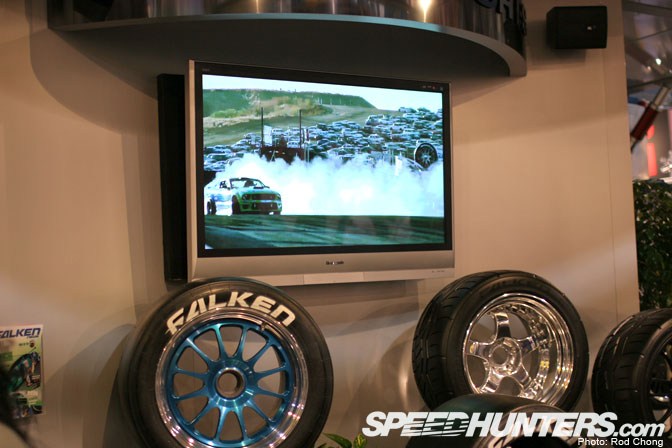 I was also very pleased to see that Falken is showing our latest Speedhunters film on their screens. It looks quite good in the context of the booth IMO.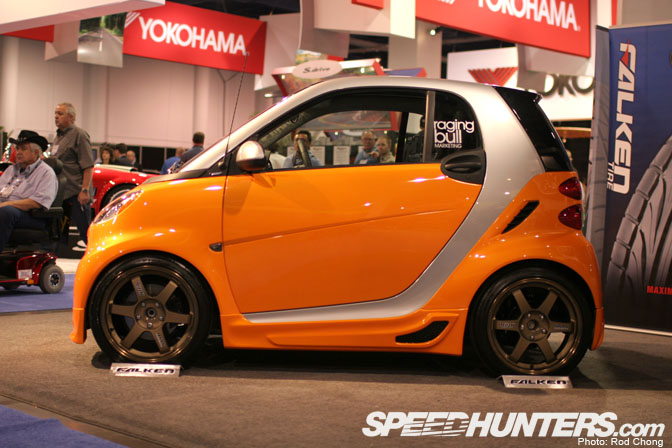 Falken also had this cool tuned up Smart car on display. Car looks great don' t you think?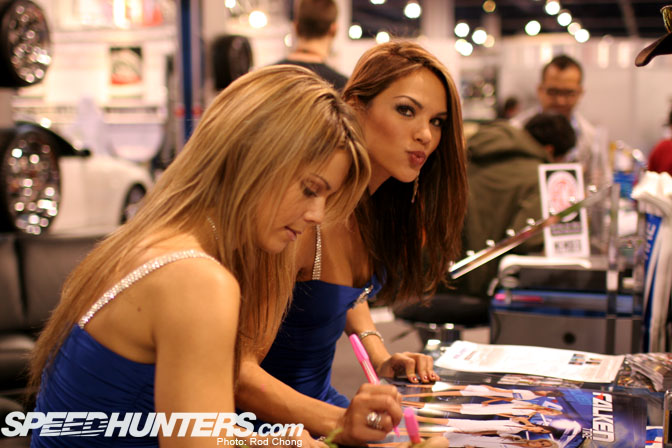 CJ gives the camera a look…. and here I was thinking that she only looked at Antonio this way hahaha…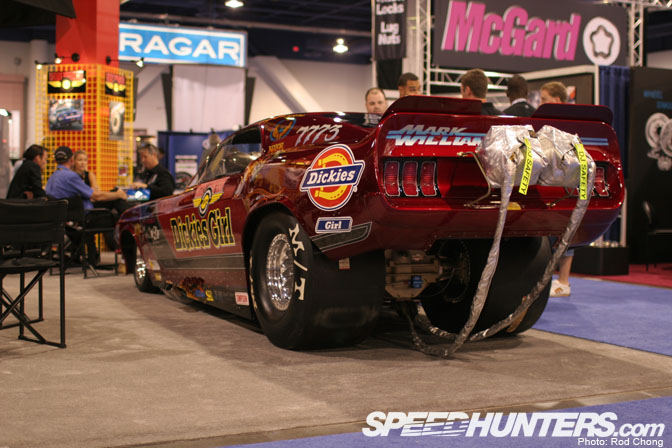 Gotta love the retro funny cars…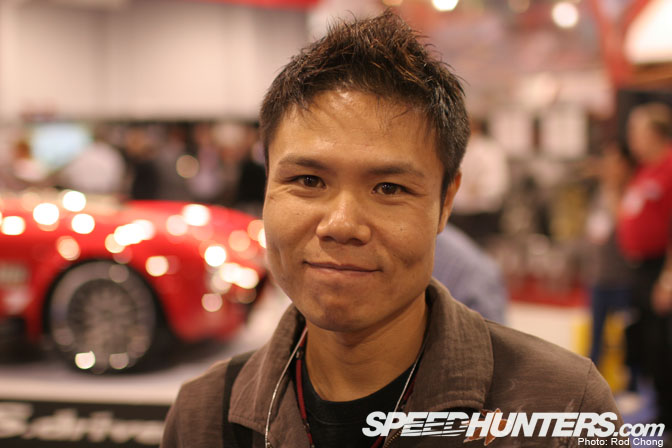 Everyone's favourite AE86 pilot: Yoshioka.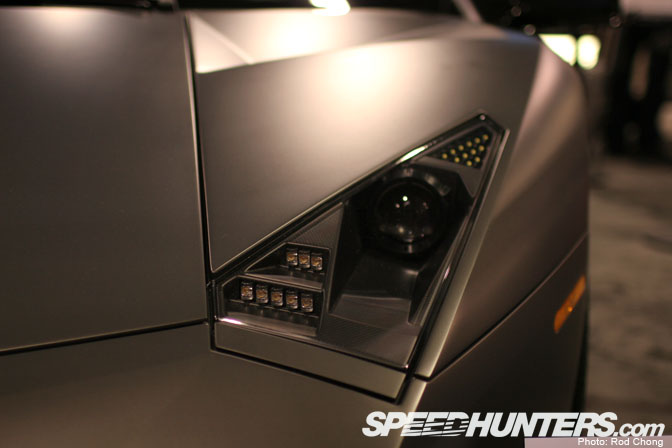 The Revention. One of the most amazing new car designs I've seen in a while. It appears to have the ability to absorb light…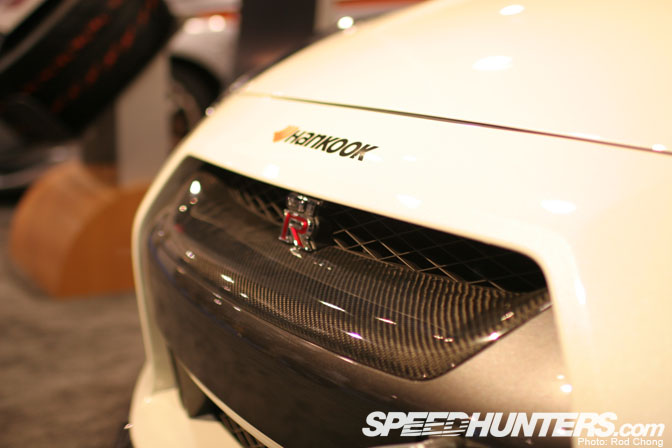 It seems that no booth is complete without a tuned R35 on display… Hankook had their own version…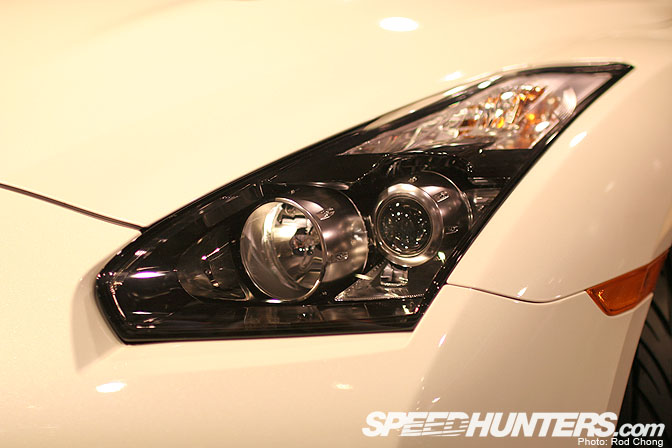 Let's take a moment to appreciate the headlight design…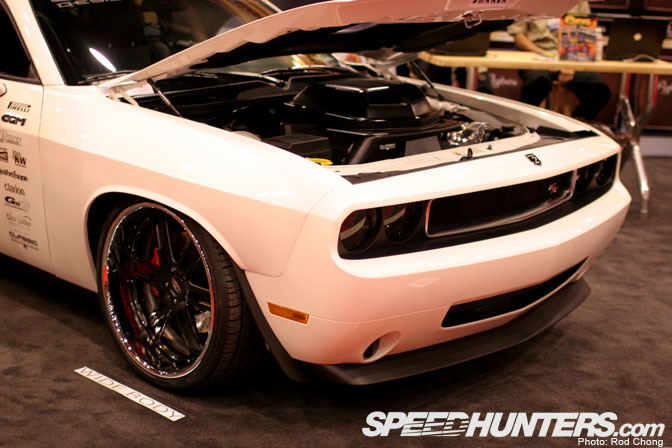 The other "it" car of SEMA 2008 is the Dodge Challenger. There are many, many modded up versions of this car on display at the show.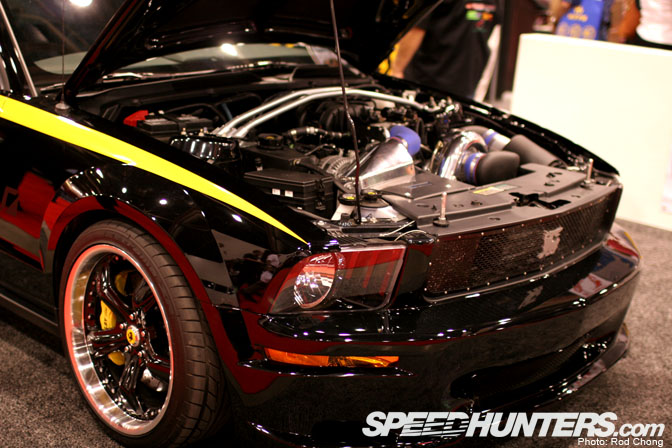 Our Need for Speed Edition Shelby Mustang Terlingua was on display at the Shelby booth. I realized that I didn't include a shot of the engine setup in my review of the car from last month, so here's shot of the supercharger set up.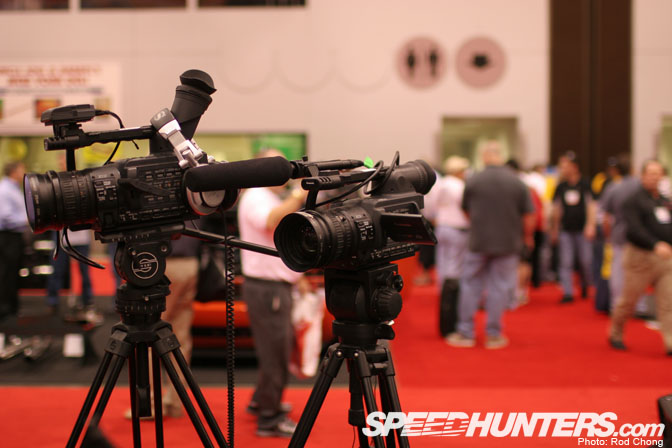 We've also got a few game consoles set up in the Shelby booth, and some of the Need for Speed team are at SEMA doing some press interviews and so forth. I caught this nice snap of the video cameras getting set up for the start of a shoot.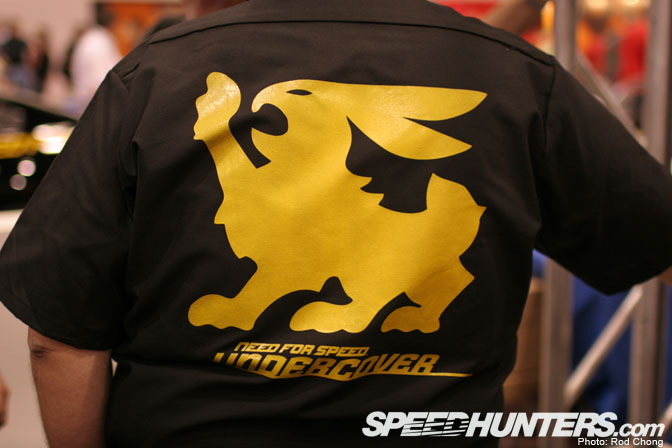 Some of the Shelby personnel has these cool one-off Terlingua Need for Speed shirts… very cool!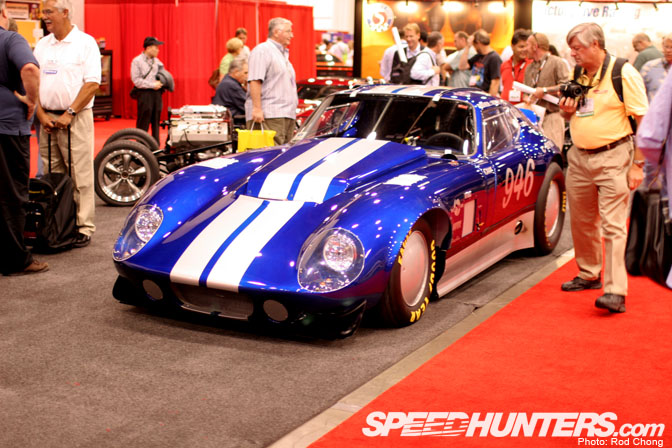 Parked up next to our Terlingua was this crazy looking land speed record prepared Shelby Daytona. I don't know exactly what the plan with this car is, but it certainly looks the part.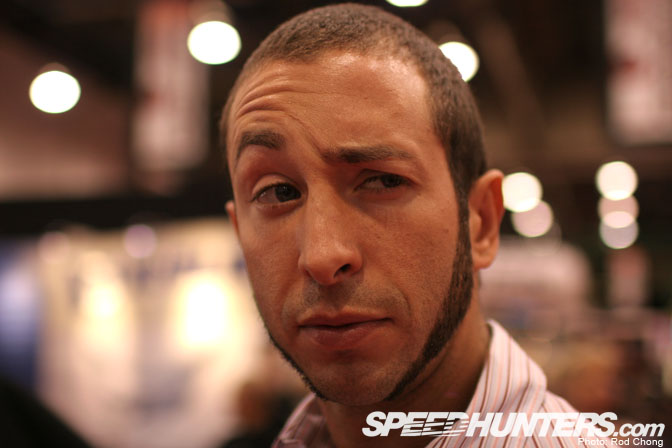 Mister Rado… the chops are back, hurrah!…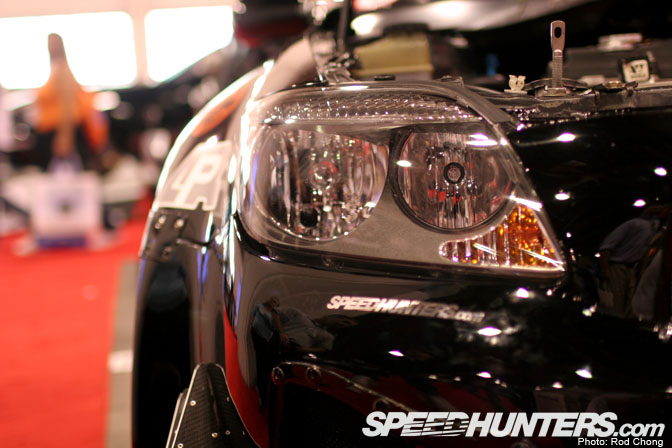 Note the Speedhunters sticker on his Time Attack Scion tC.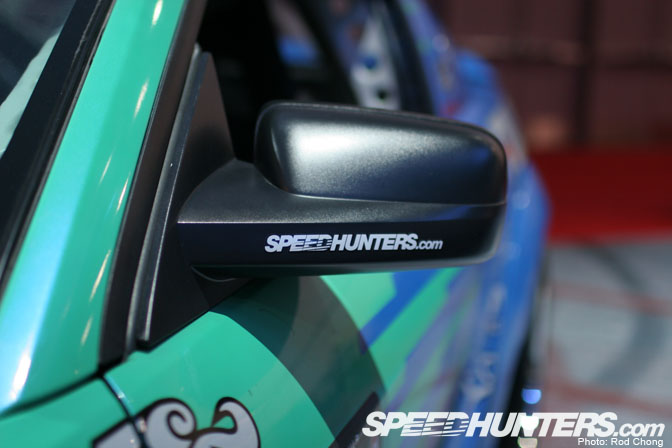 Also representing is Vaughn Gittin Jr…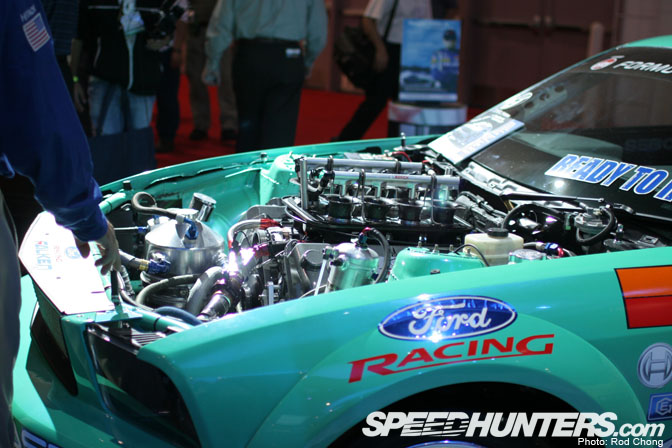 His Mustang is on display at the Bosch booth. The engine looks great all lit up…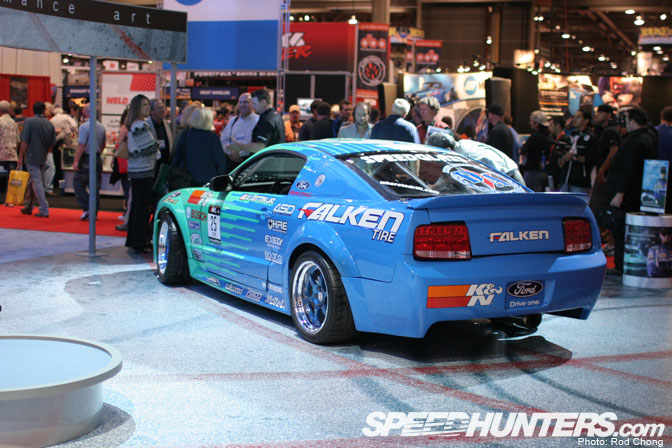 You can see JR there manning the booth.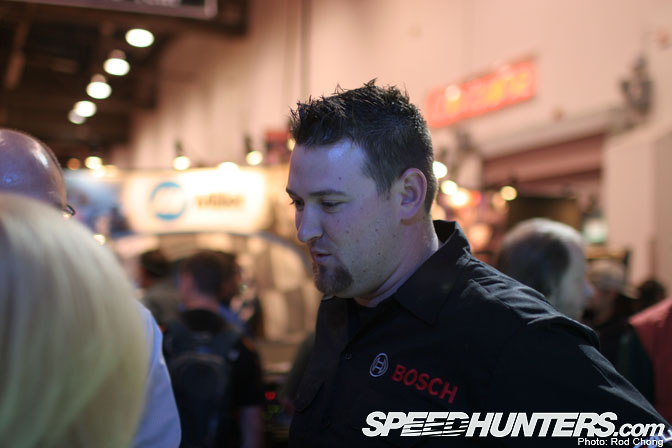 JR is all lit up blue too! Hmmm perhaps I should go to bed here.. these captions are getting to be a bit non-linear.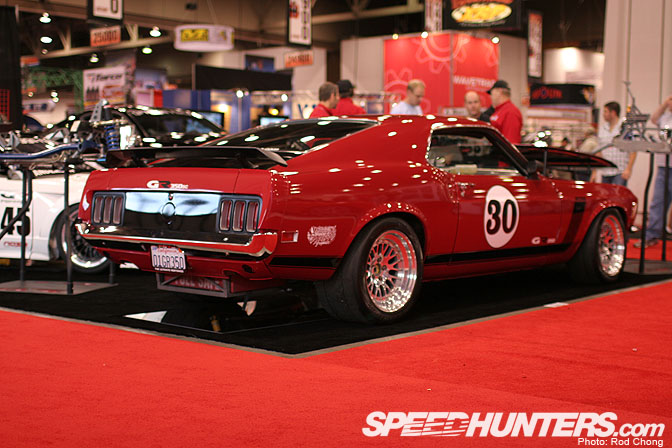 I'm noticing a few muscle car builds that are moving away from the over-done Pro Touring style and instead are built up as retro Trans Am style track cars. More preferred IMO.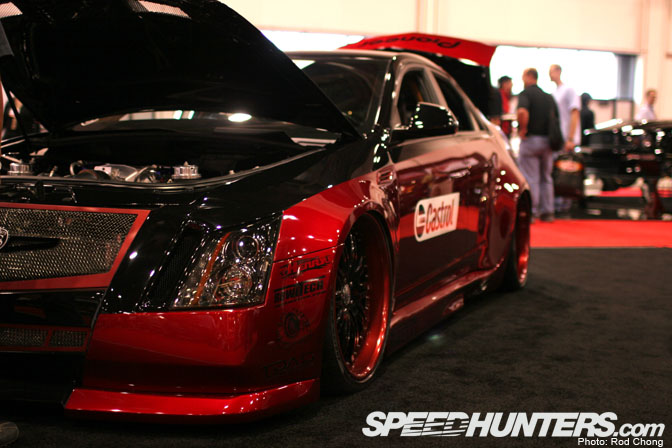 Normally I don't like cars in this direction, but for some reason this Cadillac was working for me. Perhaps it was the deep red paint that caught my eye, as well as the deep dish rims..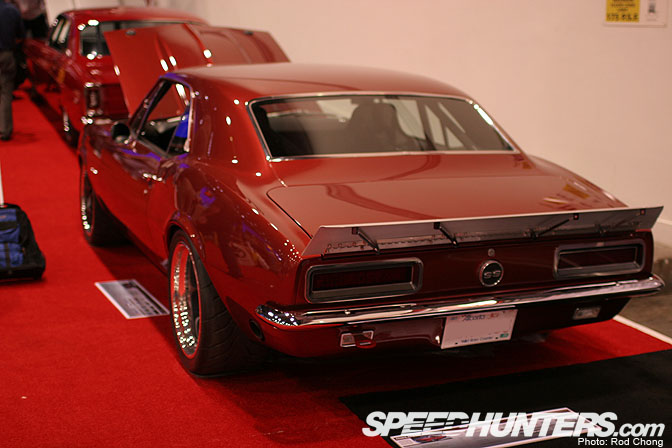 I seem to be more attracted to Muscle cars this year than anything else. This is my favourite car of the show so far, the Onelap Camaro. This car has been built to participate in open road events like The One Lap of America and the Silver State Challenge.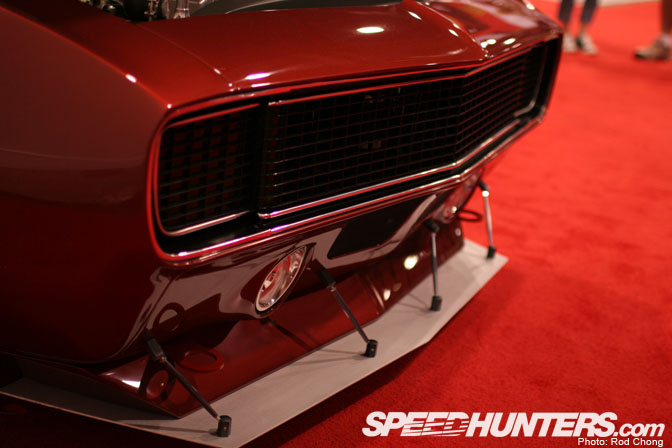 The car harks from Alberta, Canada and is THE nicest Camaro I've ever seen.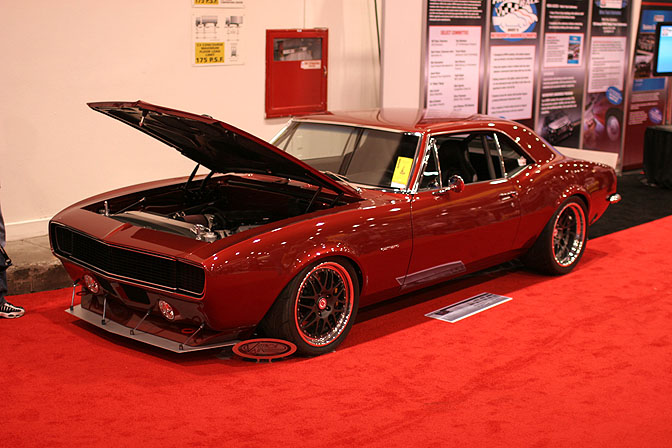 This car has much tighter wheel fitment than most Pro Touring style Camaros. Much better IMO. You can read more about this car here.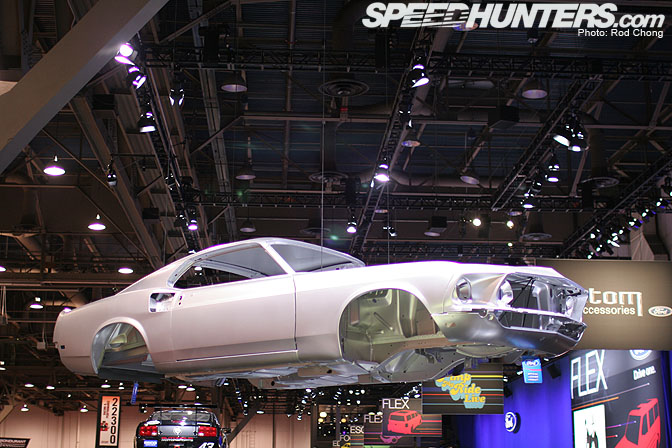 Want a brand new, vintage Mustang? Well now you can get a full reproduction shell to start off your retro Trans Am project… one day, one day. I wonder if we'll see reproduction AE86 shells in the future!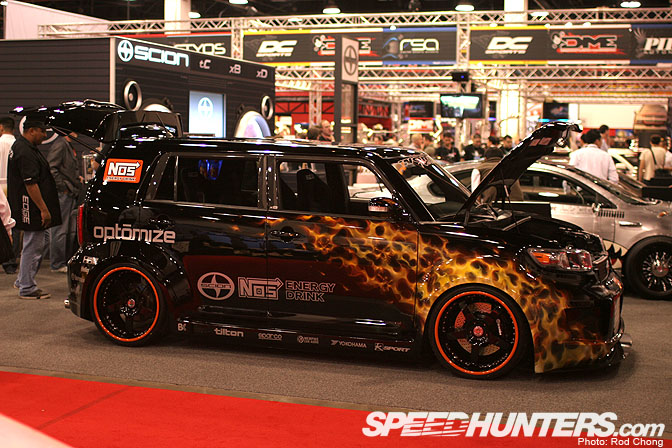 The Scion booth had a fairly big group of show cars. This is our own Speedhunter, Chris Rado's Scion xB Time Attack show car.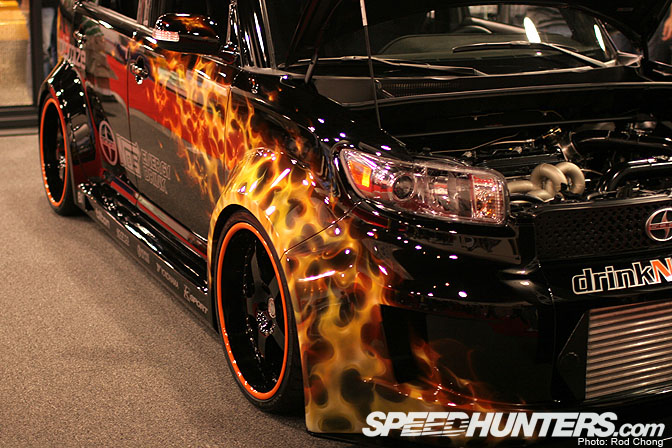 Yes you heard that right, this car will be run in the street class of Time Attack events next year.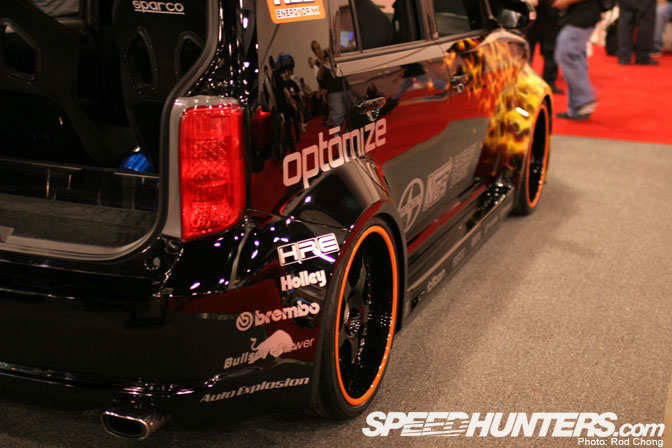 Can you make out the 4x race bucket seats? Interestingly, the car has subwoofers installed, but they are placed as low as possible in the floor to drop the CG height down…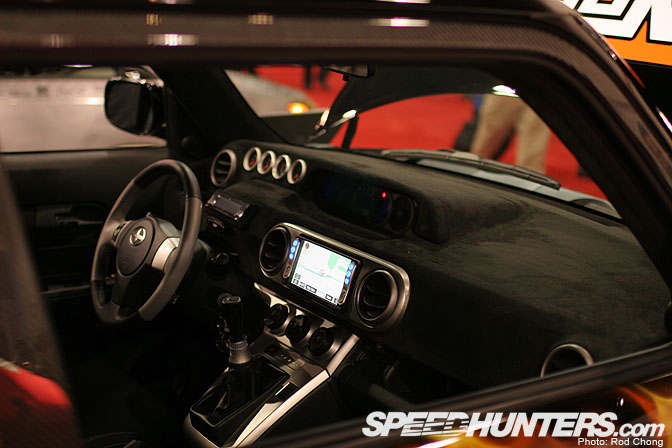 The dashboard has been fully felted to minimize glare… Interesting concept huh?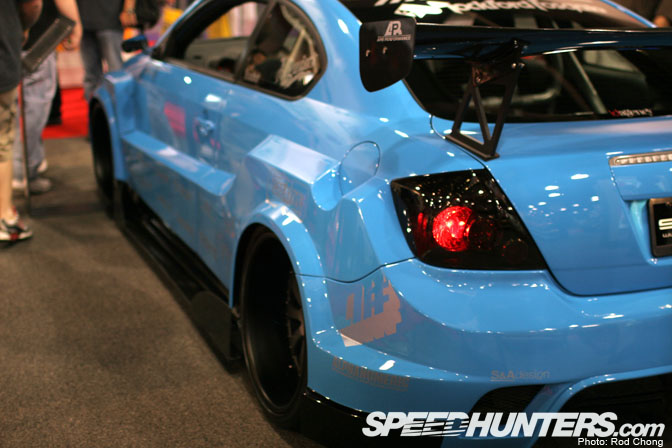 A detail on John Pangilinan's wide body tC. It has a quasi-DTM look going on.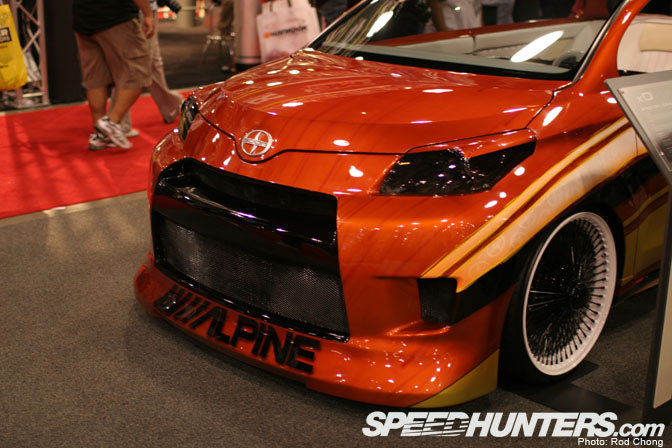 Some of the Scion show cars were pushing some limits… pure show style creations.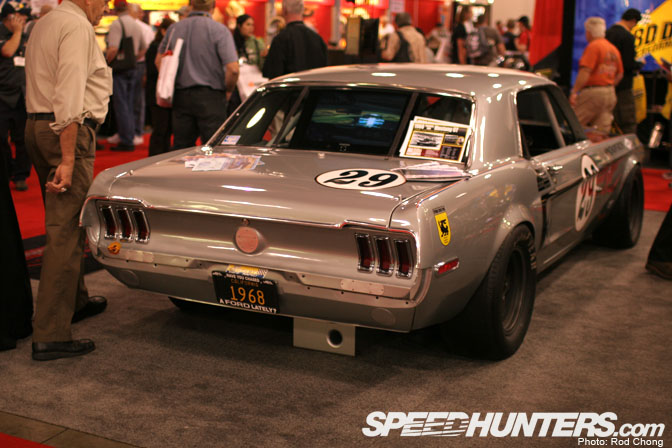 More retro Trans Am goodness…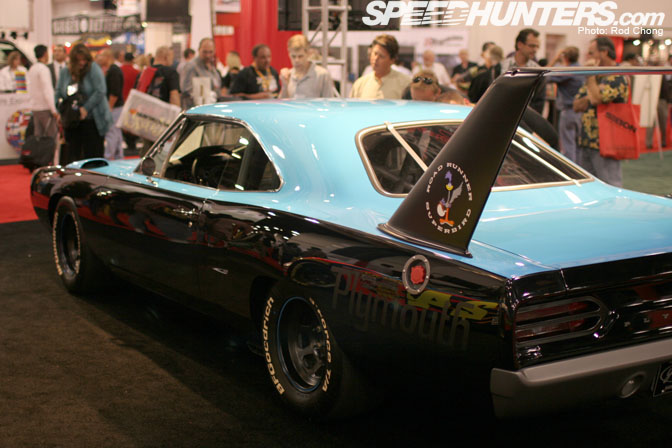 or how about some retro NASCAR style. This is a street-track car that has been built to capture the look of old school stock car racing.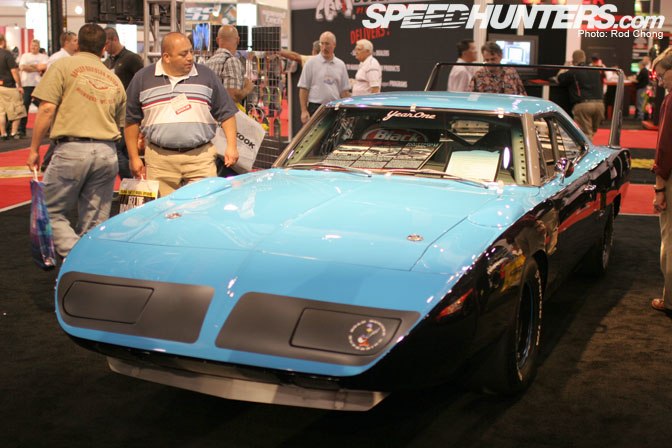 I think this is really damn cool. Hey NASCAR, put some vintage races together for these types of cars!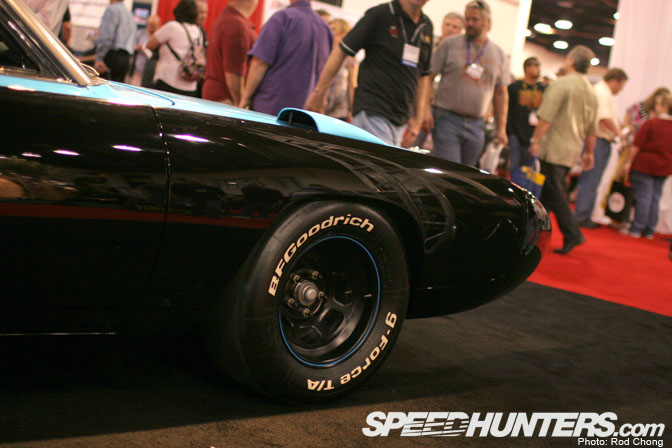 One more……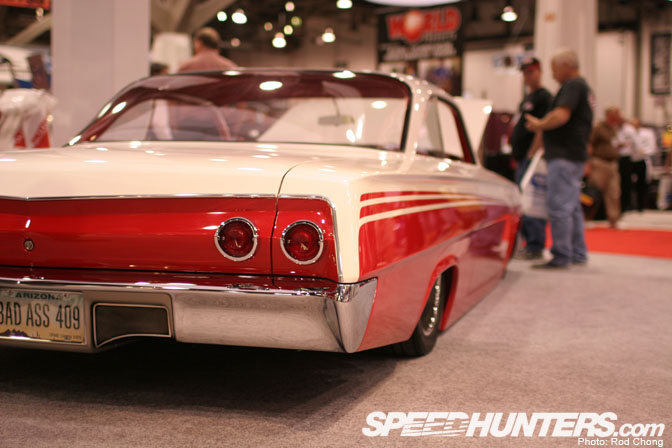 Another fav car of mine. Will look at this machine in more detail in a separate post…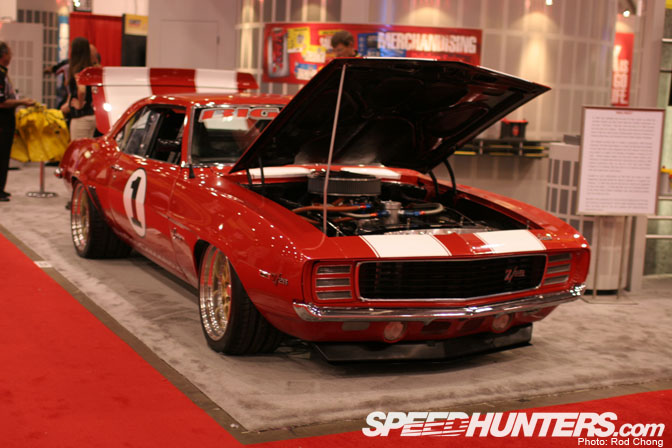 I was well pleased to see the famous Big Red Camaro on display. This is THE car that started the whole Pro Touring style over 10 years ago. This one is a serious track car though, built for top speed runs and open road races.
Check the width of the rear tire…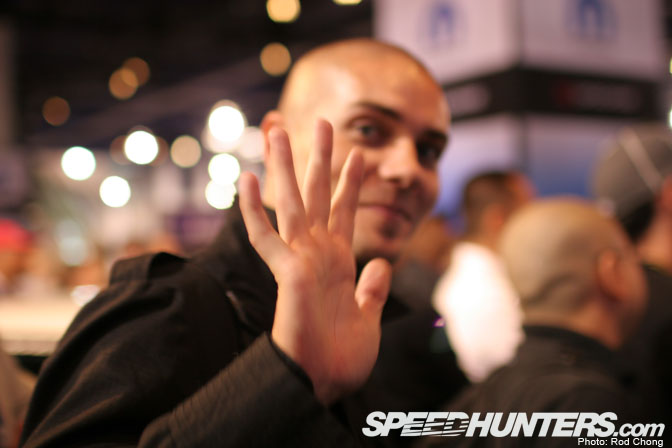 Ryan from Formula D.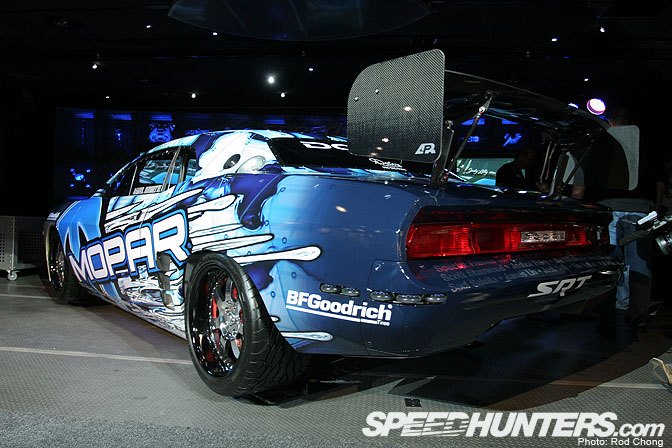 The big event at the end of the day was the reveal of Samuel Hubinette's new 2009 drift car, This wild looking Challenger.
Notice the chopped top…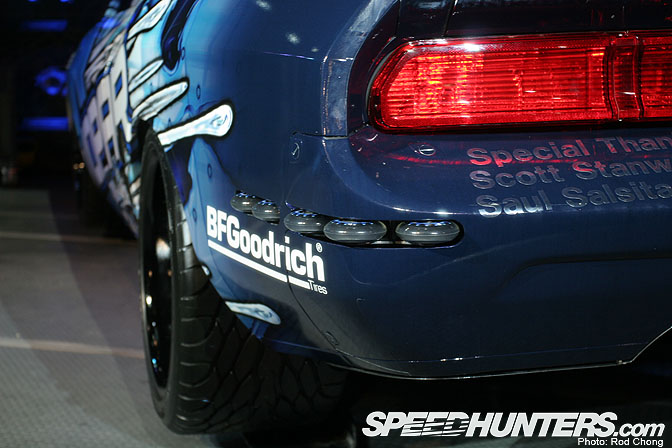 This is pretty interesting. The car has been designed to slide along walls via these rubber wheels…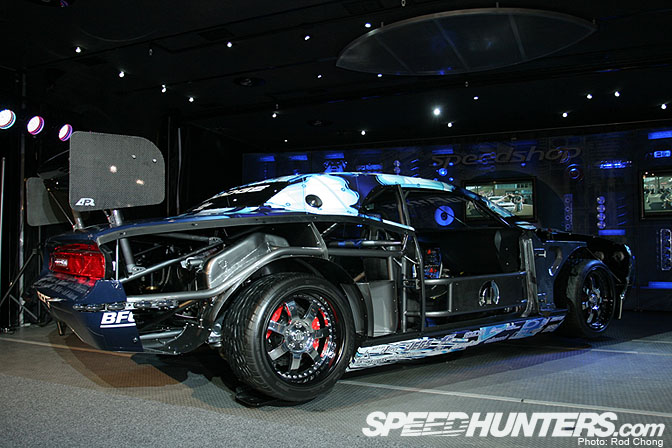 You can see here they are mounted directly to the chassis. This is a full carbon-bodied tube-chassis big budget build. It shows you just how far the bar is moving in the American drift scene.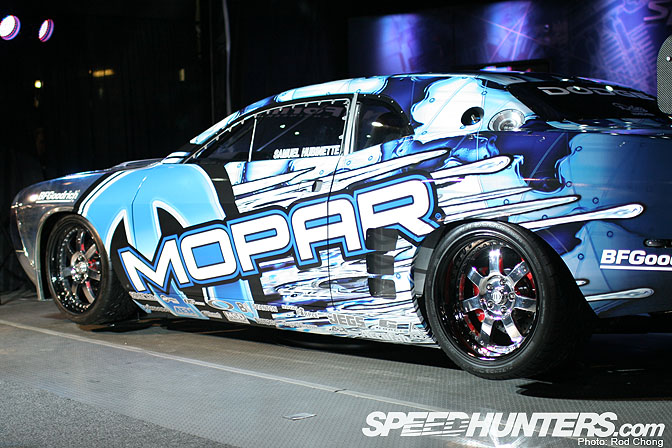 This car sits LOW. Can't wait to see it on track…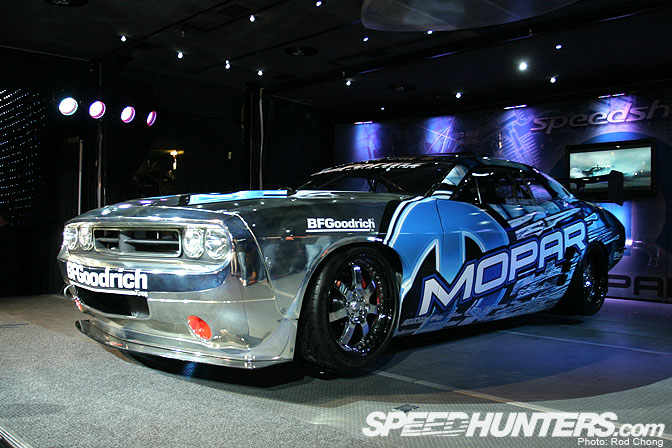 Aggressive…
Ok time to get some sleep here, enjoy the snaps. Also let me know if you want me to shoot a particular car in more detail.
:Rod