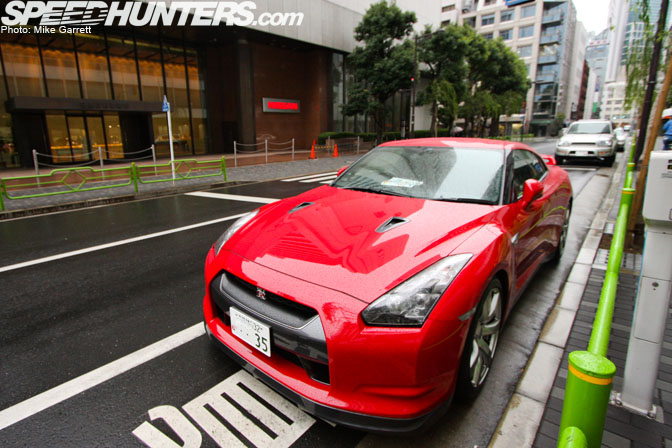 Yesterday I spent the afternoon in Tokyo, and while I was there I figured since it was Nissan month on Speedhunters that it would be a good time to head over to Ginza and have a look at the car gallery at Nissan's corporate headquarters. After taking the short walk from the Higashi Ginza subway station, we arrived at the Nissan hon-sha building to find this gleaming red R35 GT-R parked on the street outside the place. Kind of a cool way to begin the visit don't you think?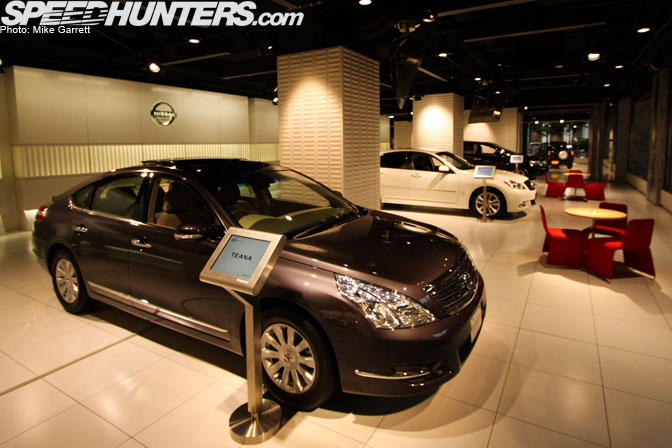 Nissan actually has two showrooms in Ginza, but the one here at the headquarters is the largest. It's not quite on the same scale as the huge showrooms that Toyota has in Tokyo, but it offers visitors a chance to look at some of Nissan's new models in a quiet, relaxing setting. That is one of the things I love about Japan, these nice showrooms where you can go look at new cars WITHOUT being followed by aggressive salesmen. The car in the foreground is the new Nissan Teana, not really Speedhunters material, but a good-looking sedan nonetheless. I think this car would make a good addition as an entry level car to Infiniti's lineup in the US. Unfortunatley there were no GT-R's or Z's inside the showroom on this particular day.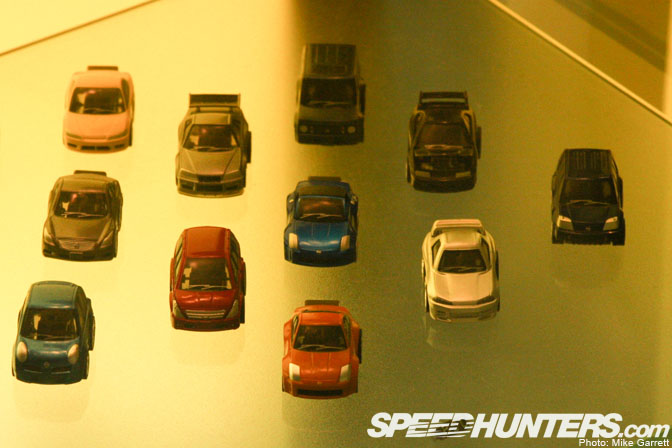 The hardcore Nissan fan will find plenty of cool stuff to purchase here, whether its clothing, pins, diecast cars, or other forms of "automobilia". Here we see a full line-up of Nissan ChoroQ's. Can anyone identify all of these cars in their squashed, miniature form?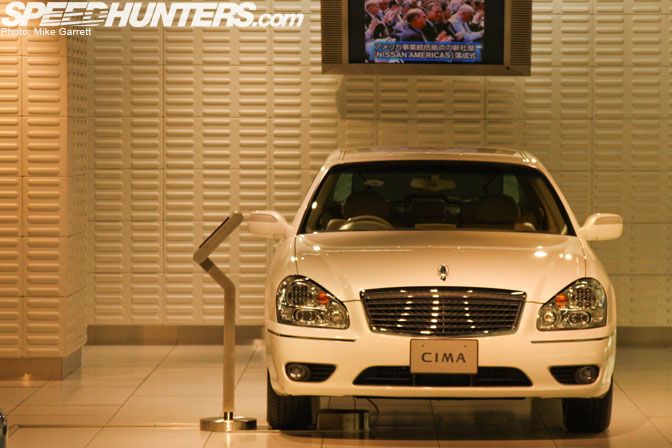 The Infiniti Q45 dropped out of the US market a while ago, but the car is still alive and well in Japan where it is sold as the Nissan Cima, and top-of-the-line Nissan President. As old as this design is, I think it has a strong aura of "traditional" luxury in a time when many luxury cars are starting to look more and more over-the-top. The F50 chassis Cima is still a very popular choice among VIP-builders here in Japan.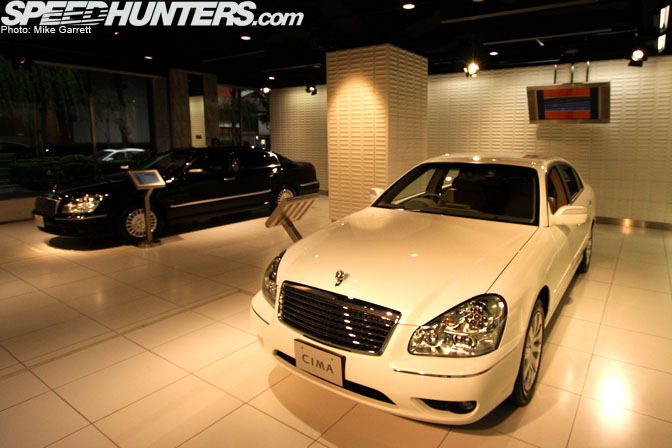 Here's the two models sitting alongside each other. The Cima on the right and the more "executive" President on the left. There has been talk of Nissan introducing the Infiniti brand here in Japan just as Toyota did with Lexus a few years back, but for now they are content with the Nissan brand as it is.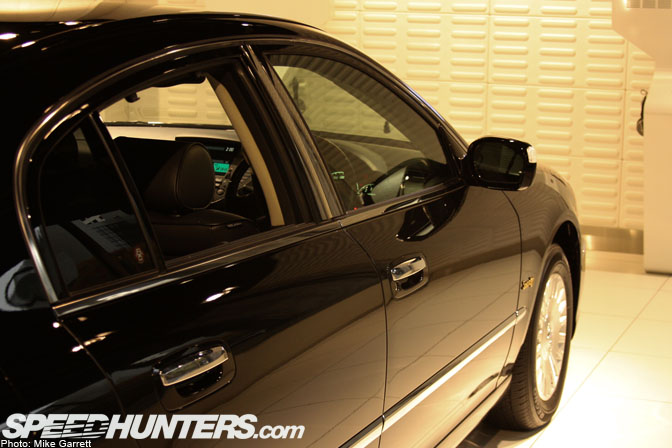 Japanese luxury at its best I'd say. I think it would be a crime to roll in a President that's painted any color except for black…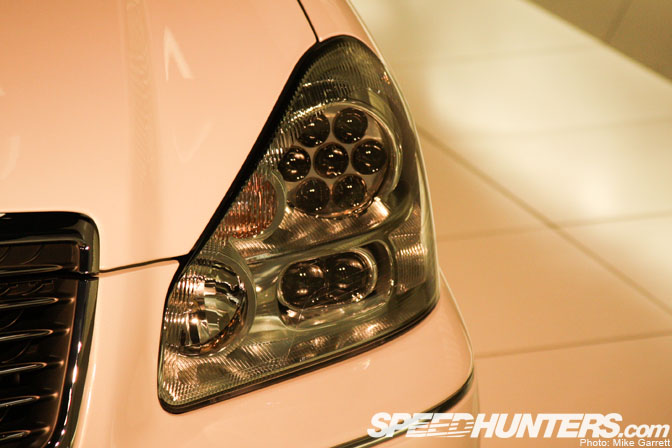 These cars still have one THE coolest projector headlight designs of any car on the market. Don't you think It looks like something you would see on an exotic car? The Q45/Cima projectors are a popular retrofit for other cars. The whole headlight itself is also huge compared to most cars. Rumor has it this car may be eventually replaced a new 4-door machine that shares a platform with the GT-R…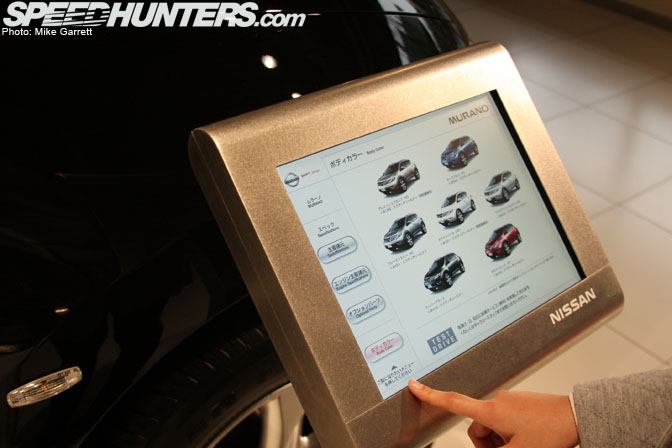 Instead of traditional signs that show the specs and price of the car, there are these high tech touch screen LCD displays for each car where you can view at all the options, colors, pricing etc. Very modern and very Tokyo…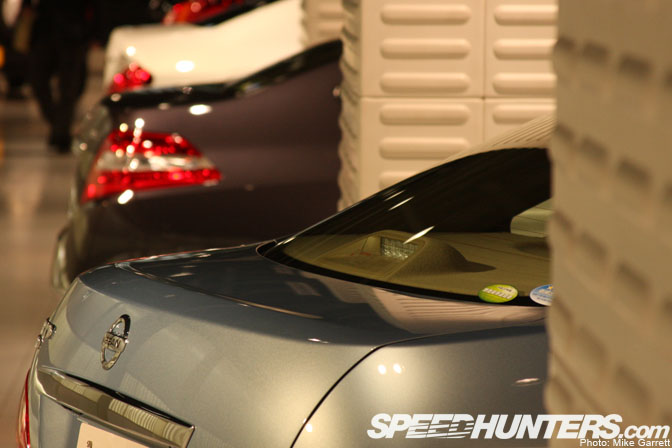 The whole atmosphere of the showroom is very calm and elegant. I think in most places you would expect to find only high end makers using these fancy showrooms, but here you can check out everything from a fully decked out President to the most frugal kei cars.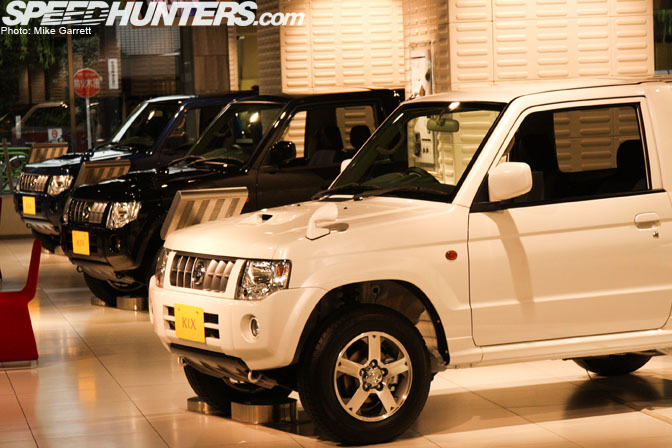 Speaking of kei cars, Nissan was showing several models of their new "KIX" min-SUV which is based on the popular Mitsubishi Pajero Mini. Again, these aren't quite Speedhunters-type vehicles, but I have always thought that these compact, turbocharged 4-wheelers were pretty interesting.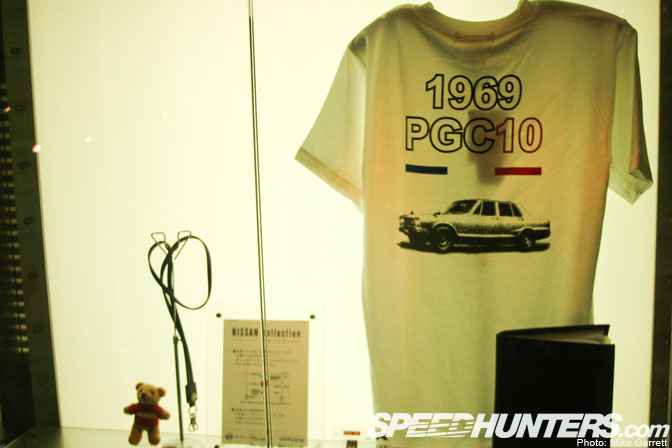 And in closing, a shot of this cool T-shirt which pays homage to the original PGC10 Skyine GT-R sedan. The shirt was OK, but I think it'd be even cooler if Nissan brought one of their REAL original GT-R's out and put it on display here in Ginza…
If you find yourself looking for something to do in Tokyo, a visit to the Nissan showroom in Ginza is certainly a good way to kill some time.
-Mike Garrett