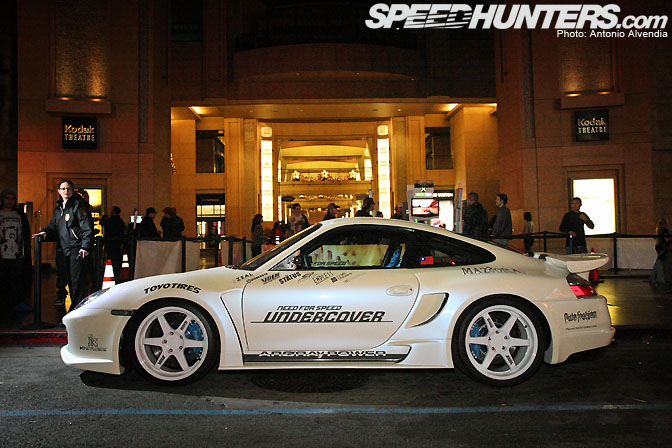 Last night, we attended the Need for Speed Undercover launch party in Hollywood. It was pretty busy – traffic on the 101 freeway was pretty crazy in both directions; not necessarily because of the NFS launch event, but because there was a big red carpet movie premiere going on, as well as a concert at the Jimmy Kimmel Live stage directly across the street! Needless to say, a lot of normal tourists were surprised to see the staged promotional stunt for the event; an Audi R8 and Dodge Challenger drifting in a tight enclosed area, being chased by a cop car, right by the famous El Capitan Theater on Hollywood Blvd. How's that for Hollywood drama!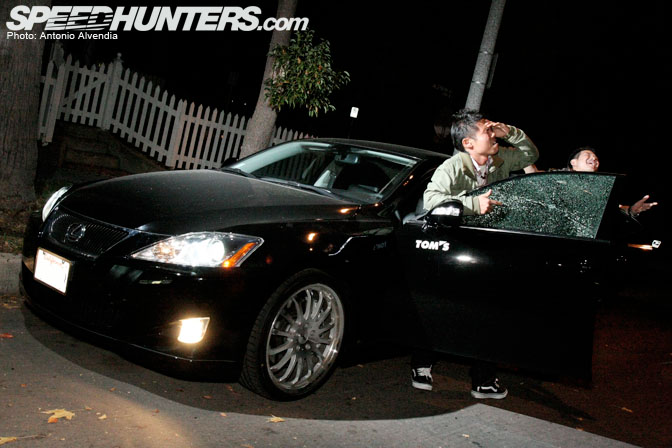 I'll be honest with you though… even though I was planning to be there long before the stunt went down, we had some drama of our own last night. Instead of driving out to Hollywood in all separate cars like in Swingers, I decided to head down there with some of my good friends – top ranked AE86 pilot Toshiki Yoshioka, and our friend Hiro Kamiyama from Tom's Racing in Japan. Since Yoshioka's Southern Cali home is just about 2 minutes from my house, we decided to roll out together, especially since he was borrowing the brand new Tom's Racing IS350 demo car, which was just outfitted with Tom's suspension, wheels, and other accessories two weeks ago.
On the way to Hollywood, we made one more stop, parking the car on the street. Less than 10 minutes later, the group returns to where the car was parked, to find a sea of broken glass littering the street where we parked. Apparently, some young guys were going down the street bashing cars… there were like 10-15 cars in a row with bashed in windows!!! WTF!!!!!!!!!!!!!!!!!!!!!!!!!!!!!!!!!!!!!!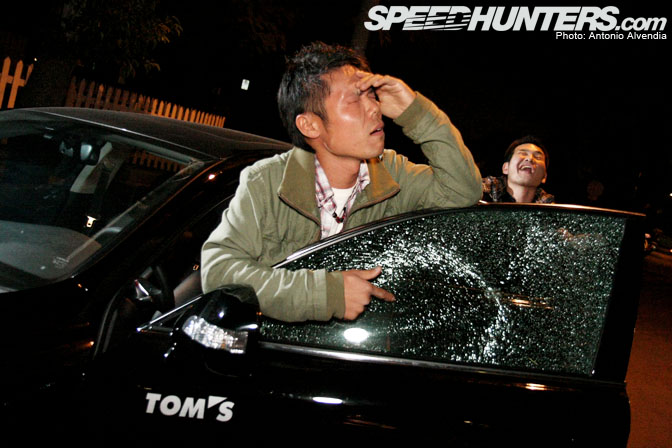 Yoshioka was all worried and trippin about it (as he should be, as he was borrowing the car from his sponsor!!!), as he was personally responsible for the well being of the new demo car, which now had its side windows shattered! Anyway, we had to wait for the cops to come, inspect the scene, and file the police reports with all the owners of the cars… mad drama. And this caused us to miss the NFS stunt performance on Hollywood Blvd. Damn it!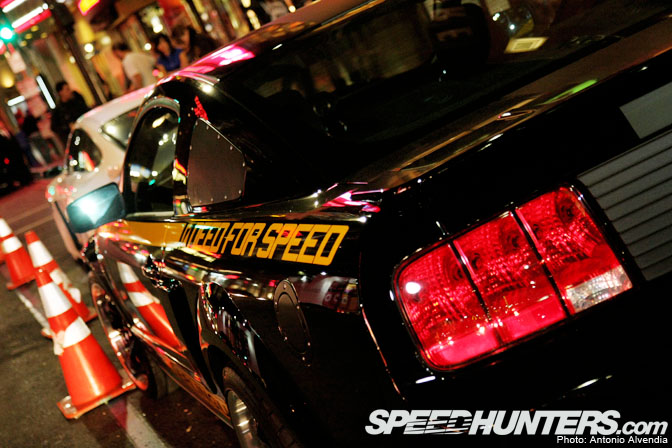 Once we arrived at Hollywood's Kodak Theater, it was impossible not to spot all the cars parked outside, front and center… the Shelby/Need for Speed Mustang Terlingua once again made an appearance, but this time it wasn't being driven by Mr Rod Chong. He was busy working back at the Need For Speed HQ in Vancouver!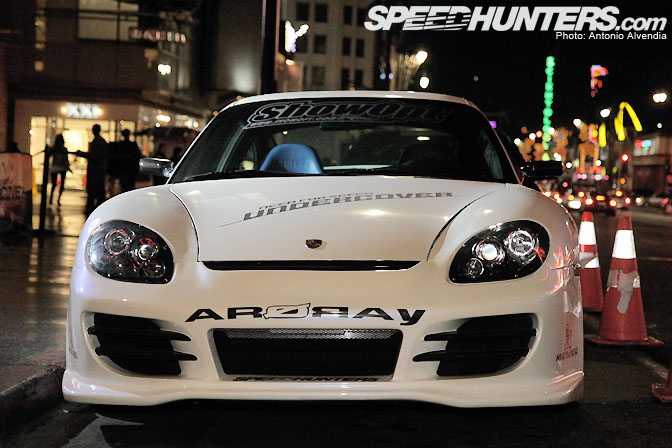 Taking center stage in front of the Terlingua was David Huang's show stopping Need for Speed Undercover Porsche 911 turbo, outfitted with a Top Secret aero kit, Volk TE37 wheels,  Endless 12 piston brakes, Mazoora paint, Arqray downpipe and exhaust, Ikeya Formula suspension, and a whole bunch of other parts that David painstakingly imported from Japan…
See the Speedhunters logo on the front bumper?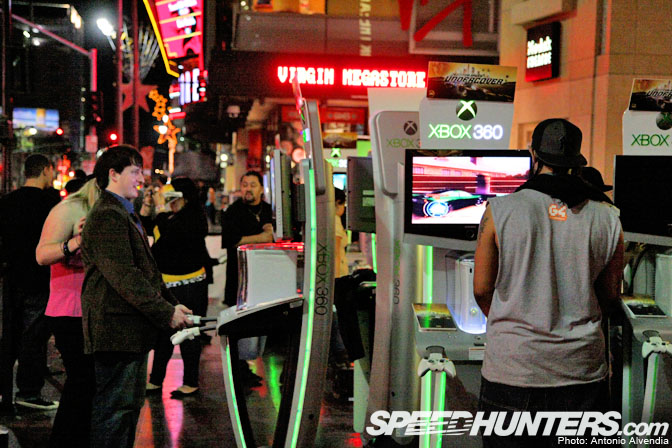 There were a bunch of people outside the event, waiting in line to play the new Need for Speed Undercover game on the Xbox 360 consoles set up right on top of the Hollywood Walk of Fame, in front of the Kodak Theater. We were going to wait outside to try out the game, but then the Need for Speed team invited us to go inside the party already for free hors deuvres and open bar, so we had to prioritize!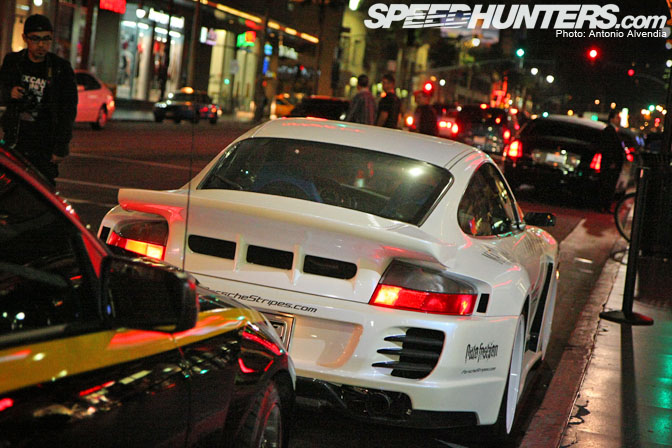 Here's the rear view of David's Need for Speed Porsche, since everyone's been asking me to show more photos of the car… It definitely attracted attention as it sat on Hollywood Blvd; all sorts of people were coming up to take photos of (and with) the car… some crazy people were even standing in the middle of oncoming traffic taking photos as cars were whizzing by… oh wait, that was me.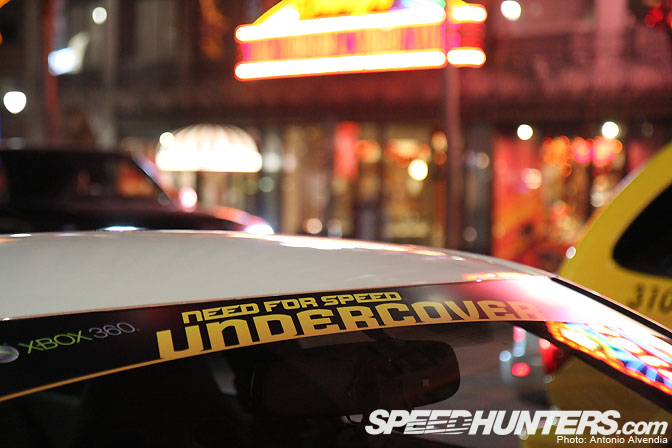 Thanks a lot to the Need for Speed Undercover team for a great event! I can't wait to try out the game myself… that is, if I could convince my friend Chris Manacop to stop playing Madden 09 long enough to put another game in the console! (I don't have an Xbox 360 or PS3, so I have to play games at my friends' homes!)
-Antonio Alvendia