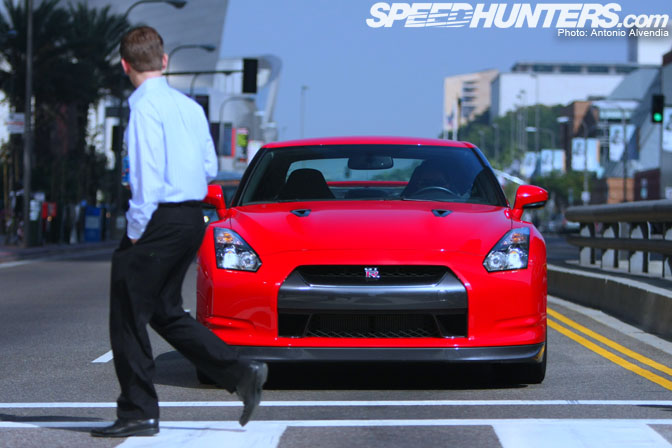 When I was told that Nissan was delivering a bright red R35 GTR to my office, I was more than excited! It wasn't my first time experiencing an R35 – I had already seen the car at the 2008 Tokyo Auto Salon, and even accompanied my friend, Nobushige Kumakubo of Team Orange, to the Nissan dealer in Fukushima Japan when he decided to buy one this past January. In fact, Kumakubo generously gave me the opportunity to test out his new GTR at speed when I returned to Japan this past August; I couldn't hide my excitement even one bit as I buckled in to the driver seat of his brand new hand-painted silver GTR and took it for hot laps around Ebisu Circuit's West Course. Very scary! The acceleration… the braking… it's all incredible, and when you're behind the wheel, the GTR gives you the type of scary feeling that you want to feel over and over again.
Of course! With 480 brake horsepower at your disposal anytime you decided to blip the throttle, I'm sure you'd want to drive this car every single day of the week, as I did. I haven't been this excited about test driving a car in a while. Of course, the Porsche 911 GT2 that I drove in Germany has more horsepower, but I was only allowed to drive the GT2 on a race track. This GTR, however, would be my daily driven streetcar for the next few days!
Driving a car with this much power on Southern California freeways was more fun than an open bar party at the Spearmint Rhino – every time I entered a freeway, I slowly entered the acceleration lane, slightly tapped the gas pedal, and before I knew it, I was doing 130mph. Damn! Good thing the GTR has good brakes too! When it accelerates up to freeway speeds, you hear the sound of air rushing – massive amounts of air rushing, combined with the throaty growl of the twin-turbocharged V6 VR38DETT. All the while, the GTR's seats push into your back like a team of NFL linemen colliding into a five-man sled during practice. The R35 GTR has ridiculous amounts of torque.
During the time I had the GTR on loan, I tried soooo hard to find a track event that I could attend, so I could have fun with the GTR's incredible acceleration and braking at a safe place, away from normal vehicles… unfortunately, there weren't any events that weekend, so I had to settle for freeway fun, which certainly isn't anything to complain about! For our photo shoot, however, I decided to pick up one of my friends, Cipher Media Group staffer Felix Tang, so I could shoot photos while he drove it through Downtown LA.
One thing we thought was funny was how much attention the GTR garnered… from… uhh… *ahem*… guys. Even though we certainly tried hard to floss the GTR to the ladies, hardly any of them knew what it was – I even rolled up on a girl with an Infiniti G35 on Volk TE37s and Skyline emblems, and she didn't even glance at the car once! Dammit!!! However, we got the exact opposite reaction from men… LOL! We had guys breaking their necks (seriously, one guy almost crashed on the 71 freeway because he was craning his neck to look at the GTR while he was exiting), honking horns, and giving us thumbs up all day long. Crazy… as much as we wanted the car to temporarily boost our game so we could meet new girls that weekend, we found out that the R35 GTR is apparently a guy magnet. (See photo above) I think most women don't recognize the car's shape yet. Sigh.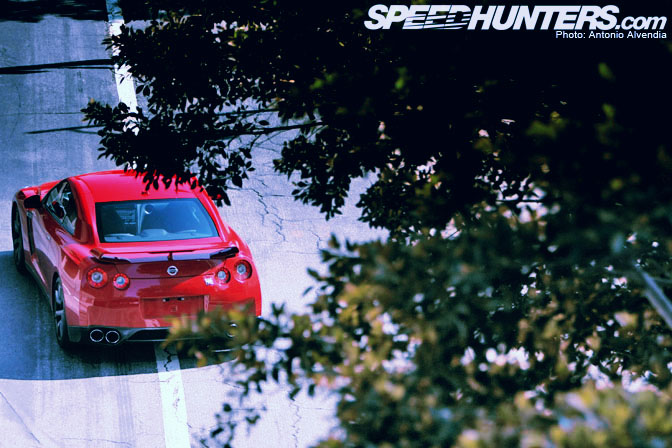 Lurking in and out of traffic in Downtown LA, the R35 GTR is certainly a sight to behold… with the wide front and rear fenders, and large quad exhaust tips, it just looks like a predator, don't you think? Even when it's rolling slowly!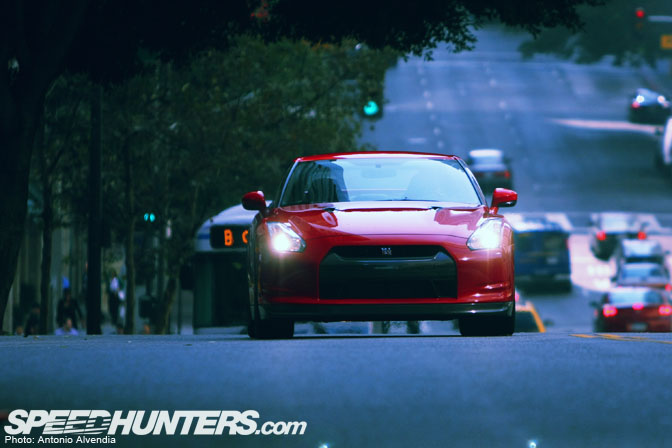 Even in normal traffic, it certainly stands out from the crowd.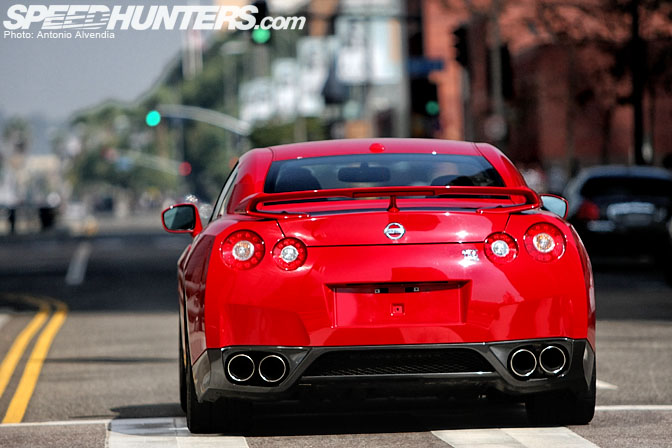 Honestly, I'm a big fan of the R35's rear shape, but I'm not the biggest fan of the front – the front reminds me of the Mitsubishi Eclipse in a way, and I hate Eclipses. The rear of the GTR, however, is art. I dig the four signature LED Skyline rear lights, and the four big exhaust tips on the bottom to match. It has a very nice looking wing too – just gorgeous!
By the way, I love the contrasting dark gray lower bodywork on the car, it makes the whole car look more aggressive and more attractive!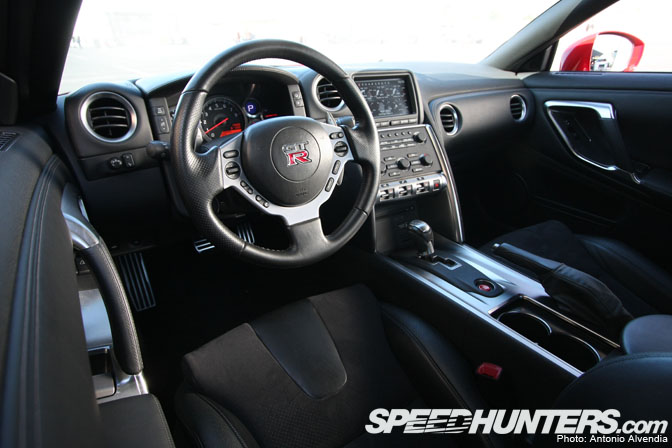 The inside of the GTR makes me think of an airplane cockpit. Not because of the paddle-shift steering wheel and the "Engine Start" button, but because of the "R" switches in the center console and the incredible 7-inch touch screen in the middle of the dash, which has displays that can be changed according to what you want to monitor – oil pressure, oil temp, water temp, tire pressure, gas mileage, you name it. This touch screen gauge system was developed for Nissan by Polyphony Digital, the same company who is behind the Gran Turismo video games. Pretty damn impressive if you ask me. It even has satellite radio and MP3 capability, so you can listen to your favorite songs while rocketing off into the freeway. Good looking out, Nissan.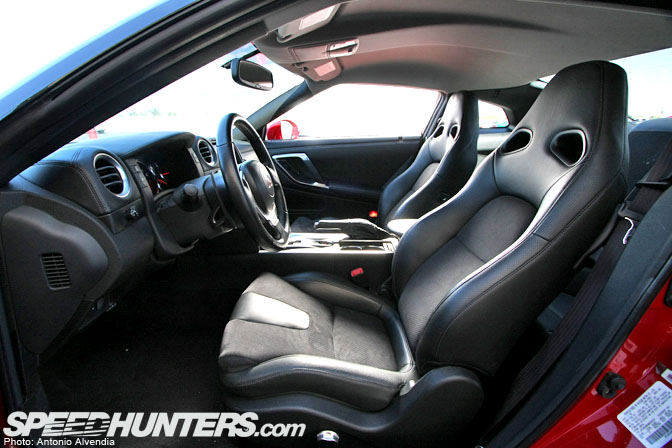 The front seats look like Recaro SRD seats, but they're fully motorized, and wrapped in a leather/Pearlsuede combo that makes you stick to your seat even under heavy cornering force. Oh, and they also just look super cool.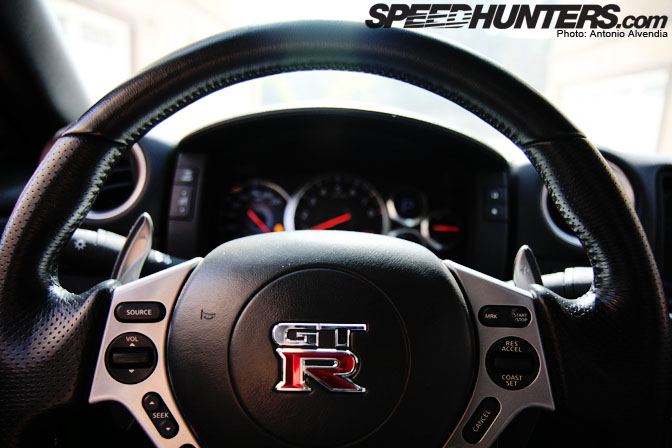 The GTR emblem pressed into the steering wheel is there just to remind you how much power is at your fingertips. Actually, at your feet. I used those cruise control switches on the right side pretty often, as they helped me avoid speeding tickets. I already got tickets recently in the Lexus ISF and Nismo Z. Getting a ticket at GTR speeds would send me straight to jail, so I had to be very, very careful! In retrospect, I think getting a ticket in the GTR would be pretty worth it. At least I'd have a cool story to tell at traffic court…
See those paddle shifters behind the steering wheel? Pure fun. Pull back on the paddles, and they take you through all 6 gears of the GTR's GR6 dual clutch, semi-automatic transmission. This sport transmission took some getting used to, but once I had some time with it, I began feeling comfortable with the paddle shifting, rather than using a strandard H-pattern stick. The GTR's transmission works7 together with the ATTESA E-TS system to push power to all four wheels, and Nissan's Vehicle Dynamics Control system aids in handling and stability, especially at high speeds (think long freeway connectors and onramps).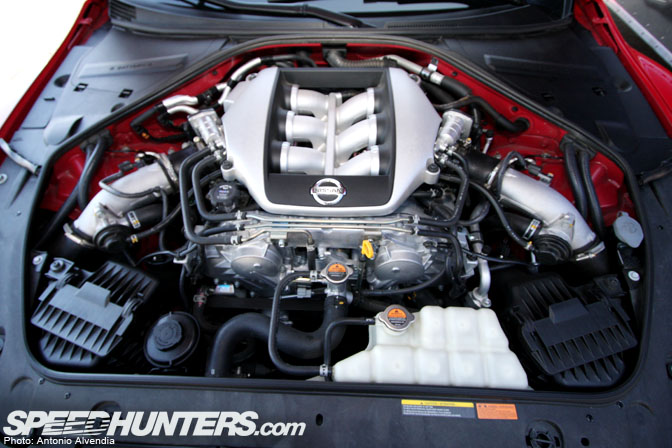 The heart of the beast! This is the twin-turbocharged V6 3.8 liter VR38DETT engine, which makes 480bhp at 6400rpm, with a maximum boost of 17.8psi! Damn! Not to mention the kick-you-in-the-ass 430 foot pounds of torque. To steal a quote from our road racer friend Drew Stavely, "Damn, 480 horsepower?! That thing would be like the perfect daily driver!"
Oh yeah, and for those interested in numbers, Nissan says the GTR can achieve a top speed of 195mph, and has a 0-60 time of 3.2 seconds. I definitely had some fun testing out the GTR doing 0-60, but wish I could have tested it somewhere safely off public highways, so I could try it out closer to top speed!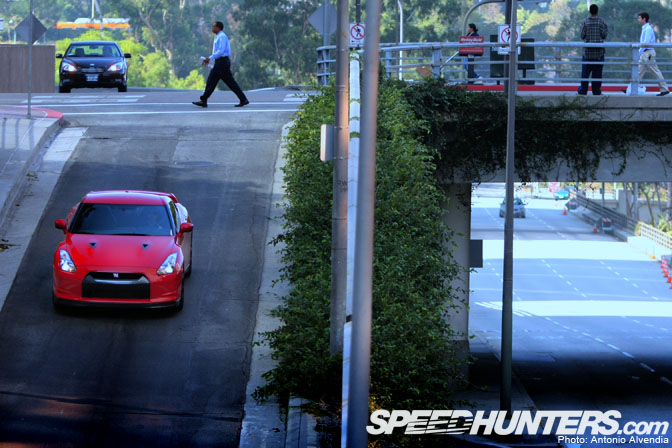 Just look at the GTR on the prowl, cruising the streets of Downtown LA. It definitely stands out from the mediocre cars on normal city streets!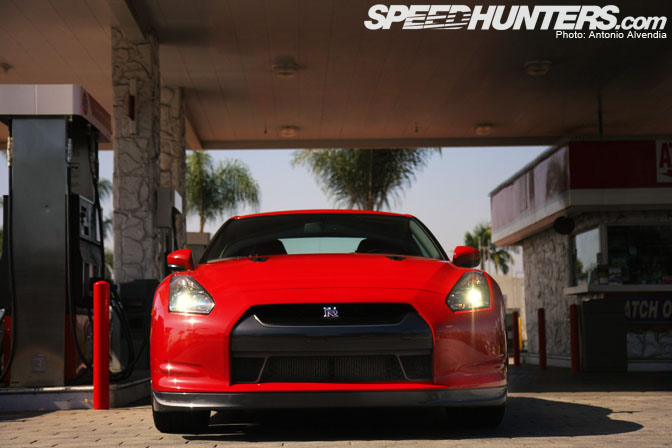 Interestingly enough, the R35 GTR gets surprisingly good gas mileage for how much power it has. You can expect to get 21-23 miles per gallon, and that includes stomping hard on the gas every once in a while. As for me, I did it alot, so you know I was at the gas station quite a lot. However, I wasn't complaining; it's definitely worth it.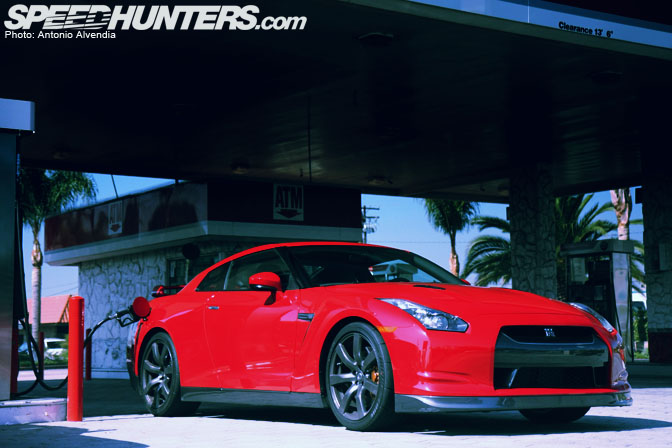 Red cars with gunmetallic gray wheels that match the front and rear lip spoilers and sideskirts. Sexy and sophisticated.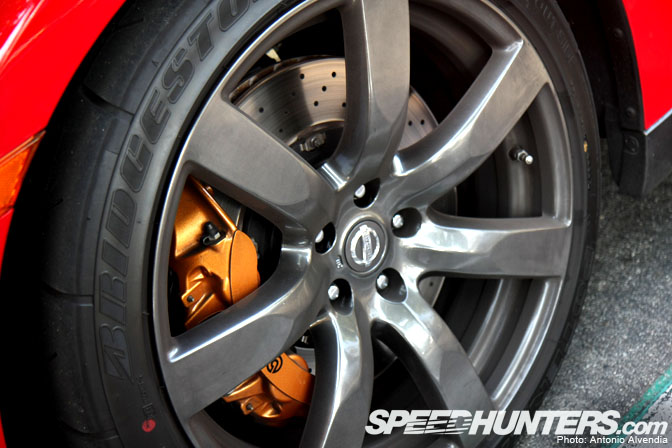 Rollin on dubs! The 2009 GTR comes from the factory with lightweight 20-inch wheels, and an incredible Brembo big brake system, which uses cross drilled, two piece 15-inch floating rotors, with 6-piston calipers up front, and 4-piston calipers in the rear. When you're driving at speed, and suddenly slam on the brakes, these Brembos will stop you so fast, you'll feel like your teeth will fall out of your mouth. Seriously.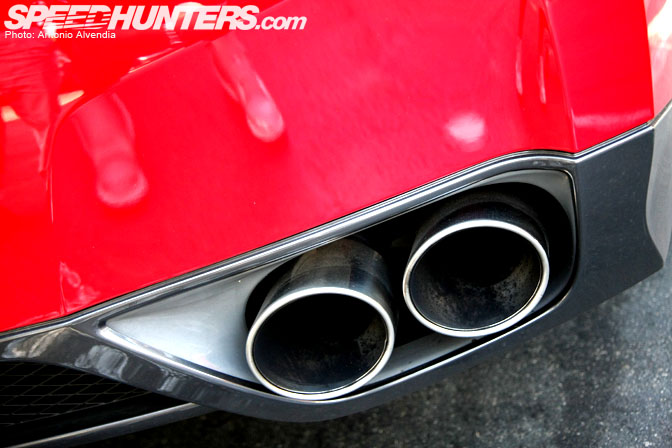 These exhaust tips remind me of a Corvette for some reason. I like the classy rear fascia that's been designed around the exhaust tips though, reminds me of a Ferrari in some ways.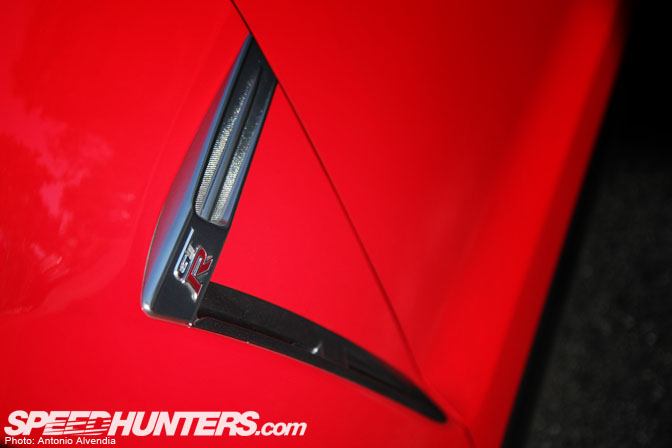 Nissan engineered the R35 with a vent on the front fender, and an integrated GTR emblem, just so people driving next to you know what time it is. I'm so happy that this supercar is finally on US shores. Thank you, Nissan!
If you'll excuse me, I'm going to begin putting one of my kidneys and all my camera equipment and worldly goods on Craigslist… OR, if anyone knows someone who needs a getaway driver for a bank heist, let me know, I just might be down. The point is, I need to have a GTR in my life. The perfect daily driver.
-Antonio Alvendia